This post contains affiliate links. Purchasing through them helps to support this blog, thank you!
Hi there friends!
I wanted to share with you a project that I had originally created for Kimberly @ A Night Owl Blog! She had this awesome series called Fourteen Days of Valentines where she (and others) shared some awesome Valentine's Day recipes and crafts! I was lucky enough to be included and the project turned out so great that I wanted to share it with you!!
This is a great project to do with your little one! We actually have ours hanging in our bedroom right now – and it is such a lovely little keepsake to wake up to each morning.
What You'll Need: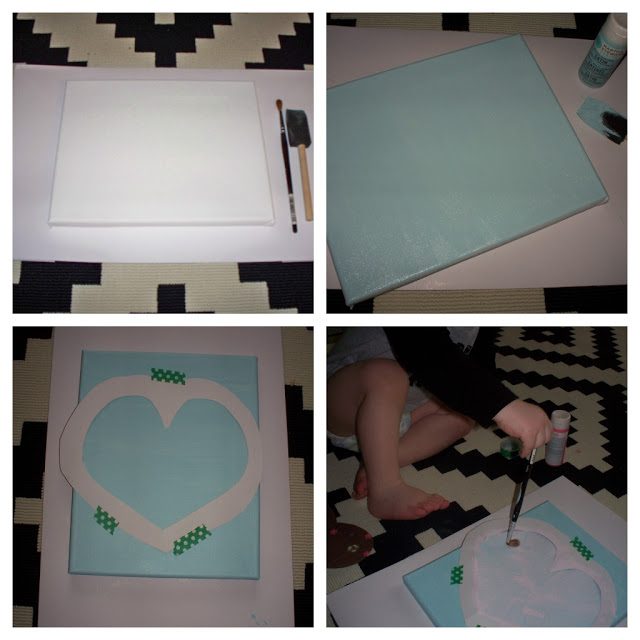 Steps:
Use your sponge brush to paint the background of your canvas. (You can use a regular brush if you'd like – but the sponge brush is faster).
Let canvas dry for an hour.
Fold a piece of craft paper in half, cut out a heart, and then use washi tape to adhere the paper to your canvas. Washi tape doesn't stick – and I try to use what I have for projects.
Use your second color to paint inside of your cutout – it helps if you have a little one to do some of the muscle work 🙂
Peel the paper cutout off of your canvas to reveal a beautiful heart!
Use your third paint to let your little one have some fun! Let them put their hands in it and play around – then – when they're ready – help them to press their hand on the canvas in the center of the heart.
Write a special message – or just their name and the date so you'll always remember.
Isn't it adorable?
We were so pleased with the way that it turned out + Wyatt and I had such an awesome time creating it together. I love how artistic he is – and just can't get enough of craft time with him 🙂
Have you done any fun crafts lately?
Please share the link in the comments so I can check them out!
Pin for later: