Disclosure: A huge thanks to World Market for sponsoring today's post!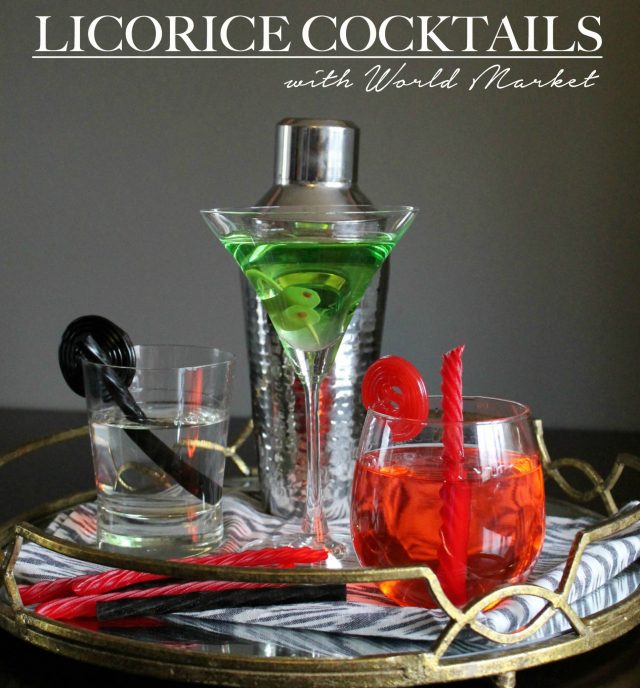 Hi, friends!
Did you know THIS Sunday (April 12th) is National Licorice Day? I'm going to share three delicious cocktail recipes that I whipped up just for the occasion. So, if you're a licorice lover – this post is for YOU! I'll even tell you how to make your own licorice favored vodka! Are you ready? Let's jump on in!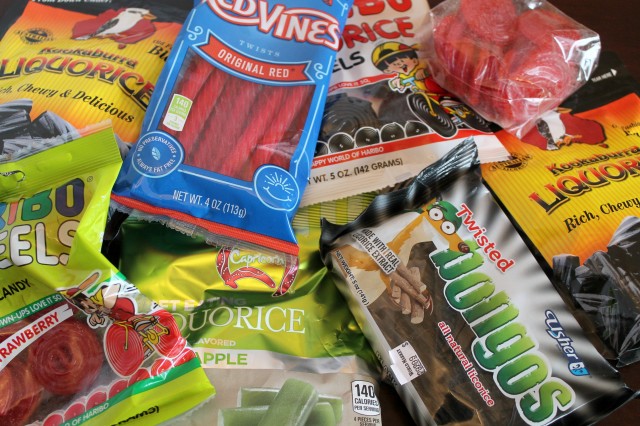 ---
Black Licorice Cocktail
I created this strong cocktail by combining equal parts Vodka and Sambuca Liquor in a cocktail shaker with a few pieces of Kookaburra Traditional Black Licorice. This drink could easily be poured over ice, but I chose to pour it straight into this cool Event DOF glass and garnish with a Haribo Licorice Wheel. If you love the flavor of black licorice, this is YOUR drink!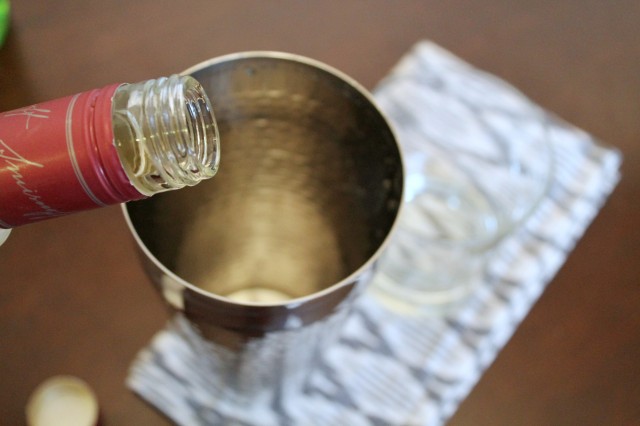 ---
Red Licorice Cocktail
The first step for this cocktail is to create your own licorice flavored vodka. It's easy! Just pick up an Individual Decanter with Wood Stopper, add five or six pieces of your favorite licorice to the bottom, and fill the decanter 3/4 of the way full using your favorite vodka. After you've done this, put in the stopper and let it sit overnight in the freezer. The vodka will take on the flavor of the licorice and make your drink that much more delicious! See, I told you – easy peasy.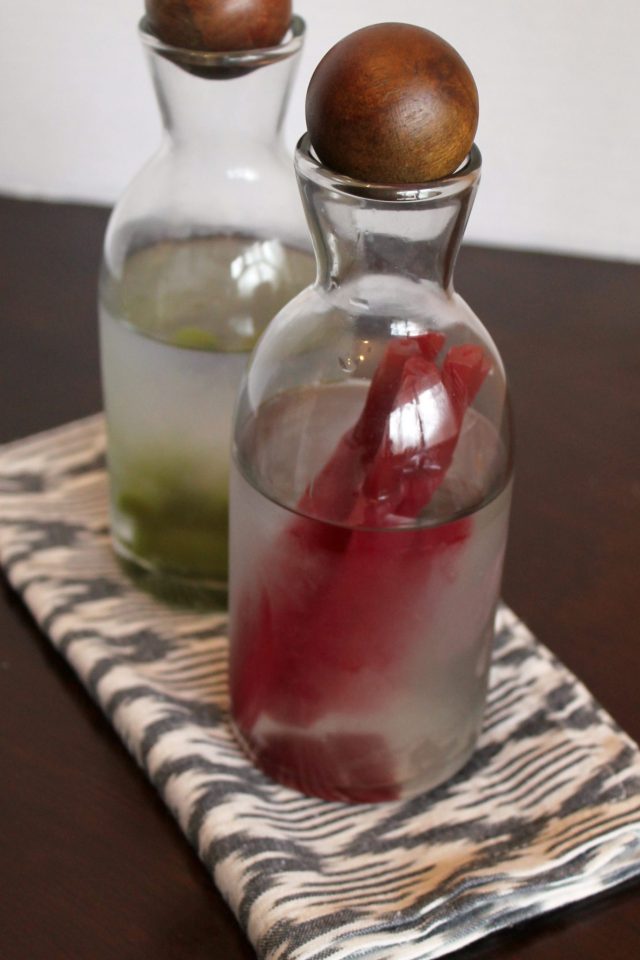 For the drink, combine equal parts of your licorice vodka, Sambuca Liquor, and cherry juice in a cocktail shaker and shake! When you're finished, pour into a stemless glass and garnish with Haribo Strawberry Wheels and Original Red Vines Licorice Twists.

---
Green Licorice Appletini
Now, I hate to choose favorites.. buuuutt.. this one is good. First, make your green licorice vodka (same steps as above). I used Capricorn Green Apple Licorice for mine and it turned out amazing. Mix equal parts of your vodka and Green Apple Schnapps, shake and pour into a martini glass. I used the Plaza Martini glass found at World Market. I garnished this drink with teeny tiny "green olives" I made using Capricorn Green Apple Licorice and Haribo Strawberry Wheels on a toothpick, aren't they adorable?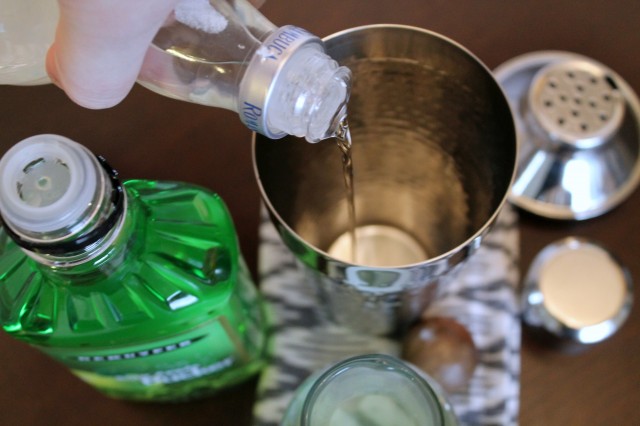 ---
So, there you have it! There's three drinks you can enjoy on National Licorice day this Sunday! If you try any of these, please be sure to head back over and let me know if you enjoyed them! Everything in this post was picked up at my favorite store, World Market. So, be sure to stop by your local store to stock up one some cocktail goodies!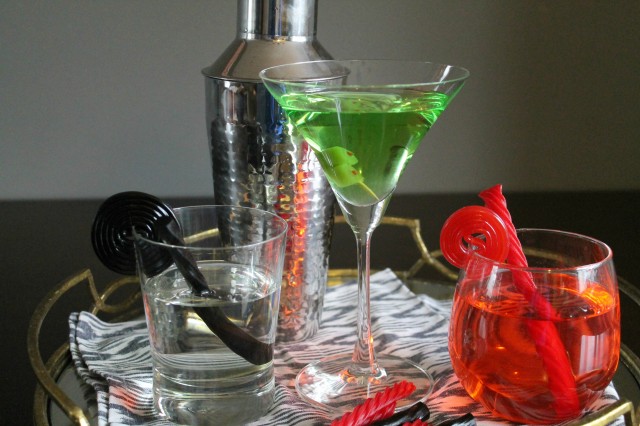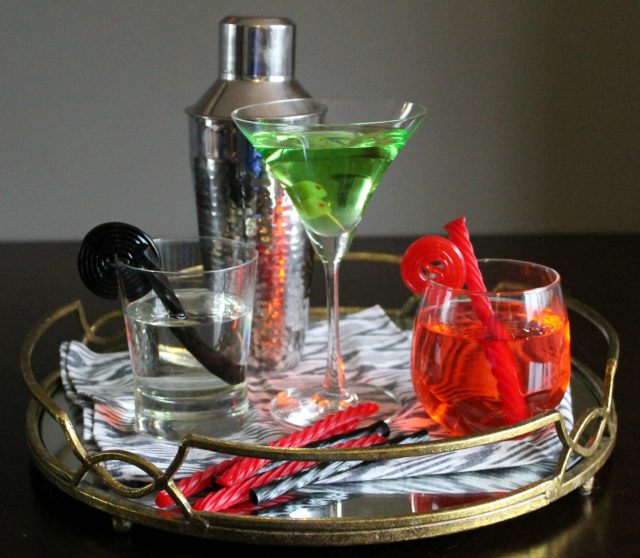 Have a great day!
Also pictured: Gold Mirrored Tabletop Tray, Black and White Ikat Napkins, Hammered Stainless Steel Cocktail Shaker.