Disclosure: A huge thanks to Babies "R" Us for sponsoring today's Family Travel post!
Hi, friends!
Hope you're having an amazing day! Summertime is simply amazing, isn't it? I don't know about you but I find that in the summer my family and I are always on the go! We're currently preparing for a little getaway and sometimes it can be so overwhelming just to pack for my little ones!
But, with a few years of experience under my belt, I've teamed up with the experts at Babies "R" Us and Pampers to create a list of must-haves! I'm so excited to share them with you!! I've broken everything down into categories 🙂 So, let's go!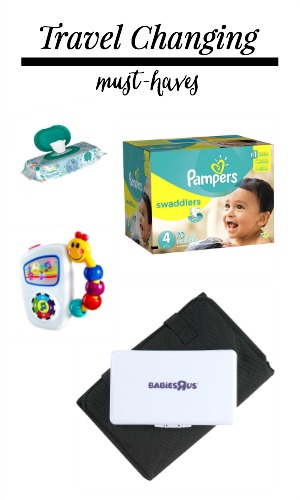 Changing on-the-go:
Diapers: I ALWAYS pack too many diapers. I usually bring a case per child if we're going away for the weekend just because I have a fear of running out!
Wipes: A pack for each day is what I usually bring, because even though I may not go through the whole pack – I still like to be prepared because with two boys in tow, you really never know!
Changing Station: A changing station is such a life-saver! Especially when you need to stop to change your little one and can't locate a changing table (believe me, been there). We've had to make many in-car changes in our day, and it was possible thanks to a handy changer.
Baby Einstein Take Along Tunes: If I could write a love song to this toy, I would. Wyatt had one when he was little and we re-purchased another for Levi. These are PERFECT for changing. Give it to your little one to keep their hands busy so they don't pull or move around the diaper when you're trying to change them! Especially if you're changing a #2. Again, been there.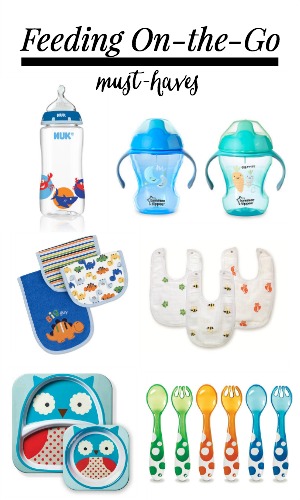 Feeding On-the-go:
Bottles: We've always used Nuk bottles. Wyatt used them when he was little, and now Levi is using them as well. So we have bottle tops, rings, and everything you can imagine in our drawers. Now Levi is only on his bottle at night to help him fall asleep, but if you're a new momma and your baby is drinking pumped milk or formula, definitely bring at least 3 bottles when traveling. One to be in use and one for a back-up.
Plates + Bowls: Packing our own plates and bowls was something I didn't pick-up until baby #2. And let me tell you, it's such a simple thing but is so handy! Especially if you're staying in a hotel while on-the-go, it's convenient to pack your own snacks and then hand them out using smaller plates and bowls.
Sippy Cups: Levi is using sippy cups during the day now, so we have to pack a few when we're traveling. I usually bring 2-3 along with a travel size dish soap to wash in the hotel room!
Utensils: We love to bring our own forks and spoons for the little ones just in case we need them. They really come in handy when we're stopping to eat out on the road, or even eating in the hotel.

Cleaning On-the-go:
Bottle Brush: Like I mentioned before, I wash bottles, sippy cups, plates, etc. if we're staying overnight. Having a bottle brush is just so handy because you can clean everything with it and you won't have to travel around with dirty dishes!
Dreft Wipes: Keep your surfaces clean while on-the-go with these handy wipes! We've all been there, you know – when you're little one makes a big spill or mess in the car and you're shuffling around compartments trying to find leftover fast food napkins, haha! Keeping a tub of these babies in the car prevents that frantic napkin-search from happening!
Extra Clothes + Socks: You never know when a mess or "accident" is going to happen! Especially with two boys in tow! We're always stocked with extra shirts, shorts, socks, you name it! Because there's nothing quite as uncomfortable as sitting in wet clothing, yuk!
Hand Sanitizer: Having hand sanitizer on hand is simply a must as a mom. You never know what the day has in store for you, you have to be prepared! Plus, hand sanitizer is great to have for before and after changing a not-so-pleasant diaper.
Baby Wipes: I've used baby wipes on many occasions to wipe faces, sticky hands, etc. They're just a great multi-use item that can be so handy!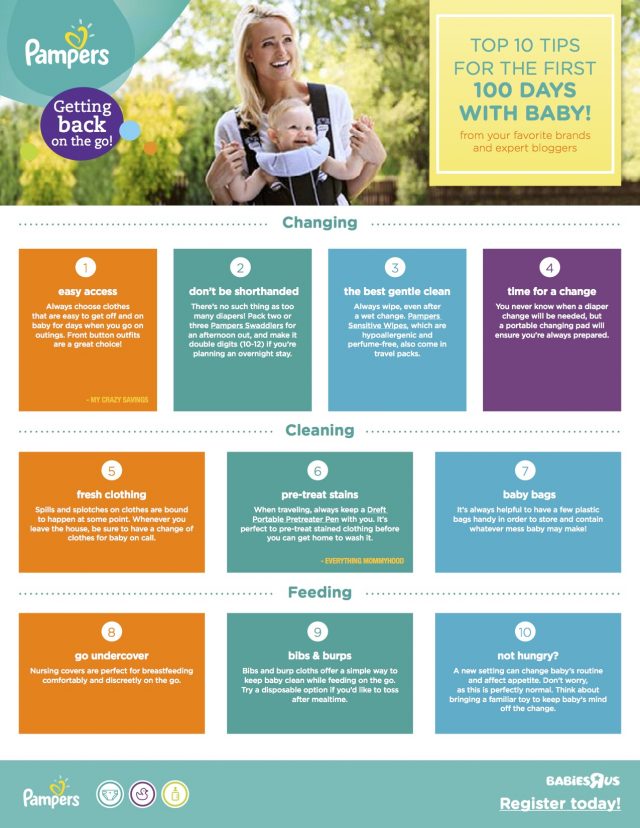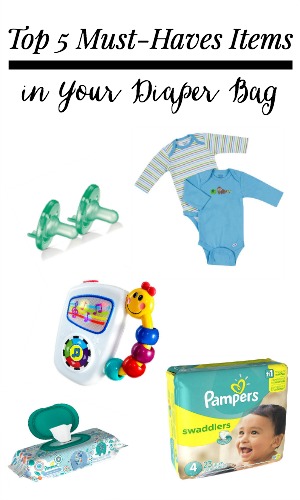 Top 5 Diaper Bag Essentials:
Binki's: We don't leave home without at least two!
Onesies: You never know what messes your day might hold!
Diapers + Wipes: Always be prepared to keep your little one fresh and dry!
Toy: This Baby Einstein toy, seriously folks – it's a lifesaver!
Aren't those some awesome traveling tips and great essentials?! And be sure to check out some of the current specials (listed below) to save even more on things you might need this summer from Babies "R" Us!