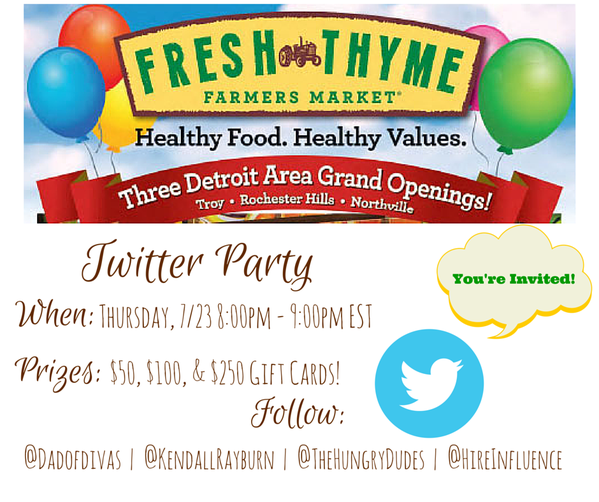 Good evening all! I am super excited to invite you to a very special twitter party tomorrow, July 23rd from 8:00-9:00 p.m. (Est). The party will be promoting the opening of three new locations of the fabulous grocery store, Fresh Thyme Farmers Market. If you aren't unfamiliar with this awesome place, this will be a great way to familiarize yourself!
Fresh Thyme focuses on providing its patrons with fresh, organic and healthy products at a fair price. As a mother of two littles, this is my kind of place! So, if you want to learn more, you have any questions or you want a chance to win a Fresh Thyme giftcard, make sure to come to the party (@FreshThymeMI).
I'll be hosting the party (@KendallRayburn) with @HireInfluence, @dadofdivas, and @thehungrydudes. Be sure to stop by, you never know, you could be one of the lucky ones to leave with a gift card.
Prizes:
(3) $50.00 Gift Cards

(2) $100.00 Gift Cards

(1) $250.00 Gift Card
I look forward to seeing you there!