Disclosure: This shop has been compensated by Collective Bias, Inc. and its advertiser. All opinions are mine alone. #ShareYourSpirit #CollectiveBias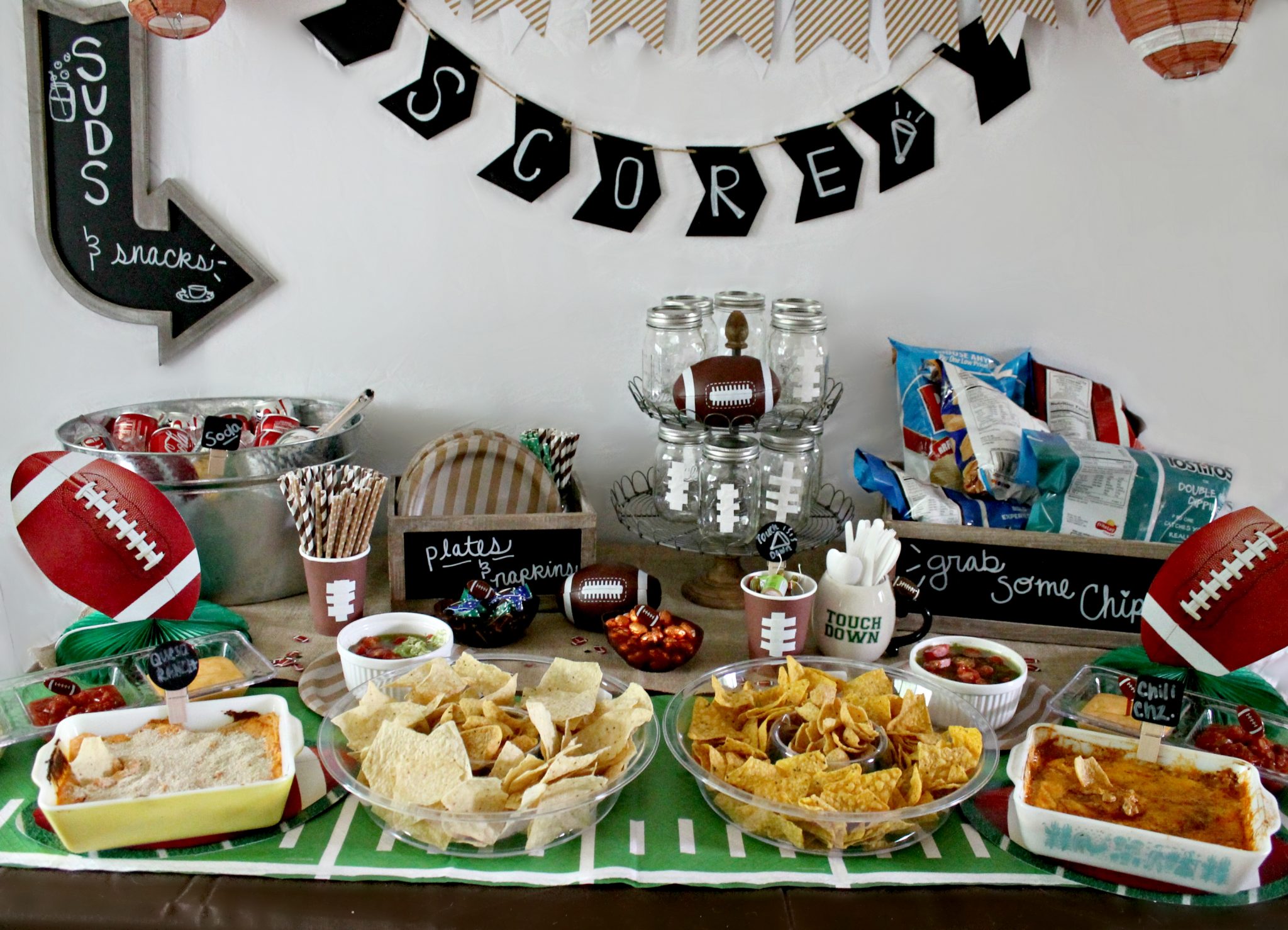 Hi, friends! I hope you're having a wonderful Friday! I am so excited to share today's post with you simply because it is packed with football party goodness! I don't know about your house, but in our home Football is a pretty big deal. I guess that's what I get for having boys, right? I wanted to prep for Football season and put together some fun party ideas (and recipes!) for you to throw a simple and rustic football party when the time comes!
First things first, you need to head to Sam's Club to pick up 28 pack cans of Coke Classic and Diet Coke because, who doesn't love an ice-cold soda for the game? Also, did you know you can order online and pick-up in-store? It makes planning your football party or tailgating event SO much easier!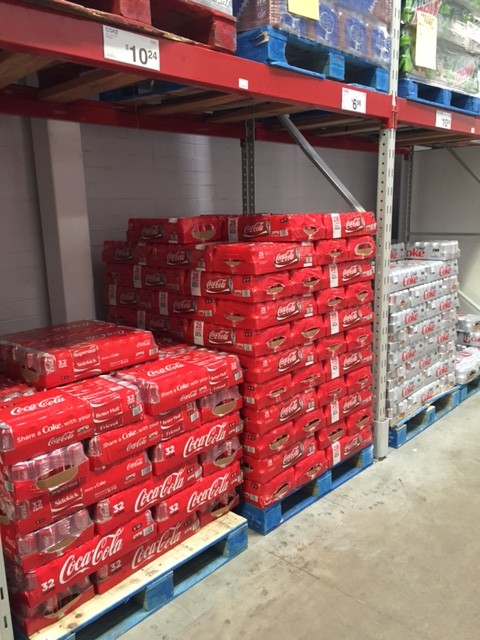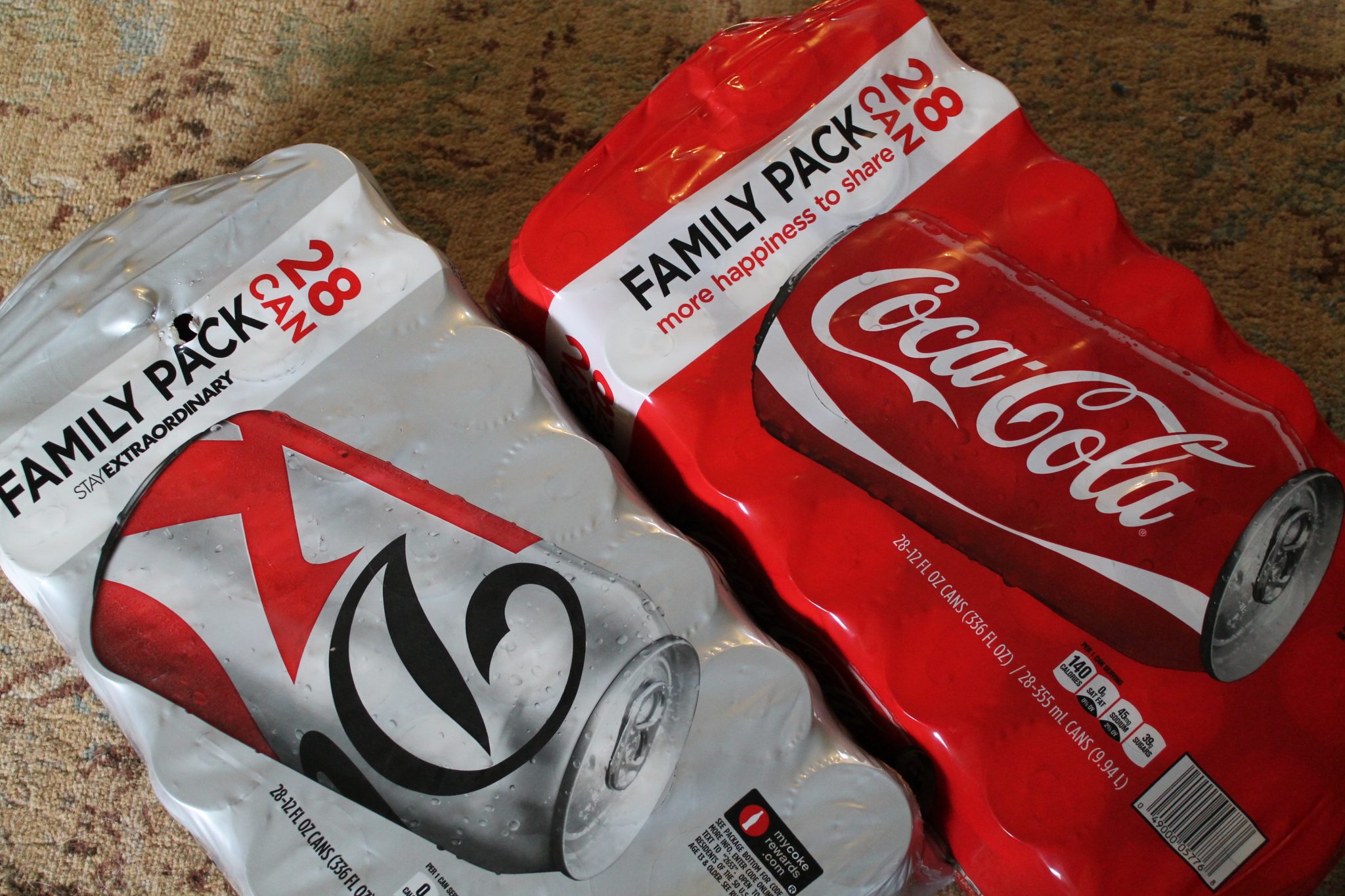 Because everyone LOVES snacking while watching football, I wanted to create a simple Chip & Dip station full of different dips, chip varieties, and ice-cold sodas. I wanted dips that were EASY to make, because let's face it – who has the time, right? Plus, the whole point of the party is to have fun!
So, let me share some of my simple + yummy dip recipes!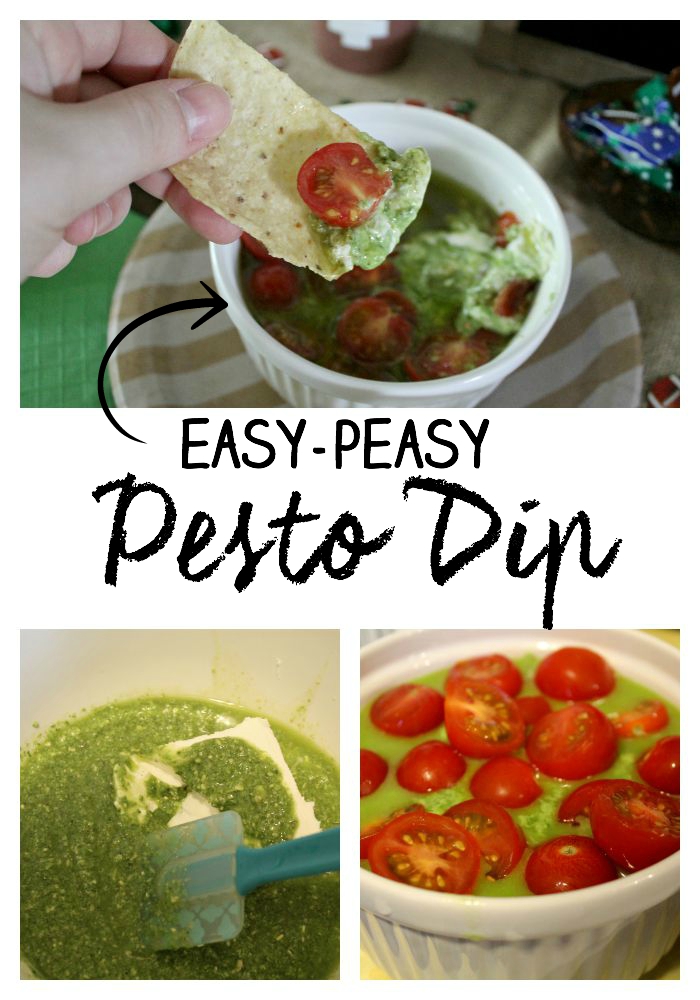 Pesto Dip:
Mix 8oz Cream Cheese with 2 Cups Pesto (bought at Sam's Club)
Transfer to a bake-safe dish, top with about 12 (halved) cherry tomatoes
Pop in the oven for 20 minutes at 350 degrees
Enjoy!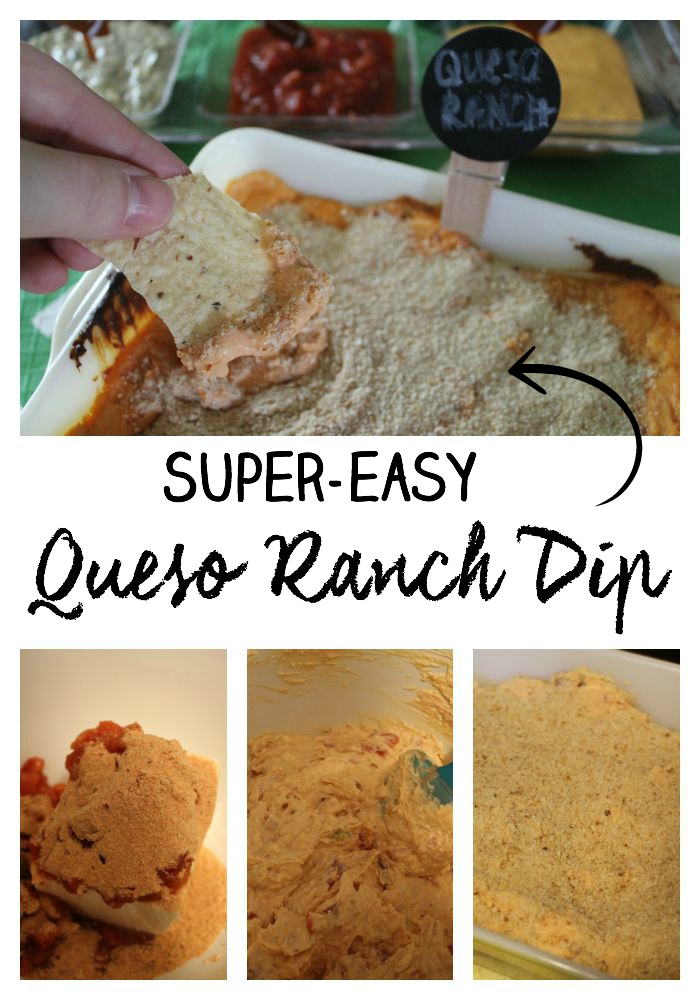 Queso Ranch Dip:
Mix 16oz Sour cream with a 10 oz can of Rotel (drained)
Sprinkle in one packet of Hidden Valley Ranch Dip Mix
Add 2 cups Shredded Cheese (I love Kraft Sharp Cheddar)
Add 1 tsp. Garlic Salt, mix.
Transfer to bake-safe dish, top with 1 1/2 cup bread crumbs
Bake for 30 minutes at 350 degrees
Enjoy!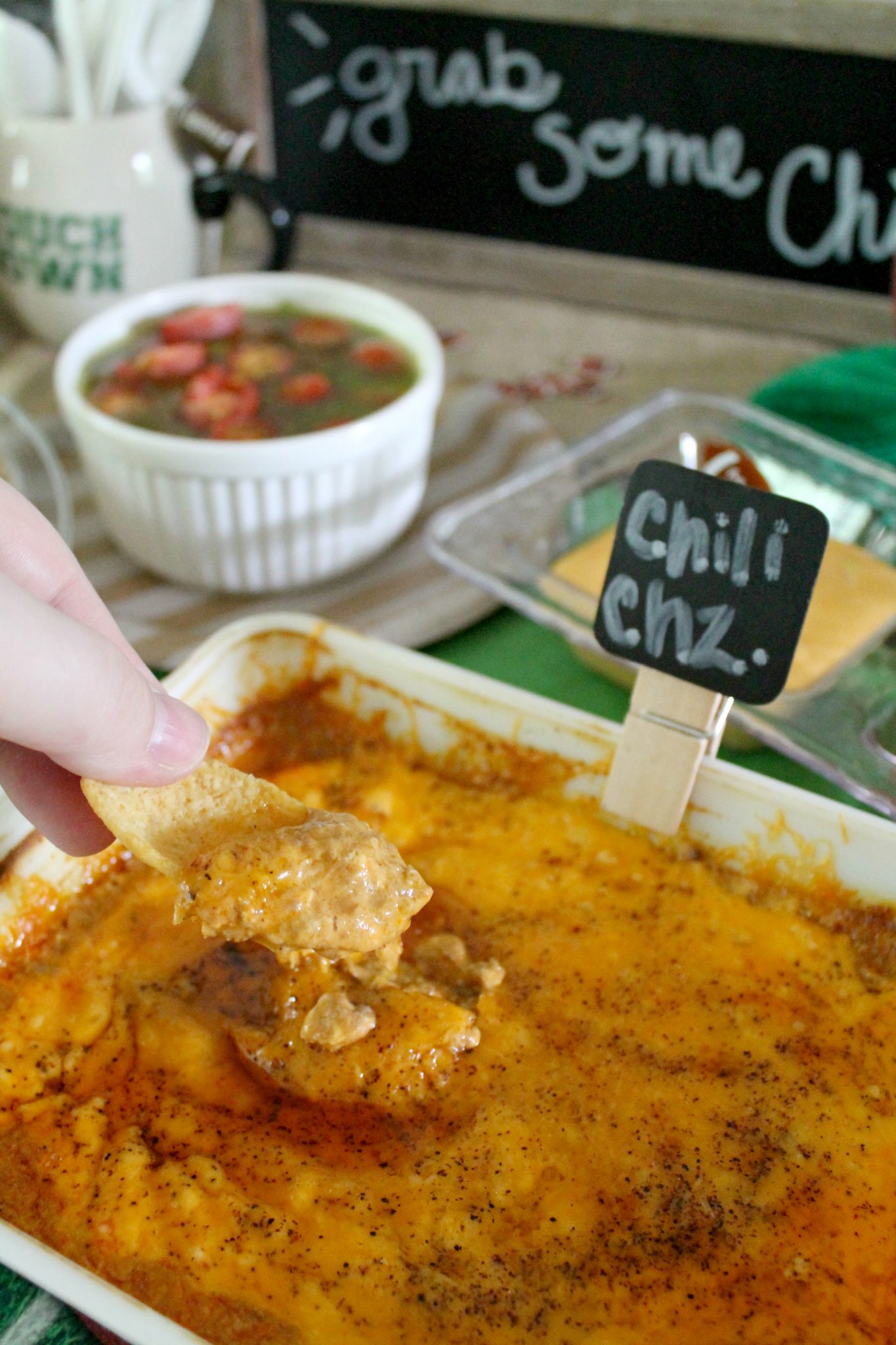 Chili Cheese Dip:
Mix 8 oz cream cheese with a can of Hormel Chili
Add mixture to a bake-safe dish
Sprinkle 1 tsp chili powder on top
Add 3 cups of shredded cheddar cheese
Sprinkle another 1 tsp of chili powder on top
Bake for 30 minutes at 350 degrees
Enjoy!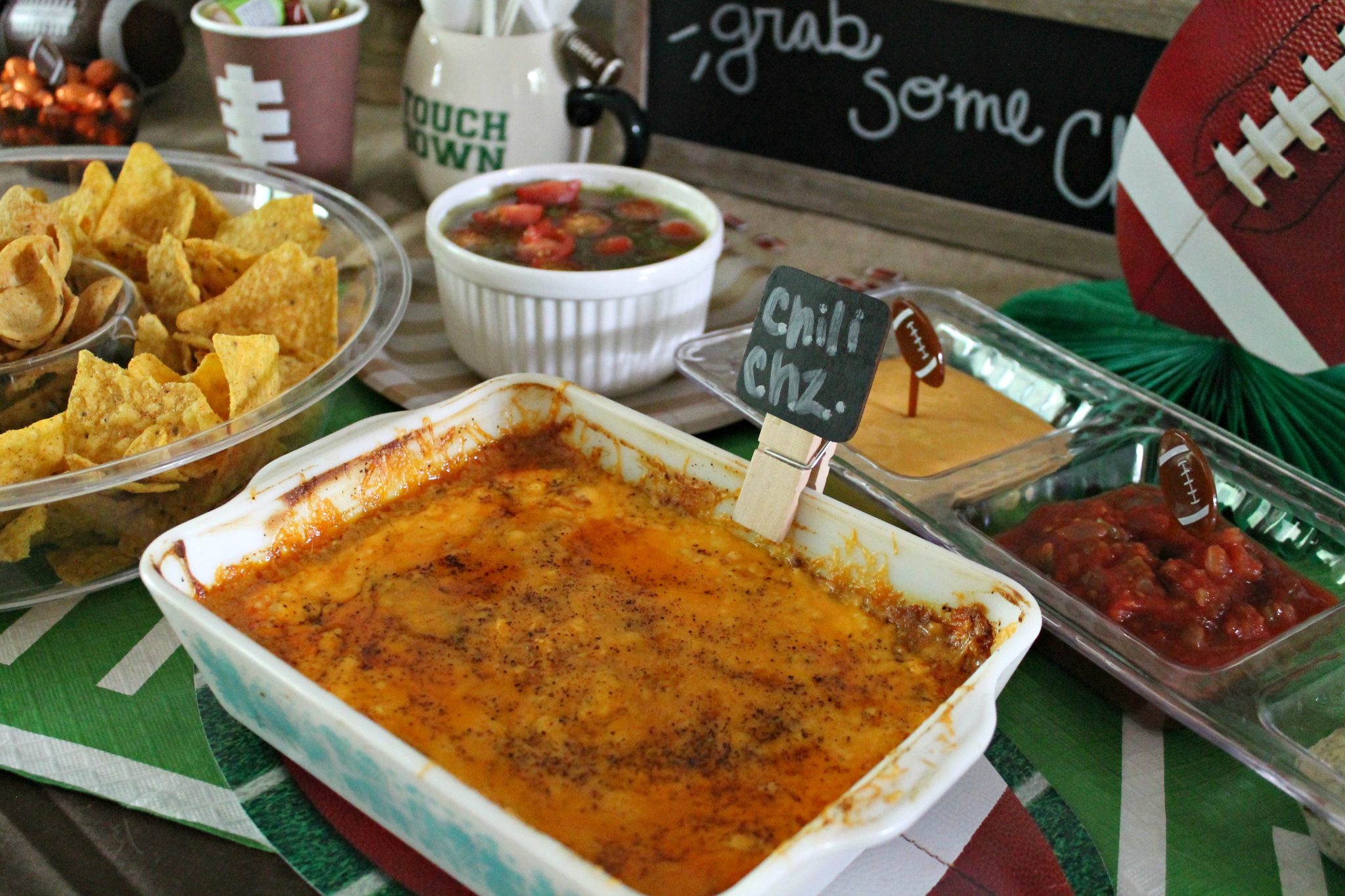 Now, I don't like to pick favorites – but the Chili Cheese dip is probably the BEST dip that I've ever made. My husband goes CRAZY for it and it's always a huge hit! So, if you can only make one dip, definitely choose this one!
I also wanted to serve a simple, but fun drink for the party as well. I placed various bottles of flavored syrups on the table so guests could create fun Dirty Coke recipes on their own! If you've never had a Dirty Coke, you need to try one – they're delicious!
Easy "Football" Cups:
Grab a Mason Jar
Grab some white tape (electrical tape works great!)
Cut one 4 inch strip, and three 1 1/2 inch strips
Layer to create "laces" on your jars!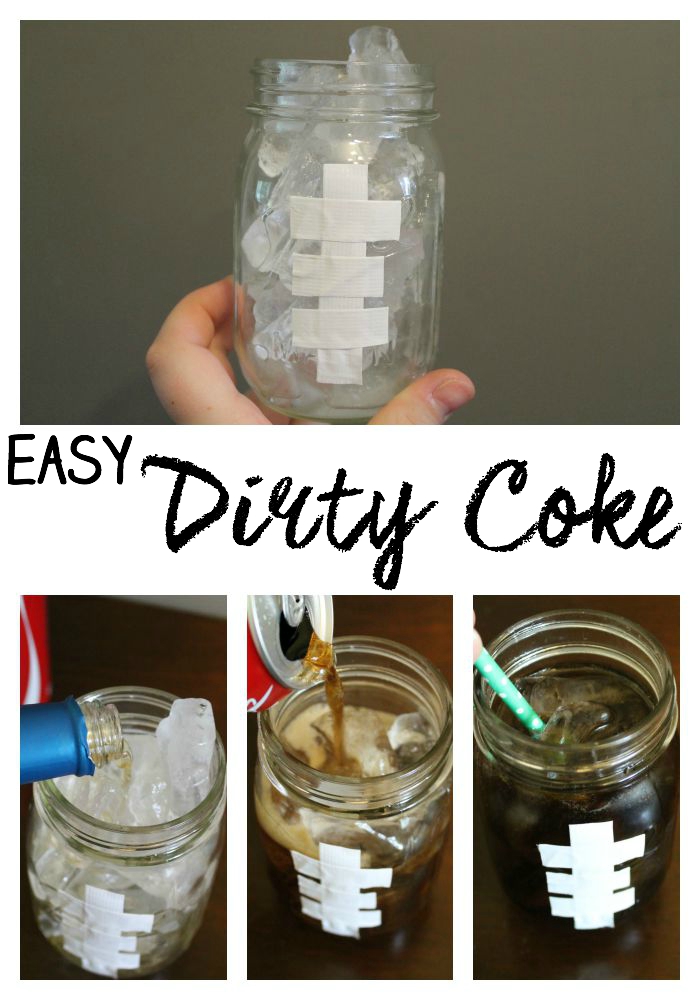 Dirty Coke:
Fill a Mason jar FULL of ice
Add some flavored syrup (I added 4 tbs of caramel Torani syrup)
Add Coke to glass
Stir
Enjoy!
I also thought it would be really fun to purchase some party poppers and place them in cups on the table for people to grab for the game. Nothing is more fun that a party popper! Just pull the string and watch the confetti fly for a touchdown!! I got some cute chalkboard clothespins at the craft store and used them for labeling various things on the table – definitely added a cute and rustic touch, don't you think?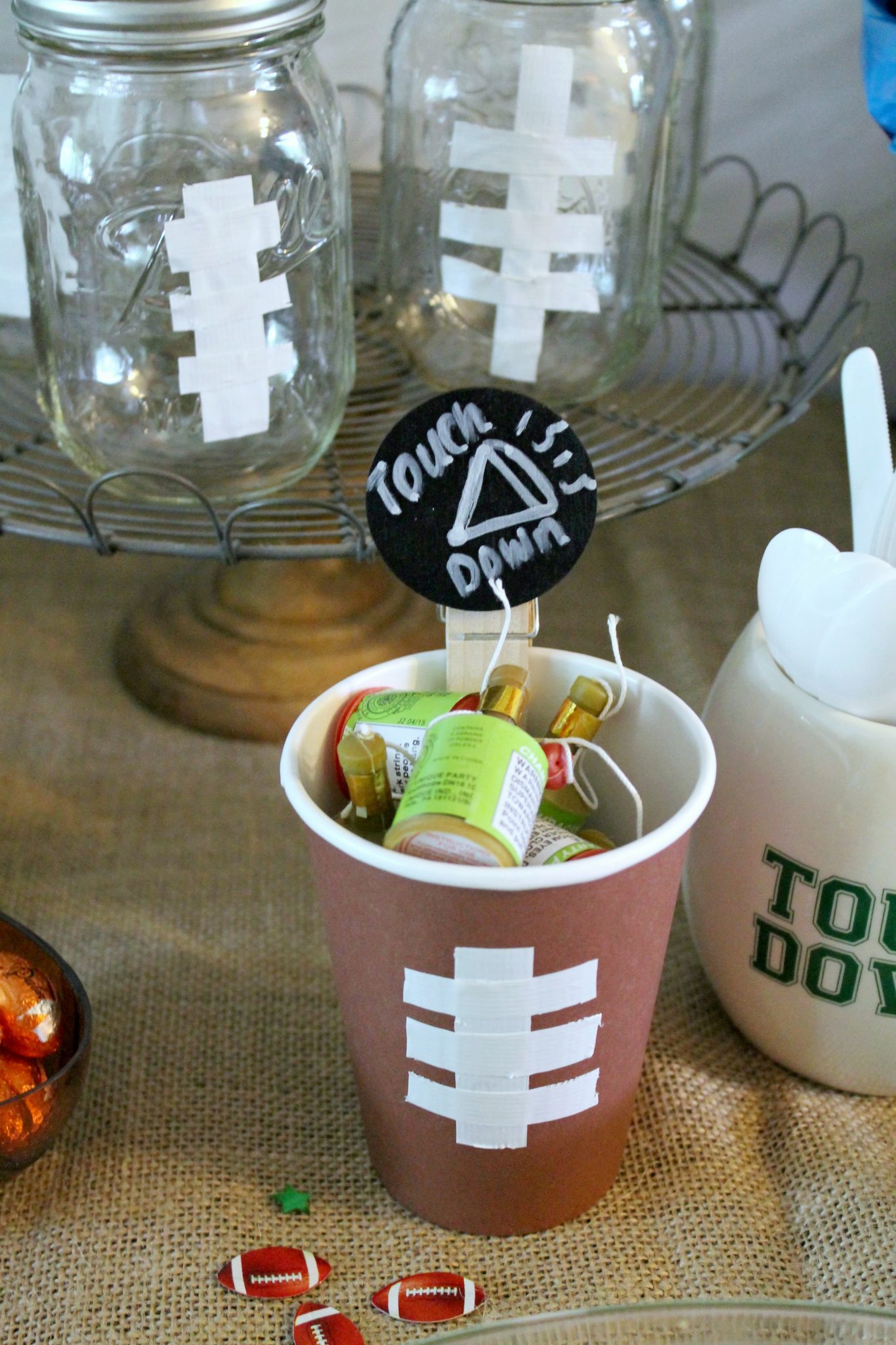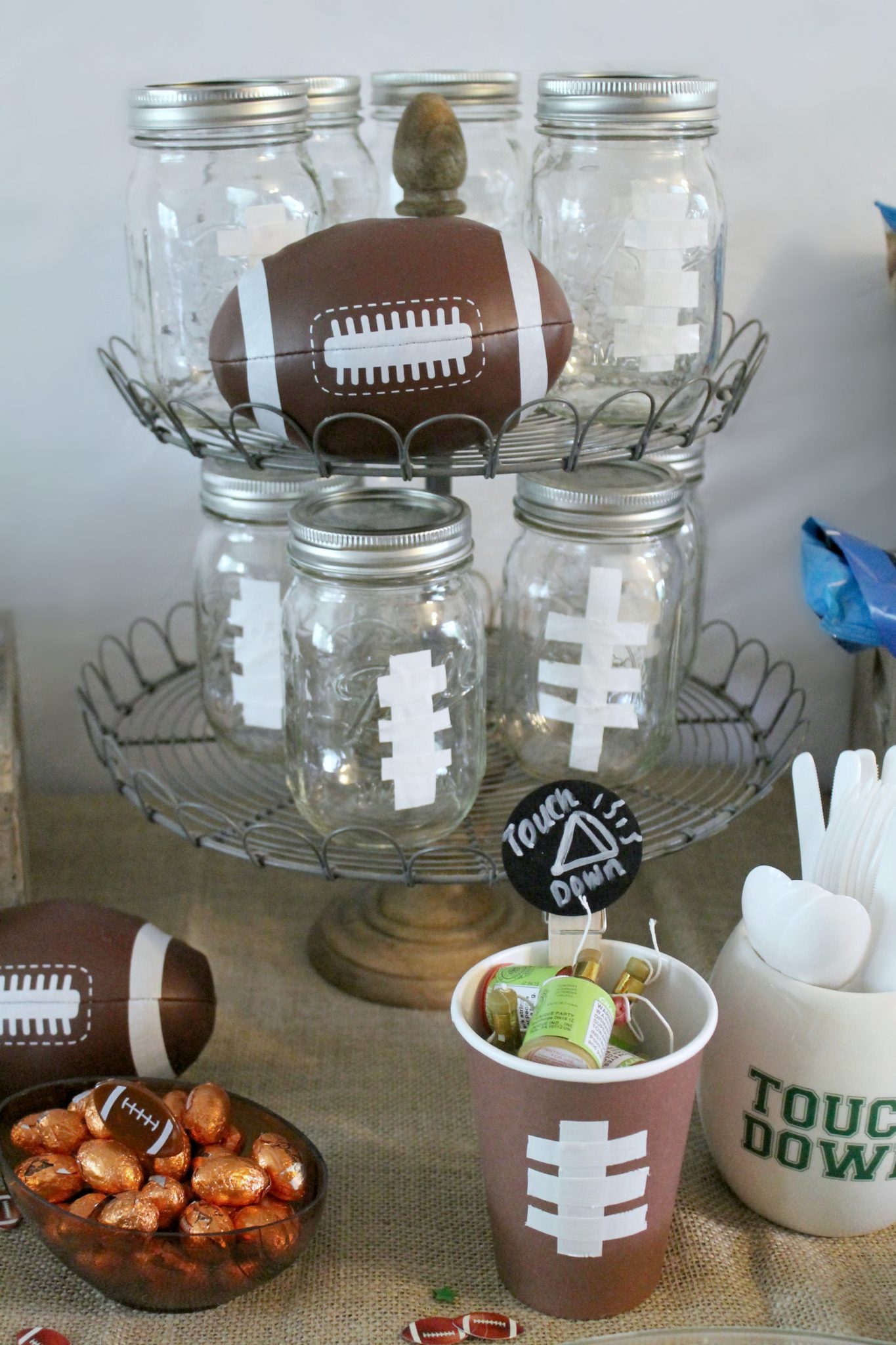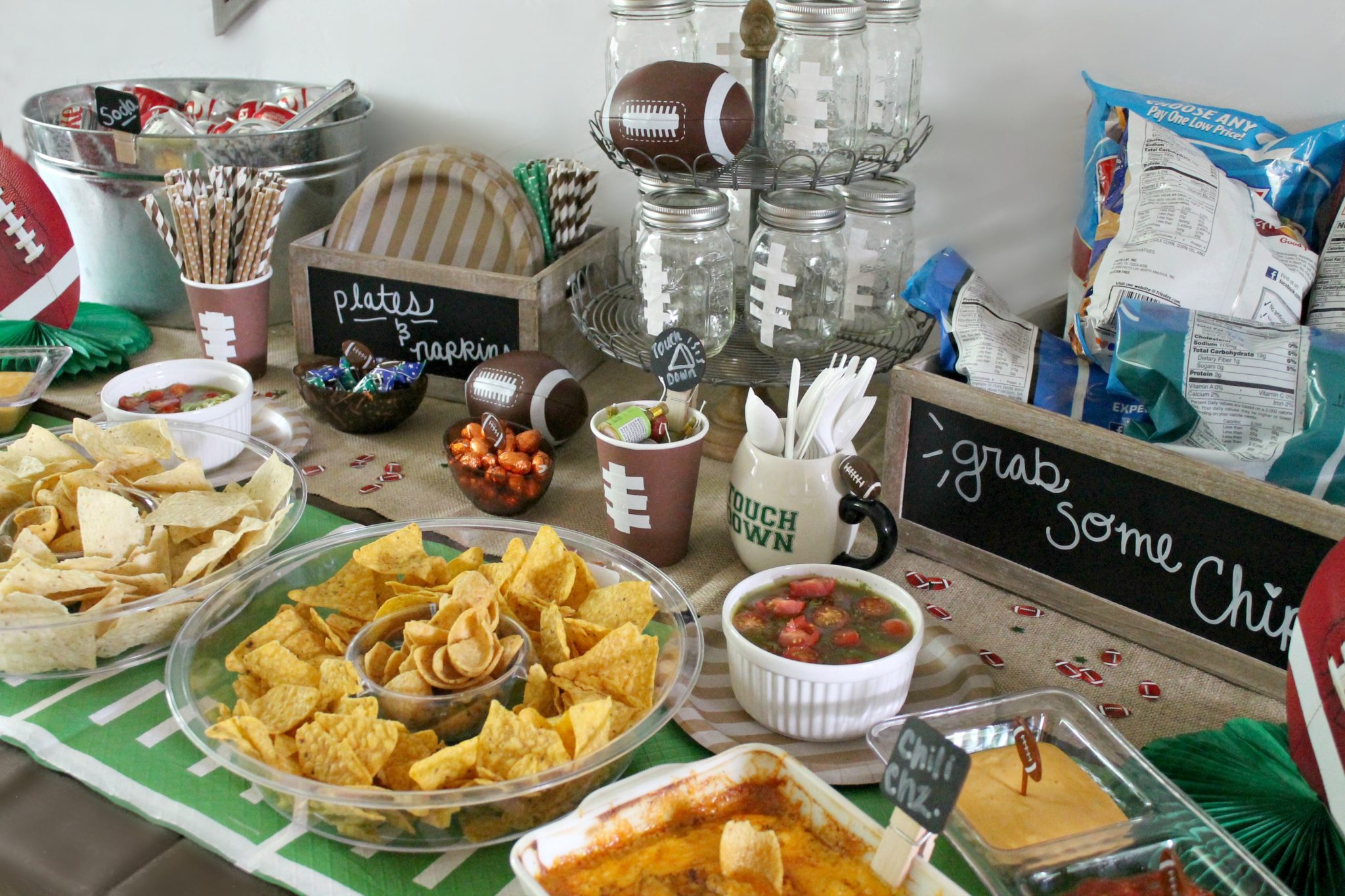 I just LOVE the way this table setting turned out. I used a fun wire cupcake stand to hold the mason jars so guests can just grab a jar, get some ice, and grab a coke from the ice bucket! I made sure to include a variety of fun paper straws, plates, napkins, and everything else needed to set everyone up for a great time! I also bought some pre-made dips from Sam's Club to add to the table as well, I got Salsa, Spinach Dip, and another Queso. I really wanted there to be several fun dips to try!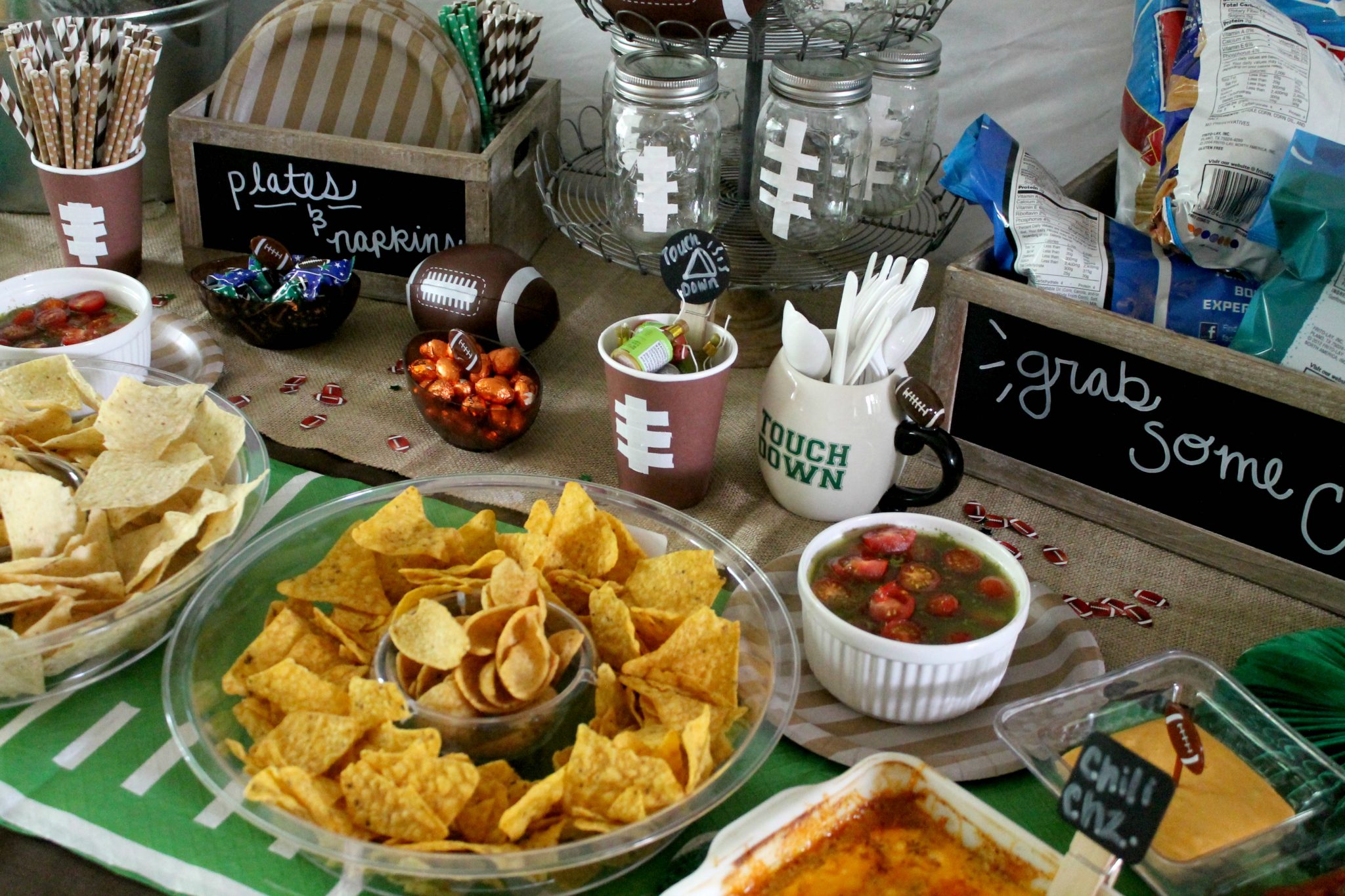 My Must-Haves for a Football Party:
A variety of chips + dips
Easily-accessible drinks
Lots and lots of ice
Party Poppers (can be found at any party supply store)
Chalkboard labels – to easily label different foods, ingredients, etc
Cupcake Stand – to create levels easily and to increase your storage space for cups and other items.
Confetti – sprinkle it ALL over the table!
Paper straws, fun plates, and napkins! Grab different colors and textures to mix and match.
Banners – make them yourself, or purchase them in the party aisle.
Friends and Family! People are what make the party – and nothing beats a great conversation (and great food) enjoyed by the people you love!

Will YOU be throwing a football party this season?
Which fun dip recipe will YOU try?!
Pin this party idea for later: