This post was sponsored by Honey Bunches of Oats Chocolate as part of an Influencer Activation for Influence Central. I received complimentary products to facilitate my review.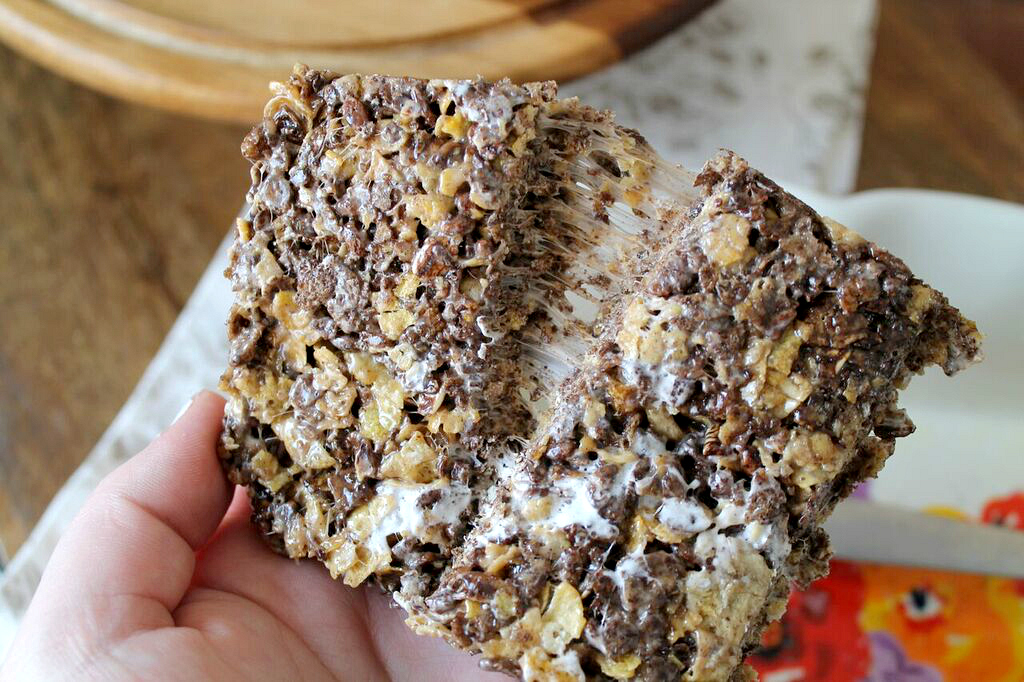 Hello, friends!
I don't even know if you're going to be able to handle the goodness I'm throwing your way today. This recipe is A) Gluten Free B) Delicious and C) SO EASY. Yeah, I'm coming at you with a triple threat, people! The main ingredient is Honey Bunches of Oats, it's made with REAL cocoa, it's crispy, and it's absolutely delicious! I'm constantly on the hunt for great gluten-free products since my little one, Wyatt is gluten free – and this was an instant hit!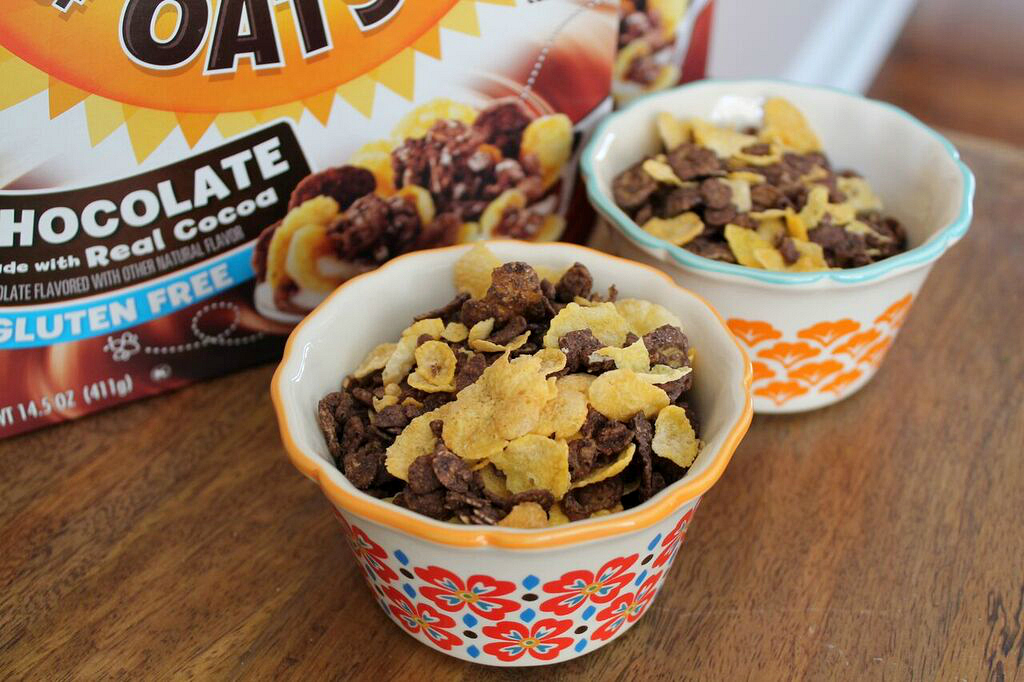 I love this cereal, because it helps me curb those chocolate cravings I get late at night. Let me tell you, my sweet tooth is a force to be reckoned with. But I wanted to create a delicious and easy recipe that I could make for Wyatt to enjoy – so I came up with these Easy, Delicious, Gluten-free, Honey Bunches of Oats Marshmallow Bars!
Are you ready for the recipe? Let's go!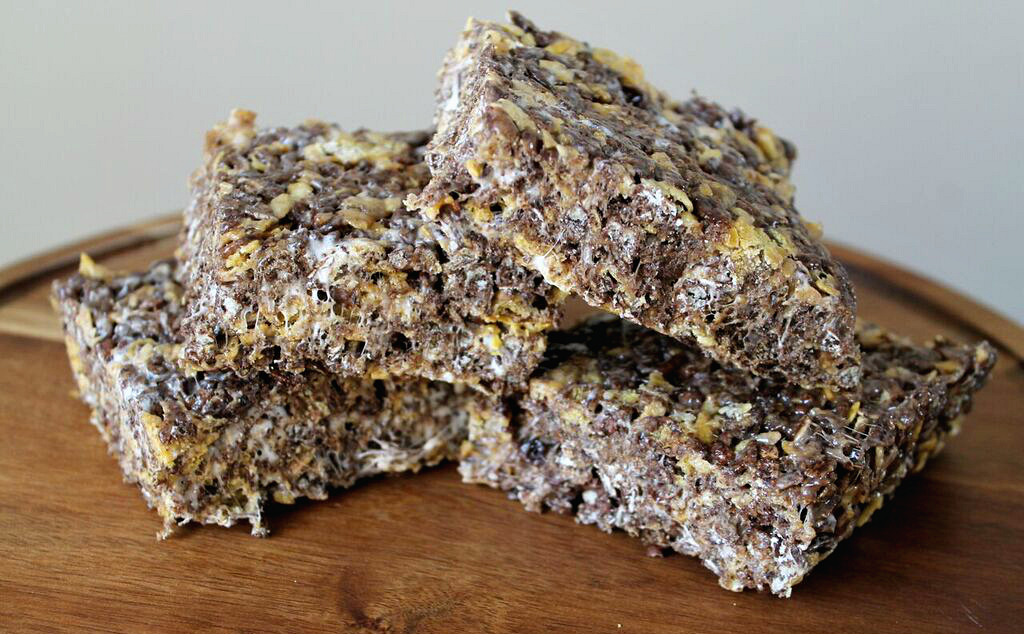 Step One | Grab your ingredients
You'll need: 10 cups mini marshmallows, 5 tbs, 10 cups of Honey Bunches of Oats cereal, cooking spray.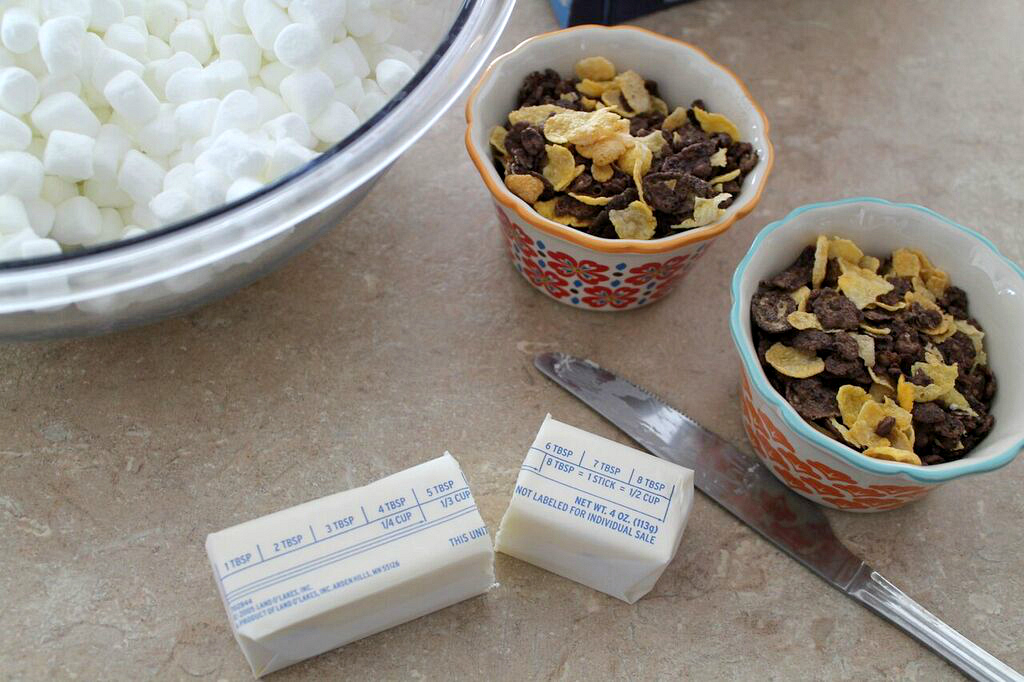 Step Two | Mix all ingredients in a large pot
First, grab a large pot – over medium heat, melt down your butter. Once it's melted, begin to add in 8 cups of your marshmallows, once those are melted, take pot off heat, and add in 10 cups of cereal and remaining 2 cups of marshmallows. Mix well.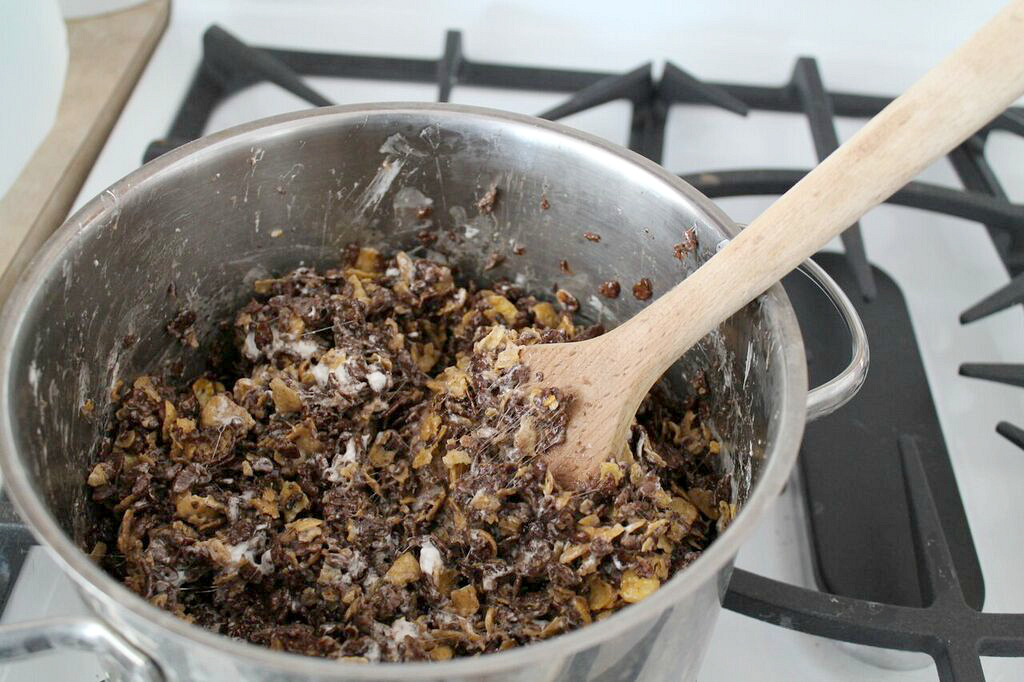 Step Three | Prep + Pour
Grab a 9×9 pan and spray it down with your cooking spray. Then, pour your large pot mixture into the pan and press down with either clean hands or a spatula until you create a nice, even surface.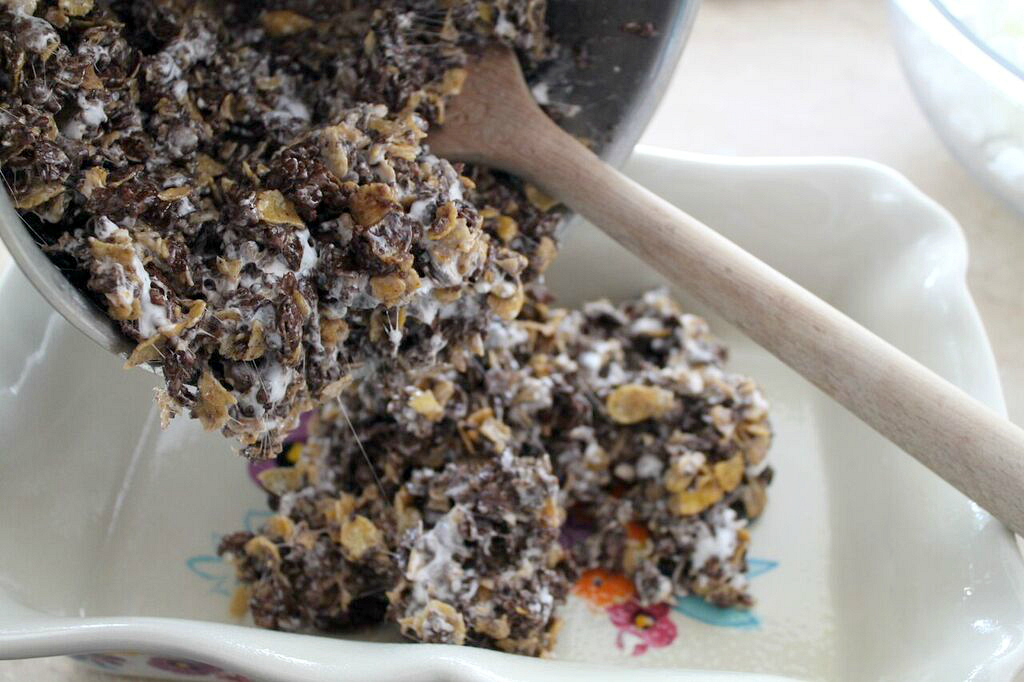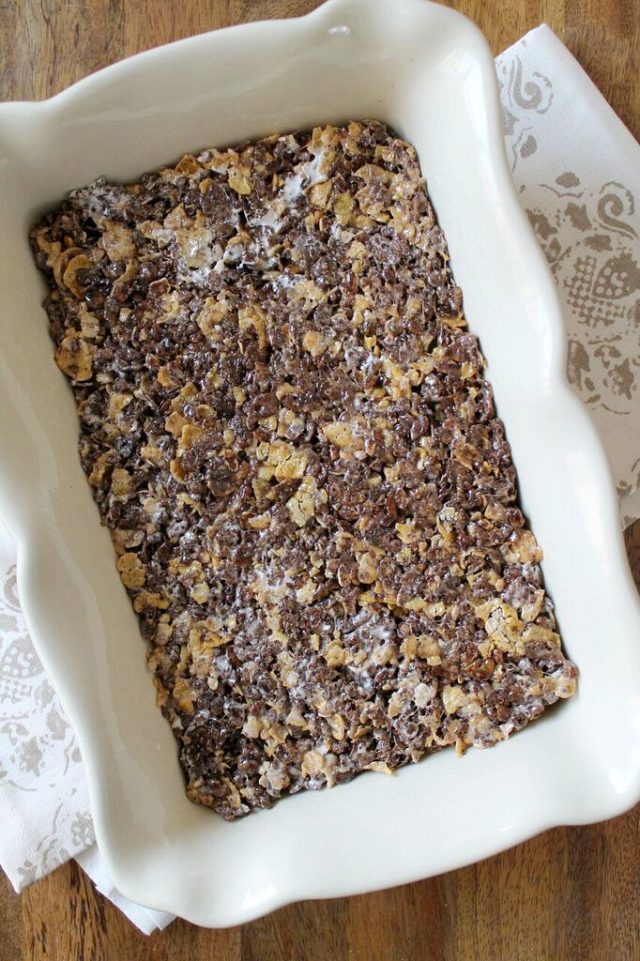 Step Four | Cool, Cut, and Enjoy!
Let dish cool completely, cut into squares, grab a glass of milk, and enjoy!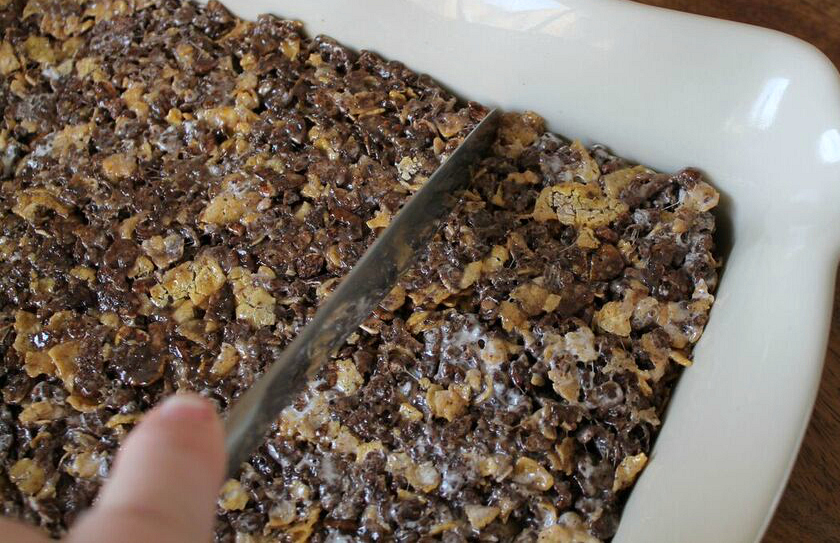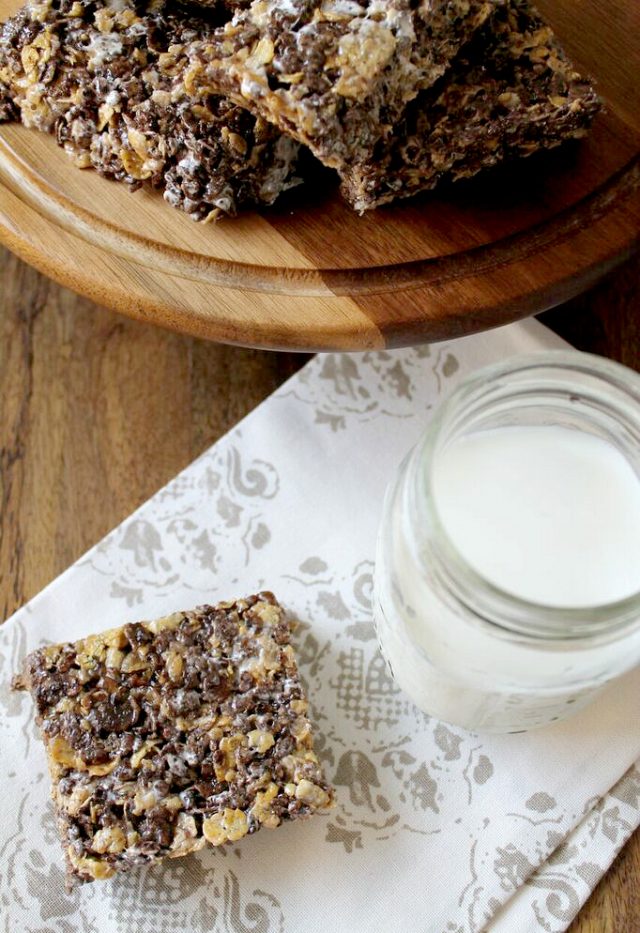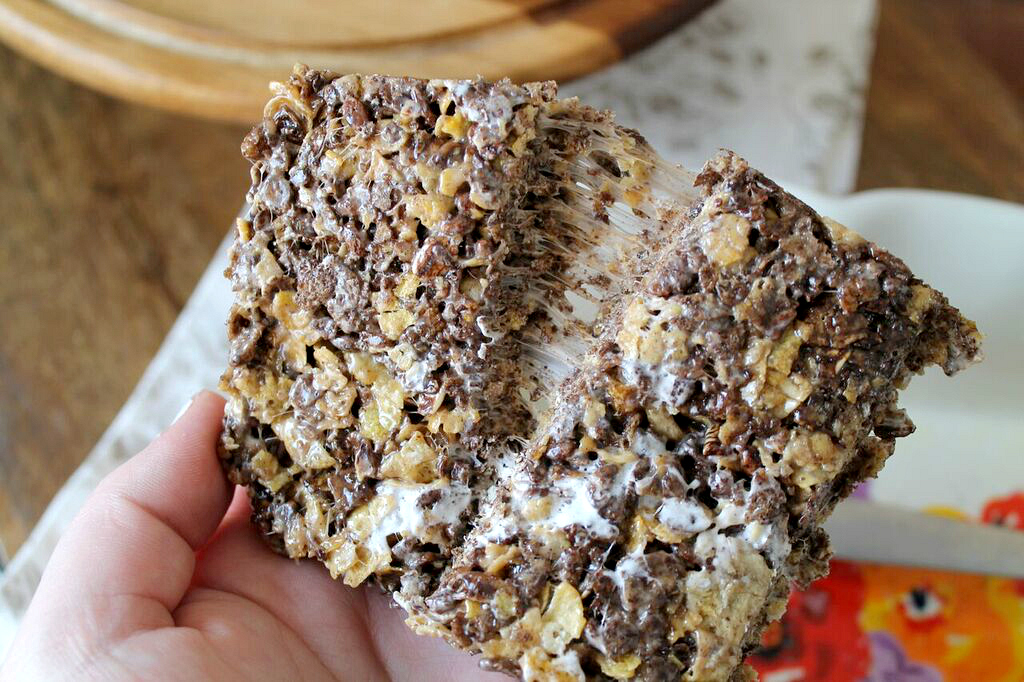 Can you say.. yumm? These bars were a huge hit with my kiddos, and so easy to create! Do you know someone who might enjoy a little gluten-free treat? Be sure to try this one out and let me know what you think!
And be sure to check out Honey Bunches of Oats on Facebook and Twitter!
Head here to pin the recipe for later: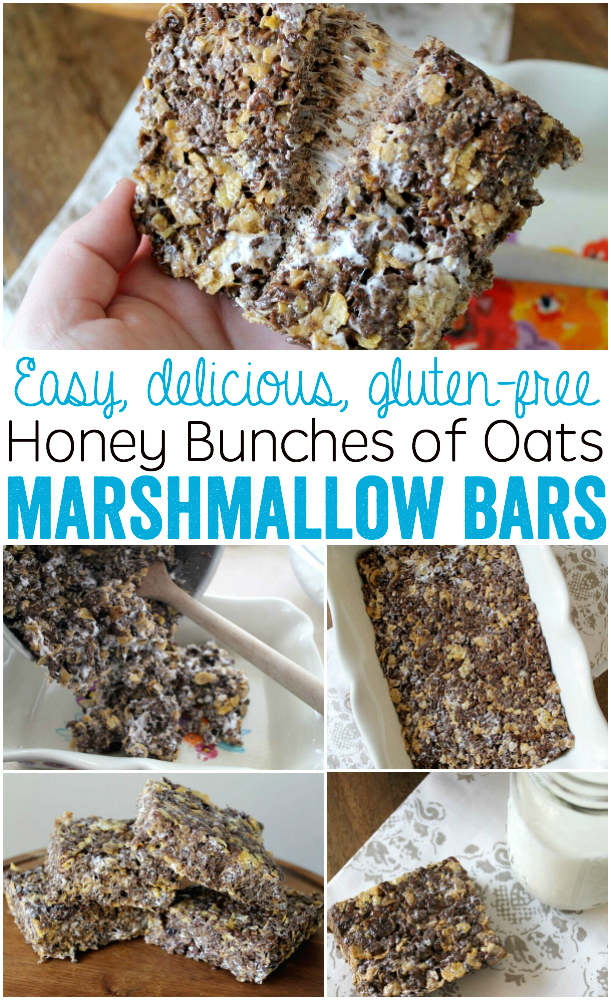 Honey Bunches of Oats Chocolate Marshmallow Bars
Ingredients
10 Cups mini Marshmallows
5 tbs Butter
10 Cups Honey Bunches of Oats Cereal
Cooking Spray
Instructions
Spray down a 9x9 pan with cooking spray
In a large pot, over medium heat, add butter and wait until it's melted completely
Begin to stir in 8 cups of mini Marshmallows and stir until melted
Once melted, remove pot from heat, stir in 6 cups of Honey Bunches of Oats and remaining 2 cups of mini marshmallows.
Once mixed, pour into 9x9 pan and press down with washed hands or spatula to create an even surface
Let cool completely, and then cut into squares
Best when served same-day!
Enjoy! 🙂
https://www.kendallrayburn.com/2016/03/delicious-chocolate-marshmallow-bars/
Disclaimer: While Honey Bunches of Oats Chocolate complies with FDA Gluten Free labeling requirements, it is not manufactured in a dedicated facility. All ingredients, ingredient suppliers and production lines are thoroughly tested at multiple levels of production and evaluated to assure there is no risk of cross-contact contamination. As gluten intolerances and sensitivities vary from person to person, we encourage you to use your best discretion when choosing foods safe for you. Honey Bunches of Oats Chocolate aims to provide a delicious cereal for all members of the family to enjoy, including those with gluten sensitivities or allergies. Enjoy!