This shop has been compensated by Collective Bias, Inc. and its advertiser. All opinions are mine alone. #GarageCleanUp #CollectiveBias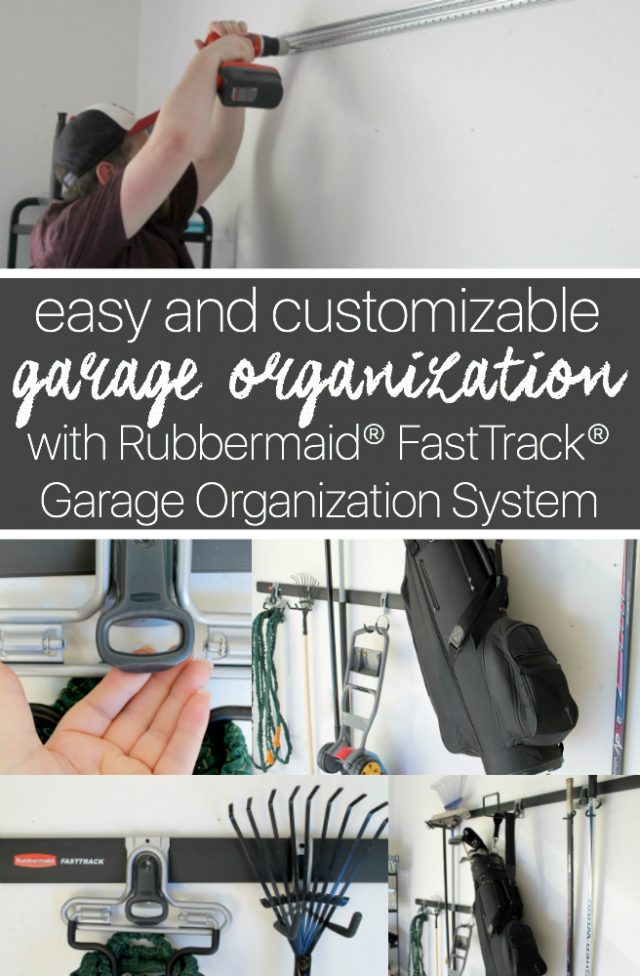 Hi, friends!
Hope you're having a great day so far! Today I wanted to show you a little project we tackled this weekend in the garage installing our new Rubbermaid® FastTrack® Garage Organization System. One of the things we loved about our house was that it had a nice two car garage, but unfortunately, we haven't quite organized it just yet – which was a huge stressor for us. To be completely honest, we haven't really finished unpacking yet – so our garage needs A LOT of love.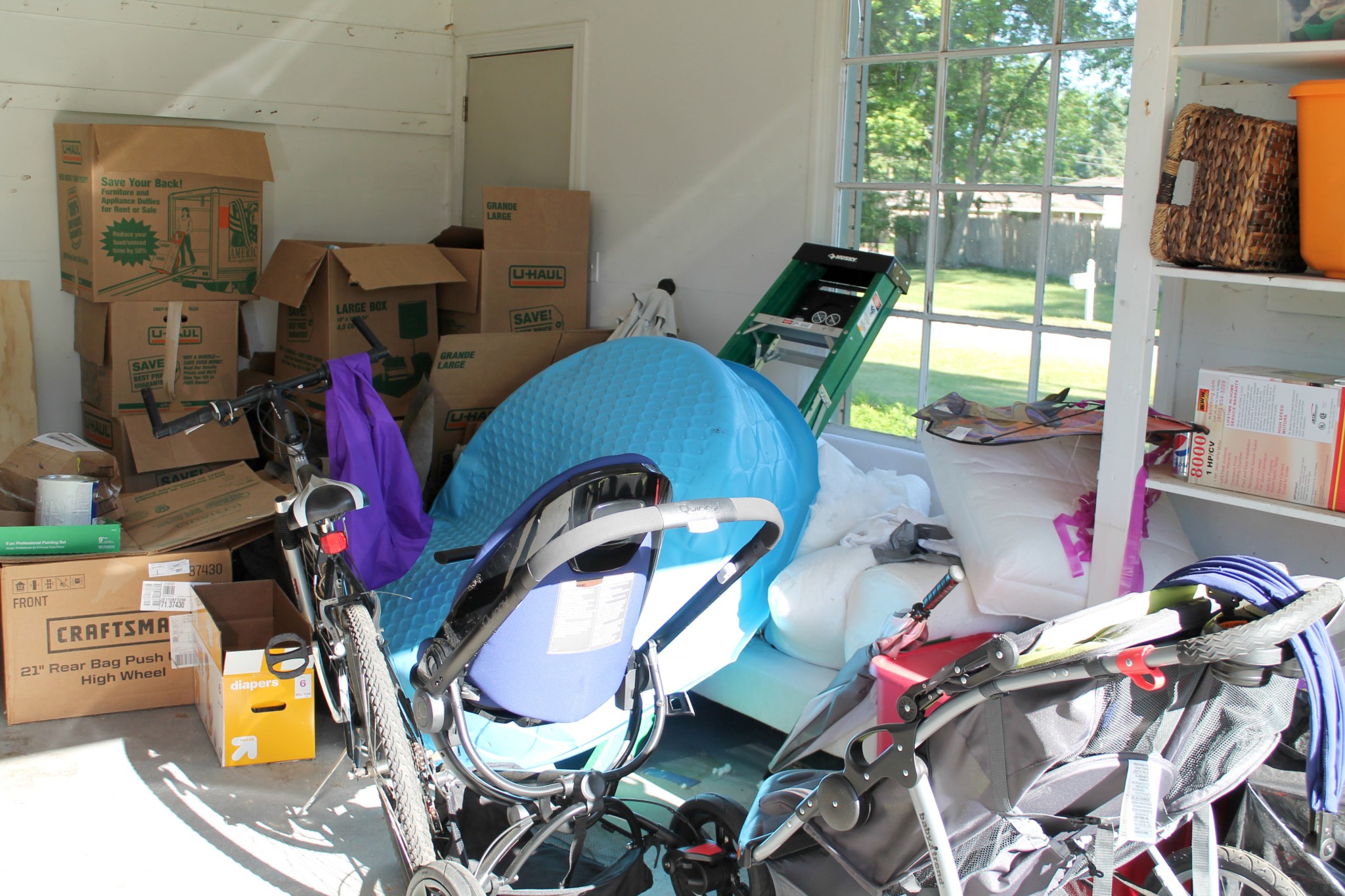 As with anything, we decided to zone in on one area, and go from there. We started with one wall, and installed the system within 30 minutes! Installation was so easy, I couldnt believe how fast it was! Our goal is to get the whole garage completely organized so it can be used as my husbands man cave! So he was very excited to start the process!
Instillation:
Step One | Locate the studs in your wall using a stud finder. Mark them with a pencil.
Step Two | When you're installing use your pencil marks as guides to where your screws should go.
Step Three | Once your railing is up, simply snap on the black covering, and you're ready to start customizing with the accessories!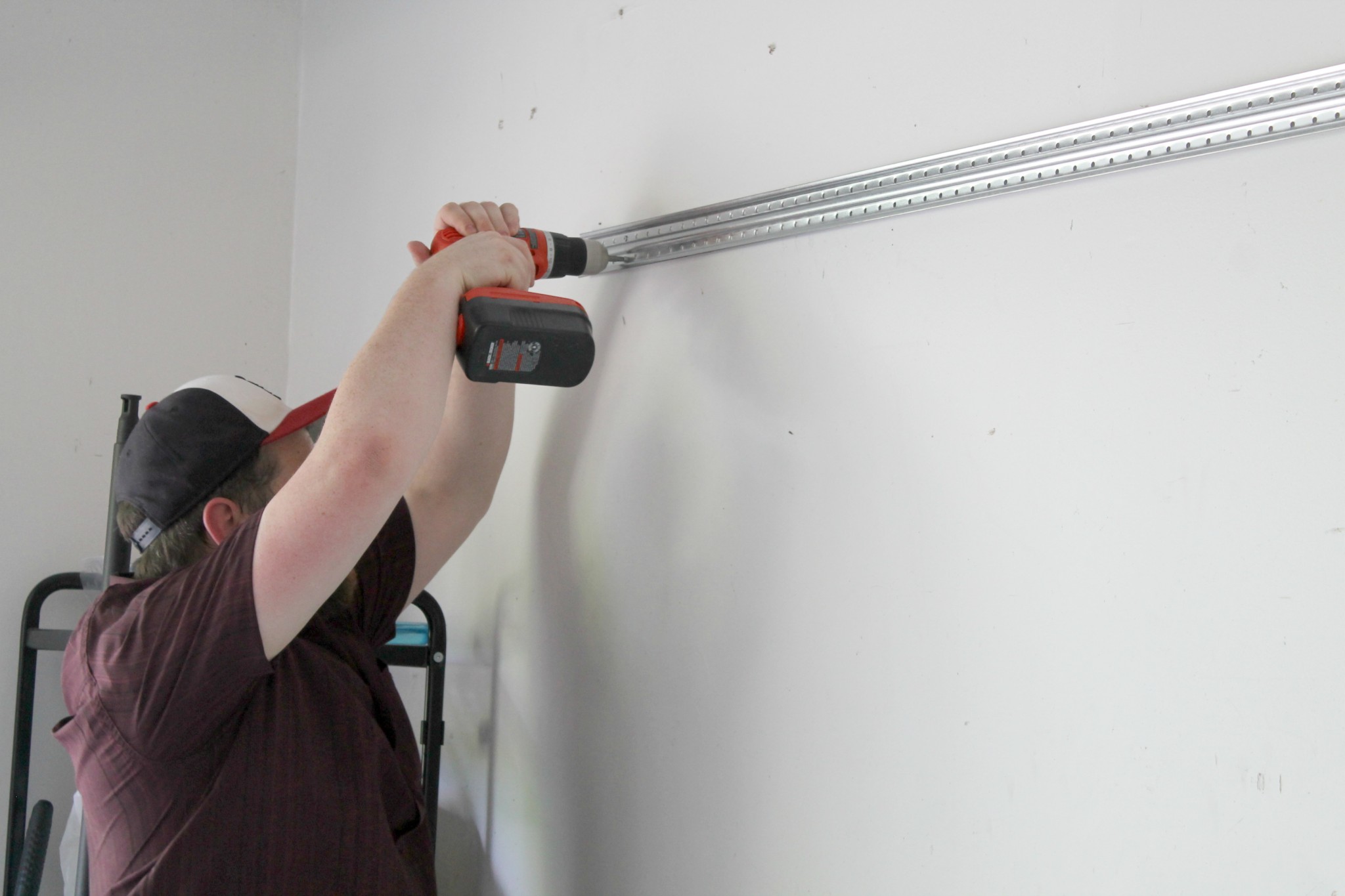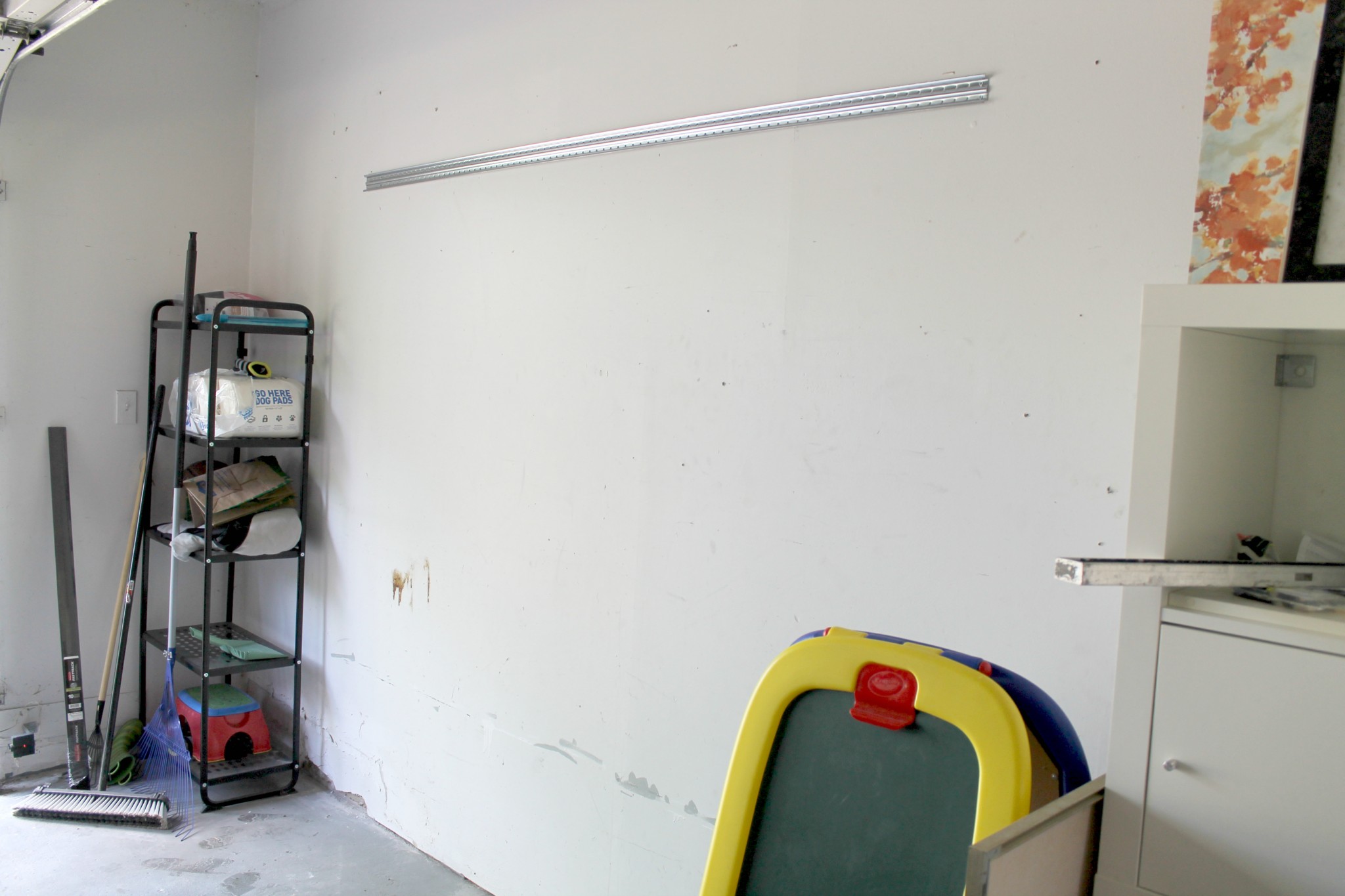 We thought very carefully before choosing which accessories we'd use for our system. I knew some key storage needs were for our outdoor yard items, my husband's golf bag, and hockey sticks. I loved that when we went to attach the accessories, they easily snapped into place. And when you need to adjust or move any of the pieces, simply use the level to pull up and slide it over! It's so easy to make this system fit YOUR needs!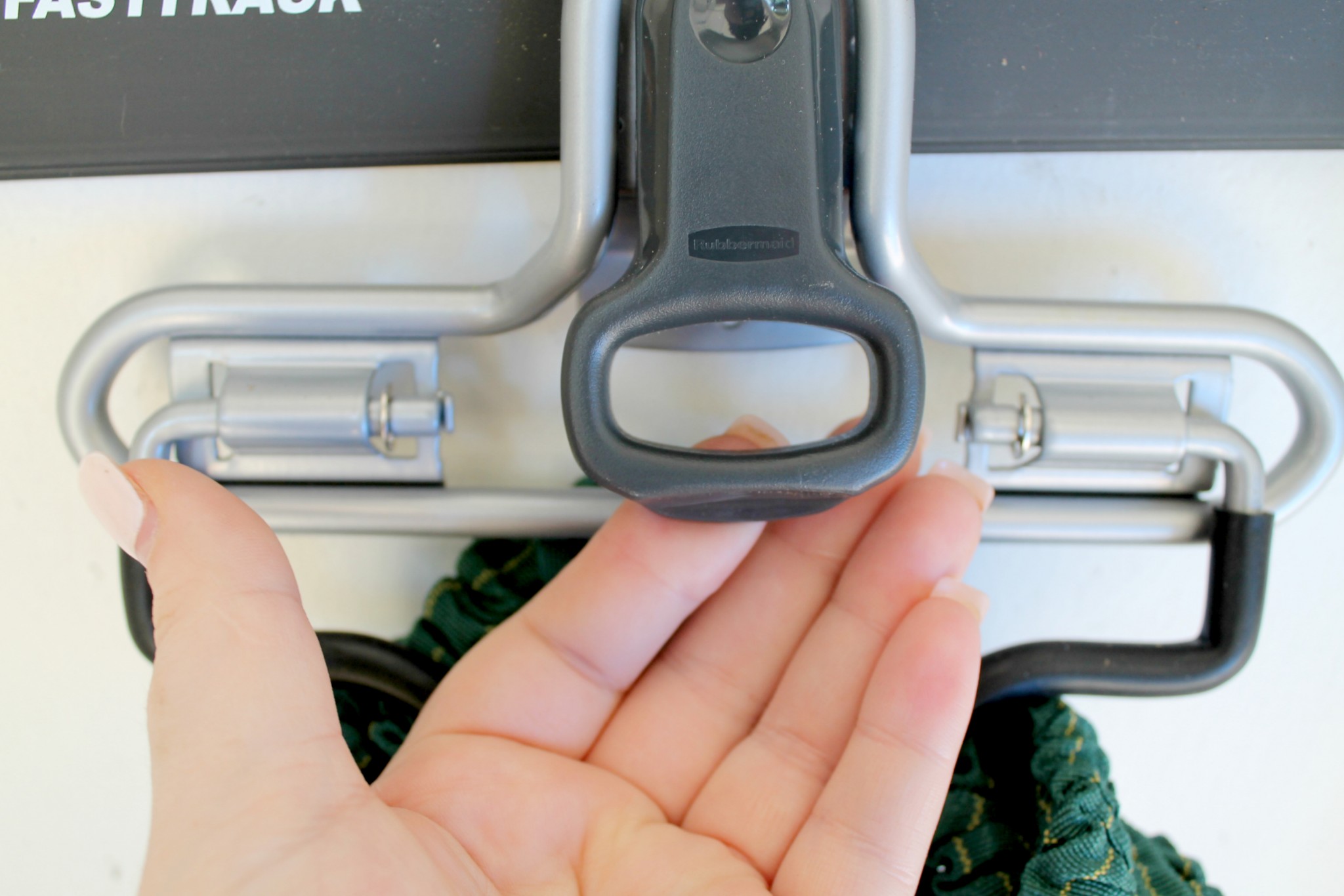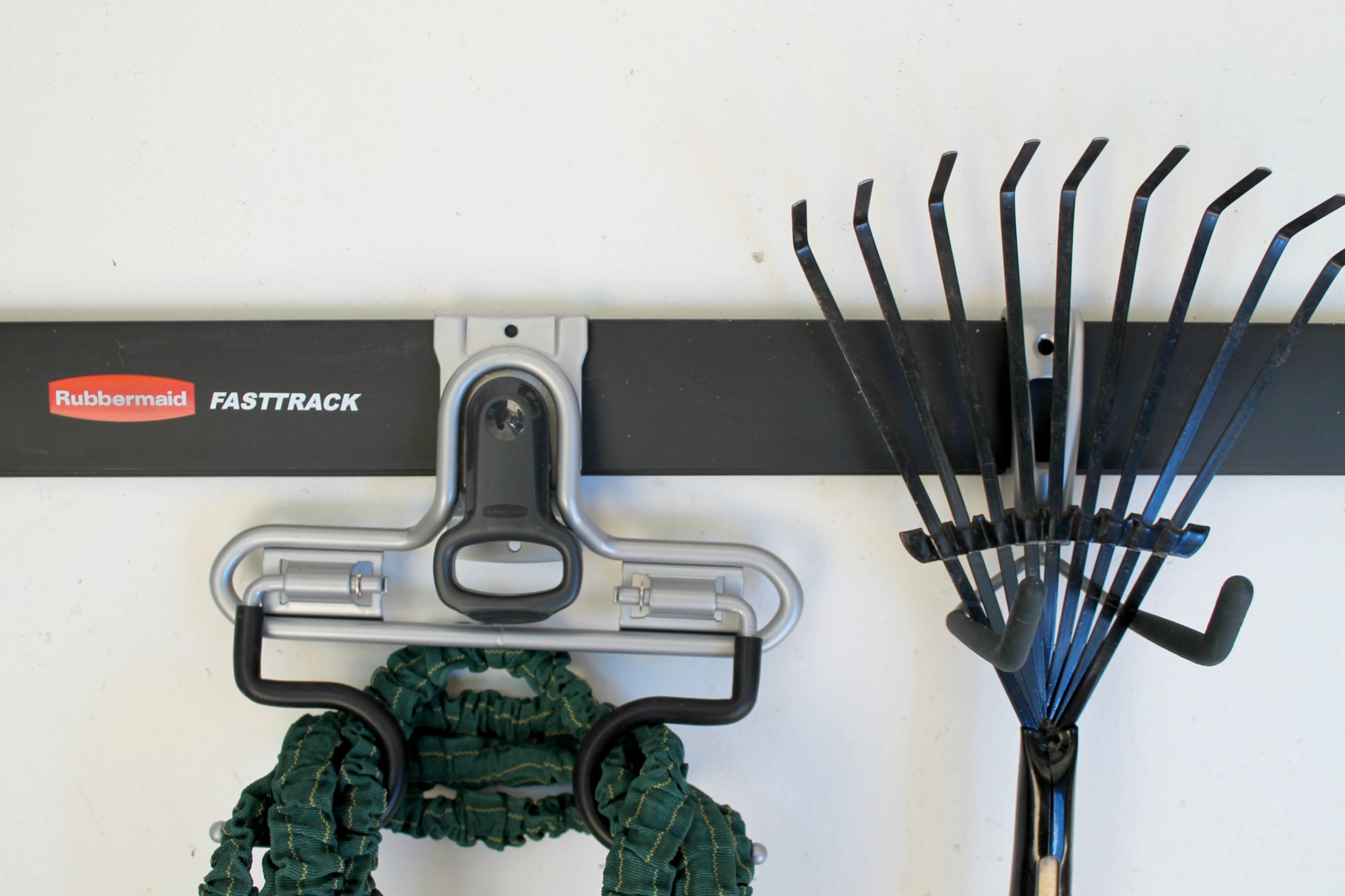 We used:
Rubbermaid® FastTrack® 48IN Wall Panel
Rubbermaid® FastTrack® 84inch Rail
Rubbermaid® FastTrack® Wall Hardware Pack (one for 48IN Wall Panel, 2 for 84IN Wall Panel)
Rubbermaid® FastTrack® Large Hook (2pk)
Rubbermaid® FastTrack® Multi-Purpose Hook
Rubbermaid® FastTrack® Compact Hook
Rubbermaid® FastTrack® Garage Utility Hook
Rubbermaid® FastTrack® Cooler Hook
Rubbermaid® FastTrack® Dual Handle Hook
Rubbermaid® FastTrack® Garage Hose Hook (we're using it to hold my husbands golf bag!)

Things we love about the system:
Inexpensive – it's $9.97 for the 48" and $15.77 for the 84" + whatever hooks and accessories you choose.
Installation take minutes, it's so EASY!
System works with standard 16″ or 24″ stud spacing.
Durable steel construction.
Holds up to 1,750 lbs!
Completely customizable, add pieces as you need them.
Easy hardware pack that includes everything needed to install.
Tip: The Rubbermaid® FastTrack® Dual Handle Hook is perfect for holding hockey sticks! And can we get a "hallelujah" for getting these off the ground?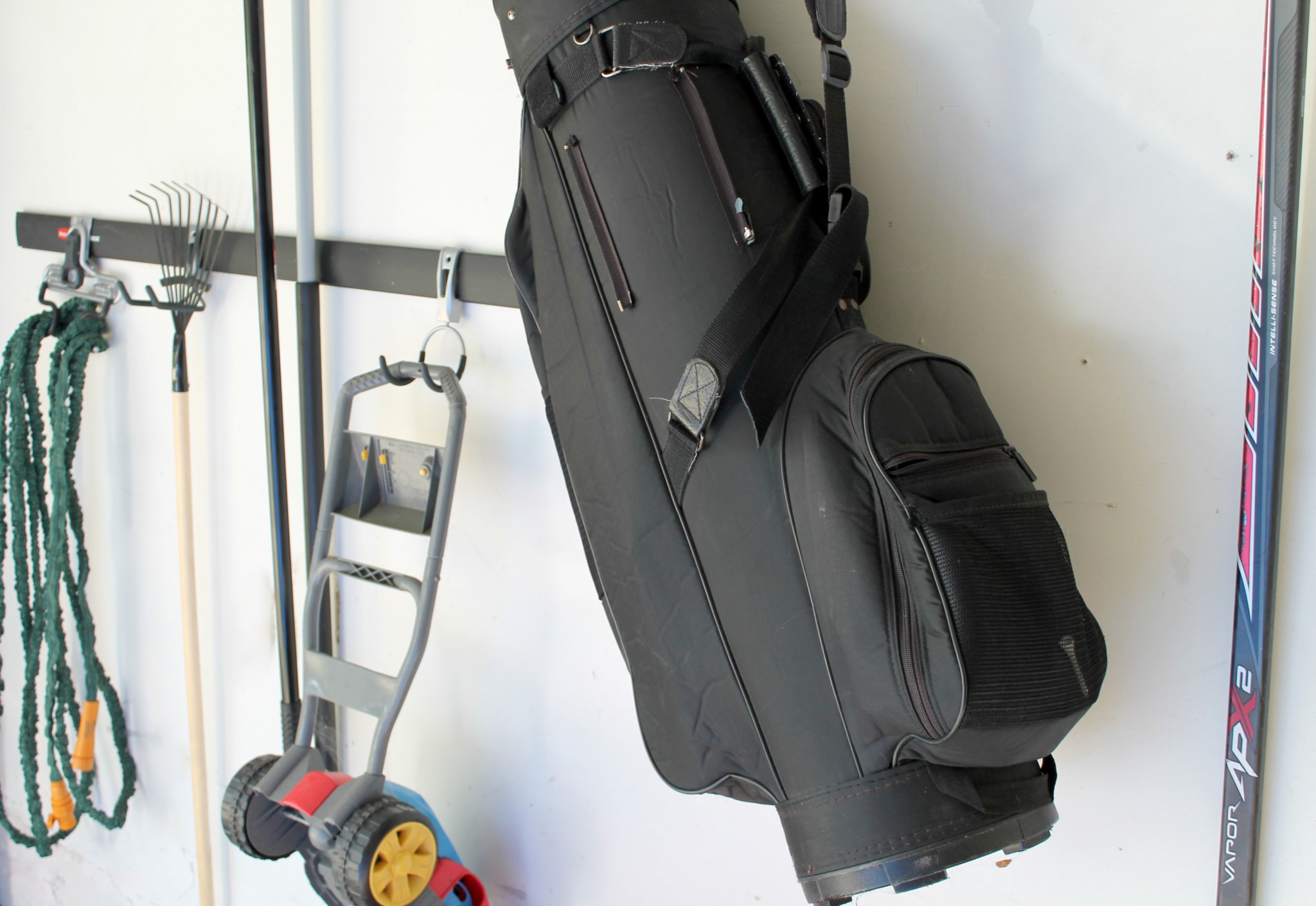 So much better, right? Now we have one full wall in our garage that is nice and organized, phew! Now to move onto the other areas of the garage (eep!). We are FOR SURE heading back out to The Home Depot this weekend to pick up some additional Rubbermaid® FastTrack® accessories to help us organize the rest of our garage! My husband is so happy because he's just that much closer to his man cave 🙂
TIP: This system makes a GREAT Father's Day Gift if you're looking for something special for Dad this year!
Could YOUR garage use some organization?
Check out the Rubbermaid® FastTrack® Garage Organization System at The Home Depot!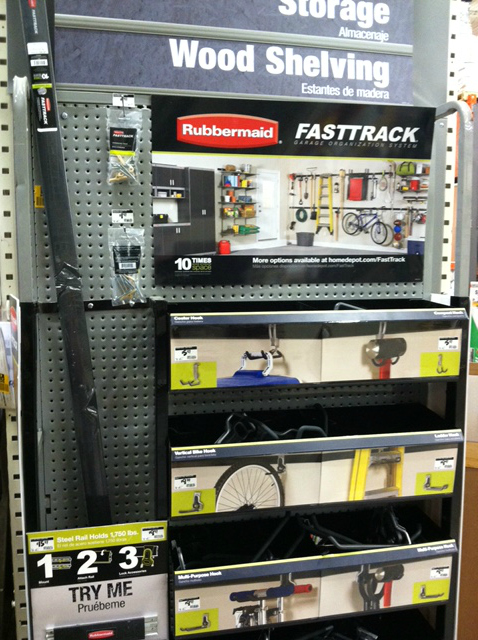 Love this post? Pin it here: