A huge thanks to our friends at Gymboree for sponsoring today's post.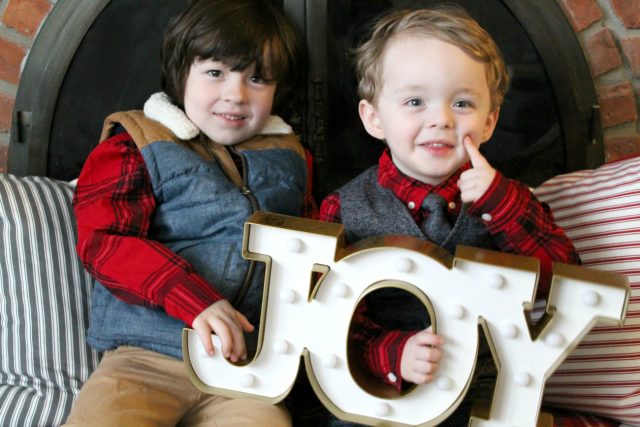 Hello, friends!
Can you believe Thanksgiving is over and now it's time to gear up for Christmas? One of my favorite things to do each holiday season is take photos of the boys at our house. Sometimes we take them in front of the Christmas tree, but this year for our first real Christmas in our new home, I wanted to take them in front of our large brick fireplace!
Taking photos of little ones is NOT easy. I will be the first to admit it. Our photoshoot took about an hour because we took a lot of breaks (one of our tips), but to have these precious photos is so worth it! Now it's time to order Christmas cards!

5 Tips for Taking Holiday Photos of Your Kids:
1 | Shop for the Perfect Outfits
One of the stand-out things about a great holiday photo are festive holiday outfits! This year we shopped Gymboree for the perfect clothing for each boy. I wanted the outfits to be similar but just a little different to help represent the different personalities of the boys. Gymboree had everything we needed from top to bottom (even shoes) I couldn't wait to put the boy in their new clothes!
Levi Wore: Plaid Shirt, Herringbone Vest, Herringbone Pants, Tweed Tie, Bear Socks, Camp Boots.
Wyatt Wore: Plaid Shirt, Puffer Vest, Bear Socks, Camp Boots.
2 | Set the Scene
Creating the perfect scene for holiday photos doesn't have to be hard, simply grab what you have! For our photoshoot I had the boys sit right on top of a tree skirt on our fireplace. I put our holiday pillows on each side, and bam – we were ready!
3 | Get Back-ups
Make sure your camera batteries are fully charged, and have a backup just in case. If you're children want to wear a specific item and you have a duplicate, bring it. You never know what you'll need during your shoot and you don't want to be held up when you've got little ones involved.
4 | Take Breaks
As I mentioned before, our photo shoot took about an hour because breaks are mandatory for us. No child likes sitting still, so this sometimes makes it difficult to get a good shot. Instead of fighting to get your kids to sit still, let them have breaks to wiggle around. Some good jumping jacks, bouncing, or a good old fashioned game of chase around the living room will help to ensure you're little ones are ready to take that photo! You may have to slick a few hairs back afterwards, but your kiddos will be happy!
5 | Have Props
A friend of mine (Carly) gave me the best idea. USE PROPS! Your kids don't have to be looking right at the camera smiling, give them something to hold and look at. This was a huge stress reliever for us because it mixed things up a little bit.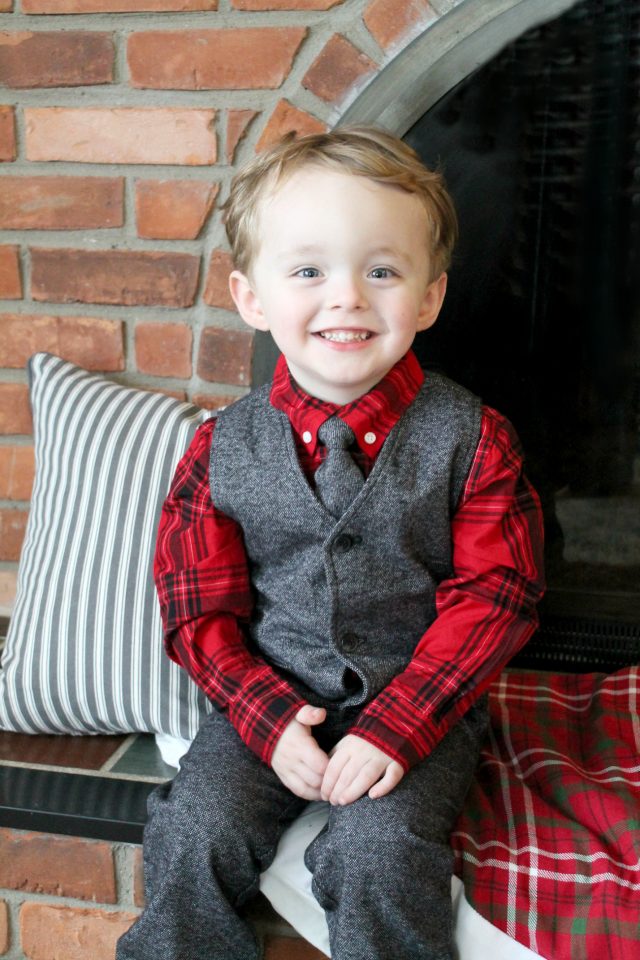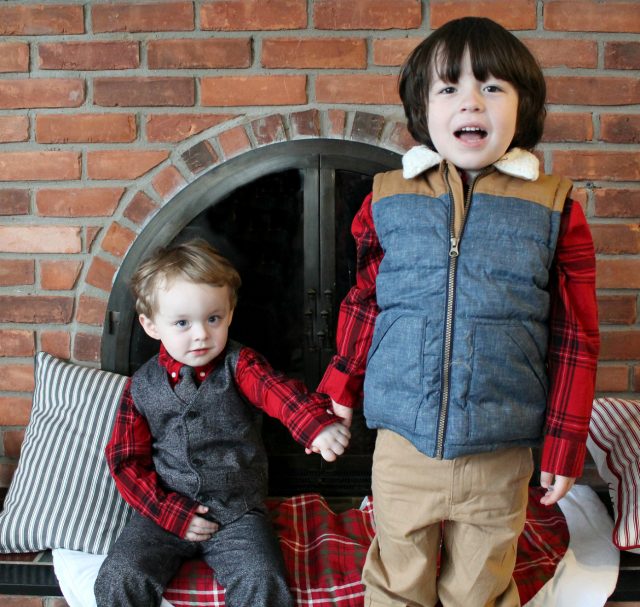 I am so happy with how the photos of the boys turned out, and I just can't get over how adorable their outfits from Gymboree were! I mean, Levi in a tie? Get out of town.
One Big Happy Wonderland with Gymboree:
From December 1 – December 10, in Gymboree stores nationwide, you'll get a fun scratcher at checkout!
The scratcher could inspire a family game night with a Mattel Prize Pack of Uno, Apples to Apples and Pictionary plus $50 to for Gymmies to outfit the evening! Or your scratcher could reveal a gift basket of Mrs. Fields Cookies – sweet treats for Santa! Or even a shopping trip treat with a Free Auntie Anne's Classic Pretzel! TWO customers will even get a holiday vacation with a Club Med all-inclusive family vacation! Each scratcher will reveal a special surprise to create One Big Happy Wonderland!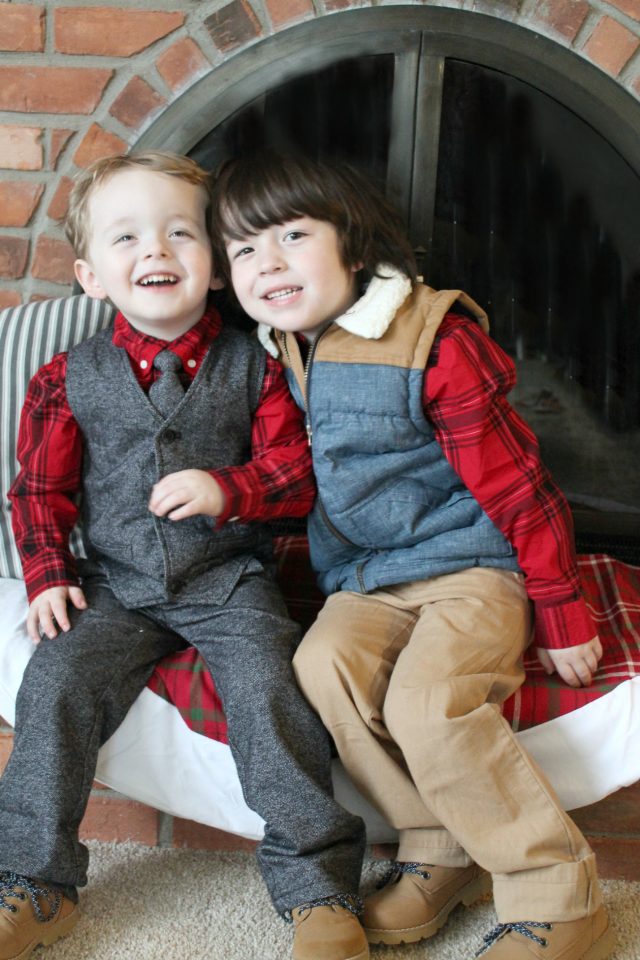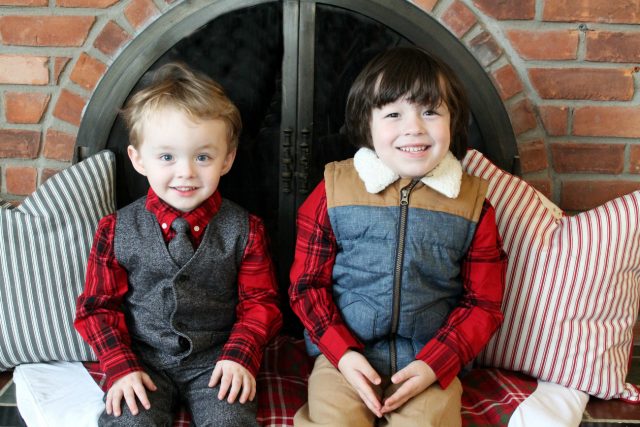 Be sure to visit a Gymboree store near you between 12/1/16 – 12/10/16 to pick up everything needed for your family photos + to pick up a scratcher to see what you'll win!
Do you have additional tips for taking photos of little ones?
Leave them in the comments below!