The Kendall Rayburn Blog is a participant in the Amazon
Services LLC Associates Program, an affiliate advertising program designed to provide a means for sites to earn advertising fees by advertising and linking to Amazon.com
.
Keep scrolling for The Best Black Friday Toy Deals on Amazon!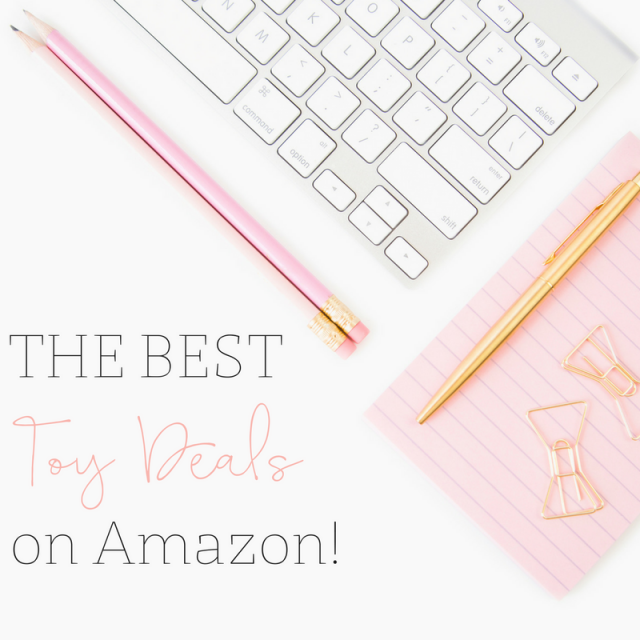 Hello, friends!
If you're like me, you're doing all of your shopping on Black Friday and Cyber Monday to get the best deals! I LOVE shopping for the best deals and saving. And today I'm spreading that love of savings onto you by featuring the best Black Friday toy deals on Amazon! Don't worry, I'll help ya out with the Cyber Monday deals, too. Because, who doesn't like to save, right?
I will be updating this list ALL day today, so be sure to come back and check as the surprise deals pop up! I'll also be tweeting deals ALL day on twitter, too – so be sure head on over and give me a follow to stay up-to-date!
This list is in alphabetical order so you can scroll and see if anything on your child's wish list is here, easy peasy! Happy Saving, friends!
Best Toy Deals For Kids On Amazon
A
5pcs 3 7v 750mAh Lipo Battery For Syma X5C X5SC X5SW RC Quadcopter With 5 In 1 Battery Charger
Adora Doll Accessories 6-Piece Feeding Set comes with Bib and Bottle for Children 2 years and up
Adora Doll Accessories Portable Table Feeding Seat for Children 3 years and up
Adora Toddler The Cat's Meow 20″ Girl Weighted Doll Gift Set for Children 6+ Huggable Vinyl Cuddly Snuggle Soft Body Toy
Alex Pipe Cleaner Vase
ALEX Toys Artist Studio 12 Creamy Crayons with Brushes
ALEX Toys Craft Knot-A-Quilt Pattern Kit
American Coin Treasures Gold Rush Collection
American Greetings DC Super Hero Girls Party Favor Value Pack
Application Batman Die-Cut Black Logo Patch
AtmosFlare 3D Pen Set
Automoblox X9-X Sport Utility
B
Backyard Discovery Kings Peak All Cedar Wood Playset Swing Set
Backyard Discovery Ship's Wheel, Green/Yellow
Backyard Safari Magnifying Glass
Badger Basket Folding Double Doll Front-to-Back Stroller – Pink Gingham (fits American Girl dolls)
Badger Basket Trundle Doll Bunk Beds with Ladder (fits American Girl dolls)
B-AIR Koala 1 HP Bounce House Blower, Green
Bandit Racoon Flopsie – 12″
Banpresto Dragon Ball Z 2.8-Inch Cooler Figure, Frieza Special Volume 2
Barbie Make-Up Artist
Barbie Sisters Barbie and Stacie Doll 2-Pack
Bead Bazaar Bead Bazaar Sweet Delight Bead Chest
BeginAgain Farm A to Z puzzle – Toy Farm and Wooden Puzzle + Playset for Kids – ABC puzzle & Educational Toy for Toddlers
Big Time Toys Socker Bopper (Colors May Vary)
Brick Party Board Game
Bruder Jeep Wrangler Unlimited Rubicon
Bruder Toys Man TGA Low Loader Truck With JCB Backhoe Loader
Bruder Toys Man Timber Truck with Loading Crane and 3 Trunks
Buffalo Games Cartoon World: Dave Garbot Landmarks of The United States Jigsaw Pizzle (1000 Piece)
Ballerina Treasure Music Box and more
C
Calico Critters Adventure Tree House
Calico Critters Ballet Theater Playhouse
Calico Critters Cherry Cruiser
Calico Critters Chocolate Labrador Family Doll
Calico Critters Cuddle Bear Family Doll
Calico Critters Family Seven Seater Vehicle
Calico Critters Girl Lavender Bedroom
Calico Critters Hopper Kangaroo Family Set
Calico Critters Hopscotch Rabbit Family
Calico Critters Kozy Kitchen
Calico Critters Sandy Cat Family Doll
Calico Critters Tuxedo Cat Family
Calico Critters Wilder Panda Bear Twins
Calico Critters Yellow Lab Twins
Care Bears Hug Me Back Share Bear
Casdon Electronic Toy Washer
Chess Set – Ambassador High Detail European Wooden Handmade Set
– 21″x21″
Click N Play Pretend Play Cosmetic and Makeup Set with Floral Tote Bag
Click-A-Brick Feather Friends 30p Educational Toy Block Set
Craft-tastic String Art Kit
Creativity Street 4650 Die Cut Paper Masks, 7 1/2 x 3 1/2, White, 50 per Pack (CKC4650)
Crayola Story By Me Hardcover Kit
D
Dead Last Card Game
Diamond Select Toys Marvel Select Thanos Action Figure
Dominion
Disney Frozen Elsa Design A Vinyl Playset
Disney Princess Disney Princess Palace Pets – Glitzy Glitter Friends – Sultan and Rouge Combo Pack
and more
Disney Princess Whisker Haven Tales with The Palace Pets – Furry Tail Friends Truffles and Snow Paws Combo Pack
and more
Disney Princess Whisker Haven Tales with The Palace Pets Giftset
(9 Pack), 1.5 and more
Up to 60% Off Disney Favorites
E
Educational Insights Playfoam Dino Pals Themed Set
Etekcity 200 Pack Bright LED Finger Lights
Etekcity LED Light Fiber Optic Hair Braid Barrettes 15 Pack
Executive Mini-Sandbox – Tee Time
Exploding Kittens: NSFW Edition Holiday Sale
Estes Hi-Flier Flying Model Rocket Kit
F
Fast & Furious 1:12 Elite Off Road R/C
Fire Truck Ride On with Removable Seat for Toy Box
Fisher-Price Apptivity Puppy
Fisher-Price Laugh & Learn Cookie Shape Surprise
Fisher-Price Shimmer and Shine Float & Sing Palace Friends
Fisher-Price Thomas the Train Wooden Railway Race Day Relay Set
FLEEMY Wheels Set for Magnetic Building Blocks Early Education Toys Rear Wheel without Bumper 2pcs
FlipNCheck Dry Erase Activity Game, One Color, 01
Foam Magnets – Pattern Blocks
Free accessory set with purchase of Melissa & Doug Chef's Kitchen
Funko 5538 Garbage Pail Kids Mystery Mini Blind Box One Figure
Fischertechnik Super Fun Park
Foamnasium Toddler Step
Funko POP Television: The Walking Dead – Daryl (Rocket Launcher) Action Figure
G
Girl Scout Cookie Oven Deluxe Refill Kit – Trefoils Trio
Green Toys Farm Playset
H
Harry Potter Ceramic Cauldron Mug
Hauck Eco Wagon – Forest Green
HOMEE Science Kits for Kids Beginner Microscope with LED 100X 400X and 1200X
Hot Wheels Fast Blast Car Park Carrying Case
Hedstrom 55-85801 Disney Frozen Hopper
, 15-Inch and more
Hedstrom Sensory Shapes
, 6-Pack and more
Hubsan X4 Quadcopter with FPV Camera Toy
I
Inlaid Walnut-Style Magnetized Wood Chess Set with Staunton Wood Chessmen
J
JayBeeCo Despicable Me Minions Childrens Multipurpose Snack Activity Tray
JayBeeCo Shimmer and Shine Childrens Multipurpose Snack Activity Tray
JC Toys, La Baby 20-inch Soft Body Pink Play Doll – For Children 2 Years Or Older, Designed by Berenguer
Jet Creations Inflatable Dolphin
John Deere TBE45490 LP53306 W260 MOCO Windrower with 500R Head
(1/64 Scale)
K
Keten Case for Cards Against Humanity Card Game Large Hard Black Box
Kid O Jumbo Glow in the Dark Magnatab
Kid O Memory Match 16
Kid O MyLand Car
and more
KidKraft 62043.0 Storage Easel – Espresso Novelty
KidKraft Belmont Manor Dollhouse
K'NEX Education – STEM Explorations: Roller Coaster Building Set – 500 Pieces – Ages 8+ Construction Education Toy
L
Lalaloopsy Doll- Confetti Carnival
Lalaloopsy Dot Starlight
Lauri Alphabet Avalanche
Learning Resources Number Bugs
Lil Rider FX 3 Wheel Battery Powered Bike
, Orange and more
Little Kids Fubbles Bubble Machine
, Green/Yellow and more
Lulu Jr. Illustory
– Craft Kit and more
Lil Rider 2-in-1 Stroller Tricycle – Child Safe Trike Trainer, Blue
Lil Rider FX 3 Wheel Battery Powered Bike, Green
Little Live Pets Turtle – Bolts
Love Letter Archer: Once You Go Blackmail – Clamshell Edition
M
Magformers Magnets in Motion (32-pieces)
Magformers Standard Super Magformers Set (30-pieces)
Manhattan Toy Baby Stella Warm Wishes Winter Coat Baby Doll Clothing
Manhattan Toy Groovy Girls Coolicious Closet Fashion Doll Accessory
Manhattan Toy Lovelies Lindy Lamb Plush, 12″
Manhattan Toy Wimmer-Ferguson Crawl and Discover Play and Pat Activity Mat
Marvel 6 Inch Legends Mystic Rivals: Enchantress
Marvel 6 Inch Legends Series Masters of Magic:Brother Voodoo
Marvel 6 Inch Legends Series Mystic Rivals: Nico Minoru
Marvel comic Retro Captain America Shield Rubber Wristband
Mega Bloks American Girl Figurine Uptown Style Collection
Melissa & Doug ABC-123 Abacus – Classic Wooden Educational Toy With 36 Letter and Number Tiles
Melissa & Doug Adventure Design Activity Kit: 9 Double-Sided Plates, 4 Colored Pencils, Crayon
Melissa & Doug Classic ABC Wooden Block Cart Educational Toy With 30 Solid Wood Blocks
Melissa & Doug Cutting Fruit Set – Wooden Play Food Kitchen Accessory
Melissa & Doug Fire Truck Sound Puzzle – Wooden Peg Puzzle With Sound Effects (9 pcs)
Melissa & Doug Geometric Stacker – Wooden Educational Toy
Melissa & Doug Giant Giraffe – Lifelike Stuffed Animal
(over 4 feet tall)
Melissa & Doug K's Kids 2-in-1 Talking Ball Educational Toy – ABCs and Counting 1-10
Melissa & Doug Mine to Love Gabrielle 12-Inch Poseable Baby Doll With Romper and Hat
Melissa & Doug Round the Rails Train Rug
– 39″ x 36″
Melissa & Doug Spin-a-Slice Pizza Matching Game
for Kids (72 pcs Plus Spinner)
Melissa & Doug Standard Unit Solid-Wood Building Blocks With Wooden Storage Tray (60 pcs)
Melissa & Doug Vehicles Jumbo Knob Wooden Puzzle (8 pcs)
Melissa & Doug Vehicles Wooden Cube Puzzle With Storage Tray – 6 Puzzles in 1 (16 pcs)
Melissa & Doug Victoria 14-Inch Poseable Ballerina Doll With Leotard and Tutu
Melissa & Doug Wooden Building Blocks Set – 100 Blocks in 4 Colors and 9 Shapes
Minions Eye-Conic FRS 2 Way Radios
Miposaur
Molkky Original Game
Monopoly The Mega Edition
My Fairy Garden Magical Cottage Playset
and more
MyGeek 3D Pen Toy Pen Printing Pen 3D Drawing Doodle Arts and Printer Pen Intelligence Toys
N
Nerf Pocket Football Aero Flyer – Black
O
Olivia's Little World – Princess Living Room Lounge Set with Pink Cushion | Wooden 18 inch Doll Furniture
Outfoxed! Game Board Game
P
Pass The Big Pigs Action Game
Perler Beads White Bead Bag (6000 Count)
Pete's Dragon Disney's Lovable Elliot Plush, 20″
Plan Toy Water Blocks
Plan Toys My First Camera
PlanToys Plan Preschool Bee Hive Preschool
Play-Doh Doc's Clinic Featuring Disney Doc McStuffins
Play-Doh Sparkle Compound Collection
Play-Doh Sweet Shoppe Flip 'N Frost Cookies Set
PLAYMOBIL Pirate Raiders' Ship Playset
PLAYMOBIL Water Park with Slides Playset
Perler 80-42928 Batman Fused Bead Bucket Kit
, Multicolor and more
Pkolino Book Buggee
– Fire Truck and more
Plus-Plus Midi Size Basic Color Assortment, 100-Piece
Pokemon Hedbanz Game
Police Car Ride On with Removable Seat for Toy Box
Pony Fancy Pal
R
Radio Flyer Classic Glide & Go Balance Bike – Pink
Rat-A-Tat-Cat
Ravensburger Cozy Potting Shed Large Format Puzzle (300-Piece)
Read Between The Wines! The Game of Wine, Wit & Wordplay
Reindeer Christmas Plush 12″
Rockin Rider Wrangler Rocking Horse
Rockn RC 8660 Remote Control Stunt Master Quad Copter, Black
Rollplay 12 Volt GMC Sierra Denali Battery Ride-On Car
S
Save on 3Doodler Create 3D Pen
– Latest Edition of the Worlds First 3D Printing Pen – Ultimate Art Tool and Crafts Pen Kit – With 50 Plastic Strands, No Mess, Non-Toxic (Smoky Blue) and more
Schleich Lioness Toy Figure
Schleich North America Horse Club Riding Center with Accessories
Schleich Paddocks Fencing
Science Wiz – Chemistry Experiments Kit
Science Wiz Cool Circuits
Seven Dragons
Skiprock Game (3 Pack)
SmartLab Toys Extreme Secret Formula Lab
SmartLab Toys Motorblox: Robot Lab
SmartLab Toys That's Gross Science Lab
Snap Circuits Arcade Electronics Discovery Kit
Snap Circuits Snaptricity Electronics Discovery Kit
Spot it! Splash Card Game
Springbok Knit Fit Jigsaw Puzzle (1000-Piece)
Springbok Puzzles Bluebirds Jigsaw Puzzle (36 Piece)
Squinkies Do Drops Collector Pack Season 1 Toy Figure
Squinkies Squinkieville Clubhouse Playset
Star Wars The Black Series Kylo Ren Force FX Deluxe Lightsaber
Star Wars X-Wing: Inquisitor's Tie Expansion Pack
Step2 Panda Climber, Tan/Red/Yellow/Blue
Storm City Advanced School Supplies Bundle
Storm City Deluxe School Supplies Bundle
Sugar Lulu Summer Lovin Beach Bag: Vintage Chic
Sunwing 3d printing pen 3D printer pen Best Birthday DIY Toy for Kids with LED Display Blue
Super Spirograph 75-piece Jumbo Kit (50th Anniversary Edition)
Syma S107 3 Channel RC Helicopter with Gyro, Green
Super Spirograph 75-piece Jumbo Kit (50th Anniversary Edition)
Syma S107 3 Channel RC Helicopter with Gyro, Green
T
Tabletop Baseball Pinball
Takaratomy Official Pokemon X and Y SP-24 2.5″ Mega Scizor Figure
Tedco 4D Vision Cow Model
Thames & Kosmos Robotics: Smart Machines Science Kit
The Learning Journey My First Match It, Head and Tails
The Secret Life of Pets – Mini Pets Collectible Figures 5-Pack
The Tin Box Company 187907-12 Crayola Crayon Storage Tin, Crayons Not Included
There's A Moose In The House
Trademark Global Foam Floor Alphabet Puzzles Mat for Kids
Transformers: Robots in Disguise Power Surge Optimus Prime and Aerobolt
Trivial Pursuit Master Edition
Twistz Bandz Logo Loomz Extra Bands – Disney 3Pk
Ty Boris Bear
U
Uncle Milton Death Star Electronics Lab Kit
Underground Toys Star Wars Home Kitchen Pizza Cutter Lightsaber DV Novelty
Up to 20% off ANKI Overdrive
Up to 20% off select Air Hogs
Up to 30% off select Air Hogs
Up to 35% off Lincoln Logs Centennial Edition tin
Up to 40% 0ff K'NEX Looping Light-Up Roller Coaster
Up to 40% off Dickie Toys Police Patrol Car
Up to 40% off select Magformers toys
Up to 40% off select Scientific Explorer toys
Up to 50% off Maisto Rock Crawler 3XL
V
Vtech Count & Roll Tree
VTech Shapes & Sounds Helicopter
Vtech Tiny Touch Phone
W
Wild Republic CK-Mini Capuchin 8″ Plush
Wild Republic CK-Mini Cheetah Baby 8″ Animal Plush
Wild Republic CK-Mini Kangaroo with Joey 8″ Animal Plush
Wild Republic Cuddlekins 12″ Bison
Wild Republic Cuddlekins 12″ Skunk
Wild Republic Cuddlekins 15″ Tiger Shark
Wild Republic L'Il Sweet & Sassy Fox Raspberry Plush
Wonder Workshop Launcher for Dash Robot
Wonkawoo Metal Dig n Swivel Sand Digger
Wooden Train Track Set-56 Pc Deluxe Pack With Unique Pieces
World of Tanks Rush
WowWee R.E.V. AIR Toy (1 Drone & 1 Car Included)
Z
ZOOB BuilderZ Glow Dinos
What is YOUR favorite Black Friday deal so far?
Do you know of a hot toy deal we didn't list? Leave it in the comments below!
Love this post? Pin it for later here: