A huge thanks to our friends at Chesapeake Bay Candle and She Savvy for sponsoring todays post!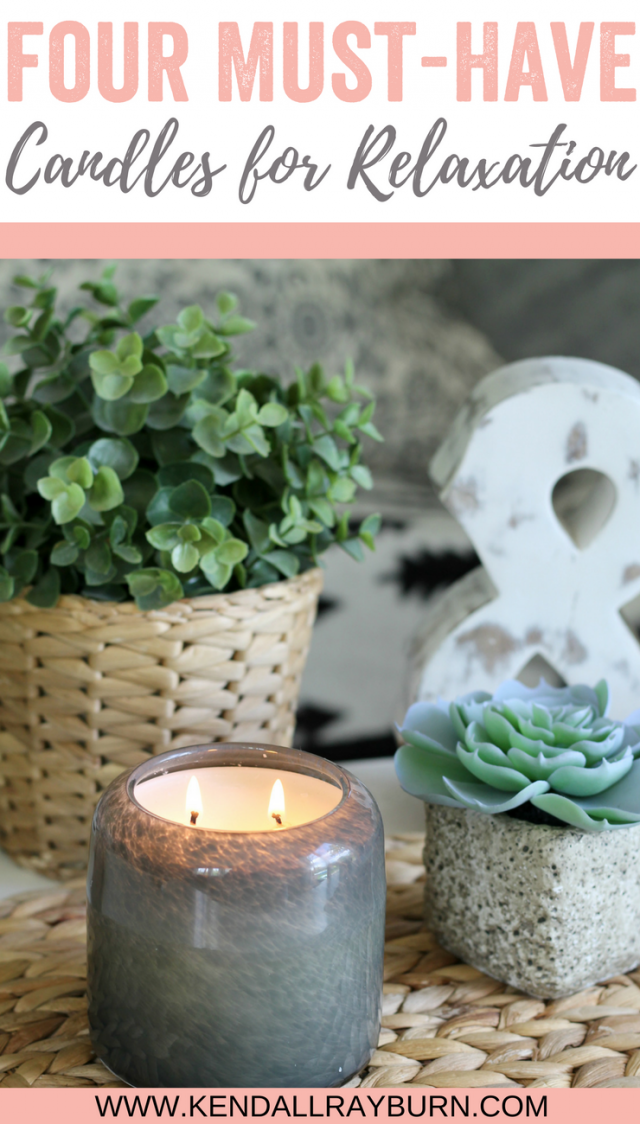 Hello, friends!
I am so excited to share todays post with you! I had a chance to check out the Alassis collection of home fragrances from Chesapeake Bay Candle, and they are simply amazing! These candles have the most relaxing scents, and have become new favorites in our house. So today we're going to talk about each of the four candles we've been loving, and about the Alassis Collection itself and how it was inspired!
Inspired by early Mediterranean civilizations, cultures, and gardens.
Created by Chesapeake Bay Candle co-founder Mei Xu in 2012.
Mei fell in love with the Mediterranean and was inspired by the power of scent.
Since ancient times, the power of scent has been thought of as mysterious, mystical, and sacred.
Blush Orchid & Plum
This large Blush Orchid & Plum candle is the perfect gift! It's a lovely soy blend candle that is designed and poured in the USA. It's aroma is a combination of blush orchid, plum, pomegranate, Sicilian ruby orange, rose, patchouli, and white musk. The scent of this gorgeous candle is inspired by the gardens along the Mediterranean coastline, and it is my favorite of the bunch!
This candle is currently sitting in the middle of our coffee table, because I want to lite it so often! It's my favorite scent from Chesapeake Bay Candle (so far), and the hand-blown blush pink container it's in (I'm totally going to re-use this) is perfect for feminine and light decor. This candle has 3 wicks and burns for 65 hours.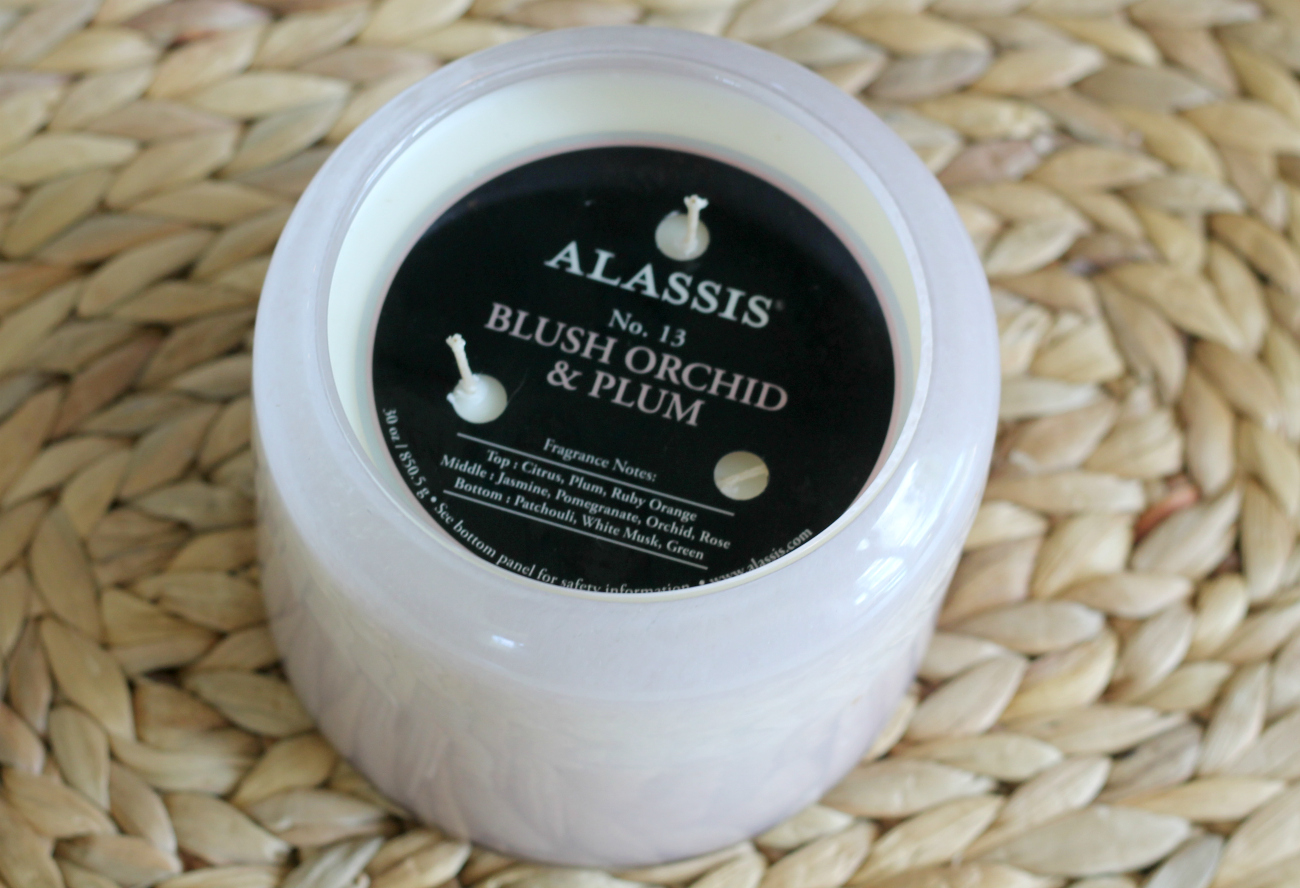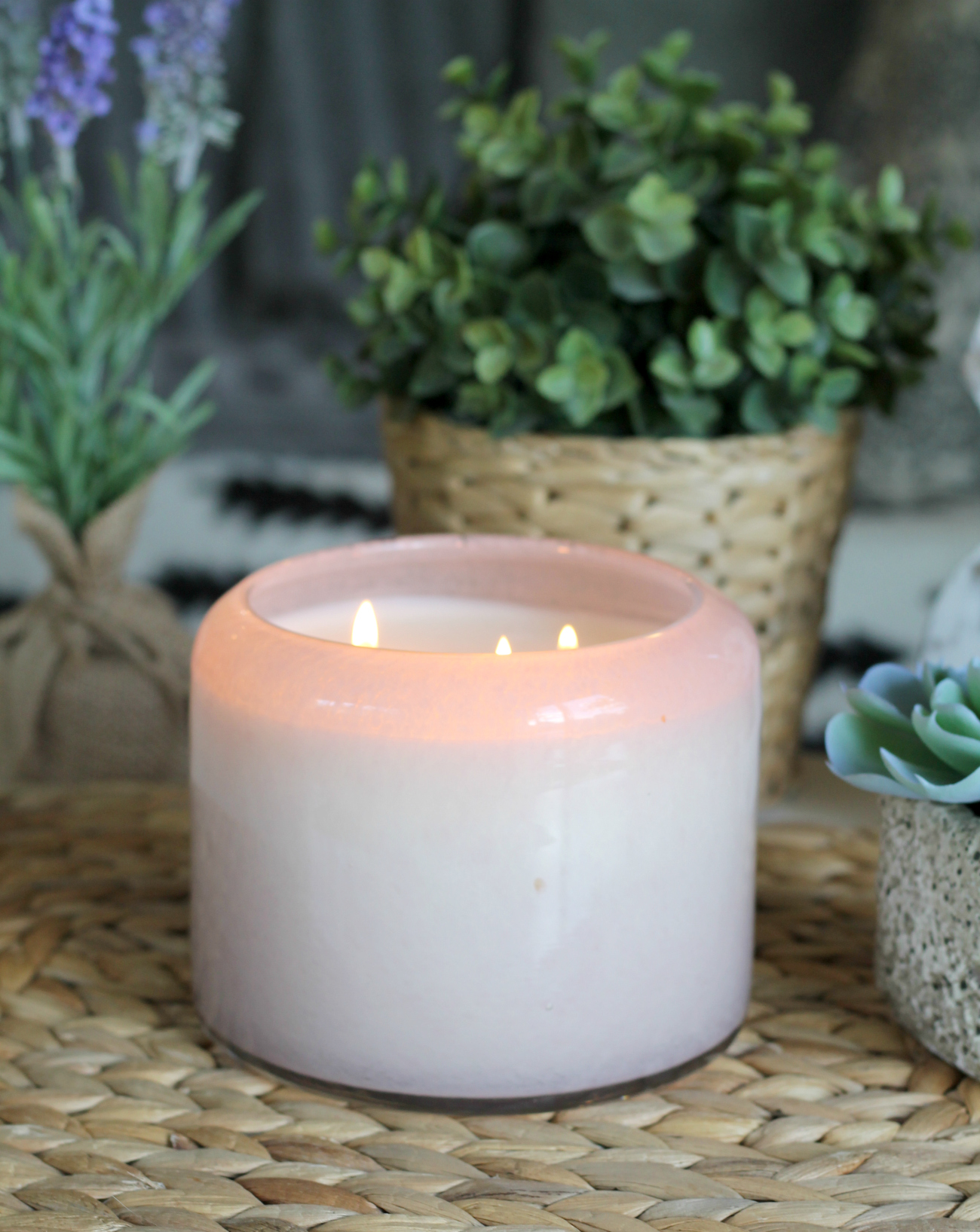 Blackcurrant & Rosewood
This Blackcurrant & Rosewood soy blend candle has an uplifting scent of orange, neroli blossom, apple, blackcurrant, red fruit, rose petals, rosewood, violet leaf, and musk. I love this candle for our bedroom and light it when I'm snuggled in bed reading a book or flipping through the paper. The burn time on this candle is 40 hours, so you'll be able to enjoy it time and time again! I love the hand-blown glass of this candle, the muted greys and blues are perfect for almost any decor.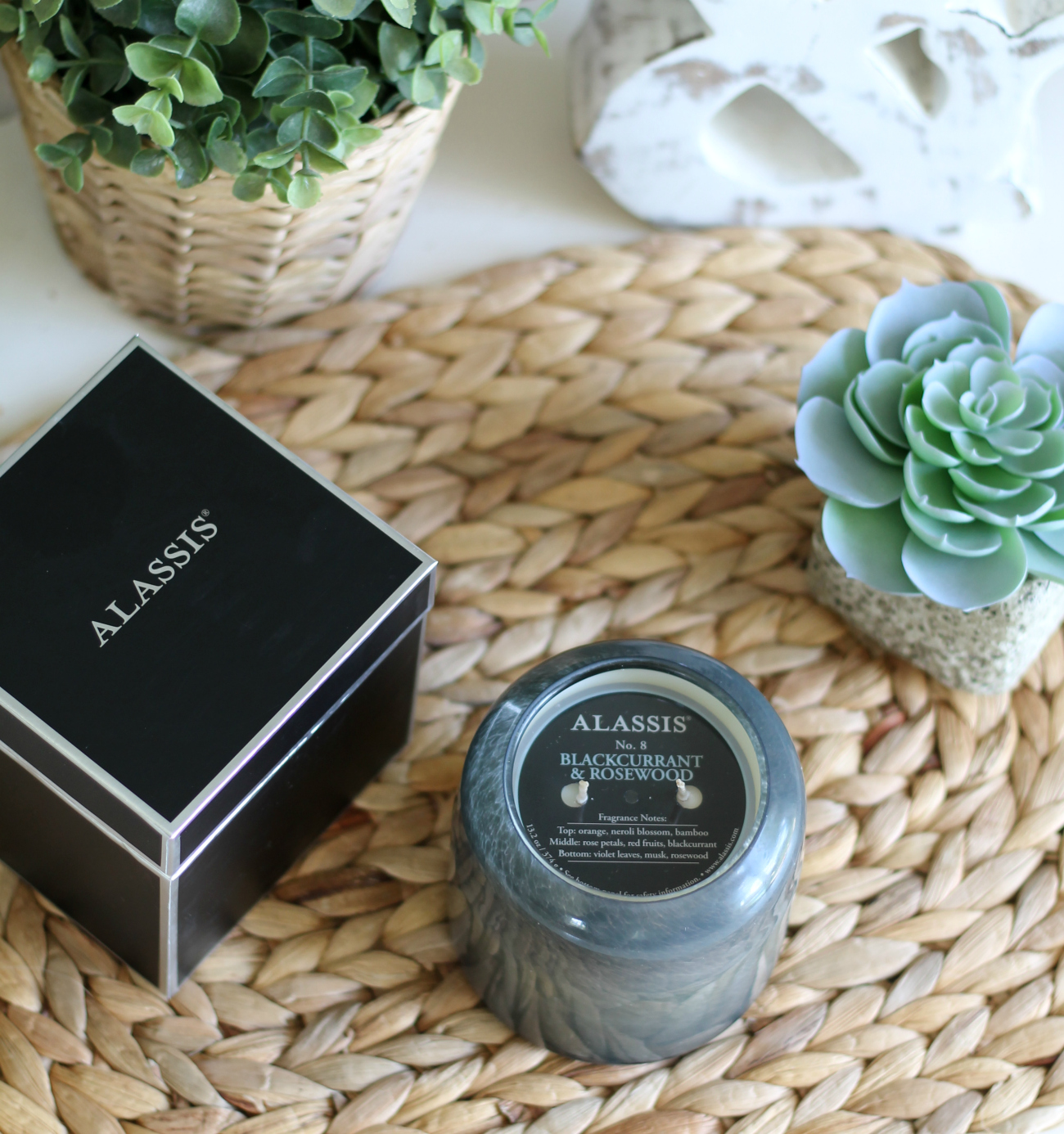 Seagrass & Musk
The Seagrass & Musk candle is an amazing soy blend candle that's designed and poured in the USA. It's got notes of marine mist, Italian bergamot, citrus, magnolia blossom, beach daisy, violet, vetiver, seagrass, and musk for a well-rounded calming scent. The container it's in is a beautiful hand-blown art glass, that is an ocean blue. The candles from this line come in a gift box, too – so they're perfect for gifting! This candle has an approximate burn time of 40 hours.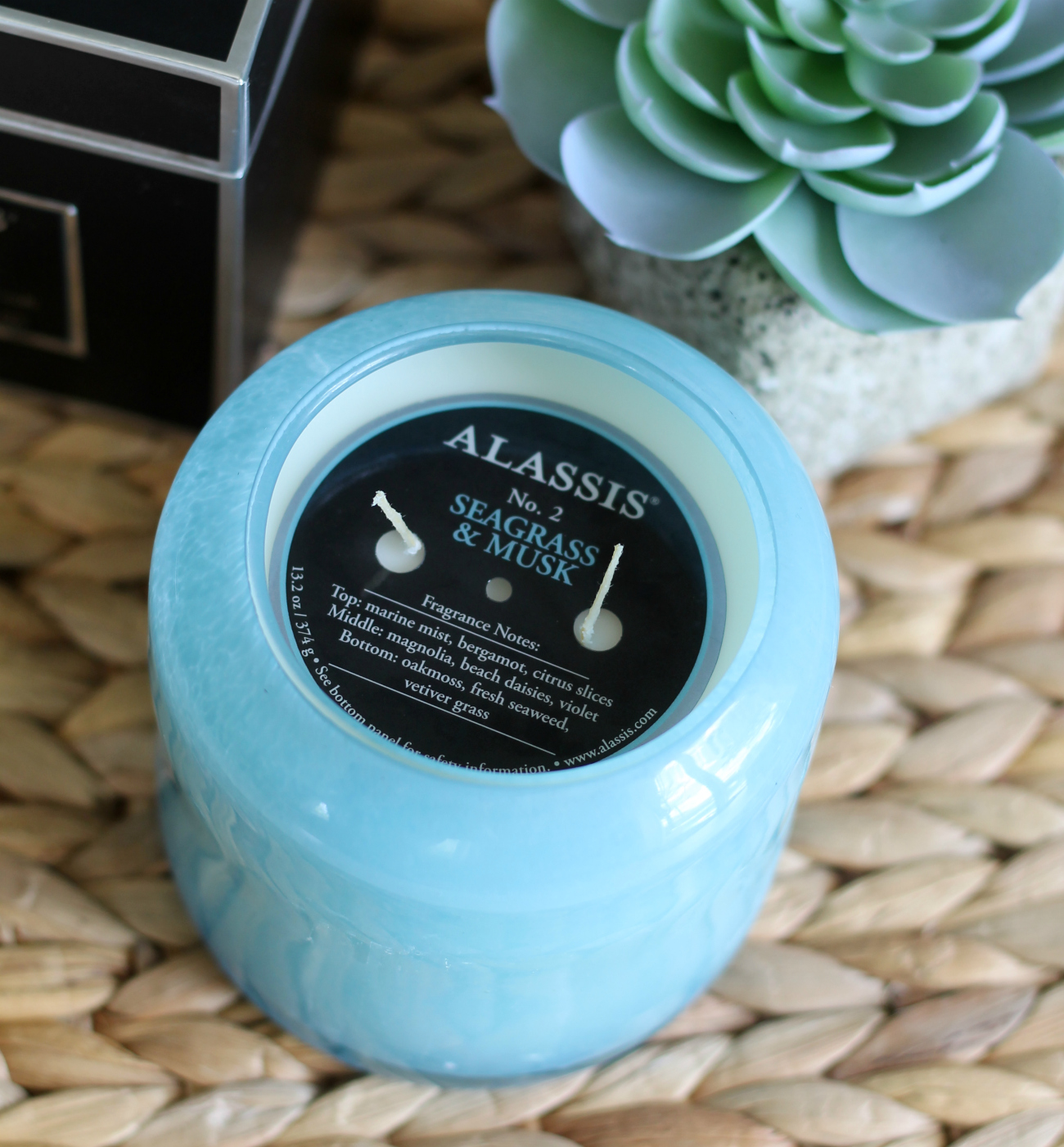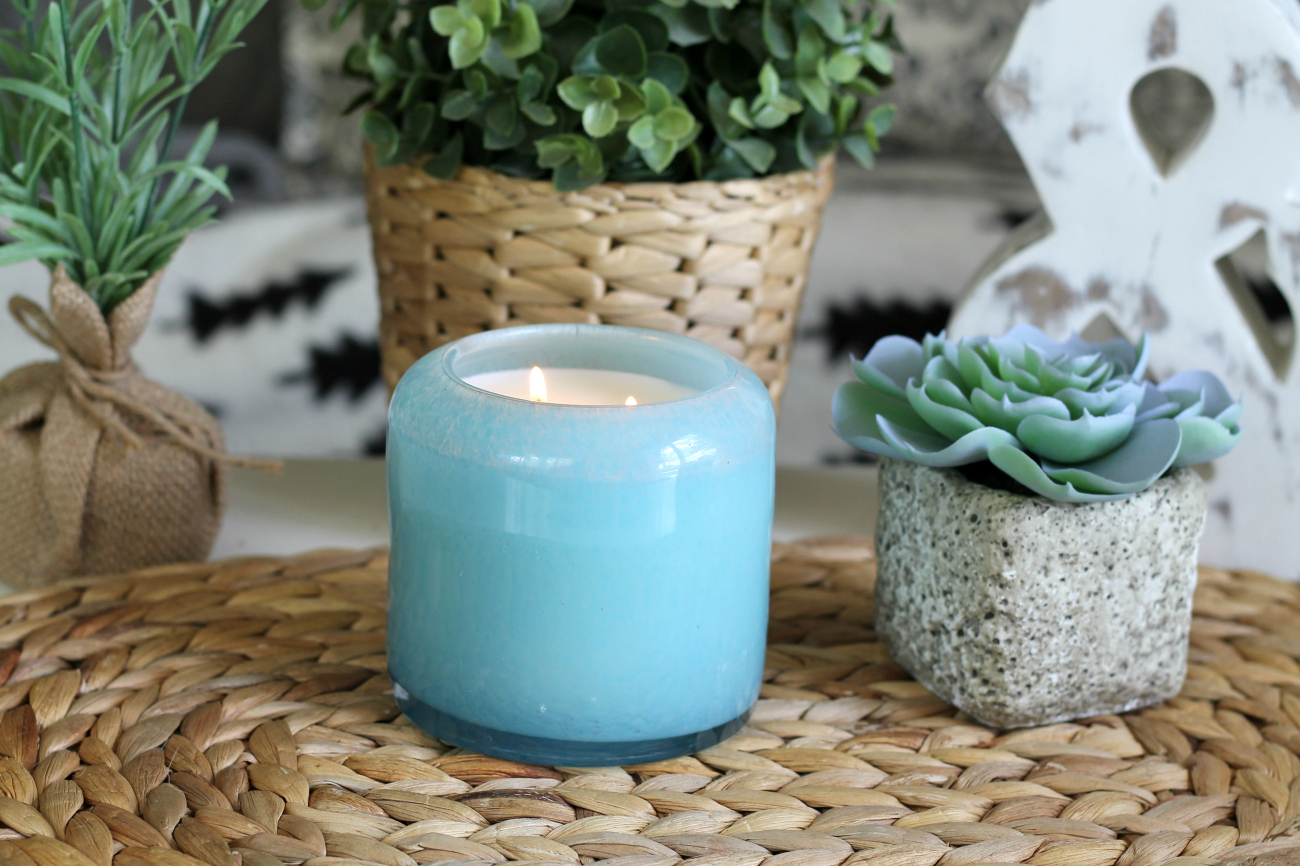 Verbena & Cedar
The Verbena & Cedar candle smells of verbena, wild bergamot, orange zest, violet leaves, orange flower, white rose, cedar, marine musk, and sandalwood. The scent is calming and warm which makes it perfect for night time when you're trying to wind down after a long day. I love bringing this one in the bathroom when I'm taking a soak in the tub.
The gorgeous hand-blown art glass is a light muted blue, and would fit with almost any decor. It also comes in a gift box (pictured below), so it's ready for gifting! The burn time on this hand poured, made in the USA candle is 40 hours.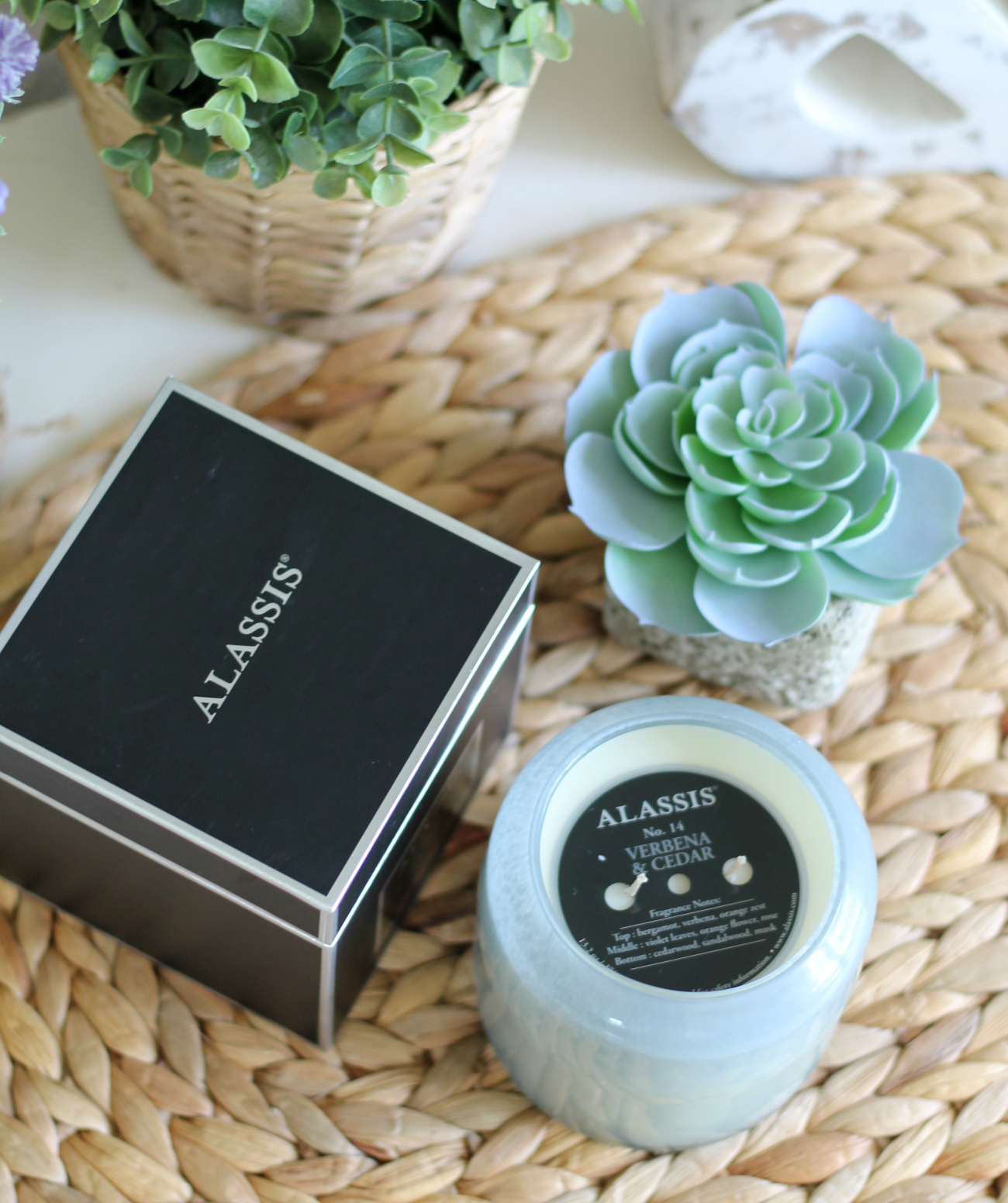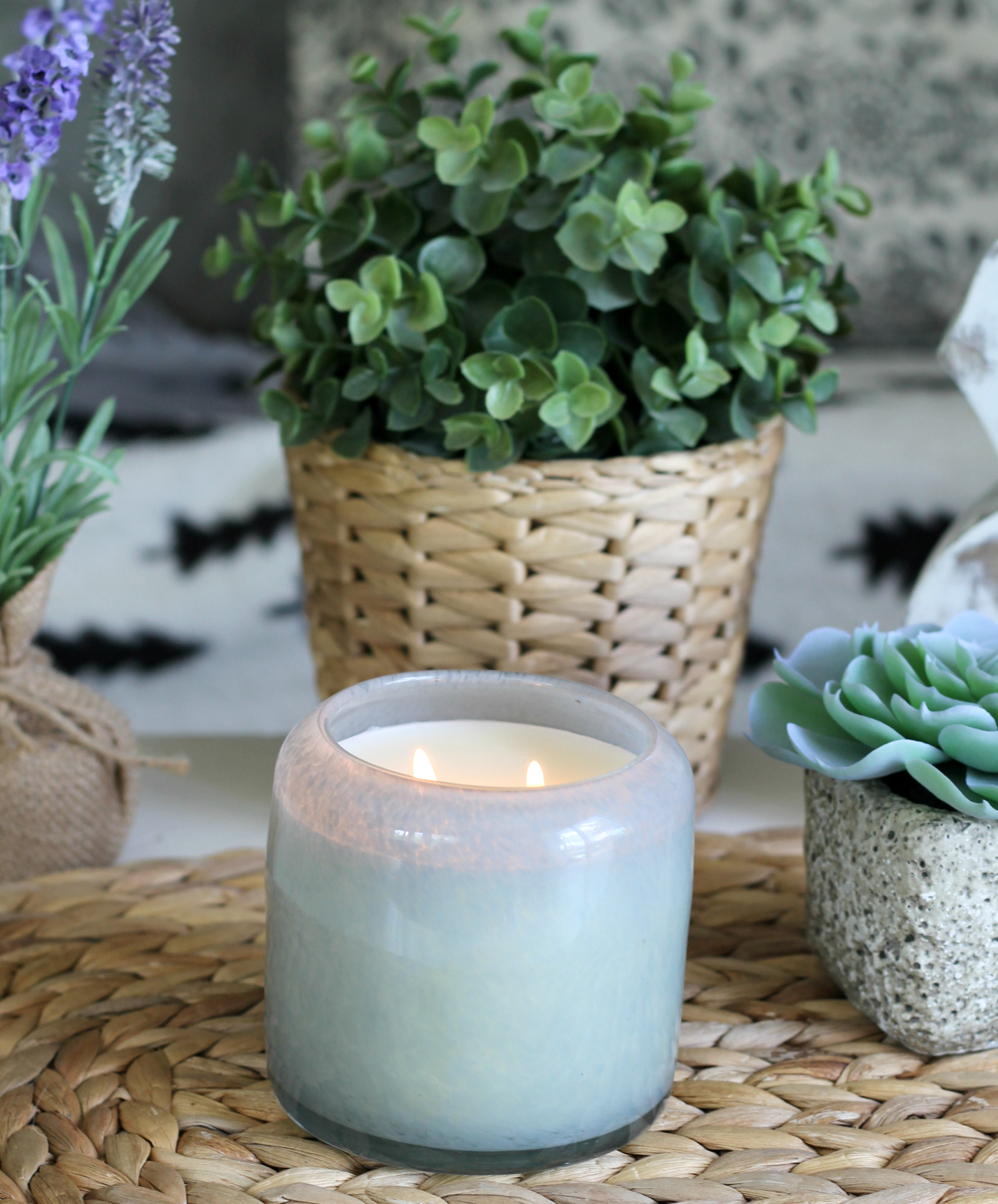 Don't those scents sound amazing? I'm telling you – this is my favorite line from Chesapeake Bay yet! Not only is the packaging one-of-a-kind, but also, the scents are just as unique! The light that glows from the candles when they're lit is so calming and serene. I just know you're going to love these candles just as much as I do. They're also great for grouping and lighting at the same time so the scents blend. Ah, I just love these candles!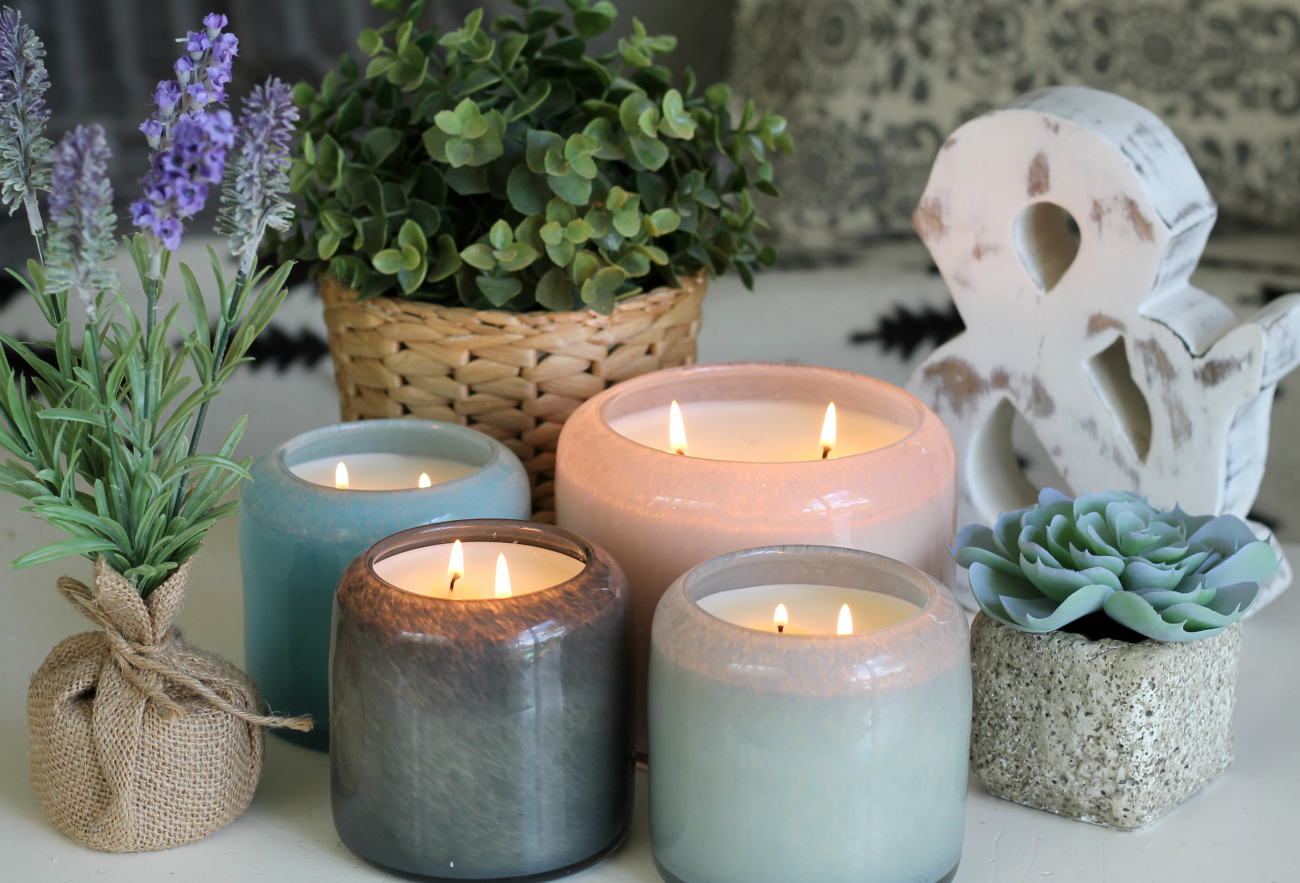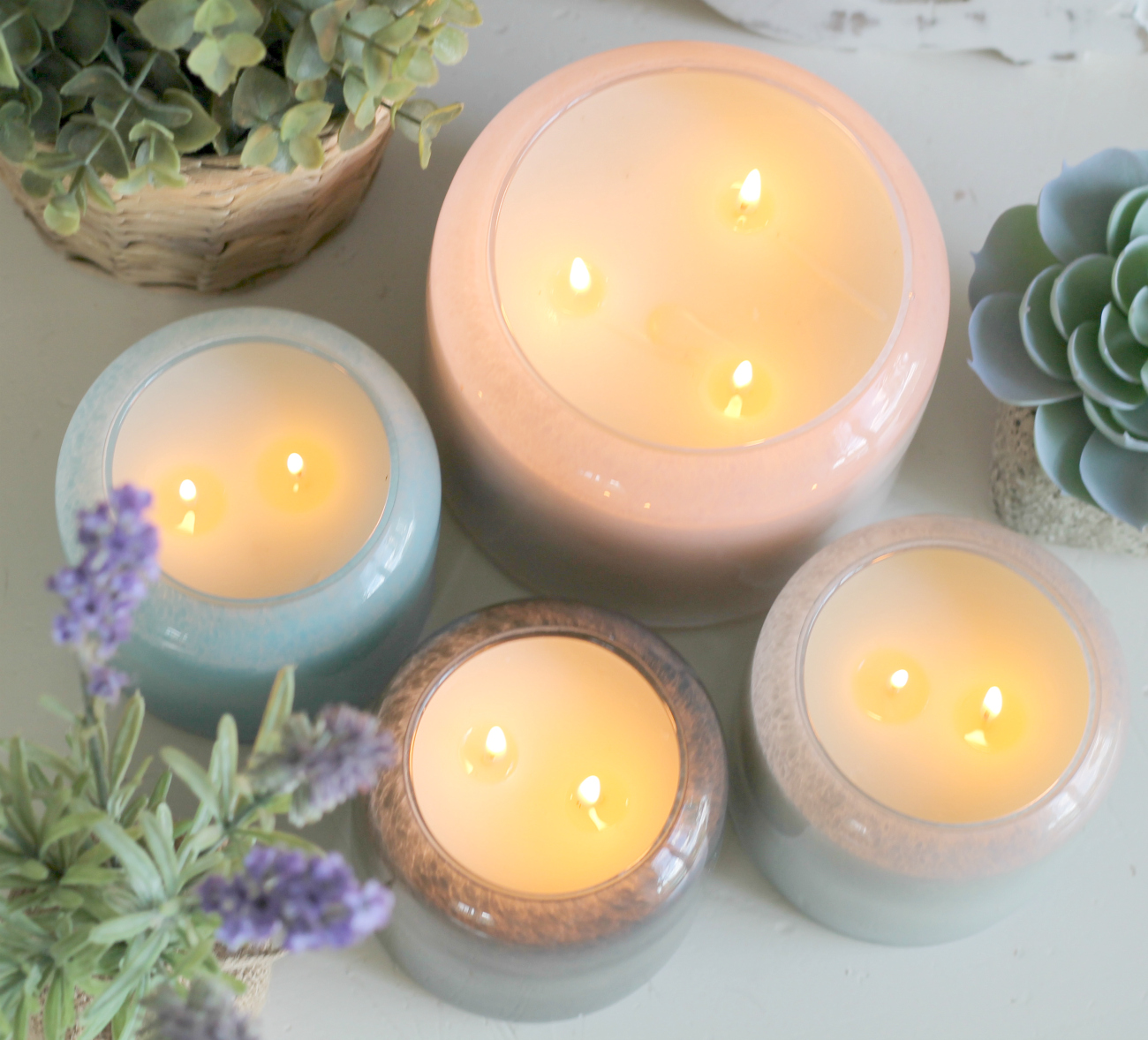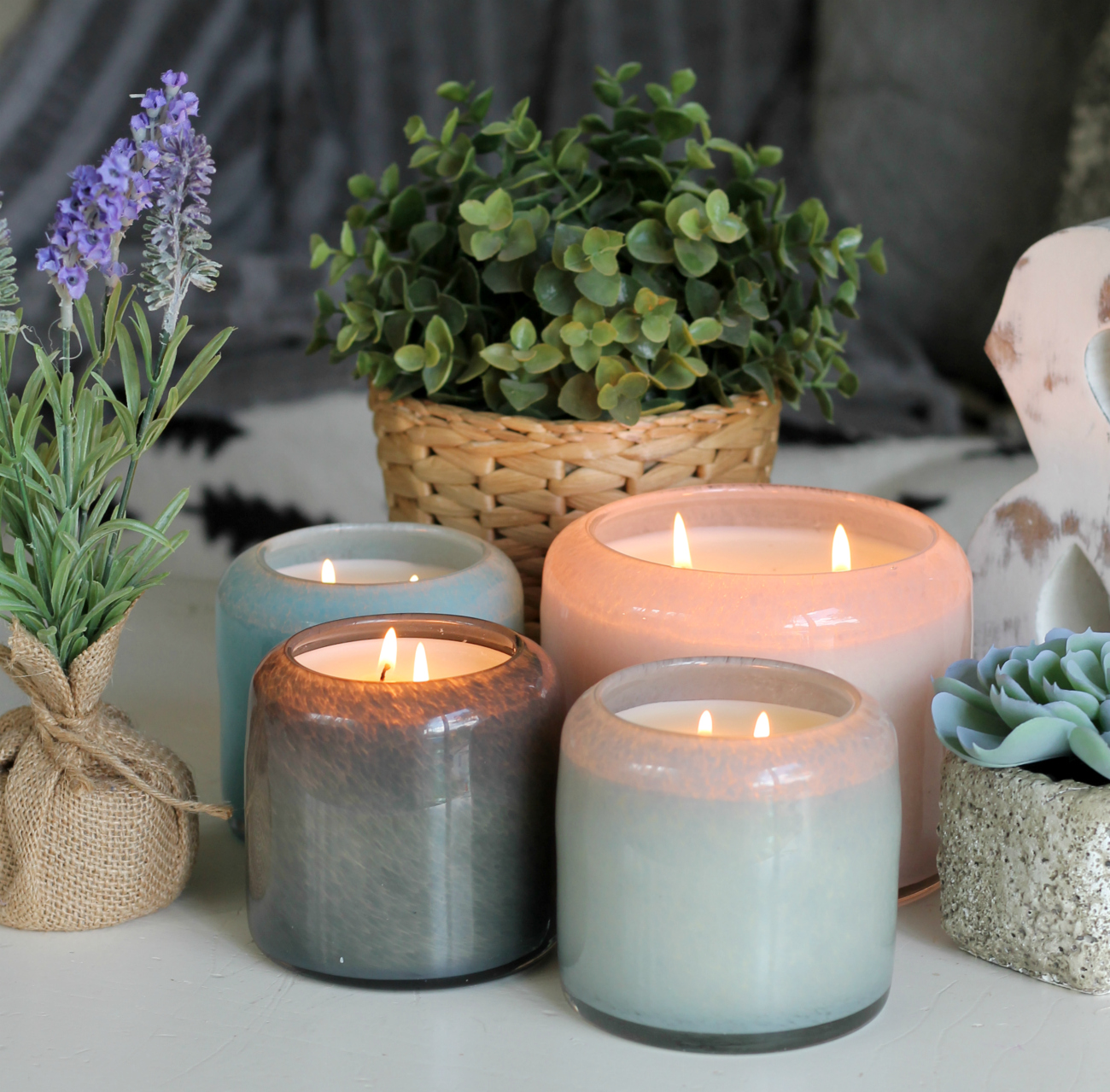 Which of these relaxing candles would YOU love to try?
Let me know in the comments below!
Pin for later: