I am a proud Brand Ambassadör for IKEA U.S. This is a sponsored post. Keep scrolling to see our Light and Bright Under $500 IKEA Bedroom Makeover!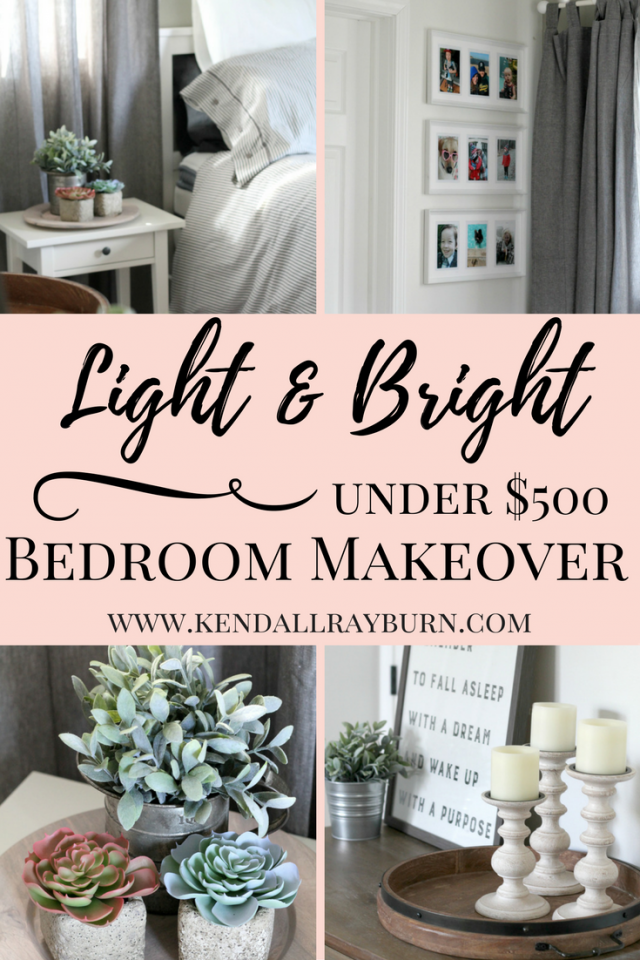 Hello, friends!
I am SO EXCITED about today's post because I finally get to share our light and bright Under $500 IKEA Bedroom Makeover with you! This project was really a labor of love, and I couldn't have done it without the help of my awesome hubby! I wanted to keep this project under $500 to show you that it's possible to complete a gorgeous look that's also budget-friendly!
Bedroom Before: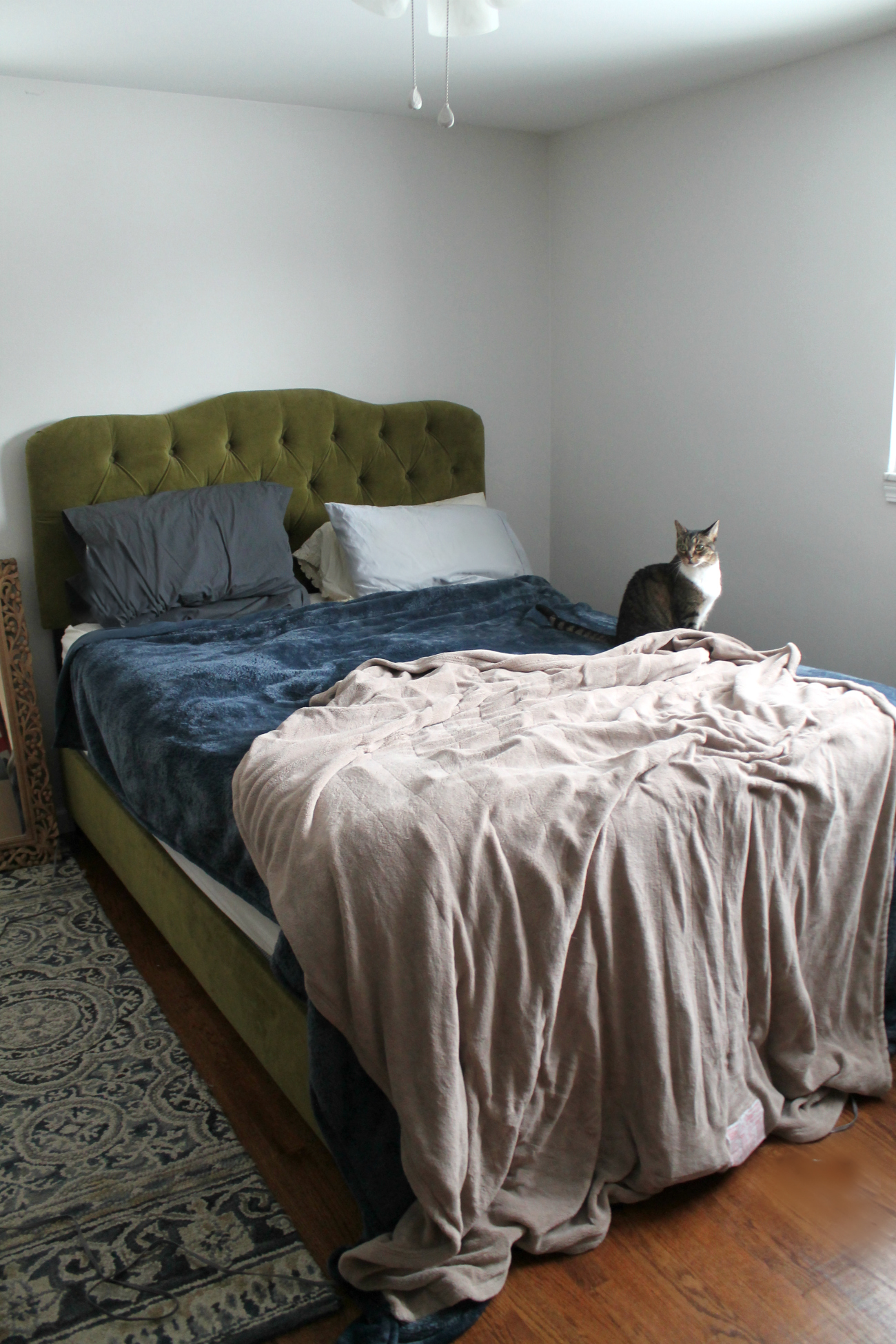 Our bedroom before was dark, dreary, and un-decorated. I think it's really common for parents to put themselves, and their rooms last – am I right? But, the time had come for a change, and I am just so incredibly in love with the way the bedroom looks now.
I wanted to do a low-cost simple accent wall that the bed would go against, so I used the rest of the grey paint that we used on the bathroom vanity in the Industrial Farmhouse Bathroom Makeover post. It turned out to be the perfect shade for the wall and really helped to add a bit of comfort to the room (the paint color is Comfort Gray).
Bedroom After:
Such a transformation, right? I wanted to get rid of our green bed and replace it with something simple and classic. I found the Hemnes Bed Frame and fell in love! I love that it opens up some wall space, and I really wanted to keep the bed the main focus, so I used a simple galvanized "R" that we had to hang over the bed.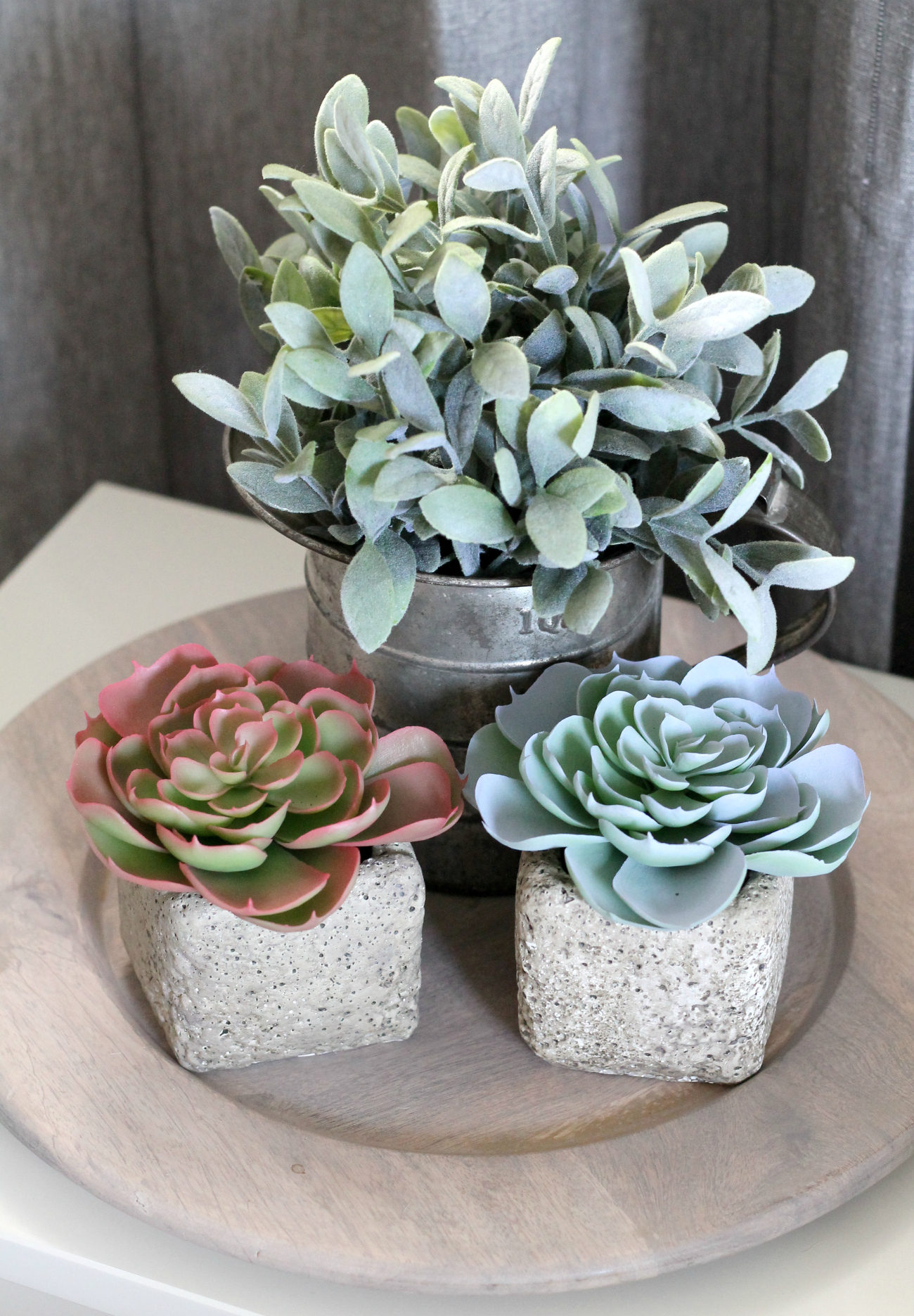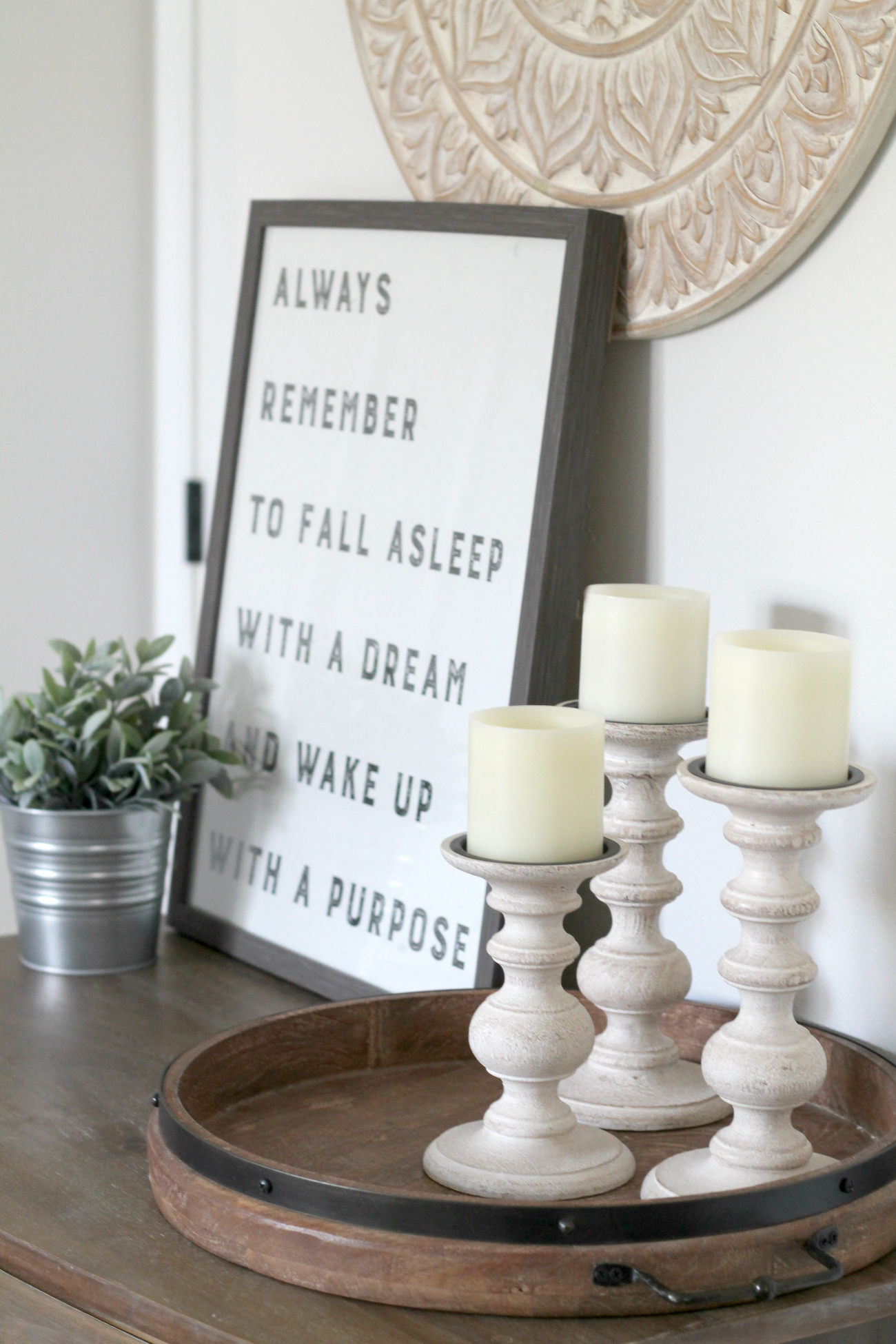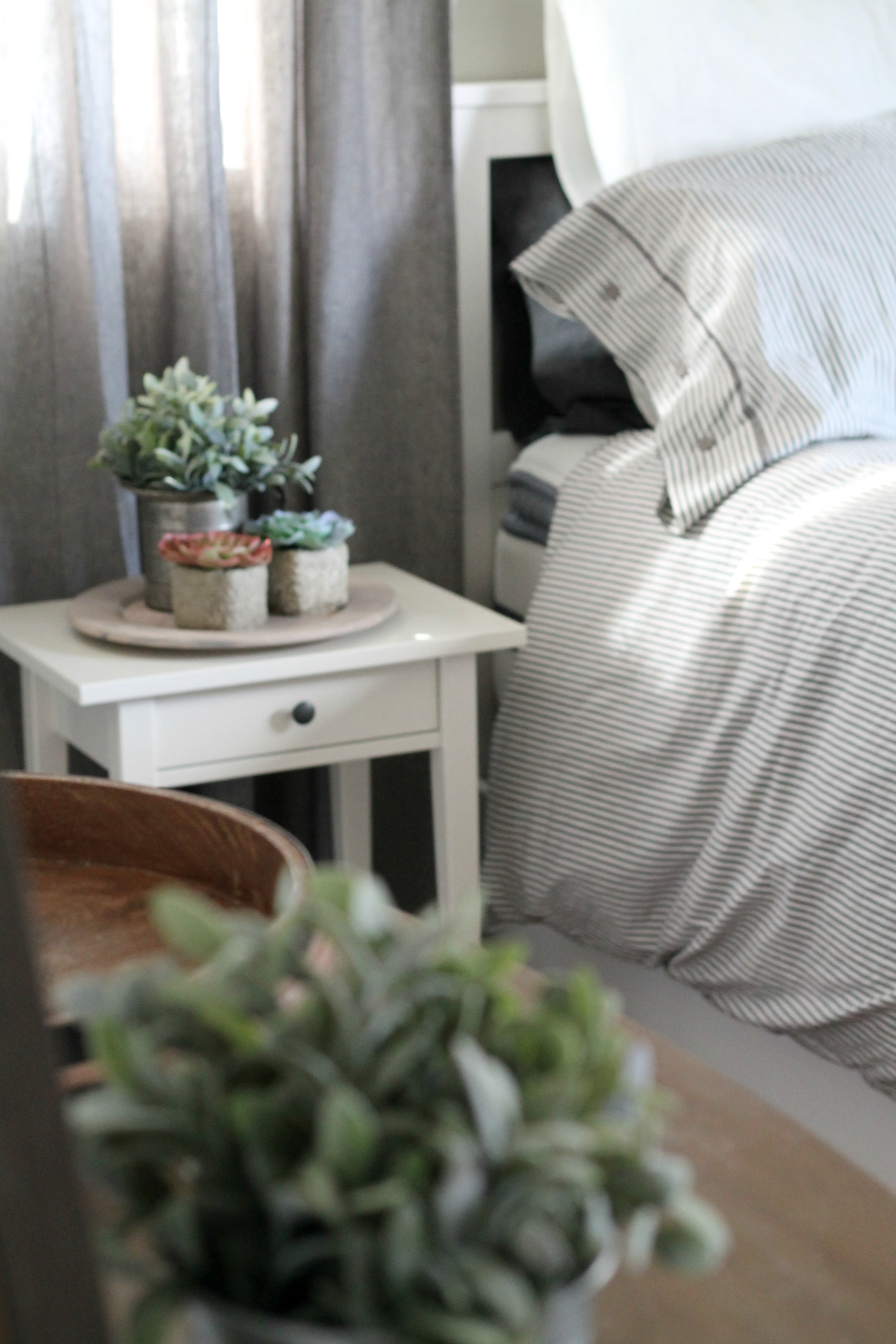 One of my favorite items to purchase at IKEA are artificial plants! They have an amazing variety, and I love adding touches of greenery throughout our home. So of course our bedroom makeover had to incorporate some greenery, too!
We kept this project in the $500 budget by being really creative with the items that we chose. We also pulled things from around the house and re-worked them to fit the space. The grey Lenda Curtains we selected really help to block out light (perfect for afternoon naps) and I just love how they pop against the light grey and white walls.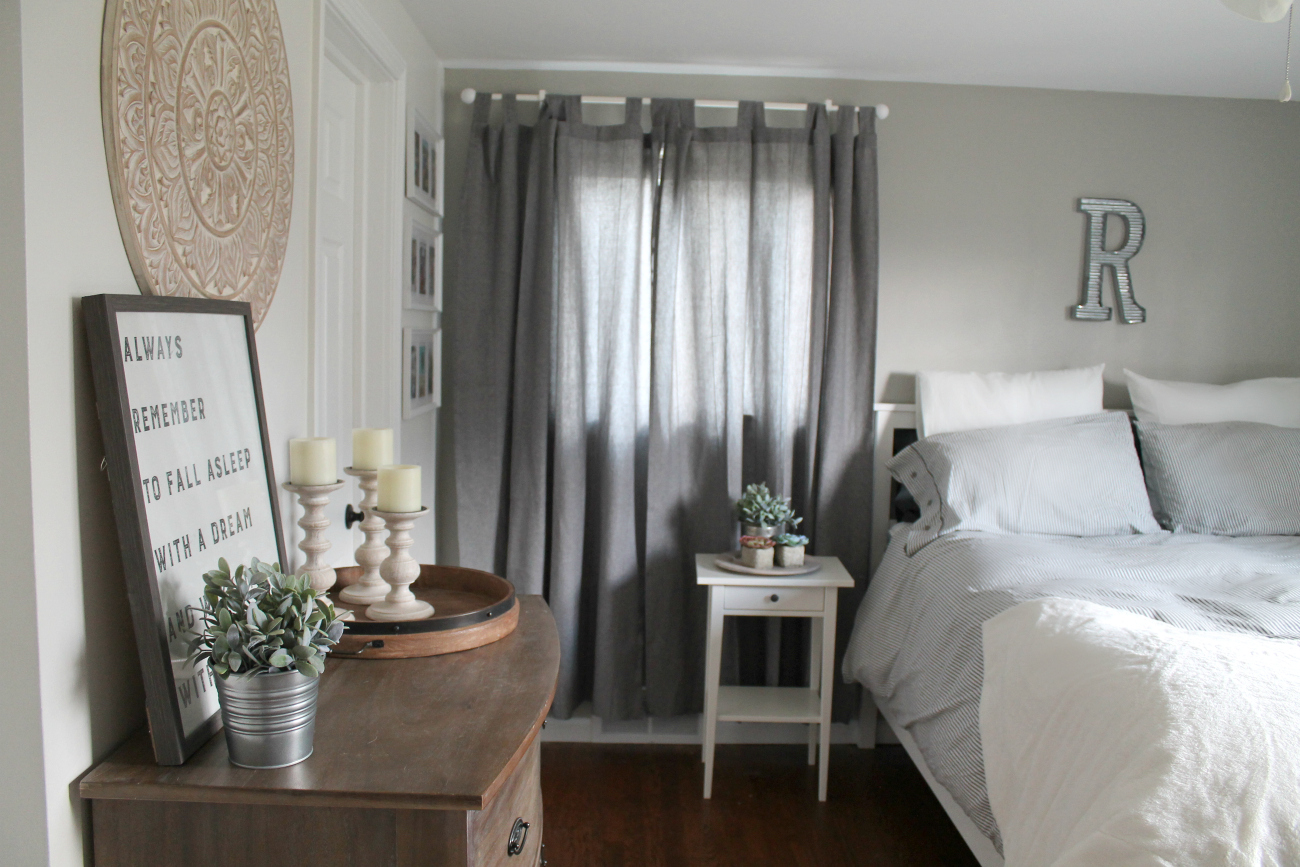 I am in LOVE with this little photo gallery wall! The small wall between the bathroom door and the curtains was the perfect size for a few Ribba Frames! We have stacks and stacks of photos, so it felt great to get them all out and choose our favorites to put in our bedroom. I sleep on my side facing that wall, so it's been so wonderful to wake up to such happy memories every morning. And all three frames were $30, so this was such an inexpensive way for us to really personalize our room even more!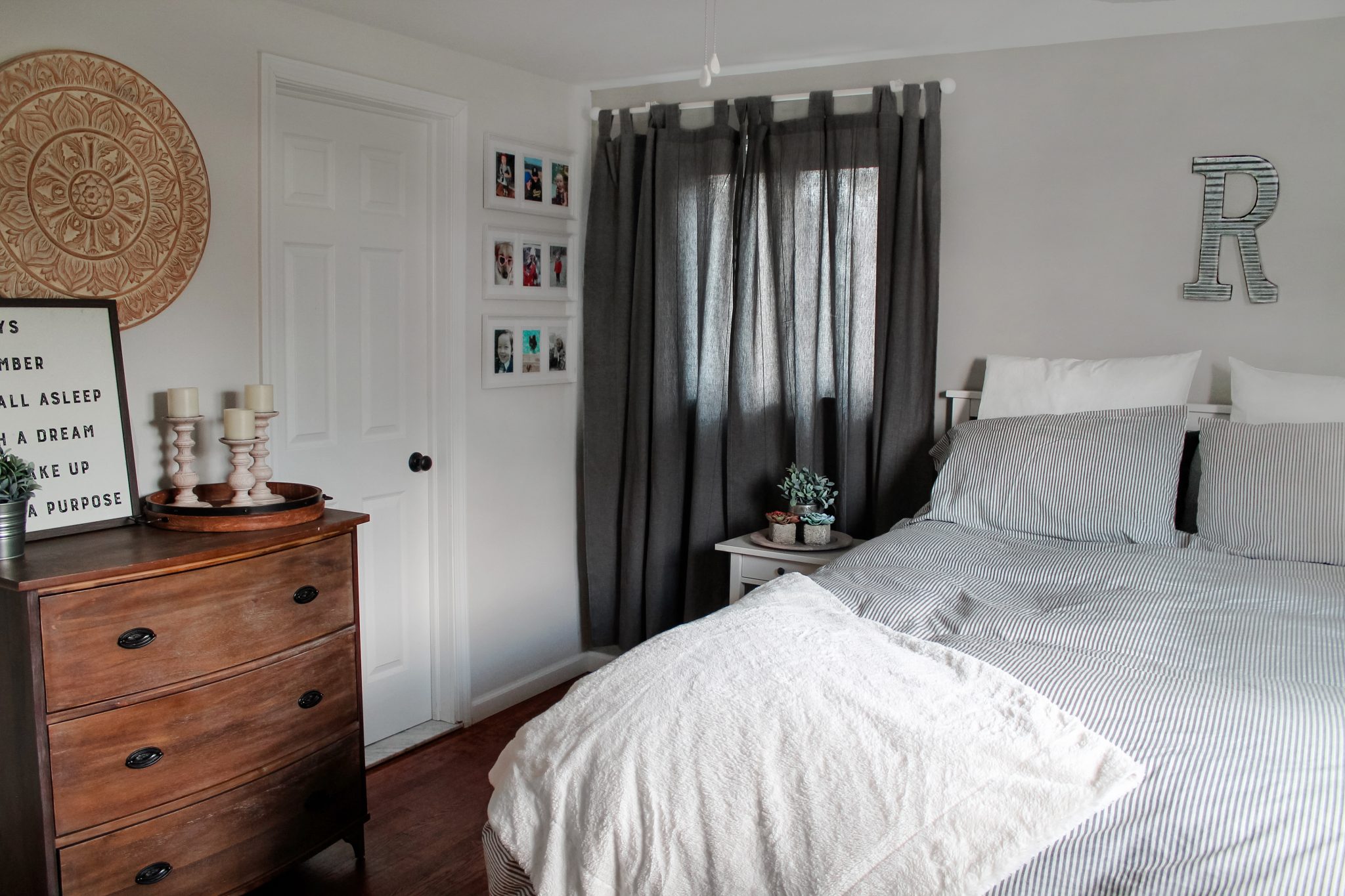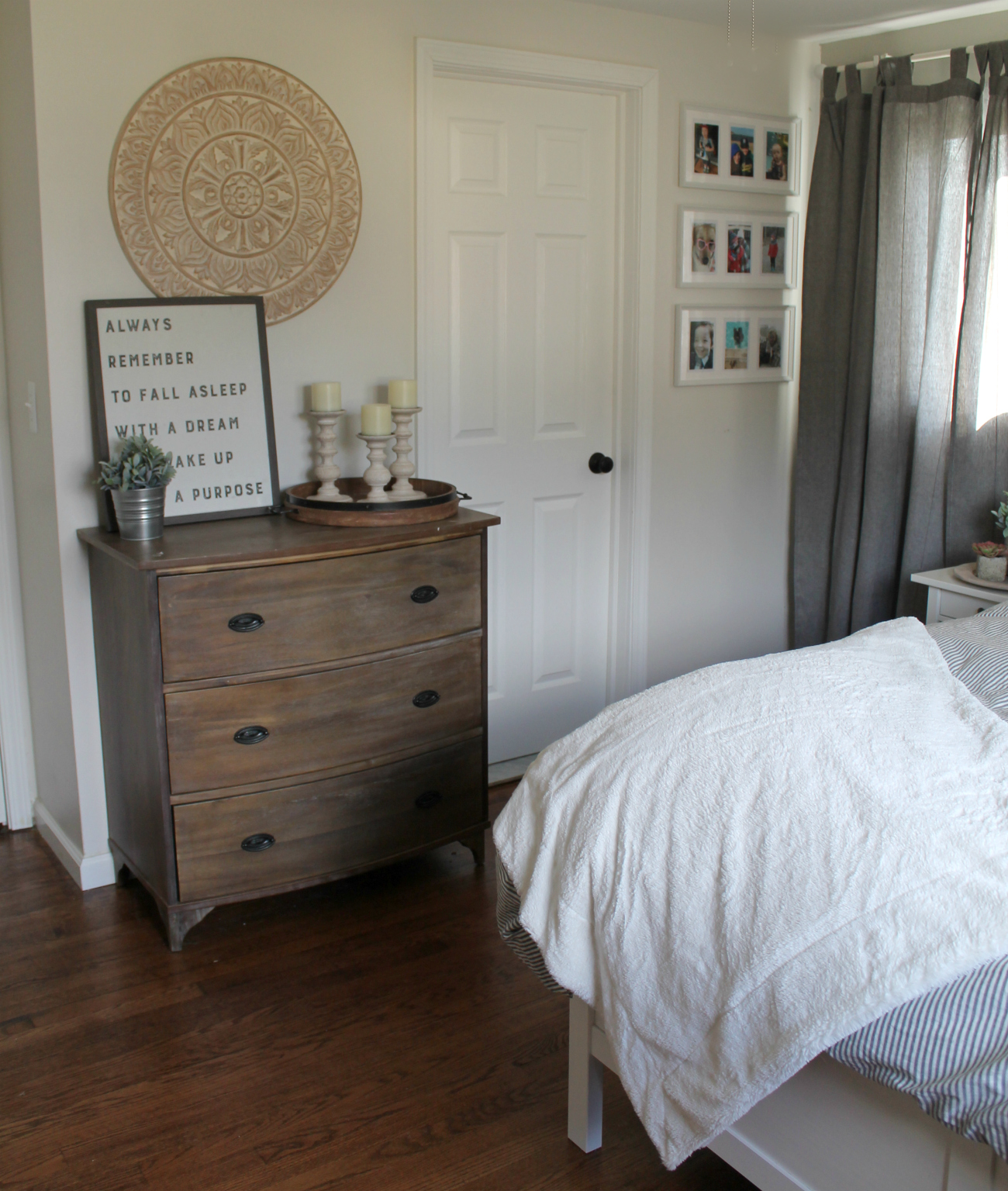 I had been eyeing the Nyponros Duvet Cover for months, it was the first thing that went on the list for this makeover. It's definitely the inspiration space, and I loved building out the room around it.  I can't get enough of how cozy and soft it is! We already had a duvet insert from IKEA (we have the RÖDTOPPA), and the combination of the duvet and comforter is just dreamy!
To add more pops of white, I incorporated some white oversized pillows and cases from around the house (pillows and cases also from IKEA) and then picked up this gorgeous Idasofia Throw for even more comfort. I have a feeling I'll be heading back to IKEA soon for even more pillows to layer on the bed.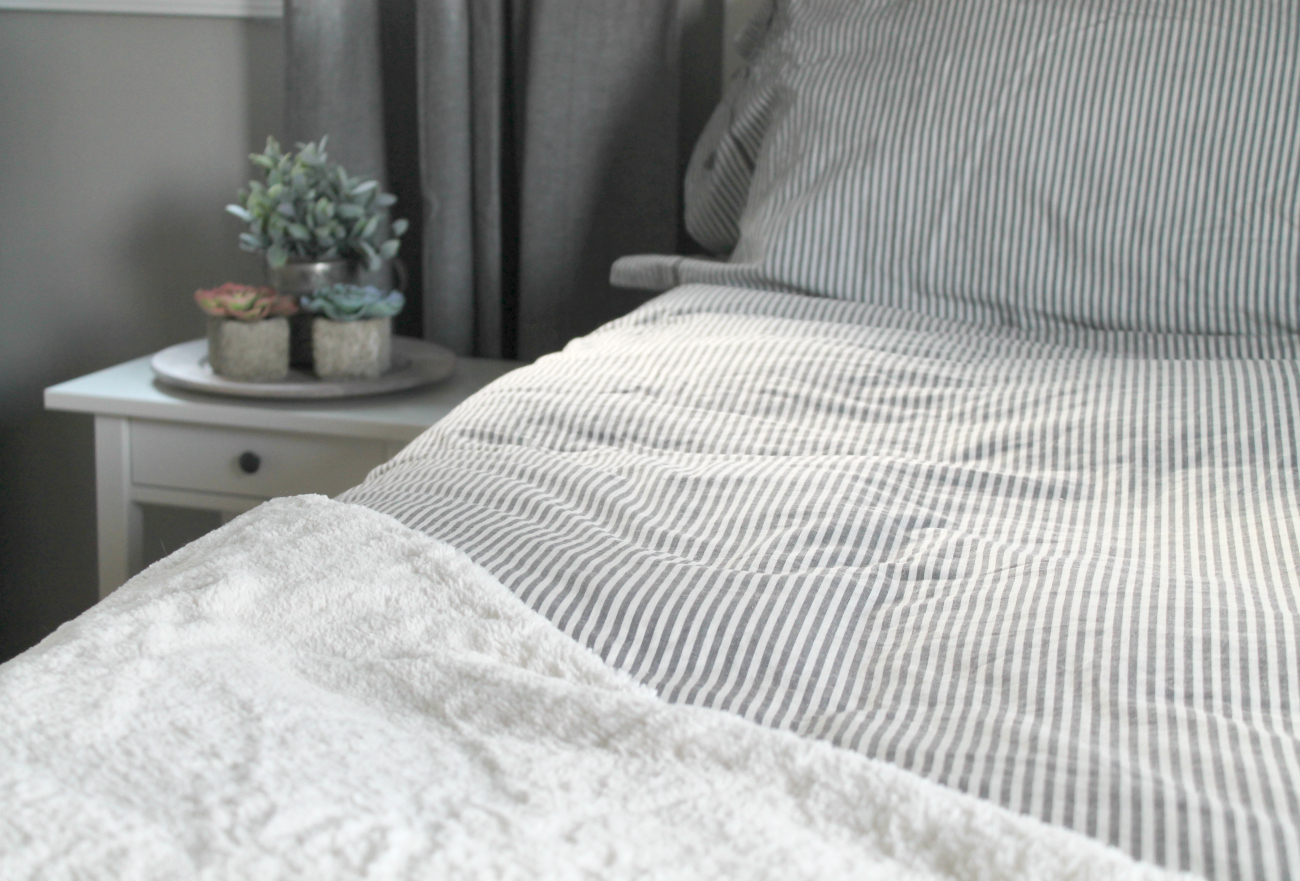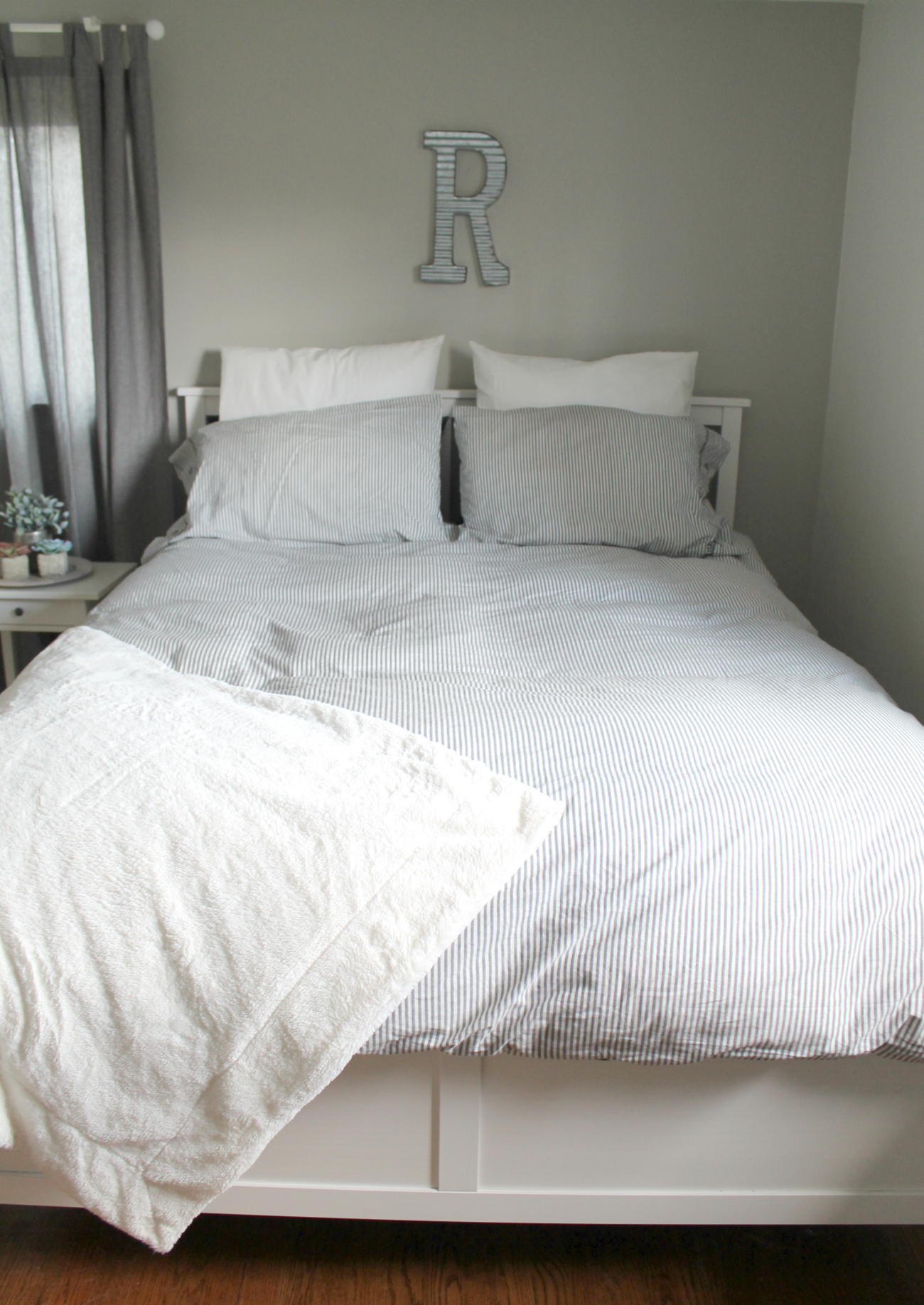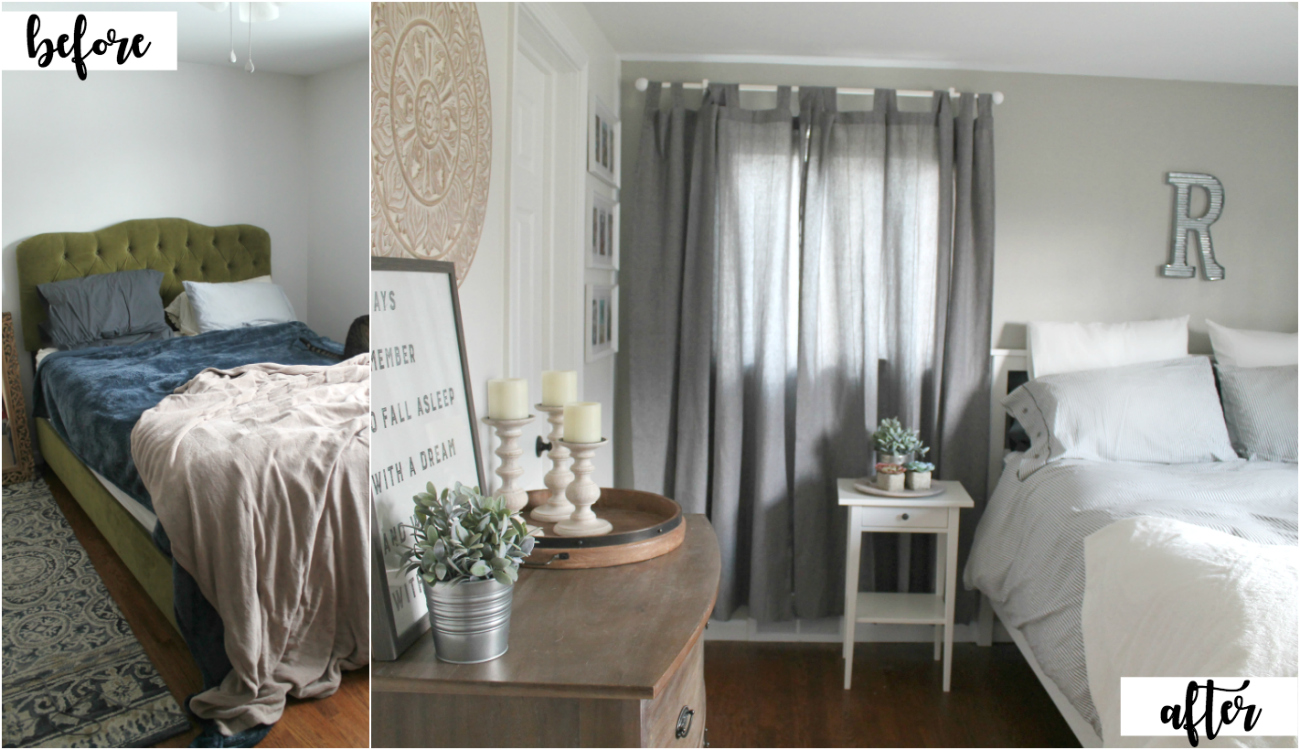 So, what do you think? So pretty, right? I now walk into my room and instantly feel like it's the perfect place to relax and get some rest after a long day. Our bed is so comfortable, our room is clutter-free and oh-so calming.
If your bedroom needs a new look, don't get too wrapped up in thinking it has to be expensive to be beautiful! Be sure to shop IKEA for affordable and stylish items to help bring it to life!
Could your room use a makeover?
Love this post? Pin it for later here: