A huge thanks to the amazing sponsors of today's post who helped us to achieve the Industrial Farmhouse look! I received no compensation but was provided product by these awesome companies: Cost Plus World Market, Barn Light Electric, Delta Faucet. All opinions are 100% my own and I truly stand behind and love each one of these brands!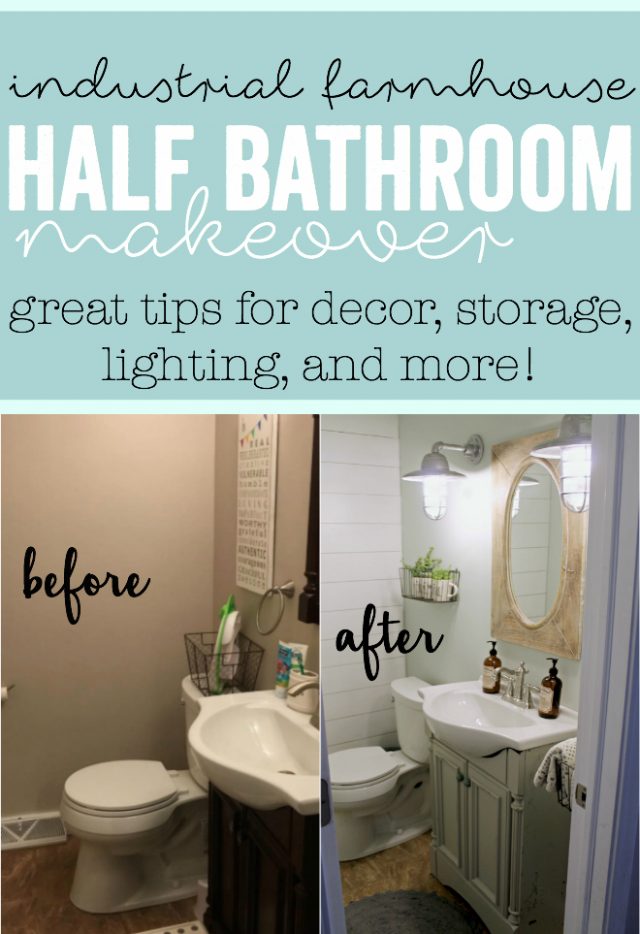 Hi, friends!
The day is finally here! I can now officially reveal our half bath makeover! This project took a lot more time than I thought originally (we started back in April), but with those few bumps along the way, we learned A LOT and can apply it to any other bathroom projects we decide to tackle. 😉
I am SO happy with the way the bathroom turned out and I love it even more because it's a project that my husband and I did together in our home. Before we bought our house we dreamed of owning a home and having the freedom to fix it up just the way we liked, and now, we're doing it — so surreal. We are so grateful!
If you don't remember, here is what our bathroom looked like before: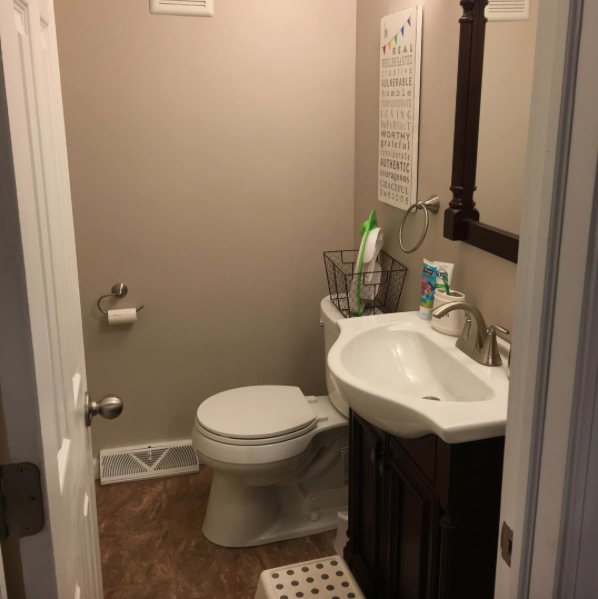 The space felt so dark and uninviting. I wanted to brighten it up, add a touch of farmhouse charm, and also include some industrial elements.
NOTE: I apologize in advance for the quality of some of these photographs, it is SO hard to take photos in this bathroom because there is no natural light!
And now, here it is the finished bathroom: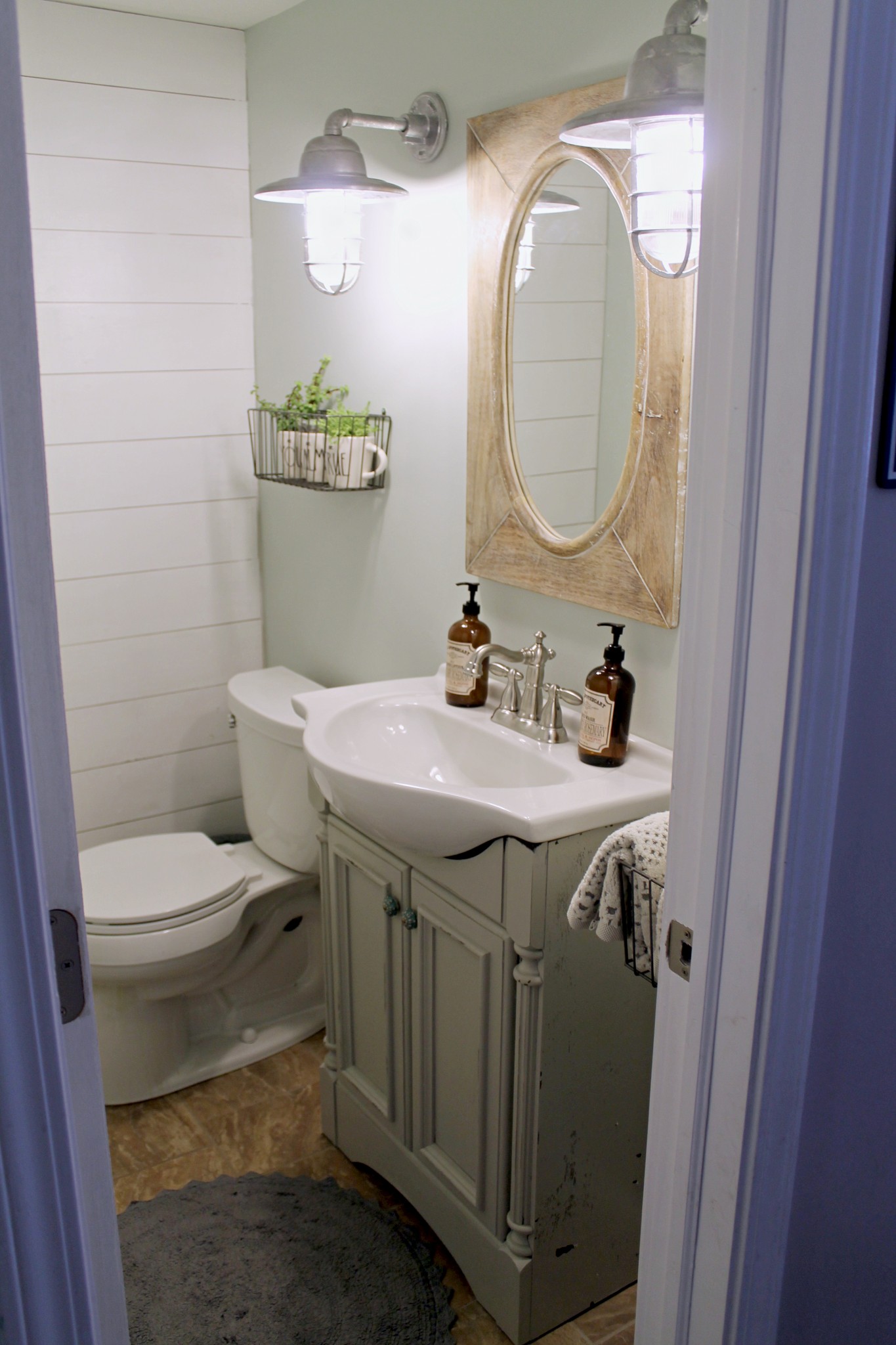 Such a HUGE difference, right? It's so much brighter and welcoming now! And I love the farmhouse / industrial charm it has! Joanna Gaines would definitely be proud!
Let's do a little before and after magic before we break it down..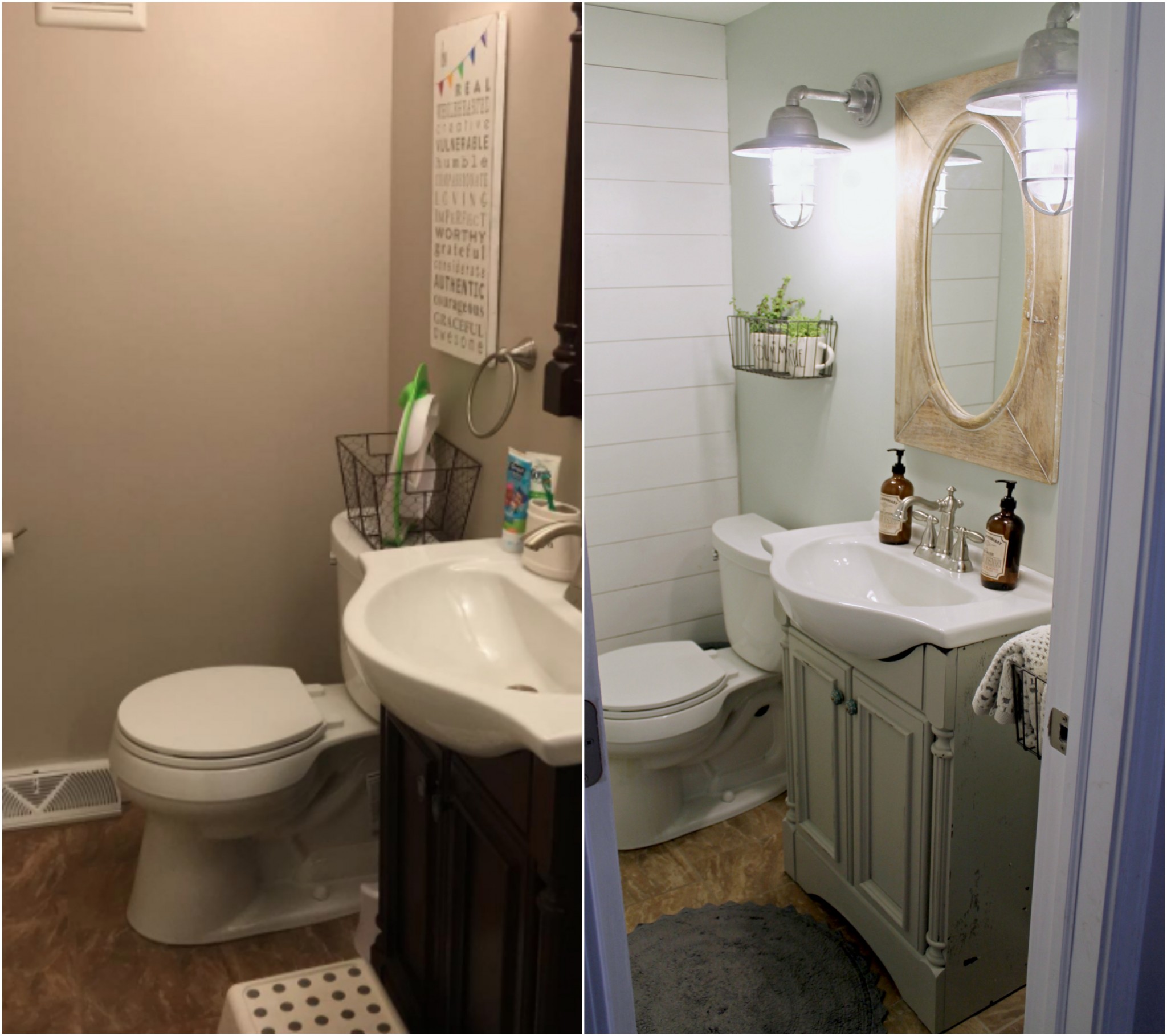 Crazy, right? I am so in love! We talked a little about those amazing bathroom lights in a previous post, I think they really help make the space so unique, and they really brighten up the bathroom! They were so easy to install after watching a few Youtube videos, and I just couldn't be happier. It was my FIRST time replacing any lighting in our home, and I cannot wait to more lighting projects like this! I still can't get over the difference it made! The lighting is from two Atomic Industrial Guard Wall Sconce. If you love that industrial / farmhouse look like I do, you have to check out Barn Light Electric!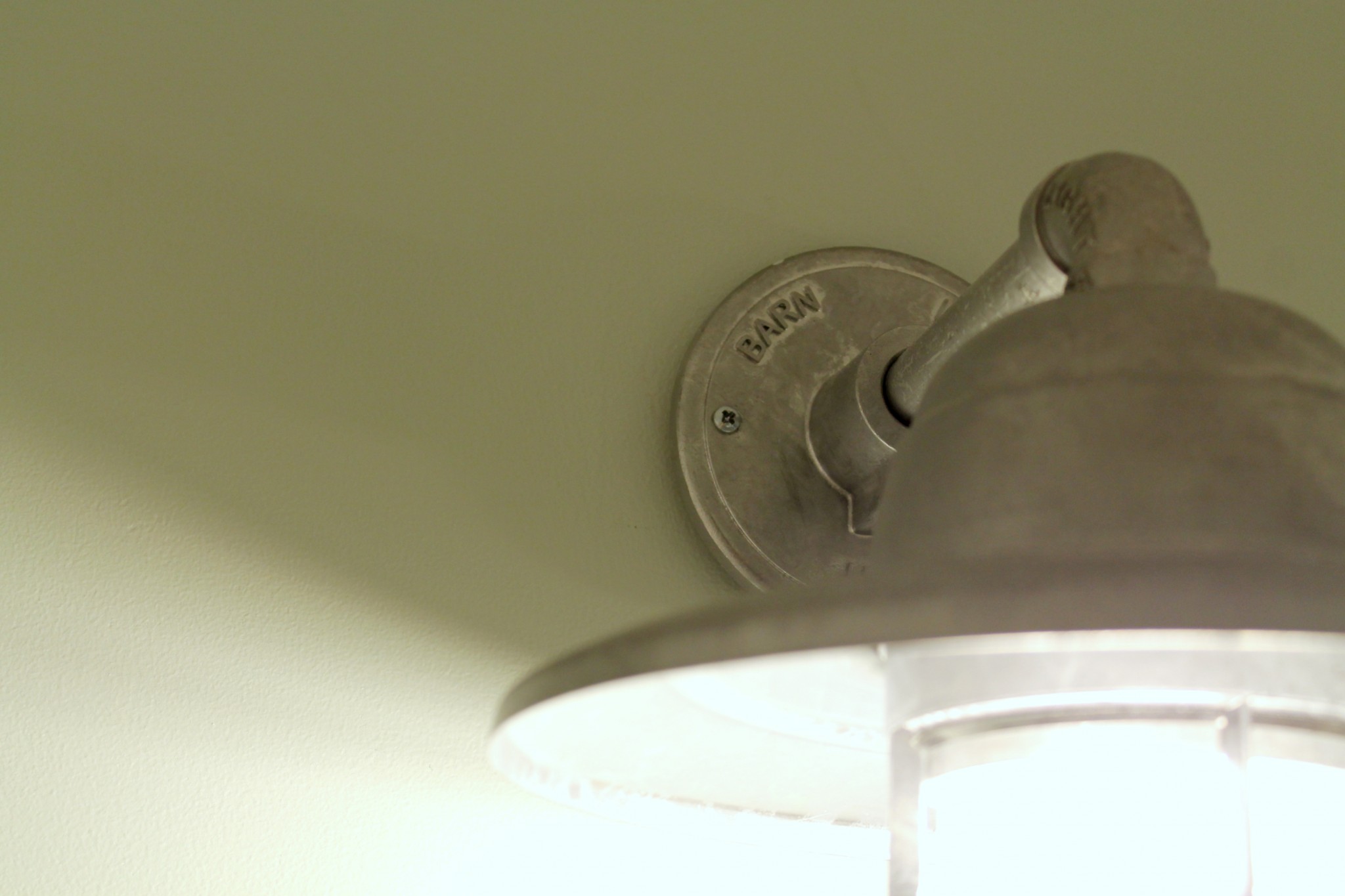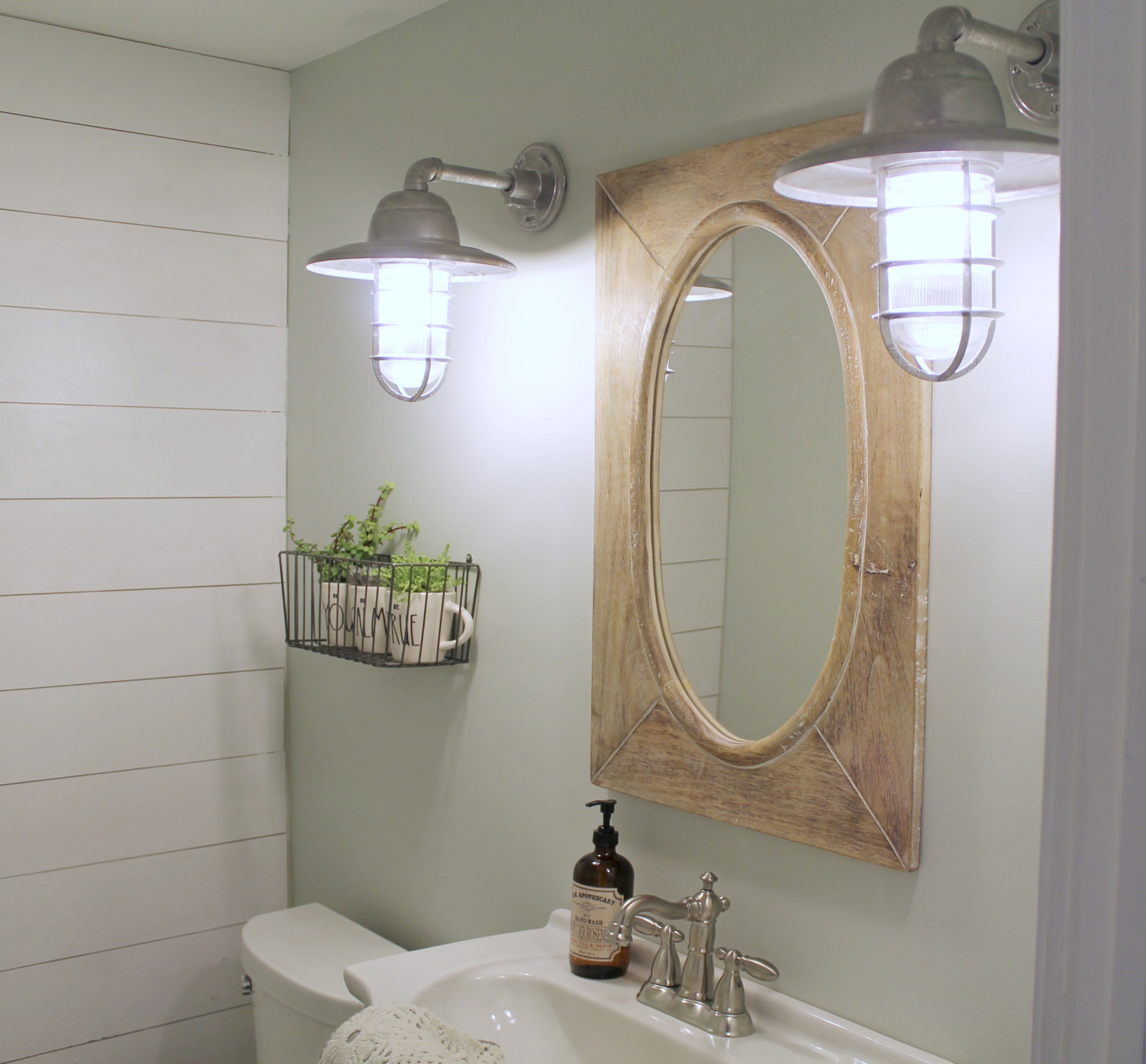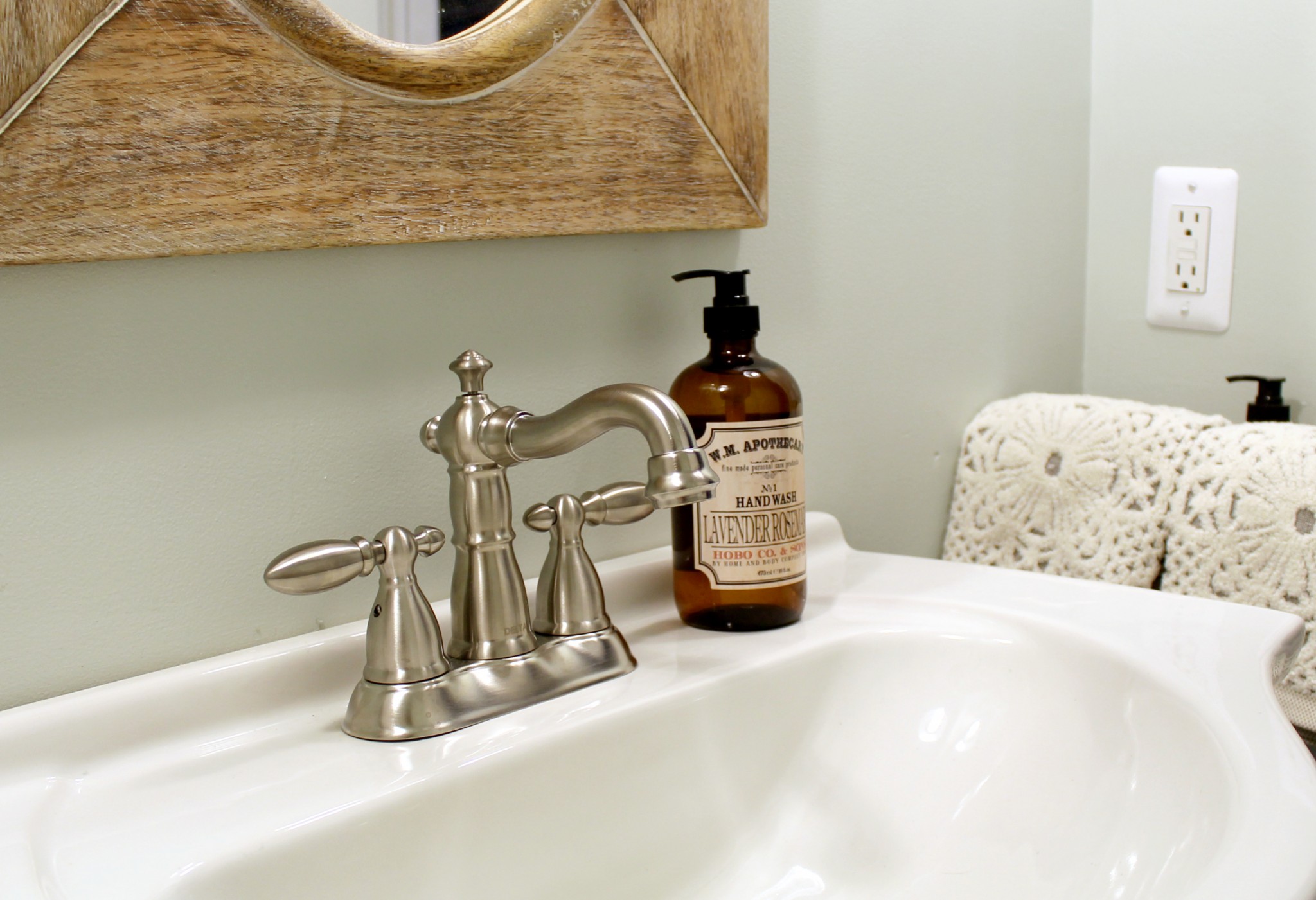 Last week I wrote a little bit about Choosing the perfect Farmhouse Style Bathroom Faucet and shared this beauty from Delta Faucet. Again, this was another first for us – we had never replaced a faucet before, so we learned a lot! Delta Faucet has an awesome Youtube account loaded with how-to videos. So if you're a beginner like myself, and a visual learner, you can view everything step by step (and pause when needed) to get you through the project. This was SO helpful for me because I got stuck a few times and it was so nice to refer to an easy video!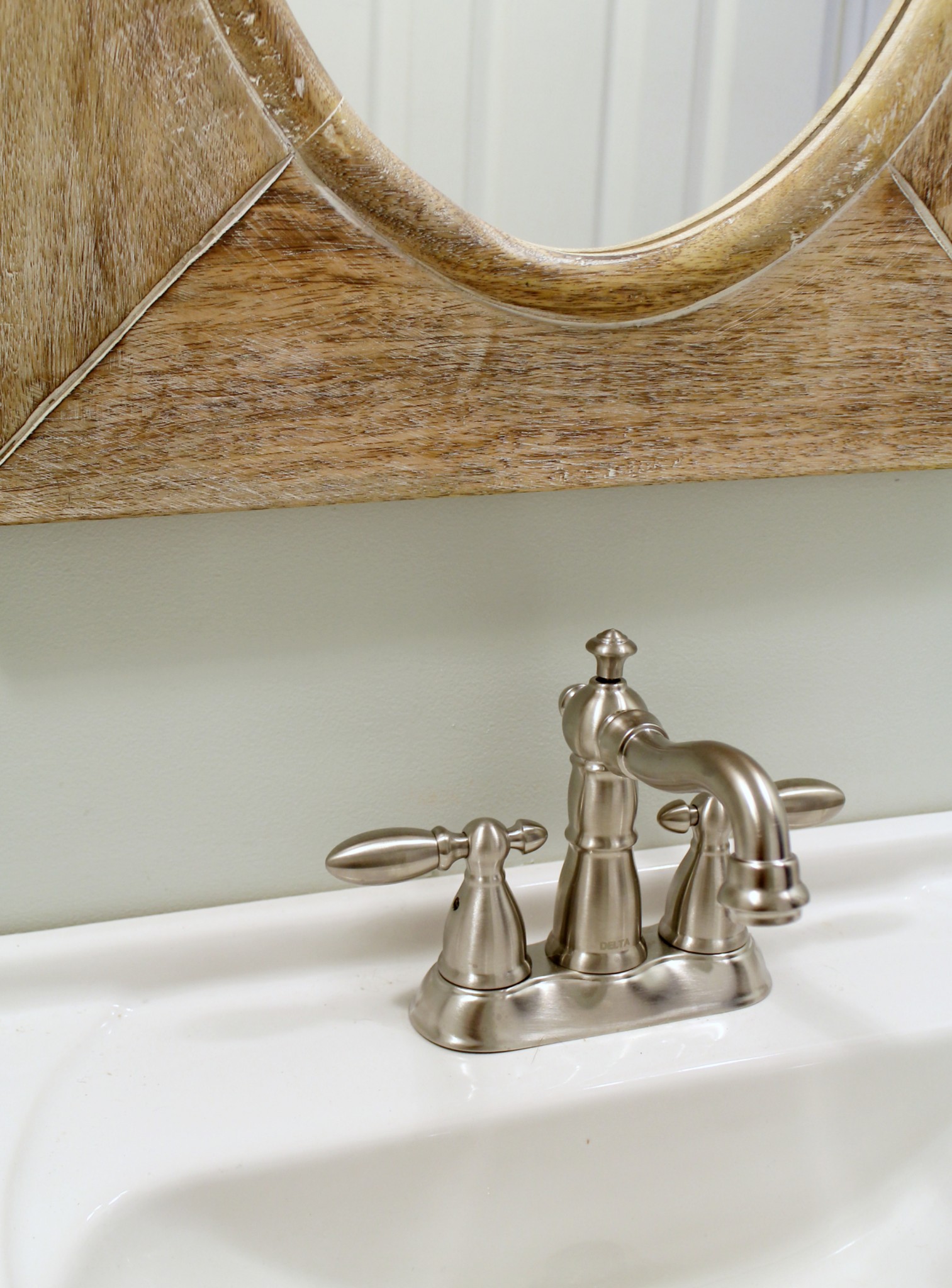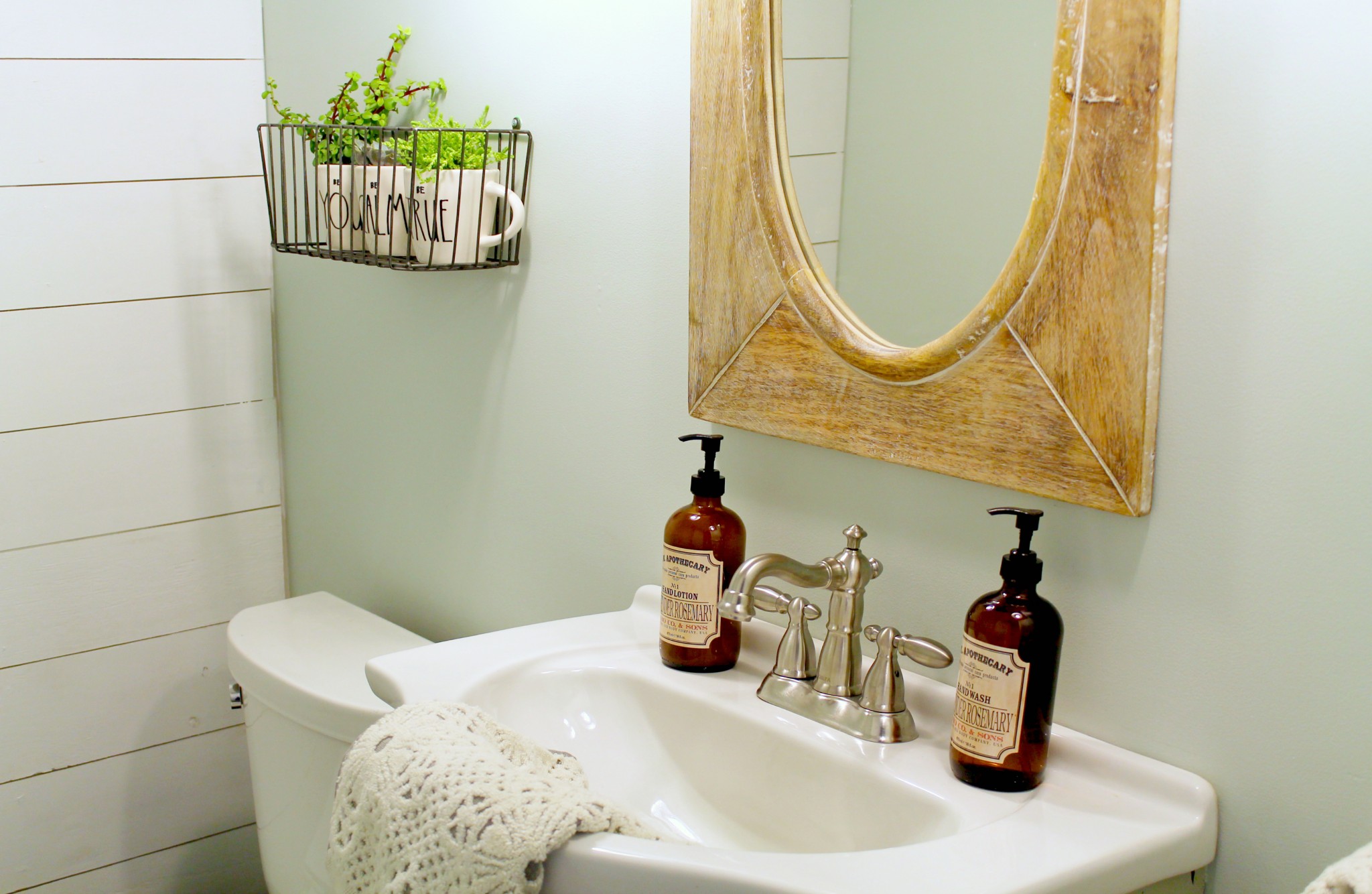 One of my favorite finishing touches on the bathroom was the addition of this fun succulent planter! I knew I wanted some kind of hanging planter and found the perfect galvanized wall basket that matched the galvanized metal on the lights. It was super easy to install. Inside I tucked these cute little Rae Dunn mugs (set of 4 for under $30!) and planted some succulents inside (thanks for the idea, Kimberly!). I think it turned out SO cute, don't you think?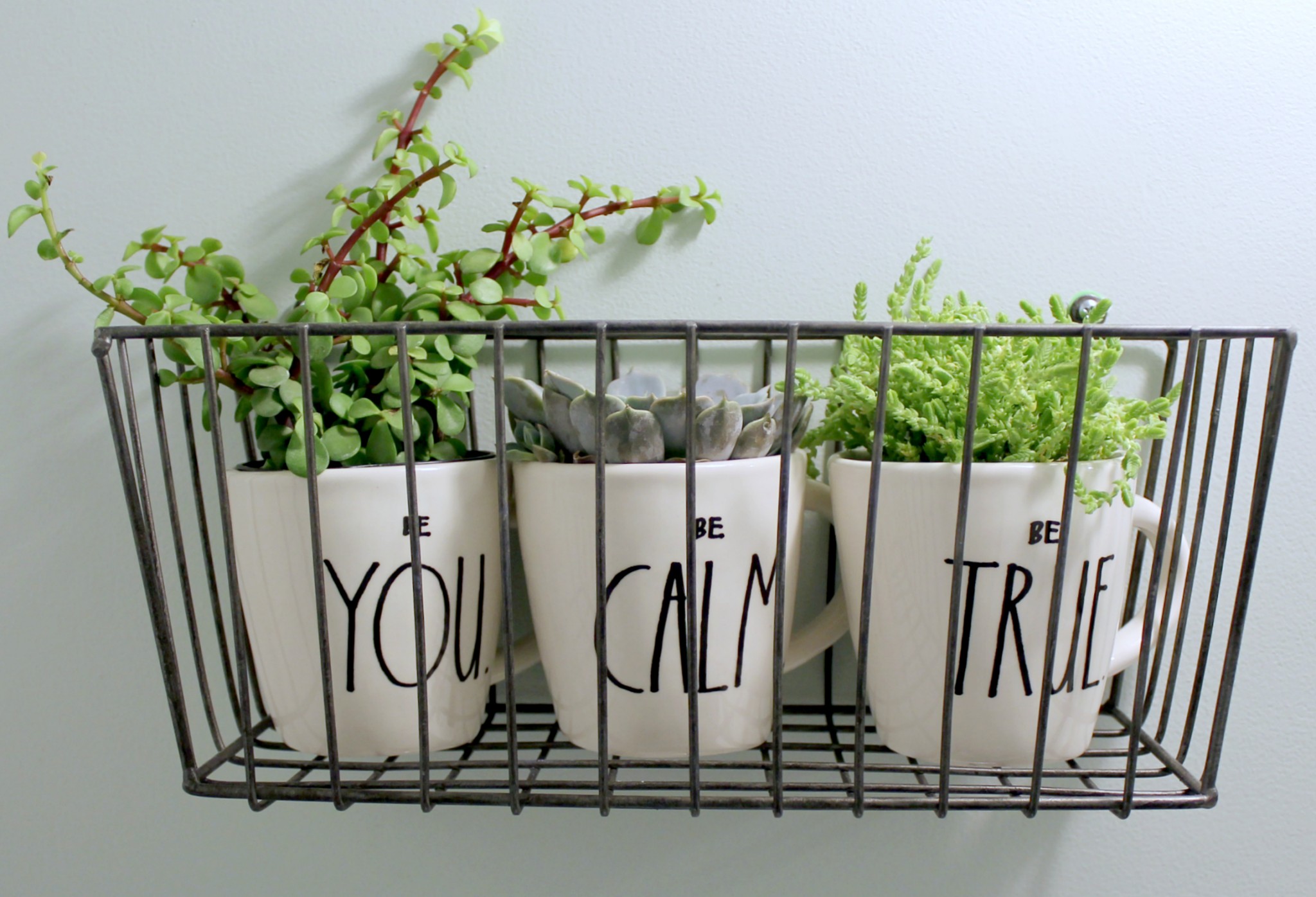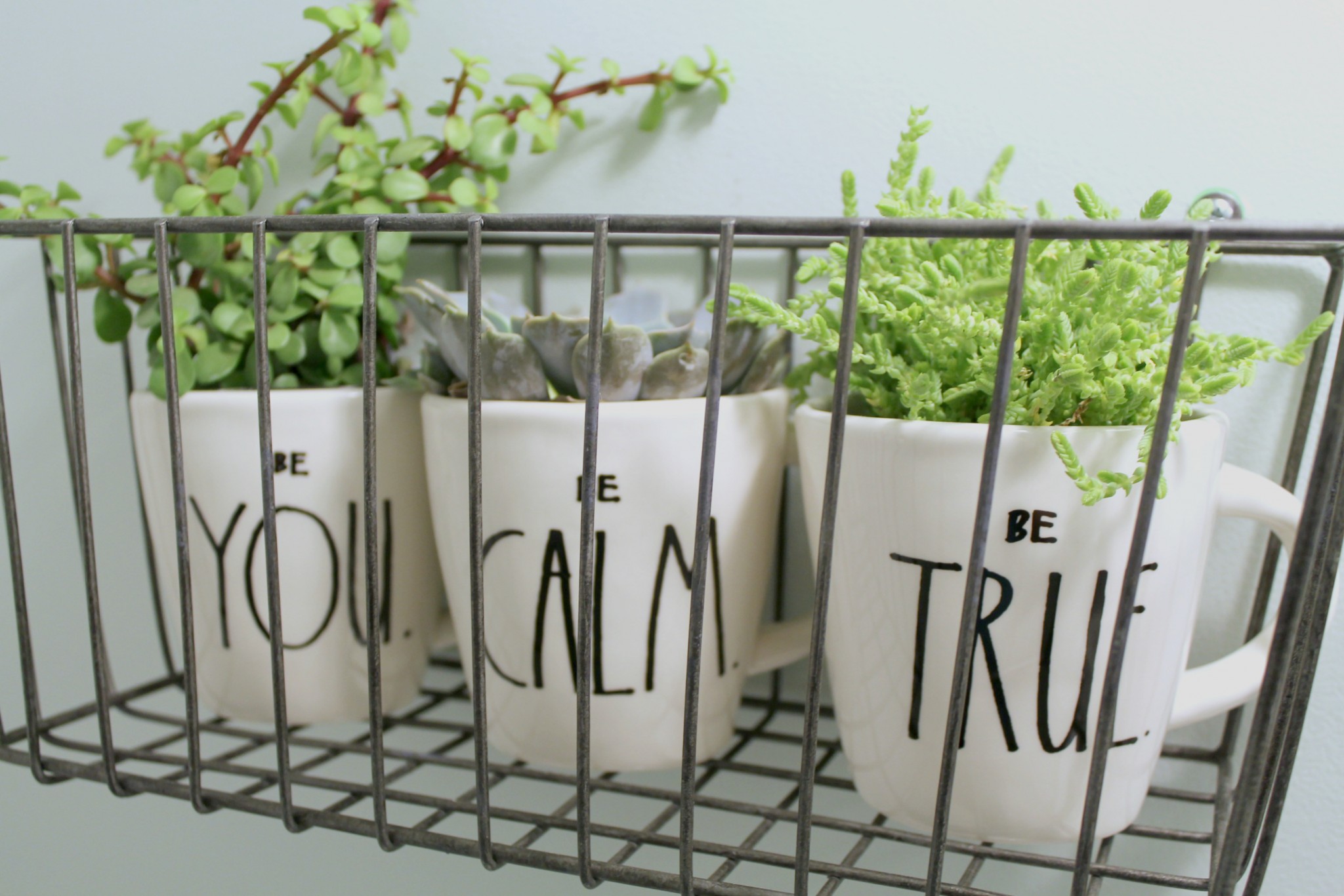 I used another one of those awesome galvanized wall baskets and installed it right next to the sink. We used wall anchors so they're able to hold quite a bit of weight, so they're perfect for a small bathroom like this when you need additional storage! In ours we tucked a few hand towels, and a few bar soaps.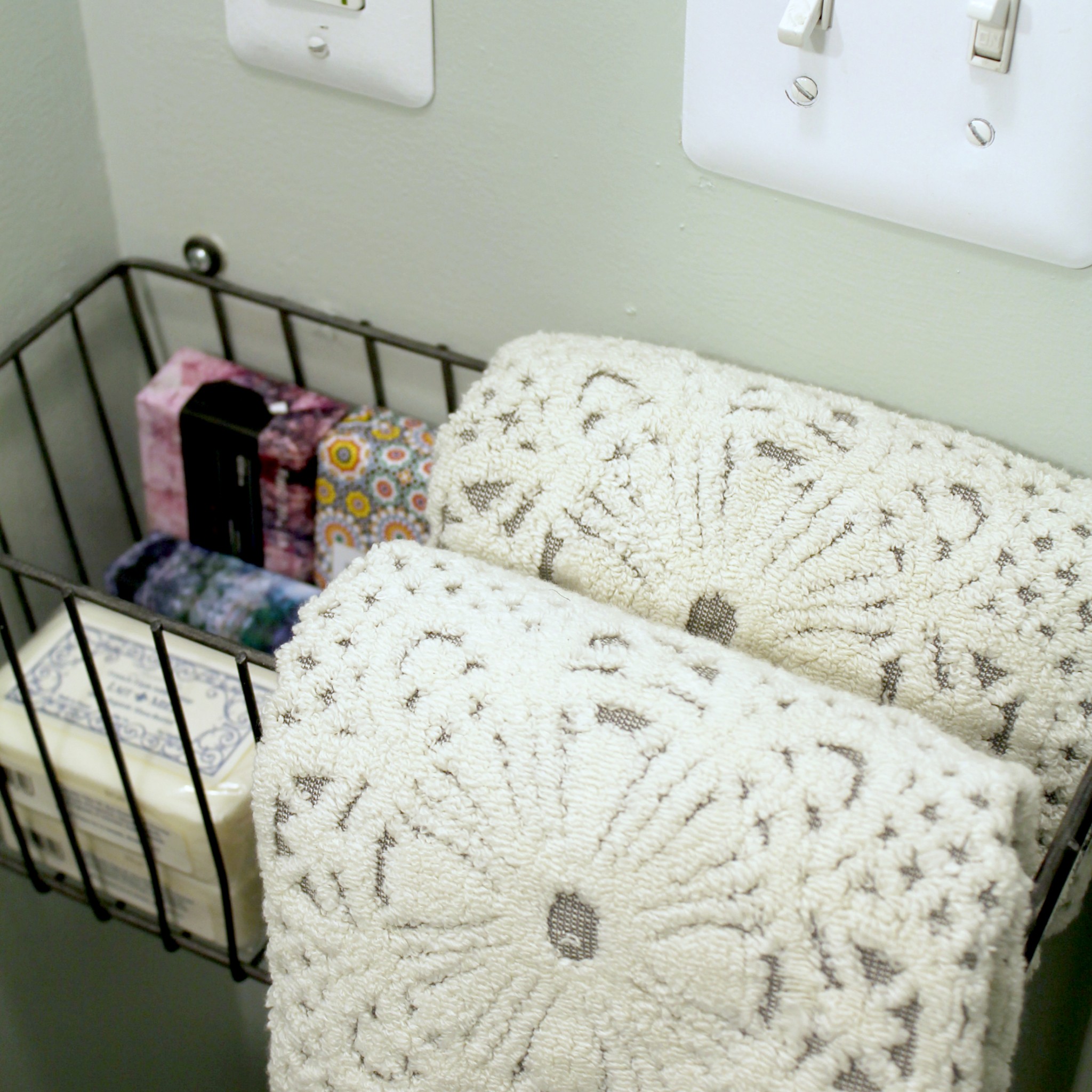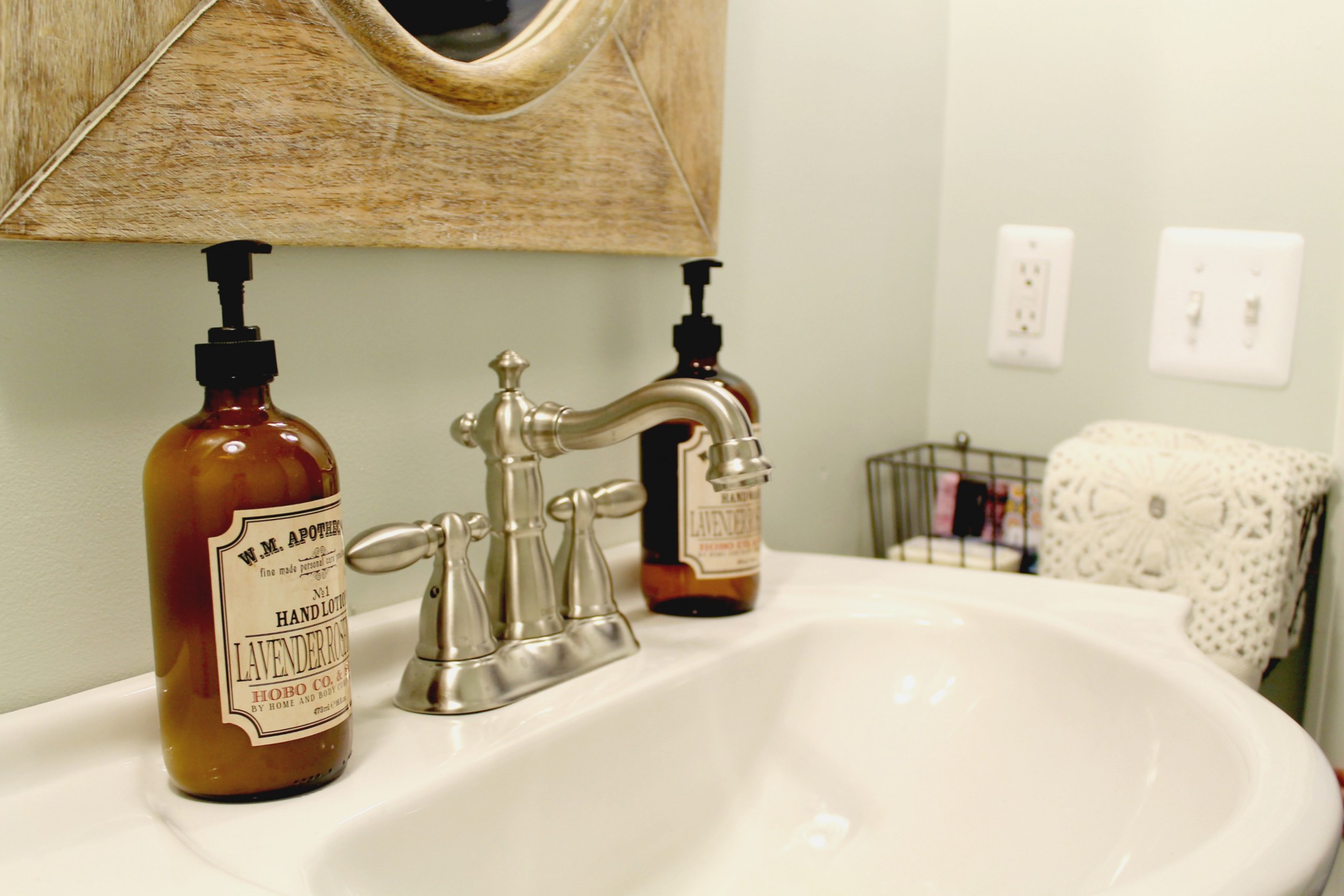 Instead of installing a new sink, we decided to give our current one a makeover! It was a really dark color before and I knew it would look great painted a light, dusty grey. I picked up some cute knobs, and swapped out the faucet, and it really made a huge difference, and saved us some money, too! After the paint dried, I took a sanding block and distressed it so it had an aged and vintage look, so much better, right?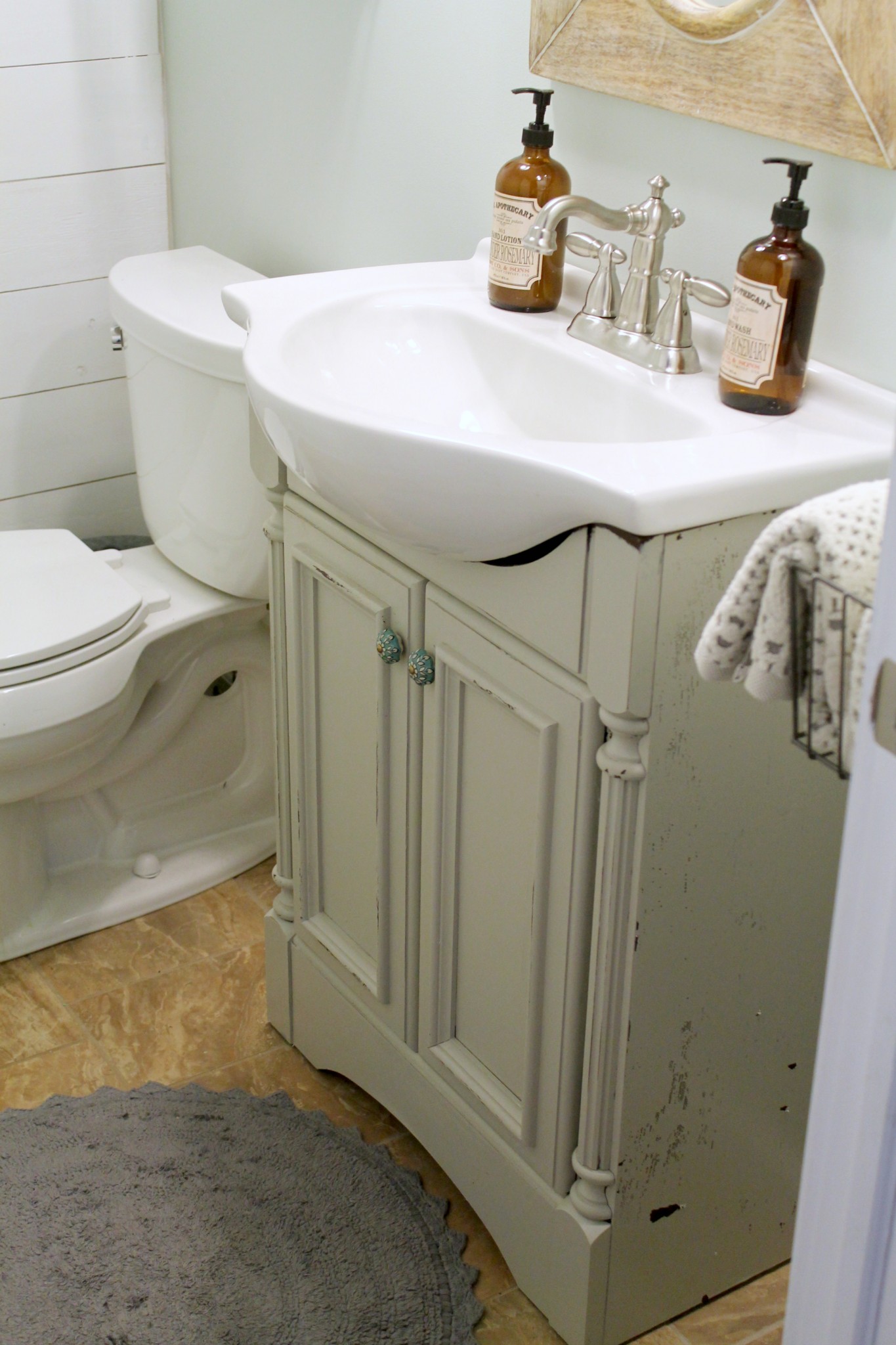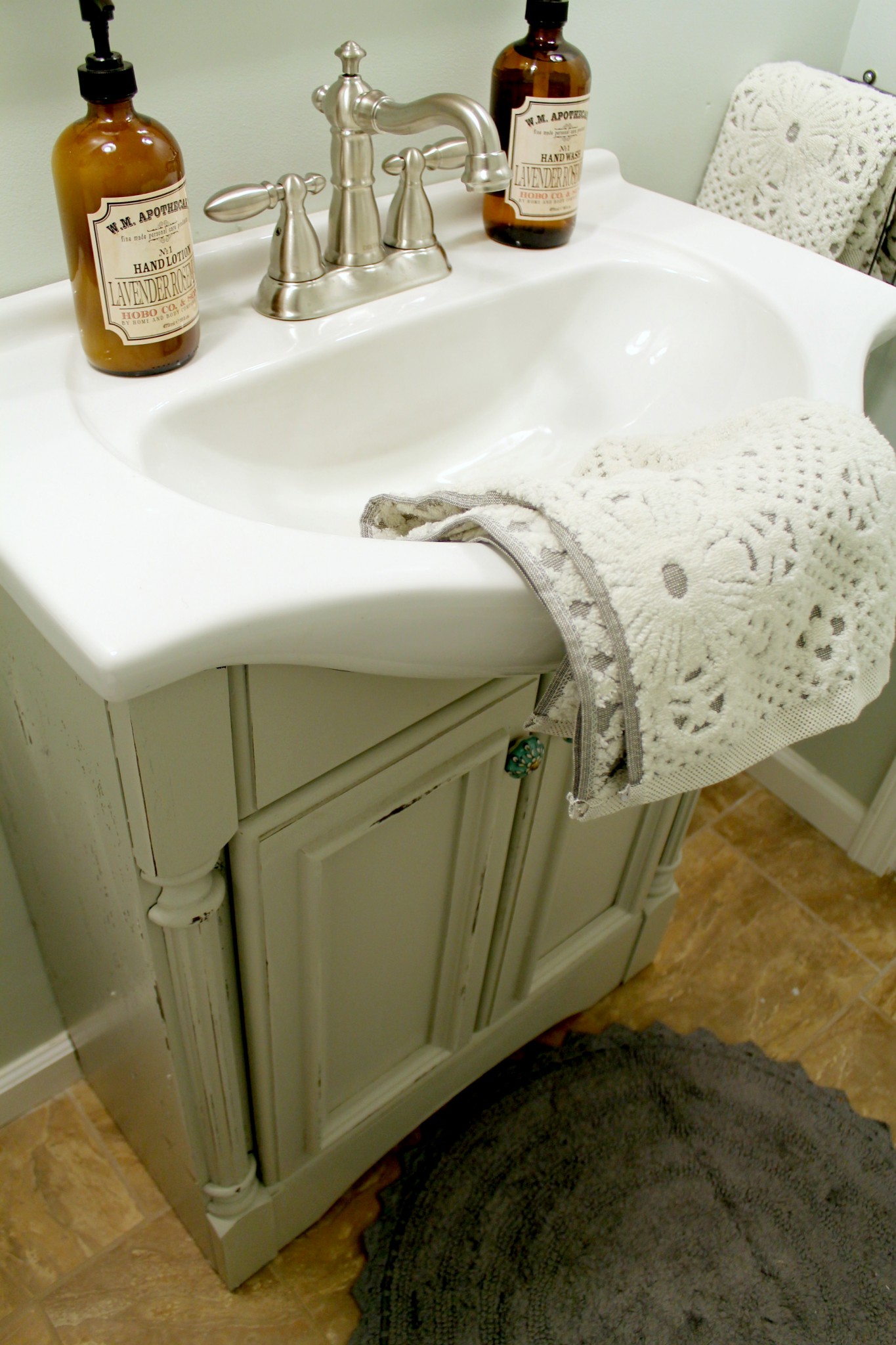 We really put in a lot of hard work on this makeover, so to be able to stand back and really take everything all in is a great feeling. Being a first time home owner is intimidating because there is still so much that we don't know how to do yet, but through everything, we're learning so much!
And again, here's that great "before" and "after" photo!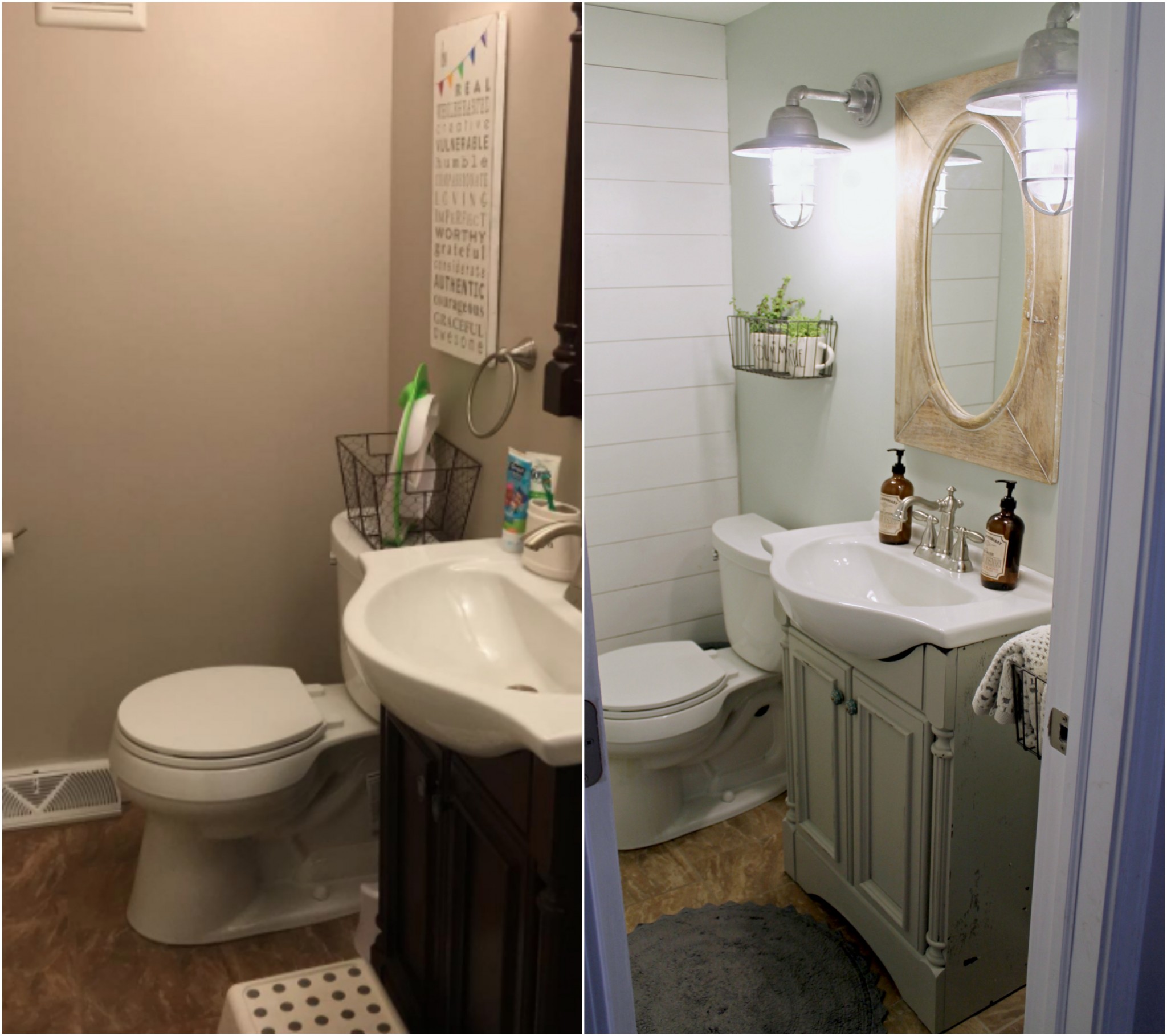 So, what do you think?
Do you like the Industrial Farmhouse look, too?
---
PRODUCT SOURCES

Cost Plus World Market:
Mirror | Rustic Wood Shandi Framed Oval Mirror Soap/ Lotion | Lavender Rosemary Hand Soap (and lotion) Bar Soap | La Lavande Milk + Sweet Grass Soap + White Tea and Lily + Blackberry and Vanilla Bath Mat | Round Cotton Bath Mat (in grey) Sink Cabinet Knobs | Turquoise Ceramic Knobs (set of 2) Trash Bin | Large Steel Gray Retro Metal Trash Can Wire Wall Baskets | Galvanized Ashton Basket Rae Dunn Mugs | Sentiments Mugs, Set of 4 Hand Towels | Lattice Sculpted Hand Towel
Barn Light Electric:
Lighting | Atomic Industrial Guard Wall Sconce
Delta Faucet:
Bathroom Sink Faucet | Victorian™ Two Handle Centerset Lavatory Faucet – Metal Pop-Up
---
 Love this post? Give it some Pinterest love here: