The Kendall Rayburn Blog is a participant in the Amazon Services LLC Associates Program, an affiliate advertising program designed to provide a means for sites to earn advertising fees by advertising and linking to Amazon.com at no additional cost to you. Keep scrolling to see our Budget-Friendly Small Bathroom Makeover (Under $250!)!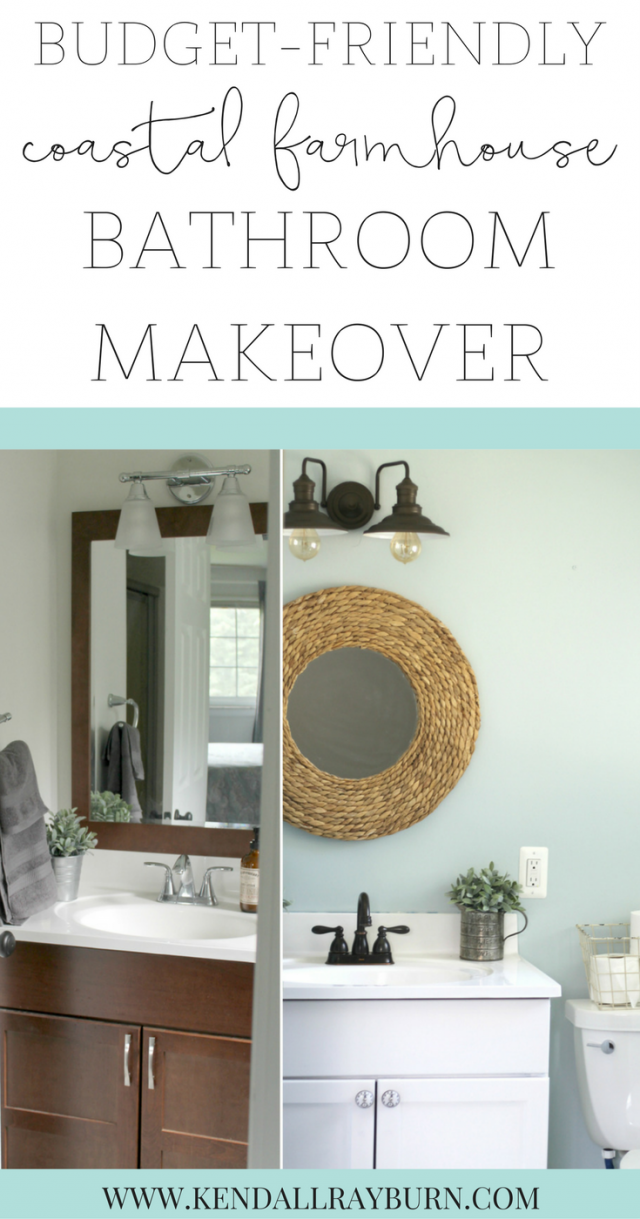 Hello, friends!
I am SO excited to share todays post with you! If you follow me on Instagram, you've already gotten a sneak peek of our latest room makeover. It took me one whole weekend, $250, and a lot of sweat, but I did it entirely by myself – and it turned out beautiful!
Now, before I get too excited, let me show you what our bathroom looked like before. I want to point out that our bathroom before wasn't bad, it just wasn't our style. We bought and moved into our home almost two years ago, and our teeny tiny master bathroom has been something I've always wanted to fix up a bit. And like all of our makeovers, you better believe I was going to find a budget-friendly way to make it work.
Bathroom Before: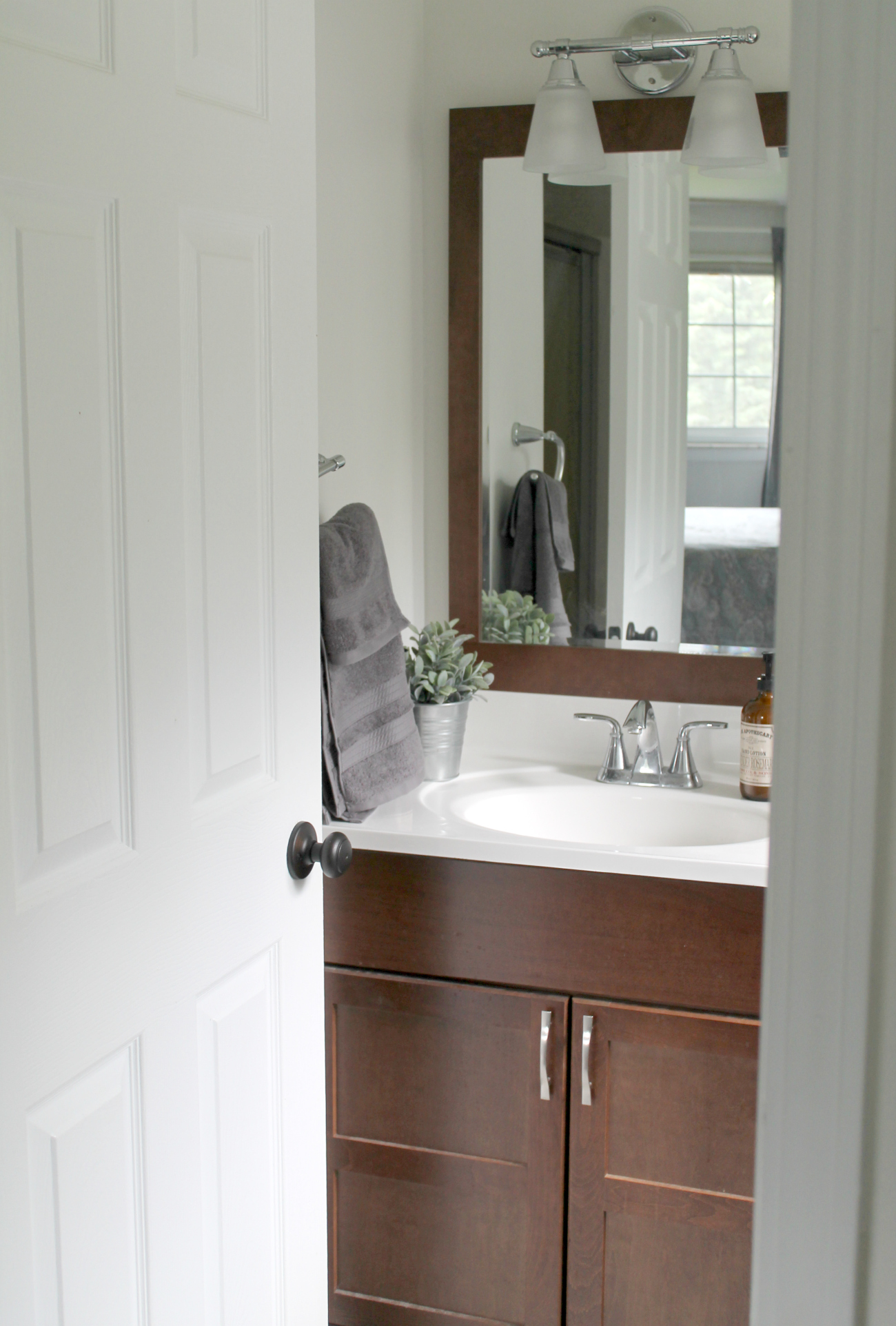 I started by making a product list and a mood board. Below are the products I selected. I wanted to swap out all of the silver hardware and accessories for a darker oil rubbed bronze, and I wanted to paint the walls a cool, clean, blue. I wanted something that felt coastal and farmhouse at the same time, and after I had all of my supplies and had cleared plans for the weekend – I went to work!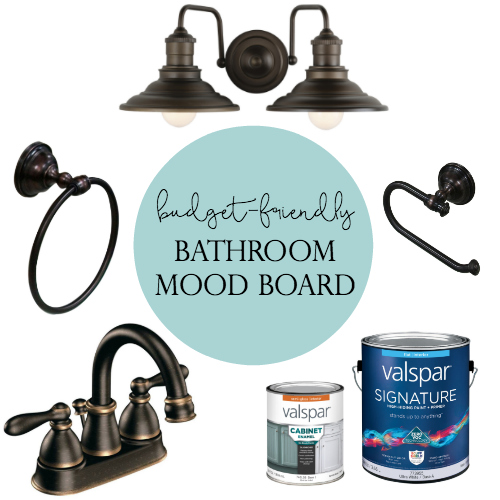 Vanity Light | Faucet | Toilet Paper Holder | Towel Holder
The first thing I did was remove the large cabinet over the sink, the large mirror, and all of the outlet plates and towel bars. I taped the whole room out with painters tape, and got to work. I picked a cool coastal blue and a creamy white cabinet paint. After painting the walls, I started to install the faucet, vanity light, and accessories!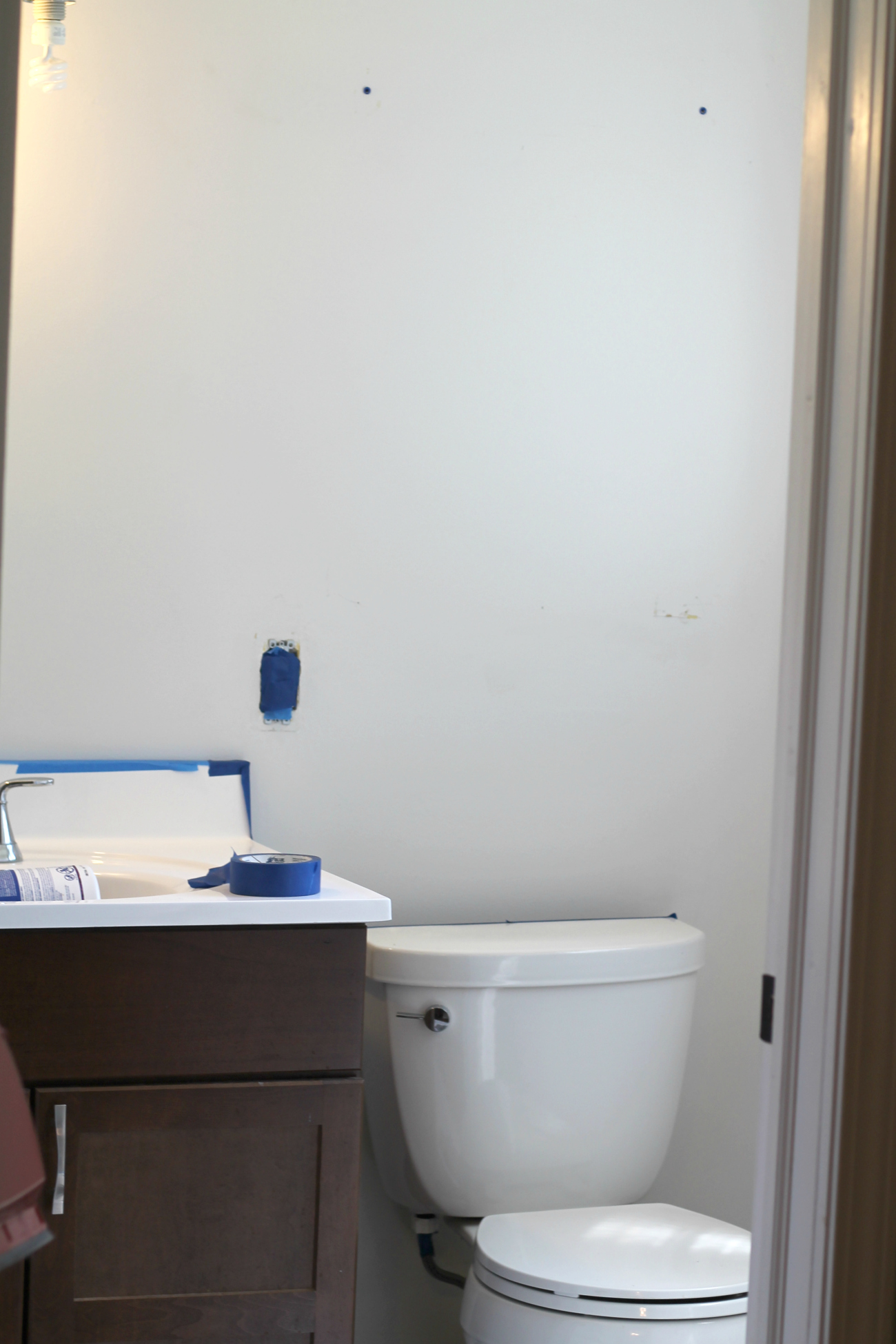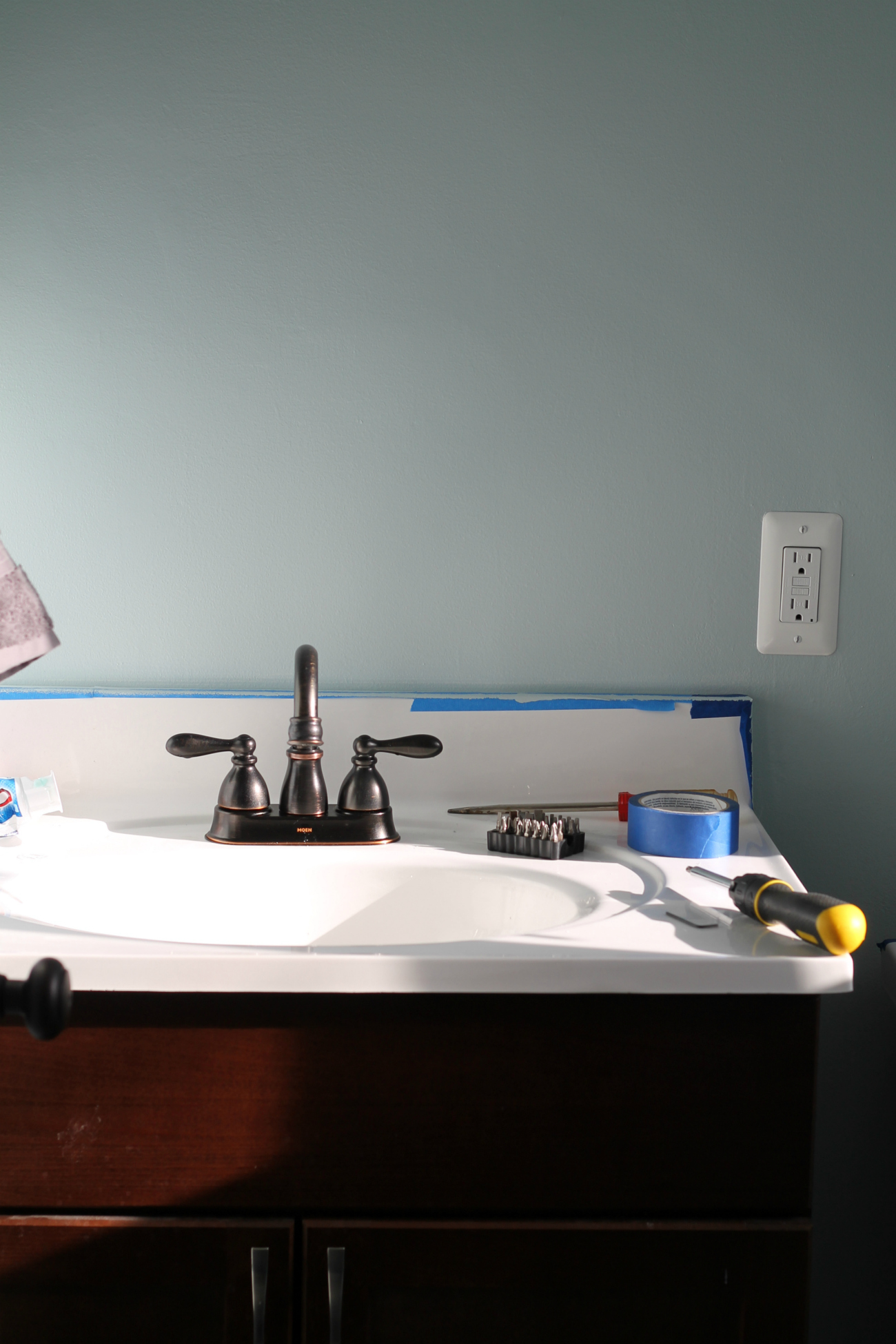 Swapping out the silver accent pieces for oil rubbed bronze made such a huge difference, and the paint color on the wall really helped to brighten the bathroom up. Next, it was time to paint the sink cabinet, fill in one of the holes for each handle with a wood putty (I wanted the new look to include these fun clock knobs I picked up a few years back from Anthropologie). Fun fact: I collect drawer pulls and knobs, so if I see one I love, I pick it up and save it for a project. 🙂 I'm so happy I got to incorporate the clock knobs into this project, they're my favorite!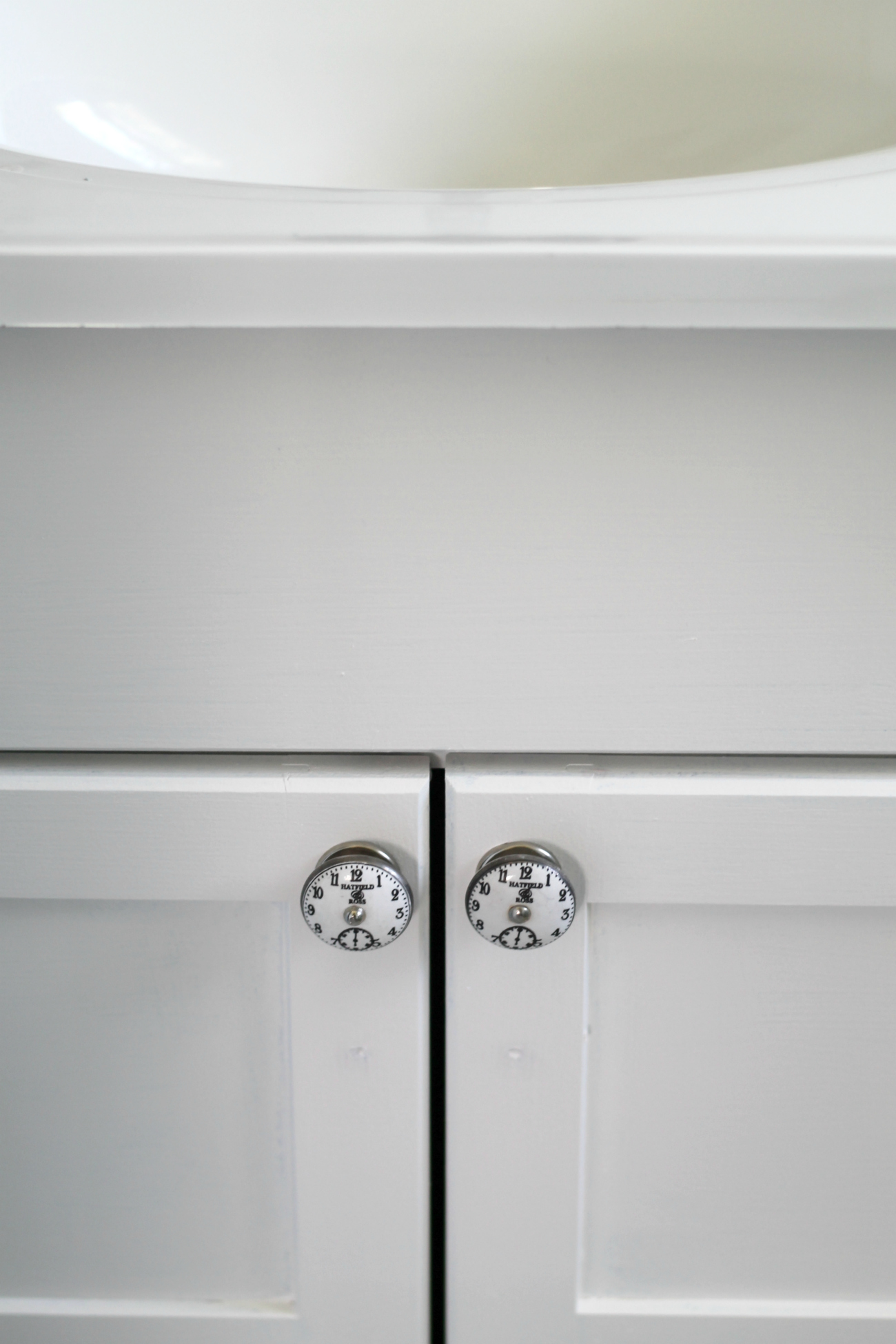 The white vanity cabinet really helped to make the space feel bigger and brighter. It took about three coats of the cabinet paint with about a 30 min dry time between each coat. After the cabinet was fully dried, I added a coastal mirror we had in our home (find a similar style here), some vintage galvanized measuring cups with faux plants from IKEA, and this cute white wire bath basket from World Market.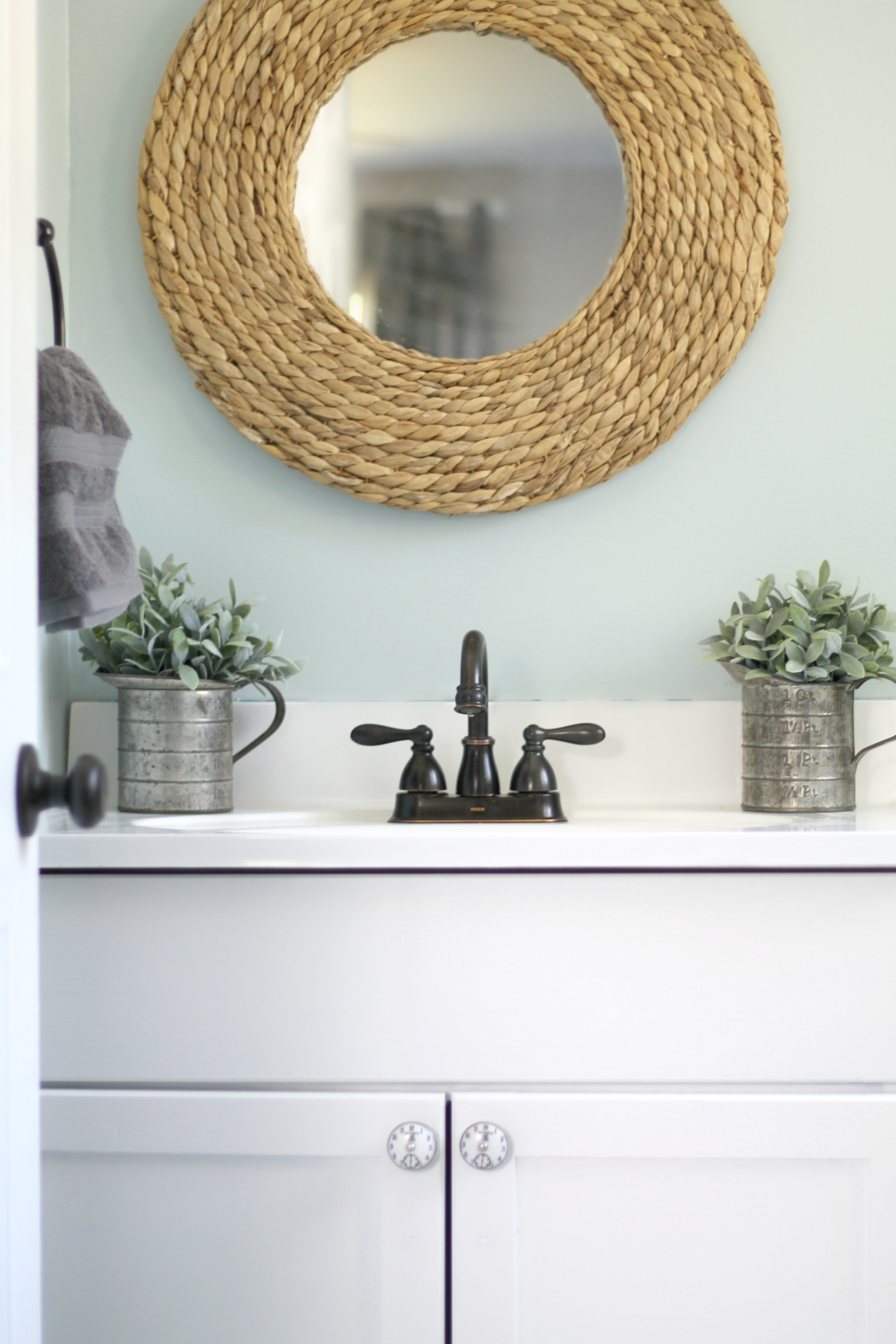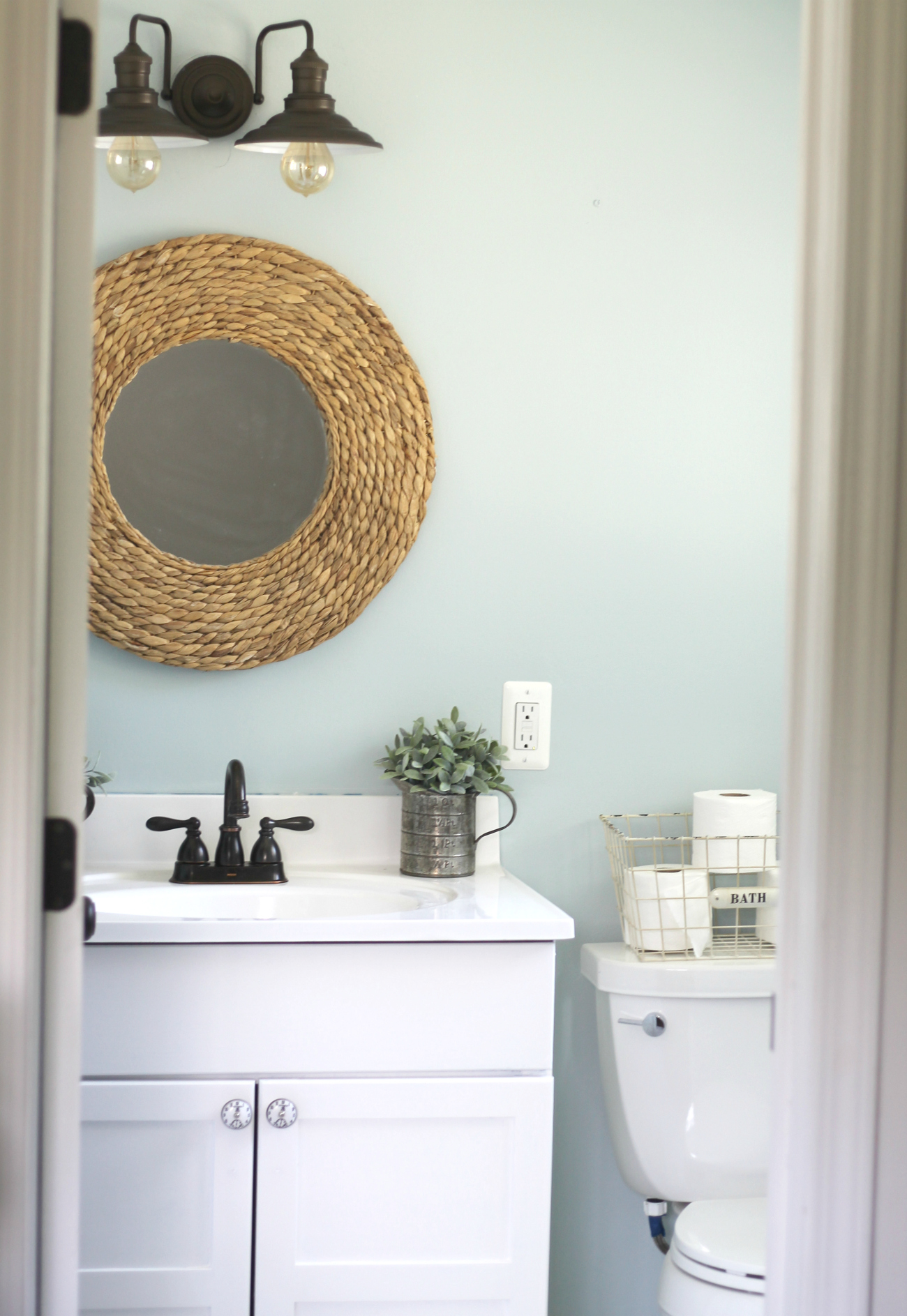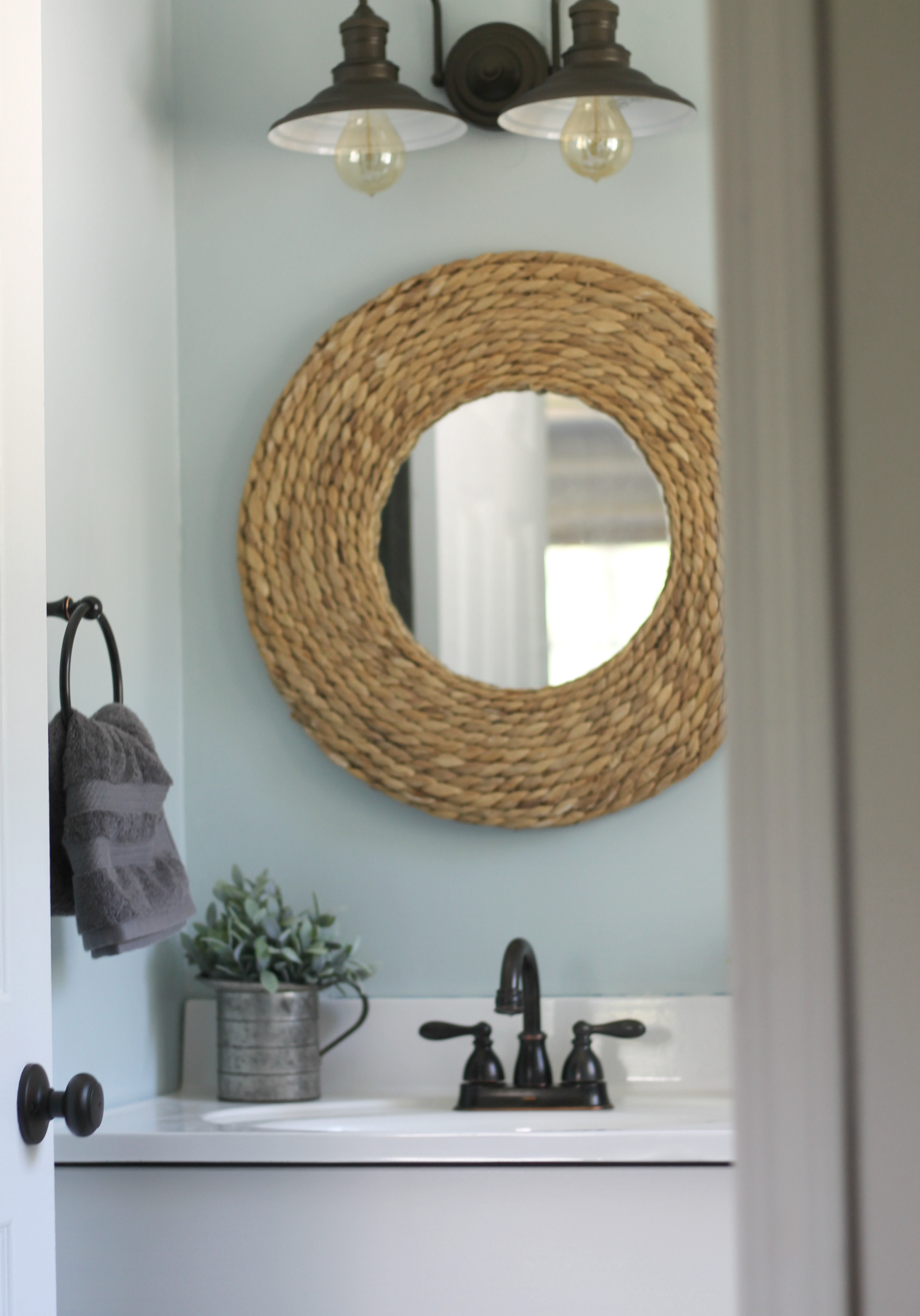 And because everyone loves a good before and after photo…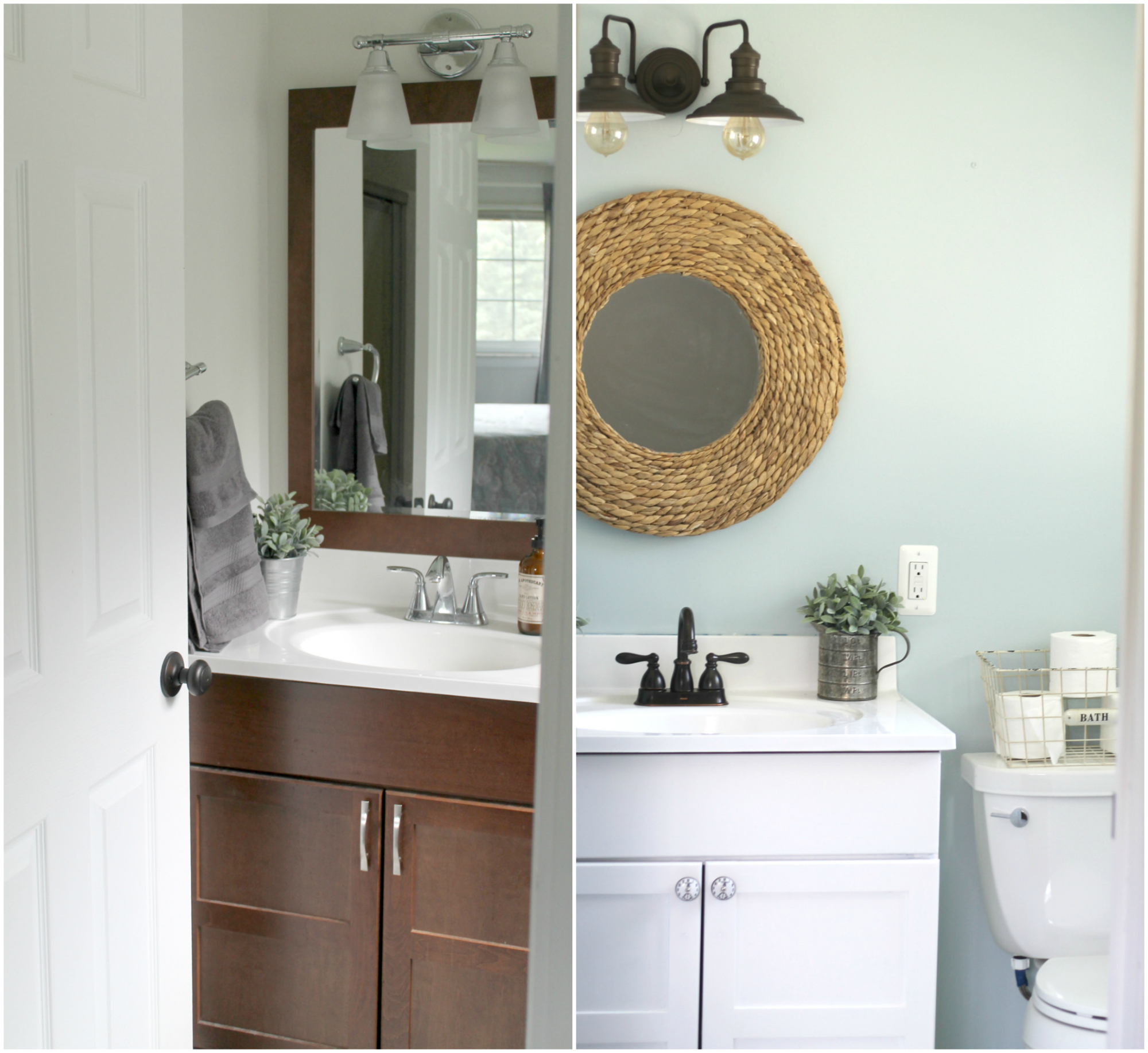 Man, I still can't get over the difference! Our bathroom is completely transformed, and I just couldn't be happier with the way it turned out! Before it felt dark and crowded, and now it's light, bright, and calming. I'm thinking about incorporating a little shiplap onto the wall opposite to the toilet, it's really small and only has a towel rod. Plus, I love how the shiplap looks in our downstairs Industrial Farmhouse Style Bathroom.
So, what do you think?
Are you a fan of the farmhouse / coastal style?
Full Product List:
Vanity Light | Faucet | Toilet Paper Holder | Towel Holder | Mirror (find a similar style here) | faux plants from IKEA | white wire bath basket
Love this post? Pin it below: