A huge thanks to our friends at Bed Bath and Beyond for sponsoring today's post.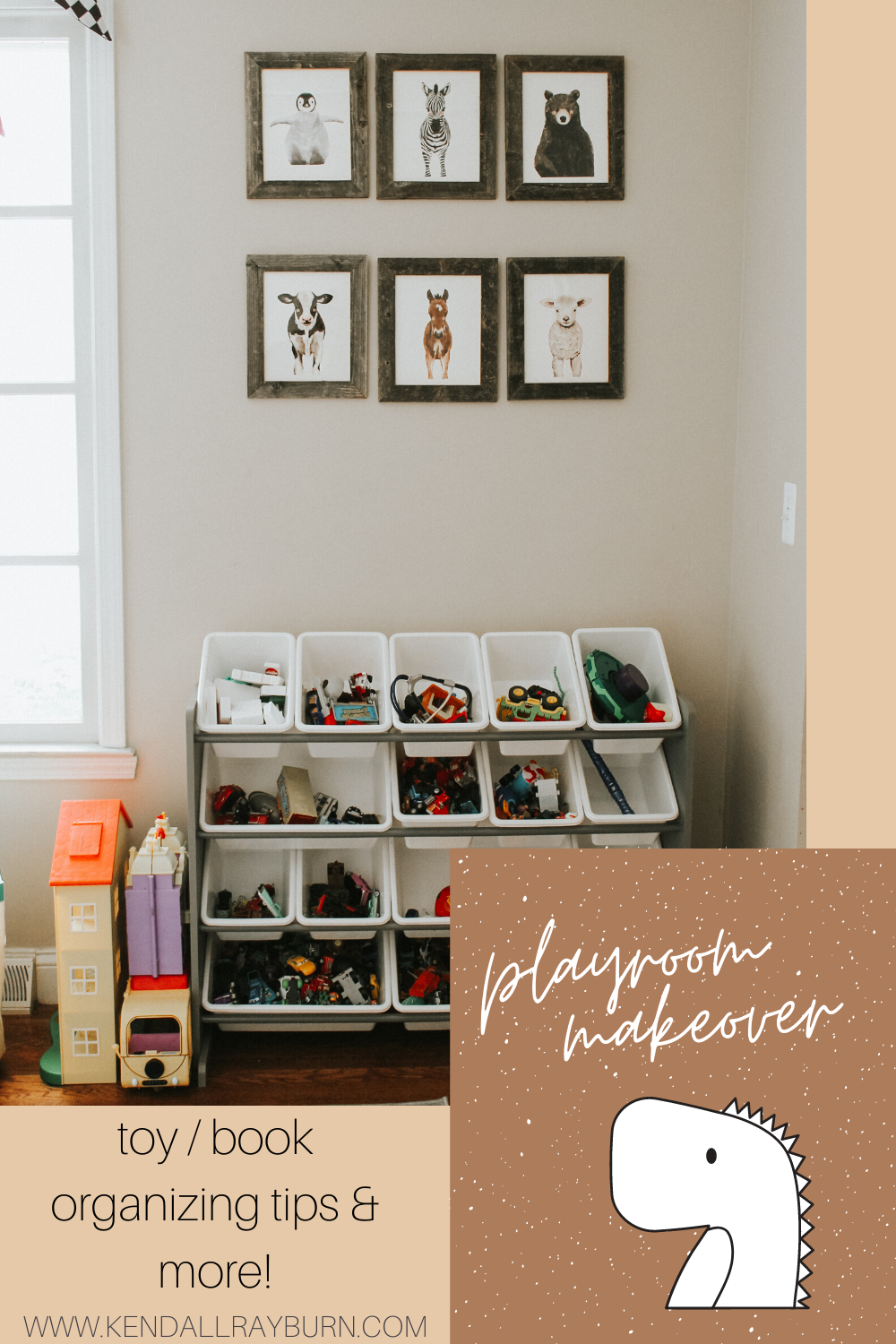 Budget-Friendly Playroom Organization
Hello, friends!
I am so excited to share today's post with you! We've been working so hard on organizing the boys' playroom and we are finally finished! And better yet, we did it all on a budget! We had exactly $500 to work with on this project and the starting point was kind of a disaster.
Let me explain what I mean. First, the playroom has many functions – it's where the boys store all of their toys, where the dogs love to romp around and play, and it's a nice quiet spot for reading. Before we fully jump into what it looks like now, let me show you what it looked like before.
Before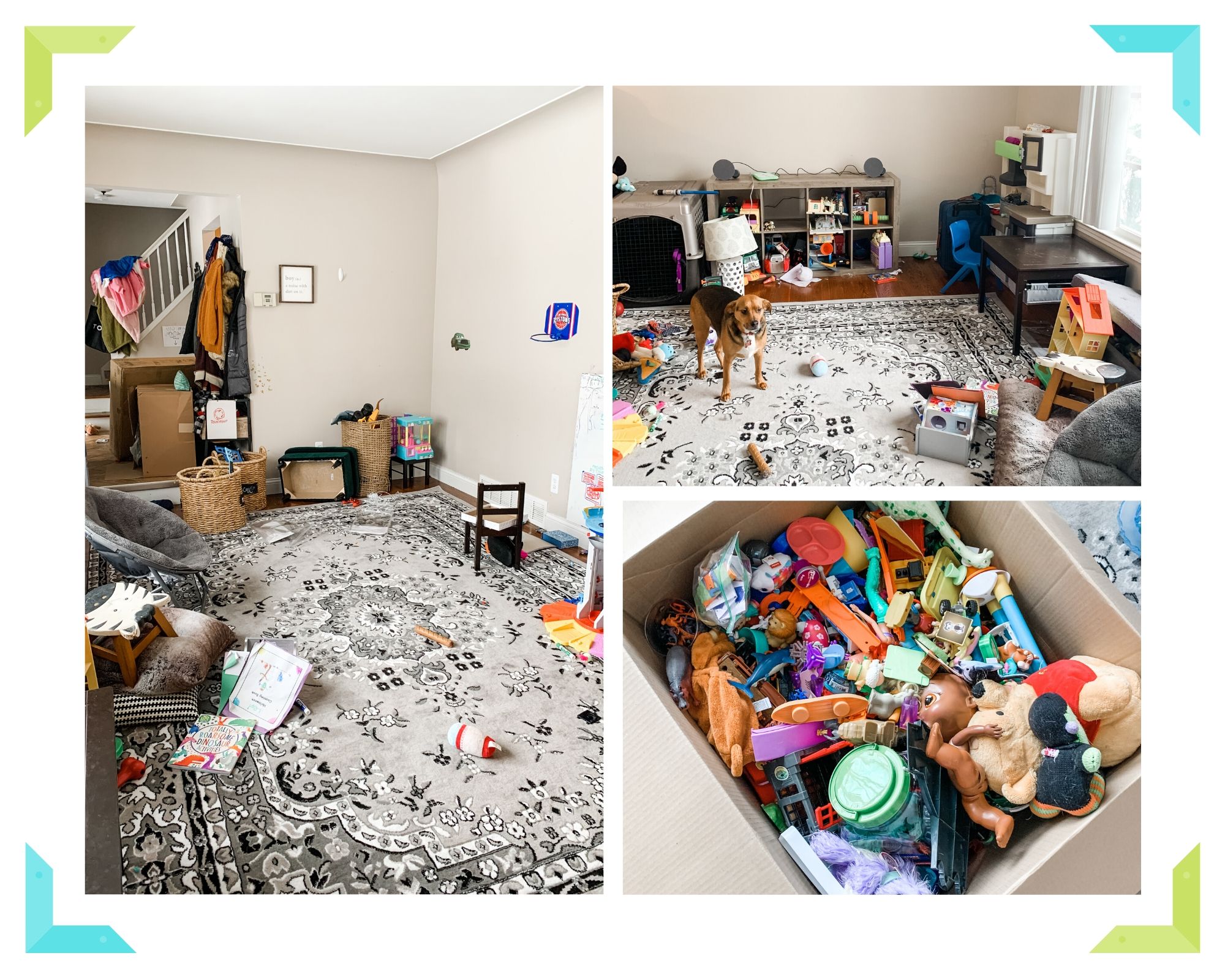 As you can see, it was an unorganized mess. We had been using baskets to keep toys off the floor but the problem with that is the kiddos can't see inside them to find their stuff. We also had a lot of toys to get rid of, things that weren't age-appropriate anymore or just things the boys didn't use. We gave the boys a BIG cardboard box for donations and had them dump ALL of their toys out in the middle of the floor so they could see everything. Then, we had them go item-by-item, looking at each thing and asking themselves if they played with it or loved it. I was so surprised (and proud) of how much they were able to let go. By the end, they had the entire box filled to the top!
Once we cleaned up the playroom we could really see exactly just how much storage we needed. Here was our list of must-haves.
Must-Haves:
9×12 rug so kids will have a large space to play.
Easel to keep art supplies nice and neat.
Storage that is accessible and keeps toys in view.
Open bins for plush toys and blankets.
Closed bin for hidden storage.
Reading nook with book storage.
Bed Bath & Beyond was the PERFECT place to shop because they had everything we needed and more! We even found an amazing reading nook (no longer on the site) that fit the space perfectly! I still want to show you it because I'm sure it will come back in stock soon. It was really easy to put together AND it included lots of storage space for books! Plus, the top is cushioned so the boys can sit on top and snuggle up with a good blanket and a book! I've even seen the boys reading to the pets there!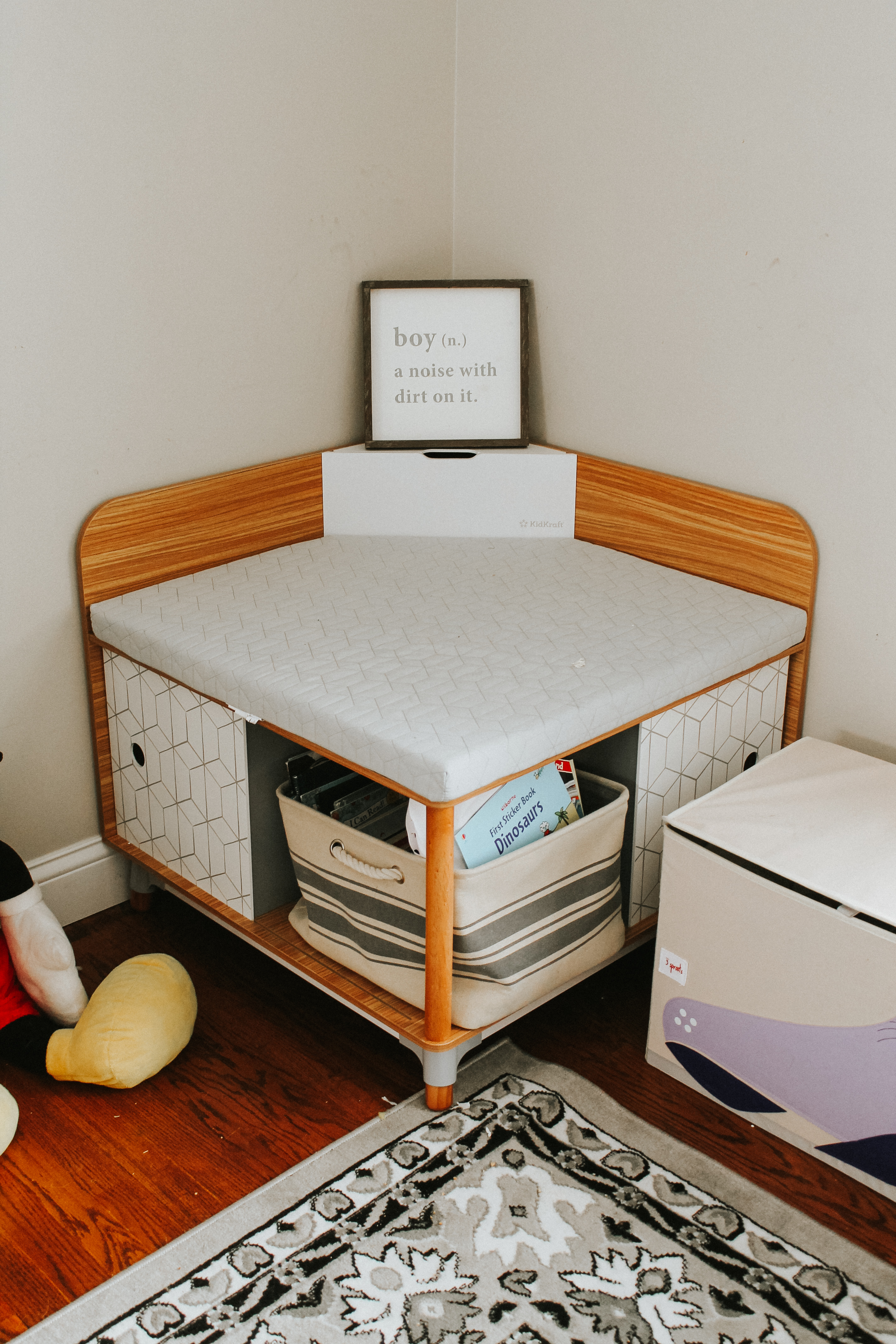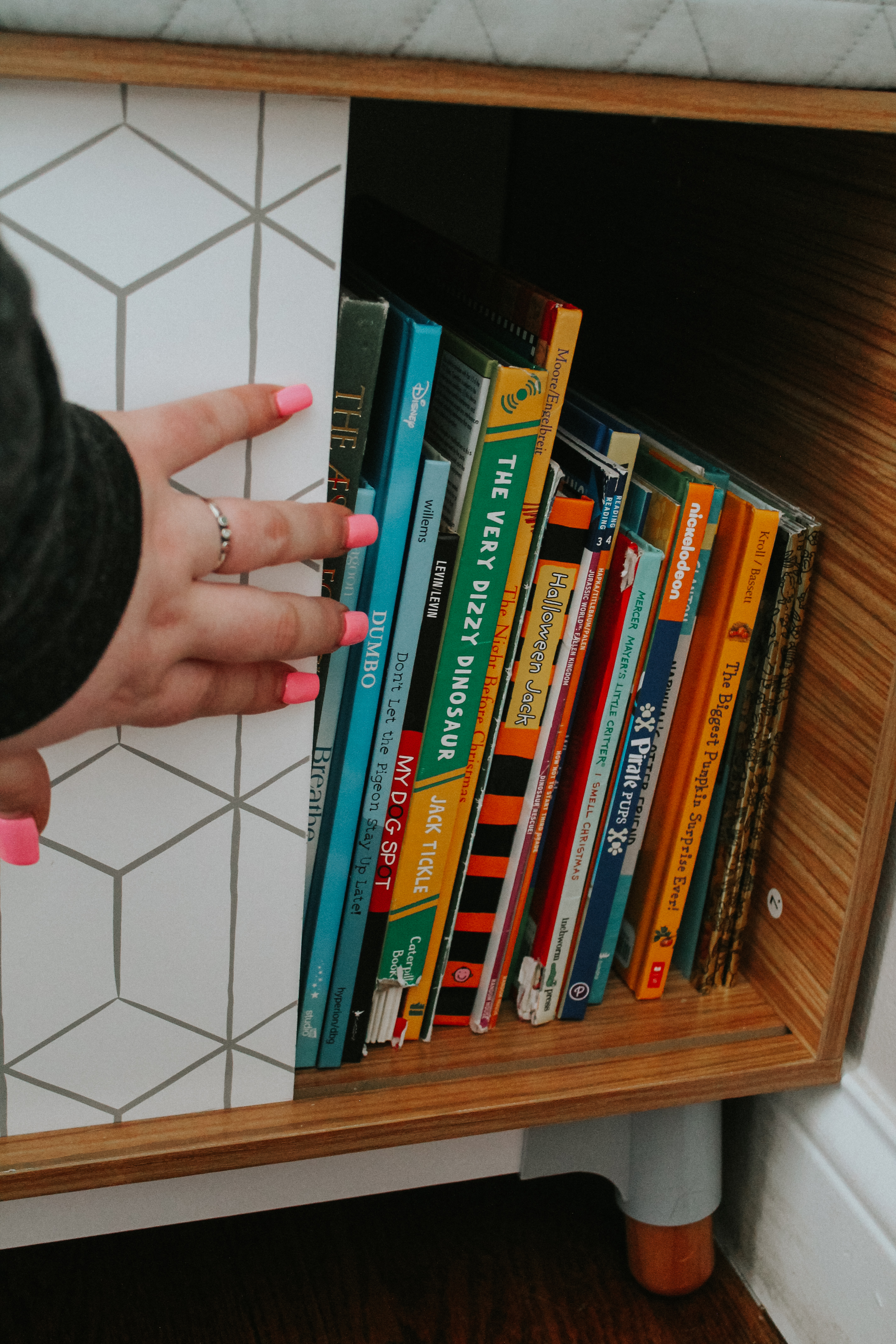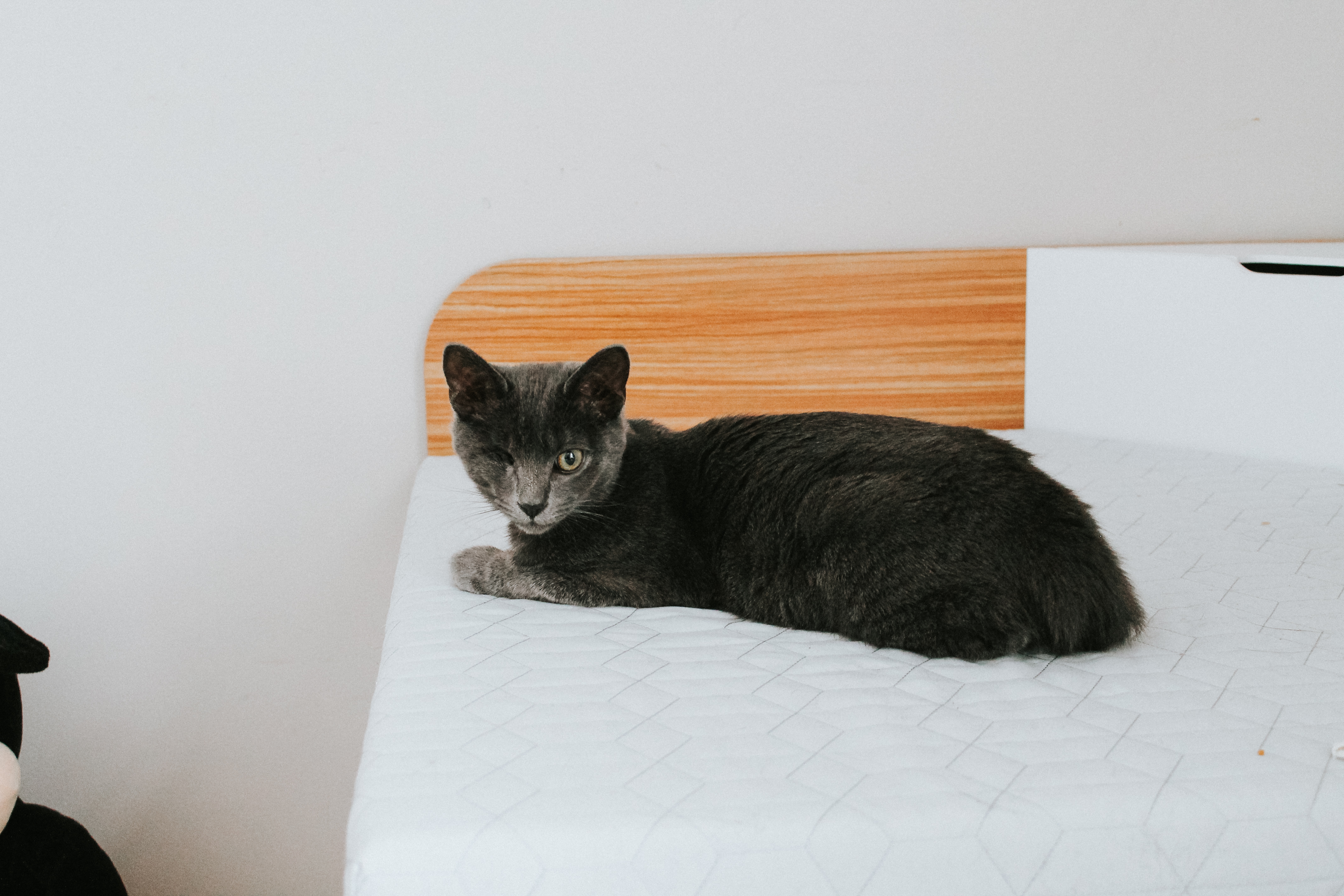 Now let's take a look at everything else we picked up at Bed Bath & Beyond! I also want to note that I signed up for the Beyond+ membership because it saved us a lot of money on the space and gave us free shipping! With this membership ($29 a year), it gave us 20% everything we ordered and like I mentioned before, the free shipping.
Bed Bath & Beyond Shopping List

And now, for the REVEAL! Here is the playroom after it was organized! Let's go through and see how each item we purchased was put to use!
After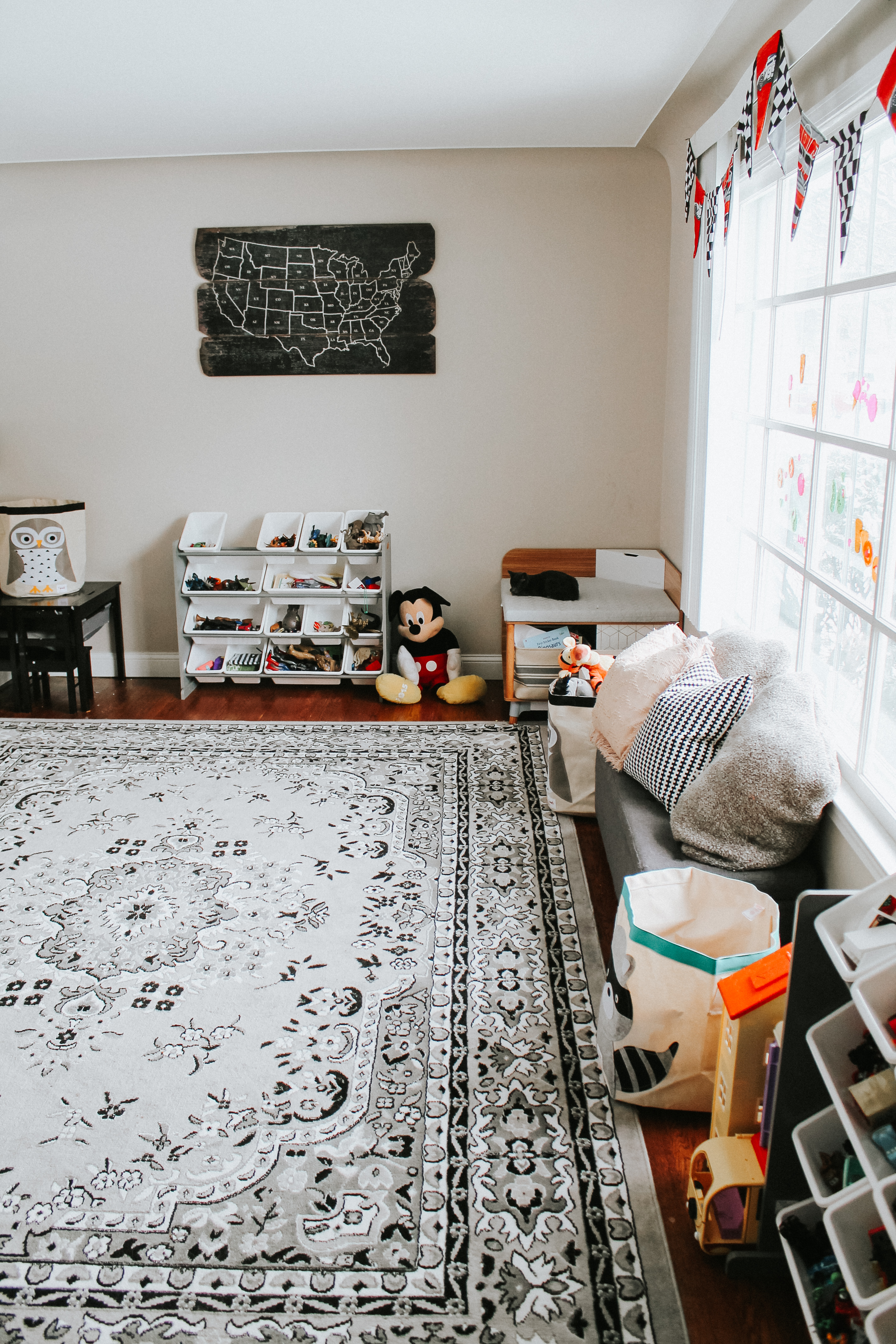 The rug we chose was PERFECT for the playroom. I still can't believe we were able to find a rug this nice and this large for under $150! Anywhere else we would have paid 2-3 times that amount. Plus, it was the exact color scheme we wanted – I wanted to keep things grey/neutral so everything would grow with the boys as they get older.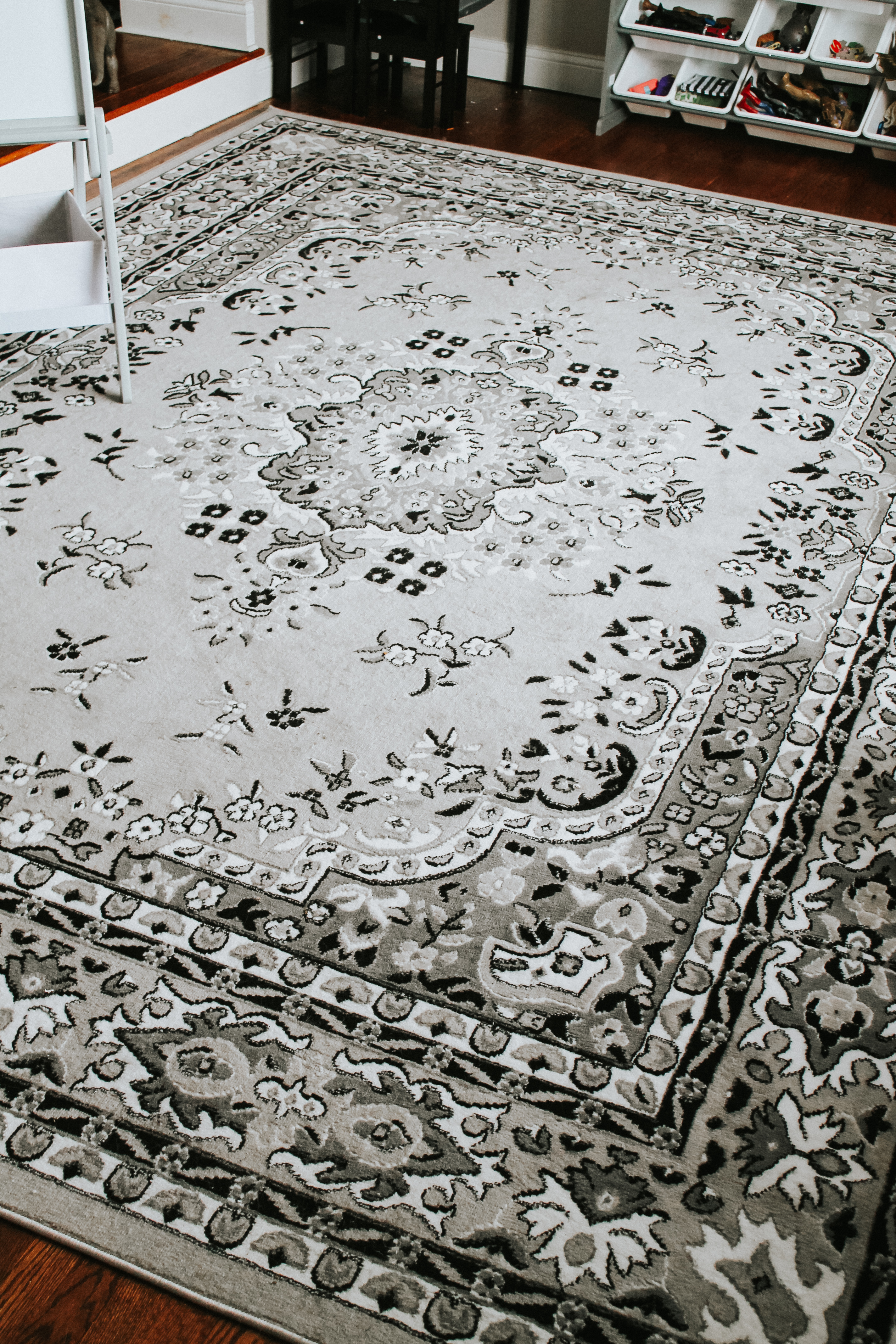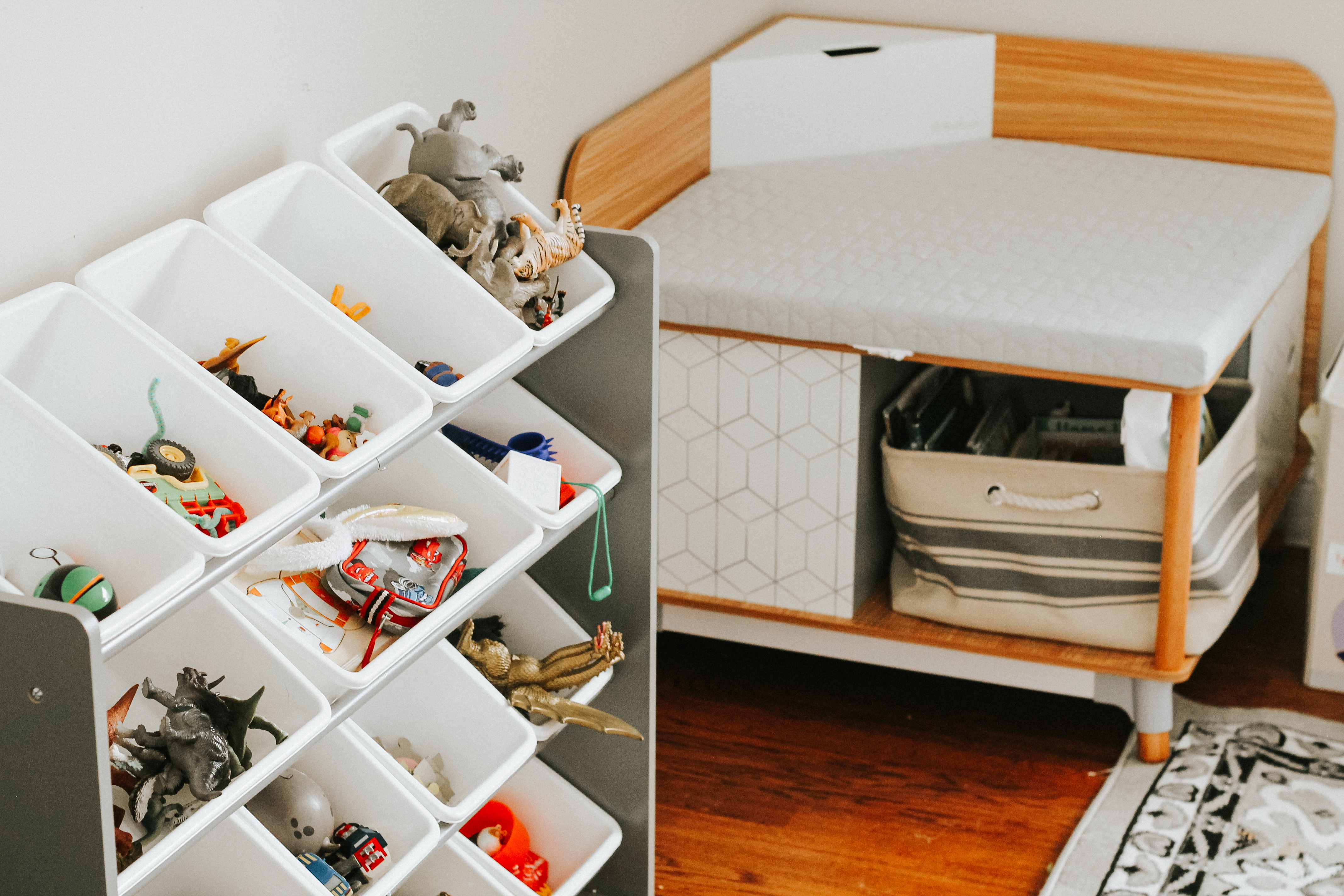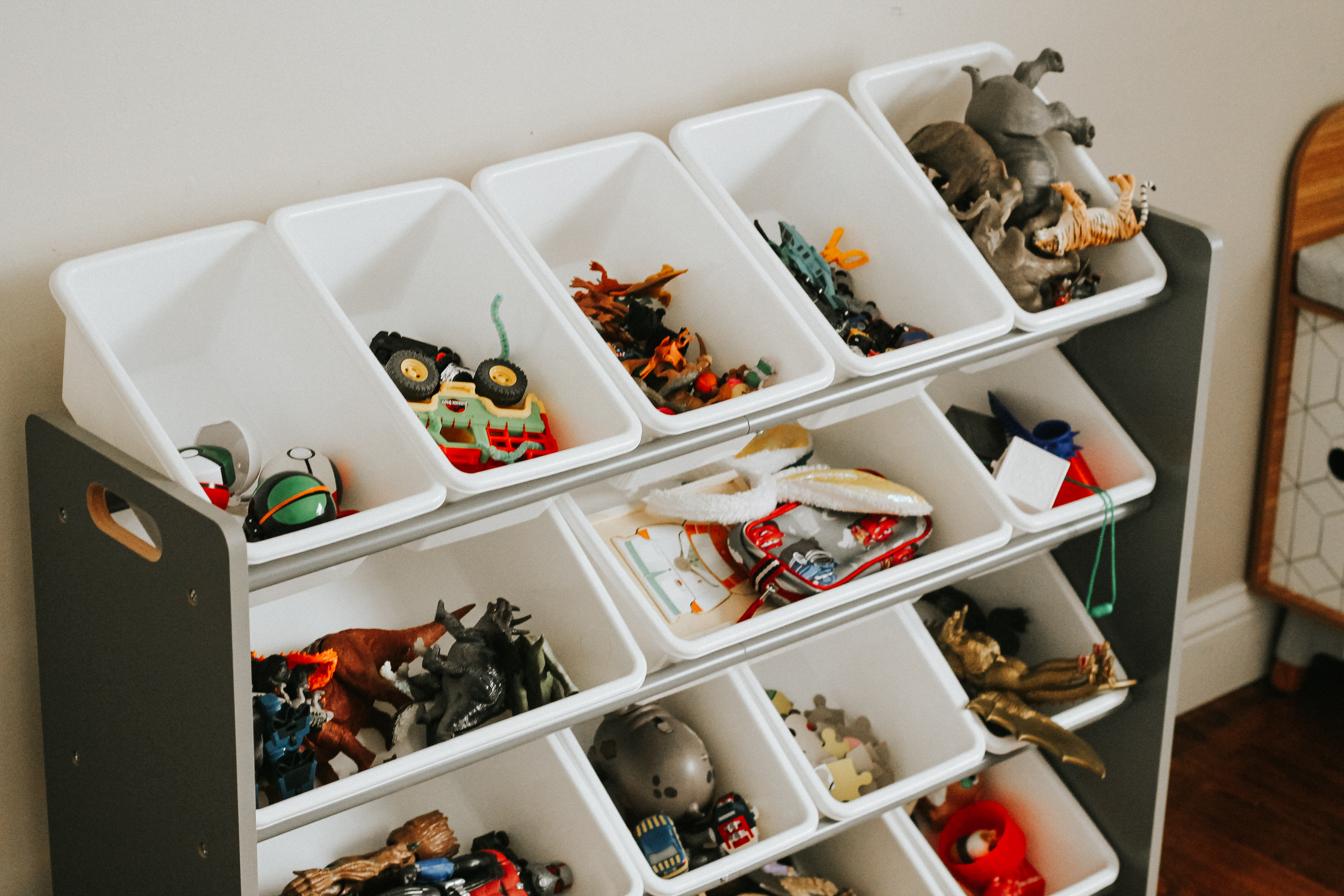 The toy storage bins worked out perfectly, too! We got one for each boy and they were both responsible for taking their toys and organizing them in the bins. The bins can either be stored straight or angled (to see inside), we chose to use them angled because it's so much easier for the boys to choose AND put away toys that way.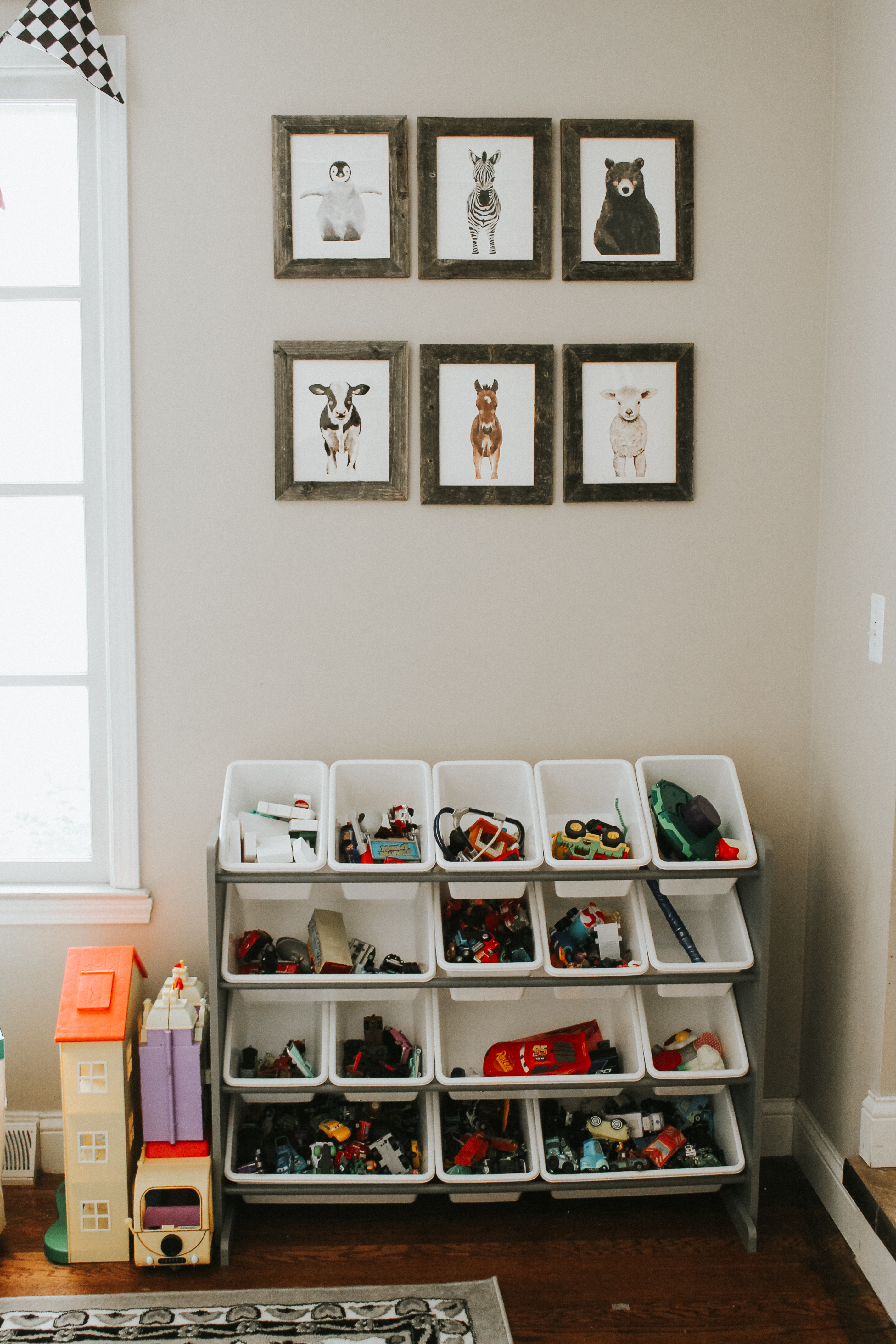 We also had them put all of their board games, puzzles, and larger toys inside a cube organizer that they had before. We also kept a few baskets, one holds all of the tracks for their cars, the other holds larger items that wouldn't fit inside the bins.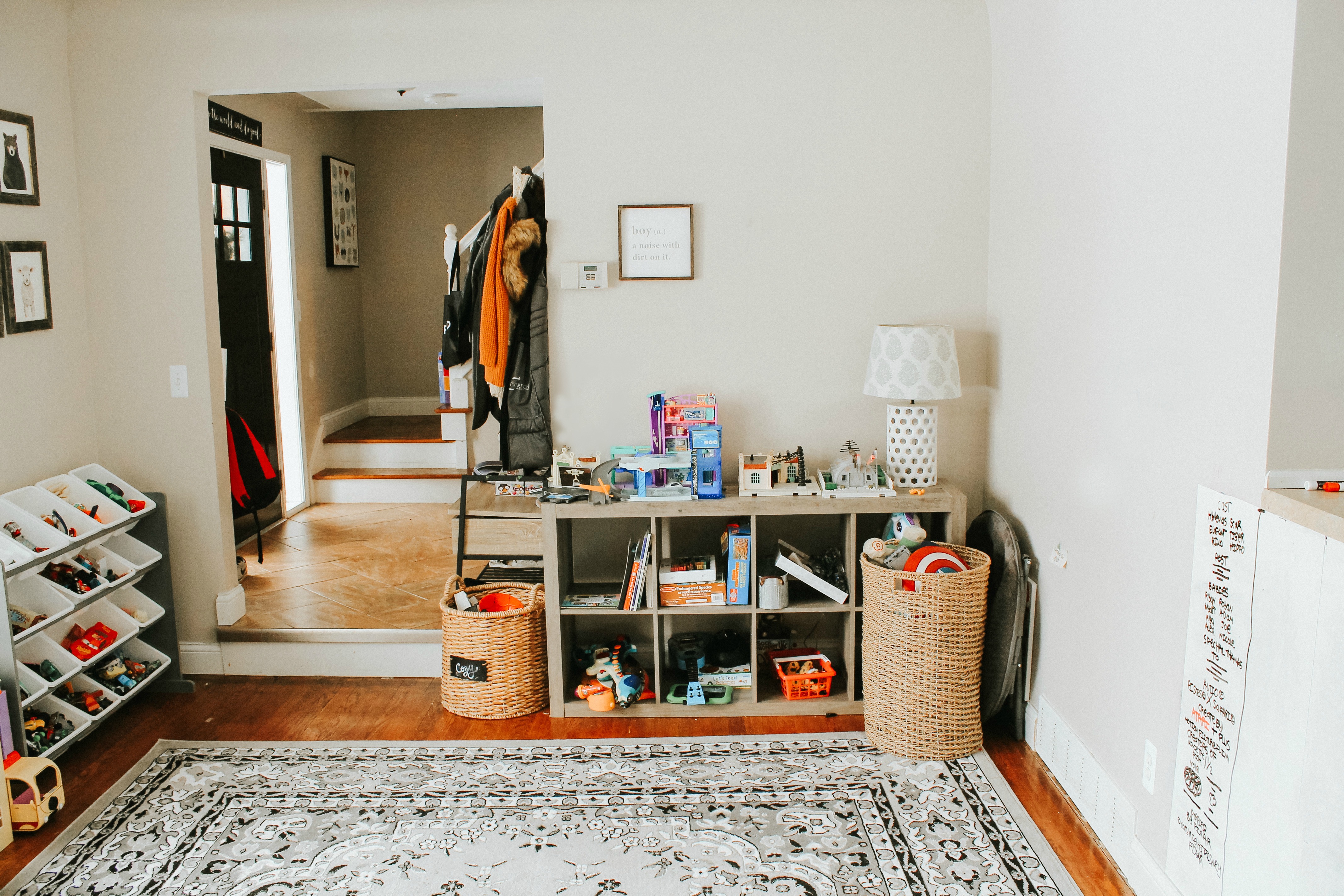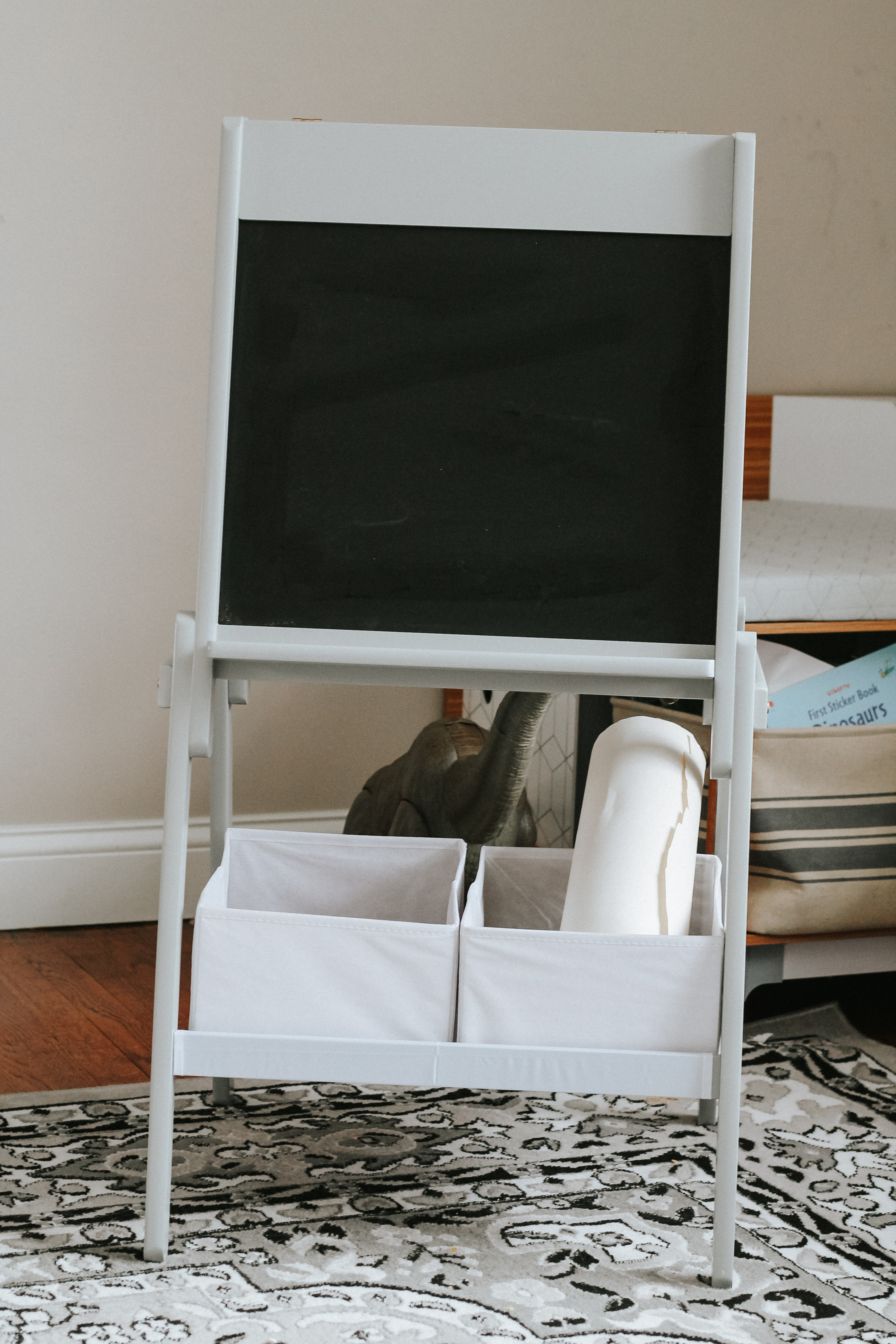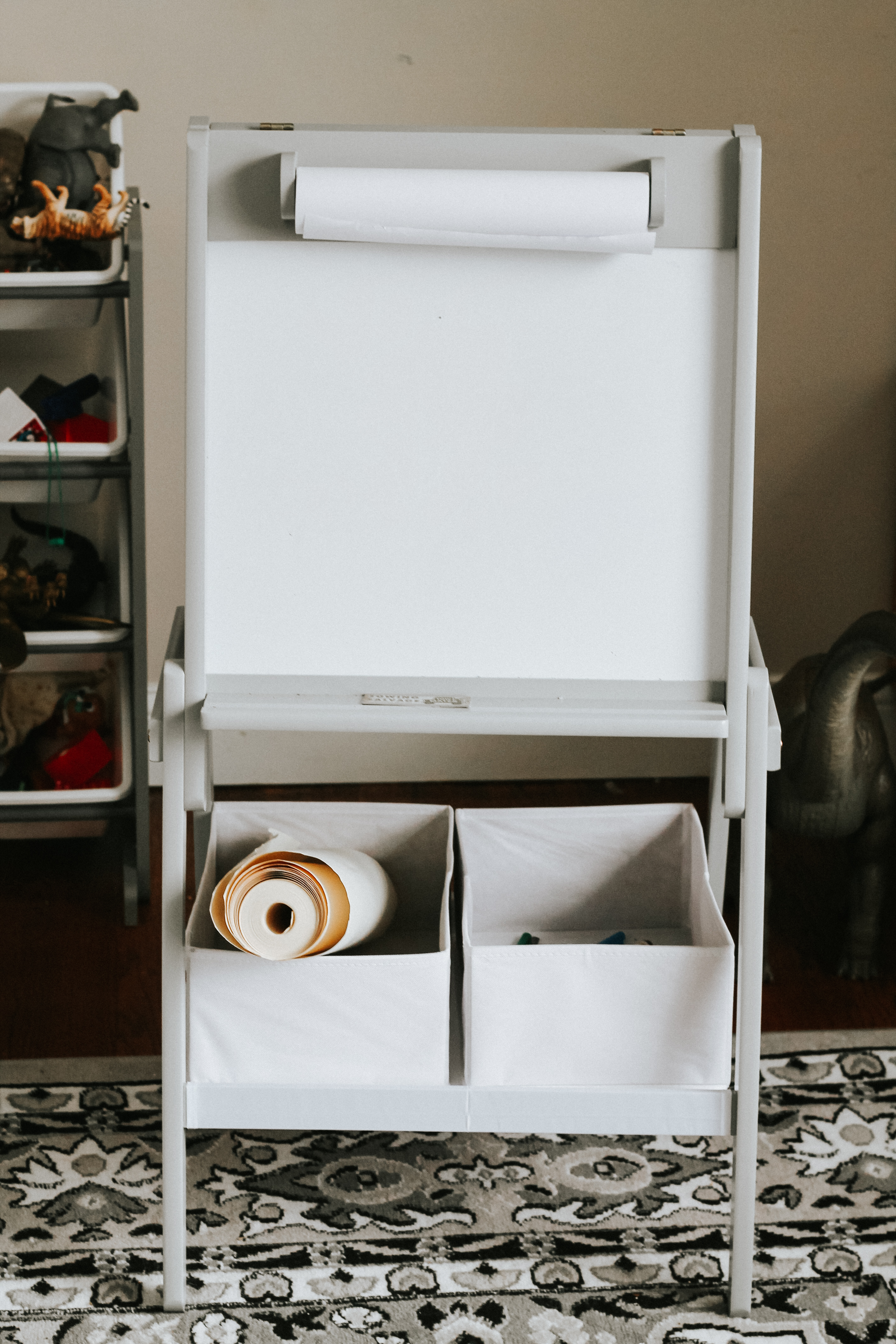 The easel was such a good buy because it has a chalkboard, dry erase board, paper roll for drawing, and storage bins for supplies! I love that the boys now have one station that they can use!
Overall, we are just thrilled with how the playroom turned out. Now the toys are out of the way and the kiddos (and dogs) have a nice open area to play! The little table all the way to the right is a lego table and the owl bin on top holds ALL of the legos in one place.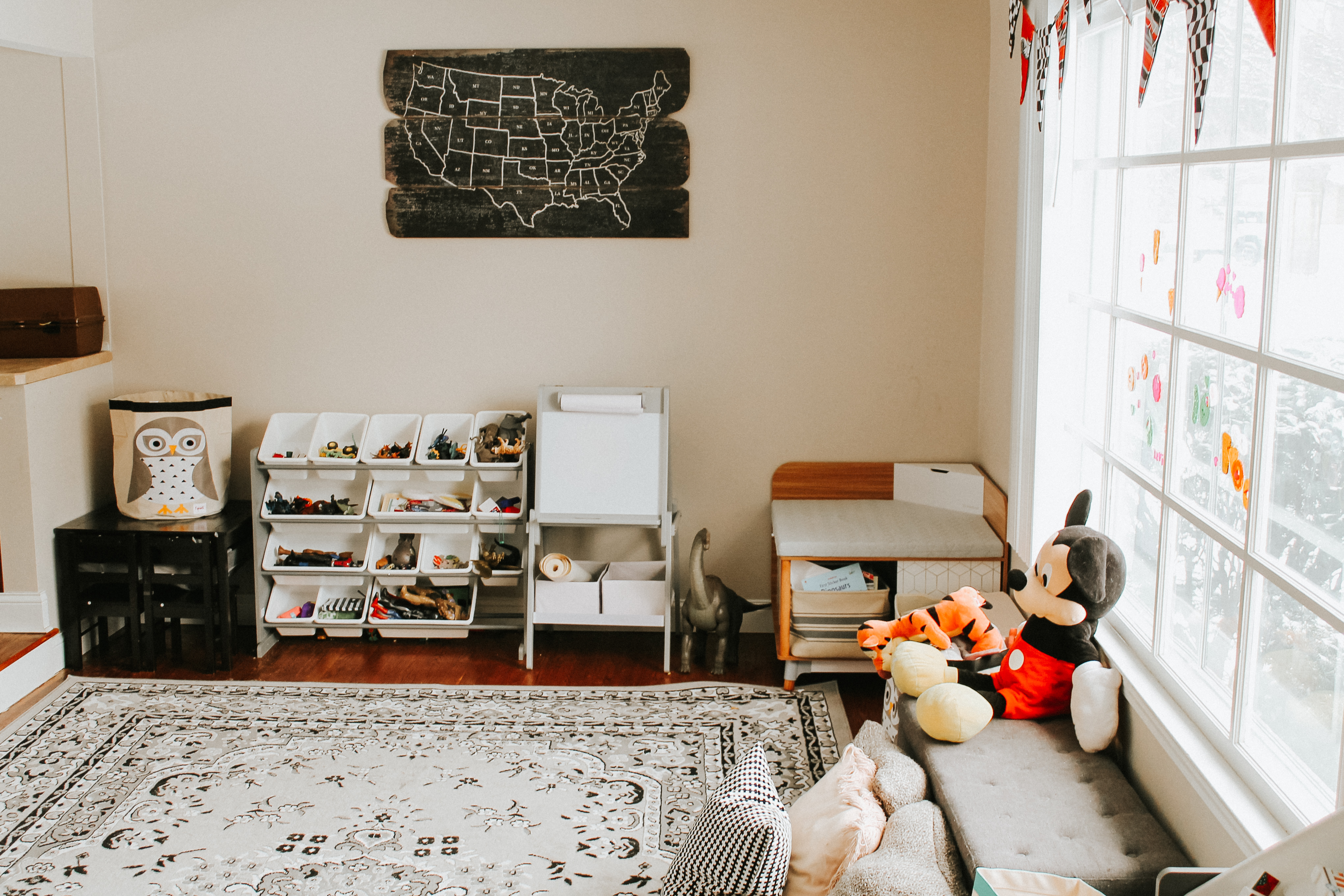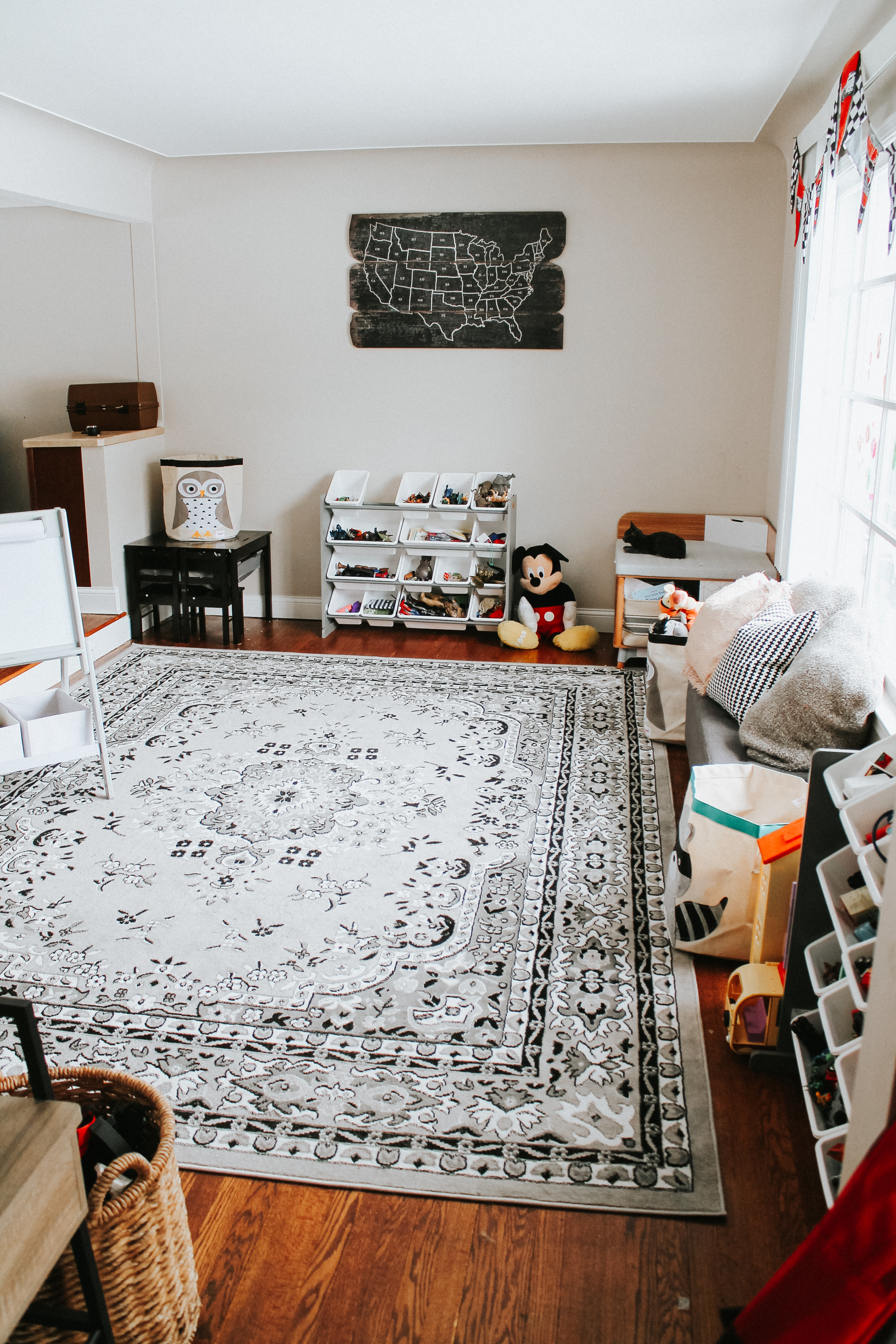 So, tell me – what do you think of the playroom makeover? We spent the full $500 but got so many things – the rug alone was such a steal but combined with the reading nook, easel, and storage – we definitely got the most bang for our buck.
Which part of the playroom is YOUR favorite?
Tell us in the comments below!
Love this post? Pin it for later here: