This is a sponsored post written for Vicks Humidifiers. I was compensated and provided complimentary products for this post. All opinions are my own.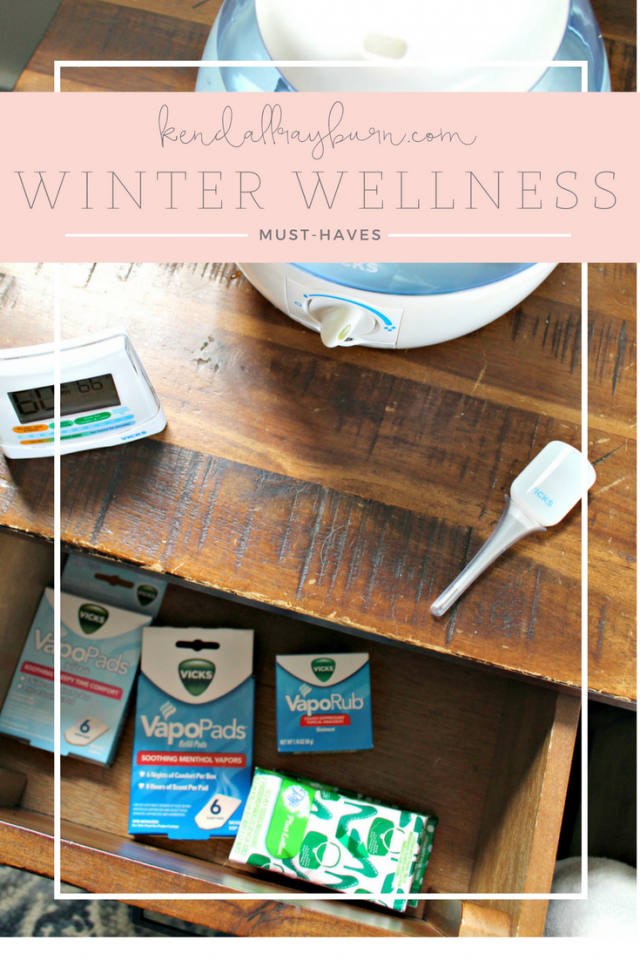 Hello, friends!
Hope you are all having a great day so far! My son Wyatt and I have been feeling a little under the weather lately, so we've been laying low around the house and starting to watch our Christmas movies. A few weeks ago we were sent a Winter Wellness Package and boy has it come in handy. Don't worry – we're giving one away at the end of this post!
We set up all of the essentials in my bedroom and camped out for a day. To be totally honest, I know we were both sick, but it was really nice spending some one-on-one quality time with him that day. For us, all of the time in the winter, a humidifier is key (you can pick one up at Walmart). We love ours, and simply cannot get enough!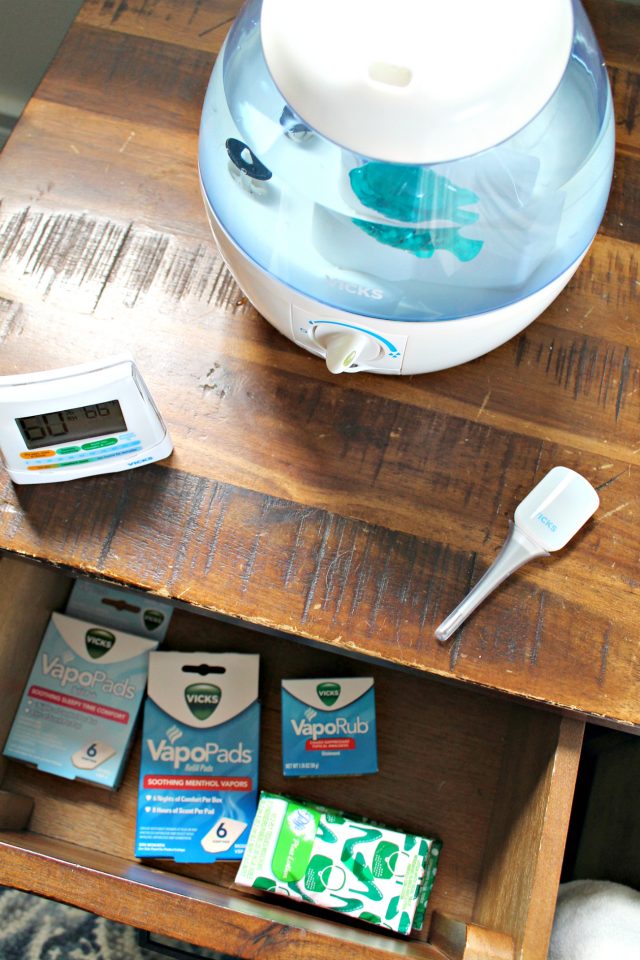 What you need to know about Humidifiers:
Did you know, the humidity level in your home for optimum wellness is between 40%-60%. You can use a Humidity Monitor to easily read the levels in your home.
You can use a Vicks cool and warm mist humidifier to attain the perfect humidity levels for your home, which can in turn reduce the survival of flu viruses on surfaces and in the air.
To super-charge your humidifier, use VapoPads (can be used with either cool or warm mist) to provide soothing menthol or Sleepytime Rosemary and Lavender scented vapors for up to eight hours.
Keep your humidifier clean with the Protec Cleaning Fish. It reduces up to 99% of odor causing bacteria, and can be easily dropped in your humidifier tank, lasts for up to 30 days.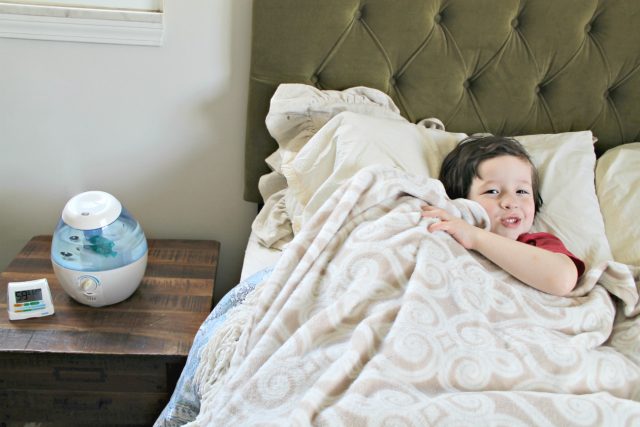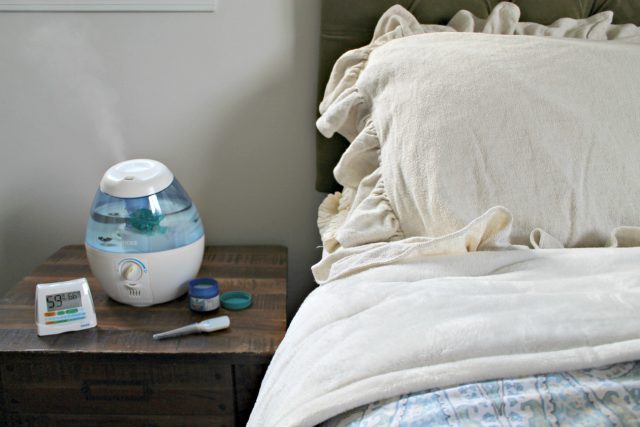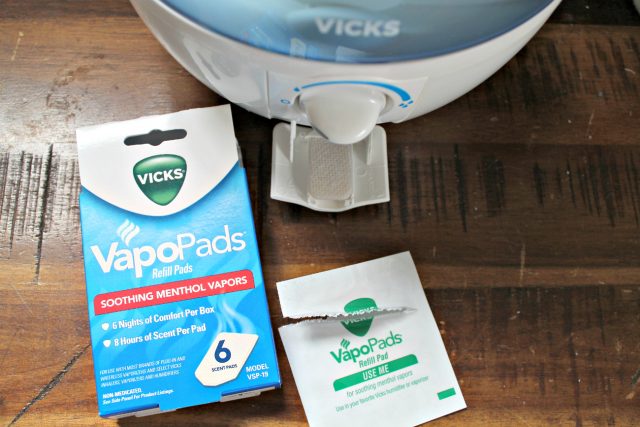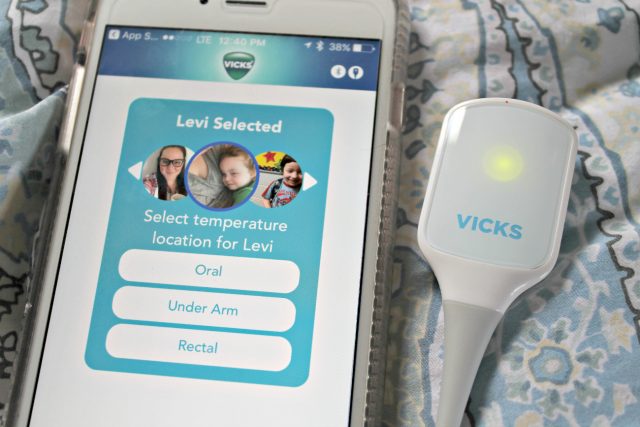 So, what was all in our winter wellness care package? I'm going to list everything below so you know exactly what to check off your shopping list!
Winter Wellness Care Package:
Vicks® Mini Filter Free Cool Mist Humidifier | $42.99: Provides soothing, visible mist for temporary relief of cough and congestion symptoms.
Vicks® SmartTemp™ Wireless Thermometer | $24.99: The Vicks® SmartTemp® Thermometer and free downloadable app makes it easy to take and track temperature readings for the entire family.
Protec Humidifier Antimicrobial Cleaning Fish | $8.99: Features a patented antimicrobial, Aqua stat, that helps keeps your humidifier cleaner, longer. It helps kills up to 99% of odor causing bacteria.
Vicks® VapoPads | $14.99: Provide up to 8 hours of soothing menthol vapors per pad.
Vicks® Humidity Monitor | $16.99: The Vicks® Healthcheck hygrometer displays a room's temperature and humidity level to help provide information you need to control your environment.
Puffs Plus® Lotion | $1.29-$12.99: the perfect tissue for when sore or runny noses need some extra softness. That little dab of lotion goes a long way to calm the most sensitive skin through a cold, flu, or allergies.
Vicks® VapoRub™ Topical Ointment | $5.49-$6.49: A topical cough medicine with medicated vapors.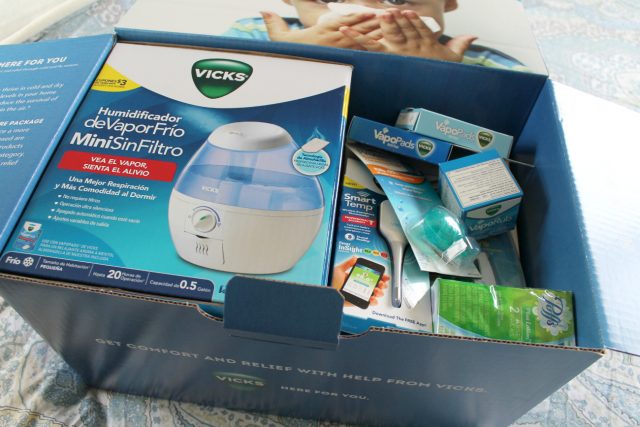 Now, who's ready to win a big box of winter wellness goodies? Check out the giveaway below and enter for your chance to win! GOOD LUCK!
Vicks Winter Wellness Care Package Giveaway!
Ends Tuesday, November 29, 2016
Contest entrants are only eligible to win once per sweepstake, per household as a part of a campaign sponsored by Influence Central and must reside in the United States.
a Rafflecopter giveaway

Love this post? Pin it for later here: