Disclosure: A huge thanks to World Market for sponsoring today's post. Keep scrolling for tips on how to create a budget-friendly outdoor oasis!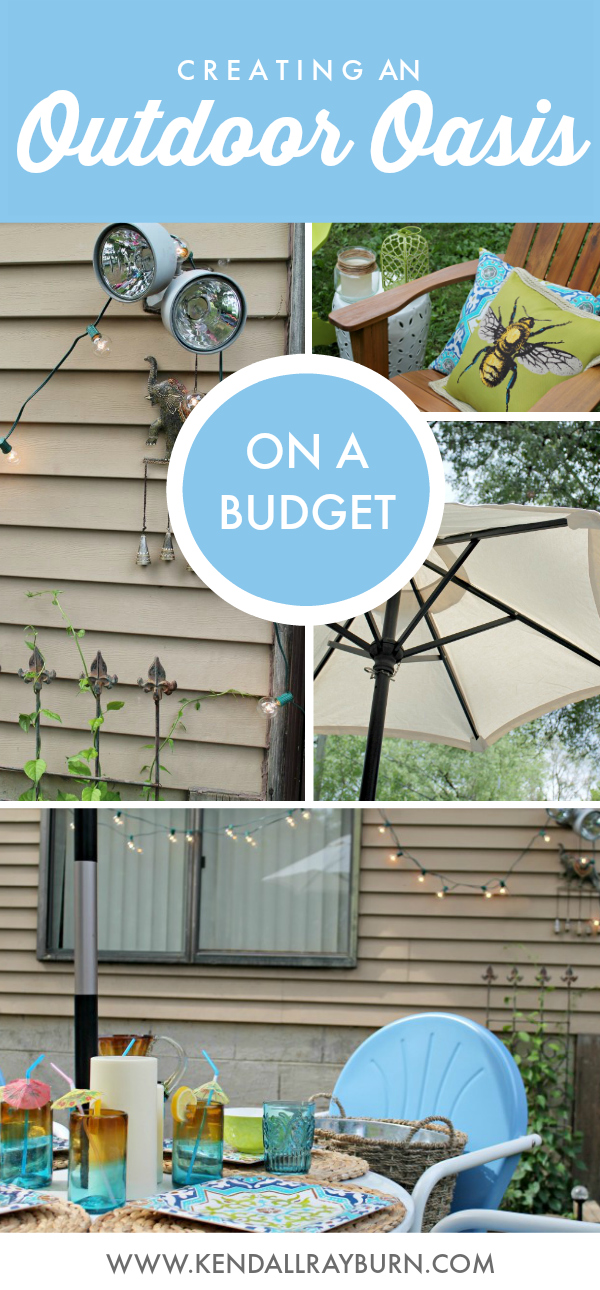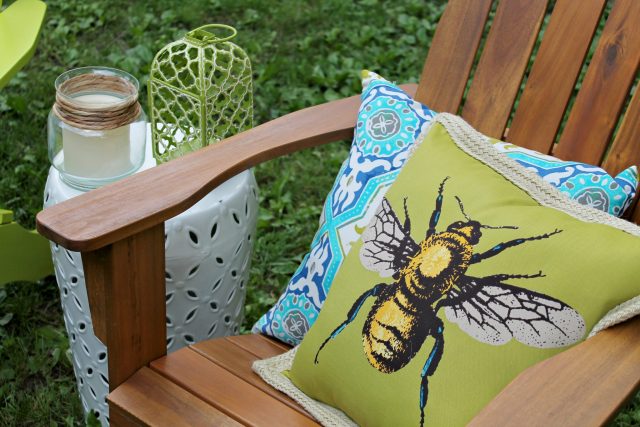 Hi folks!
I am so so excited to share how YOU can create an outdoor oasis in your yard! As you may know, World Market is my absolute go-to for shopping basically everything. This includes outdoor furniture and decor, they've just got the coolest stuff! We have been wanting to transform our backyard for some time now. We wanted a place where we could relax together as a family, have dinners outside, and just be together. Right now we're renting, so we didn't want to do anything too drastic, and wanted to make sure that everything we purchased could be taken with us when we moved. So we put our thinking caps on, and got to work to transform our space.
I am so embarrassed to show you the "before" photo, because it was just so bad on so many different levels!
Ready, eek!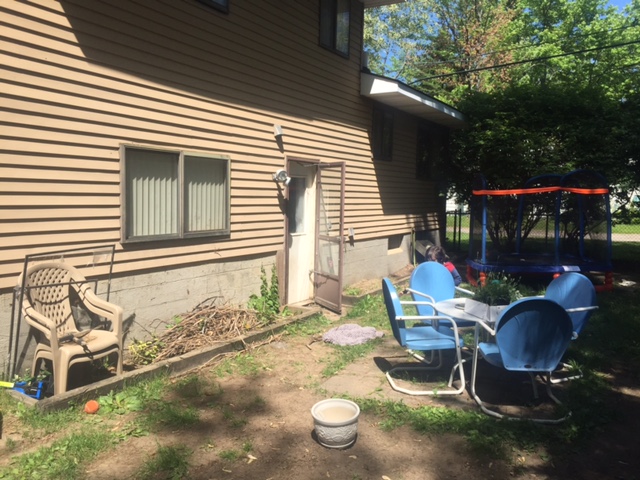 See, I told you – it was bad. But, it had to be shown – because you won't believe how much better the "after" photo looks! The first step for us was to take care of our flowerbeds, they were filled with dirt and sticks and I had tried growing flowers, veggies, etc but they just wouldn't take. We wanted to clean them out, cover up the dirt, and bring in some color. So we bought colored mulch and laid that down in the two long flower beds. We had the Blue Durresi Metal Dining Set that I had purchased from World Market last summer, and that was one of our main sources of inspiration for the space. I love the blue and white together, and knew I wanted a rustic look.
I was also really inspired by Angela Elias, Editor of PopSugar Home. She's got great style, just read her tips below and check out the video!
Angela's tips for decorating an outdoor space:  An outdoor space is the perfect spot to take decorating risks. Layering vibrant accessories like rugs, accent tables and umbrellas can create the same eye-catching impact as growing a colorful garden. Play it safe with key pieces, like furniture, but have fun with the rest!
Reading her tips made me want to really make our space, well, ours! With a lot of careful planning and some hard work, we've finally transformed our backyard! We updated the pieces we had with colorful, fun, accessories and decor from World Market and I just can't wait to show you what the space looks like now!

Are you ready..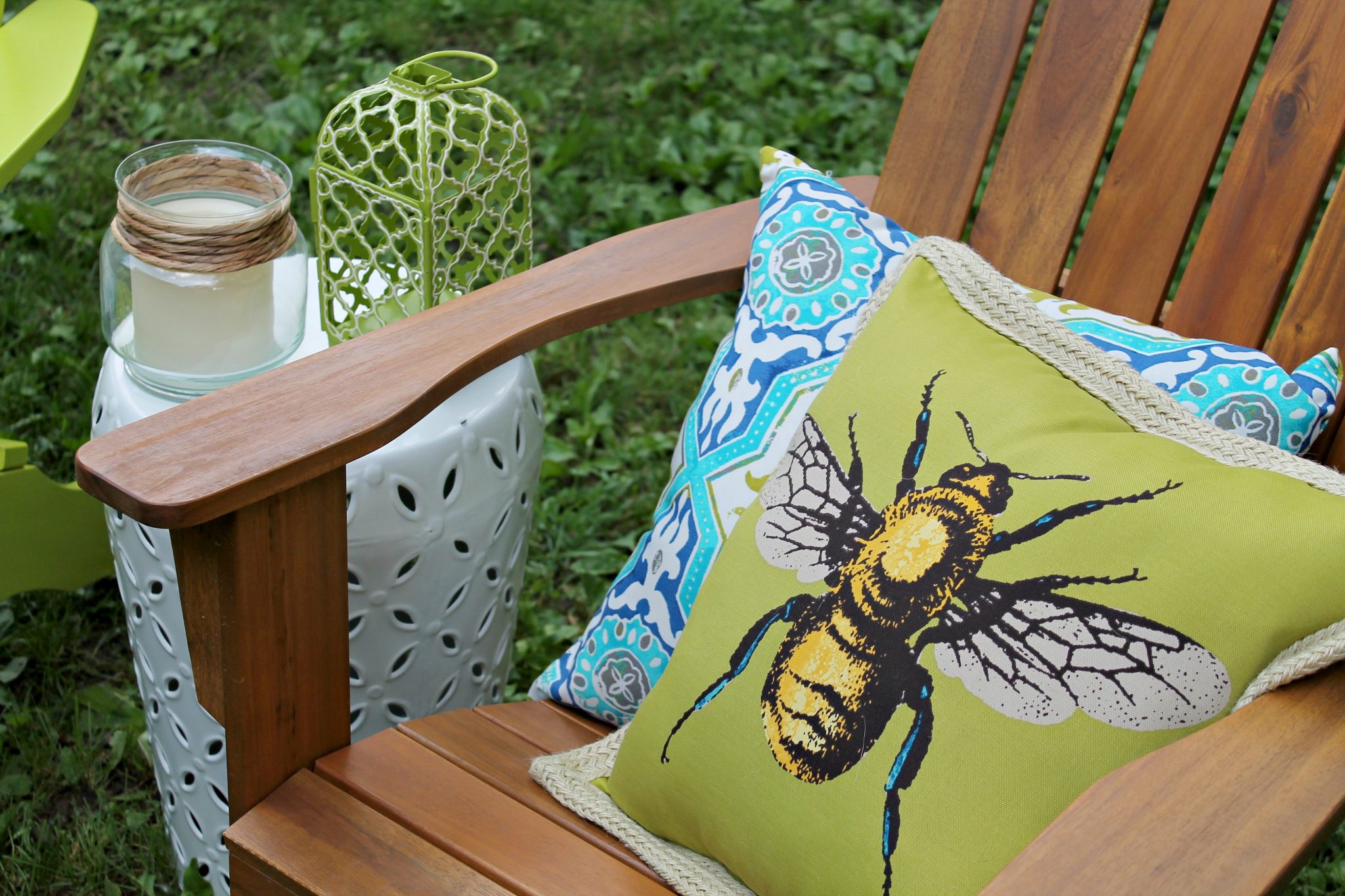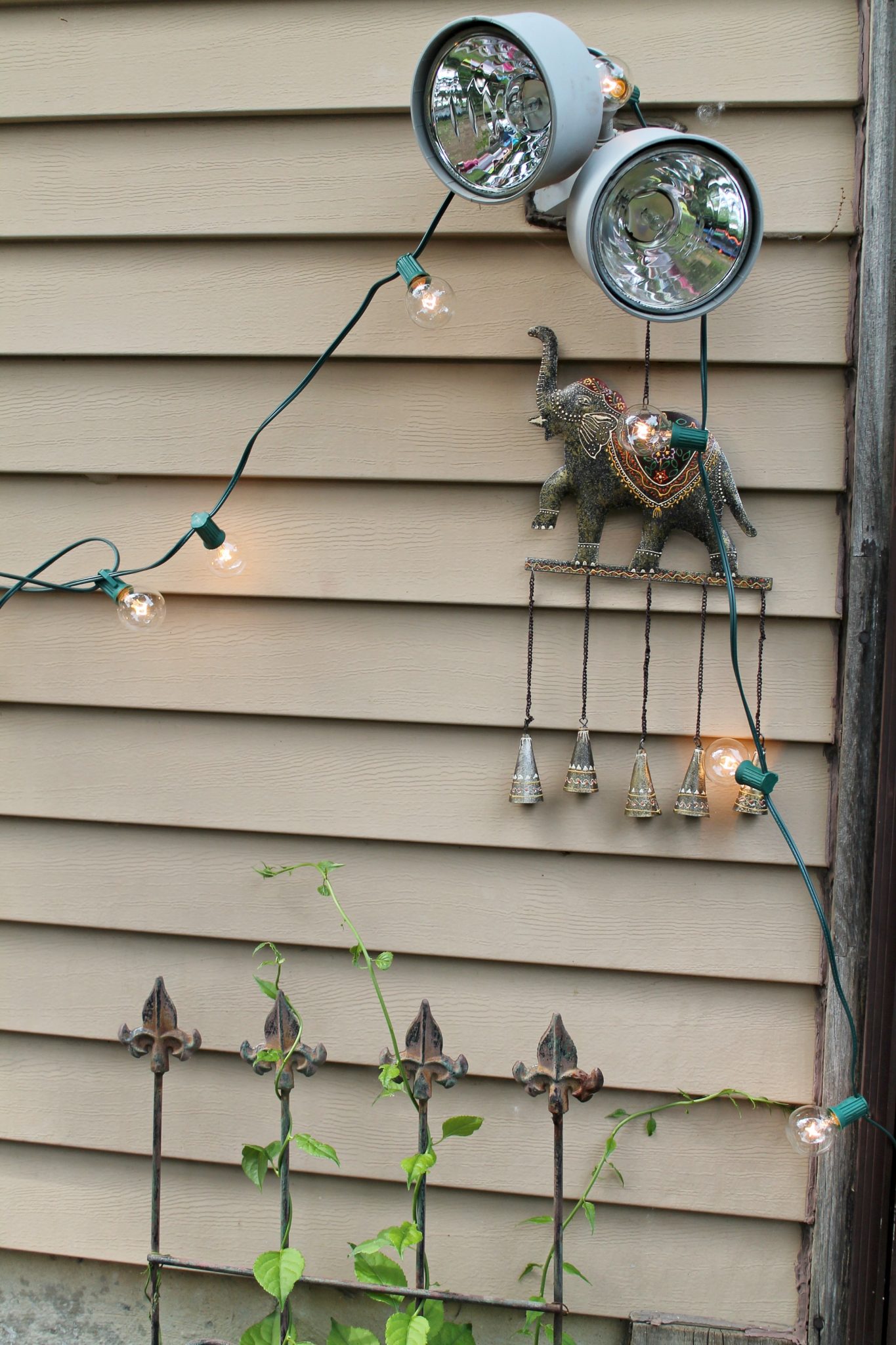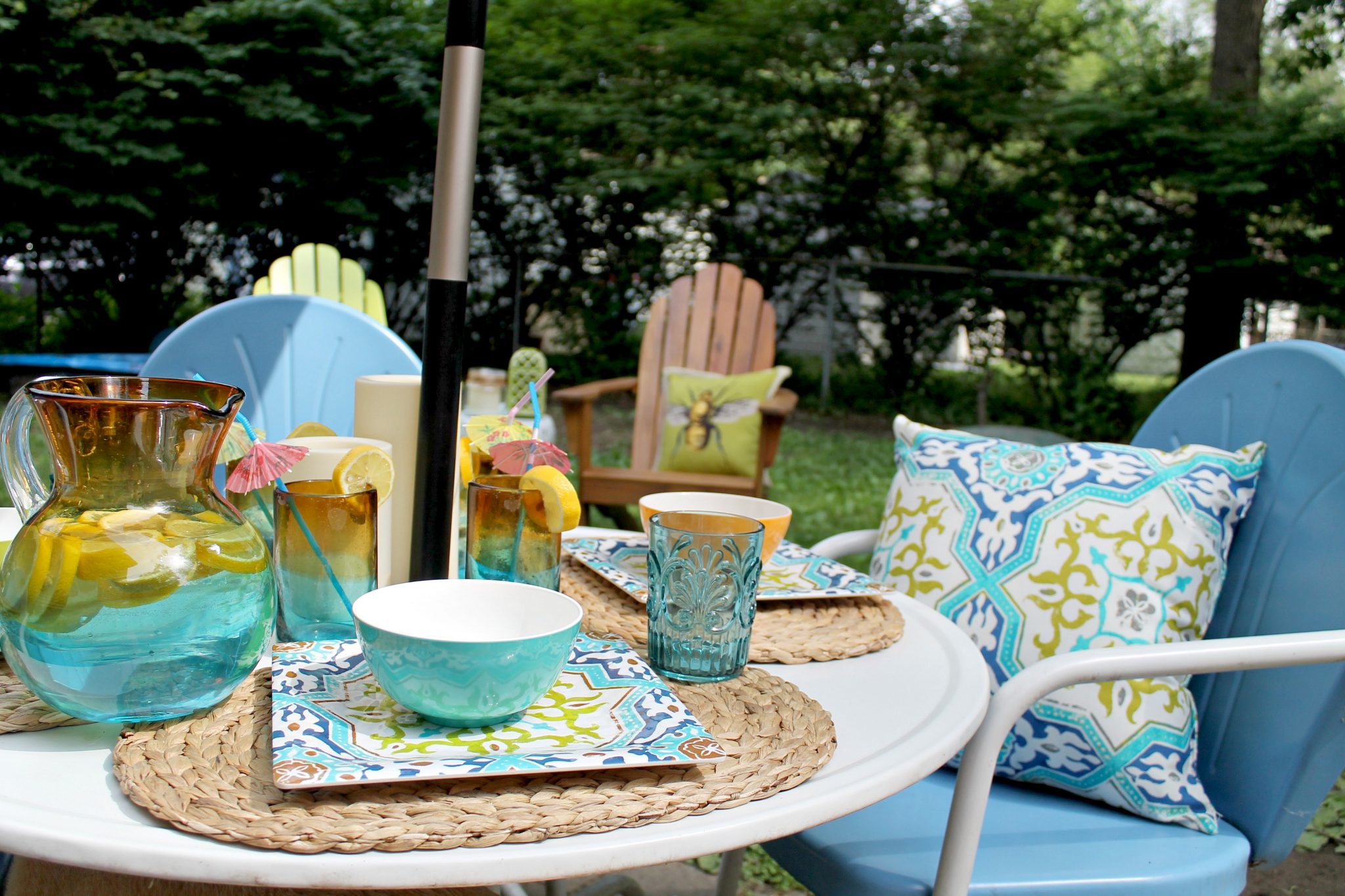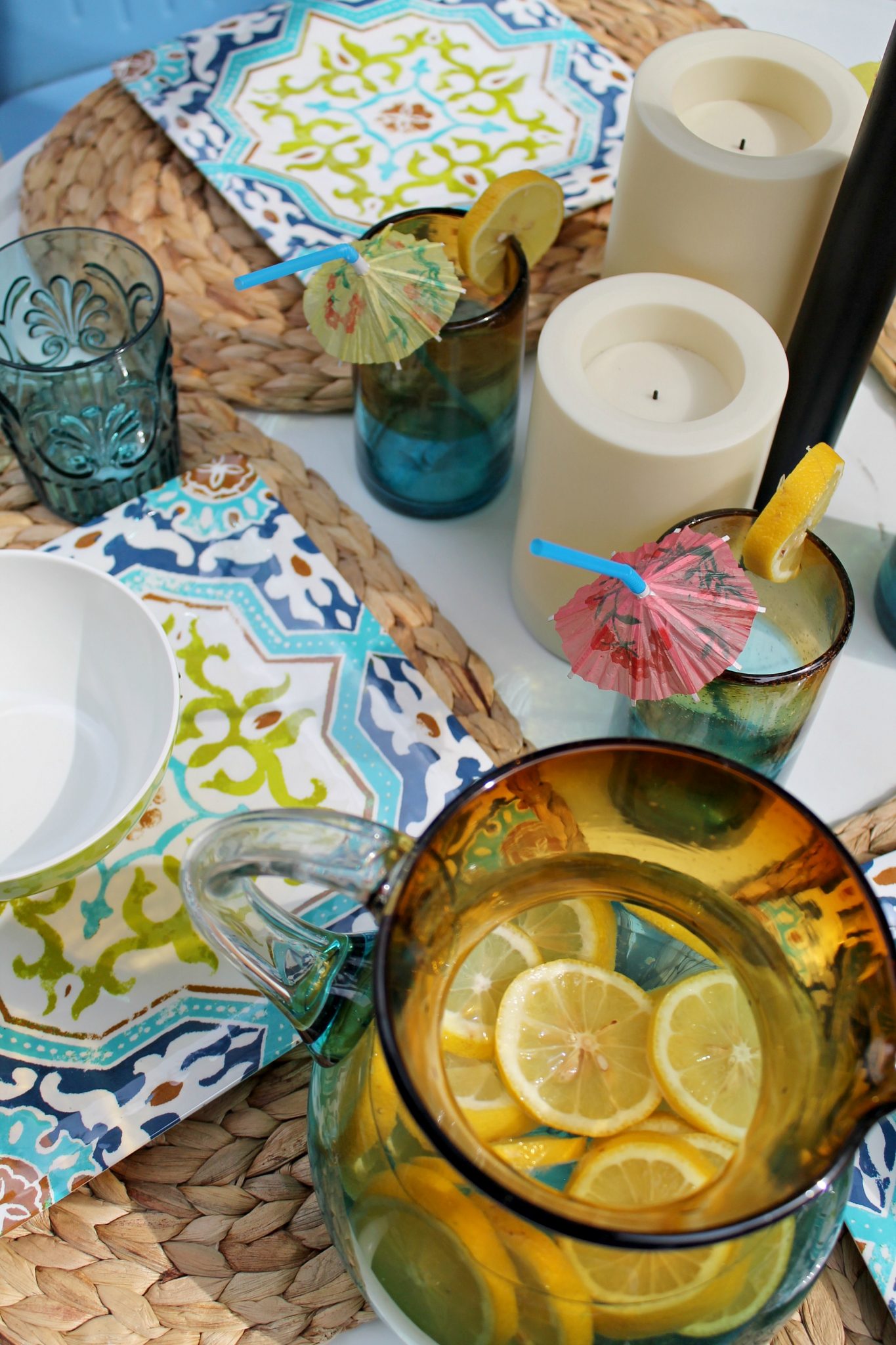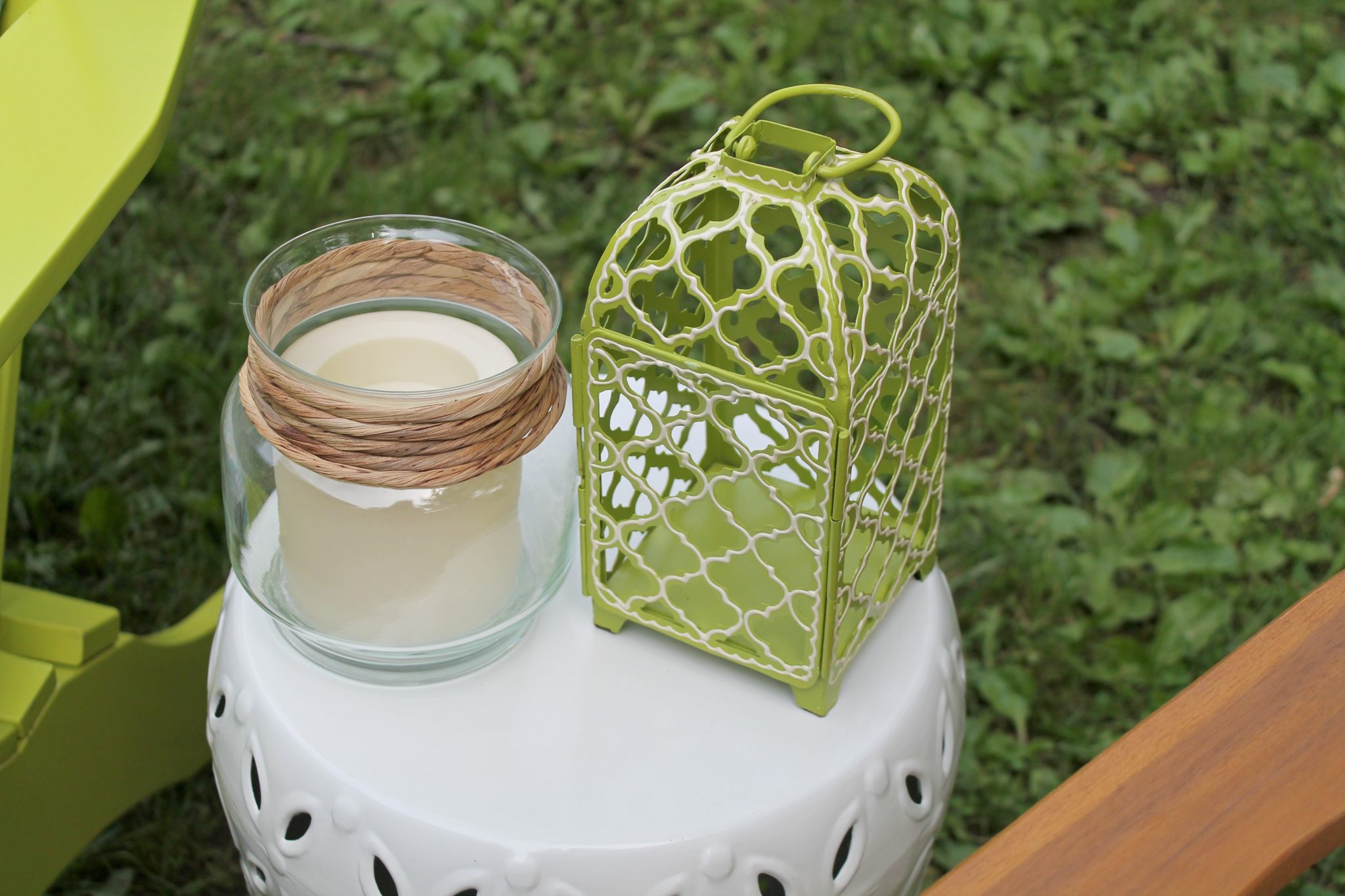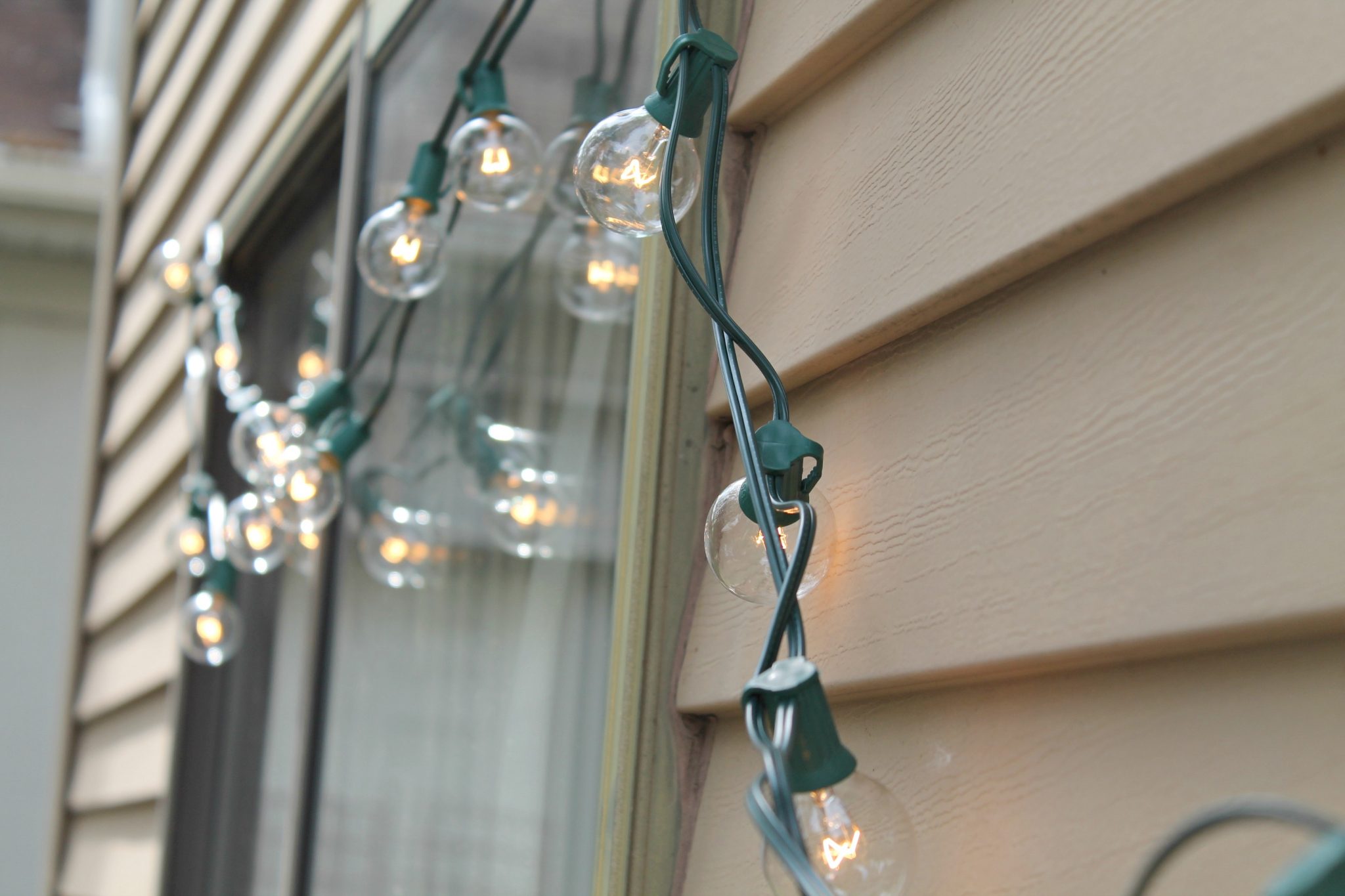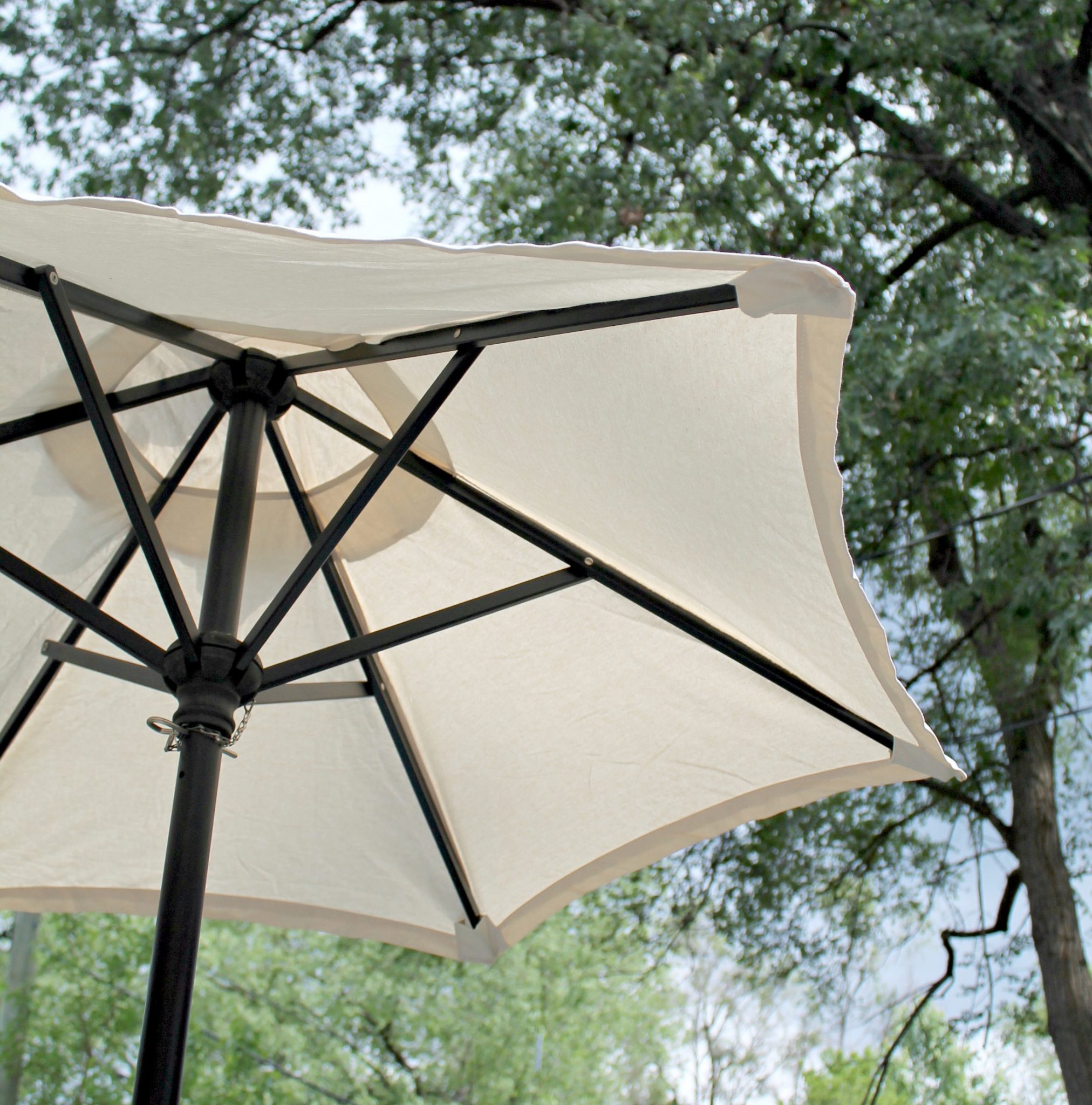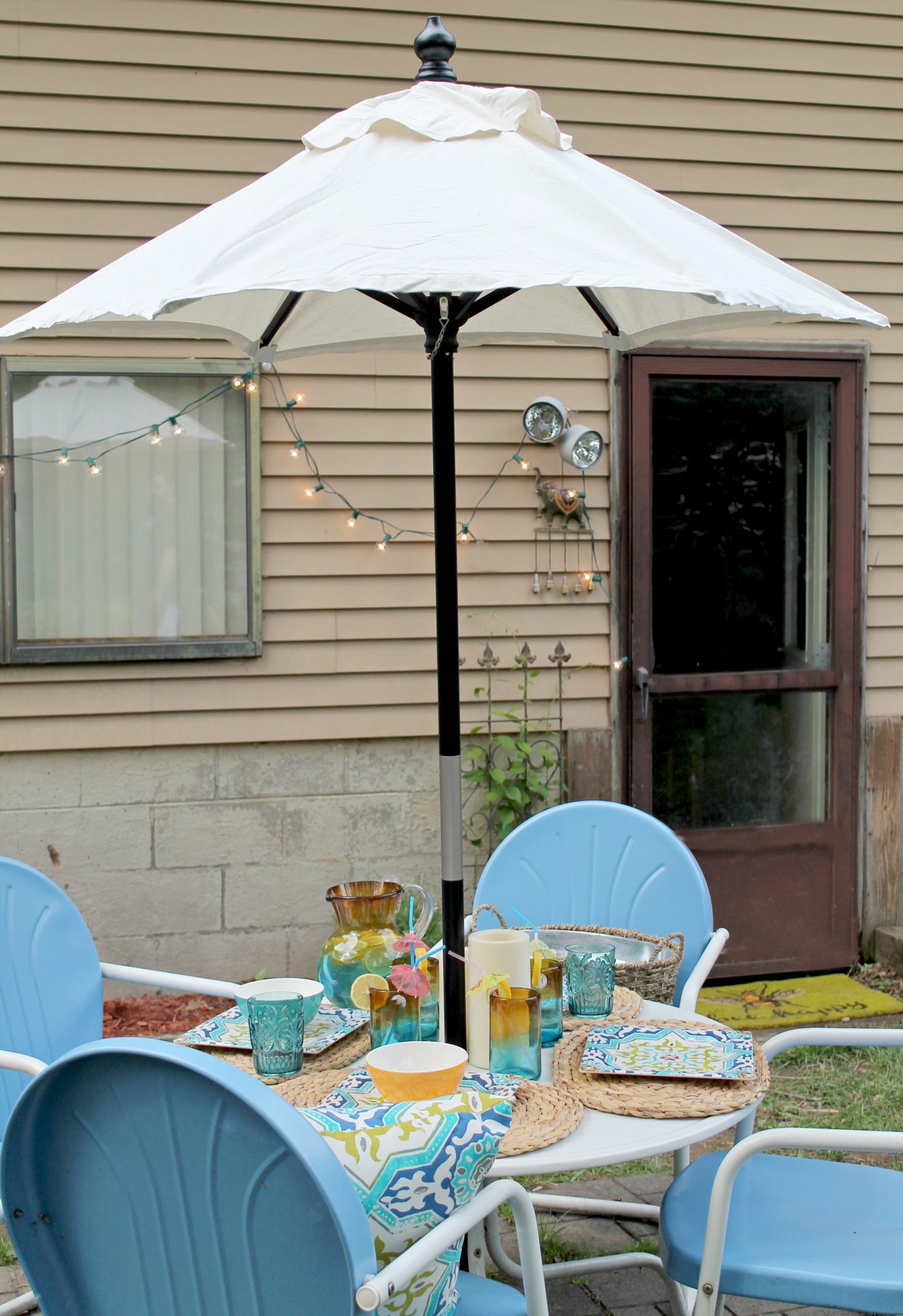 What do you think? I am still in shock that this is actually my yard. I am so impressed with the transformation now that everything is said and done. It's become our go-to spot for relaxation! William and I love sitting outside now after the kids are asleep to just enjoy the cool night weather and those amazing outdoor lights!
I think one of my favorite pieces from our outdoor space is the White Lili Punched Drum Stool that we used as a side table for our Adirondack Chairs (that are super-comfy by the way). I also love the look of the elephant bells wind chime that I picked up, I figured our backyard space could use some luck after the run it had! We went with the 5′ Natural umbrella canopy to help give our dining area the perfect amount of shade. I still can't get over how nice everything looks together, and I am so thankful to have a place like this to kick up my feet after a long day of work!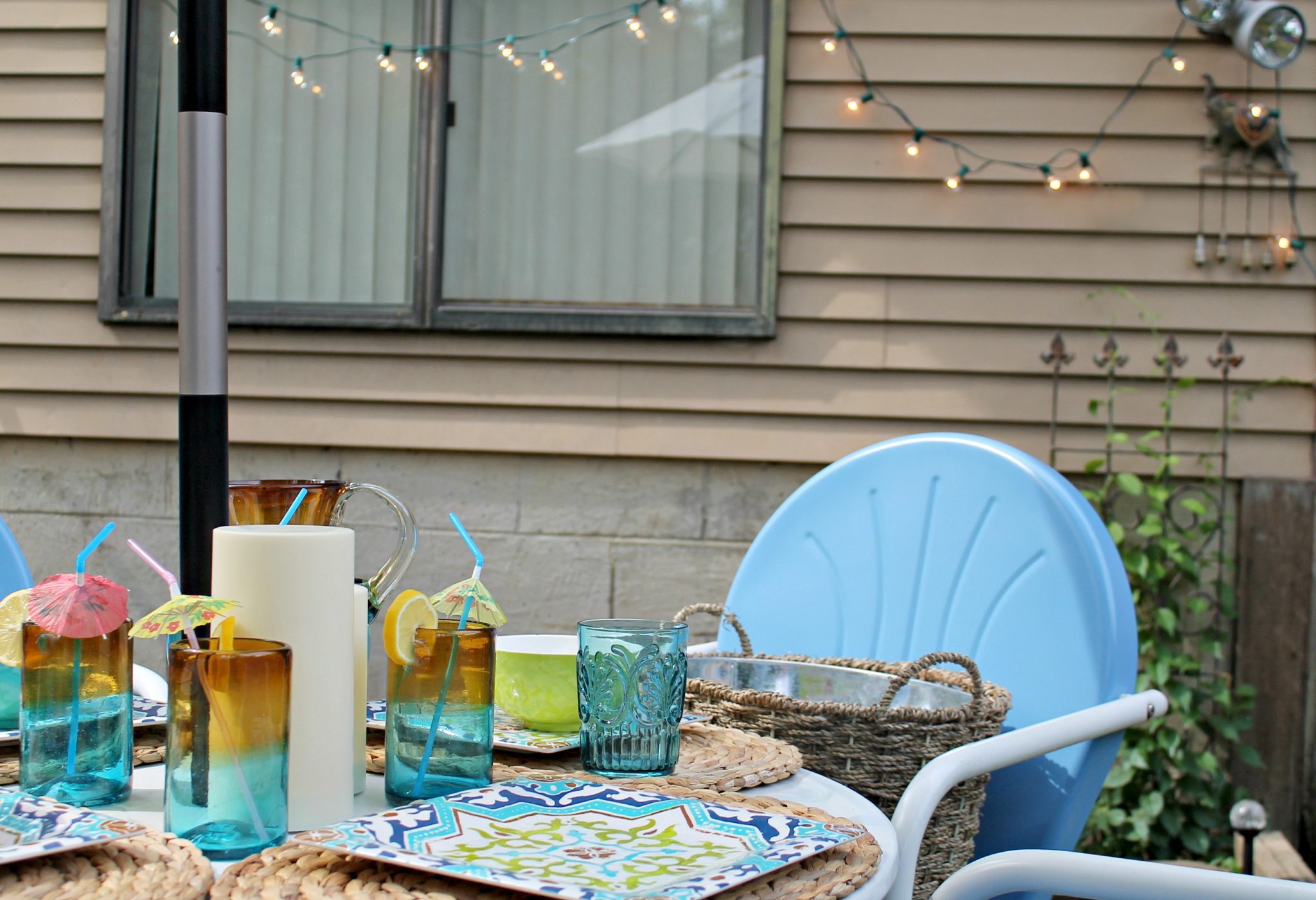 Other items pictured: Oval Seagrass Galvanized Party Tub, Melamine Plates, 2-tone Melamine Bowls, Ombre Monterey Glassware, Aqua Pacific Tumbler Glasses, Natural Fiber Oval Placemat, Umbrella Straws, Outdoor LED Pillar Candles, Sufi Tiles Outdoor Throw Pillow, Bee Outdoor Throw Pillow, Bee Happy Doormat, Fiber-Wrapped Natale Hurricane Candleholder, Green Ethel Cutout Lantern.
Thank you so much for stopping by to check out our outdoor space! If you're looking for some fun decor and accessory items to help liven up your outdoor area, be sure to check out World Market! Once you set foot in the door, or click through the website, you'll fall absolutely + madly in love!
Love this post? Pin it for later here: