A huge thanks to USFamilyGuide and the Bavarian Inn for sponsoring this family travel series.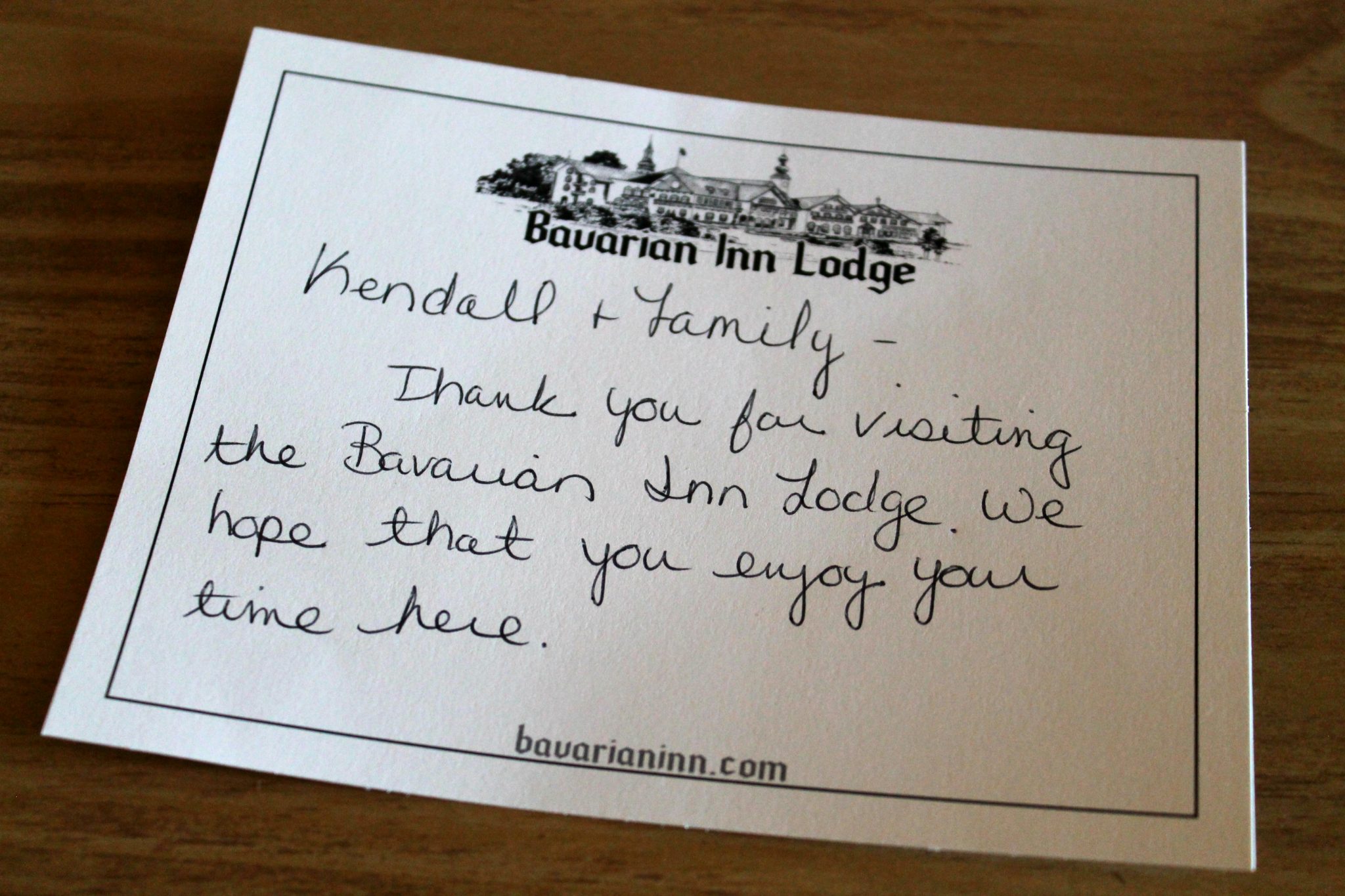 Family Travel at the Bavarian Inn Lodge in Frankenmuth, Michigan
Hi, friends!
Remember a few months ago when I wrote about an upcoming trip to the Bavarian Inn Lodge? Well, we finally took the trip! As you may remember, Wyatt got very sick shortly after Christmas, and we had a bad winter storm, so we had to push our planned trip out a few months. Once everything had settled down and Wyatt was feeling a little better we re-scheduled for our fun day in Frankenmuth, Michigan!
Frankenmuth, and the Bavarian Inn Lodge has always been a special place for our family. It's where William and I went for our honeymoon! We rented a suite at the lodge and spent three days just relaxing and having fun. So now, we really enjoy going back with our little ones to experience all it has to offer as a family. This trip was very special to us because it was technically Levi's first trip – I say "technically" because the last time we went I was pregnant with Levi! If you look at that post you can see a pic with my big ol' baby bump 🙂
This time, as a family of four, we stayed in a standard room. It was very spacious offering two beds, bathroom, chair in the corner, desk, and a large television. Perfect amount of space for the little guys to run around and explore.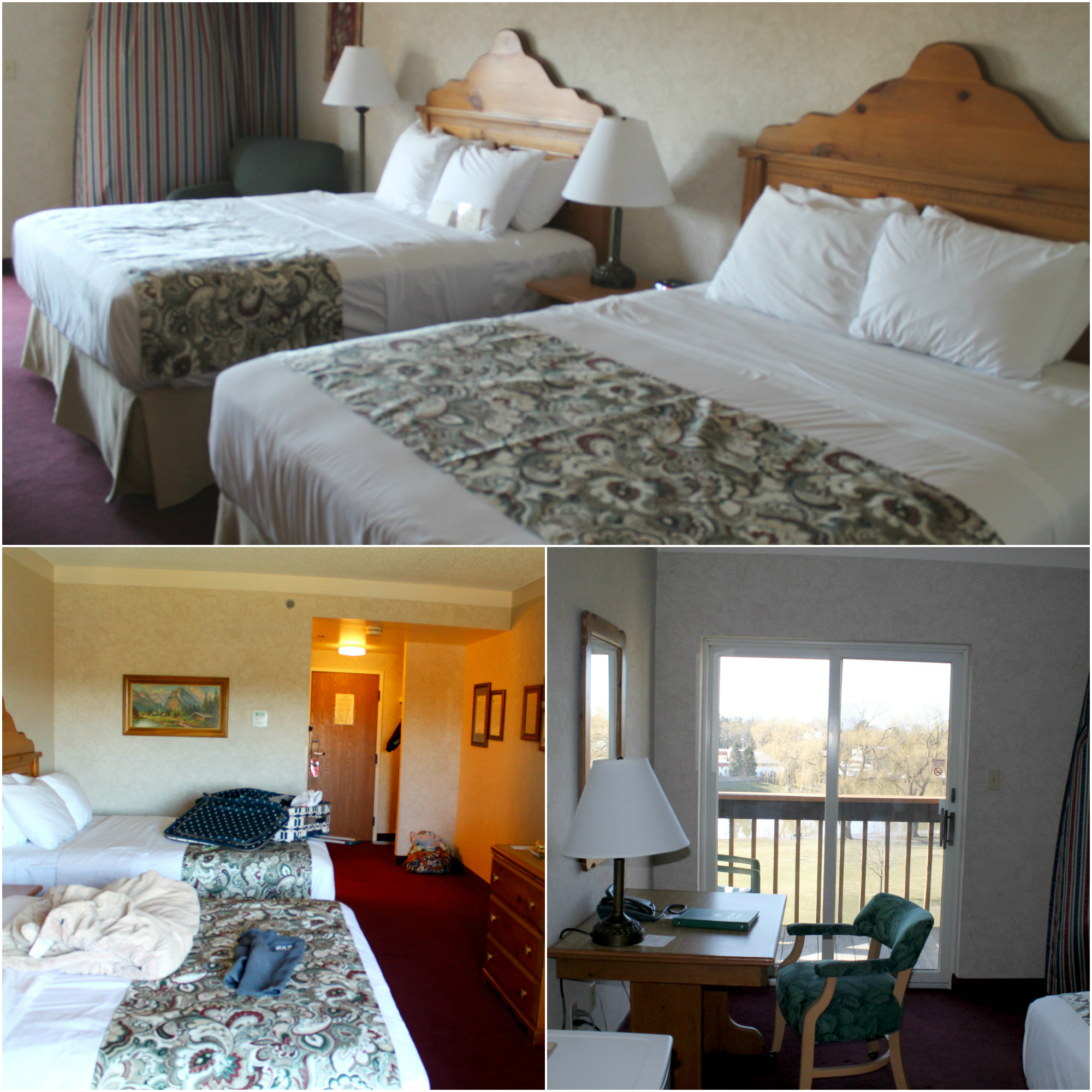 The view from our room was SO beautiful! If you have the option to get a balcony room, DO IT! You really just can't beat that river view, isn't it gorgeous? The boys and I sat out there and just watched the ducks swimming, people exploring, etc. It was so relaxing!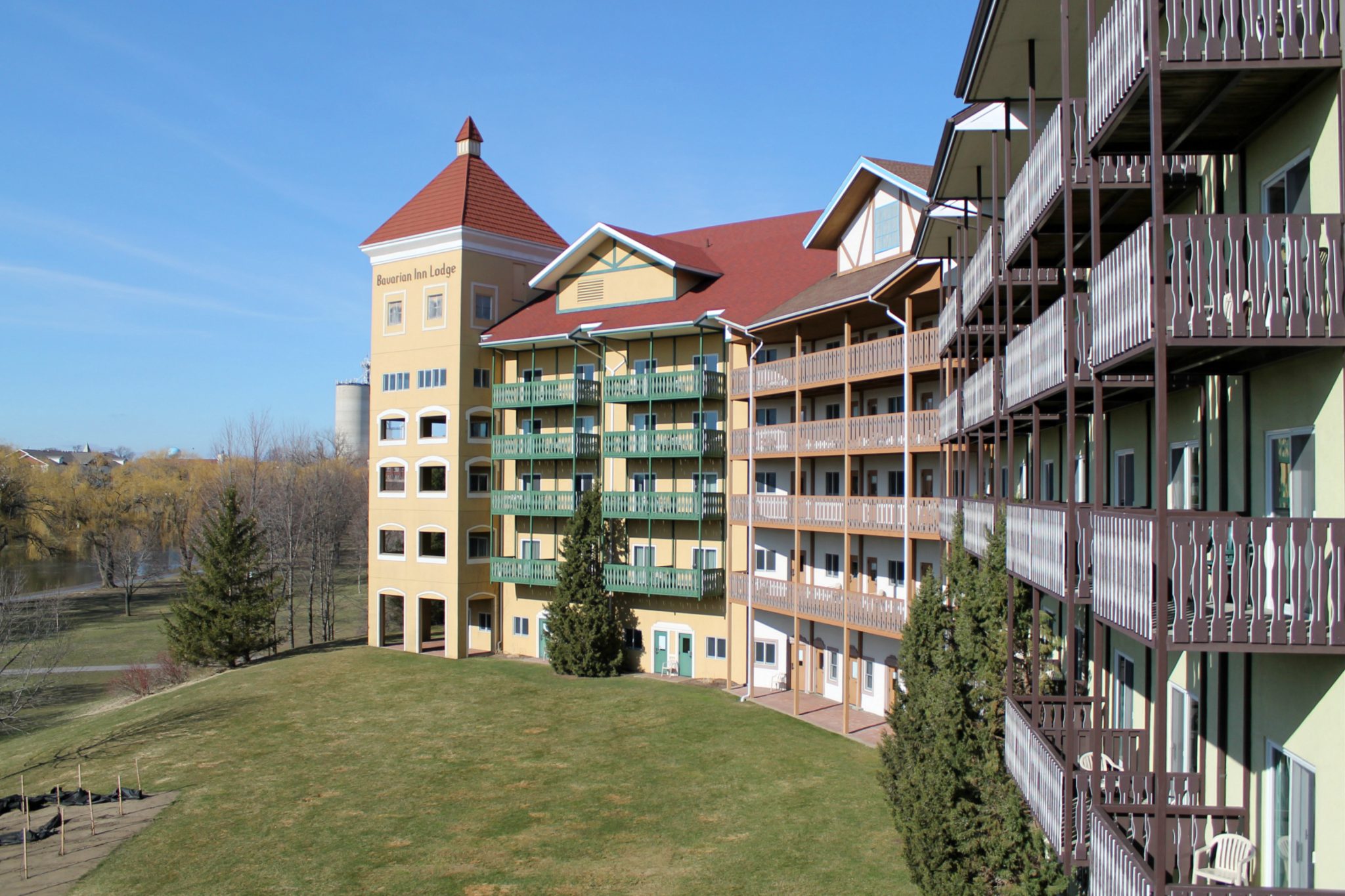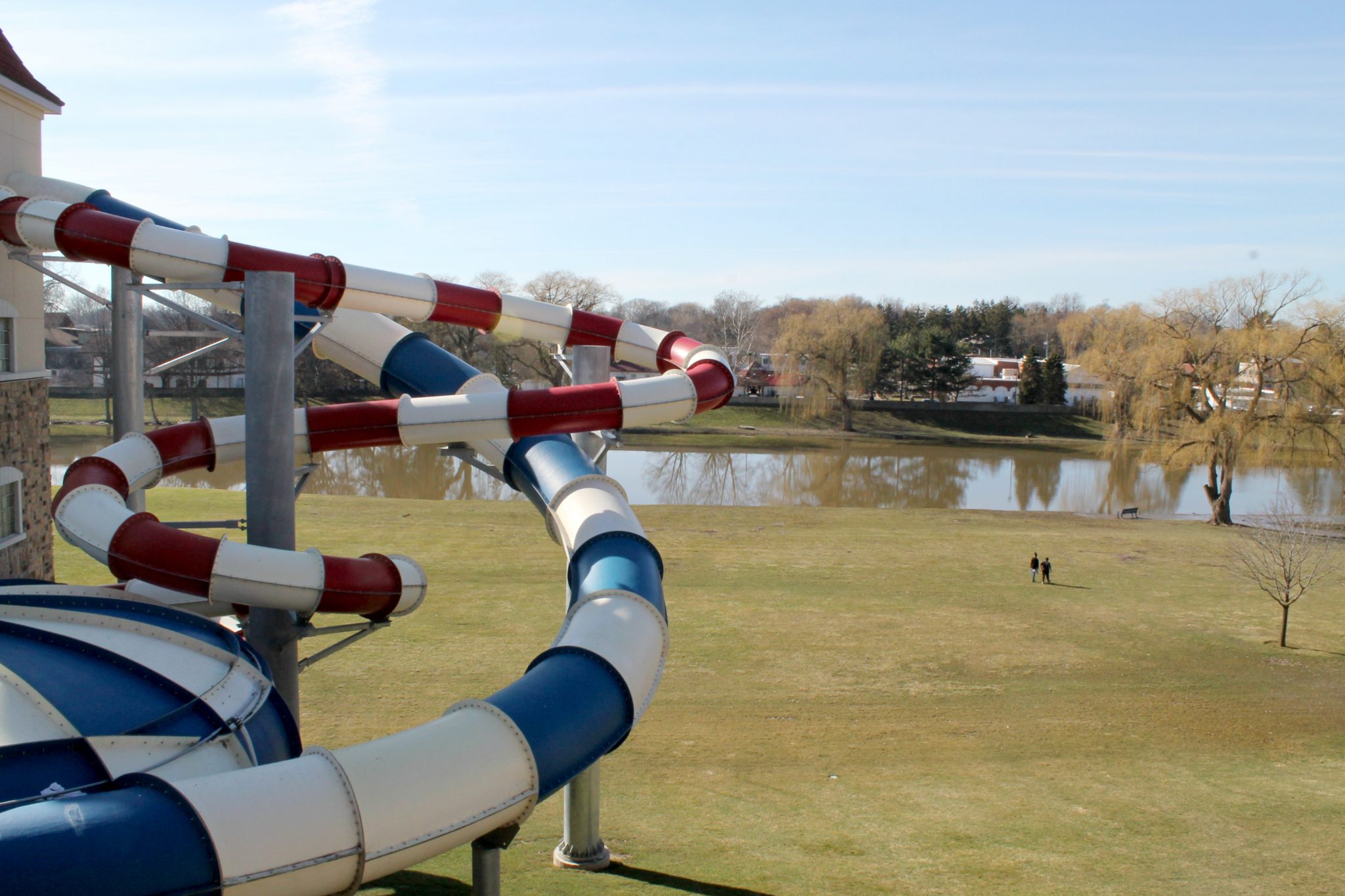 After we settled into our room and scoped everything out, we decided to hit the pools. If your little ones love water, this is a good place to be. The Bavarian Inn Lodge has plenty of indoor water play options with four indoor pools and three whirlpools! We splashed around and swam and really worked up an appetite, so after swimming, we headed to the Ratskeller for some pizza.
The Ratskeller is the perfect place to eat as a family, especially if you have noisy kids (which I totally do). It's very laid-back and fun, and near the game area so it's a little loud, too. There's lots to watch and the food is delicious!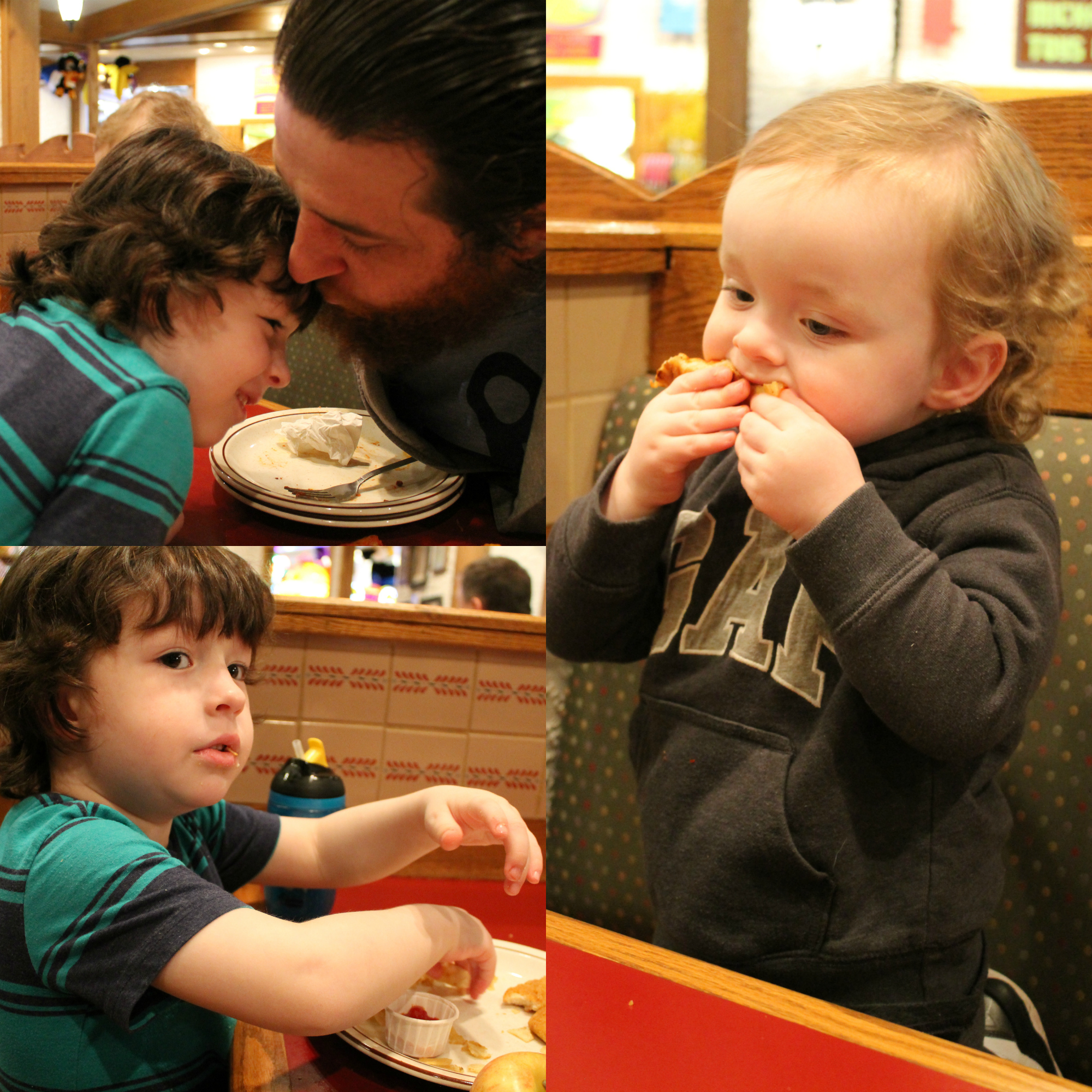 If you're looking for somewhere to eat outside of the Lodge, I'd definitely recommend the Bavarian Inn Restaurant which just celebrated 125 years of service back in 2013. If you do dine there, be sure to go downstairs to check out all of the gift shops – it's a really neat set-up and the boys and I really liked walking around and looking at everything!
Also, if you head over to the Bavariann Inn Restaurant, keep your eyes peeled for some photo opps – because, believe me, there are some good ones!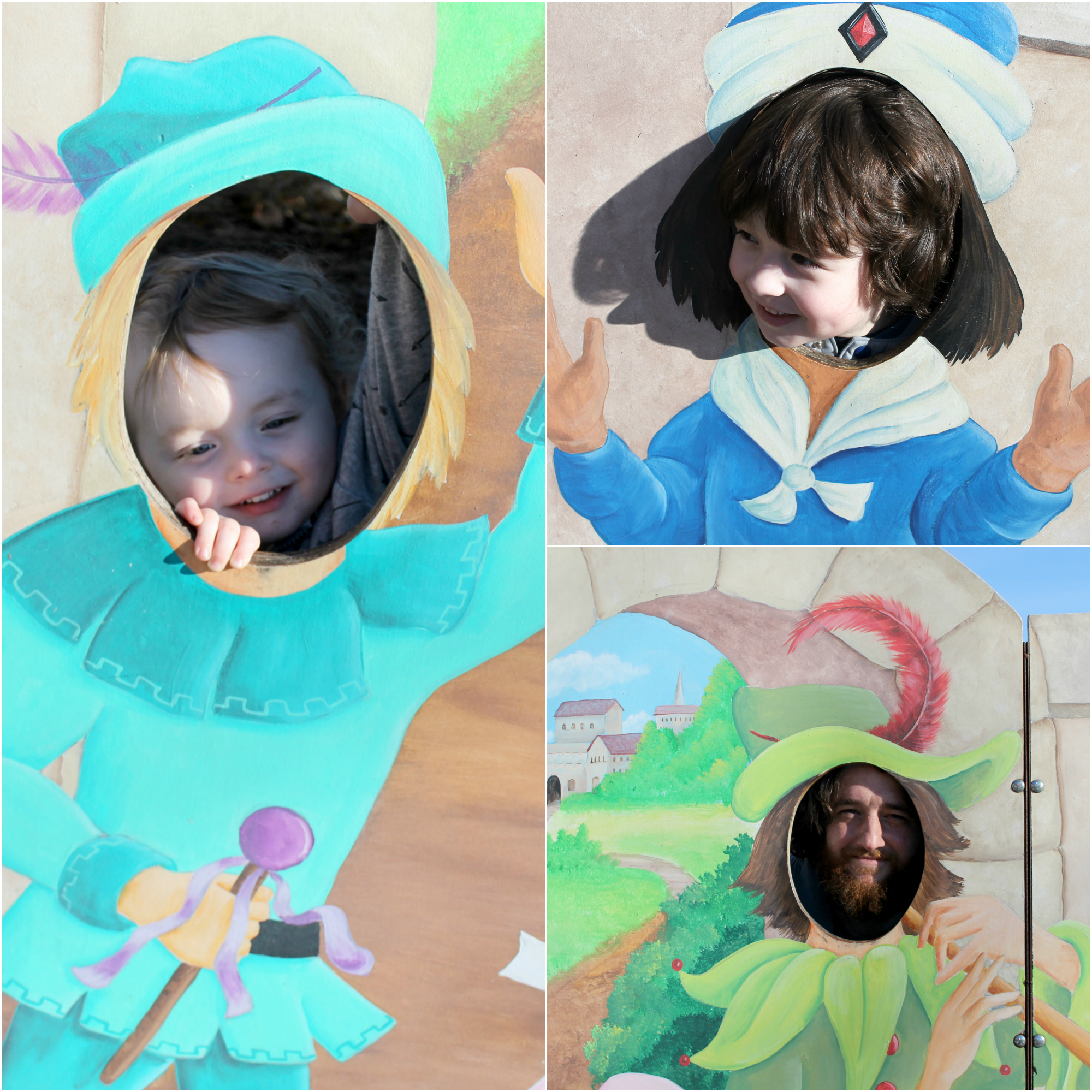 See what I mean? LOL. Oh, and when you're walking around – be sure to go under the covered bridge. There is a little walking path on either side where you can safety cross and go over the river, it's another gorgeous view!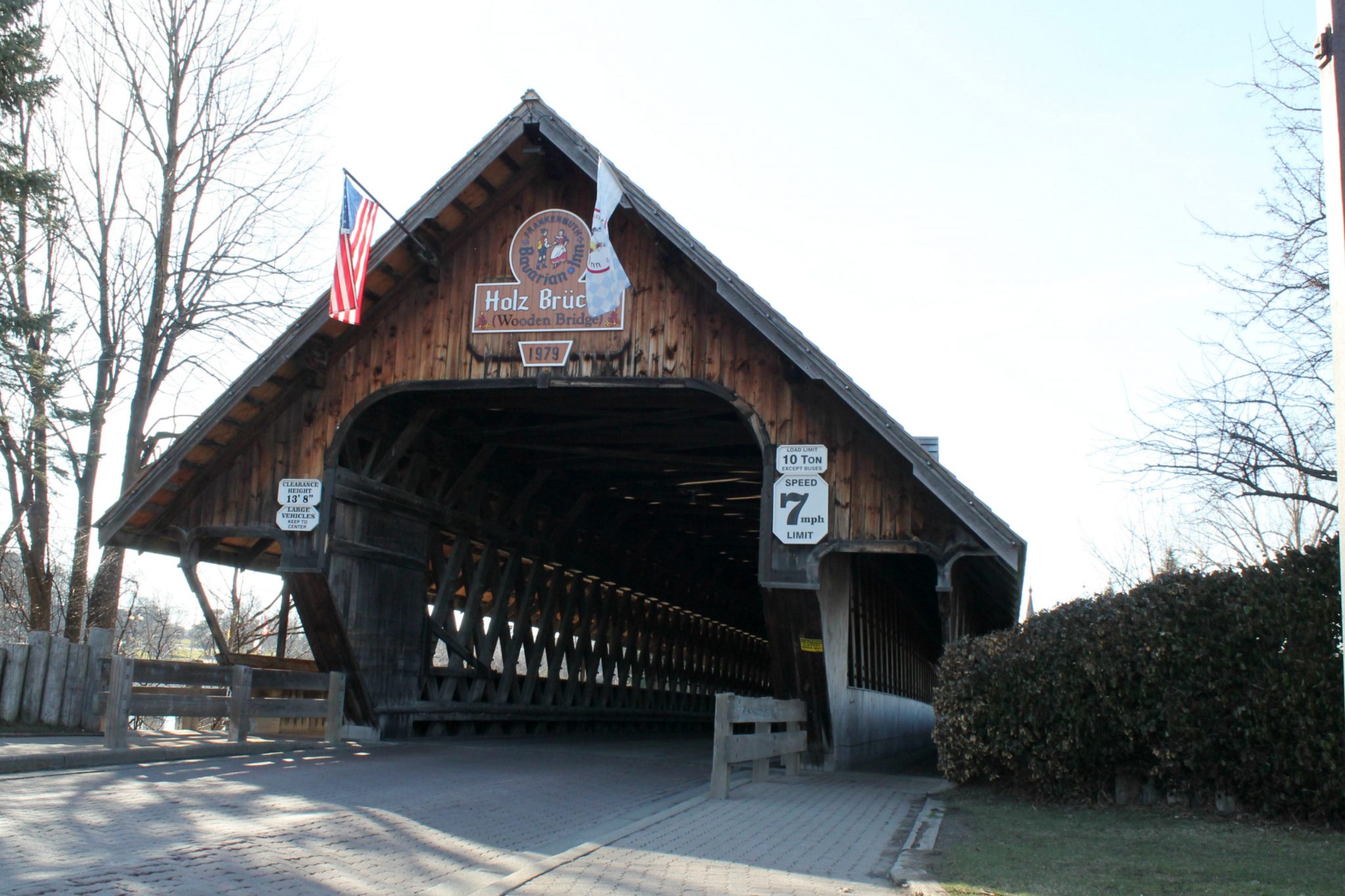 One thing I think a lot of people overlook is the adorable little play area near the game room and pools. It's tucked right in between the two and every time we go it's Wyatt's favorite spot – and with this being Levi's first time – we were anxious to see what he'd think. Well, surprise, surprise.. he loved it!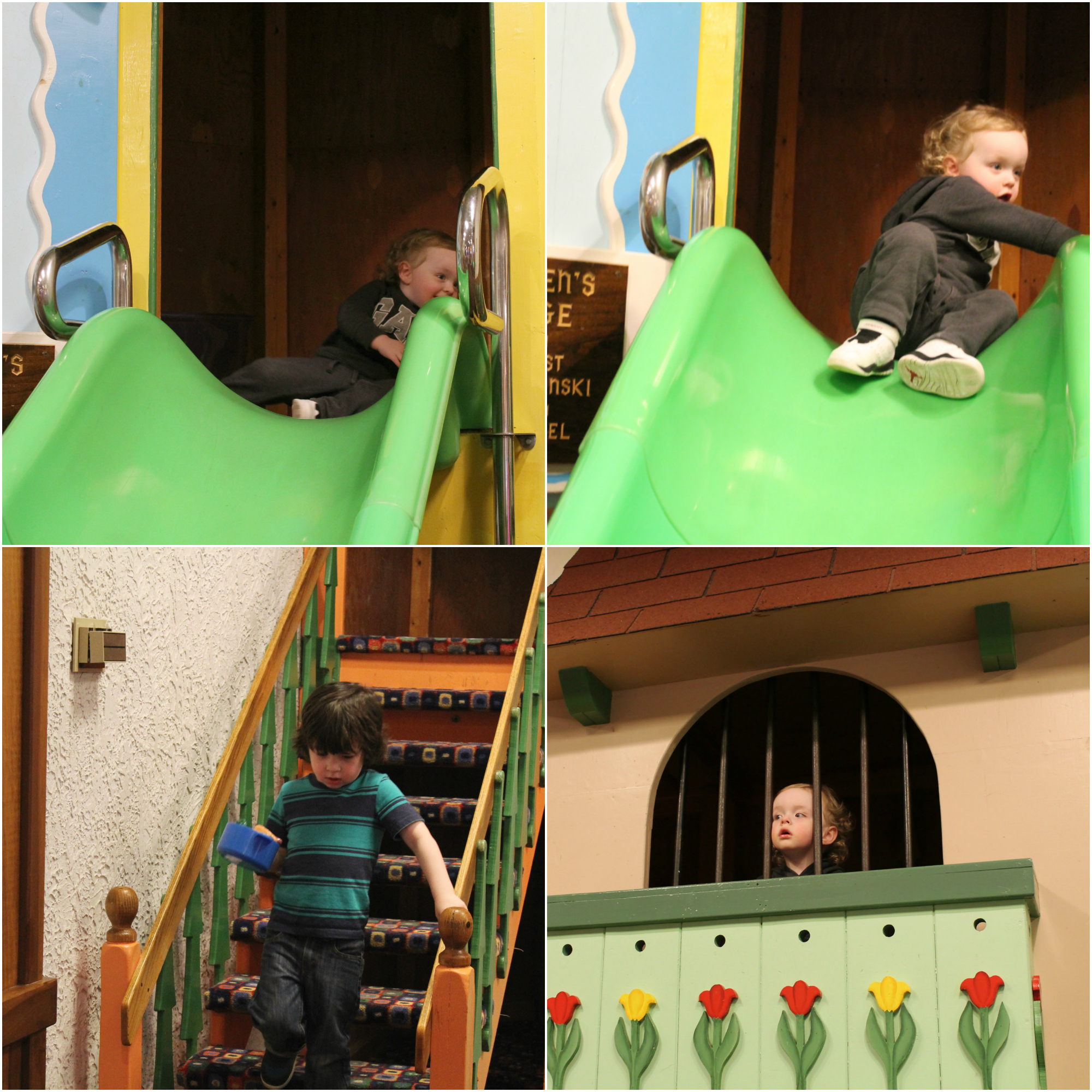 The boys had so much fun going up and down the stairs, playing in the little kitchen, and going down the big slide. Such a cute little space for little ones who visit the lodge. Next, we headed to the arcade to grab some tokens and play some games! I love the mix of games, because there are so many things for little ones to do! Wyatt is 4 and Levi is 2 and we could have played in the arcade for hours!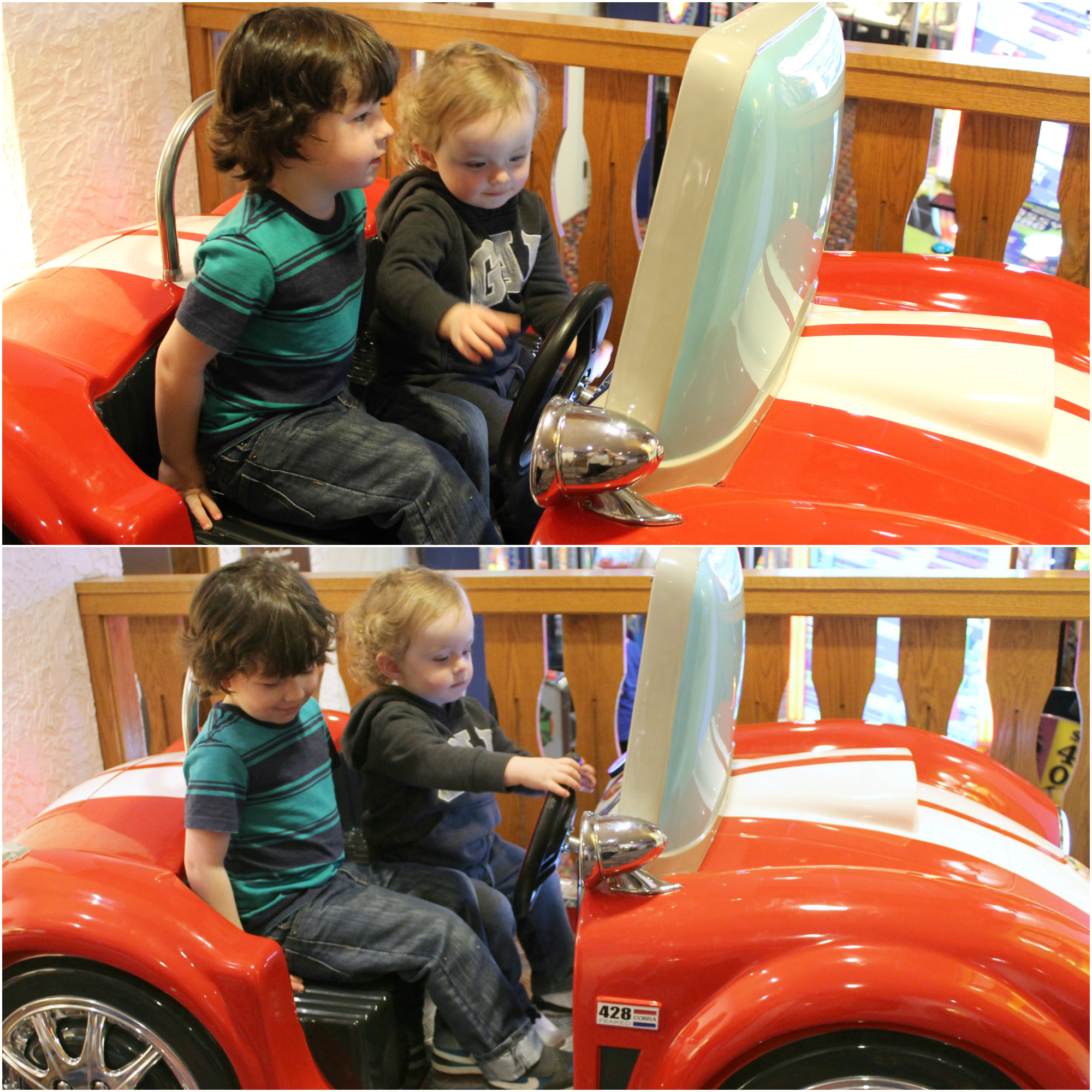 I'm not sure which they liked more, playing the games – or feeding the tickets they got into the machine to redeem them for prizes! They had such a blast!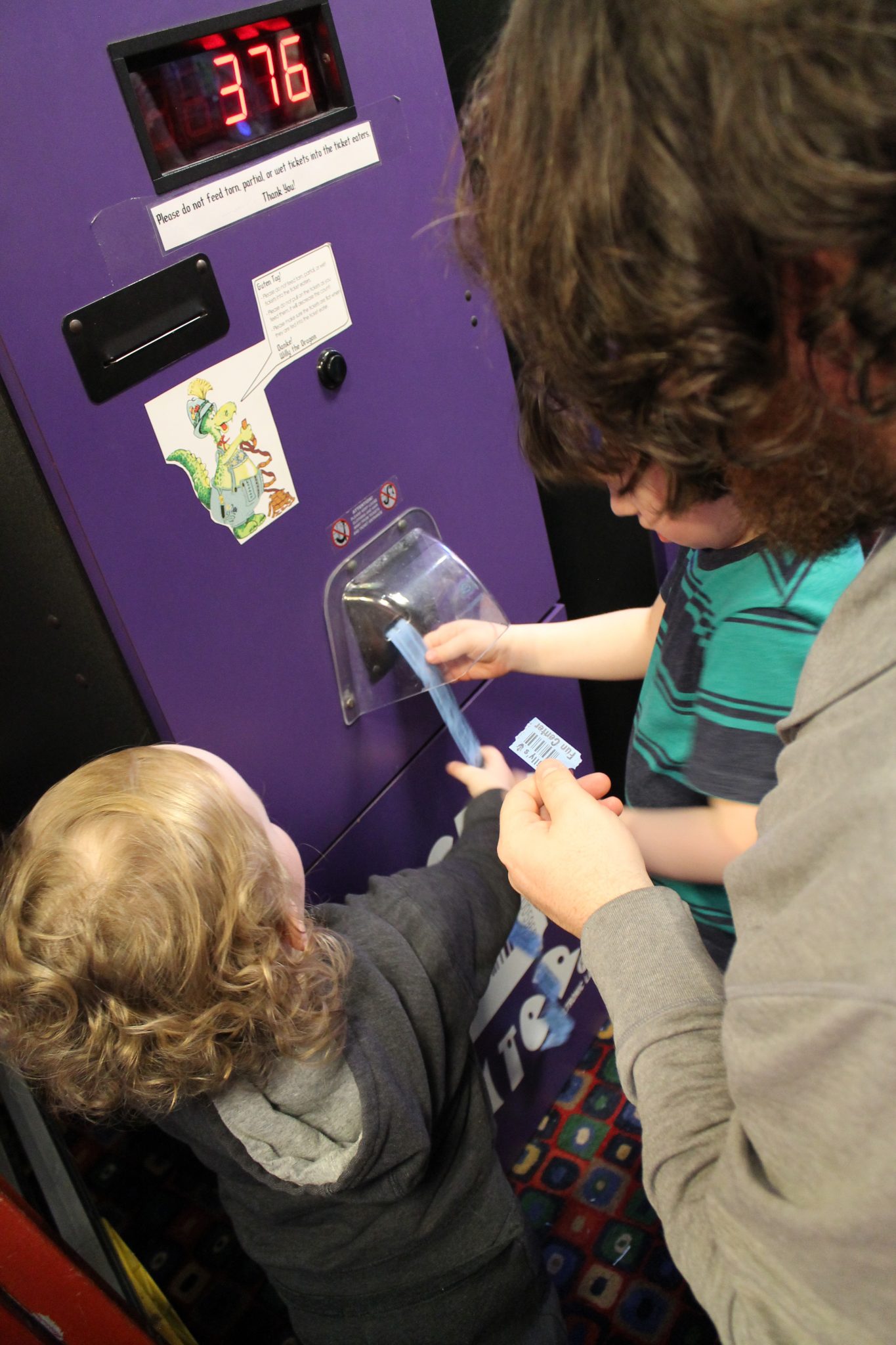 There is also mini-golf, karaoke, and a water park with two fun slides! So much to do for everyone at every age! I can't wait until the boys are tall enough to go down the water slides!
We just had SO much fun on our trip – and it really is important to carve out and plan that special family time together. Even though we're just a short drive away from the Bavarian Inn Lodge, each time we go it feels like we're in a different state completely. Sometimes it's nice to have that breather from everything else, and just focus on being a family, and I right?
Do YOU want to visit the Bavarian Inn Lodge with your family? I highly recommend going and staying for at least two days so you can do and see everything! I'll include a coupon code below to help you save, too! Enjoy! 🙂
Exclusive Coupon for Bavarian Inn Lodge:
Up to $35 off your Bavarian Inn Lodge Stay! Code #1239JD Call (855) 421-1366
https://michigankidsguide.com/coupon.php?regionid=75&bid=11952&dealid=1908
Love this post? Pin it for later: