This is a sponsored conversation written by me on behalf of Rubbermaid®. The opinions and text are all mine. #Rubbermaid #FastTrack
Hello, friends!
I am so excited to show you the progress we've made in the garage this fall! We've been anxiously awaiting the cooler weather to head our way so we could really dig in and deep clean the garage. We rented a dumpster and cleared out, donated, and really organized our garage, and along the way I came across a few tips I had to share, because I'm not the only one with a hectically disorganized garage, right?
In order to organize the garage, we needed to put some kind of system in place. I found Rubbermaid® FastTrack® Rail™ products at Lowe's, in the garage organization aisle, and fell in love with the easy installation and customizing! The system is adjustable, portable, and each hook can hold up to 50 lbs.! We had a LOT of stuff in our garage to store and organize, so this seemed like the best fit for our family and our needs.
But before I tell you more, let's see some "before" photos so you can see the mess we were dealing with.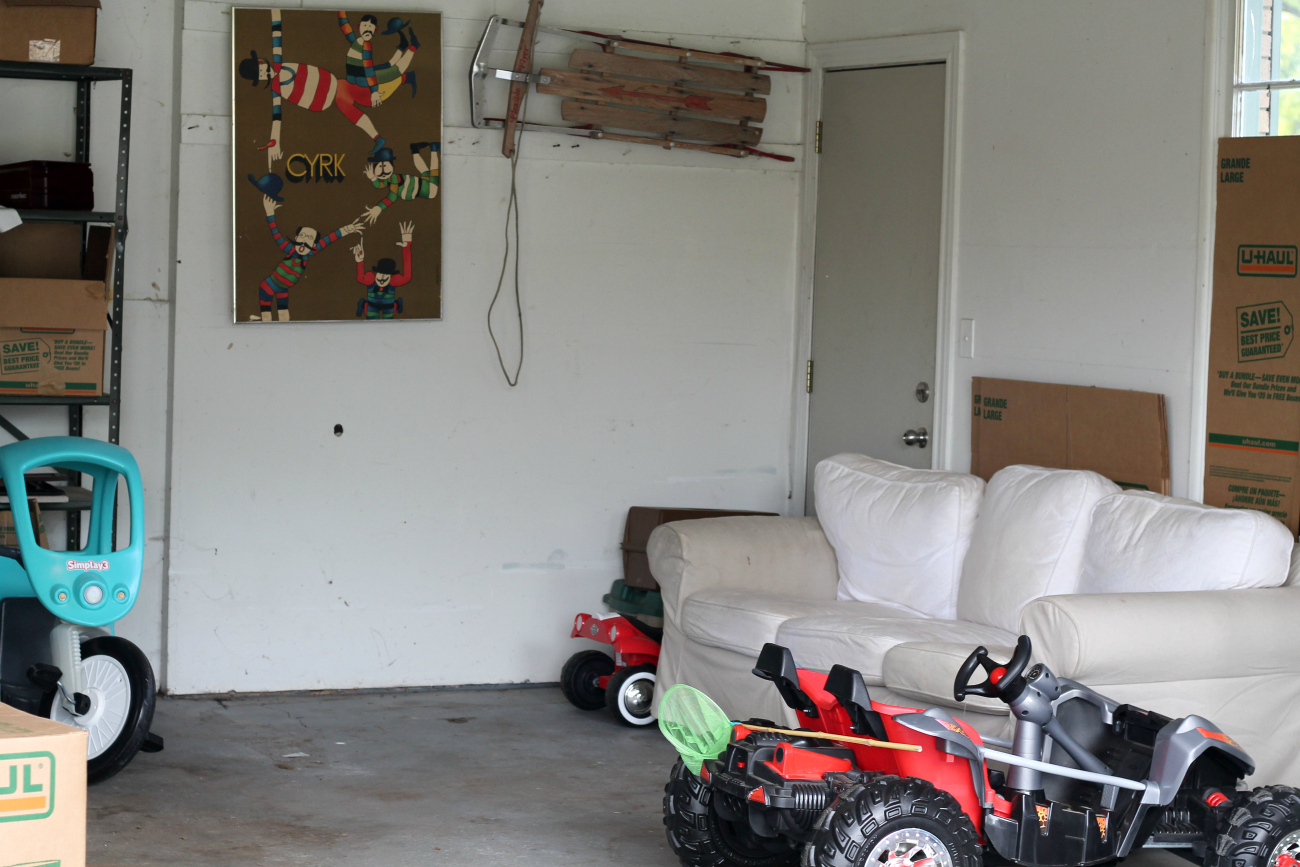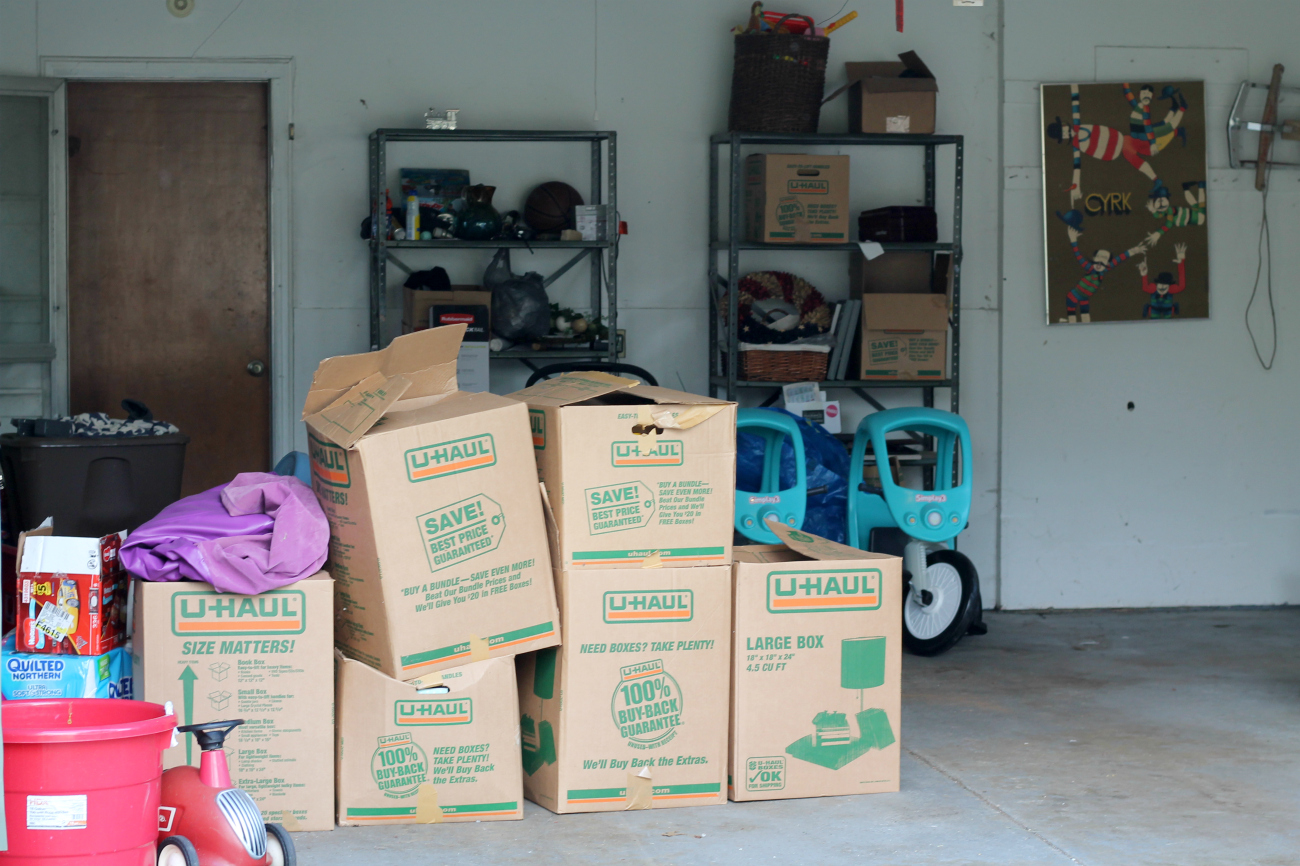 For our garage organization project we used two of the Rubbermaid FastTrack Garage Rail 12 piece kits, and we also purchased the Rubbermaid FastTrack Garage 1-Piece Black Plastic Utility Bin. This system was so simple, the hooks simply lock onto the rail, and the locking grippers on the accessory hooks provide the perfect amount of support. Each rail is made with steel and holds 1,750 lbs.!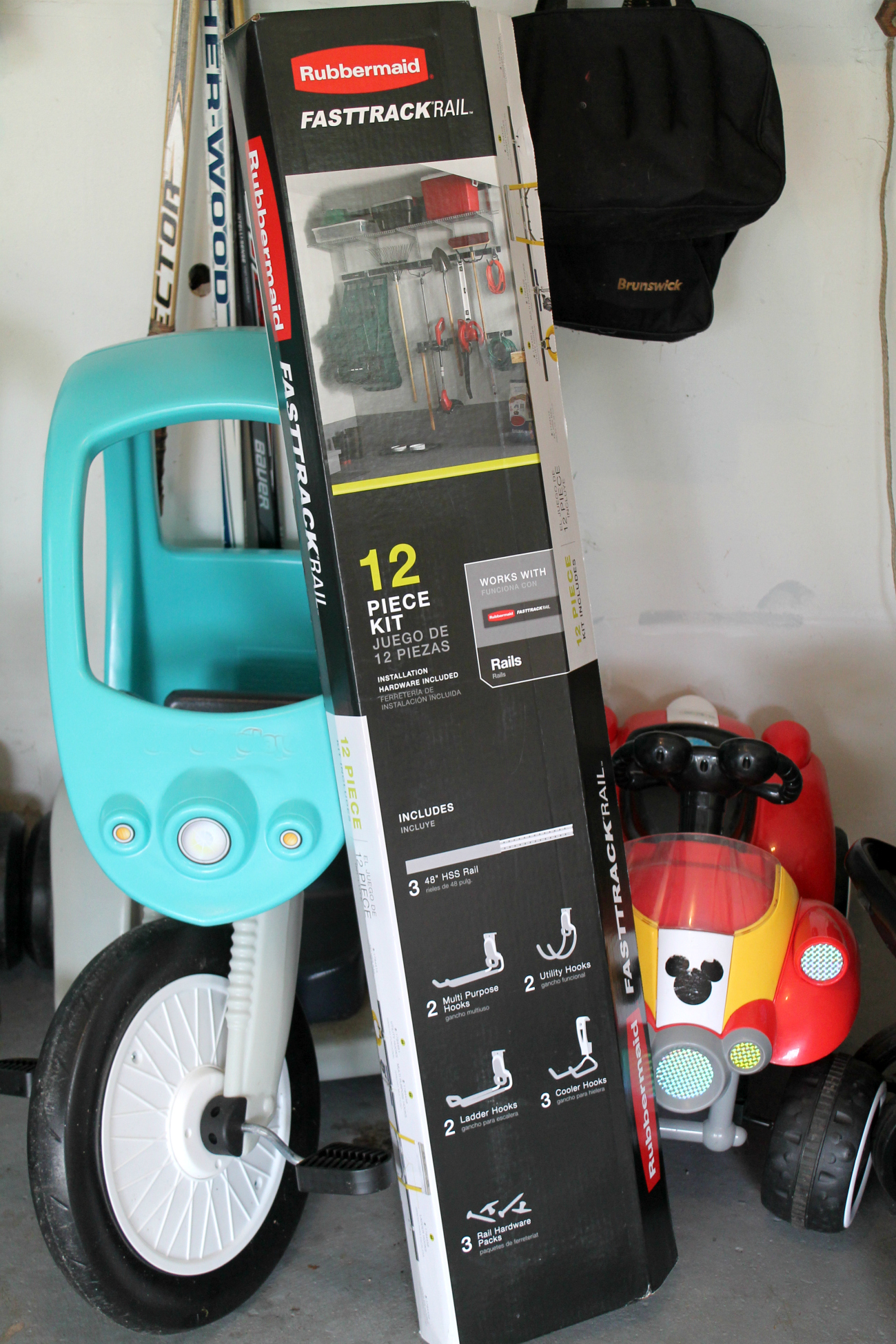 My husband and I installed everything in less than an hour! Once everything was installed, we started moving the biggest items, and we gathered all boxes and bags to the center of the garage to sort through and trash, donate, or keep.
Ready to see some of our "after" photos? Let's go!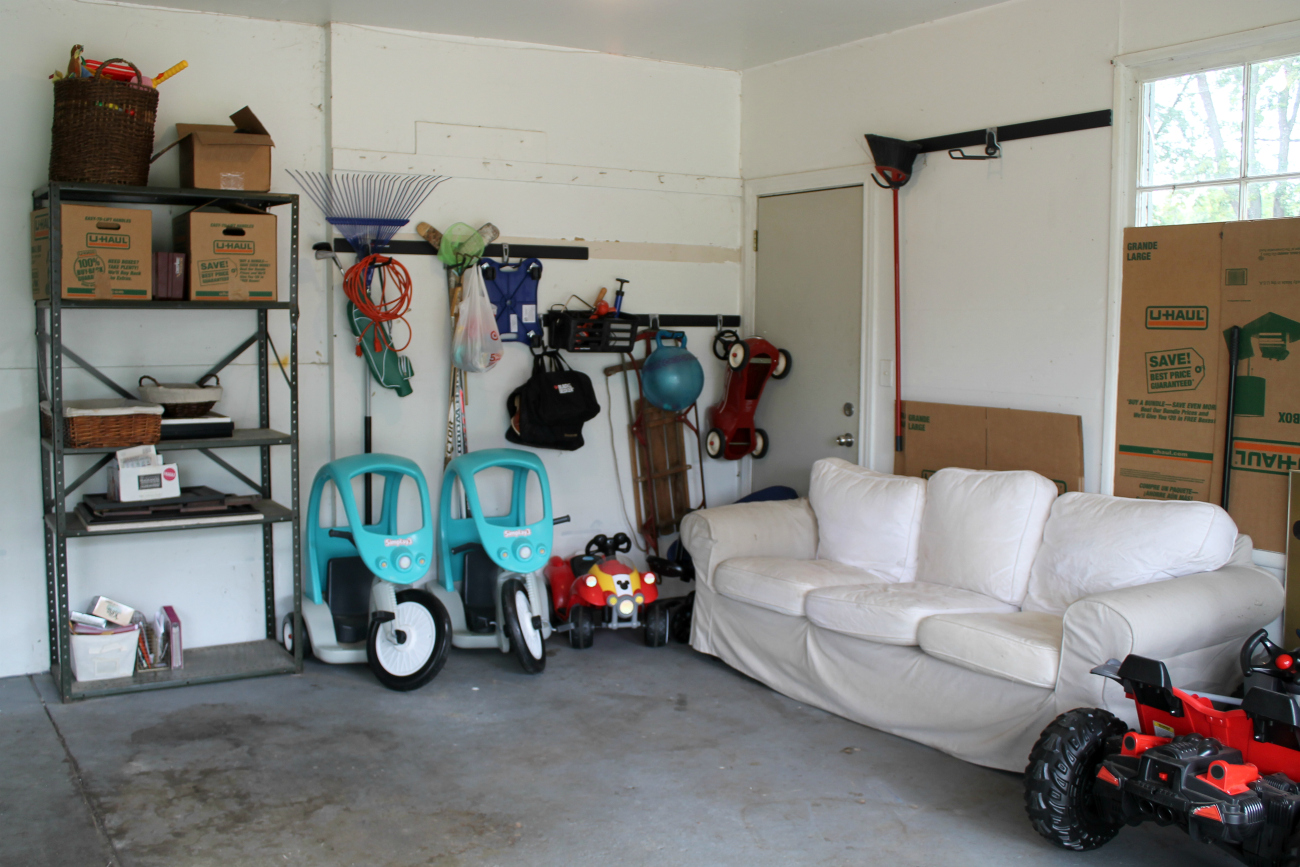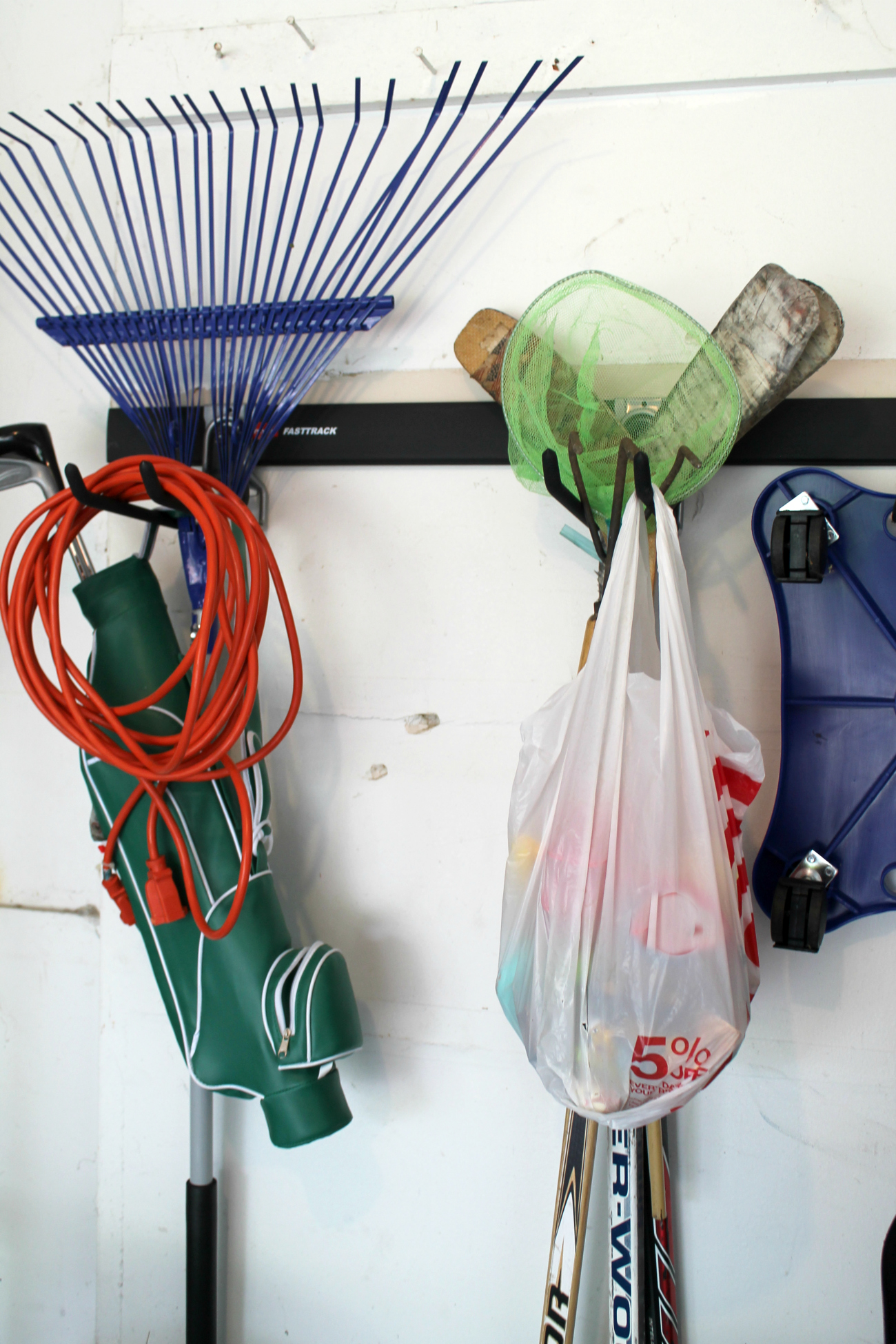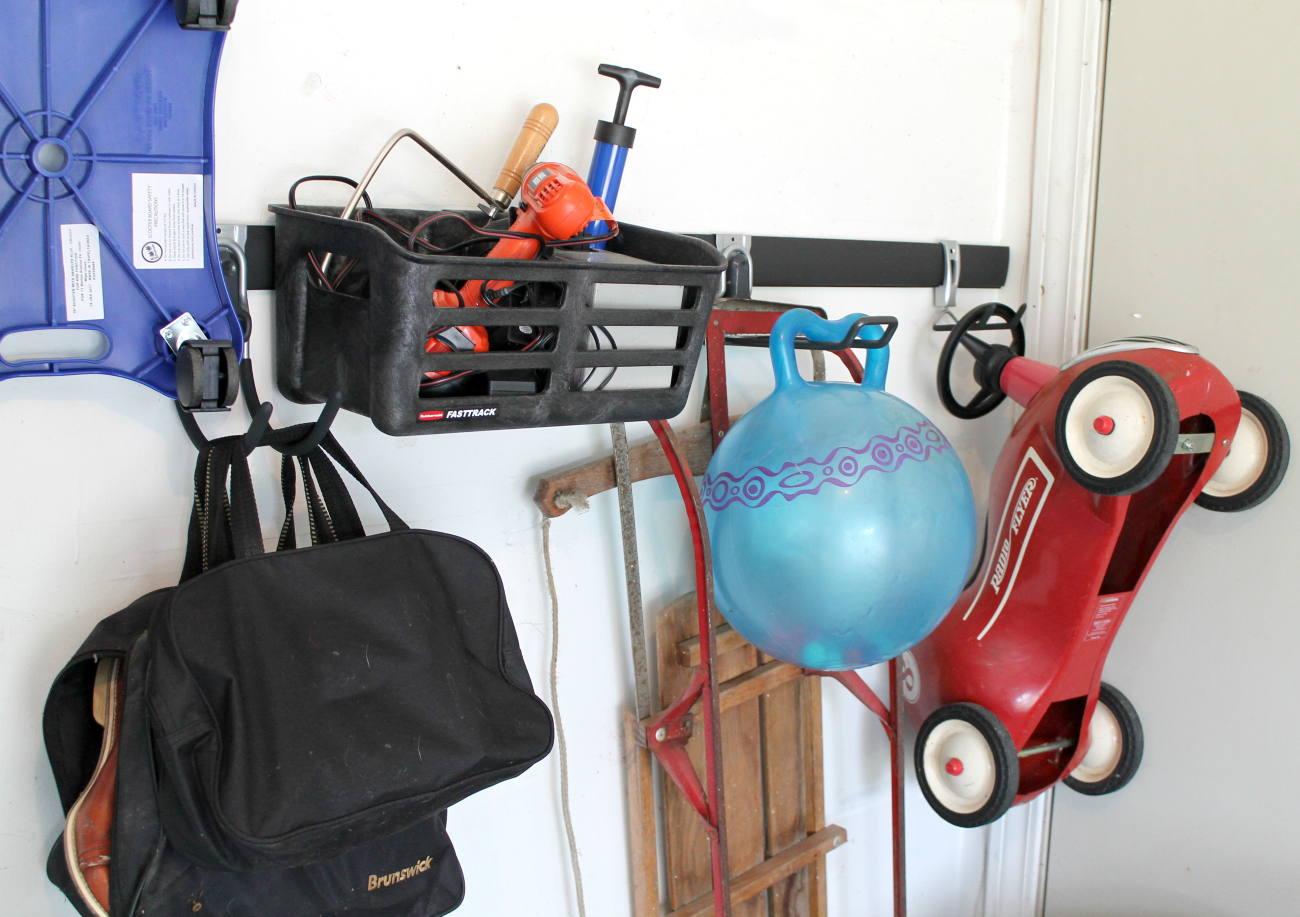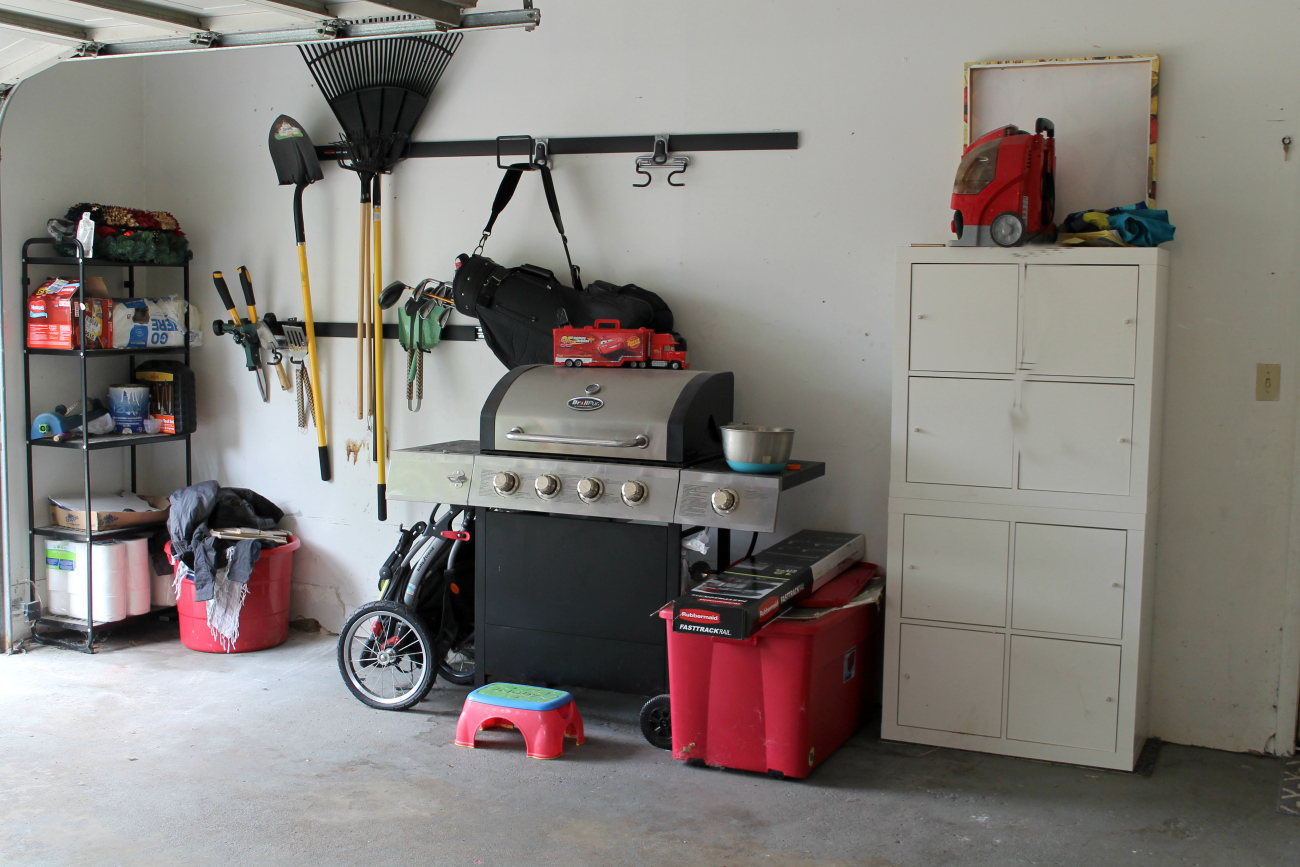 So, so much better, right? I still can't get over how our garage was transformed from cluttered, dirty, and spider-inhabited, to now clean, organized and perfect for our family!
5 Garage Cleaning Tips
Start with the big stuff.

Pull everything large out of the garage to make room for yourself and a helper to organize!

Check out Rubbermaid FastTrack Rail products at Lowe's

and choose a few kits that best fit your needs. They're easily adjustable and portable. They make so many different attachments for everything from shovels to utility bins so you can completely customize your garage for your needs.

Donate what you don't need.

Now is the time to clean out and donate items that you no longer need. The garage, for us, was a never-ending baby item hoarding space. And although it hurt my "momma heart" a little bit to donate the boy's old baby toys, we surely don't need them anymore.

Trash anything broken or unusable.

If you come across something you haven't needed in a year or two, chances are you won't need it again. Toss what is broken, donate what can still be used, and store the things you need to have on hand.

Store your most-used items at arms length.

Make sure you can reach the items that you use on a daily or weekly basis, and everything else like holiday decor and seasonable items can be stored up high so you can access it with a ladder when needed.
Could YOUR garage use some organization?
Love this post? Pin it here: