Thank you to The Home Depot for sponsoring this post.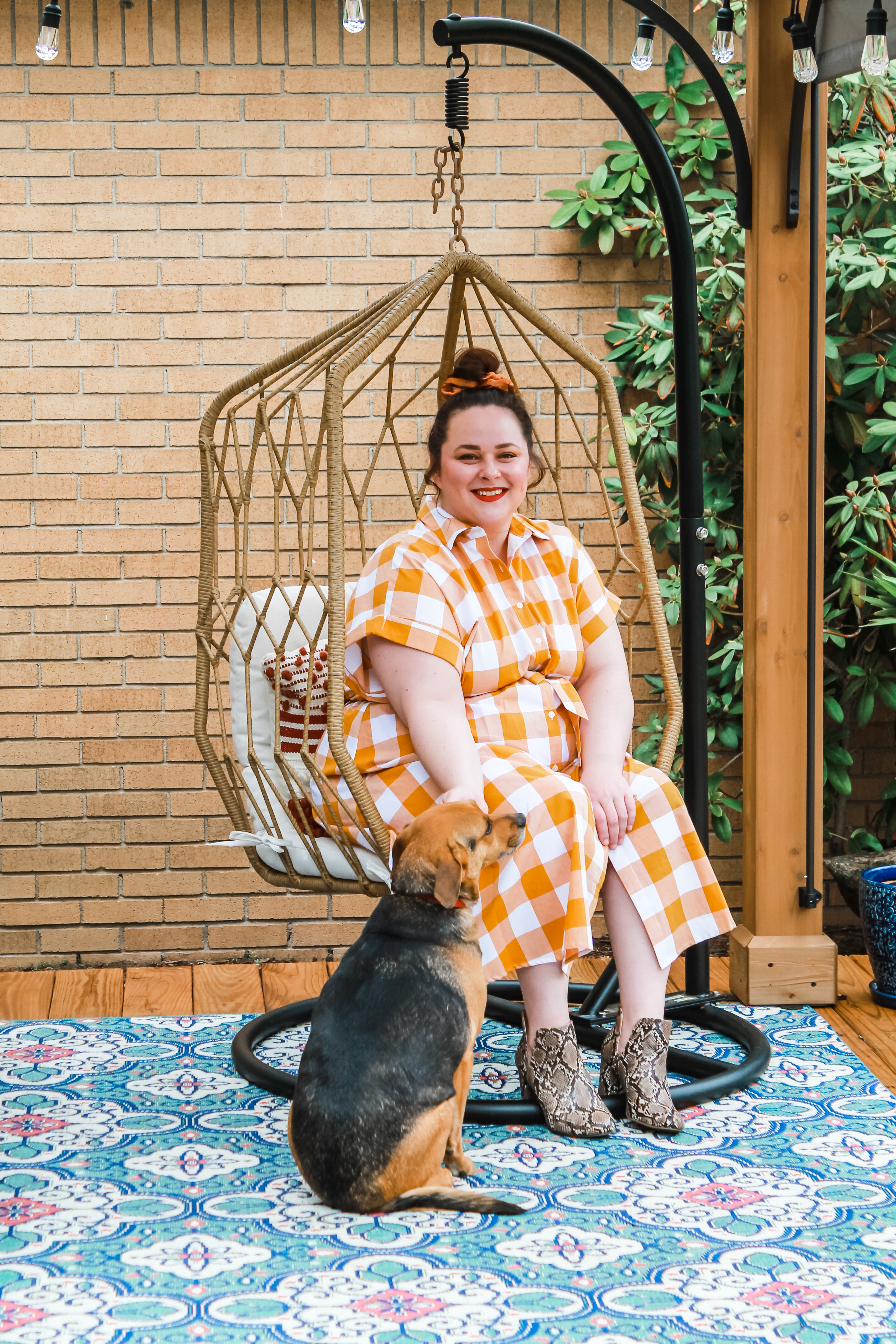 Our back patio area used to be a space where no one wanted to hang out. There wasn't a place to sit, no shade from the sun, nothing. Now it is a space that our entire family (fur babies included) can enjoy together. Let me walk you through the "before" and tell you our initial thoughts that we had for the space.
BEFORE
This is our outdoor area before, we'd always dreamt of having an outdoor area where our whole family could gather, dogs included. We all love being outside in the sunshine, and really wanted to take on a DIY project of building a floating deck to transform outside area of our home.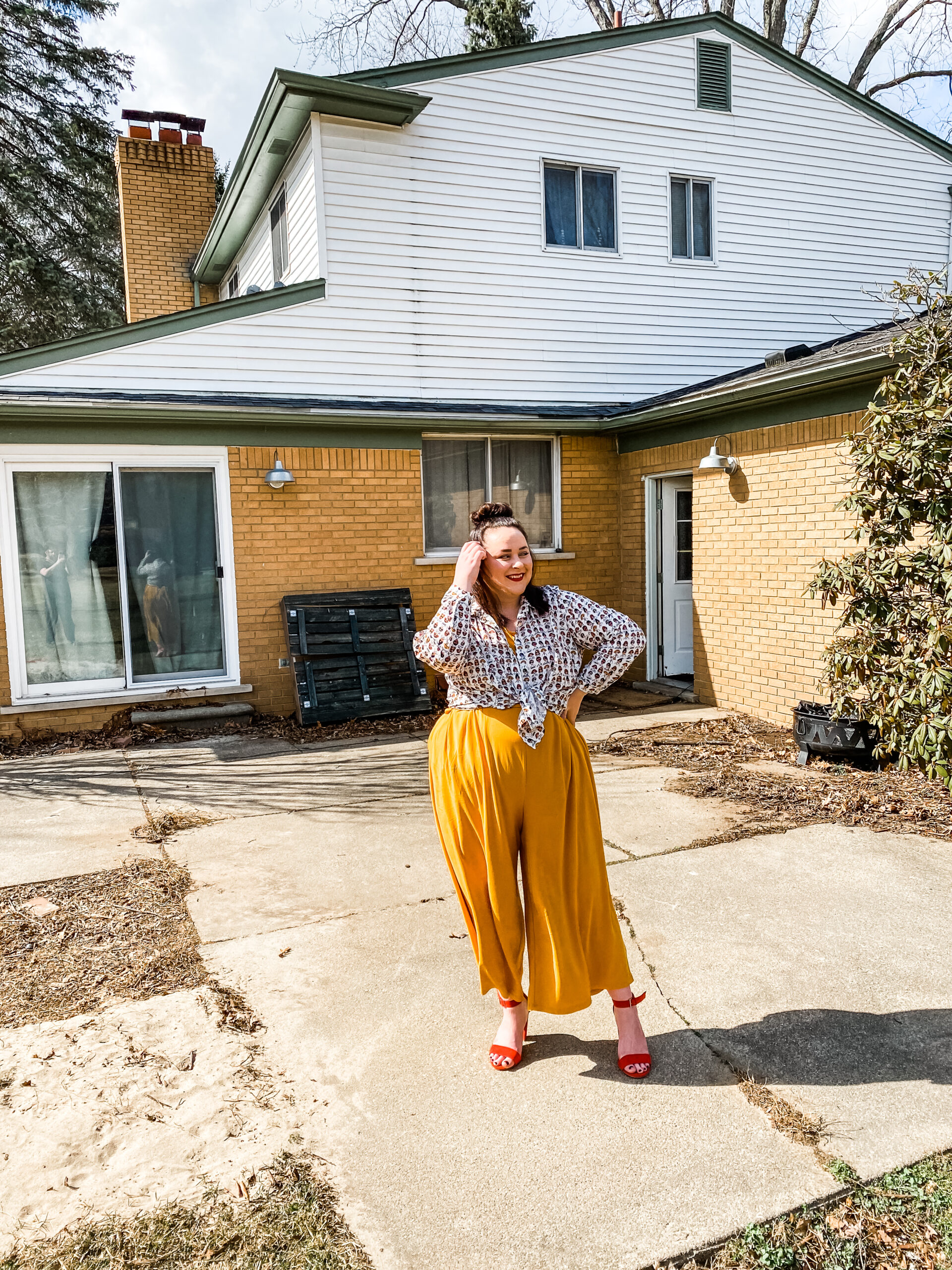 INSPIRATION BOARD
Here is my original vision for the outdoor area. We knew it would be amazing to have a floating deck that wasn't attatched to the house where we could hang out together. The Home Depot DIY Projects and Ideas page was a great place to gather inspiration. This post in particular is a great resource for planning and building a floating deck.
Home Depot also has a Project Calculator that will help you decide on what you'll need for your project! This was a huge resource for us because, well, we'd never built a deck before! The project calculator helped us to create a shopping list of supplies for the deck and we got started building within days of the delivery!
While we were building I was finalizing what was going to be on the deck. I bounced back and forth between a pergola and a gazebo and ultimately landed on a pergola after seeing the Longford Wood Outdoor Patio Pergola with Sling Canopy online, it was love at first sight. I loved the sling canopy that could be pulled to one side or the other depending on the light. I also fell in love with the 12-Bulb 24 ft. Vintage Cafe Integrated LED String Lights I found. I also knew I wanted a gorgeous rug, I fell in love with the colors of this Star Moroccan Teal/White 9 ft. x 12 ft. Indoor/Outdoor Area Rug, isn't it beautiful?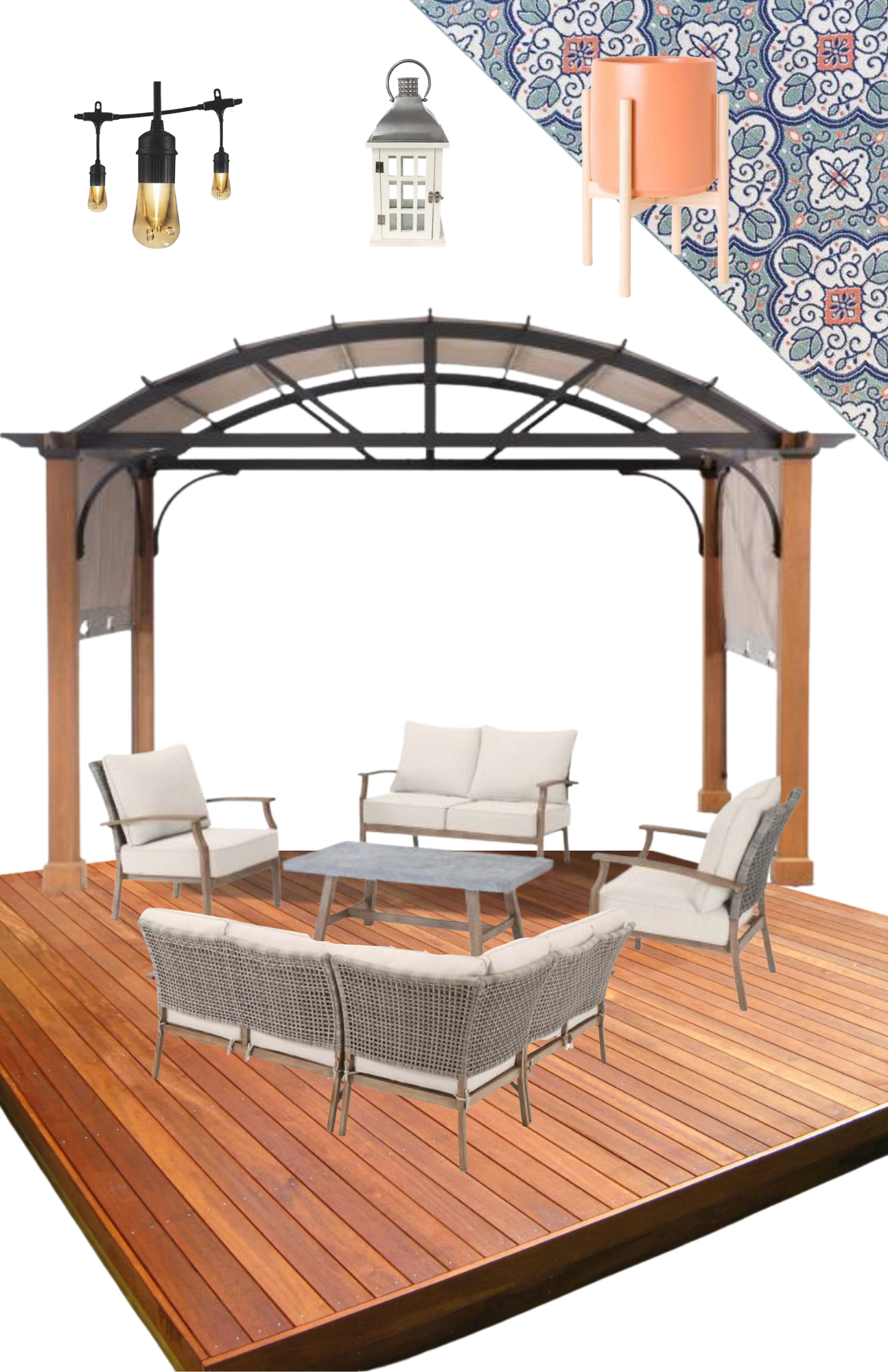 The furniture I had initially envisioned (pictured in the mood board) had gone out of stock, but luckily I found a set that would work even better for our family, the Windsor 6-Piece Brown Wicker Outdoor Patio Conversation Seating Set. I loved that the table to this set was a bit higher, perfect for outdoor dining! I also opted for a fun Tan Wicker Diamond Shaped Outdoor Patio Egg Lounge Chair Swing instead of the extra chairs, and the kids LOVE it. As you all know, my son Wyatt has Autism and this chair calms him so much, he's really been enjoying sitting in it outside!
Okay, enough of the shopping – let's get to the fun part! My hubby and father-in-law are extremely handy guys, they were great to have around for this project. Once we had the area framed out, everything started coming to life.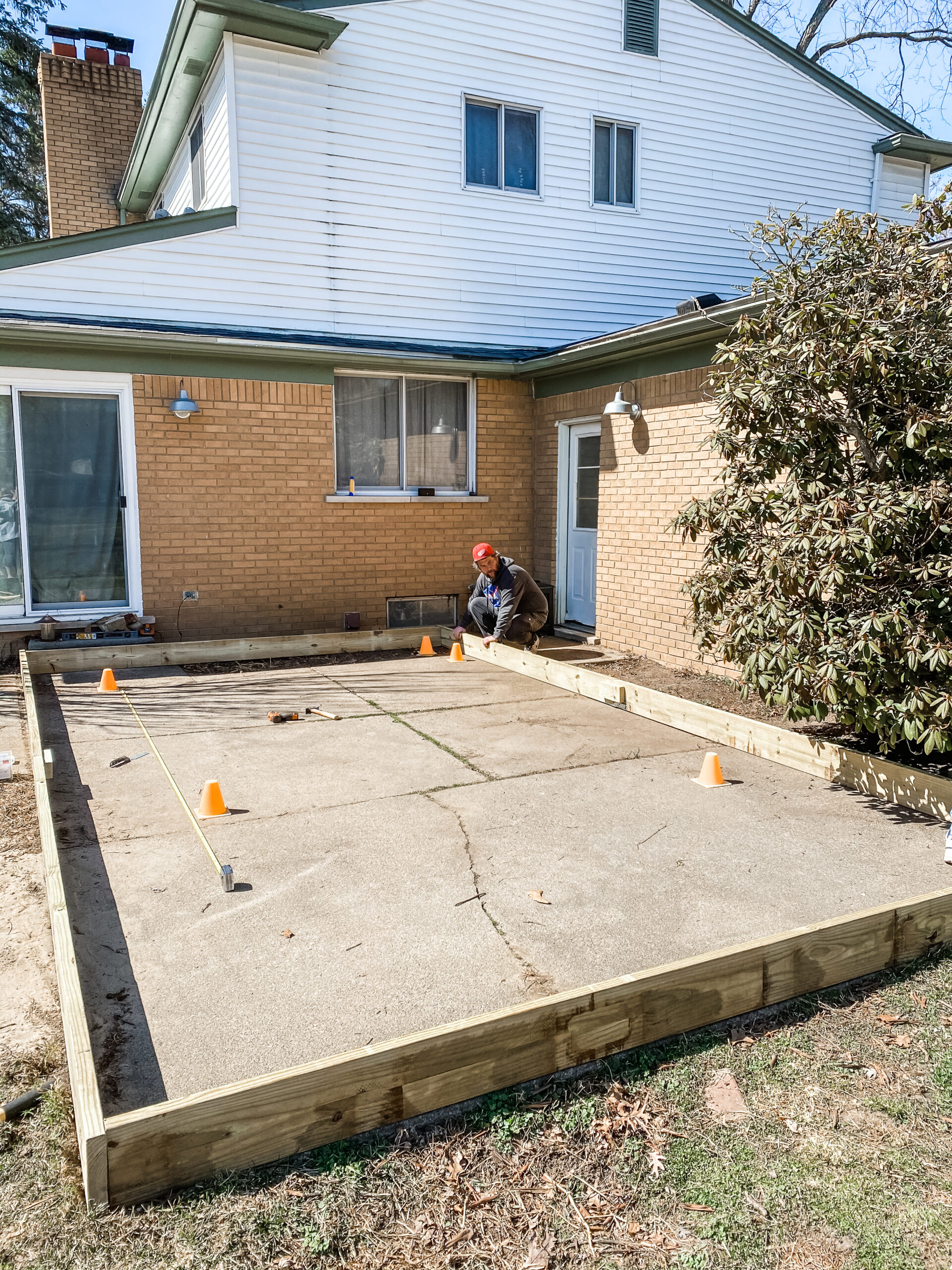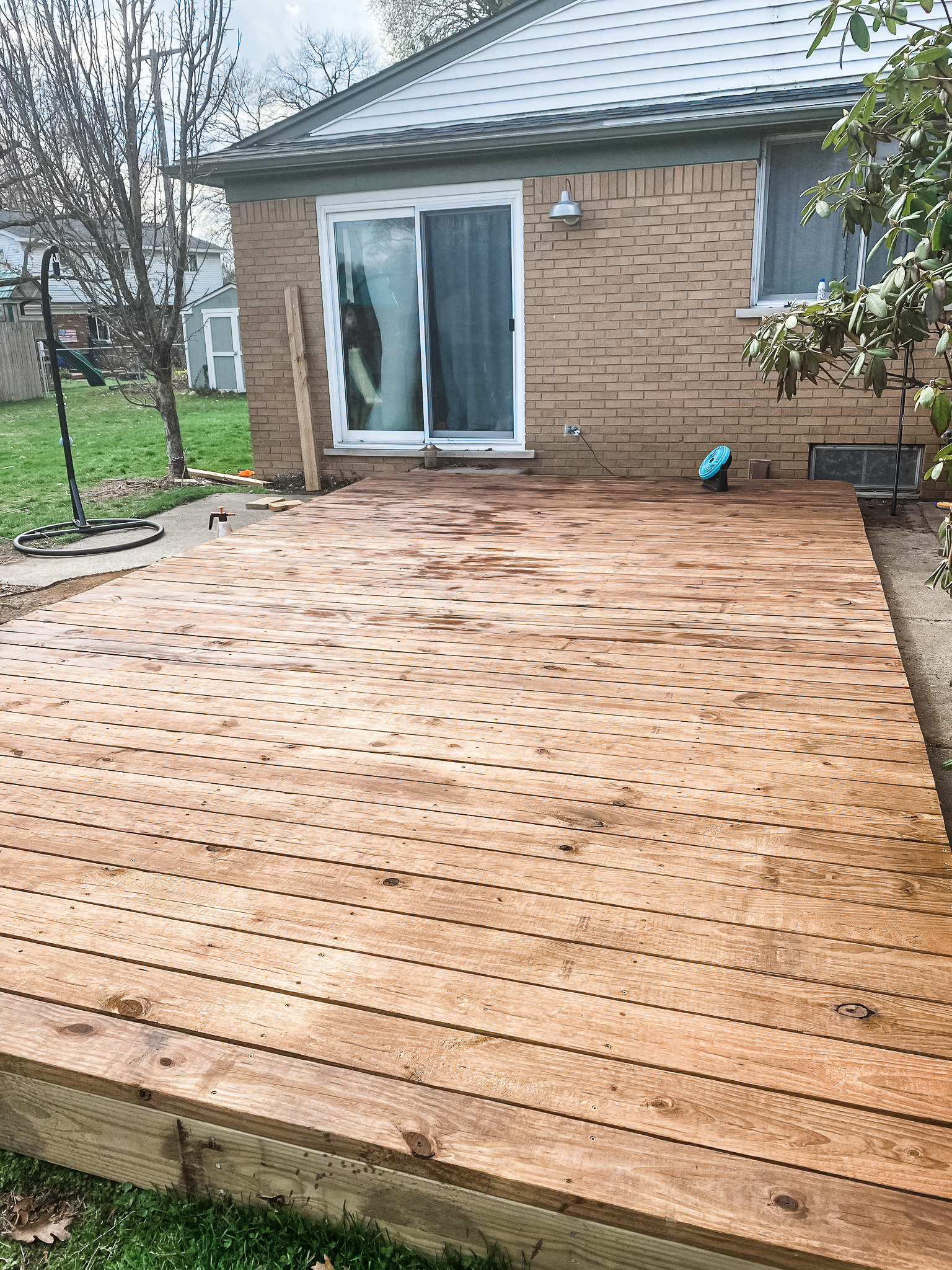 Once the deck was complete, we used a few coats of this wood preservative to treat the wood as well as protect it. It left the deck the perfect shade of brown. Next, it was simply a matter of building the pergola, and finding a spot for the furniture. Are you ready to see?
The After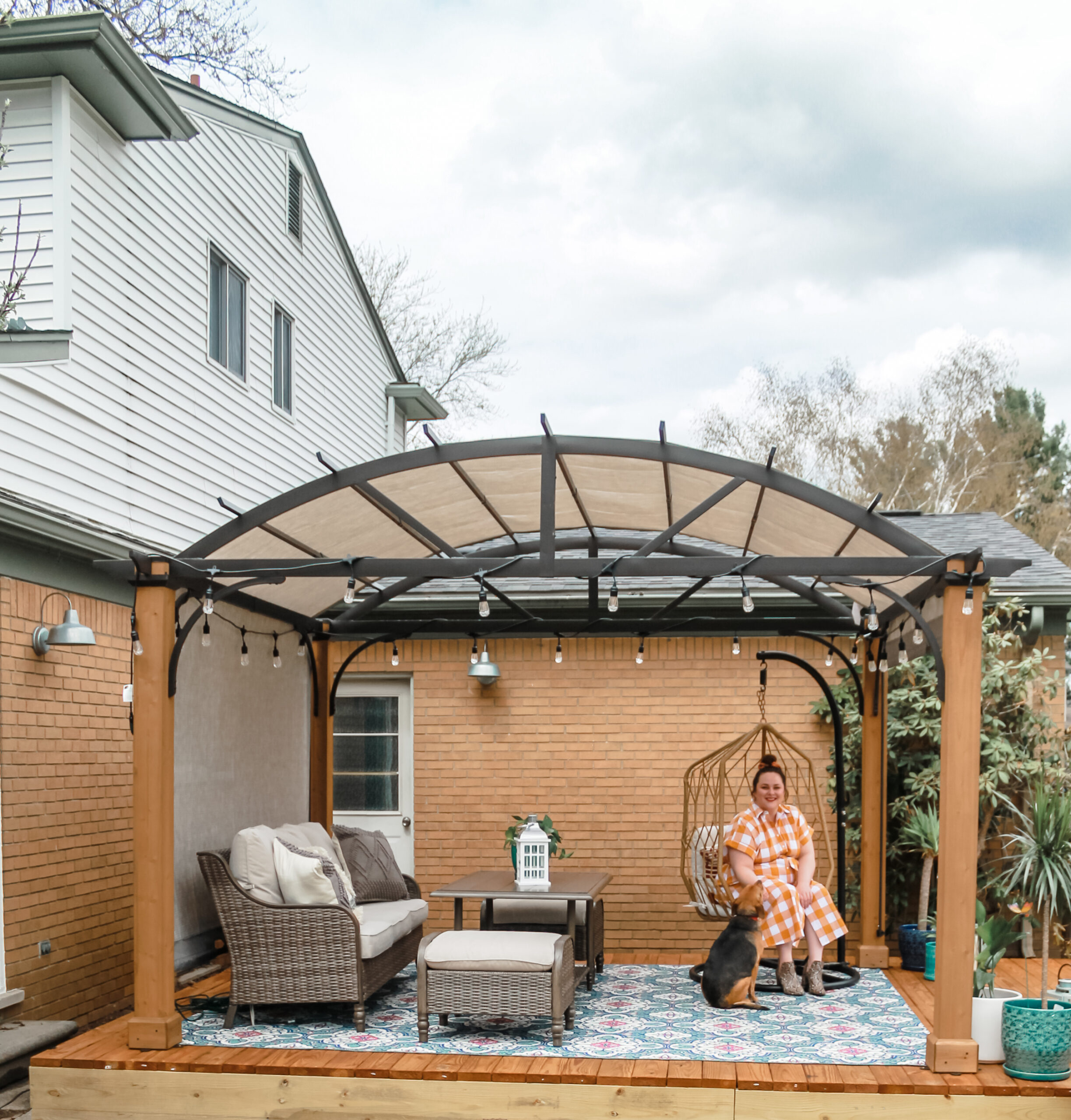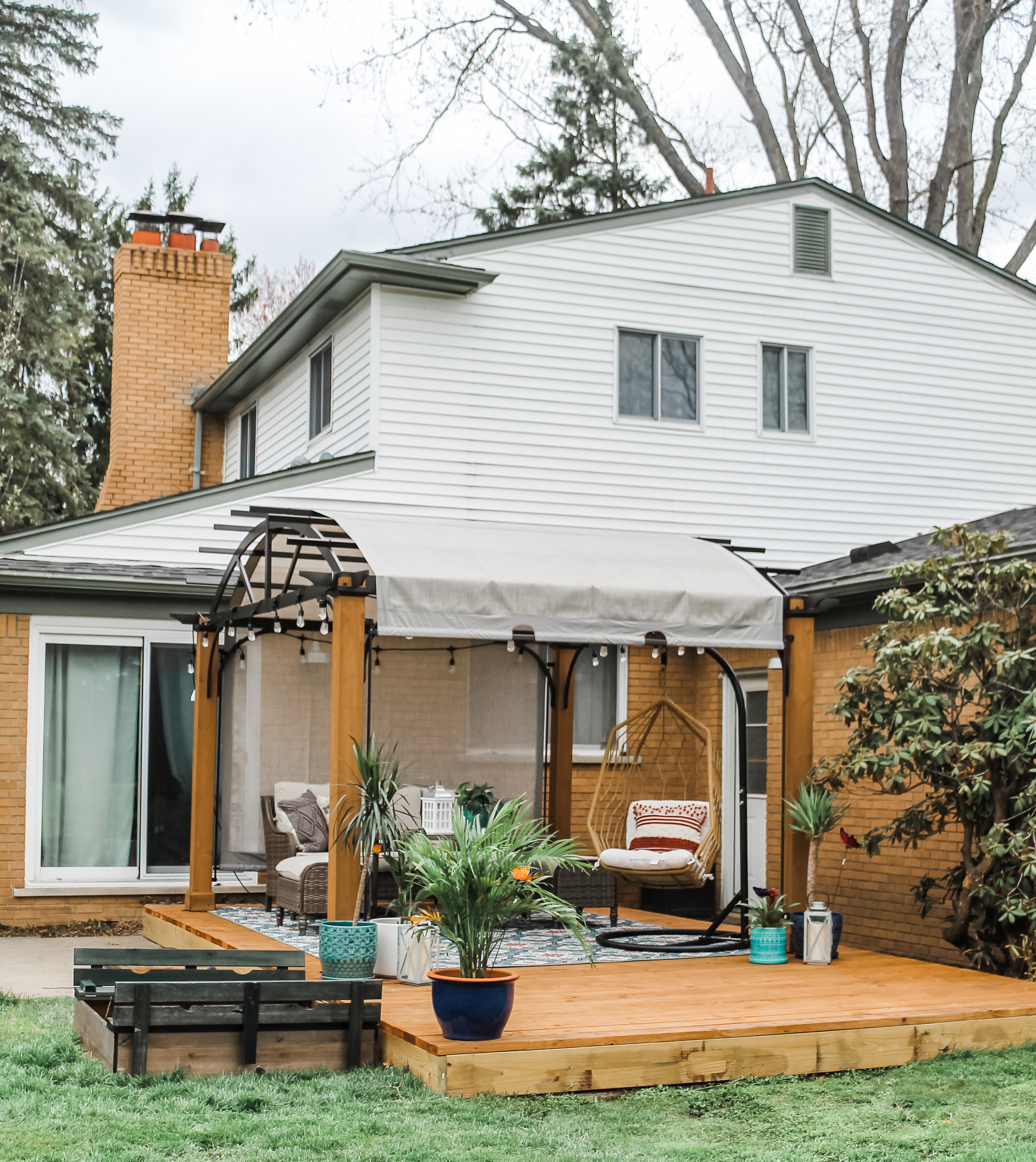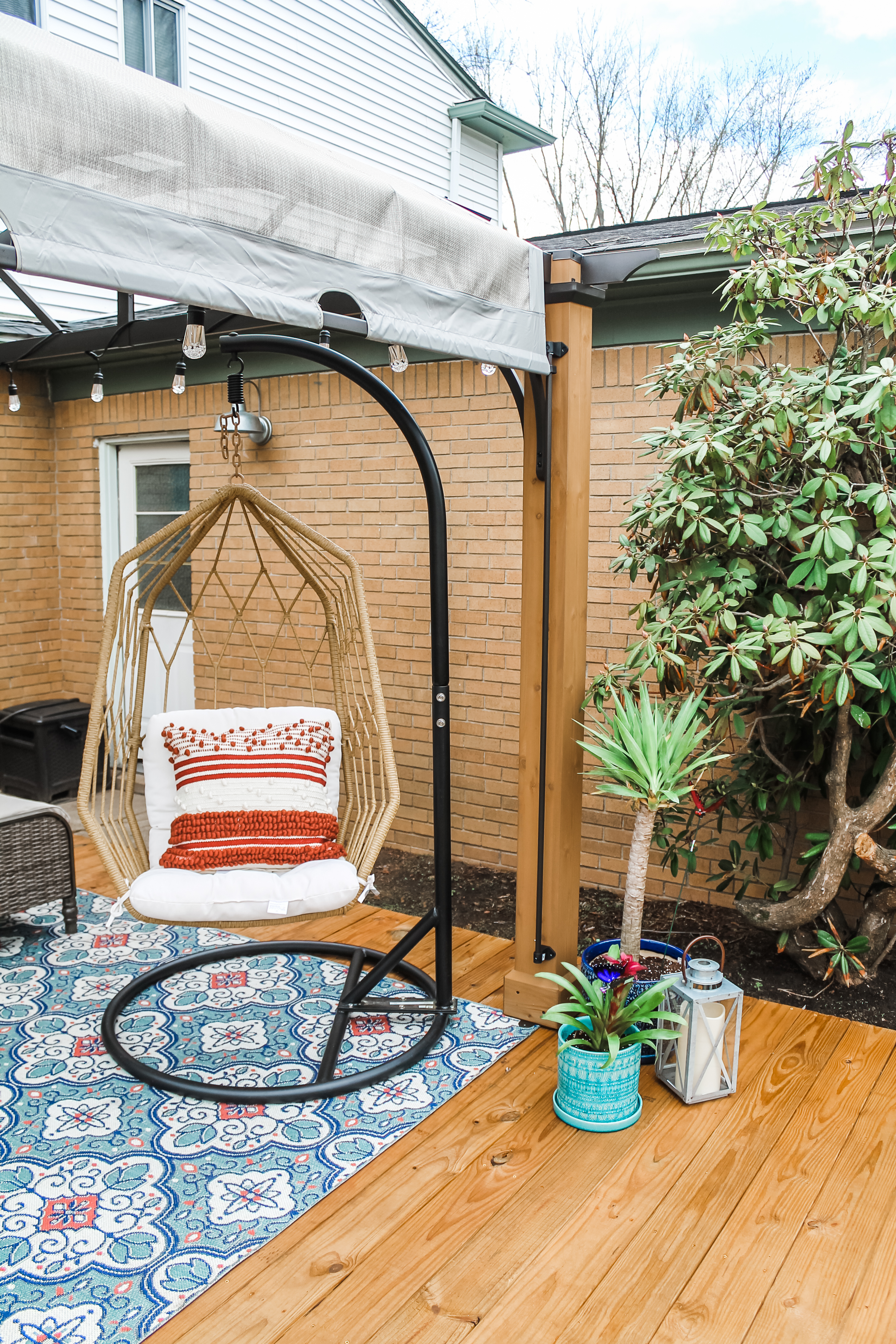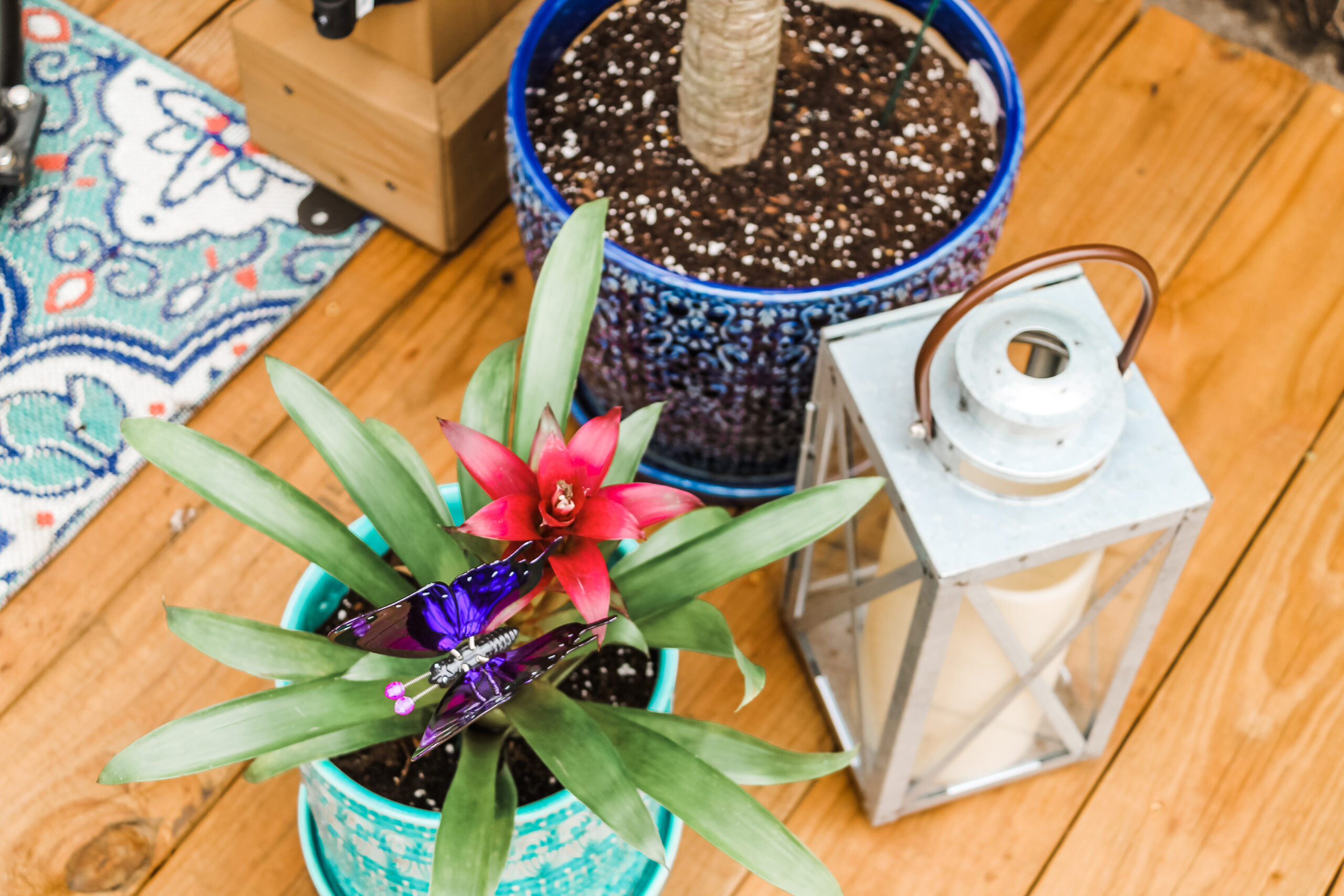 So what do you think? How'd we do? Let's take a look at this before and after comparison photo I made (because the transformation honestly blew my mind).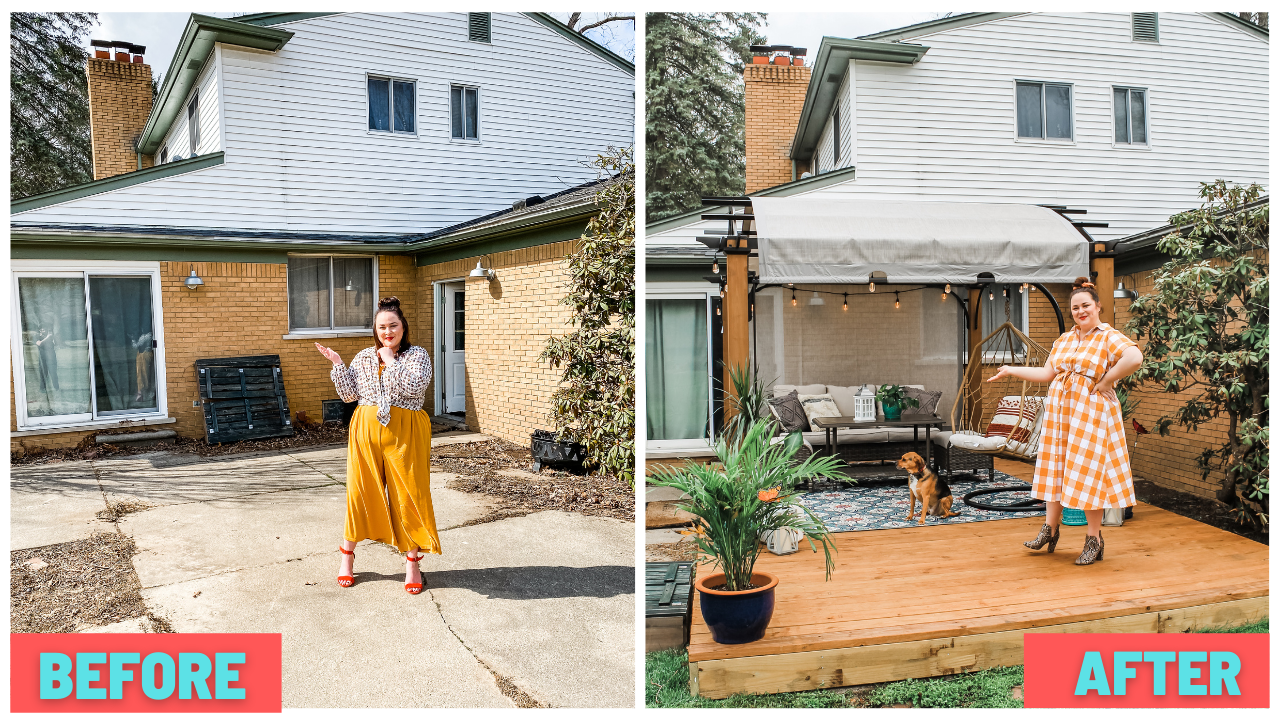 Pretty incredible, right? I'll be linking everything featured in this post below just in case you get inspired to start a home project of your own! And when planning make sure to use the Mobile App to keep track of purchases and your project – it makes it so simple! Now get out there and build your landscape! Be sure to check out the Home Depot Outdoor Project Page for more inspiration!
Links to Everything Used:
Wood Preservative (what was used to treat the wood)
Hampton Bay 10×12 ft Longford Wood Outdoor Patio Pergola with Sling Canopy
Windsor 6-Piece Brown Wicker Outdoor Patio Conversation Seating Set with CushionGuard (Putty Tan Cushions)
Tan Wicker Diamond Shaped Outdoor Patio Egg Chair
Planters
12 in Dia Blue Rivage Ceramic Planter
16 in. Matte White Cylinder Ceramic Planter
8 in. Dia Aqua Seven Seas Cylinder Ceramic Planter
8 in. Teal Florelle Kurv Ceramic Planter
Pillows
Knot Stripe Russet Outdoor Throw Pillow
Love this post? Pin it for later here: