A huge thanks to Cost Plus World Market for sponsoring today's post on How to Create a Functional Entryway!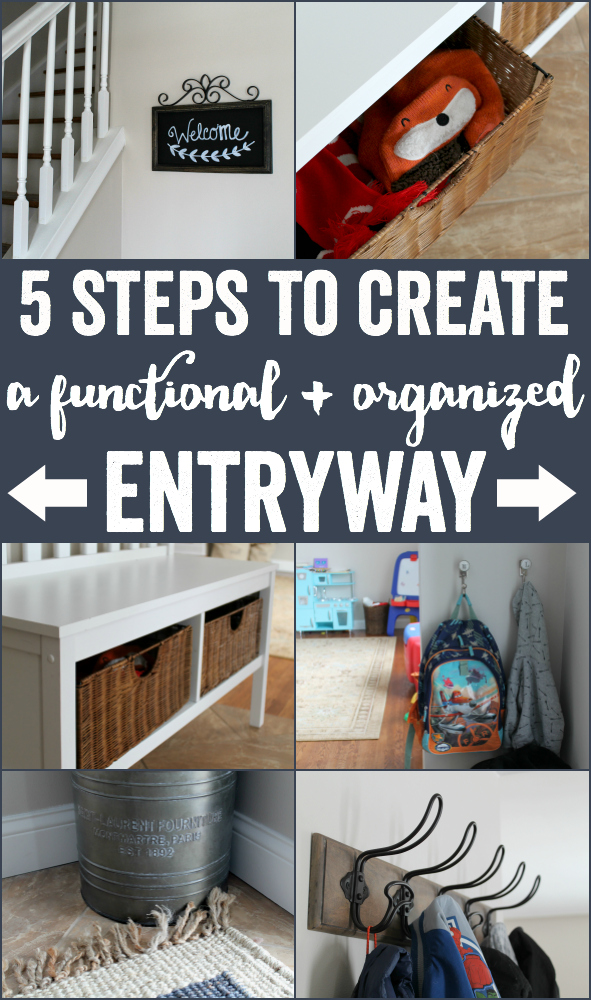 Hi, friends!
Hope you're having a fantastic day! I am SO excited about today's post because it's something I've been planning and working on for awhile. Right before the holidays, we purchased our first home and moved in. Right after that, Wyatt got sick, and things got really crazy – so we hadn't been able to unpack and really set everything up. One things began to settle down a bit, I started working on how to create a functional entryway in our home.
I knew I wanted it to be a space that was organized and kid-friendly. Somewhere the boys could store their hats, gloves, coats, sit down to take off their shoes, etc. So I put a lot of thought into how different elements were arranged, and I was careful when choosing the pieces we wanted. I'm happy to say that we are officially done, and I can't wait to show you!
Here is the entryway before: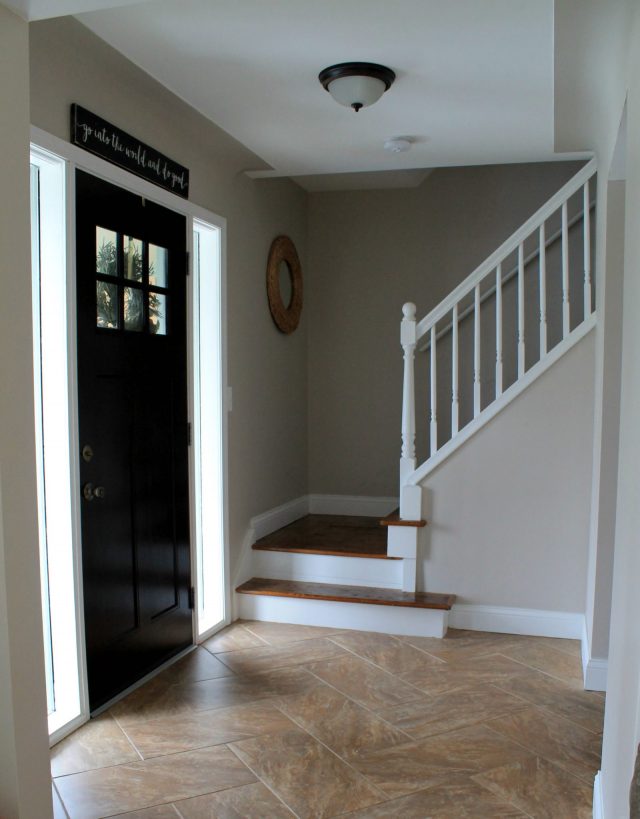 Pretty basic, right? All I had hung up was a small sign over the door and a round mirror at the bottom of the staircase. The area needed a lot of work, so I put together a plan to make the best use out of this small space, and make it as functional as possible.
How to Create a Functional Entryway
Step One | Find the Right Rug
Not going to lie, this rug is my FAVORITE part about the space. It's the Navy Bordered Woven Jute Area Rug from World Market, and I fell in love with it the minute I saw it. My boys are messy, and they track in a lot of dirt, so I knew I'd been shaking the rug a lot, and vacuuming, I needed something super-durable that could withstand these little ones. And this rug is just perfect! It's very thick and sturdy, I can take it outside, shake it off, and it's good to go!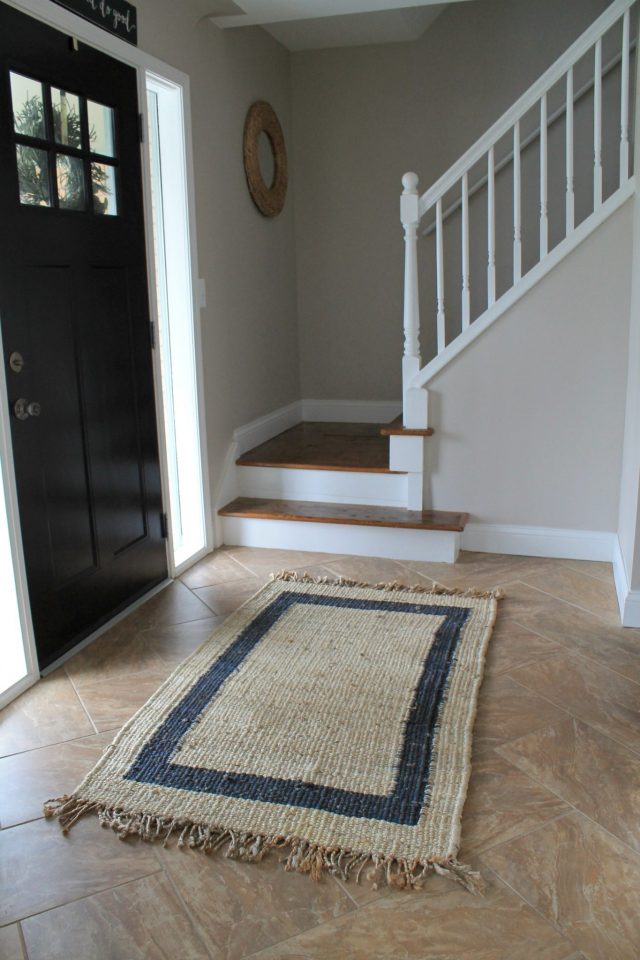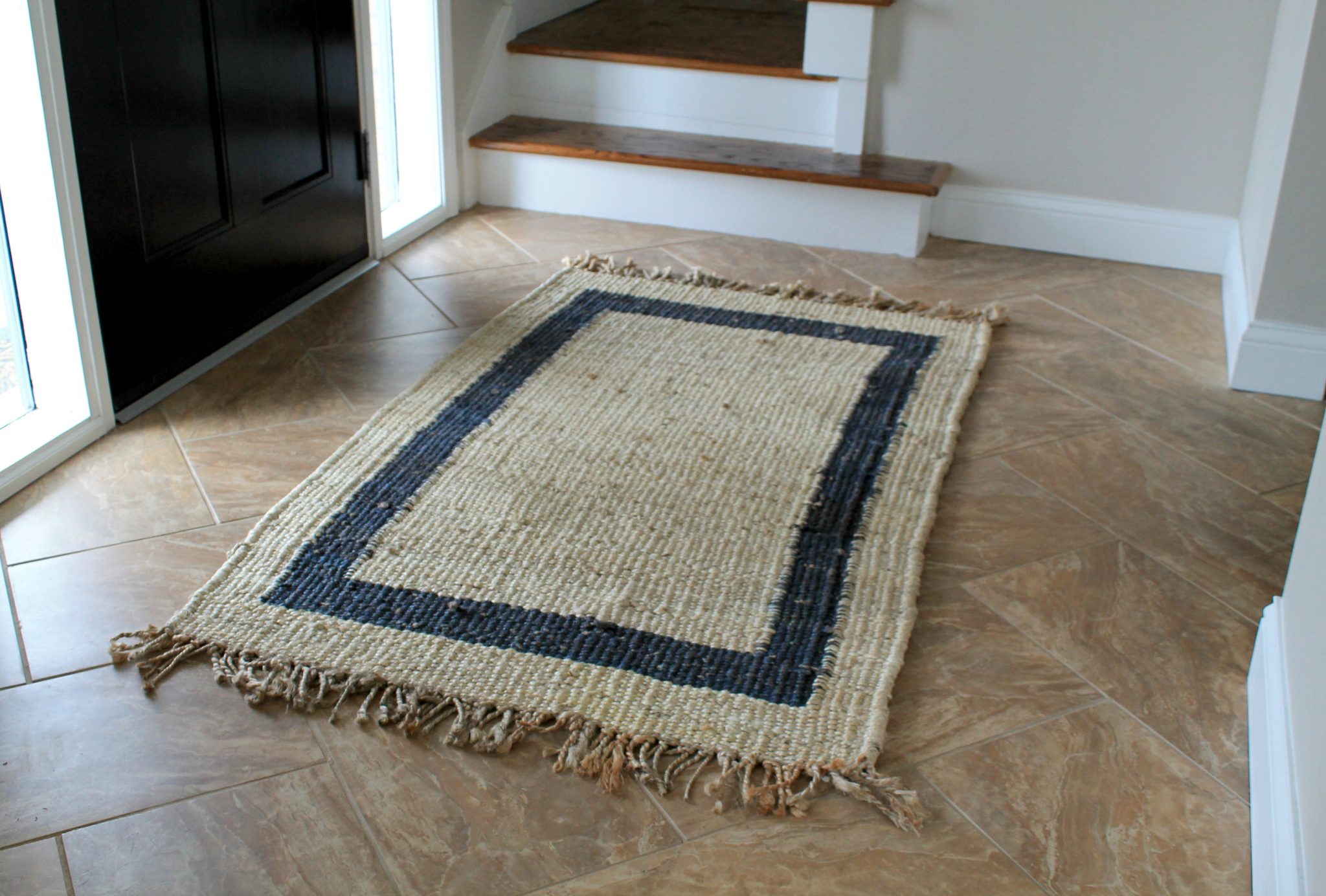 Step Two | Create a Seating Area
This part was tricky, because I wanted somewhere William and I could sit, and somewhere that was kid-friendly that the boys could sit as well. I knew I wanted a bench with storage, so when I spotted the White Oakdale Storage Bench,  I had to have it! It houses adorable baskets (baskets come with the bench), that are fairly large and offer the perfect amount of storage for winter hats, gloves, and scarves.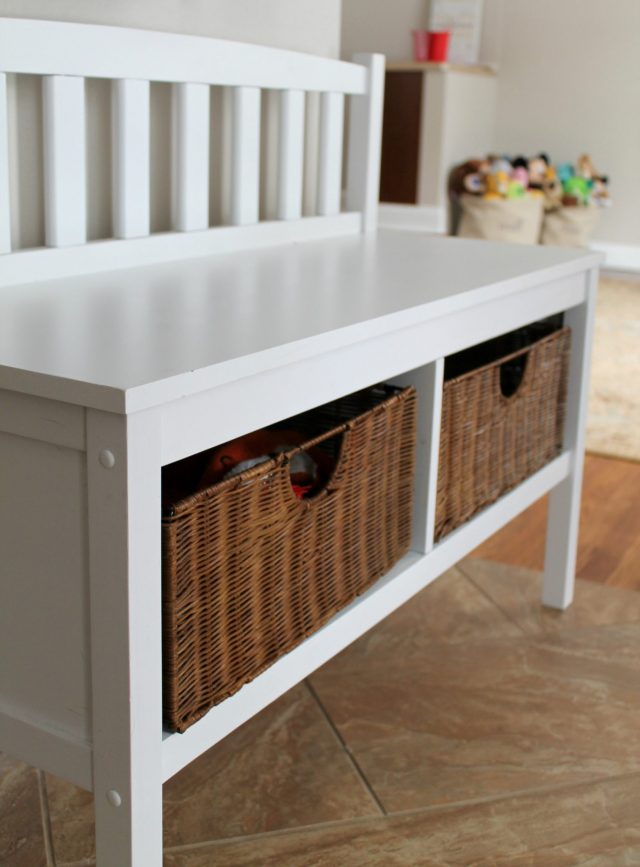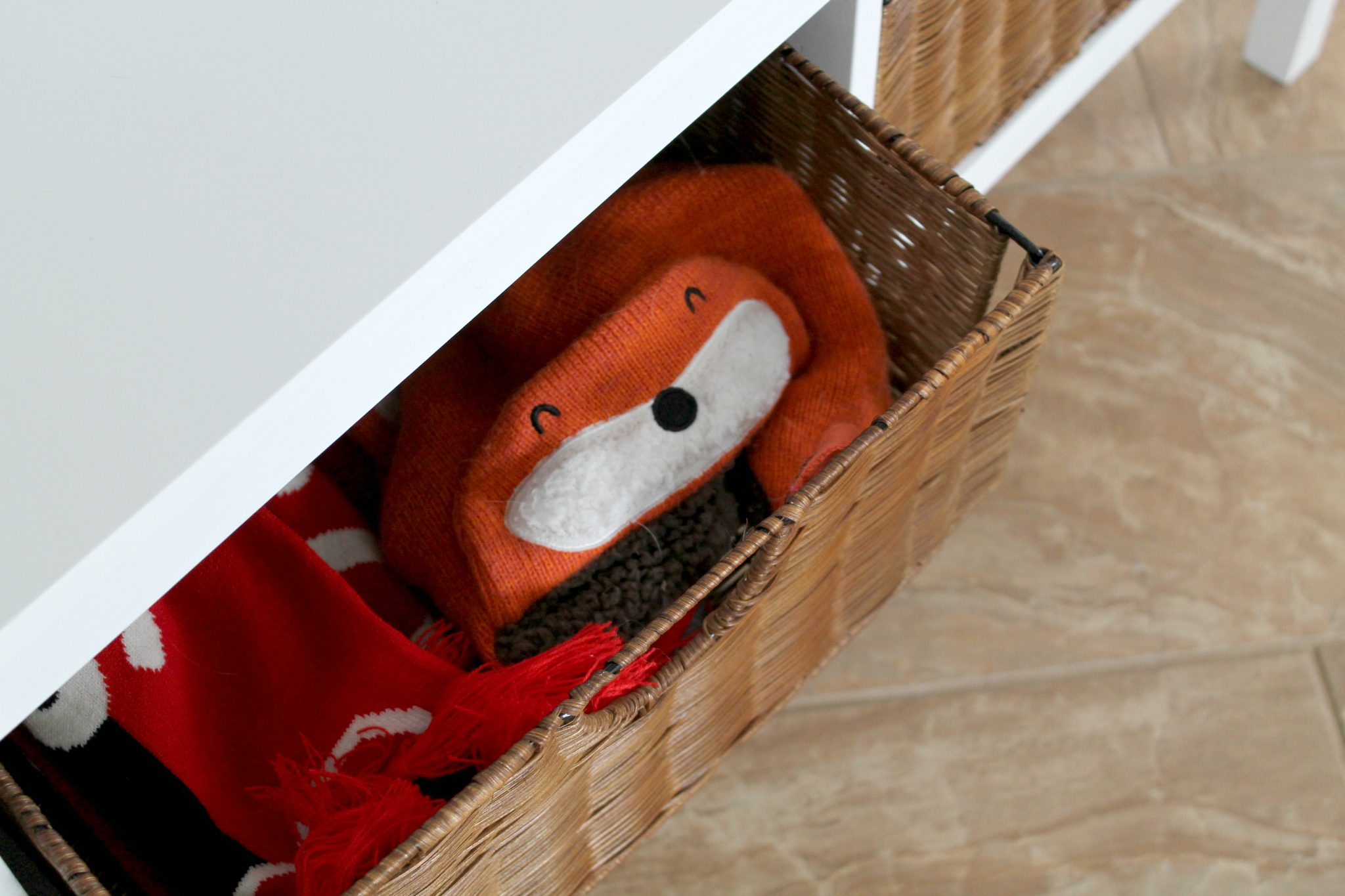 We also got a Metal Jackson Tub Chair, so when we all come in the house at the same time, the boys can go to the bench to remove shoes, etc. and William and I can use this seat. I am just so in love with it! It's got that amazing rustic, farmhouse look that I just absolutely adore, don't you think? Plus, it's easy to wipe clean!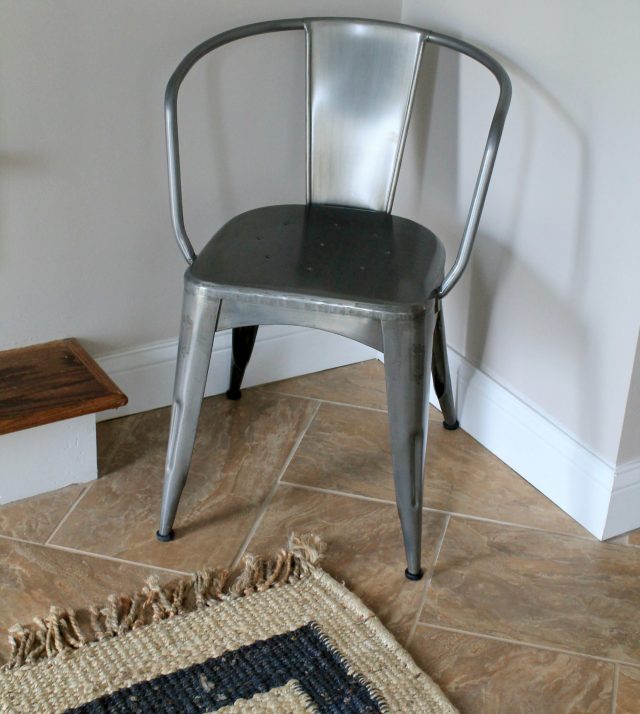 Step Three | Create a Place to Hang Your Hat
Living with all boys means you'll be constantly picking up baseball hats, and coats, and jackets, and sweatshirts, etc. And, my friends, let me tell you that this drives me crazy. I wanted to find something that had multiple hooks. I loved this Industrial Wall Rack because it has just that! Now when we come in the door, everything has a place. I even hang my purse here!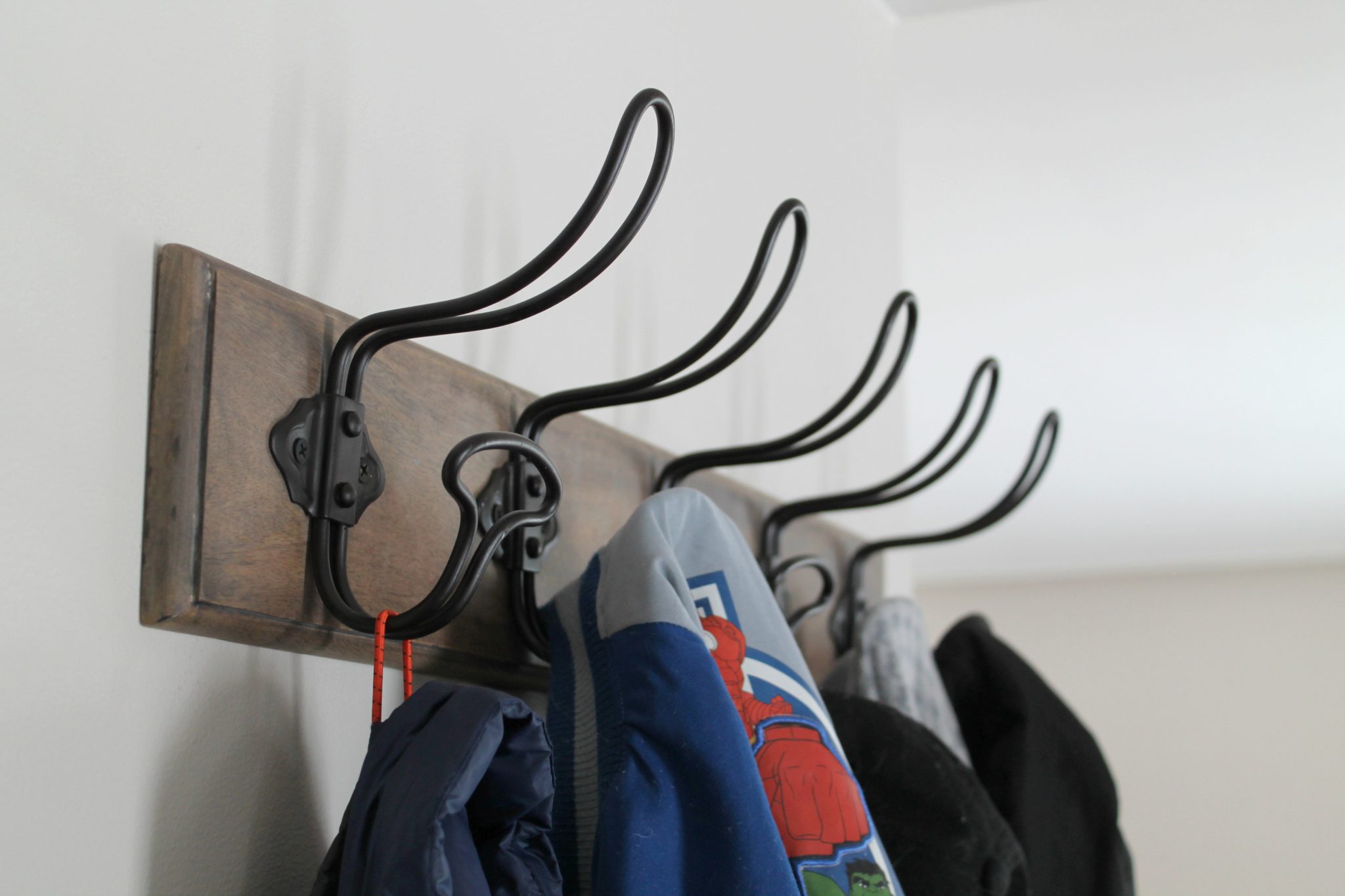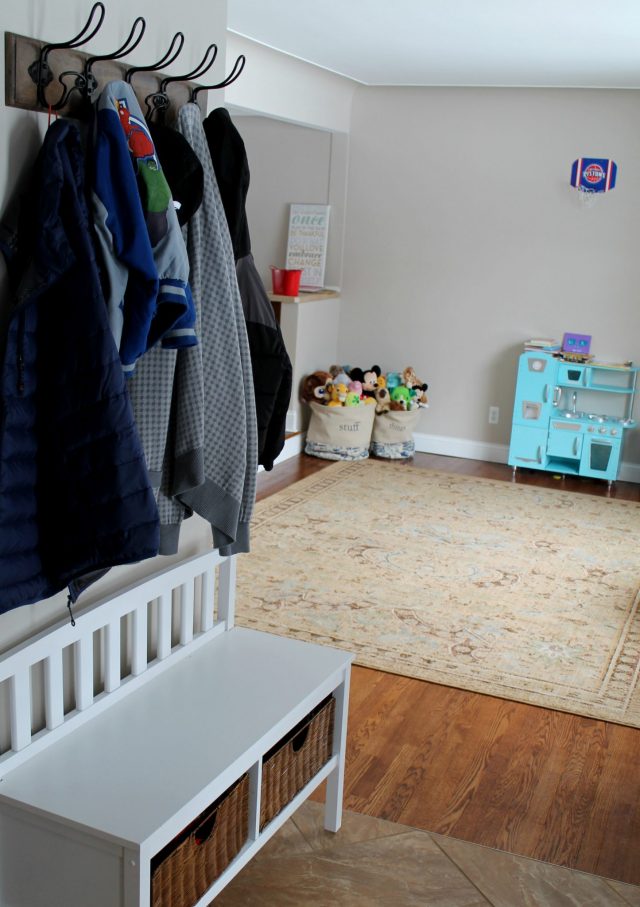 And because my little guys can't quite reach these hooks, we added in these adorable Monogram Letter Hooks at a lower level so they can hang their coats, and backpacks with ease! Both Wyatt and Levi LOVE finding their letter when they walk in the door to hang their items.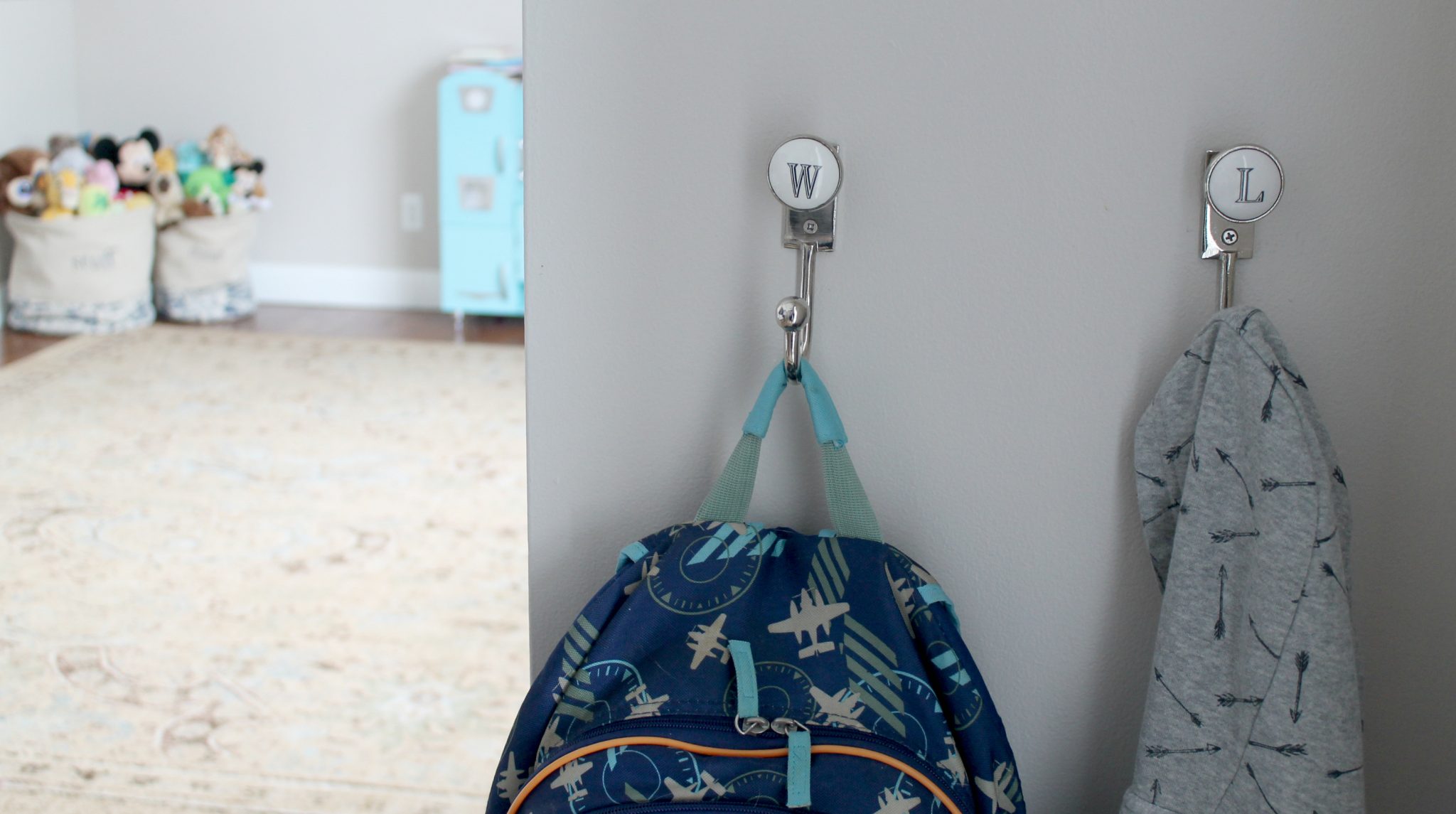 Step Four | Add somewhere to Kick Off Your Shoes
Having something by the front door to catch shoes is a big deal for us. We have two pups and leaving our shoes out and about is just asking for trouble. Plus, the playroom we've set up for the boys is right near the entryway so the area gets a lot of traffic. I wanted to make it easy for the boys to just throw their shoes into this Embossed Metal St. Laurent Trash Can. I love that its a little heavy, you can easily wipe it off, and it's got that cute French style. A win-win-win!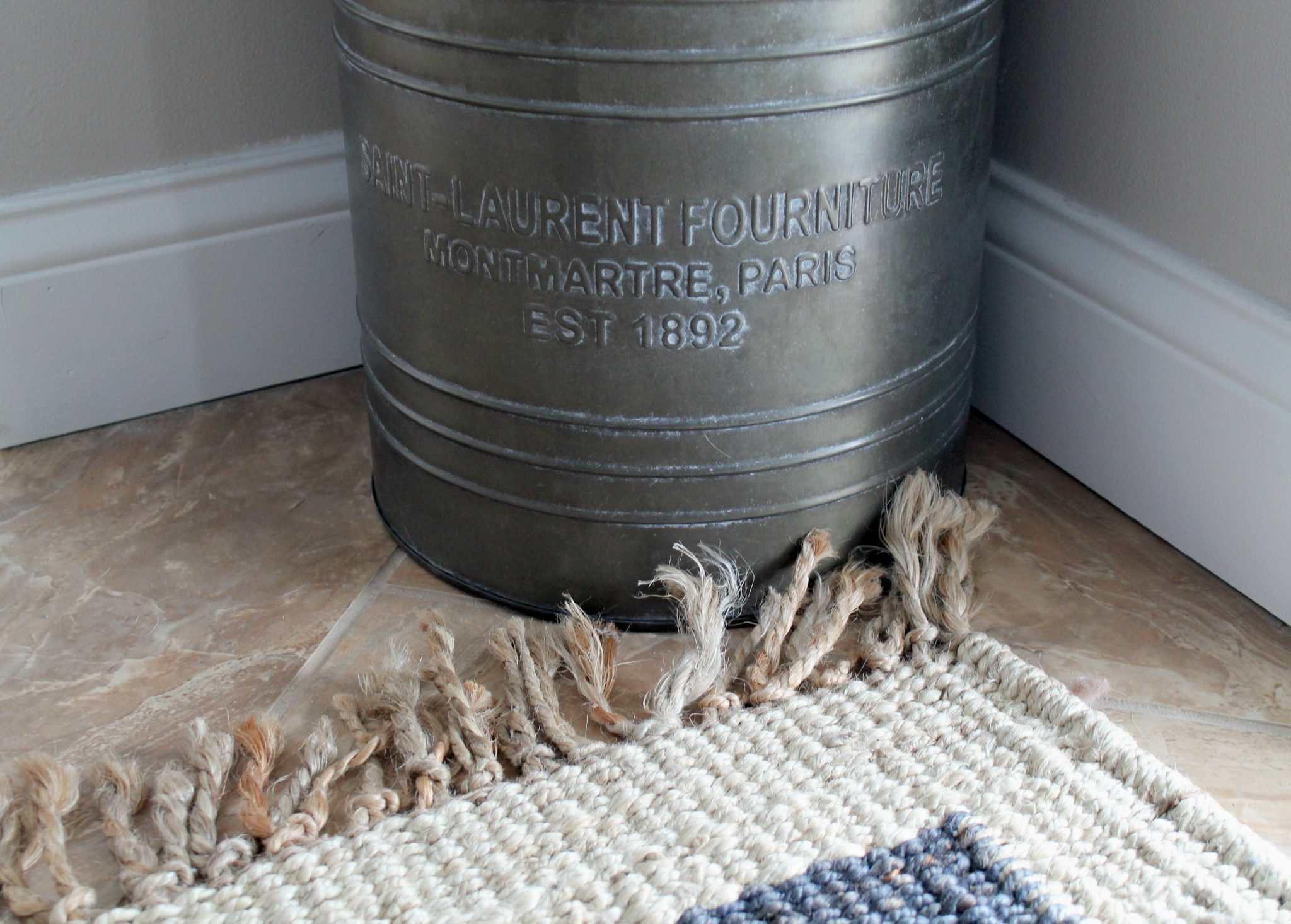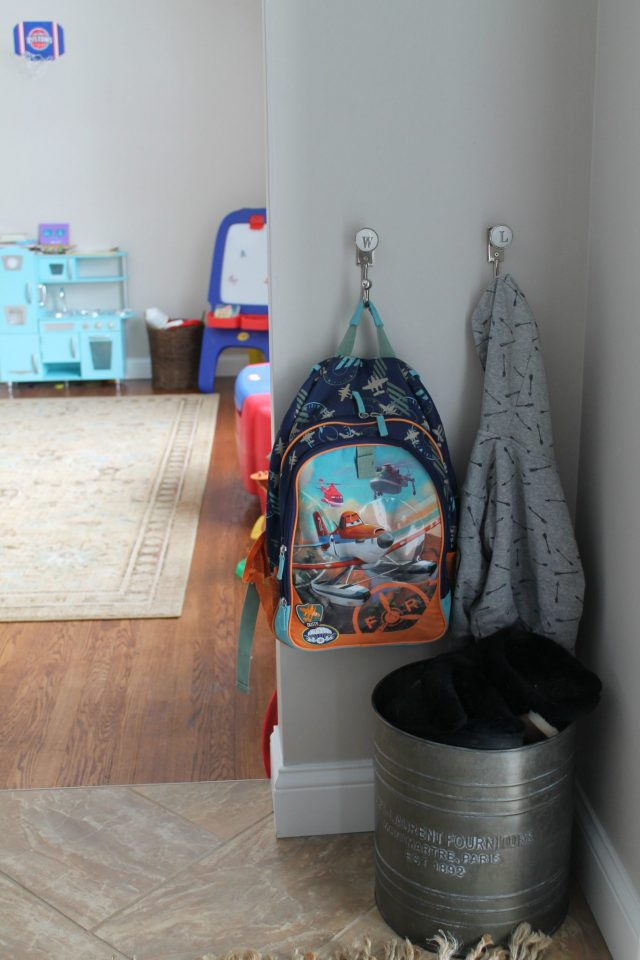 Step Five | Hang a message board
A message board is a fun way to both take notes and leave inspiring messages for your family and friends. I just love this Chalkboard Wall Plaque and it's gorgeous scrolled metal top. Right now ours just says "Welcome" but I can't wait to change it up with the seasons – and record some of my favorite quotes on it. I picked up an erasable chalkboard pen from the craft store and plan on using a piece of a velcro strip to stick it right to the bottom or side of this board for easy access.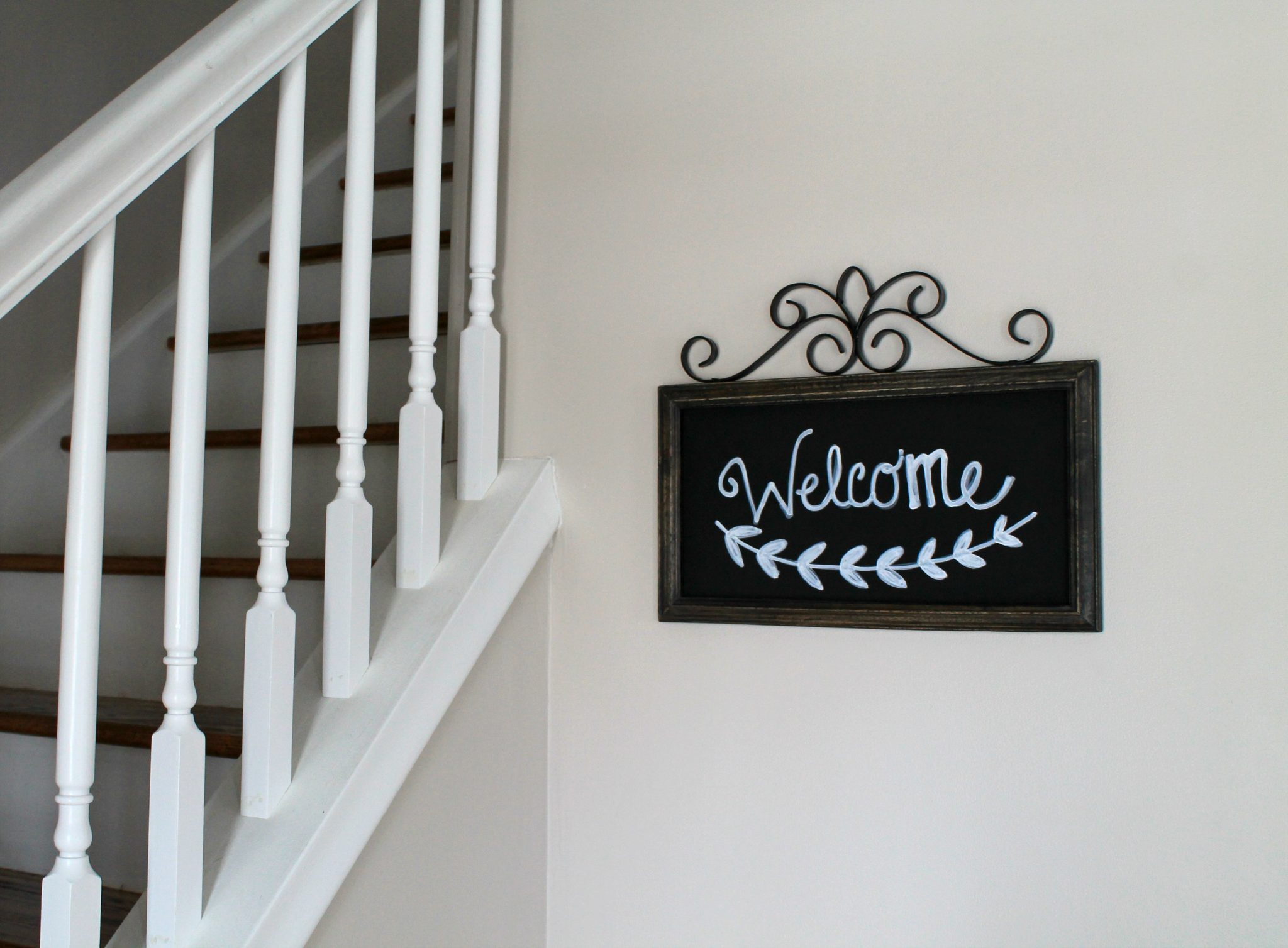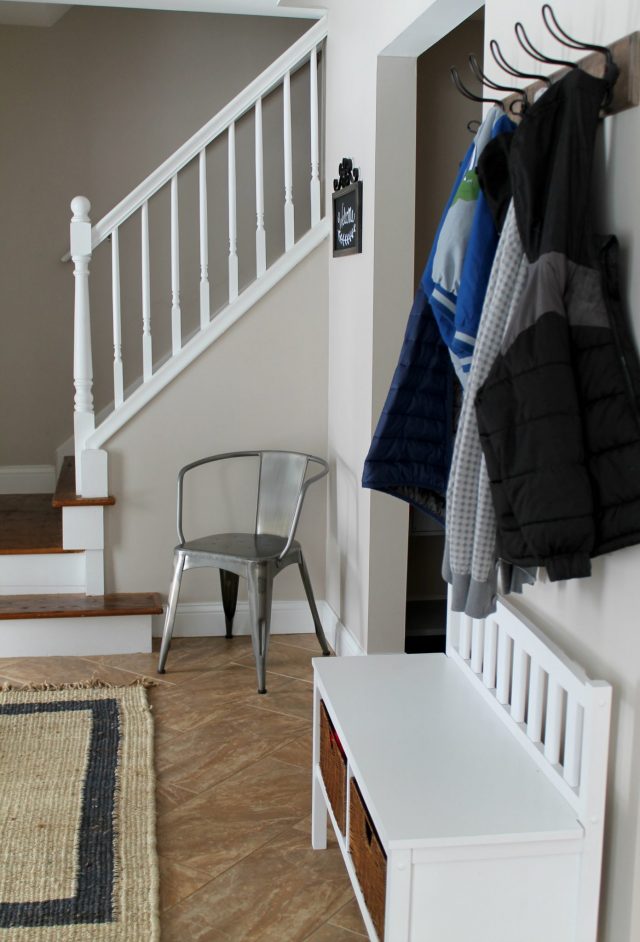 And because everyone loves a good "before" and "after" photo..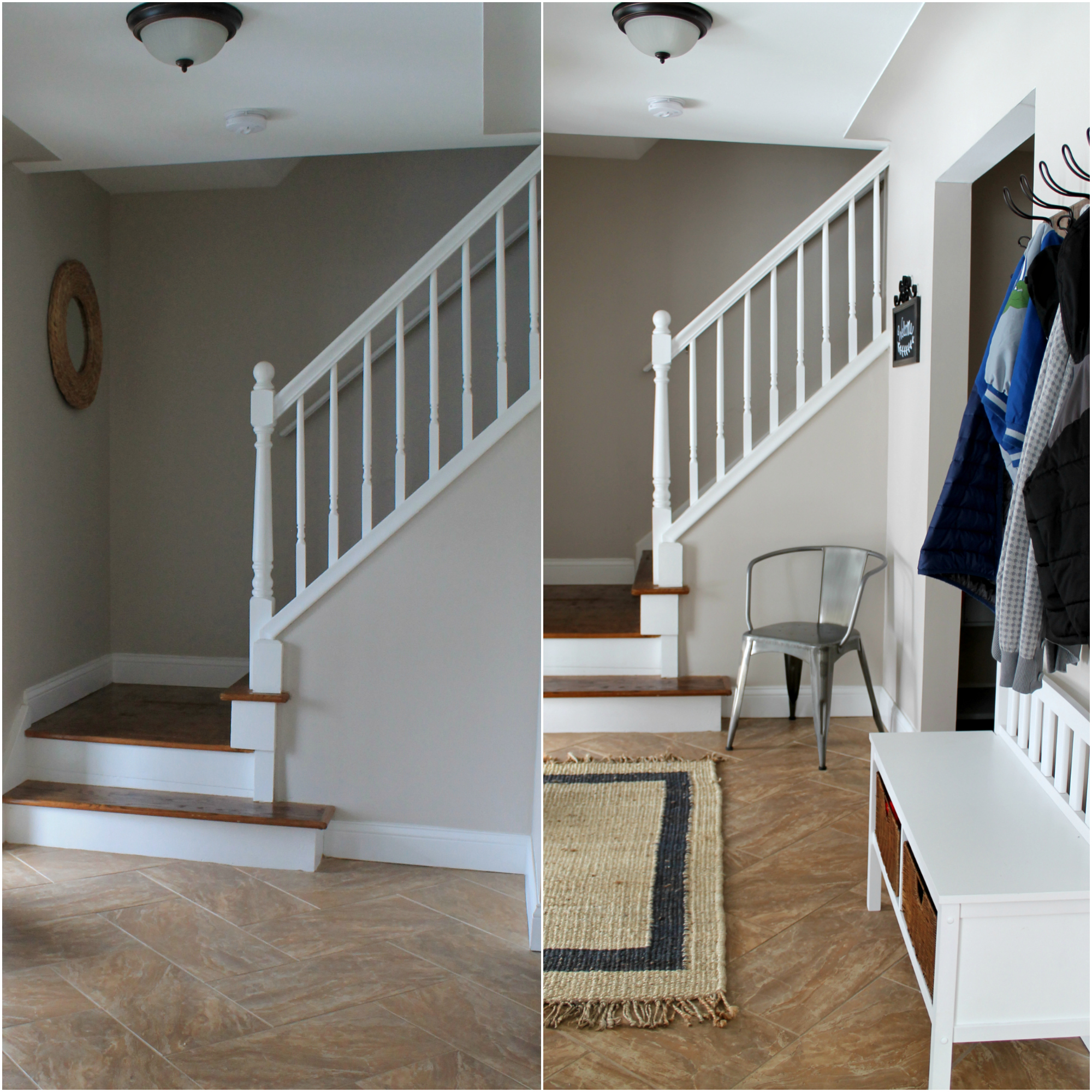 So, what do you think? Is there anything you'd add/change?
Do you have tips on How to Create a Functional Entryway?
Share your thoughts below!
Items Used: Navy Bordered Woven Jute Area Rug | White Oakdale Storage Bench | Metal Jackson Tub Chair | Industrial Wall Rack | Monogram Letter Hooks | Embossed Metal St. Laurent Trash Can | Chalkboard Wall Plaque
Don't forget to Pin this post for later: