The Kendall Rayburn Blog is a participant in the Amazon Services LLC Associates Program, an affiliate advertising program designed to provide a means for sites to earn advertising fees by advertising and linking to Amazon.com. Thank you for shopping this ULTIMATE list of Clubfoot Baby Must-Haves!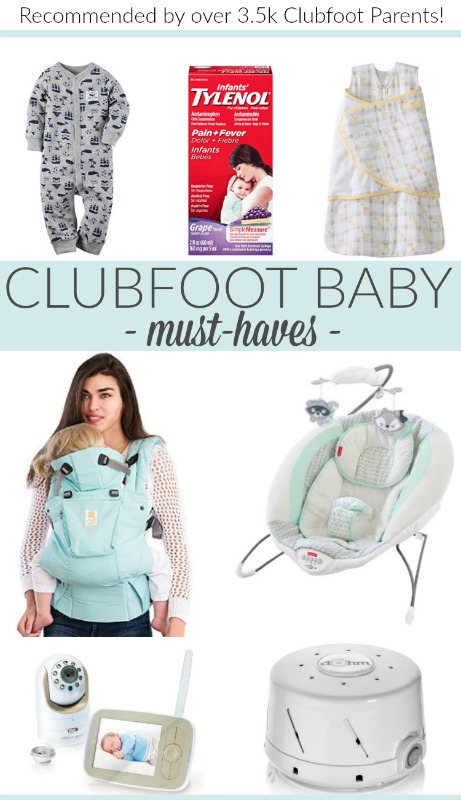 Hello, friends!
Hope you're having a great day! As you may know, my little guy Levi was born with Clubfoot. When we got his diagnosis, we weren't sure what we would need, or what the essentials were. On a whim I created a Facebook group for other moms to chat, inspire, and share our daily lives raising a child with Clubfoot. It's called Clubfoot Mommas and it currently has over 3,500+ members! ALL of the members of this group have a very personal connection with clubfoot, 90% are raising a little one with Clubfoot currently.
I polled the members of our group and we compiled a list of our must-have items! Man, I wish this would have been available back when Levi was first born! It's so difficult to prep for a new baby, but having a list of items that have been used and trusted by other people going through the exact same thing you are is flat-out handy! If you're currently awaiting the arrival of your clubfoot cutie, be sure to use this list to map out your registry! And please, connect with Clubfoot Mommas on Facebook and Instagram!
Clubfoot Mommas Must-Have List:
Clothing:
3 | Leg Warmers
4 | Halo SleepSacks
Books:
7 | The Parents' Guide to Clubfoot
8 | My Baby Brother has Happy Feet
9 | My Little Sister has Happy Feet
10 | My Clever Night-Night Shoes
11 | Trust Your Melody
Medicine Cabinet:
12 | Infants' Tylenol
13 | Infants' Motrin
14 | Baby Powder
15 | Coconut Oil
16 | Gripe Water
17 | Gas Drops
18 | DuoDerm
Gear:
19 | Tiny Love Rocker
20 | Fisher Price Moonlight Meadow Deluxe Bouncer
21 | Fisher Price Rock and Play
23 | LileBaby Carrier
24 | Moby Wrap
26 | Fisher Price My Little SnugglePuppy Cradle and Swing
27 | DockATot
28 | White Noise Machine
29 | Car Seat Strap Covers (can be used to cover bar on boots)
30 | Safety Monitor
Are YOU a Clubfoot Momma (or Dad) who has something to add to the list?
Drop us a link so we can update our list!
Pin this list for later here: