This post is sponsored by Carter's; however, all thoughts and opinions expressed are my own. Keep reading to see our list of the Best Bedtime Books for Kids!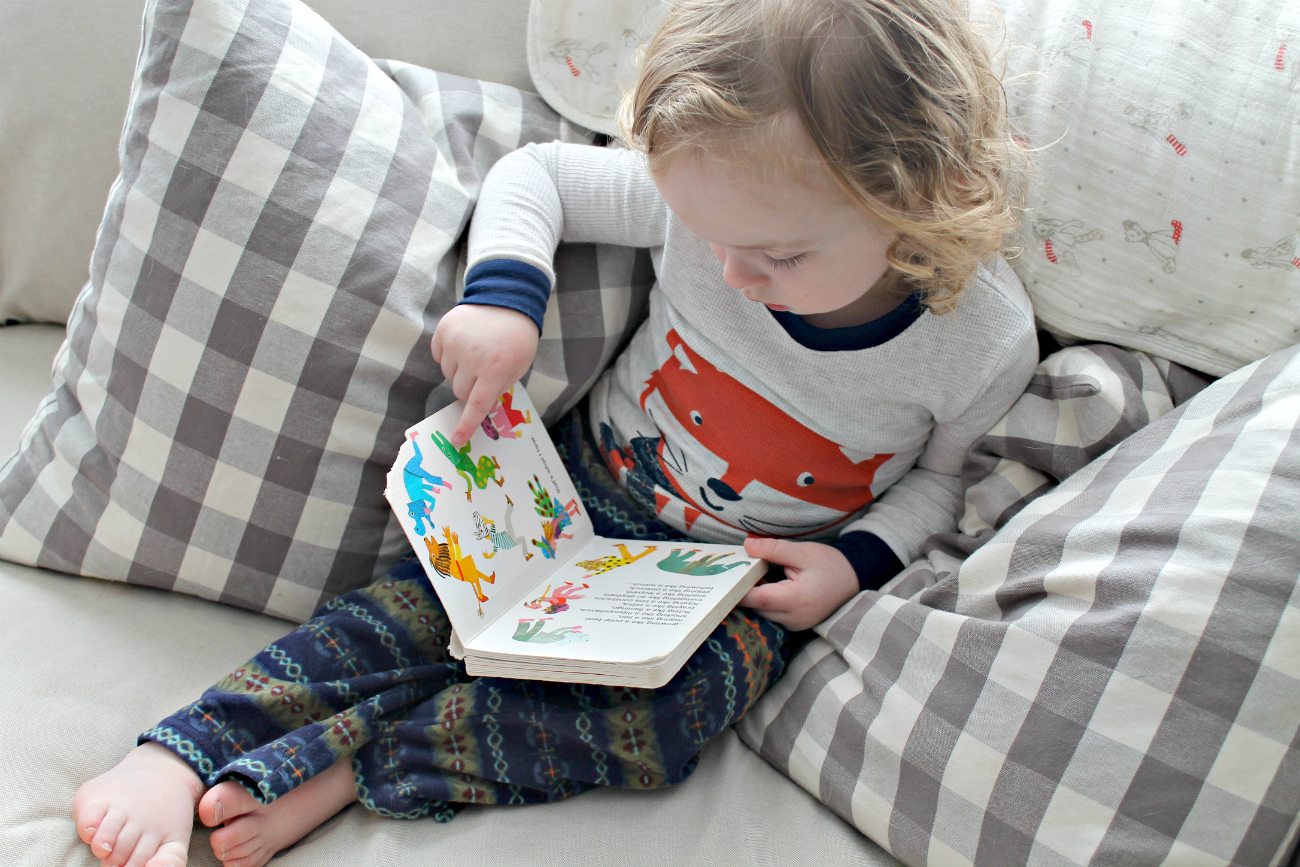 Ah, how I love when the seasons change. The air gets colder, and the cozy blankets come out. But one thing I look forward to every year is FLEECE PAJAMA TIME for my boys. Because, let's be honest, snuggling up with your little one in footie pajamas is nothing short of magical, am I right?
Each season we head to Carter's to stock up from their pajama shop. I shared the photo below on Instagram from the day we shopped for new pajamas for our little guys. We decided to go while Wyatt was at school so we could have a little date with Levi.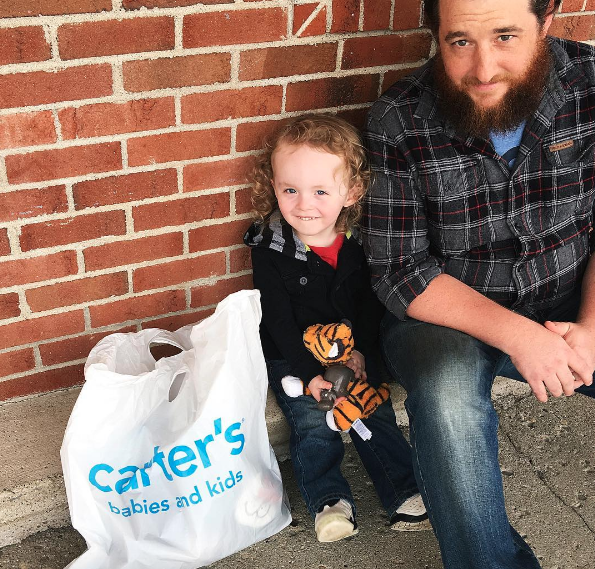 We love shopping at Carter's because they offer a variety of styles – from snuggly one-piece PJs to printed 2-piece sets, to 4-piece options. Levi was born with Clubfoot and is still in his boots and bar during the night, so we love putting him to bed in the 2-piece sets to keep him nice and warm in the winter.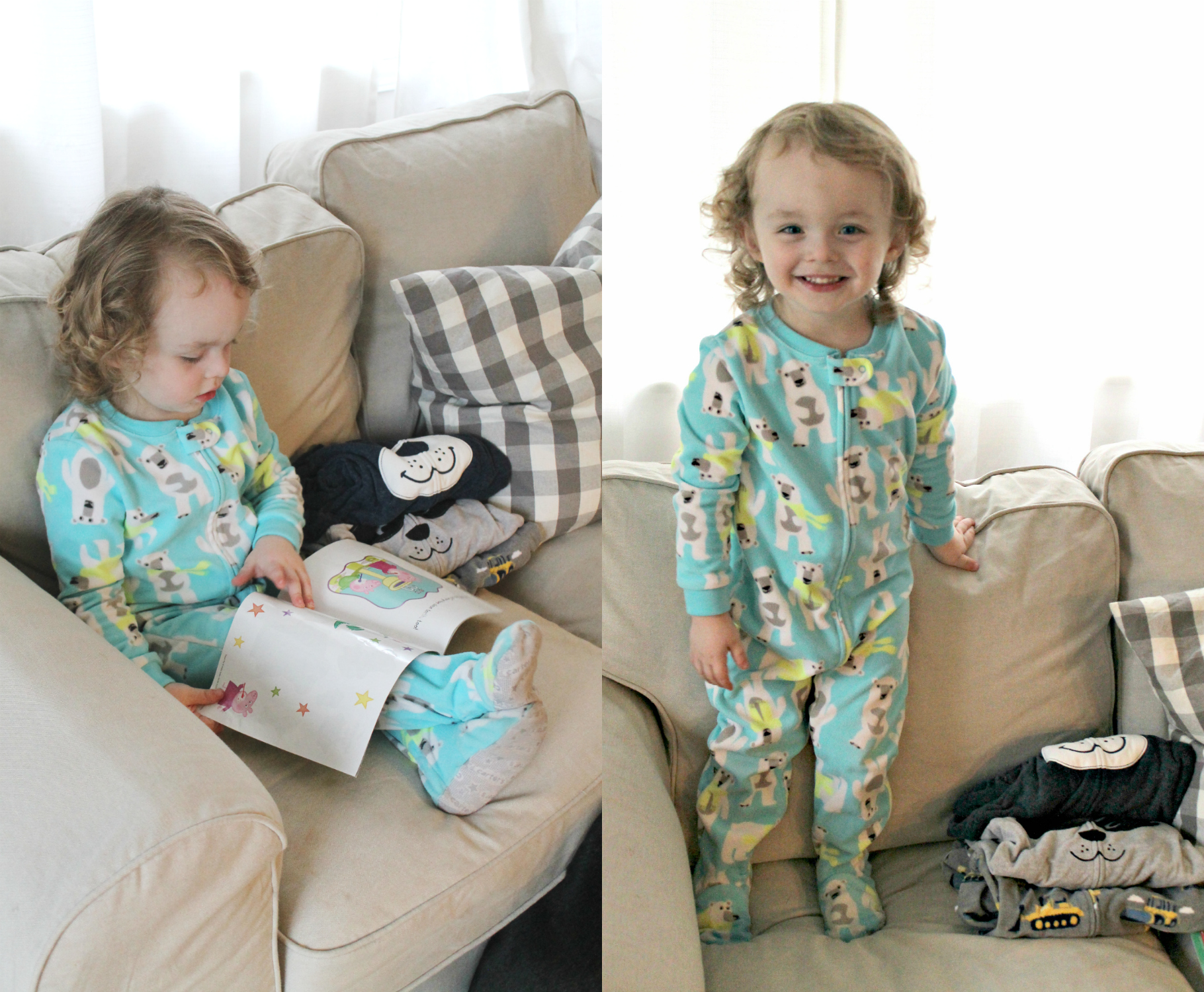 Levi was VERY excited about all of the fun animal patterns, the blue polar bear PJ's are now his favorite! This kid is just like his momma, animal obsessed. All of his favorite books have animals in them, too – so he's always requesting to read books that tell stories involving bears, hippos, cats, just any animal!
Reading is something we do a lot of in our home, especially at night time. Reading for us is a great way to re-connect, snuggle up, and just breathe. It settles everyone down and gets both boys nice and relaxed. After their bath, they both get dressed in their soft fleece pajamas, hop into their beds and wait to read their stories. Sometimes we all meet in Levi's room, or Wyatt's room, or our big bed – it depends on the night. But it's a family activity that we look forward to each night.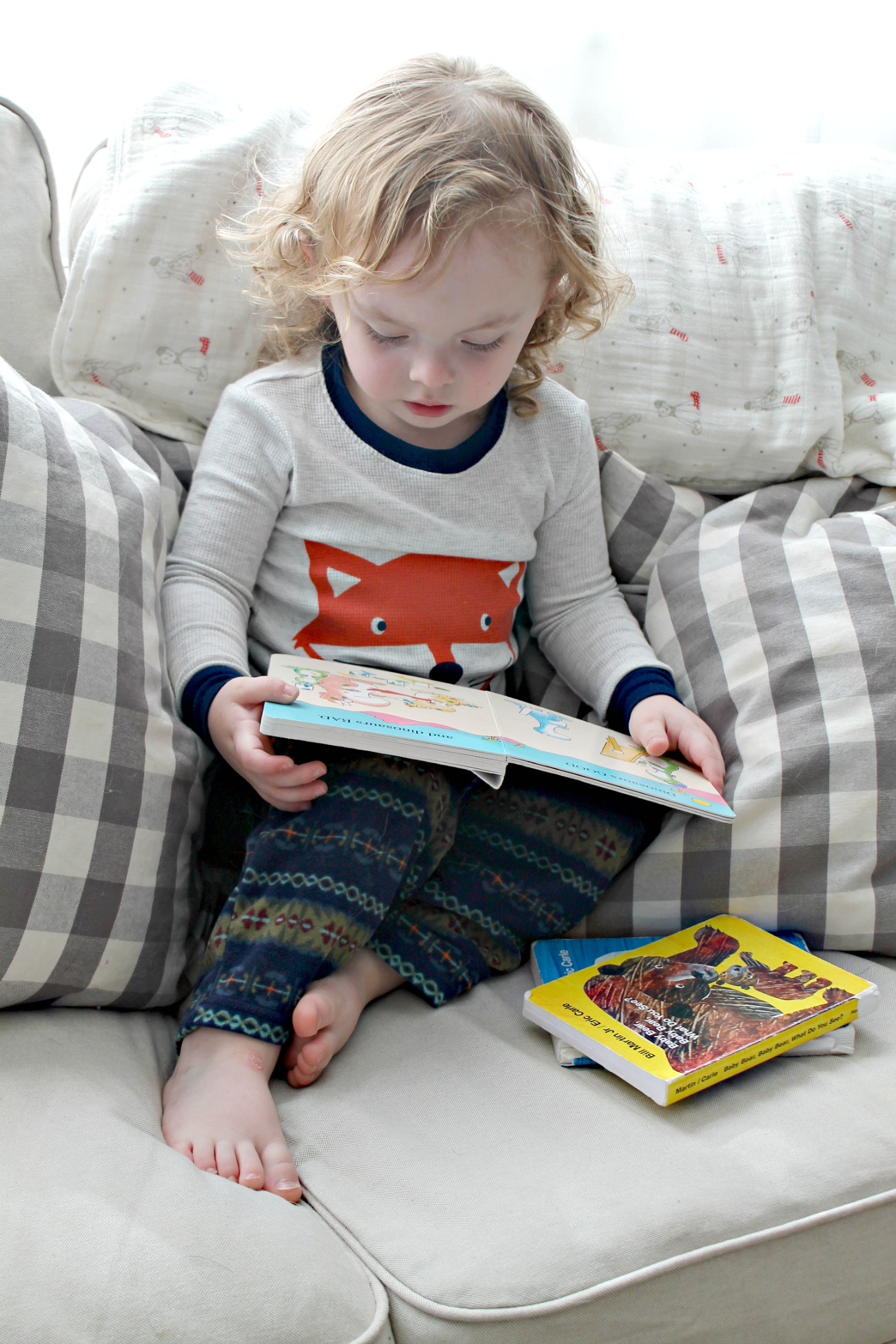 I wanted to share a list of some of our favorite bedtime stories with you, so you can hopefully discover a new and special book to share with your little one. Check out the list below and let us know if you've read any of these!
Best Bedtime Stories for Kids
Goodnight, Moon | Margaret Wise Brown, Clement Hurd
Llama Llama Red Pajama | Anna Dewdney
Good Night, Gorilla | Peggy Rathmann
Little Owl's Night | Divya Srinivasan
Just Go to Bed | Mercer Mayer
On the Night You Were Born | Nancy Tillman
Bedtime for Peppa | Scholastic
Good Night, I Love You | Caroline Jayne Church
Baby Bear, Baby Bear, What Do You See? | Bill Martin, Eric Carle
Brown Bear, Brown Bear, What Do You See? | Bill Martin Jr., Eric Carle
Polar Bear, Polar Bear, What Do You Hear? | Bill Martin Jr., Eric Carle
Good Night, Little Bear | Patsy Scarry, Richard Scarry
The Going to Bed Book | Sandra Boynton
It's Time to Sleep, My Love | Nancy Tillman, Eric Metaxas
Good Night Scout | LeapFrog
I am really excited to also tell you about Carter's Dreamland Sweepstakes! It launches tomorrow and it's an Instagram and Twitter contest that will award 3 winners each day with $100 Carter's gift cards! All you have to do is post a cute or funny photo of your little one snoozing in their PJ's. Simple right? I can't wait to see all of the photos folks submit!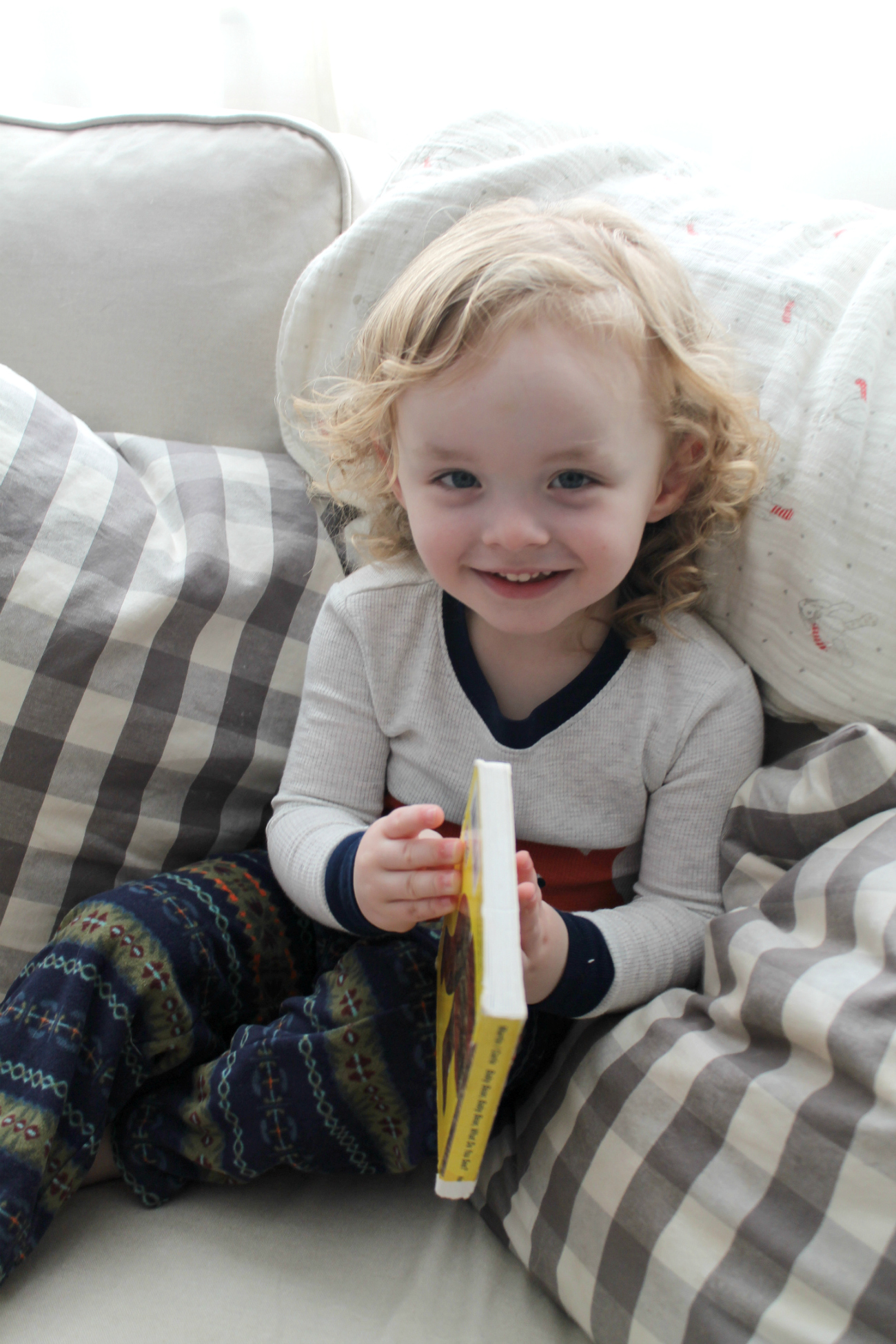 So, if you haven't stocked up on new jammies for your littles, or if the cold winter hasn't hit where you live yet – be sure to check out the Carter's store locator to find a location near you! And, to make things sweeter, I'm including a coupon for you below to save!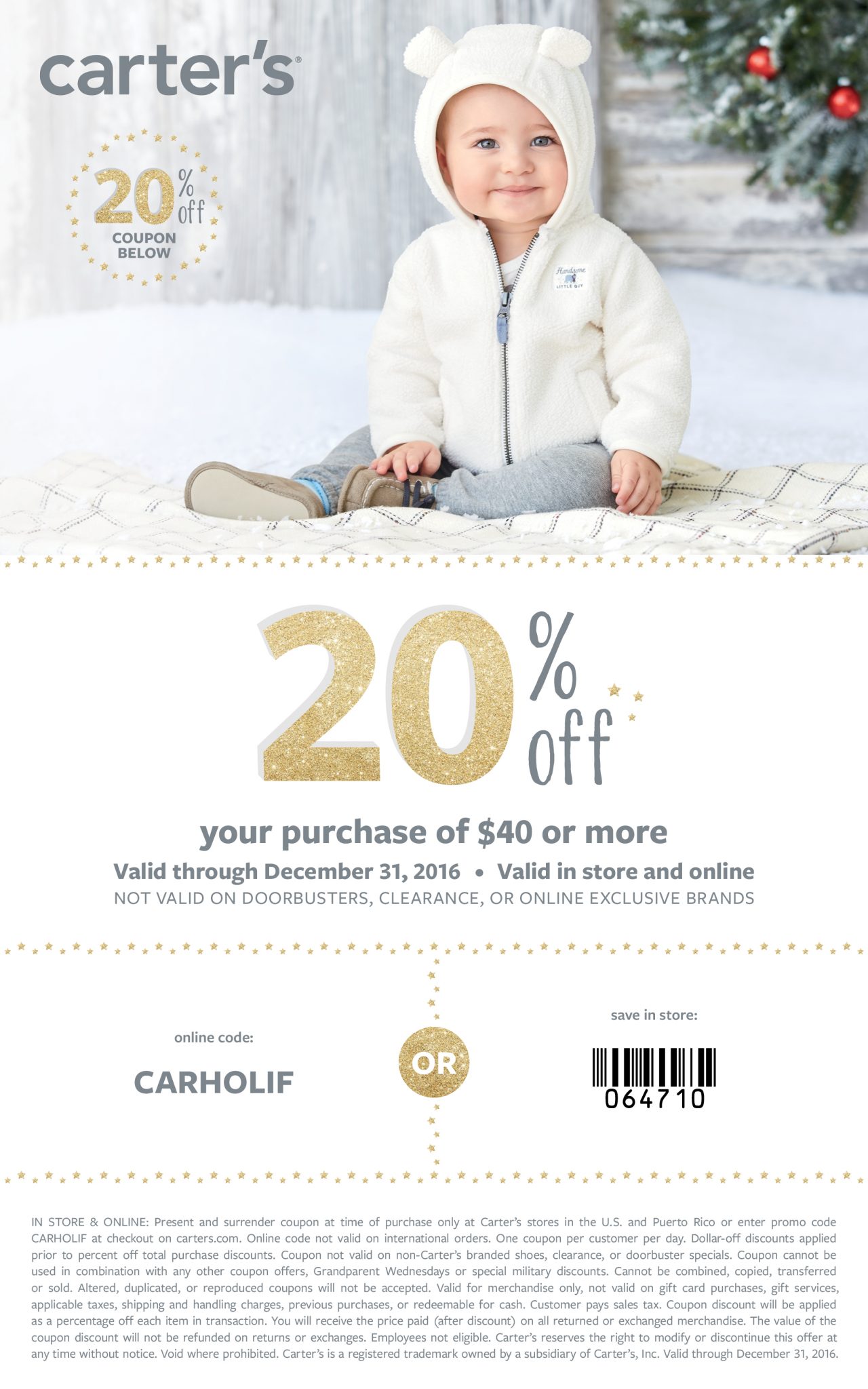 What is YOUR kid's favorite bedtime book?
Comment below so we can make our list even longer!
Love this post? Pin it for later here: