The Kendall Rayburn Blog is a participant in the Amazon Services LLC Associates Program, an affiliate advertising program designed to provide a means for sites to earn advertising fees by advertising and linking to Amazon.com. Keep scrolling for affordable farmhouse linens (under $20) on Amazon!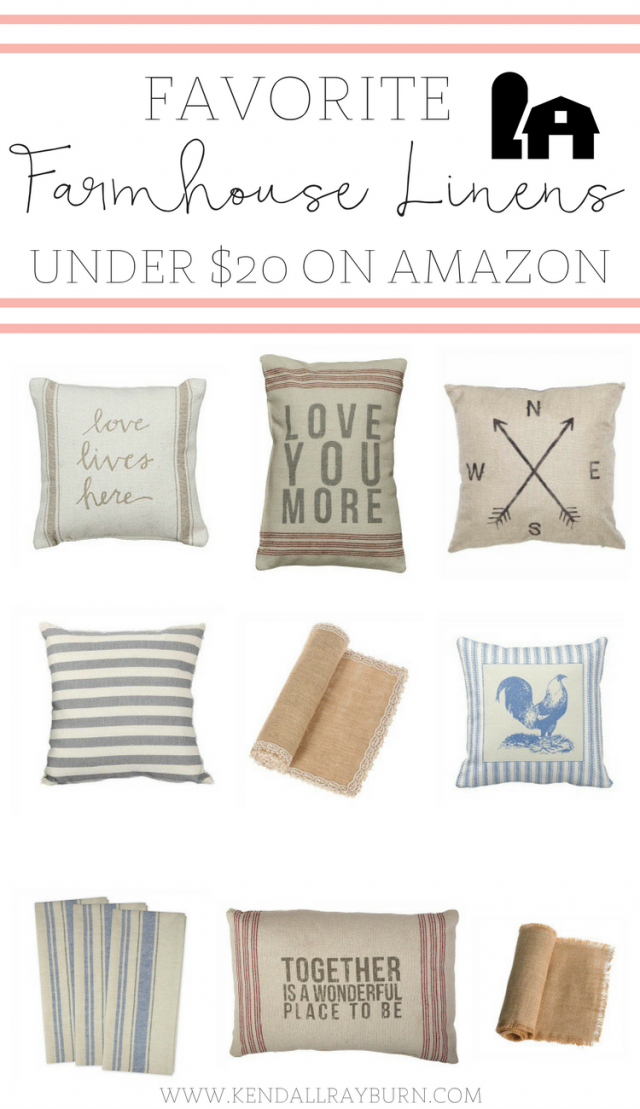 Hello, friends!
Happy Friday! Hope you're having a great day so far! As you may know, I completely love the farmhouse style. My home is a current work in progress as we decorate and make it our own, but something that is also really important to me is affordability. I wanted to create an ongoing blog series where each Friday I showcase some affordable items that you might like, too. Each Friday will have it's own theme, and today, the theme is Farmhouse linens!
Finding Farmhouse decor is easy, but finding good quality, affordable farmhouse linens is a bit harder. But, no worries – I've put together this list of under $20 affordable farmhouse linens that would make a great addition to any home! Take a peek at the list below and let me know what item is YOUR favorite!
Side Note: If you don't have Amazon Prime and want to try it out free, you can click this link to get a 30 day free trial! [Try Amazon Prime 30-Day Free Trial
]
Affordable Farmhouse Linens:
Which item is YOUR favorite?
I'm really crushing on the Love Lives Here pillow!
Want to save this post for later? Pin it below: