This post is written by me on behalf of Tyson Foods, Inc. All opinions are entirely my own. #GrilledAndReady
Hope you're having a great day so far! I don't know about you, but I haven't always been a huge fan of salads, until I realized how delicious they could be when I incorporated my favorite flavors. Today I wanted to share the recipe for my favorite, deliciously simple Lemon Pepper Loaded Chicken Salad. It's made using Tyson® Grilled & Ready® Chicken Breast, and is bursting with flavor! It has a taste that's out-of-this-world, I can't wait for you to try it!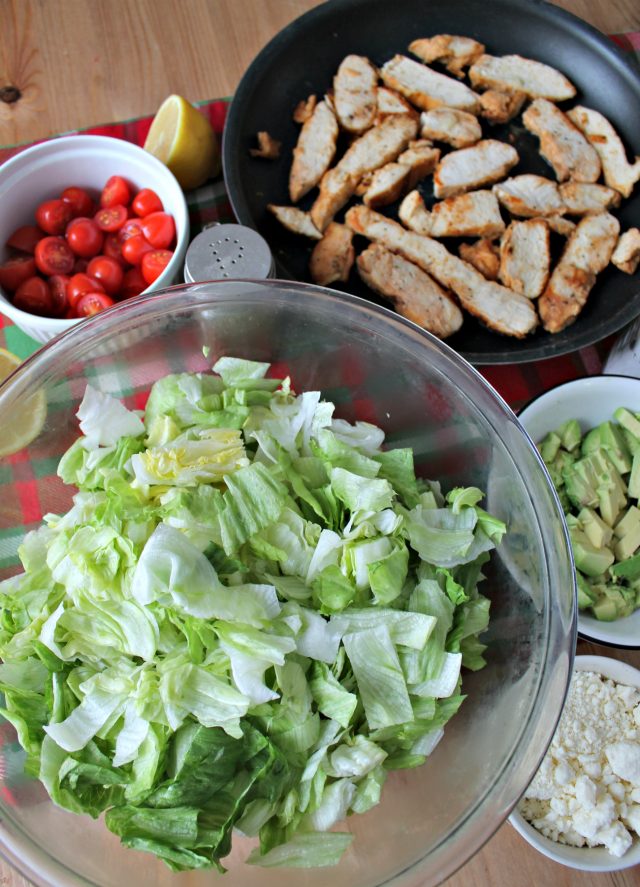 Loaded Lemon Pepper Chicken Salad
Ingredients
Tyson® Grilled & Ready Chicken Breast (I bought them in the freezer section at Sam's Club)
1 Head of Lettuce
2 cups Cherry Tomatoes
1 cup Feta Cheese
2 Avocados
2 Lemons
Salt
Pepper
Instructions
Heat your Tyson® Grilled & Ready Chicken Breast according to the instructions, when your chicken has about a minute left, sprinkle it with pepper and the juice of one lemon.
Dice your head of lettuce and place it in a large glass bowl
On a platter, take pieces of lettuce from the bowl and layer them onto the dish
Sprinkle your fetta cheese evenly over the bed of lettuce
Chop, dice, and add your avocado over the lettuce
Halve your Cherry Tomatoes and arrange them over the salad
Lay your cooked chicken over the top of the salad
Take 1/2 of remaining lemon and squeeze the juice overtop your salad
Serve the other half on the plate as a garnish
Dash with just a bit more pepper, and you're good to go!
Notes
Optional: Top with ranch dressing!
https://www.kendallrayburn.com/2017/01/loaded-lemon-pepper-chicken-salad/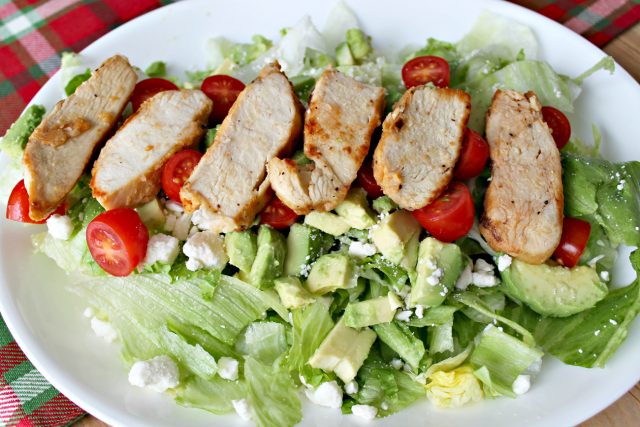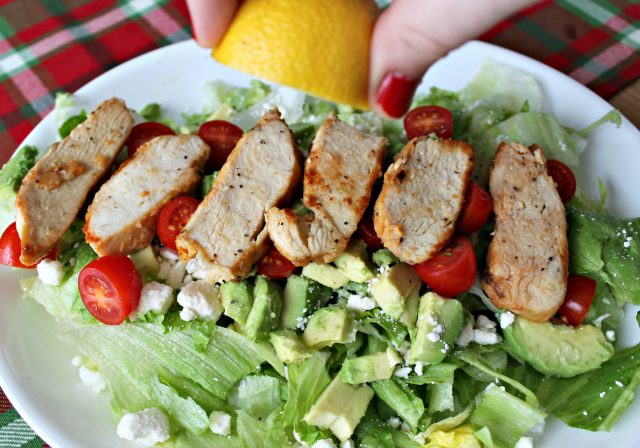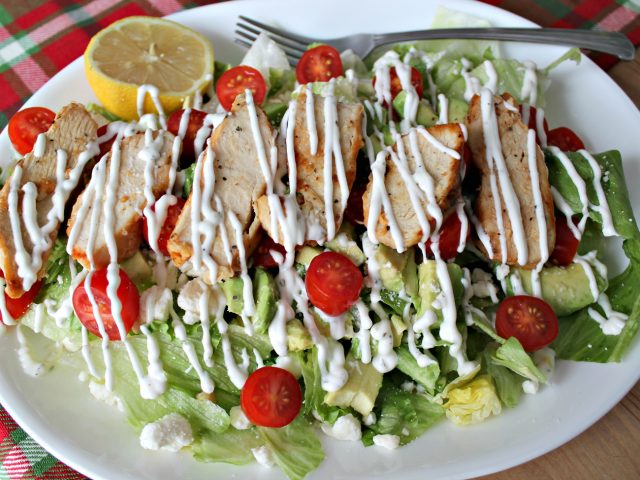 So deliciously easy, right? This is my all-time favorite salad because it's just packed with flavor. Plus, this salad can be put together so quickly because the Tyson® Grilled & Ready Chicken Breast are pre-cooked! This is a great salad to even jar up in a mason jar to take to work!
My husband is a huge fan of ranch so I always drizzle a little on top. The ranch and lemon flavors really pair well together and the ranch helps add that creamy factor. It really is just amazing!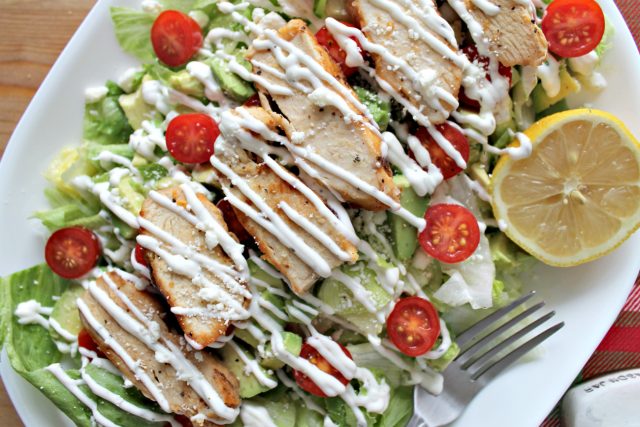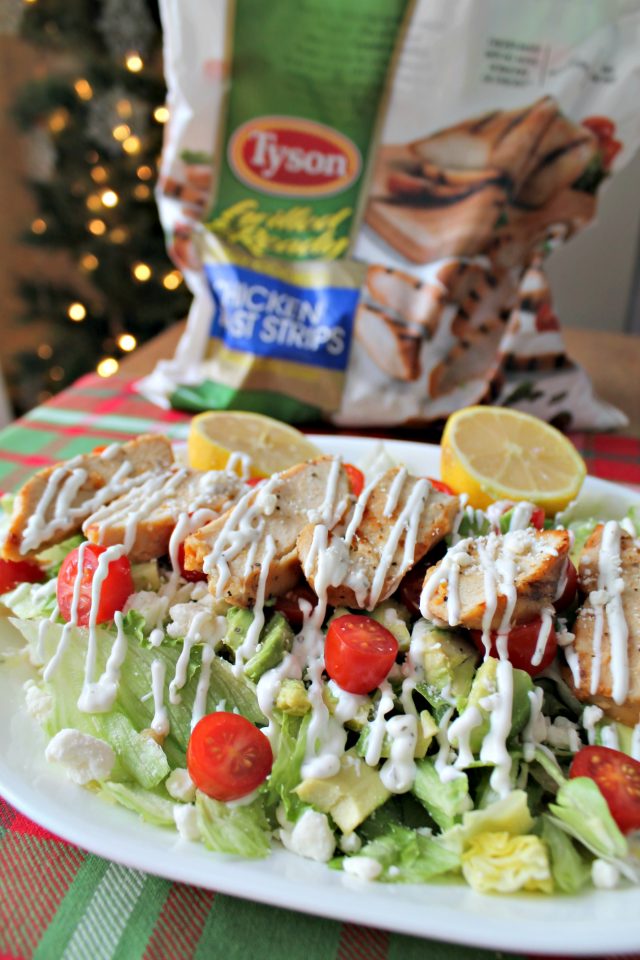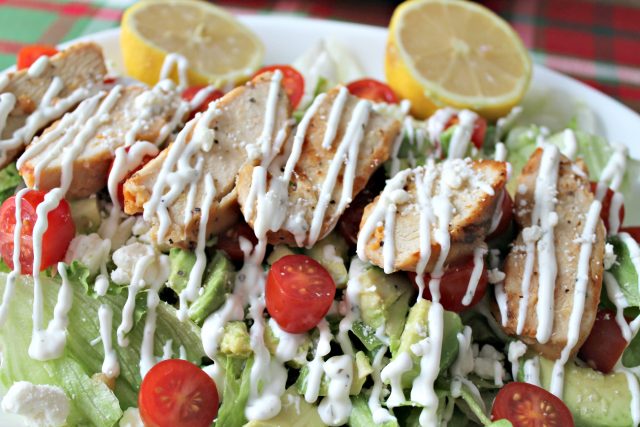 If you want to make this salad at home, be sure to head to your local Sam's Club to pick up a 3 lb bag of Tyson Grilled & Ready Chicken Breast Strips, they're great to have on hand in a pinch!
What is YOUR favorite salad recipe?
Love this post? Pin it for later below: