This is a sponsored conversation written by me on behalf of Amopé . The opinions and text are all mine. Keep scrolling to see How to Create the Perfect Pedicure Spa Gift.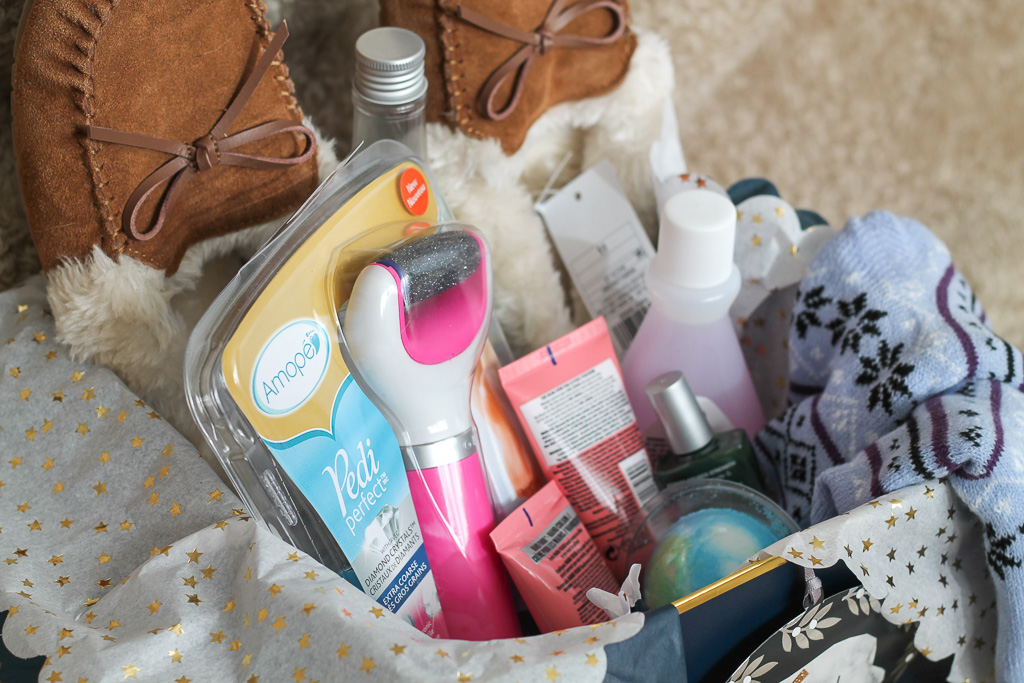 Hello, friends!
Hope you're having a great day so far! I am super excited to share another fun holiday gift idea with you today, this one is for the perfect Pedicure Spa Gift! I love gifting something that can be used all year round, not just during the holidays. And I find that EVERYONE loves a pampering spa gift!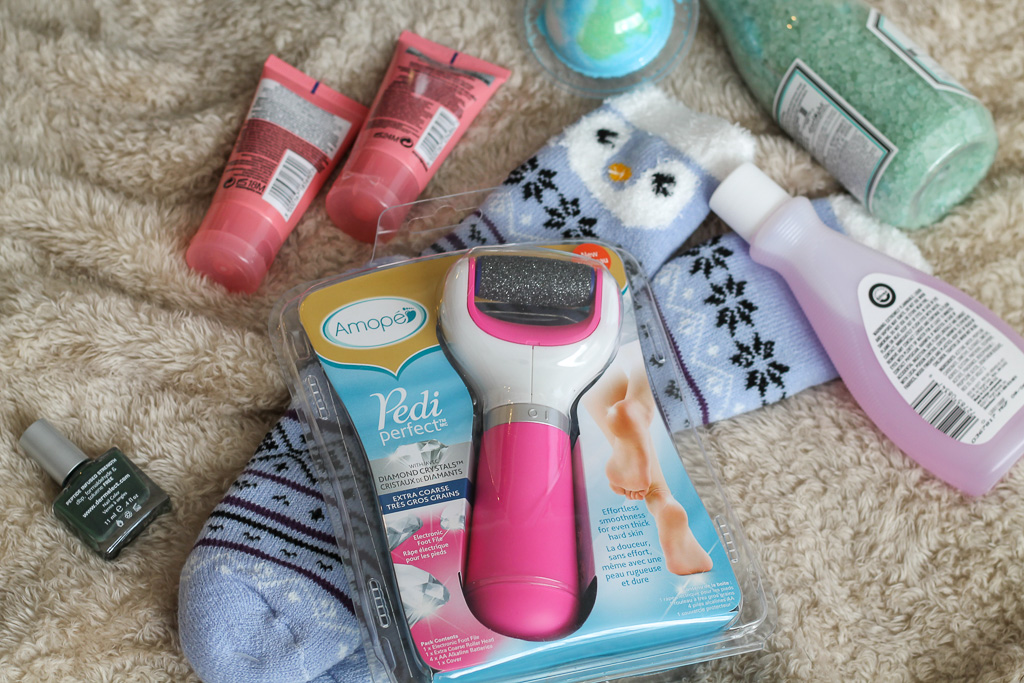 What You Need | Pedicure Spa Gift
Amopé Pedi Perfect Extra Coarse Electronic Foot File
This product is so lovely and is exactly what you need when doing an at-home pedicure. I picked it up at Target and since it can be a little tricky to find, I wanted to note that I found it in the foot care aisle. This foot file is one of my favorite products, so I knew I had to include it in this gift! It has an extra coarse roller head with long lasting micro-abrasive particles, and now it even comes with finely ground diamond crystals! This baby will buffs away any hard skin you've got – leaving you with visibly and touchably smooth feet. Another great option for a foot file is the Amopé  Pedi Perfect Wet and Dry Rechargeable Foot File. This one can be used on wet or dry feet, and it's completely waterproof so you can use it while you're in the shower or tub. It's also rechargeable so no batteries required! Just put it on the rechargeable docking station, plug it into the outlet, and when charged you'll be ready to use it for 20 minutes. When choosing your foot file just think about what your recipient would like the most!
Foot Soak
The first step to a great pedicure is soaking those feet in a relaxing foot soak bath. I always like to pick up a bigger bottle when putting together gifts so it's something they can use multiple times.
Bath Bomb
With every spa gift I create, I always include a bath bomb of some kind. Why? So the recipient can take a long soak after treating themselves to an at-home pedicure. Nothing says pure relaxation quite like a hot soak in the tub!
Nail Polish / Nail Polish Remover
Choose a color of polish that's on trend, and be sure to include nail polish remover too just in case!
Foot Scrub
After using the foot file, I love to scrub my feet down with a good foot scrub. Since it's the holiday time, I was able to find smaller gift sizes of all kinds of bath and spa products at Target, so be sure to check the beauty section for the perfect add-ons to this gift.
Foot Lotion
When there is foot scrub, you gotta have lotion, too! This will be a great finishing touch to the at-home pedicure, and one that will keep those newly manicured toes feeling soft and moisturized.
Cozy Socks
Who doesn't love a good pair of cozy socks? I love gifting the ones that are infused with lotion for another added layer of pampering.
Slippers
And you know what's next.. slippers! Target has some of the cutest slippers right now, and since I'm all about gifting coziness this season, I had to pick up a pair!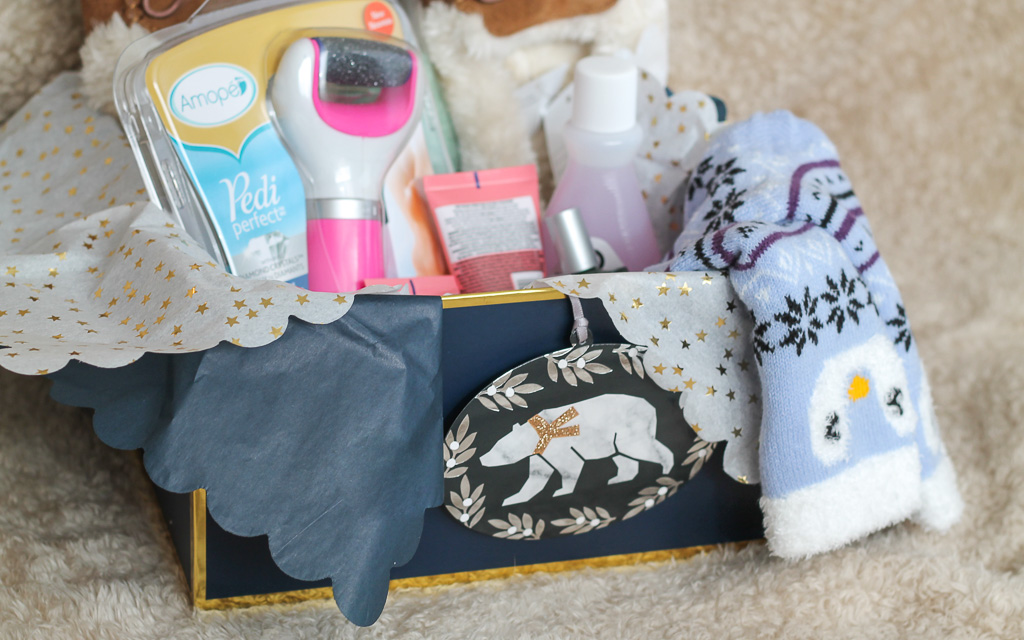 When putting together gifts, I love to put them in containers that can be re-used or perfect for storing the gift. Since this is a foot care gift, I wanted to put everything needed for an at-home pedicure in this sturdy box so the recipient can just pop the top on and store it under the bathroom sink so it's easily accessible. I wrapped it up using coordinating tissue paper that can be removed after gifting for more storage.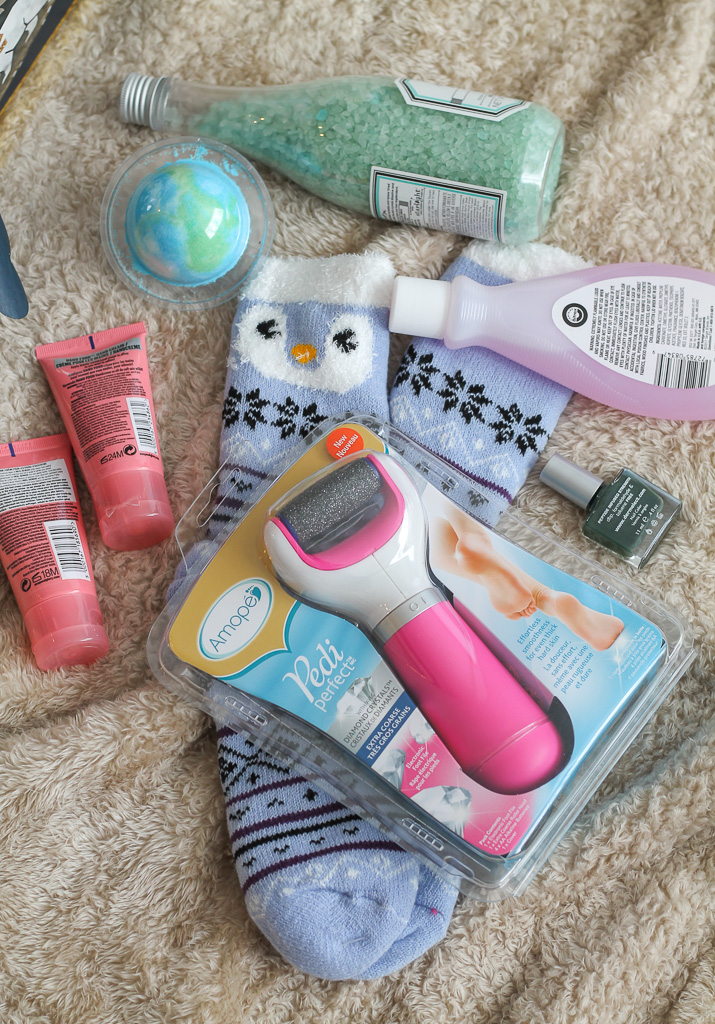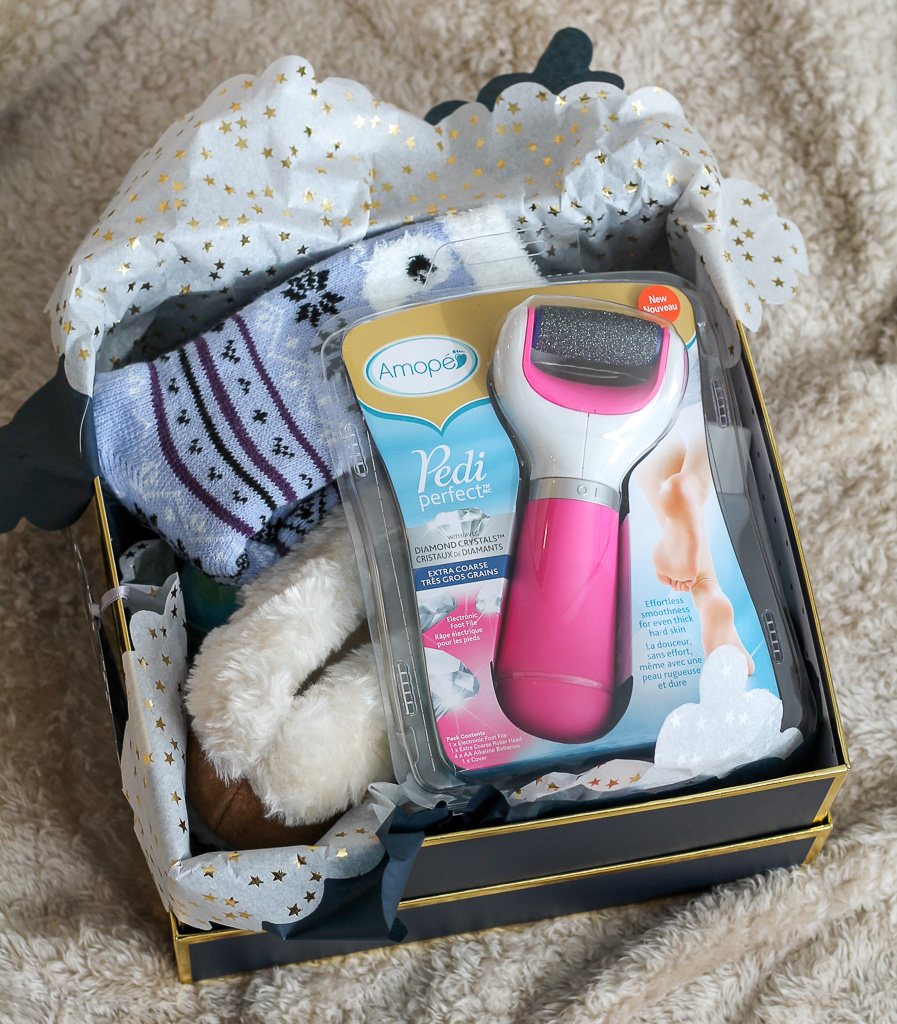 When packaging your items, stack the slippers on top of each other in the center, and place the other items on either side, and lay the foot file right on top. This way, everything fits in the box nicely and whoever gets your gift won't see everything at once, they'll have to dig a bit to find everything. 🙂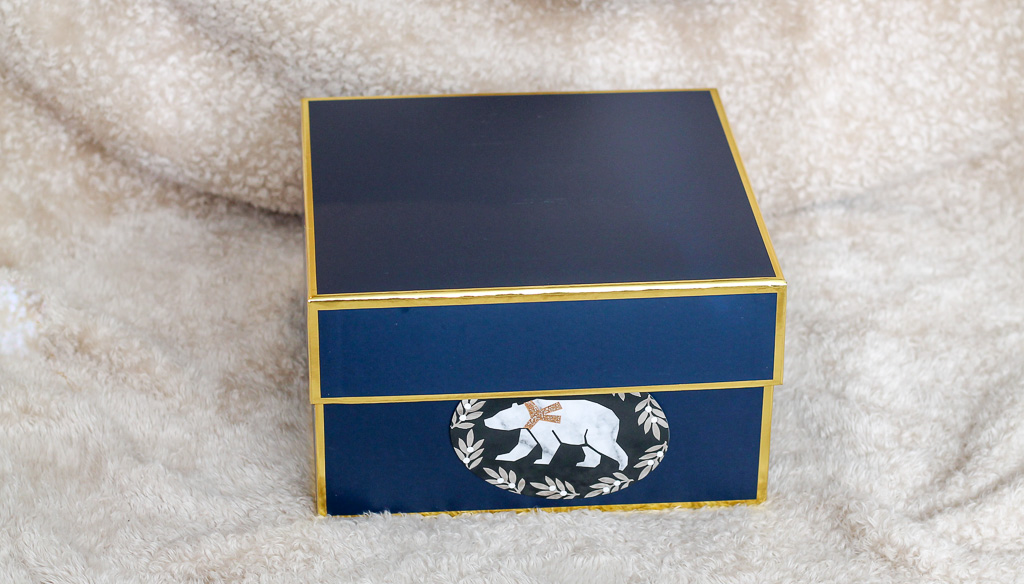 I cannot wait to hand over this gift, because honestly, when I give gifts, I get more enjoyment in watching the person open it than I get from receiving a gift for myself. I'm all about the wow-factor, and I just know this gift will blow away the person that opens it! Don't you think?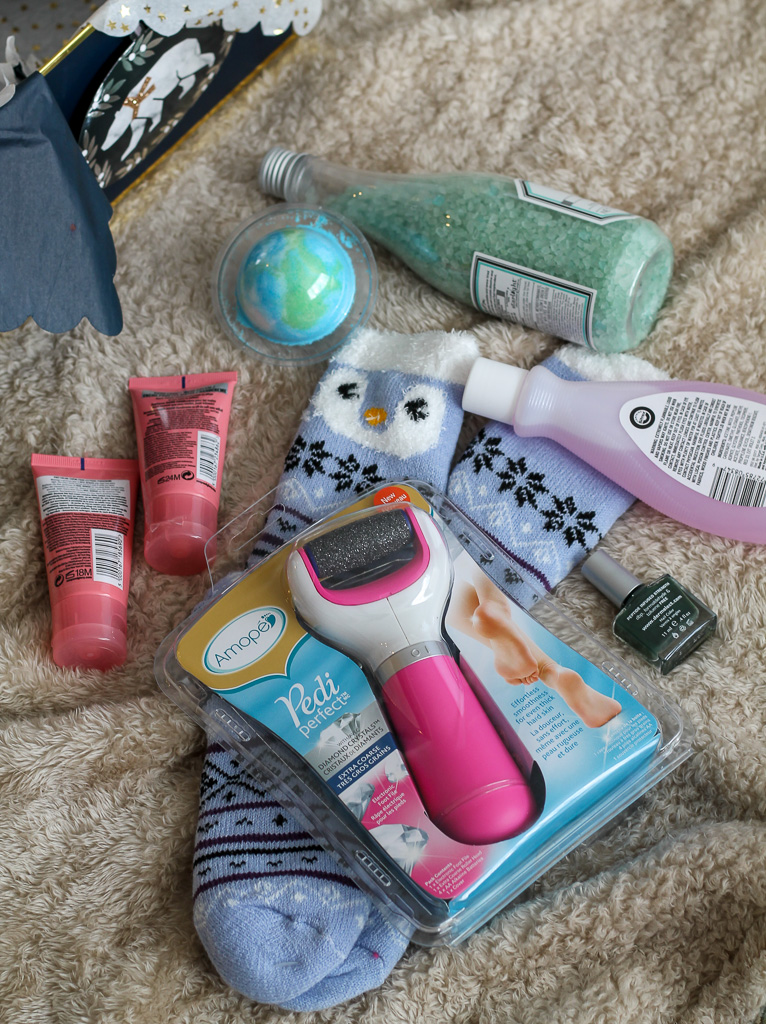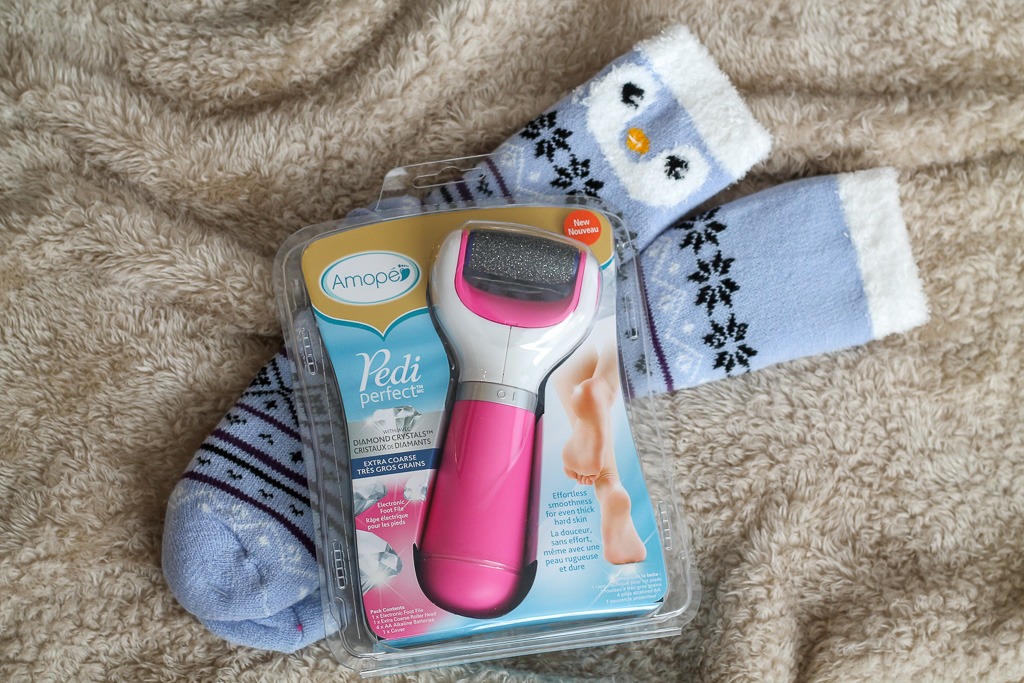 Whether you're putting together a Pedicure Spa Gift to give this season, or if you could just use a little pampering yourself – be sure to check out the Amopé Pedi Perfect Extra Coarse Electronic Foot File Pink and the Amopé  Pedi Perfect Wet and Dry Rechargeable Foot File at Target! I'll even include links to coupons for the products so you can save between now and 12/25/17!
COUPON SAVINGS:
Want to save on your Amopé Extra Coarse Electronic Foot File? Head here to save $10!
Save $15 on the Amopé Wet & Dry Rechargeable Foot File here!
Love this post? Share & Pin it for later here: