This post is sponsored by Huffy; however, all thoughts and opinions are my own. Keep scrolling to check out the Huffy® Remote-Control Monster Truck.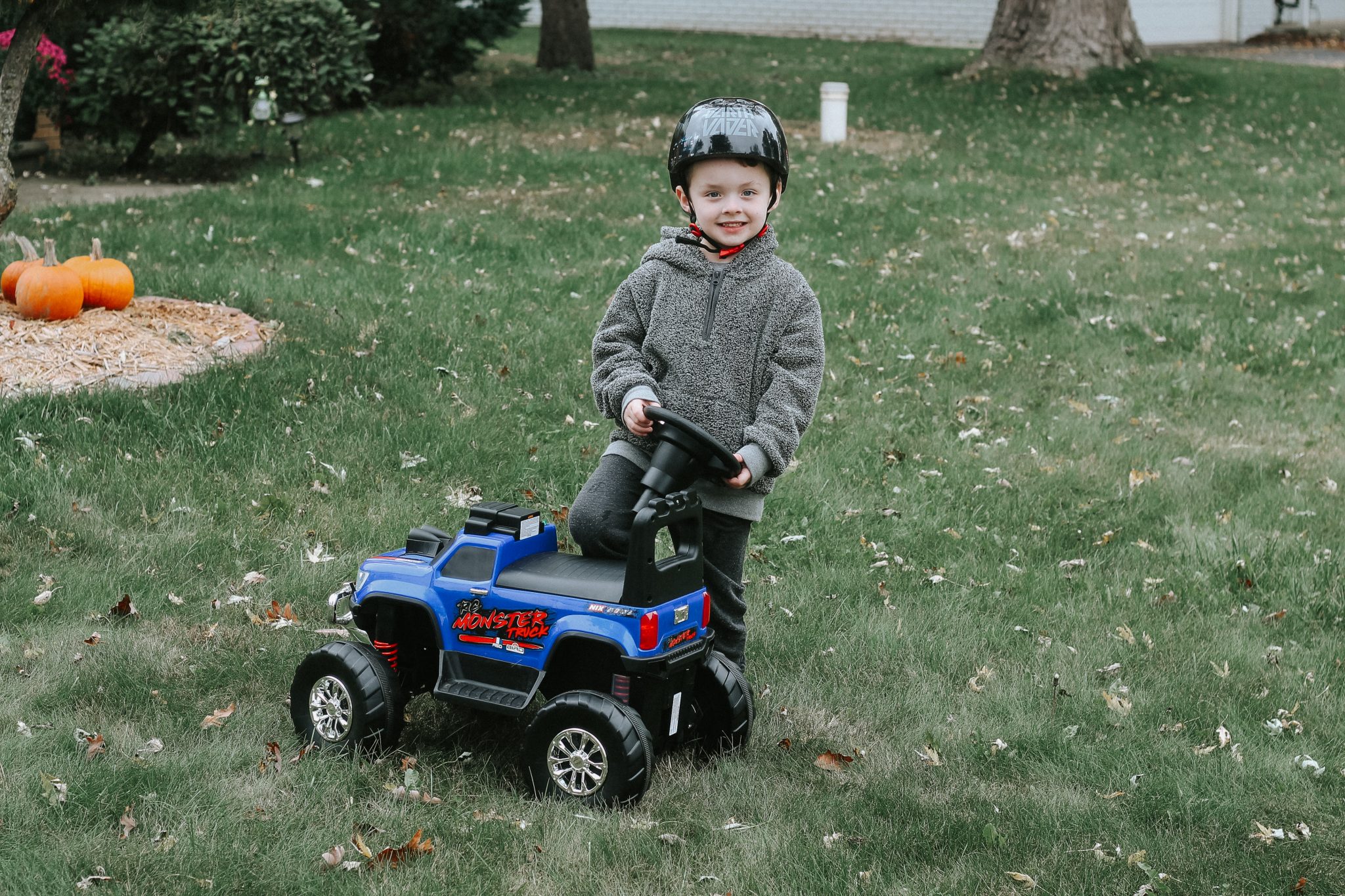 Hello, friends!
We are so excited about today's post because we get to share this super fun Huffy® Remote-Control Monster Truck! This truck is the perfect holiday gift for your little one, recommended for kiddos 3-7 years old and up to 65lbs. It's technically 2-toys-in-1 because you can either ride it or radio control it and since it's got mega off-road wheels it's great for riding right in the yard and sidewalk! We had our little guy Levi test it out for you all and boy-oh-boy is he smitten!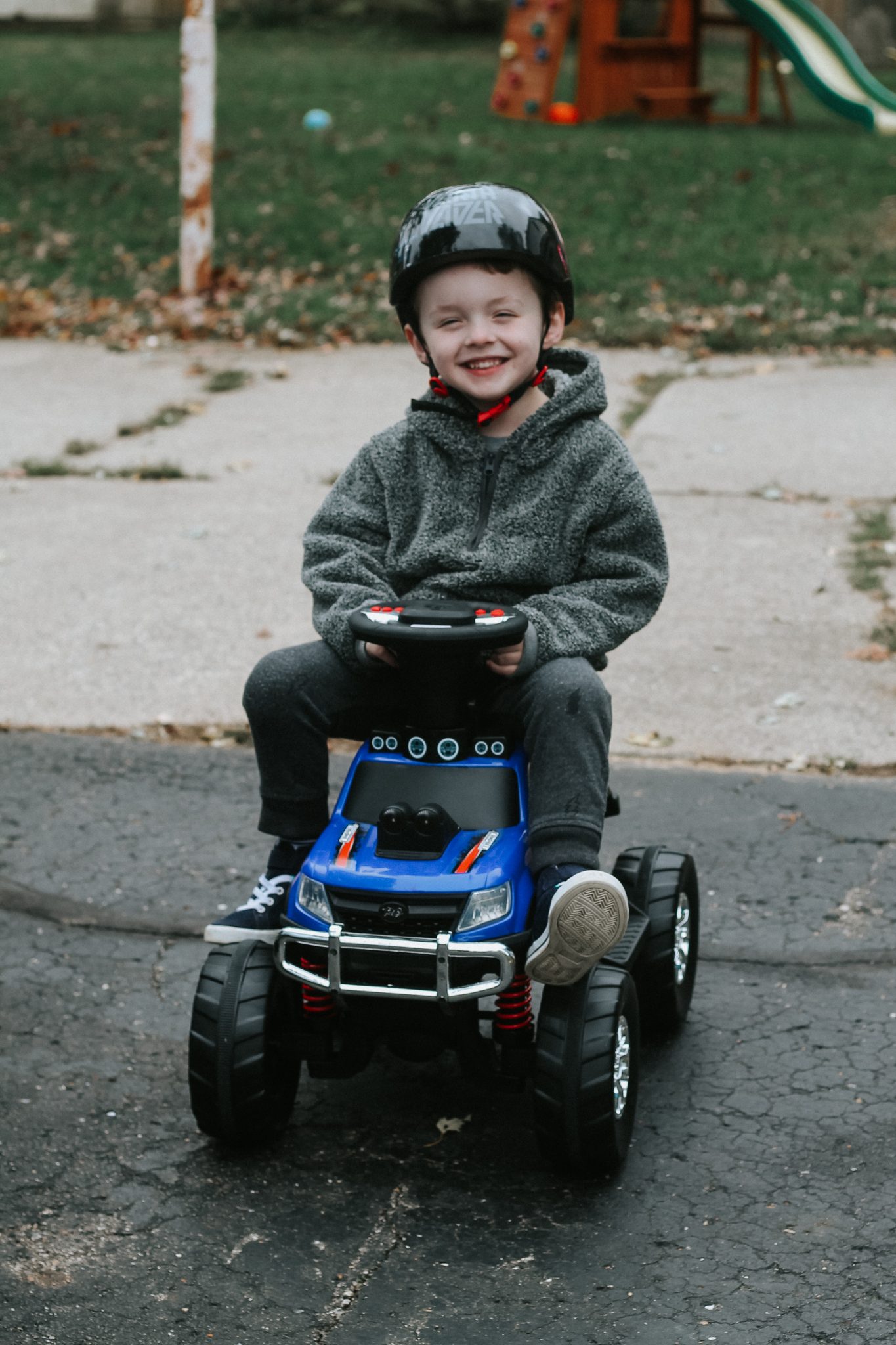 There are a lot of reasons why we've been loving the Huffy® Remote-Control Monster Truck but let's start with a few of our favorite features!
Favorite Features:
– Battery Powered
– Affordable (it's under $100)
– Comes assembled (hassle free)
– 2-in-1 toy
– Easy to Drive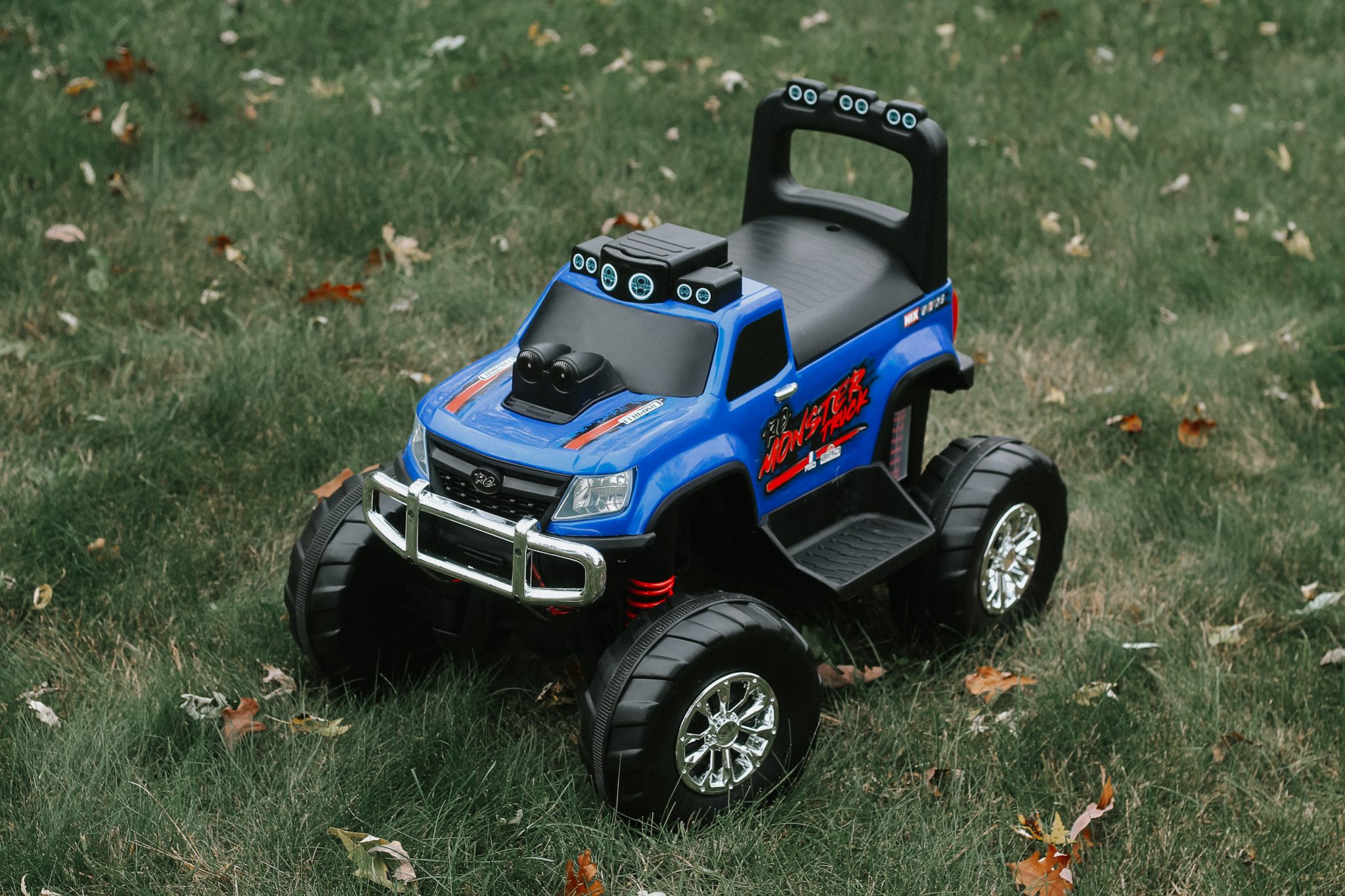 So, I bet you're wondering how you can both radio control and ride this car. Well, the brilliant folks at Huffy added a sensor to the Monster Truck so that the radio control only operates when the steering wheel is removed from the vehicle. And the ride-on will only work when the sensor can feel your kiddo sitting in the Monster Truck so your kiddo can have lots of fun without worrying about a sibling getting taken for an unexpected drive. Pretty cool, right?
The Monster Truck goes a little faster when it's in steering mode so Levi has been having the best time driving it all around our yard and driveway while I watch him have fun. I love that it has the power and wheels to navigate through the yard – and I also love that this is something he can play here at home or even at the park down the street from our house.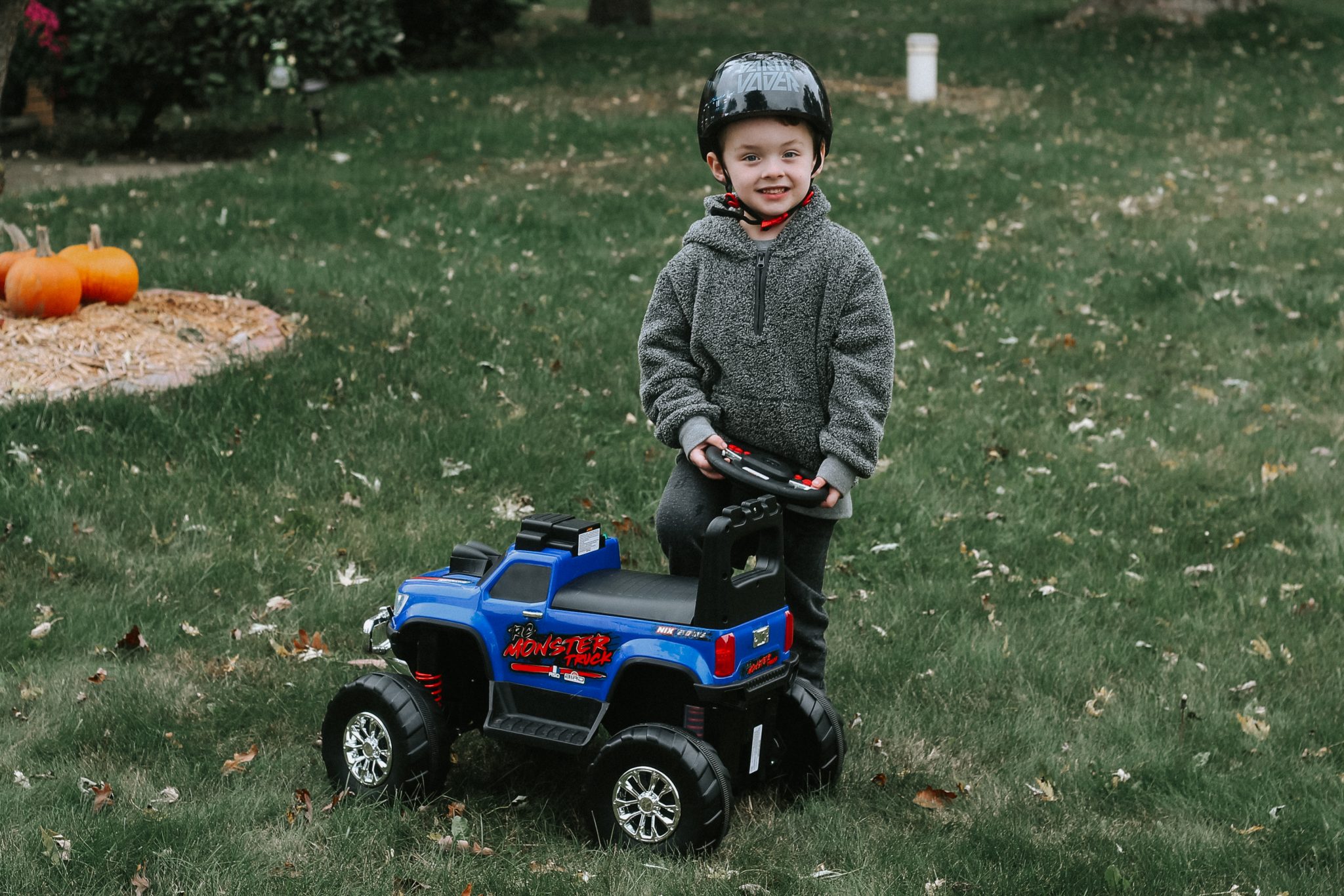 So what do you think? Pretty neat, right? Levi has been absolutely loving it (Wyatt too), and I just love watching them smile and laugh "racing" around in their new cool Monster Truck!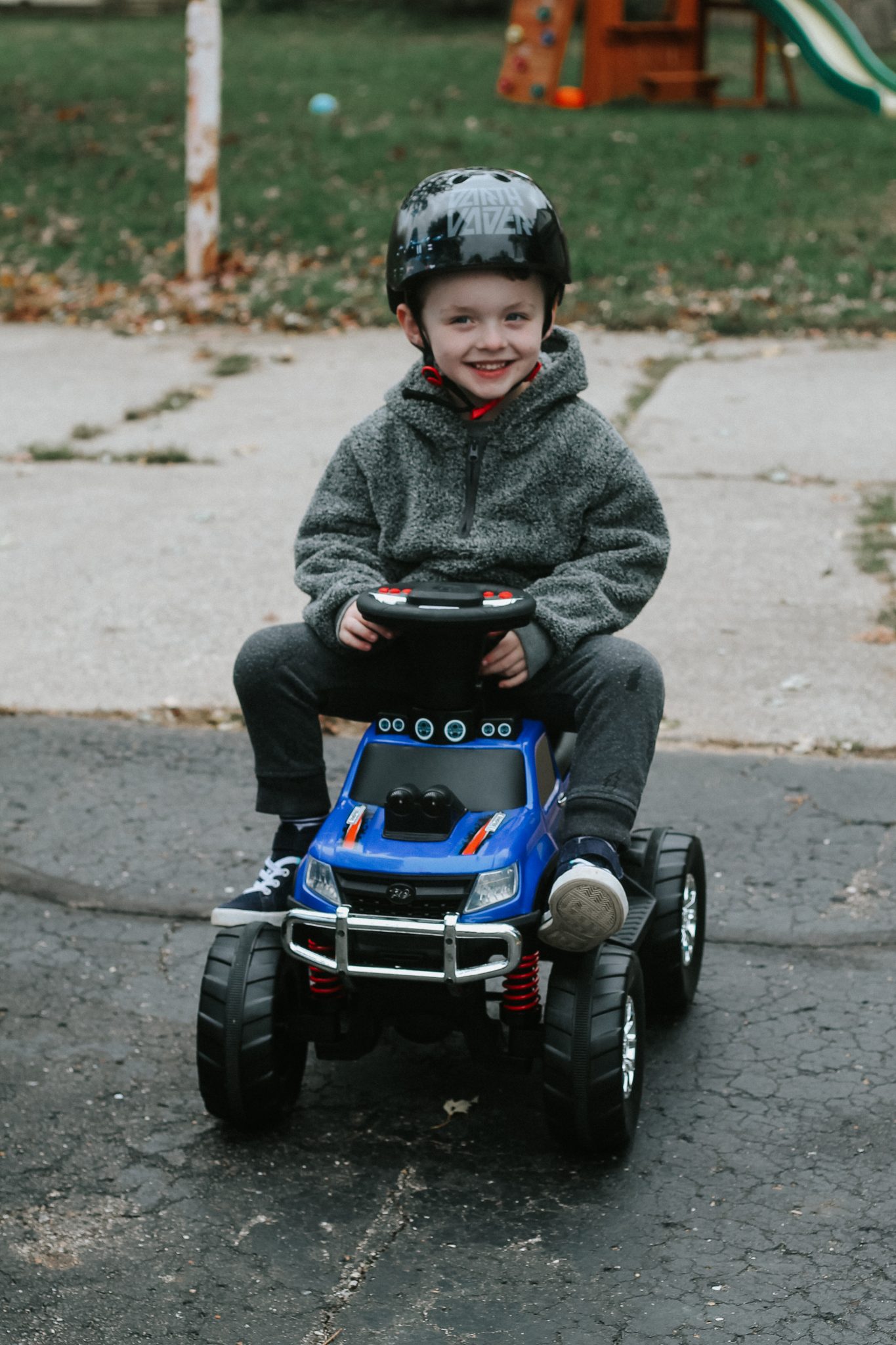 Want to pick up a Huffy® Remote-Control Monster Truck for your kiddo this holiday?
Want to save this post for later? Pin it below: