This post contains affiliate links. Plus Size Comfort Wear Must-Haves.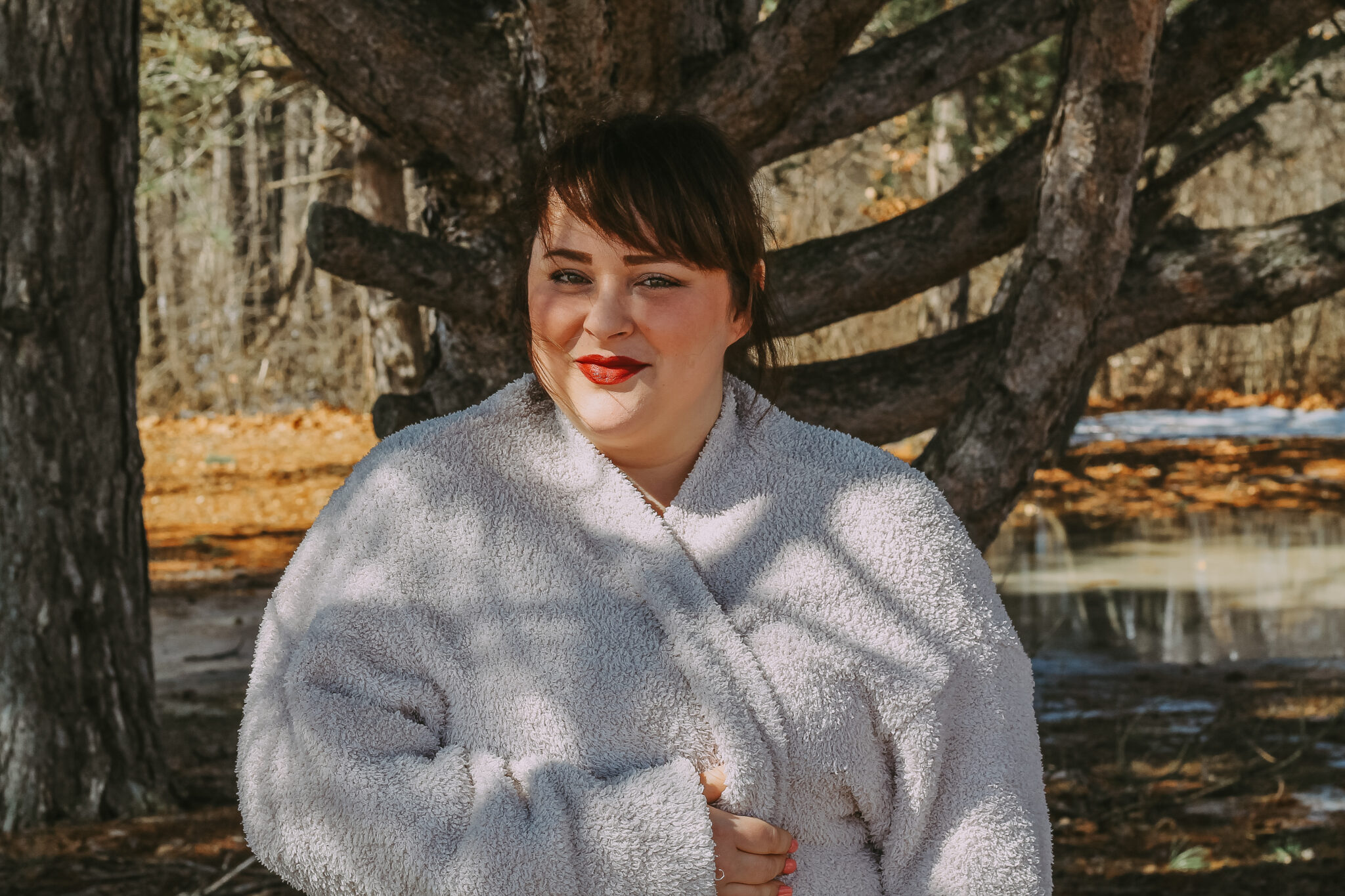 Hello, friends!
This post has been on my to-write list for months and I'm so happy to finally be able to share it with you all today! Lots of my Endometriosis gals specifically have asked about comfy clothing I like to rock during flare-ups so be sure to check everything out below! I personally own and love it all – and each item has been comfy tested & approved!
Plus Size Comfort Wear Must-Haves
1 | Women's Plus Size Jogger Ankle Pants – Ava & Viv™ Black
These jogger pants are affordable and super comfortable. The material is a bit thinner so you won't get as hot as you would with regular sweat pants, plus they're so versatile and can be dressed up or down!
2 | Live-In High Waist Leggings from Zella
I absolutely ADORE these leggings! The compression they give to my tummy is such a comfort during my bad pain days and they wash up great. The pairs I have now are the exact ones linked and I've had them for over a year and they're still beautiful! No piling, lots of stretch, and no fading of the color.
3 | Barefoot Dreams Cozy Chic Cardigan (in Almond)
This cardigan is a staple piece in my closet, I wear it all of the time. It is so warm and cozy it can be worn as a jacket on a chilly day. It's also great for lounging around the house, wearing it literally feels like you've been wrapped in a cloud and that's something I can get behind!
4 | Cozychic Lite® Coastal Hooded Cardigan (in Cocoa)
Same brand as the item above but a different feel to the fabric. On this sweater, it is much thinner plus there is a hood and pockets! It's so cute paired with jeans, leggings, and even worn as a robe at home!
5 | Aerie Chill High Waisted Boot Pant
These pants are great because they're affordable – I wish the size range was a bit more extended to include plus sizes. I wrote a whole post called A Plus Size Gal's Guide to Shopping Aerie that contains lots of tips for shopping with them. I am between a size 20-22 in bottoms and can comfortably fit into size XXL in Aerie.
6 | Aerie Chill High Waisted Flare Pant
I like these because they've got a bit more of an athletic feel. The fabric is thicker, it has more stretch, and they are so comfy! I will tell you that these DO pill a bit after wear but the trick of using a razor to get rid of it works wonders, this guide on removing pilling is super helpful.
7 | Aerie Raw Cut City Sweatshirt
This sweatshirt is long, soft, and so comfortable! It's the perfect length for leggings and can be worn out to run errands or when you're just hanging at home.
8 | Aerie Real Soft Ribbed Baby Tee
I love pairing this tee with my high waist items when I'm at home. The material is so soft and comfortable and the fabric has a bit of a stretch to it so it fits perfectly every time. I love the color ranges of these tops, too! The pink is my fav!
I absolutely adore the cami's at Torrid. The fabric is such great quality and they wash up great. I am perfectly fine spending $15 on a tank top if I know it's going to fit me perfectly and last – and these tanks are just that!
10 | Women's Plus Size Long Sleeve Waffle Button-Up Lounge Sweatshirt
This top is one of my favorites to wear with my leggings, yoga pants, and sweats – it's so soft! It has a bit of a slouchy fit which is great and also looks super cute paired with jeans!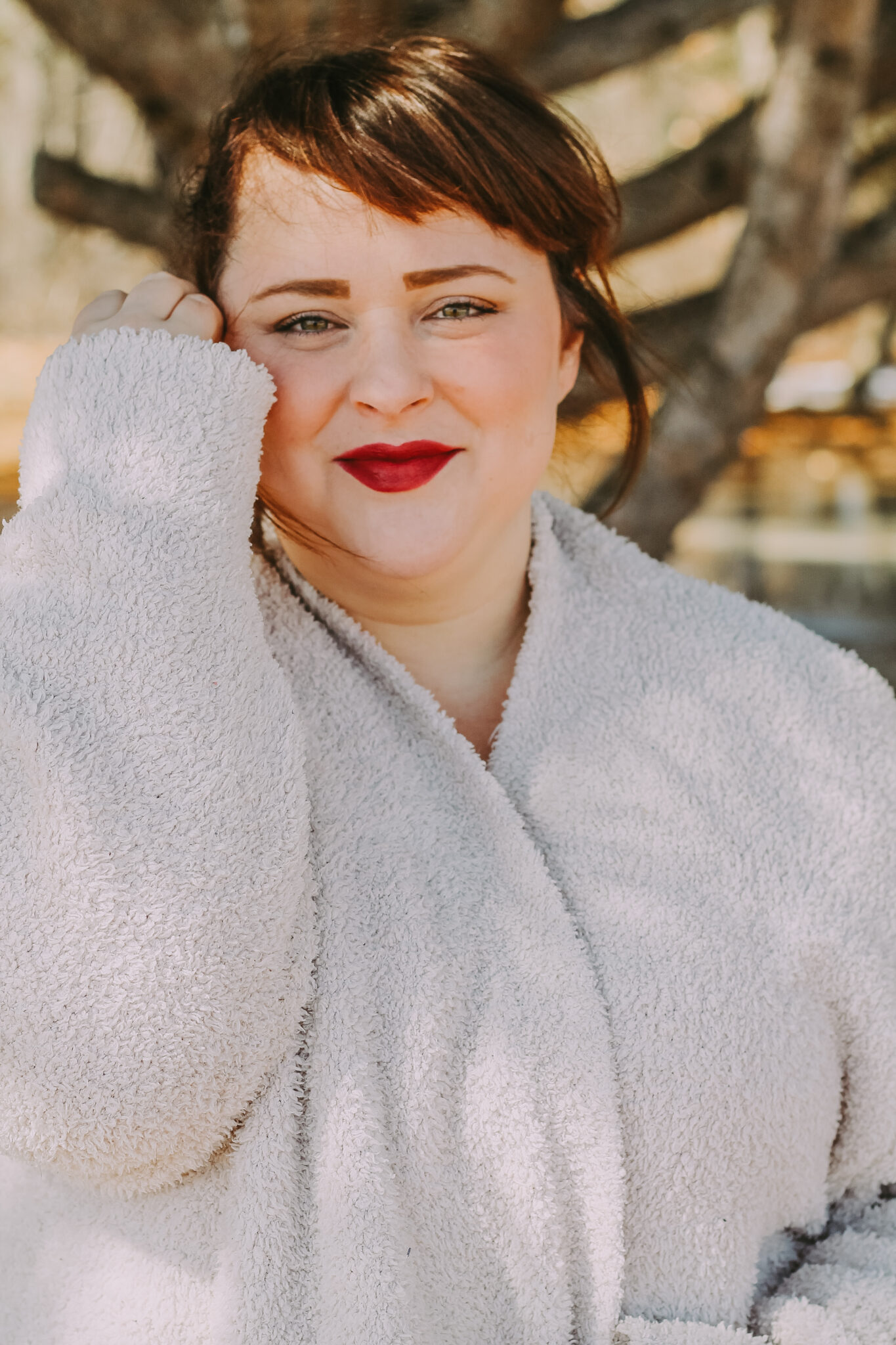 Check out the Lookbook of all of the items & shop below!