A huge thanks to our friends at FEBREZE for sponsoring today's post. #DontSweatYourPet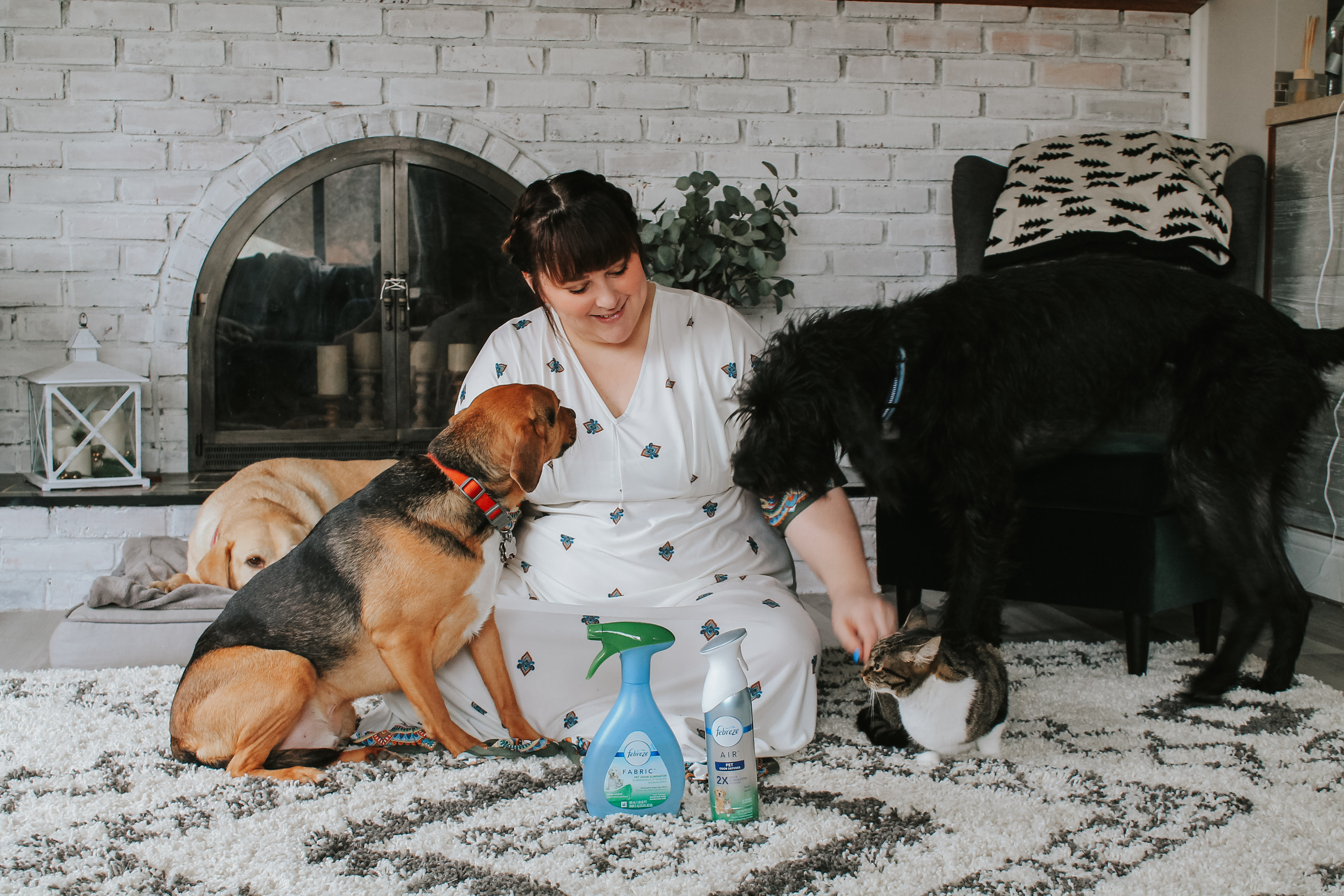 How We Keep Our Home with Six Rescue Pets Smelling Fresh
Hello, friends!
Happy National Pet Month! As you already know, our home is pretty much filled with animals, lol. We have three rescue pups and three rescue cats and we treat them like family. One of the questions that I get asked often is how we keep our home smelling fresh with all of the smells associated with having pets. And the answer is so easy, Febreeze! If you've got Febreze AIR Heavy Duty Pet Odor Eliminator and Febreze FABRIC Pet Odor Eliminator, you've got a great smelling home.
I know some people are afraid to bring a new pet into their home out of the fear it will cause their house to have that "pet" smell. Well, I'm here to say that if I can do it with SIX pets, you can definitely do it with one, or two, or three. 😉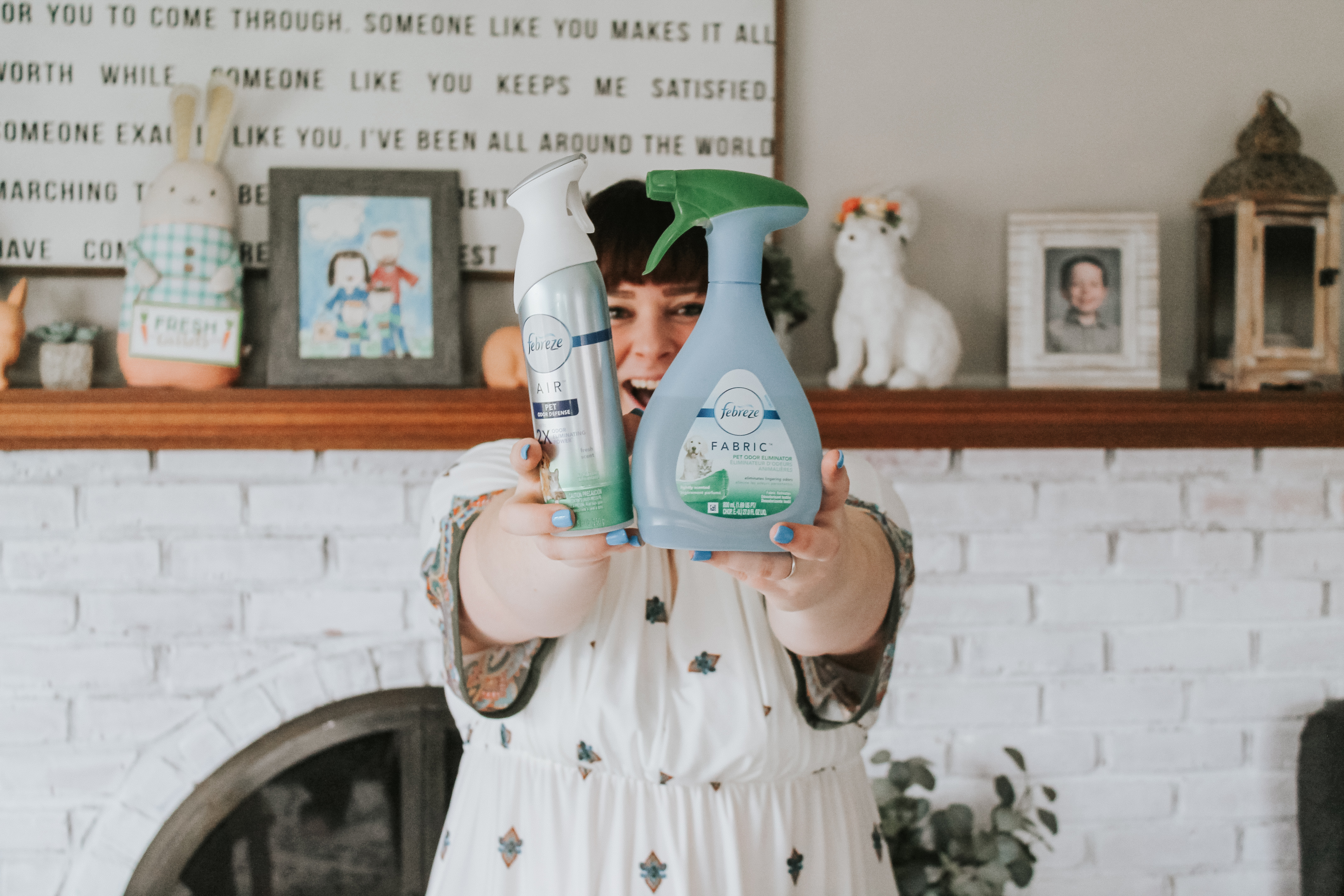 I pick mine up at PetSmart when I'm grabbing other pet supplies. Easy-peasy! I want to go over both products again, just in case you didn't catch our last blog post with Febreze. But let's get one question out of the way – are these products safe to use around pets? YES! That's what they're made for! These are pet-specific AIR and FABRIC products to target those pesky pet odors and safely and effectively eliminate them with Febreze's OdorClear Technology.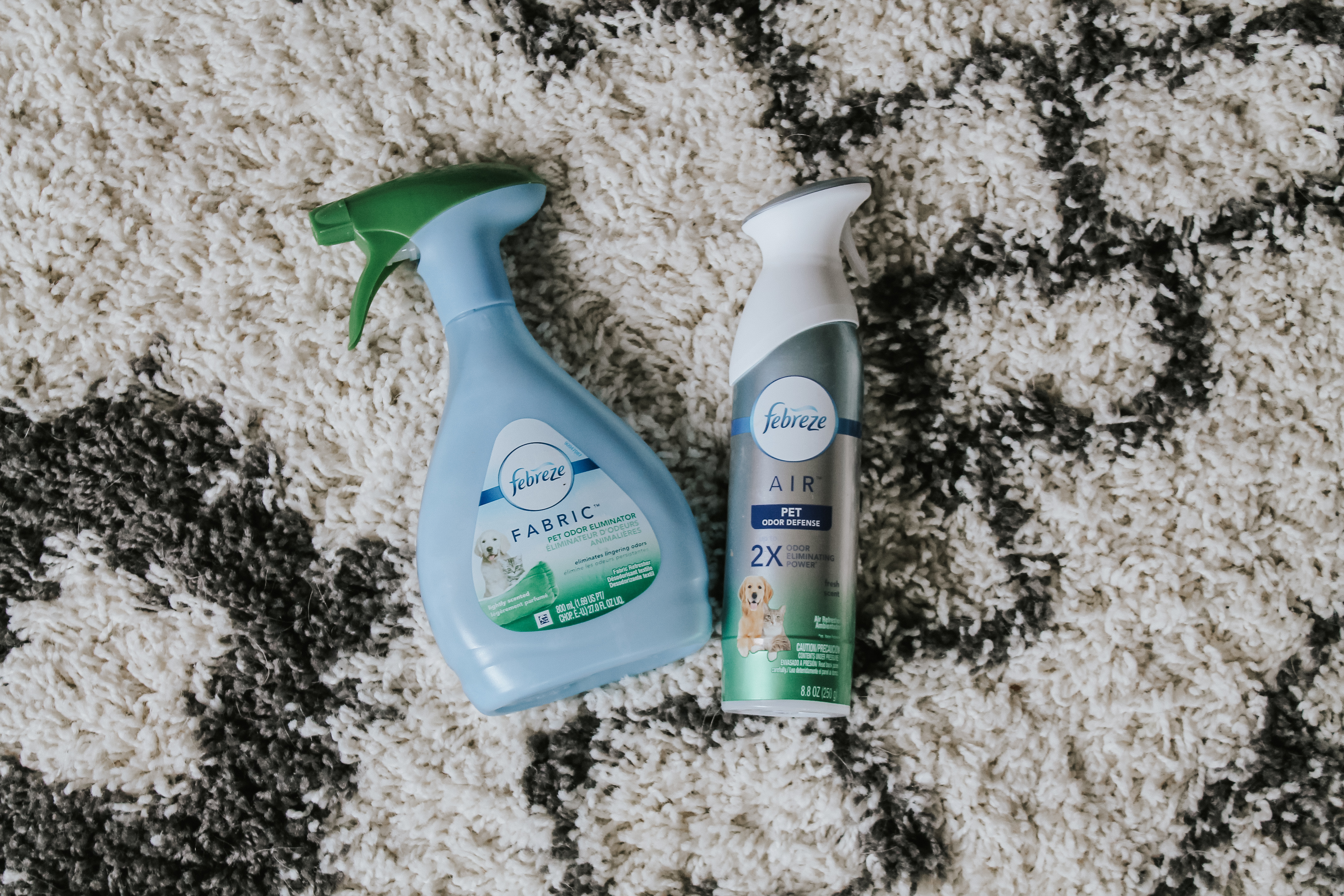 FEBREZE AIR HEAVY DUTY PET ODOR ELIMINATOR
The FEBREZE AIR HEAVY DUTY PET ODOR ELIMINATOR has a pet odor defense with up to 2X more odor eliminating power and can be used throughout your entire home to clean away any pet odor smells. The scent left behind is so pleasant and fresh and boy does it really tackle litter box odors, etc.
FEBREZE FABRIC PET ODOR ELIMINATOR
The FEBREZE FABRIC PET ODOR ELIMINATOR is perfect for clothing, upholstery, carpets, blankets – or any other hard-to-wash fabric. We use it often on our sofa, pillows, living room rug, and curtains. What I love about it is that a little goes a long way so the product will last a long time. And these products are perfectly safe to use in your home which puts my mind at ease.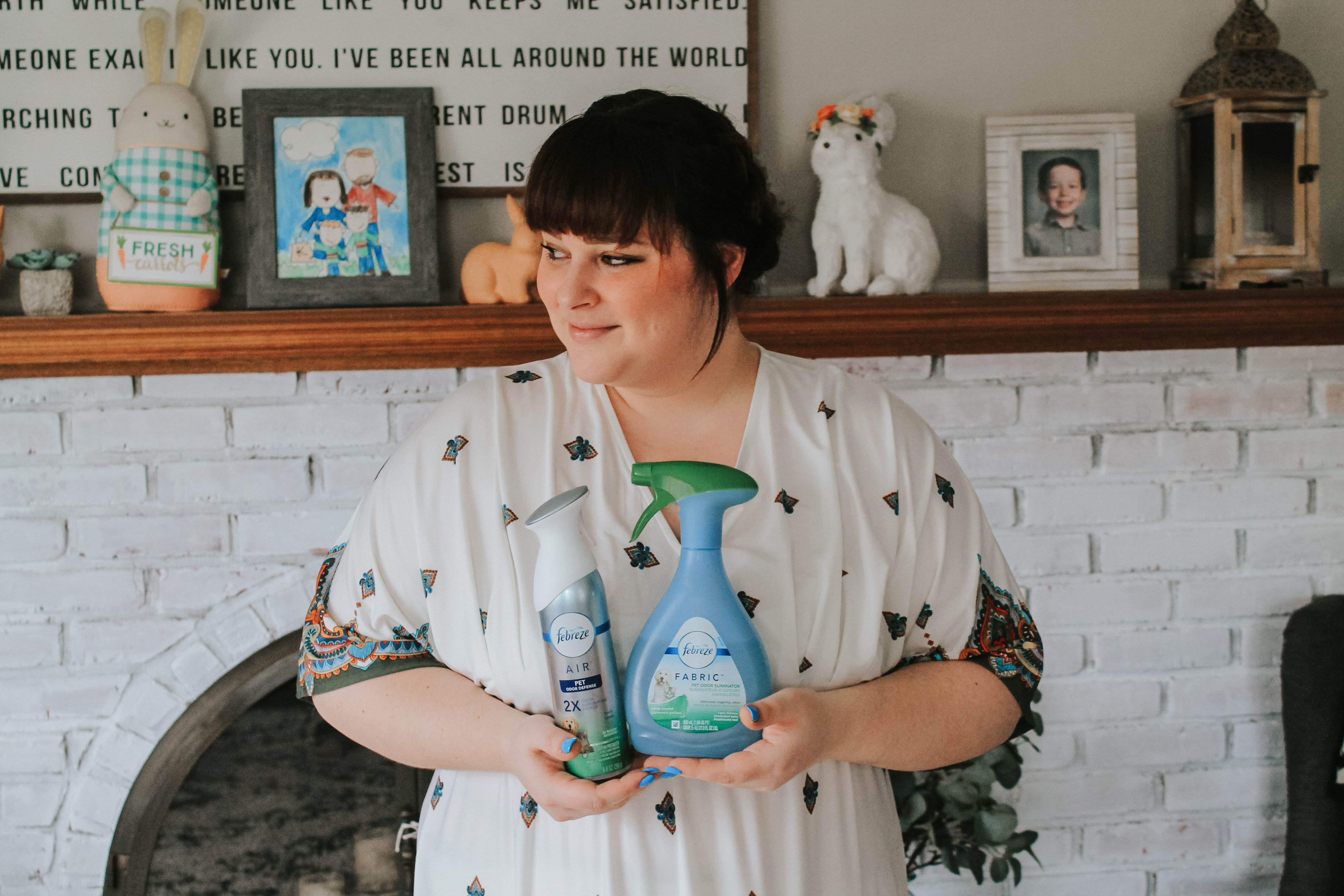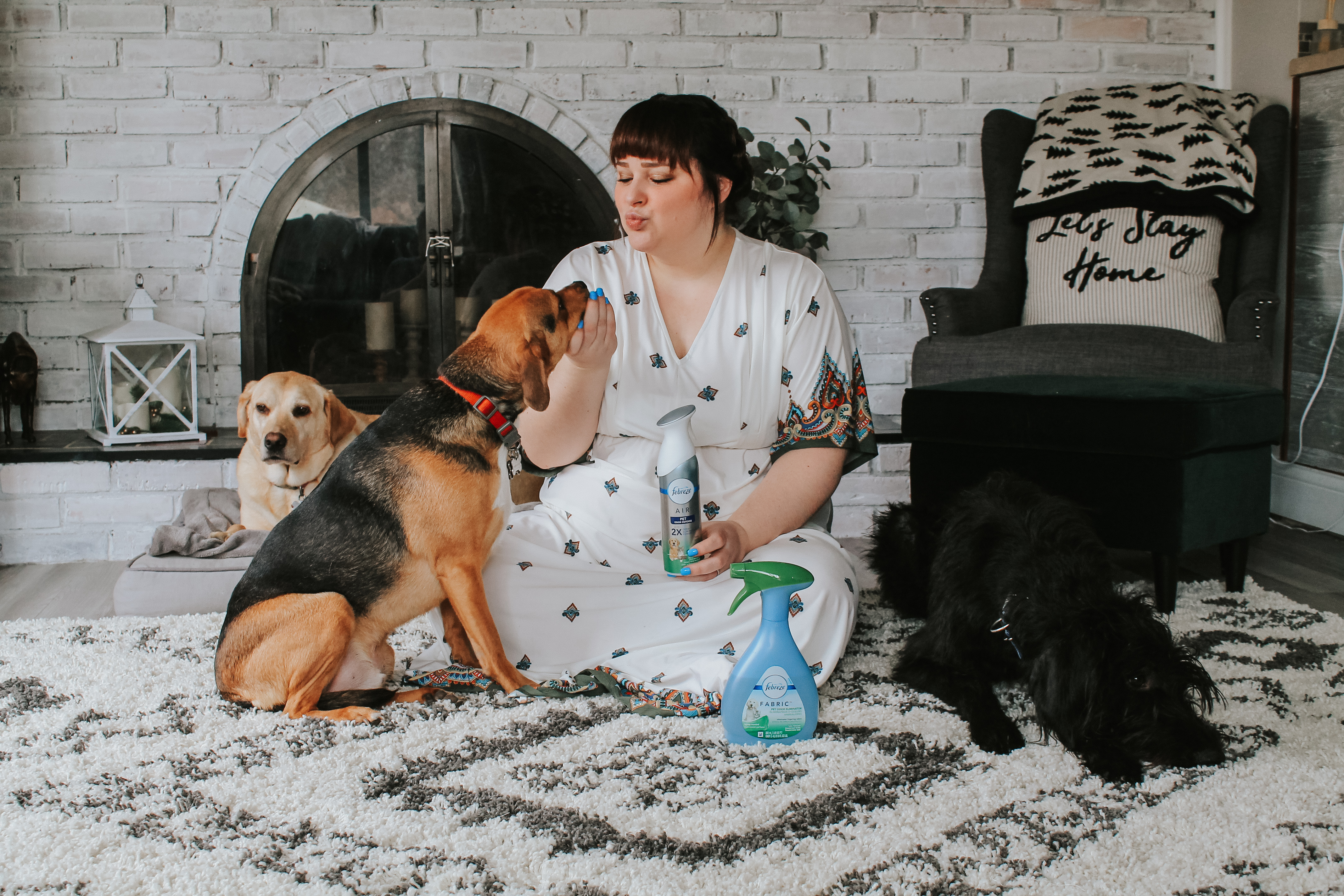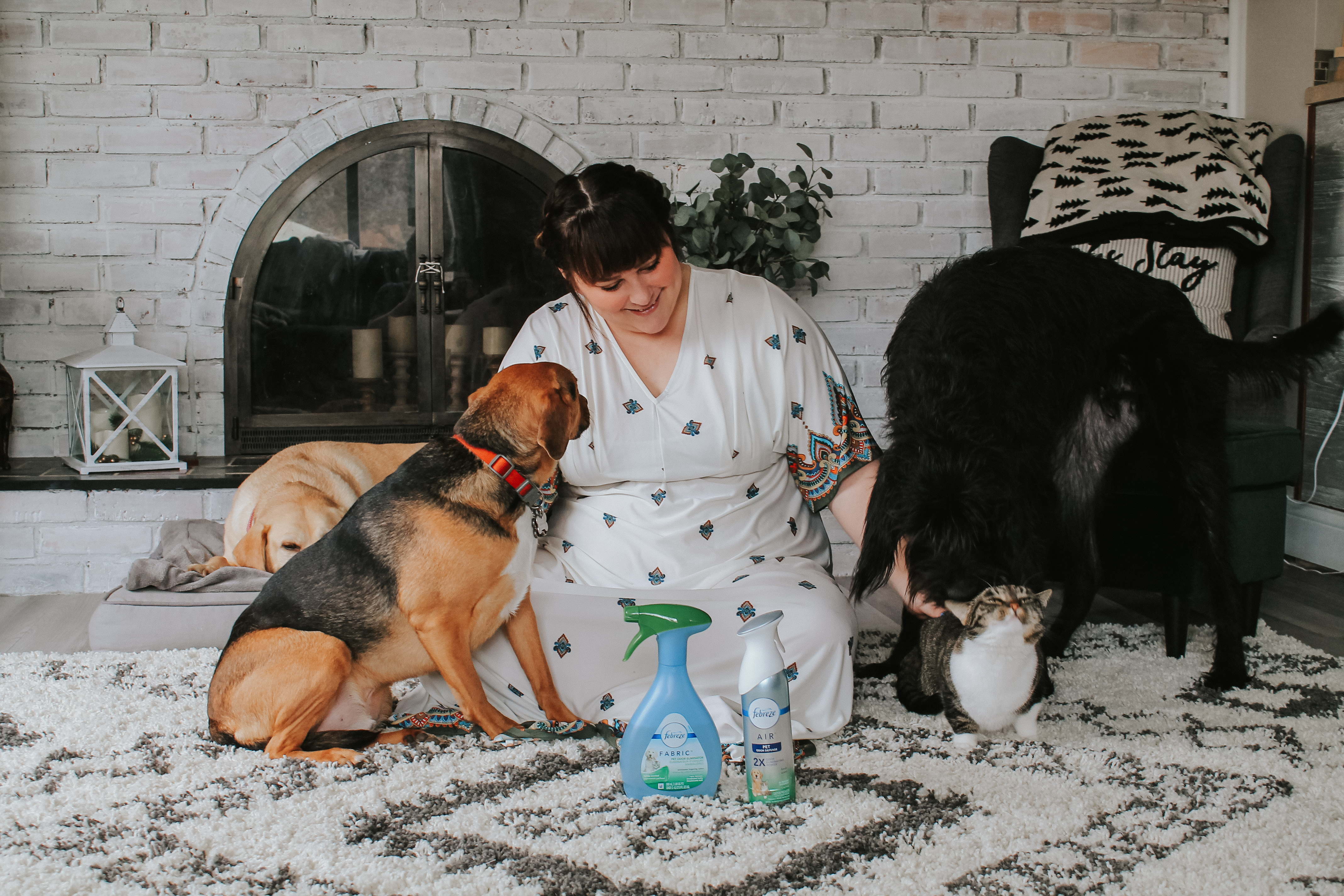 People always ask us if we'll plan on adding more pets to our family and the answer, for now, is that we're at max capacity. I think I've created enough gray hairs for my husband so I'll give him a break for a bit. Right now six pets are enough, everyone is happy, healthy, safe, and comfortable. I love animals, always have – so my heart for animal rescue isn't going away anytime soon.
Last year we rescued a teeny tiny kitten from off the road and rehomed him, we found another cat and ended up being able to reunite him with his family. That feeling of helping out and being a safe person to comfort an animal is priceless. Rehoming a found kitten or cat, that fills my heart in a way I could never explain.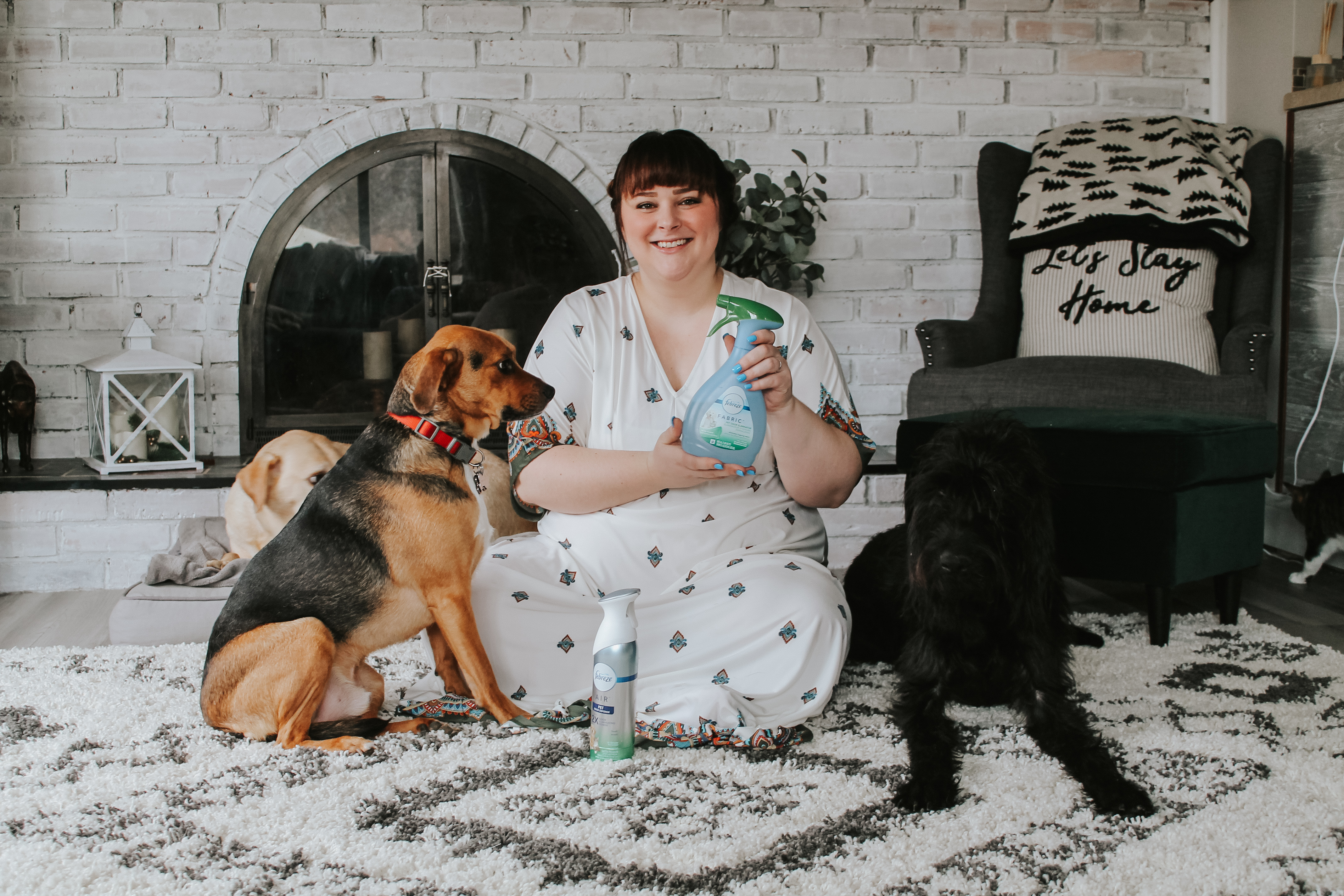 So don't let a small thing like pet odor stop you from loving and welcoming a pet into your home. Because with Febreze products you don't have to sacrifice having a great smelling home. The Febreze product line is available at grocery, retail, and mass merchandise stores nationwide including Target, Walmart, Kroger and now PetSmart and Petco. So you can shop with ease!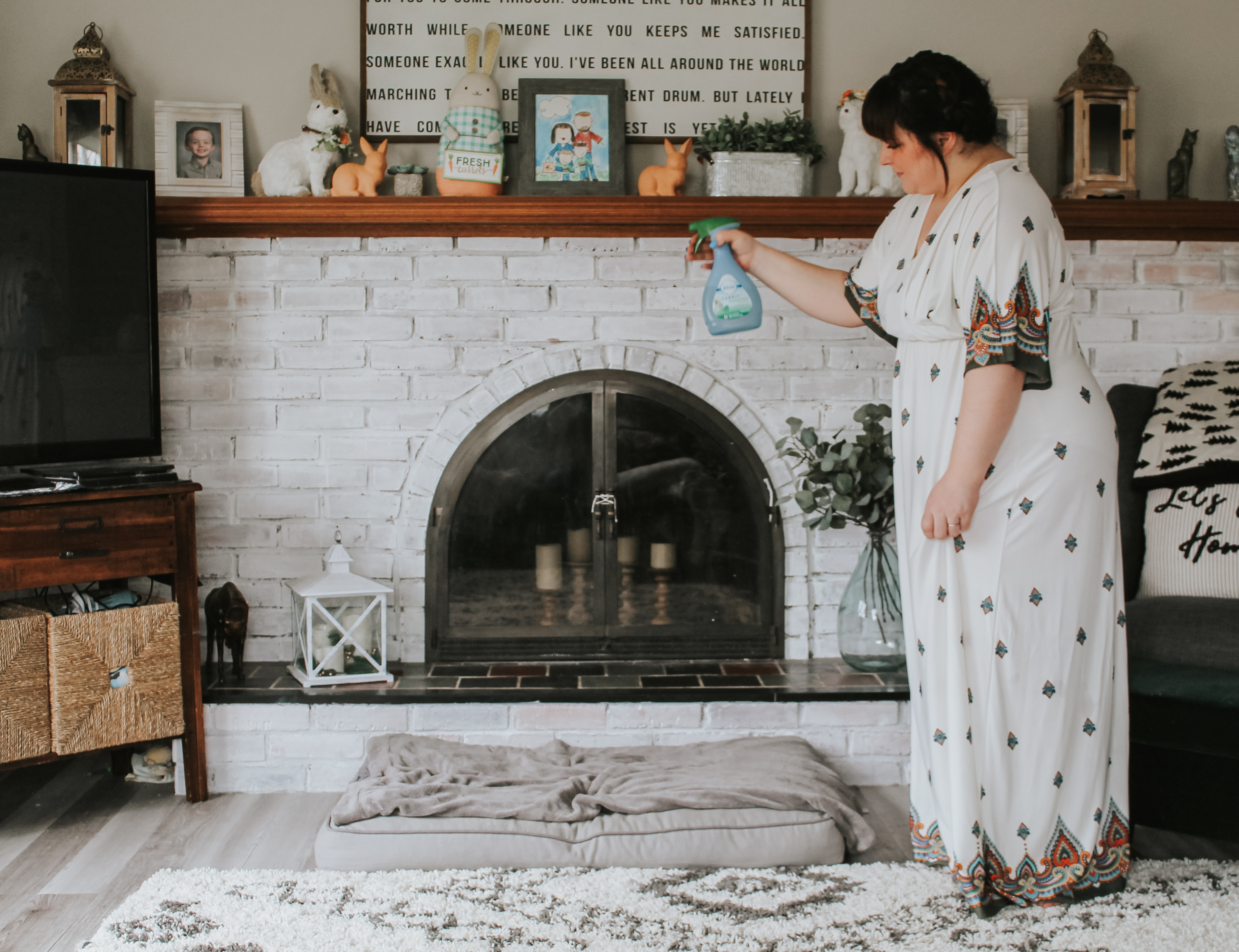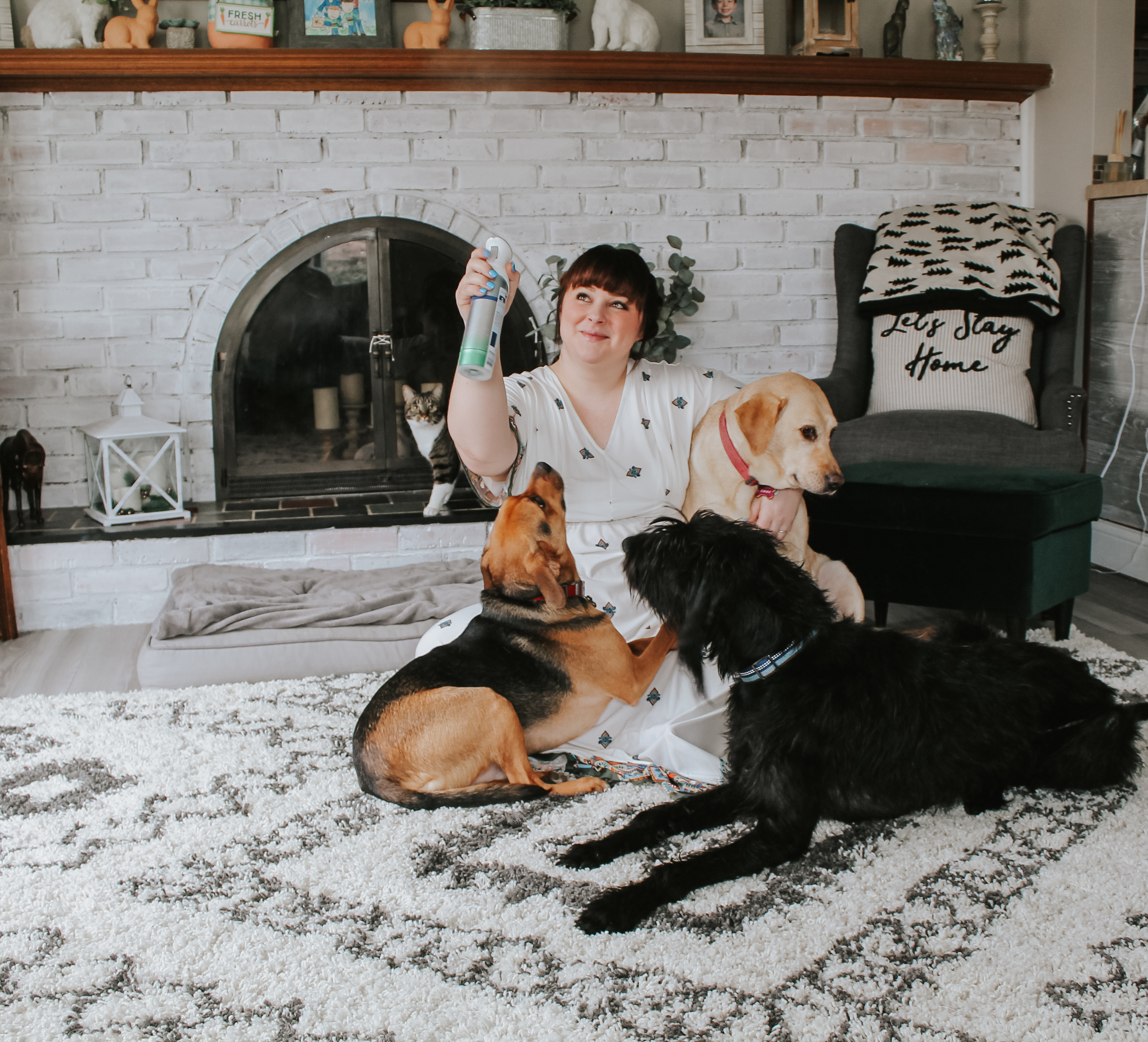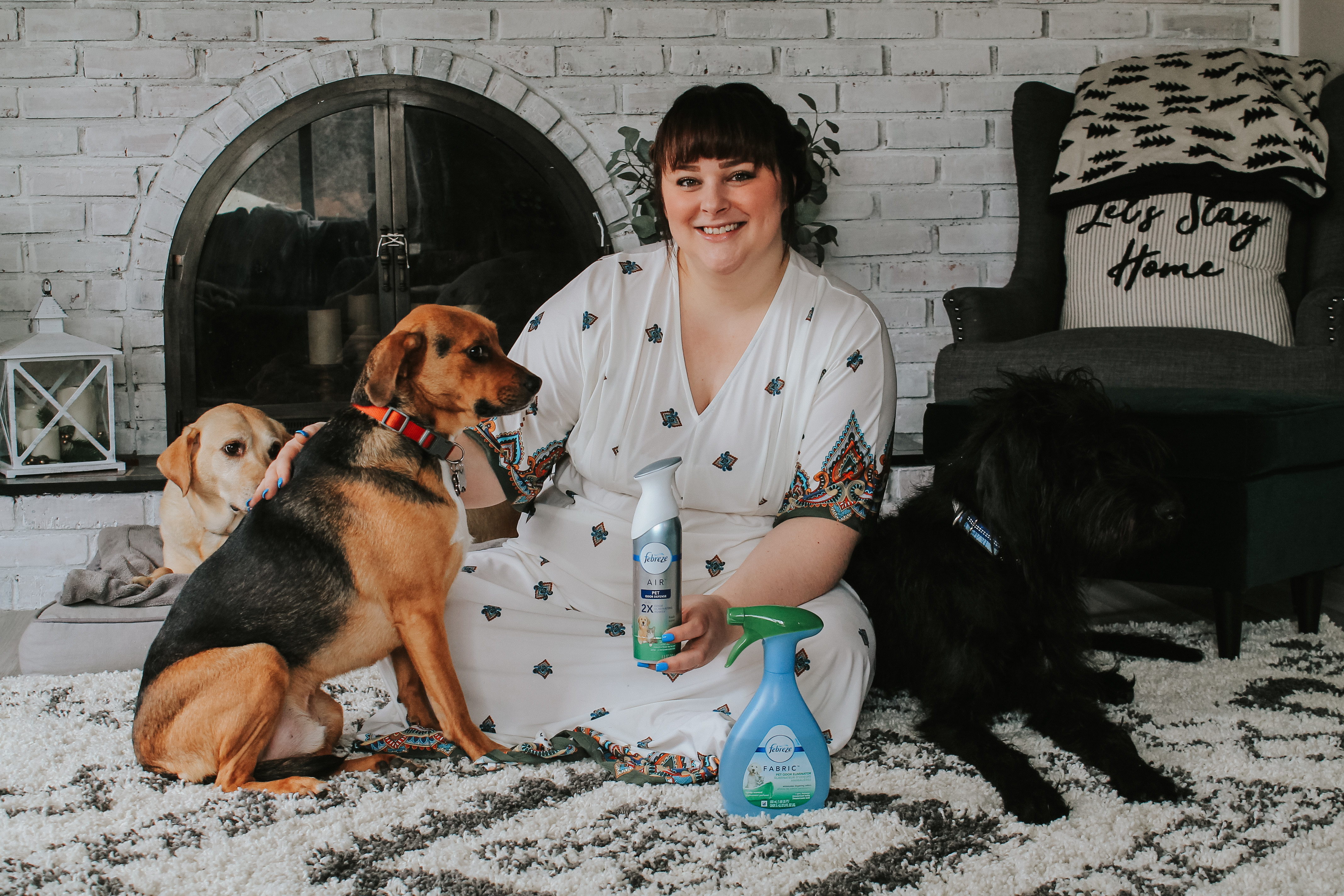 Happy National Pet Month to you and your future pet family! Celebrate by rescuing a pet that could use a good home! Whether your home already has pets, you're thinking about making the leap into having a pet, or you just adopted your first – Febreze AIR Heavy Duty Pet Odor Eliminator and Febreze FABRIC Pet Odor Eliminator will be your new besties!
Love this post? Pin it for later here: