Kendall Rayburn Blog is a participant in the Amazon Services LLC Associates Program, an affiliate advertising program designed to provide a means for sites to earn advertising fees by advertising and linking to Amazon.com.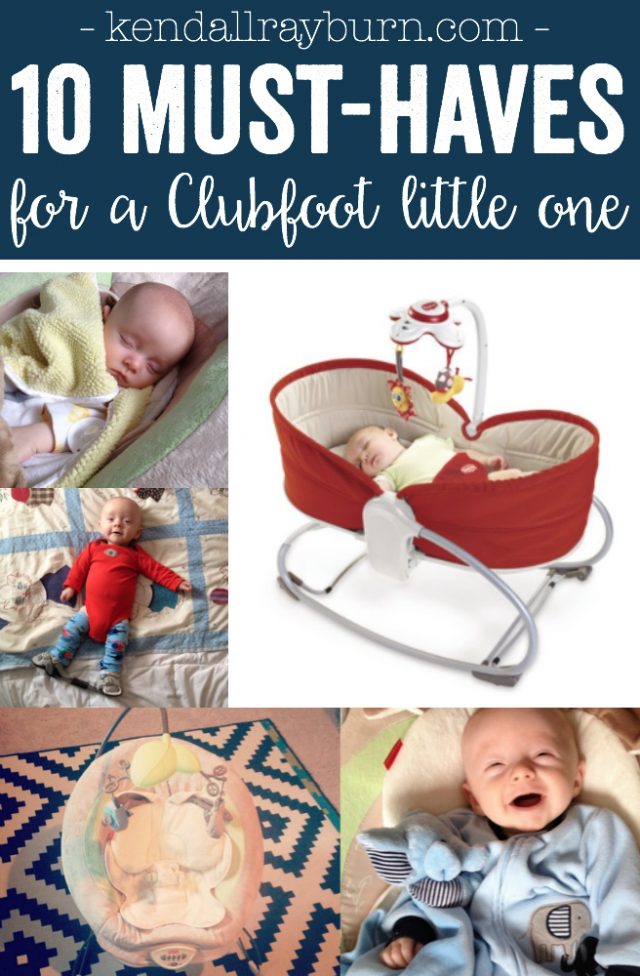 Hi, friends!
Hope you're having an awesome day! One of the questions I get asked A LOT about having a little one with Clubfoot, is what has made the experience easier. Before naming certain items, I want to tell you that support and community are key. I created a Facebook page called Clubfoot Mommas back when Levi was first born, and it's now over 2,200+ members strong (all of which have a little one with Clubfoot!). It has been an awesome experience just watching the group grow, and watching all of the interaction that happens each day! I asked some of the experienced momma's from the group what their must-haves were, and together we compiled a list of the things that saved us during the early months of castings and boots and bar!
Our must-Have Items
Tiny Love 3 in 1 Rocker Napper | This baby was essential for us. We used it constantly with Levi, even with his boots and bar! It has different positions so I was able to sit him up, lay him down, and keep him rocking. He also loved the little mobile! This baby is under $100 and WELL worth the cost, it was our MOST USED item!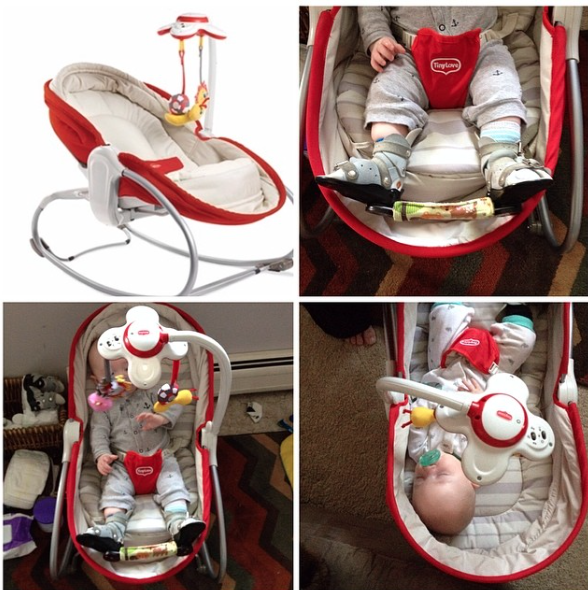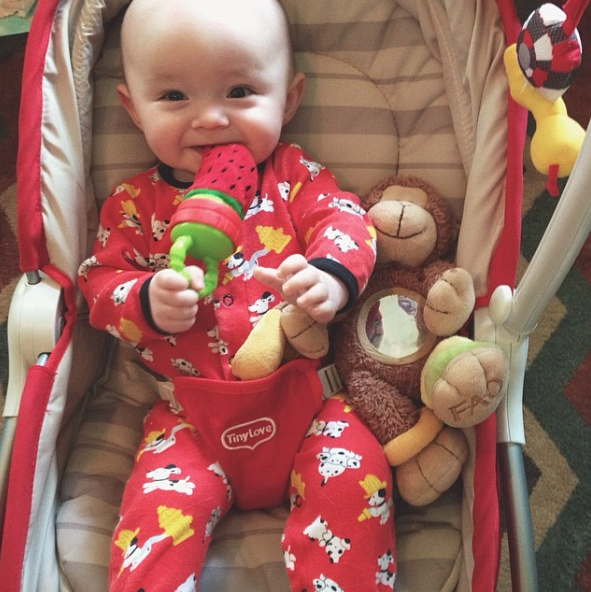 Halo SleepSack 100% Cotton Swaddle | Halo SleepSacks were our saving grace. Swaddling Levi helped him to sleep so well, and feel so comforted. On chilly nights we used the Halo Microfleece SleepSacks, they wash up really well and stay soft and cozy! When he hit the boot phase, it really helped keep him from waking himself up. The boots tend to hit the sides of the crib, etc – so this was really helpful. You can also just swaddle around the waist (as seen in the second photo below) just when they need a little extra comfort. I did this after his surgery, and during any rough casting phases.

Wrapables® Colorful Baby Leg Warmers | These leggings are GREAT for the 24 hour wear period when your little one isn't able to take off their boots. They make diaper changing a breeze because you don't have to pull them down, they keep the legs warm, and if you get any mess on one you can just slip them off and slip on another without having to undo anything or unclip both boots. I also think these ones are super cute!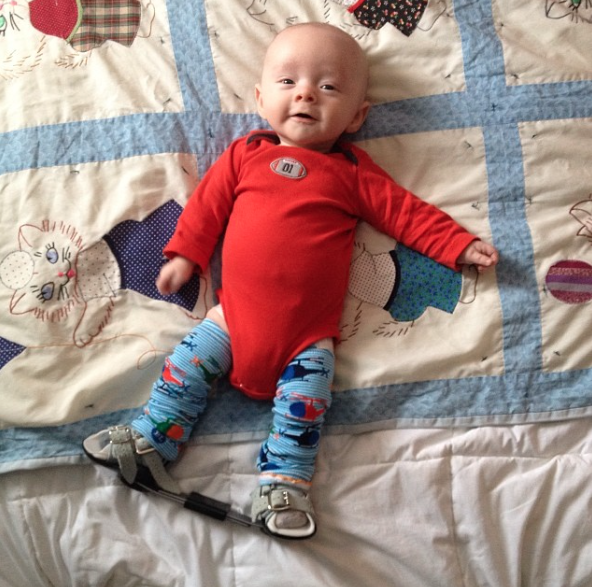 Boppy Nursing Pillow and Positioner | We loved our little boppy for sitting, tummy time, and just support. When I breastfed it was nice to have something soft to keep his cast propped up on, and even when we were just snuggling it was nice to put that weight somewhere. When Levi started to do tummy time it helped him balance and stay in place. We definitely recommend getting one with a soft cover, and bonus – they wash up great! Just make sure you get an extra cover for while the other is in the wash! You can get an extra cover here for under $10!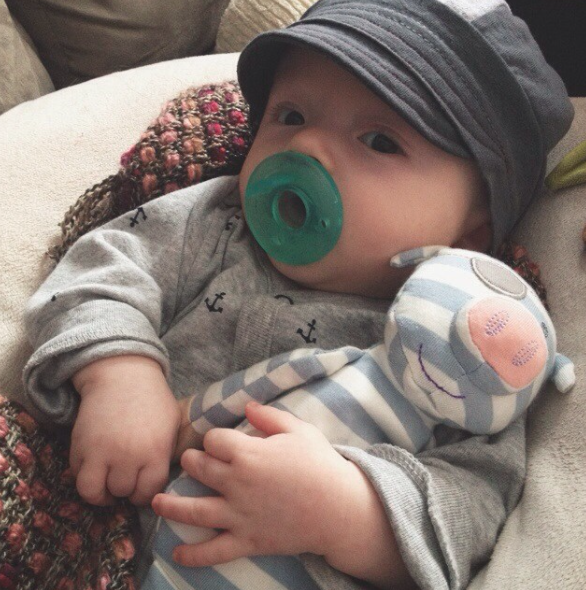 Baby Einstein Sea Dreams Soother | Oh, we loved this soother! I put it right on the side of Levi's crib and turned it on every night to help him stay comfortable. In the night, when he'd wake up from discomfort, I'd turn it on right away. I think he realized that when he saw it go on, he'd be comforted – so that in itself made him relax and take a deep breath. He is now two years old and STILL is using this each night!
Baby Einstein Play Gym | We loved this little gym for keeping him active and encouraging some tummy time. It's just so hard during the 24 hour wear phase, and we were looking for anything that would help. Boots can definitely limit the mobility, and I wanted something he could do when he was just laying down. We set up his boppy under the mat to help him reach at first, and then also used it to sit him up when he was able.
Bumbo Floor Seat | There is definitely some controversy now around the Bumbo seat and babies, but honestly, for us – it was great. Levi LOVED sitting in it. It was really helpful when we were trying to get him to balance while sitting up, and he gravitated toward it. I wasn't sure if it would work with his boots on, but it did – and putting a small pillow under the boots really took off the weight for him, which is why I think he enjoyed sitting here.

Carter's Baby Boys' Cotton Snap-Up Footless Sleep & Play | These were so essential to us! Anything that buttons all the way down and allows us to change him without having to undo his boots is a saving grace. If you have yet to experience trying to take off pants and a onesie when they're "messy" with boots on – you will soon see what I mean. Anything that can make the diaper changes easier, is a must for your sanity!

Baby High Socks | High socks are great for the boot phase. A lot of Clubfoot Mommas love the Black Robin socks that you can purchase here. They're a little expensive, but if your little one is prone to blisters they're great to have. Levi's feet would blister up often in the beginning, so we used them a lot. After a few months we switched to the regular high socks linked above, and those have been working just fine. Clubfoot Momma's also love triple roll socks from Old Navy – and even some from Target!
Essential Oils | This is something I starting getting into about two years ago. And I love using them, especially on Levi. He has a little dinosaur diffuser in his room that I set up each night, I put either Lavender or Peace and Calming oil in it, and I set it to run for anywhere between 1-3 hours. I also rub something called Sleepize on his feet each night before putting on his boots. At one point we were having the hardest time getting him to sleep each night, but I've noticed a big difference in how well and how long he sleeps since using essential oils. I use more to help him relax, and one in particular to help with the "stinky feet" that come along with wearing boots and bars! I started selling these oils to friends and family through Young Living. If you're just starting out, or need recommendations just request to join the Wildflower Essentials Facebook Group or e-mail me, I'd be happy to help!
Carter's Animal Strap Covers | We used these as boots and bar covers! Simple, inexpensive, and came in a two pack. Because messes happen, and these were easy to velcro on and off. We also have been loving Clubfoot Accessories by PeekaBoo Covers – 10% of all sales until May 1st, 2016 go directly to our annual Clubfoot Mommas Fundraiser for MiracleFeet!
Fisher-Price Deluxe Bouncer, My Little Snugapuppy | I can't say enough about this little vibrating chair. It was so nice to have to help soothe Levi through any difficult periods. And I was SO sad when he hit the weight limit and was unable to use it! Fisher-Price, hear my prayers and make a toddler version, lol. But, seriously – this was soft, snuggly, and had magic soothing powers for my little guy.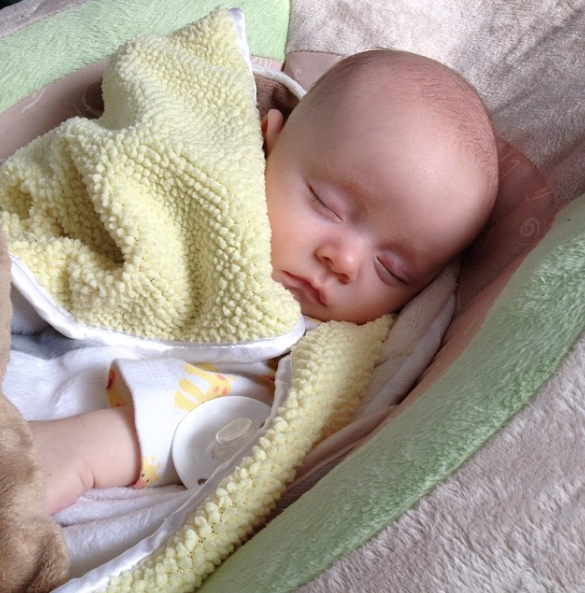 *note, the list started with 10 and is constantly being updated with other must-have recommendations from other Clubfoot Mommas!
Do you have anything YOU'D add to the list?
Leave your suggestions in the comments below!