This shop has been compensated by Collective Bias, Inc. and The Coca-Cola Company. All opinions are mine alone. #LayerOnLove #CollectiveBias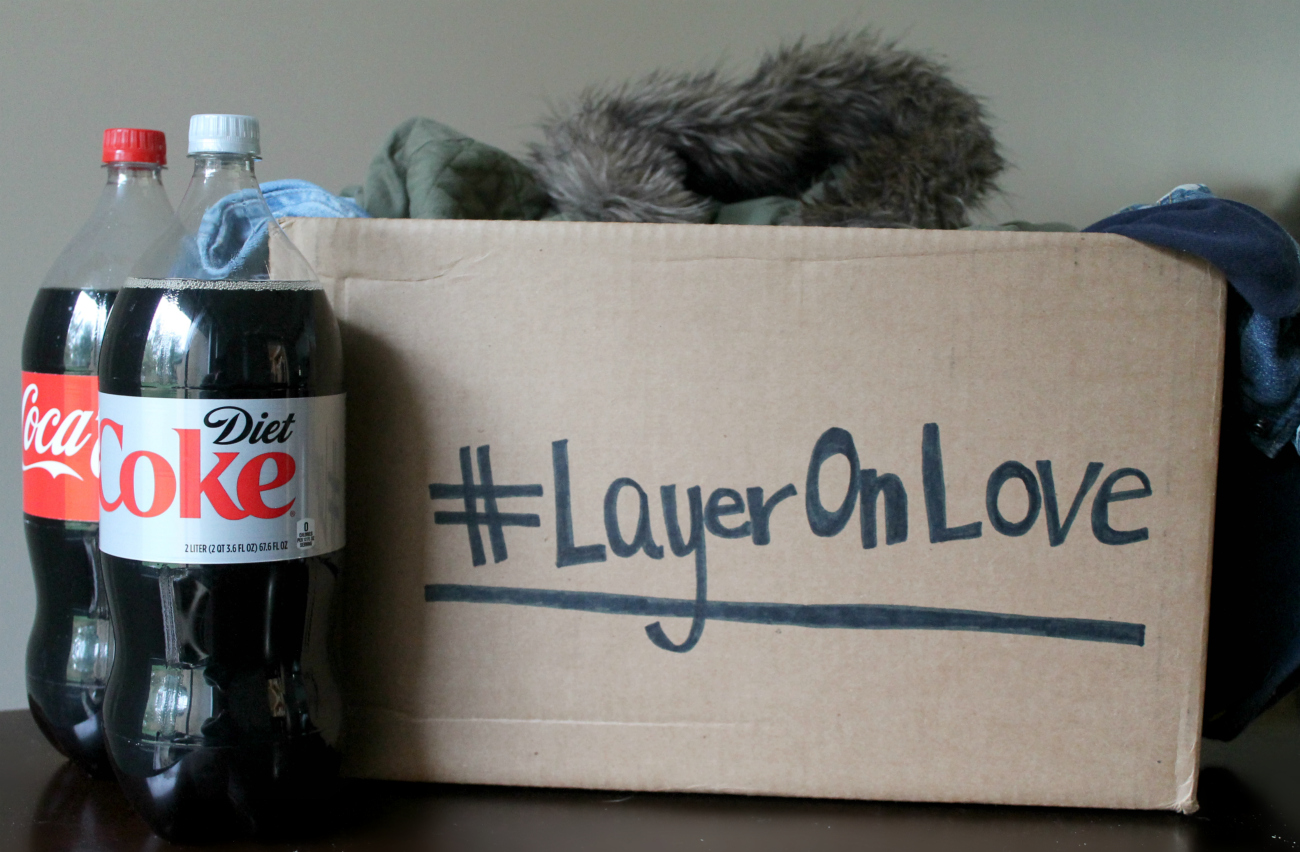 Hello, friends!
I am SO excited for today's post because I get to tell you about One Warm Coat®! One Warm Coat® is a non-profit organization partnering with Coca-Cola at Walmart to give back this holiday season! This season the program is titled "Layer On Love" and it's goal is to provide as many coats (completely free) to anyone in need.
Seriously, how cool is that? You can get rid of extra coats you may be holding onto, and make a huge difference in the life of someone who really needs it. I really can't imagine what it must feel like to not be able to provide something as simple as a coat for my children, the thought that some parents out there have this dilemma hurts my heart, and makes me want to take action. So first, I went to Walmart and picked up some Coca-Cola!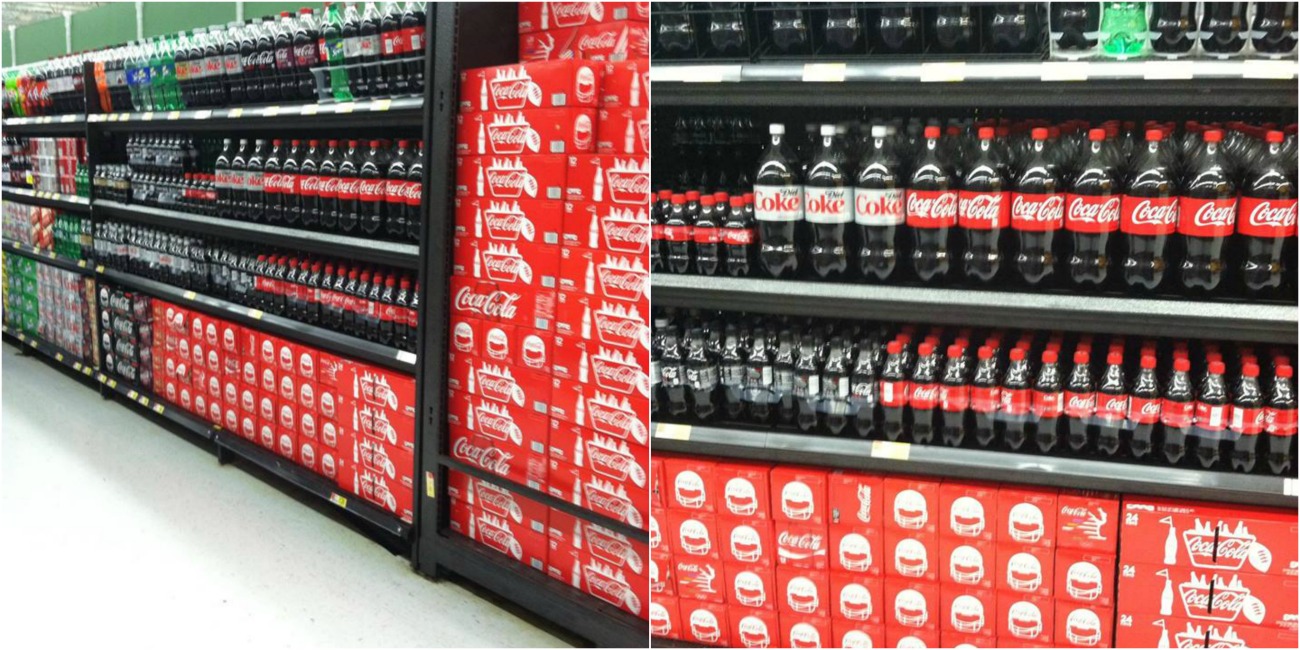 5 Easy Ways to Give Back This Holiday Season:
Donate your time to a local organization in need. There are always animal shelters, shelters, and others who might be in need of some volunteering this holiday!
Go through your closet and make a donate pile of everything you could live without. Gather all of your gently used clothing and donate it to those in need.
Host a can drive in your neighborhood. Reach out to a local food bank and ask them what items they need, then try and gather as many of those items as you can to donate.
Bake cookies and pass them out at a women's shelter, police station, fire house, or anywhere else you can think would spread some holiday cheer.
Donate your gently used coats to Coca-Cola® who is working with One Warm Coat® this holiday. See how easy it is below!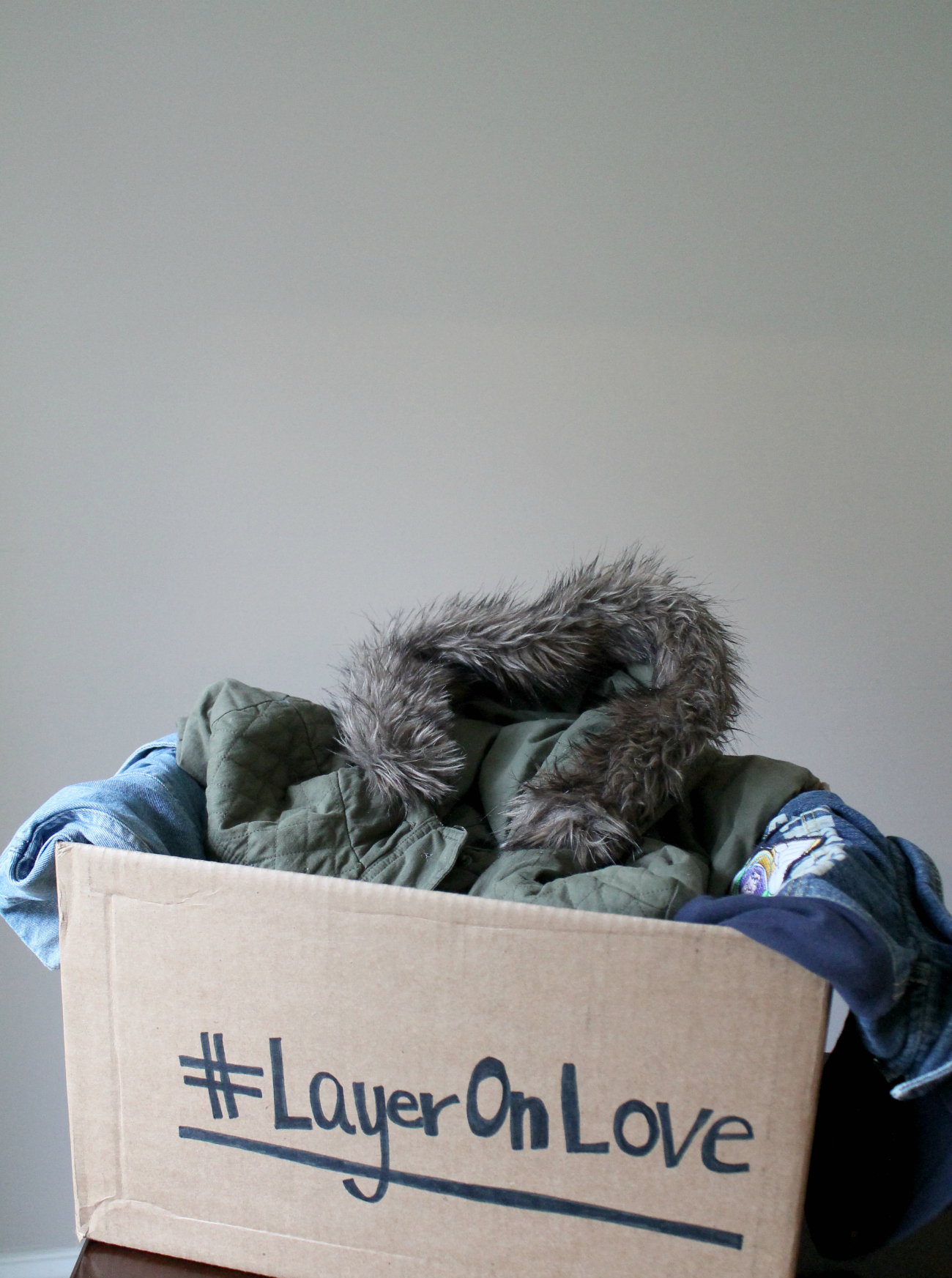 I love getting my boys excited about giving back in the community whenever possible. Whether it be food donations, or clothing – giving back is something I want to instill in them. I'm so proud to help spread the message about the amazing partnership between Coca-Cola® and One Warm Coat®. Do YOU want to help out? Just follow the 5 steps below to make a difference with One Warm Coat®!
5 Steps to Give Back to One Warm Coat®:
Gather up all of your gently used coats that you don't wear anymore and place them in a bag or box.
Visit the One Warm Coat® website to find a drop-off location.
Drop off your coats to keep someone in need warm this winter.
Print out the printable (it's also a kid's coloring sheet) below to help spread the word!
Support Coca-Cola products at Walmart and give yourself a high five for helping to make a difference!
This printable coloring sheet is something you can do to get your kids excited about donating their gently used coats to One Warm Coat®. It's also something you can pass out to neighbors, playgroups, and more to help keep as many people warm this winter as possible!
Free Printable Coloring Sheet: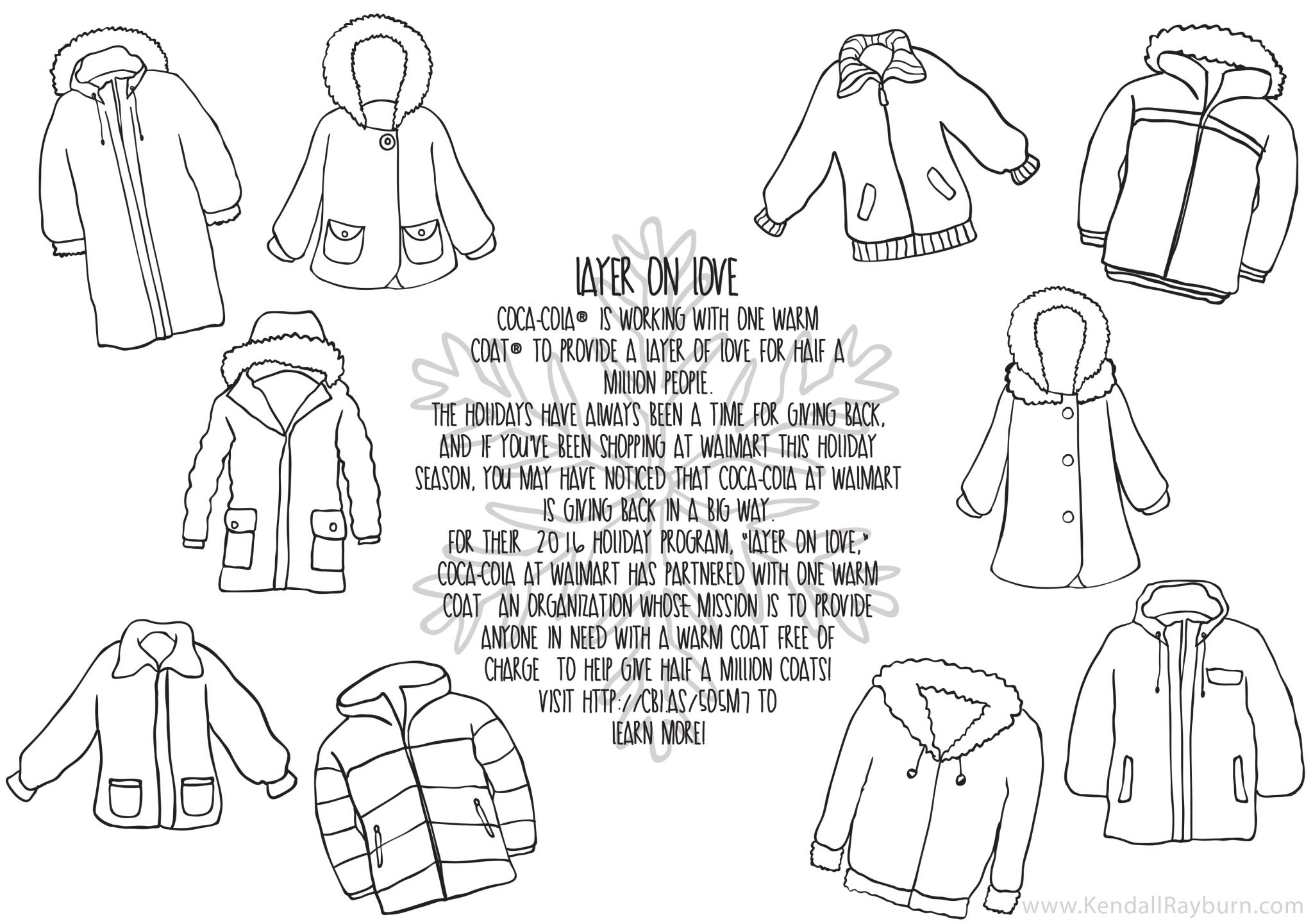 And here's the coloring sheet all colored! Because, you know, work research. 😉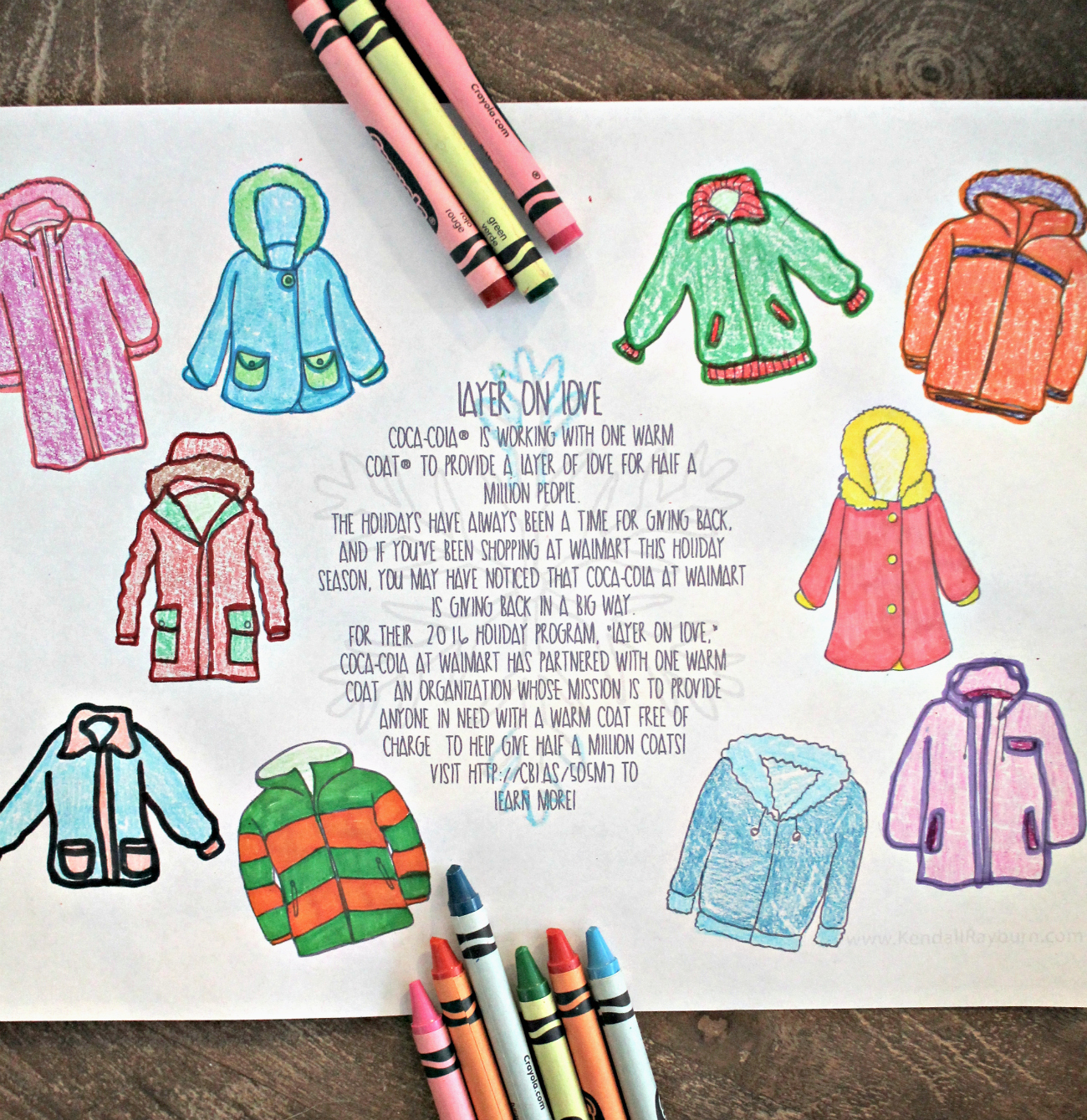 By coming together to donate to One Warm Coat® on Coke.com/LayerOnLove, we could collectively help to put a coat on one million people in need this winter!
How do YOU give back during the holiday season?
Love this post? Pin it for later below: