A huge thanks to our friends at Hickory Farms for sponsoring today's post featuring Foodie Gift Ideas Under $30!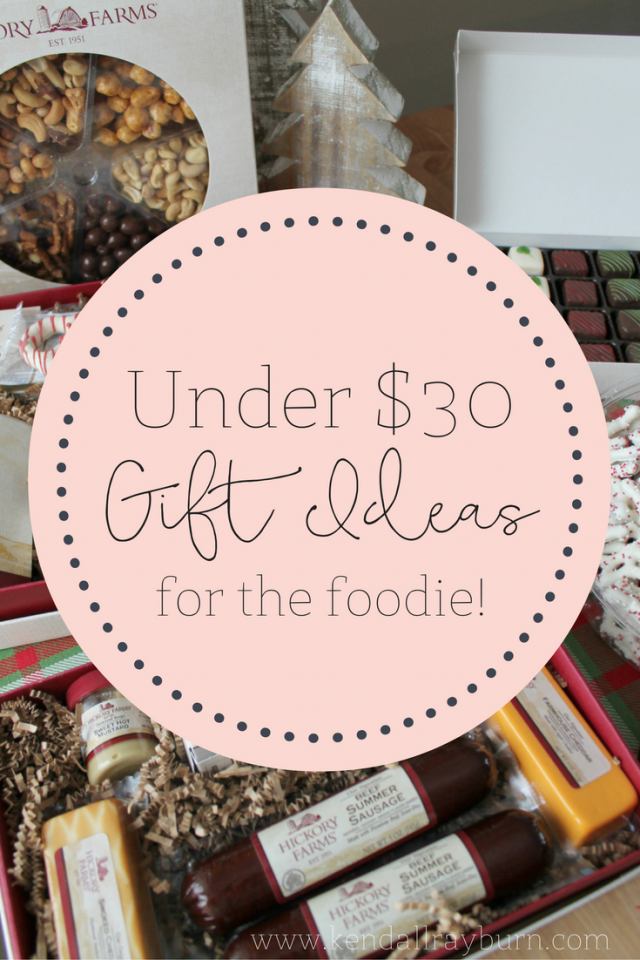 Hello, friends!
Hope you're having a wonderful day so far! As you may or may not know, I am a huge fan of Hickory Farms, especially around the holidays! And today I wanted to show you a few Foodie Gift Ideas under $30!
Holiday gifts don't have to break the bank, you can get a delicious, gorgeously packaged gift for anyone on your list from Hickory Farms for under $30 this season!
Foodie Gift Ideas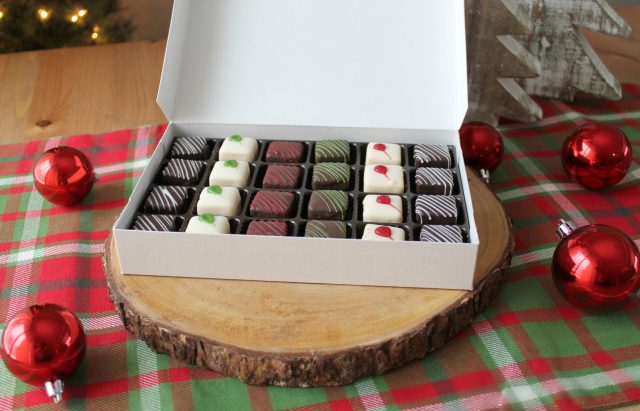 Yum! There's nothing like a box of sweets to please the palette of any foodie! This box contains the lovely flavors of: Almond, Orange, Strawberry, and Chocolate Mocha. These sweets are so delicious, and so beautiful to admire!
Lovingly baked in the traditional Swiss style and filled with layers of the richest crème filling, these Petit Fours are an indulgence. The hand decorated, rich frosting coating of each is just the beginning. Inside, you'll find layer upon layer of creamy goodness in flavors of almond, orange, chocolate mocha, and strawberry.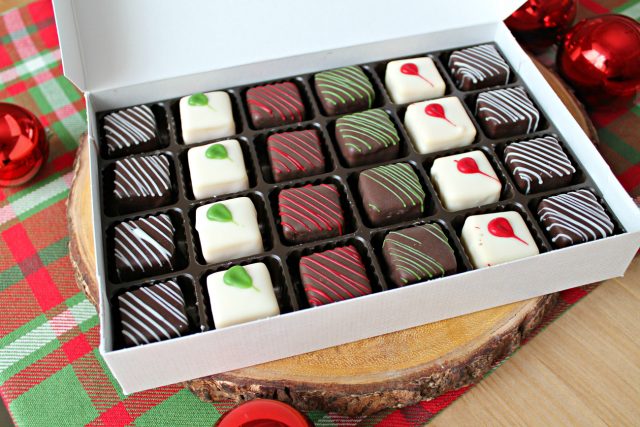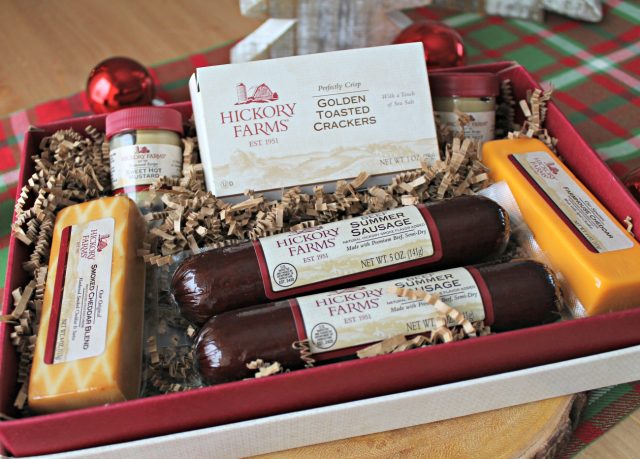 My husband absolutely adores Hickory Farm's Summer Sausage, it's his favorite! So this box is definitely going under the tree for him. It's got the perfect selection of sausage, cheese, and crackers! This box is perfect to gift – or have on hand for holiday entertaining!
This box includes:
(2) 5 oz. Our Signature Beef Summer Sausage
4 oz. Smoked Cheddar Blend
4 oz. Farmhouse Cheddar
(2) 1.25 oz. Sweet Hot Mustard
1 oz. Golden Toasted Crackers
Our award-winning Signature Beef Summer Sausage is a real crowd pleaser. This delicious array of cheeses crackers and Sweet Hot Mustard were made to bring out it's memorable flavors.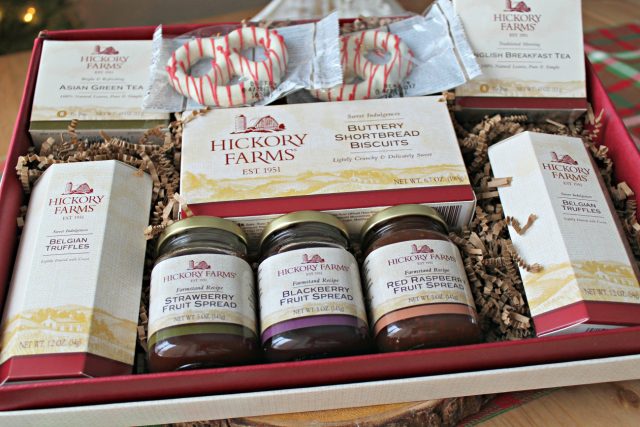 This box is perfect for the tea lover in your family! It comes packed with fruit spreads, truffles, teas, and so much more! To be this box would be perfect for anyone who loves trying out new flavors, and enjoying classic favorites!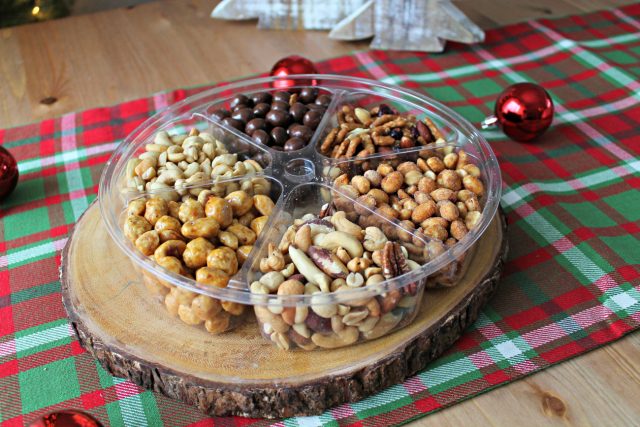 This box is perfect to gift to the foodie who loves both salty and sweet. I absolutely love this because it's perfect for sitting out on the table during a holiday event so guests can pick and choose what to snack on. Because it has such a large variety of different items, it pleases almost any palette!
This box contains:
Milk Chocolate Peanuts
Cranberry & Sesame Nut Mix
Honey Roasted Peanuts
Roasted Salted Whole Cashews
Butter Toffee Peanuts
Traditional Nut Mix
Everyone knows someone whose loves to snack. And this gift has something to satisfy every kind of craving. Choose from peanuts that are honey roasted, covered with Milk Chocolate, or tossed with Butter Toffee. Add a sweet and tart flavor to your party with the Cranberry & Sesame Nut mix. And for the traditionalists, we offer Roasted Salted Whole Cashews and a Traditional Nut Mix.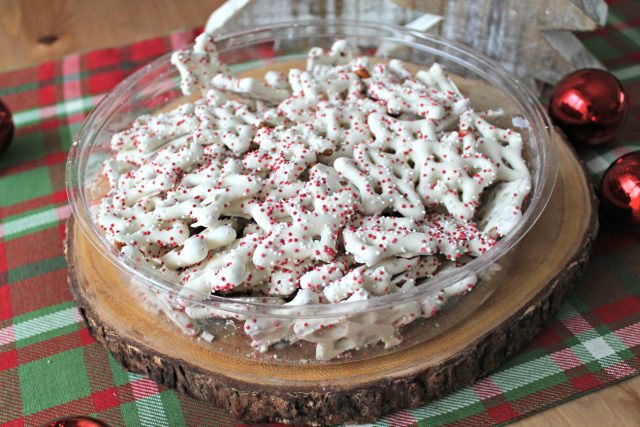 Okay, I have a confession. These Snowflake Pretzels are my new favorite snack! I couldn't help but grab a few while I was taking photos and – oh.my.goodness. they are delicious! The outside is a creamy white frosting, and when you take a bite you instantly get the crisp of the deliciously salty pretzel underneath – so yum!
Even if snow doesn't fall where you live, you can experience it here. The delicious creamy white frosting and sprinkles are as refreshing as watching falling snow, while the crunchy pretzel underneath will remind you of hiking through the snow.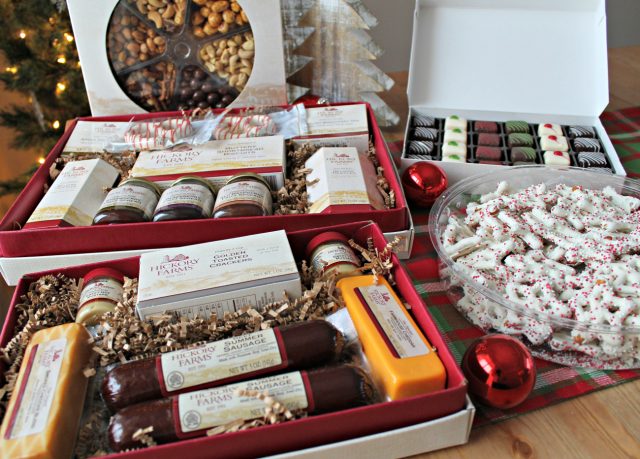 Which of these Under $30 Gifts would YOU love to receive?
Love this post? Pin it for later here: