Keep scrolling to see this super cute Relaxed Coral Stripes Look as part of our new Plus Size Mom Fashion series! This post contains affiliate links, purchasing through them helps to support this blog. Photos by the uber-talented Laurel Creative.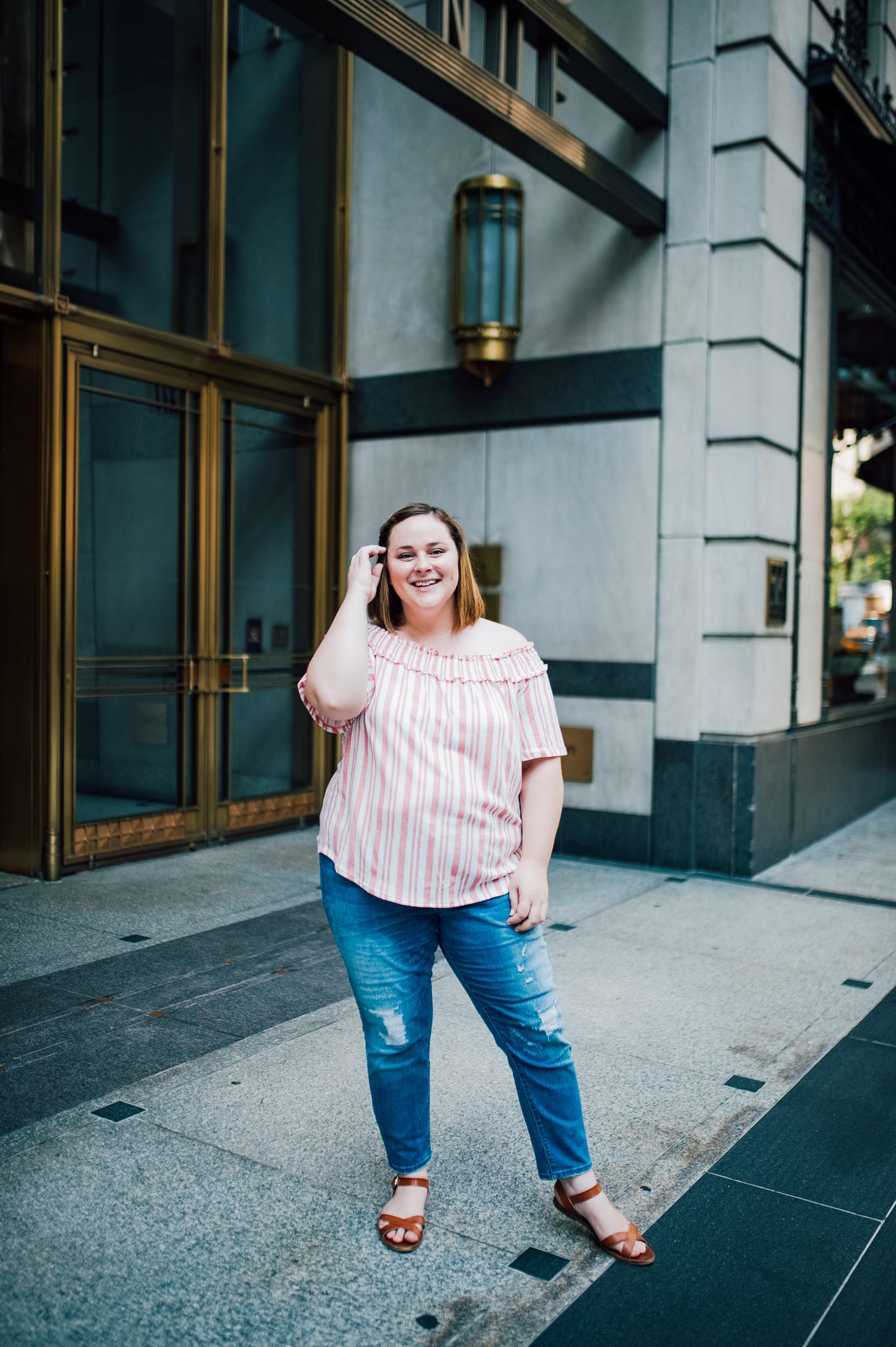 You guys!
I am back from my trip to New York and feeling refreshed, rejuvenated, and ready to rock! I had the greatest time on my little mini trip with my friend Carly, and I can't wait to get back to work! I have been so excited to launch the Plus Size Mom Fashion page on the blog, and today is that day! From here on out, at least once a week I'll be posting under this topic sharing my favorite finds!
Excited? So am I! Fashion is something I've always loved, when I was in school I had dreams of becoming a designer but my love for writing took over. I've been exploring fashion more and more as of late, and especially since I found my plus-size confidence. Today I'm sharing one of my favorite looks for summer, and I can't wait to share it with you! So if you're ready – let's jump right in!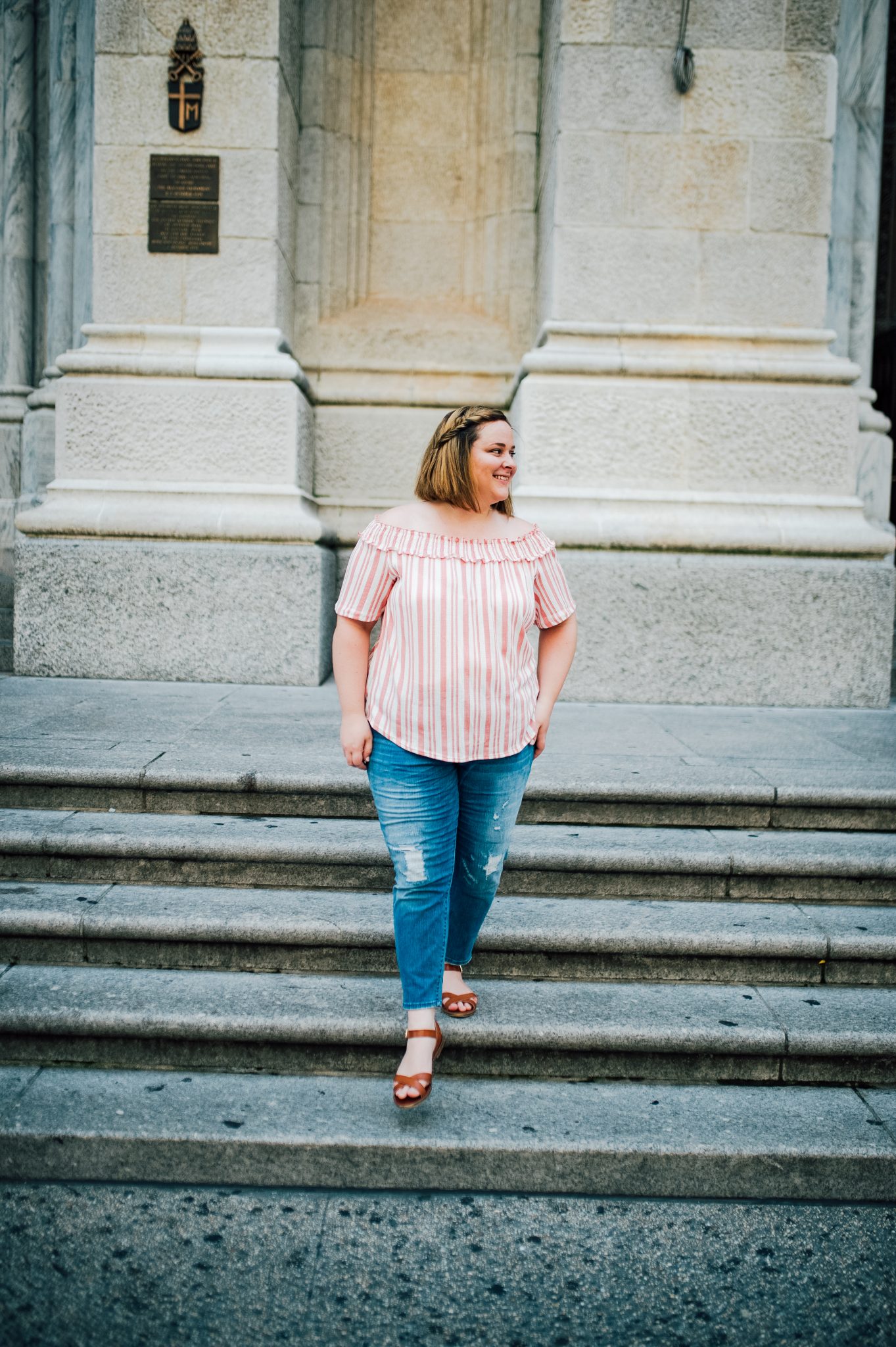 As you know, comfortable is my jam. I look for pieces that are affordable, stylish, and things I can wear whether I'm heading out for a play date, coffee date, or just to the grocery store. This outfit is super adorable (I get compliments on this shirt EVERY time I wear it), and perfect for running around town.
Relaxed Coral Stripes | 3 Easy-to-wear Pieces
Basic Blue Jean Jegging – I picked my jeans up at Target but they're currently sold out – so here are a few other options that are the same fit / style: [option one, option two, option three] I'm wearing a size 20 jegging and the added stretch of the material means you'll get form-fitting comfort.
Flat Sandals – I'm wearing these Steve Madden Sandals (and they're under $23!). These are SO comfortable and very high quality for under $23! I've had my pair for two summer's now, so I can tell you they hold up! Plus, they go with nearly everything!
Off Shoulder French Laundry Top (I'm wearing a 1x in the coral stripe). This is one of my all-time favorite shirts. Not only is it affordable (under $25), it also comes in a few different colors! You can grab it in light green and white, blue and white, and even in solids!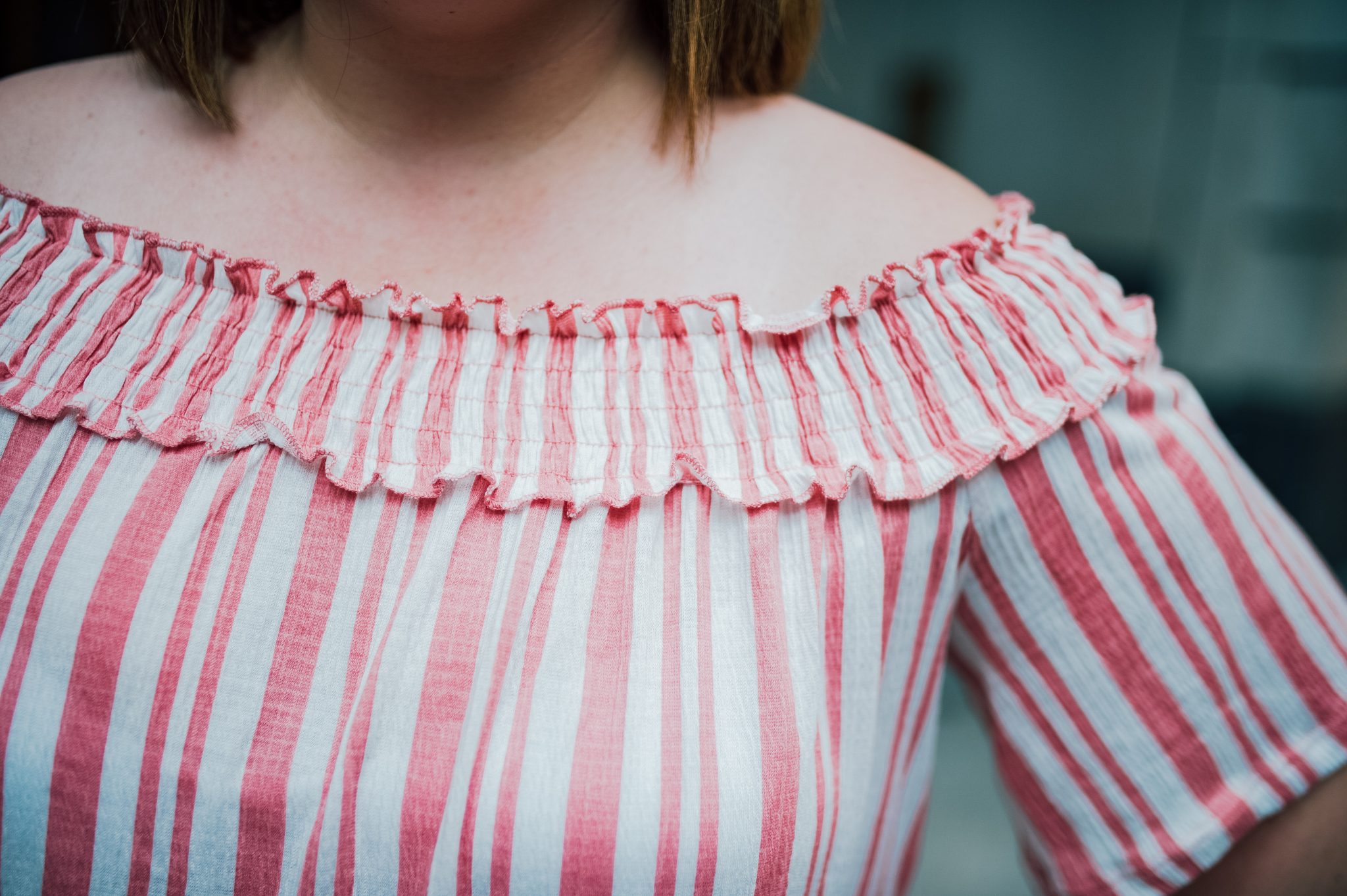 The shirt can be worn both on and off the shoulder, so if strapless bra's aren't your thing, feel free to pull the shoulders up! I love wearing it both ways and dressing it both up and down with either jeans or (and let's be honest) yoga pants. It's very light and just perfect for summer!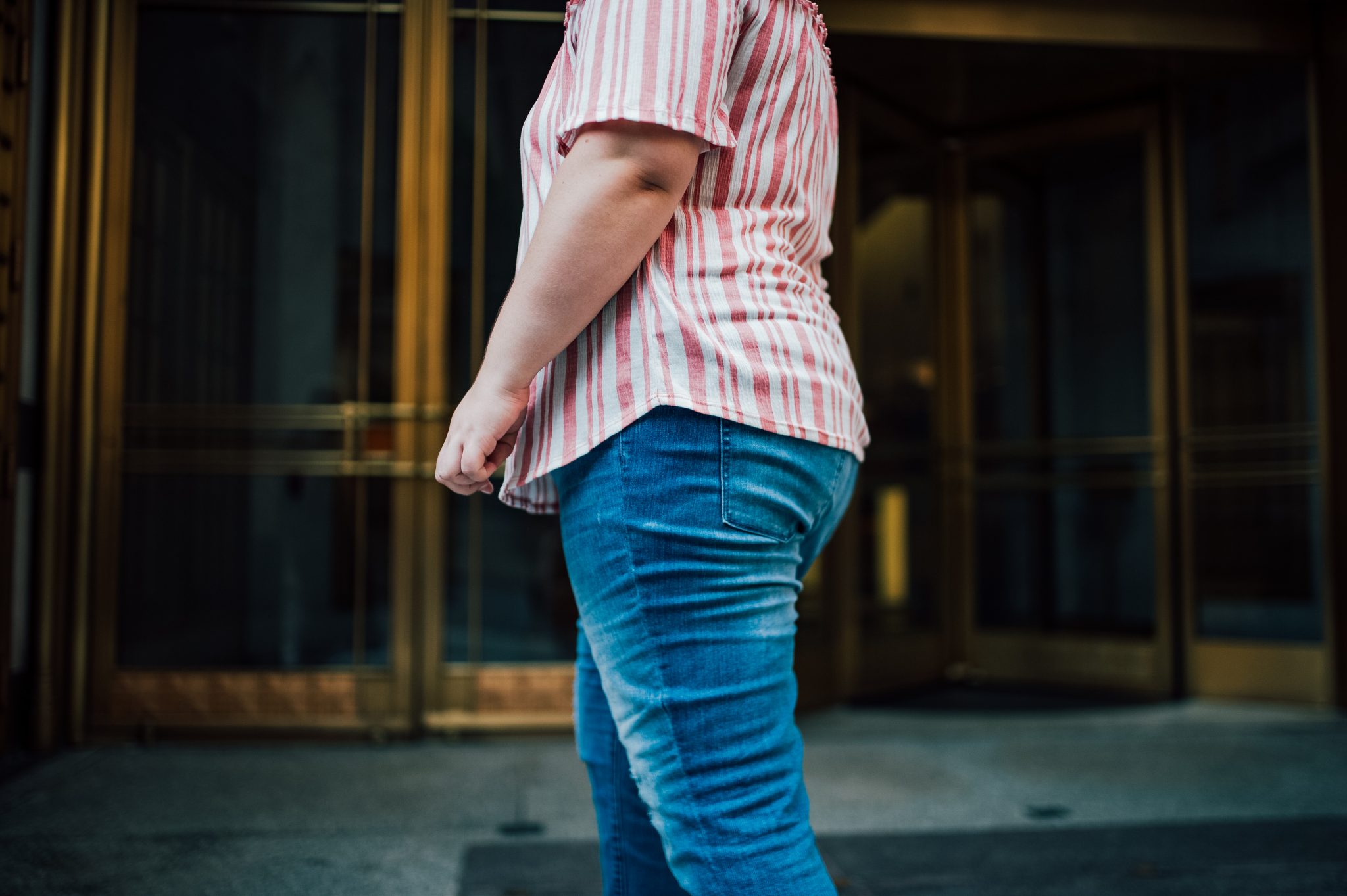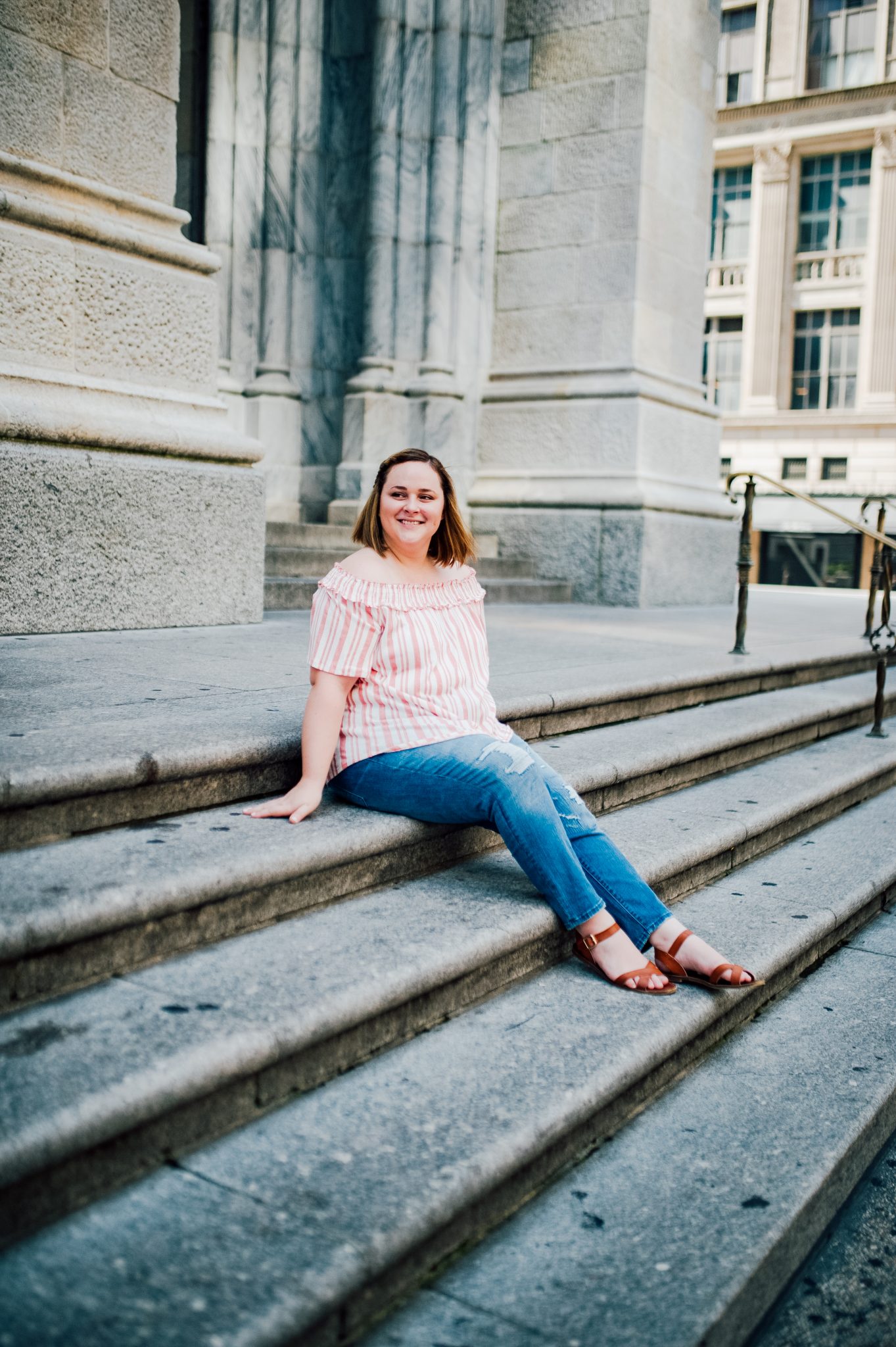 Isn't this look fun? Simple, comfortable, but super cute! I can't wait to share more of my favorite plus-size finds with you in the months to come!
For more, check out my Plus Size Mom Fashion page!
Love this look? Pin it below!