This post contains affiliate links, purchasing through them helps to support this blog & keep our coffee cups filled, thank you! Keep scrolling to grab the how-to for these adorable Black Cat Cupcakes!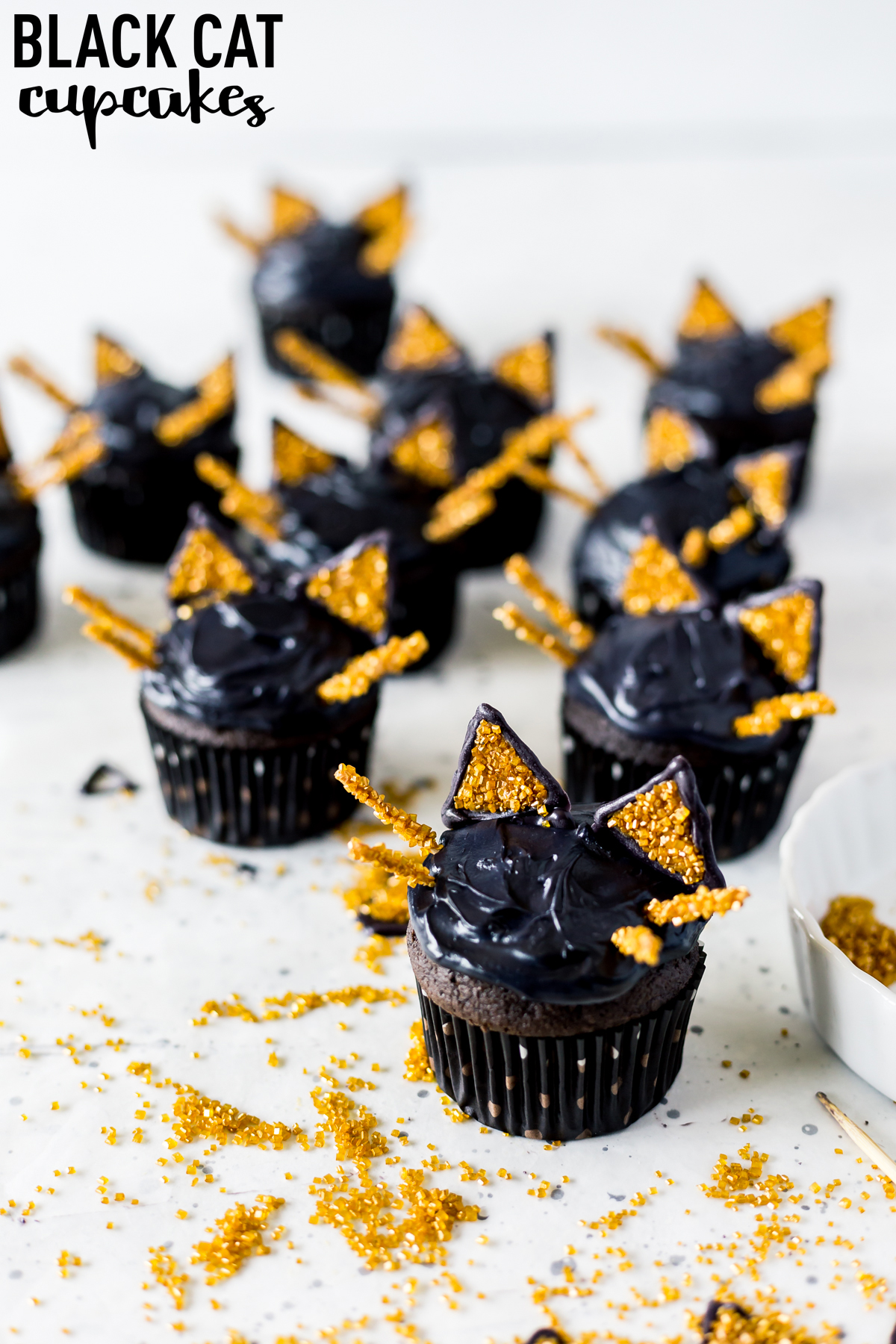 Hello, friends!
I am SO EXCITED to share today's blog post with you because it combines three of my favorite things:
1) Halloween (my youngest's birthday)
2) Cats
3) CUPCAKES!
These Black Cat Cupcakes are fun to make and perfect for any upcoming Halloween parties (they'll be here before you know it), or to make for any other occasion – I know I've got some cat lovers out there! 😉
These cupcakes will add a sprinkle of whimsy and a dash of bling to your life, which – to be honest, who couldn't use some of both? Life is too short to eat plain cupcakes, and the Gold Sugar on these black cats really helps to make them shine! So keep scrolling to see more of these ADORABLE Black Cat Cupcakes, and to get the recipe!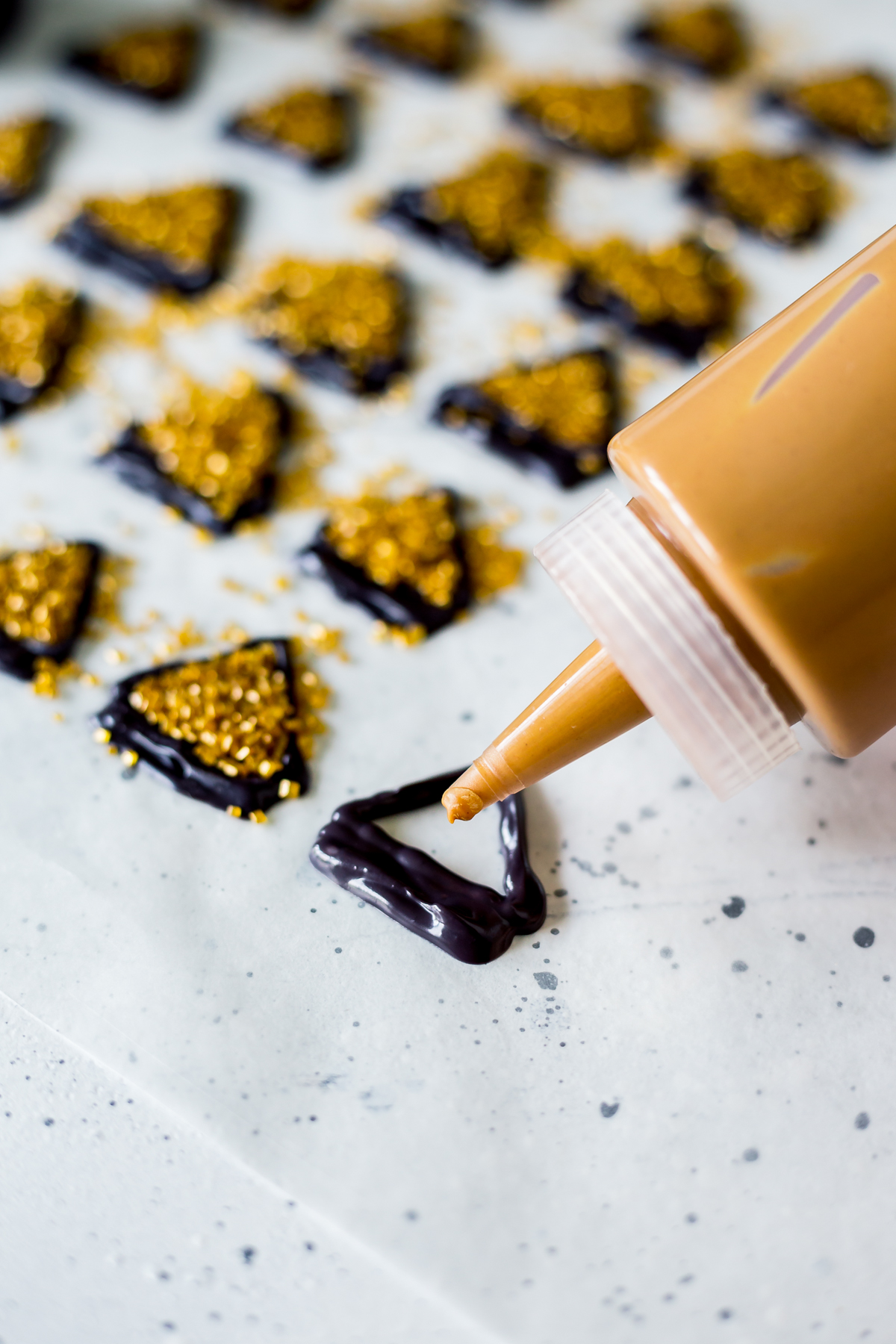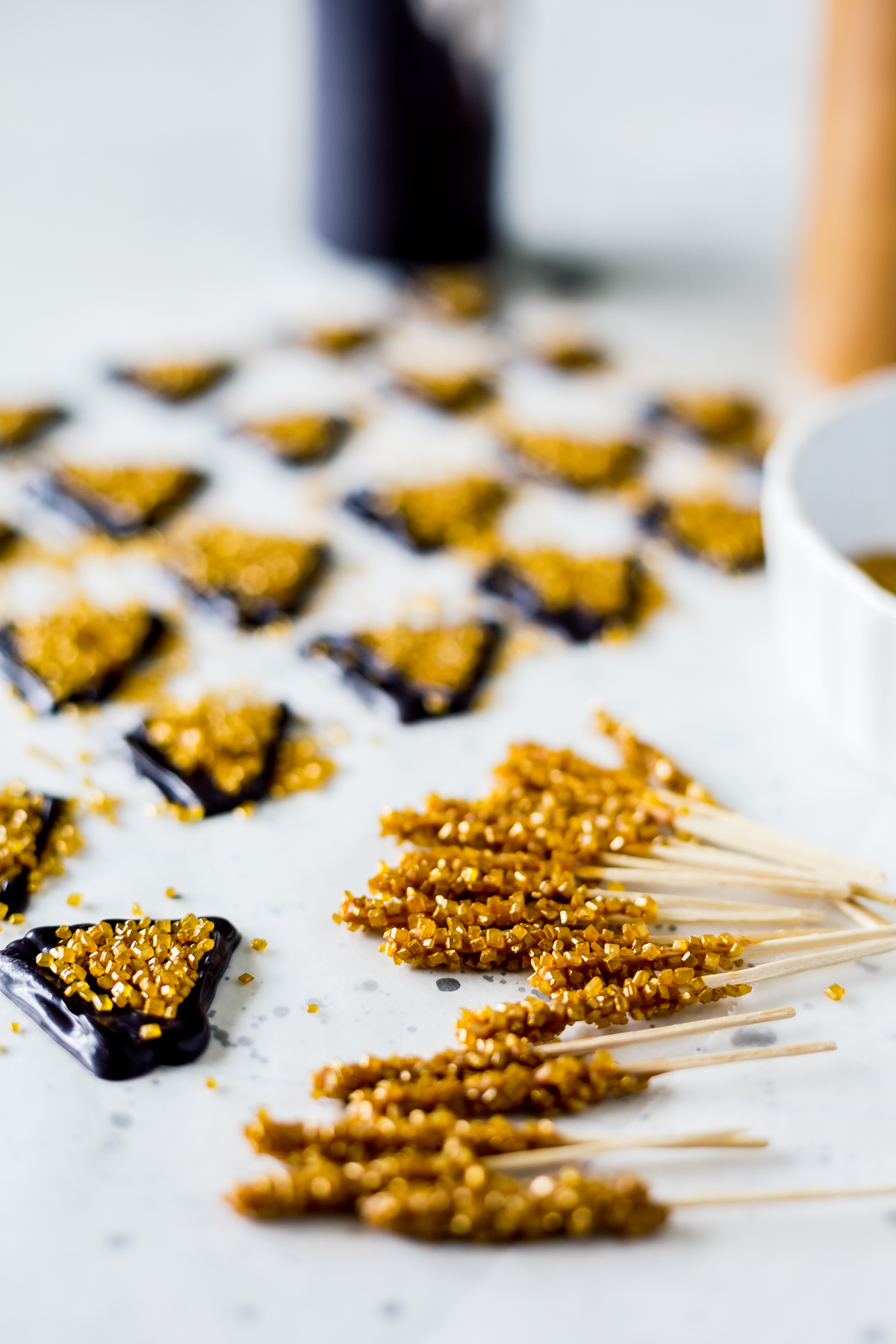 Black Cat Cupcakes Recipe & Instructions:
Ingredients
3/4 cup all-purpose flour
1/2 cup unsweetened cocoa powder
3/4 teaspoon baking powder
1/2 teaspoon baking soda
1/4 teaspoon salt
2 large eggs
1/2 cup sugar
1/2 cup packed light brown sugar
1/3 cup canola oil
2 teaspoons pure vanilla extract
1/2 cup buttermilk
Canned frosting, or favorite homemade buttercream recipe (or if you have a recipe of your own!)
1 package black candy melts
1 package peanut butter candy melts
Gold pearlized sugar
Super black gel paste food color
Flat toothpicks
Instructions
Preheat the oven to 350 degrees.
Line a 12-cup muffin pan with cupcake liners and set aside.
Whisk the flour, cocoa powder, baking powder, baking soda, and salt together in a large bowl until combined.
In a medium bowl, whisk the eggs, granulated sugar, brown sugar, oil, and vanilla together until smooth.
Pour half of the wet ingredients into the dry ingredients.
Stir in half of the buttermilk gently then repeat with the remaining wet ingredients and buttermilk.
Stir until just combined; do not overmix. The batter will be thin.
Pour or spoon the batter into the liners to the halfway point to avoid spilling over the sides, then bake for 18-21 minutes, or until a toothpick inserted in the center comes out clean.
Allow to cool completely before frosting.
While the cupcakes cool, melt the black candy melts and peanut butter candy melts in separate dishes, then spoon into squeeze bottles.
On wax paper, begin making small, one-inch triangles with the black candy melts for cat-ear outlines. After about 1-2 minutes, fill in each triangle with the peanut butter candy melts, then sprinkle with the gold pearlized sugar. Allow to dry completely.
To make the whiskers, dip flat toothpicks ? of the way into melted peanut butter candy melts, then sprinkle with gold pearlized sugar and set on wax paper to dry.
Add the super black food color to the frosting until it's a rich dark black and frost each cupcake. Gently peel two cat ears from the wax paper and push into the frosting. Add four whiskers and repeat with the remaining cupcakes.
https://www.kendallrayburn.com/2017/09/black-cat-cupcakes/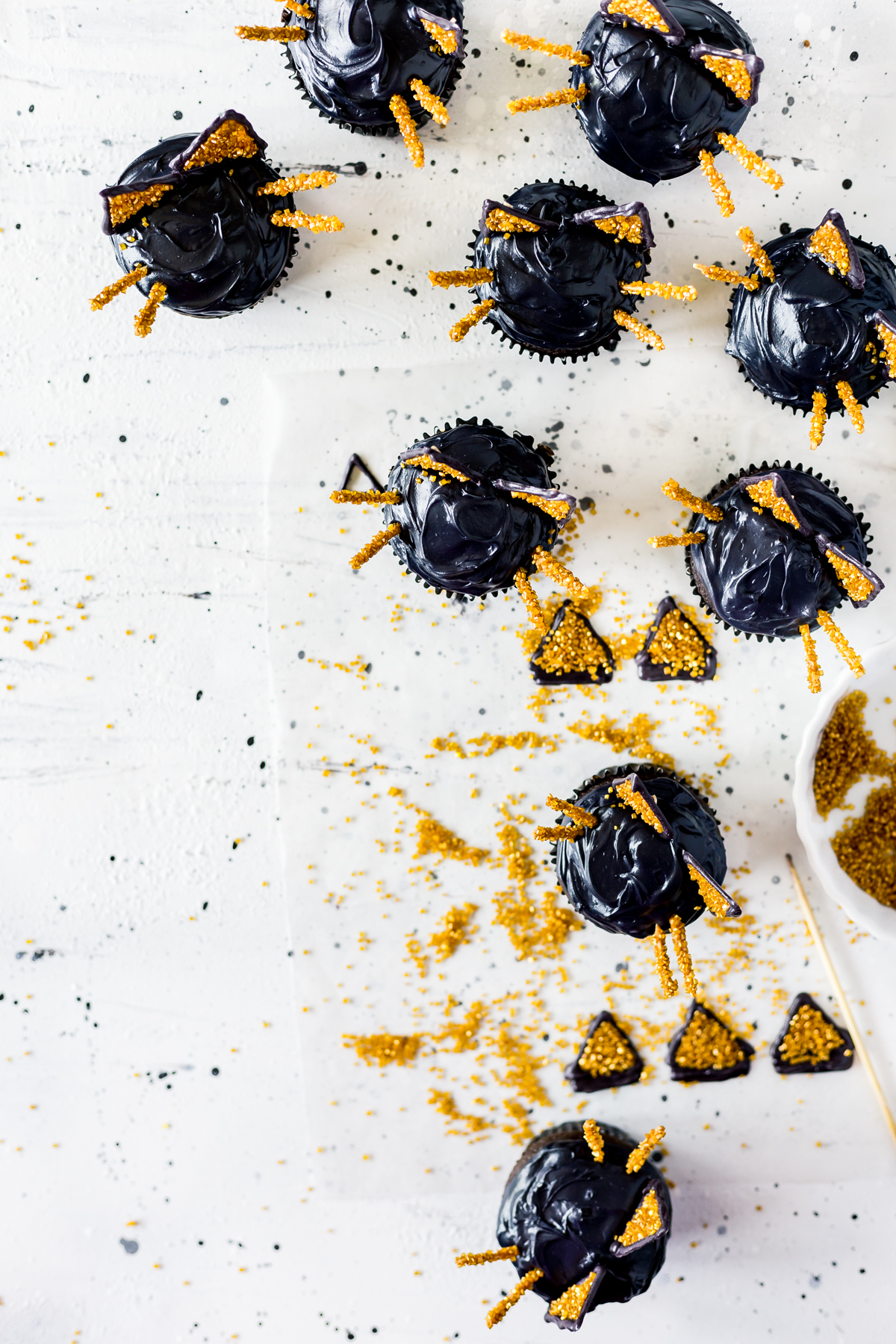 Didn't they turn out cute? I'm totally making these to serve at Levi's birthday party this Halloween! I love that they're perfect for kitty cat lovers of all ages, not too scary to serve for a school Halloween party!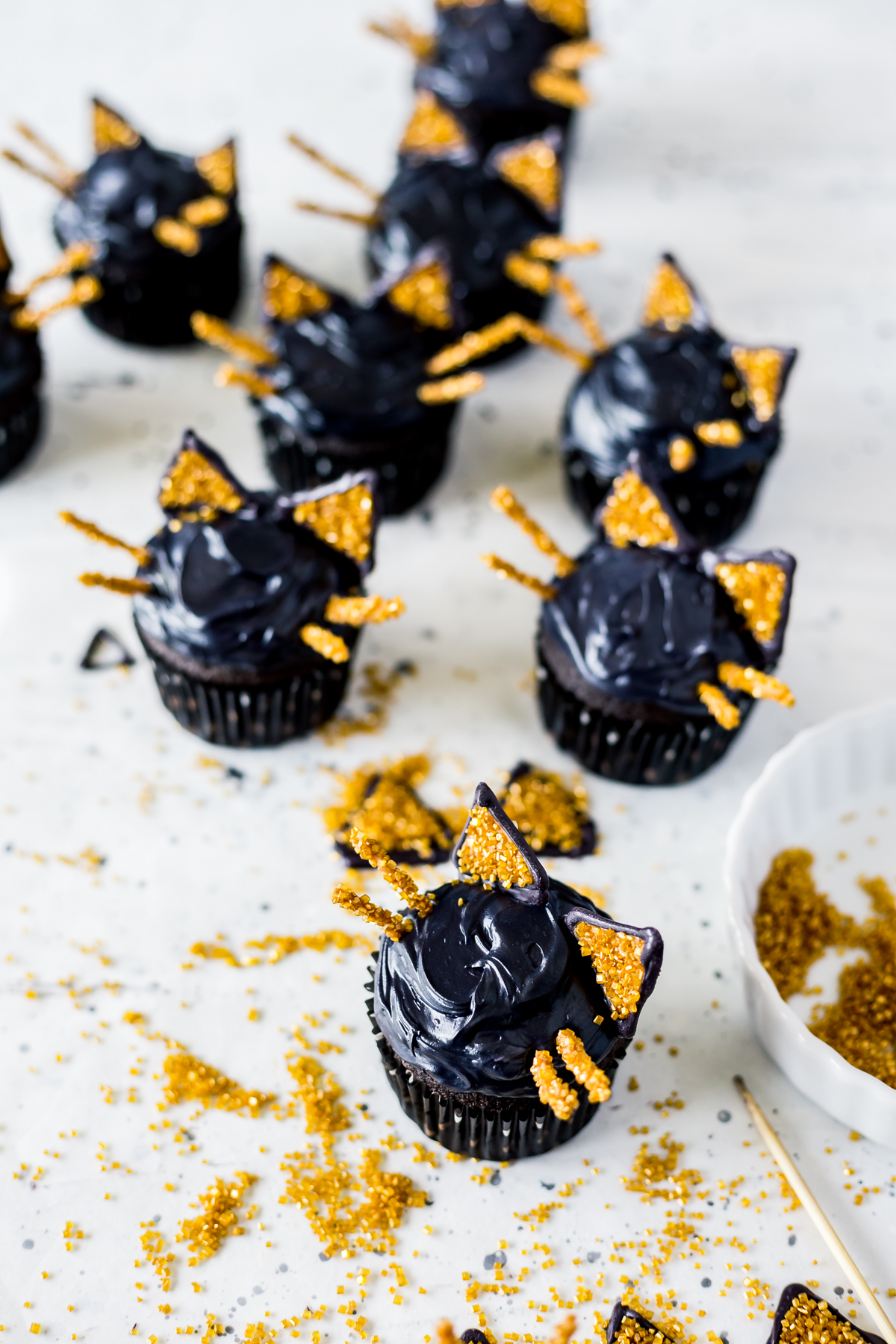 Links to Purchase Ingredients on Amazon: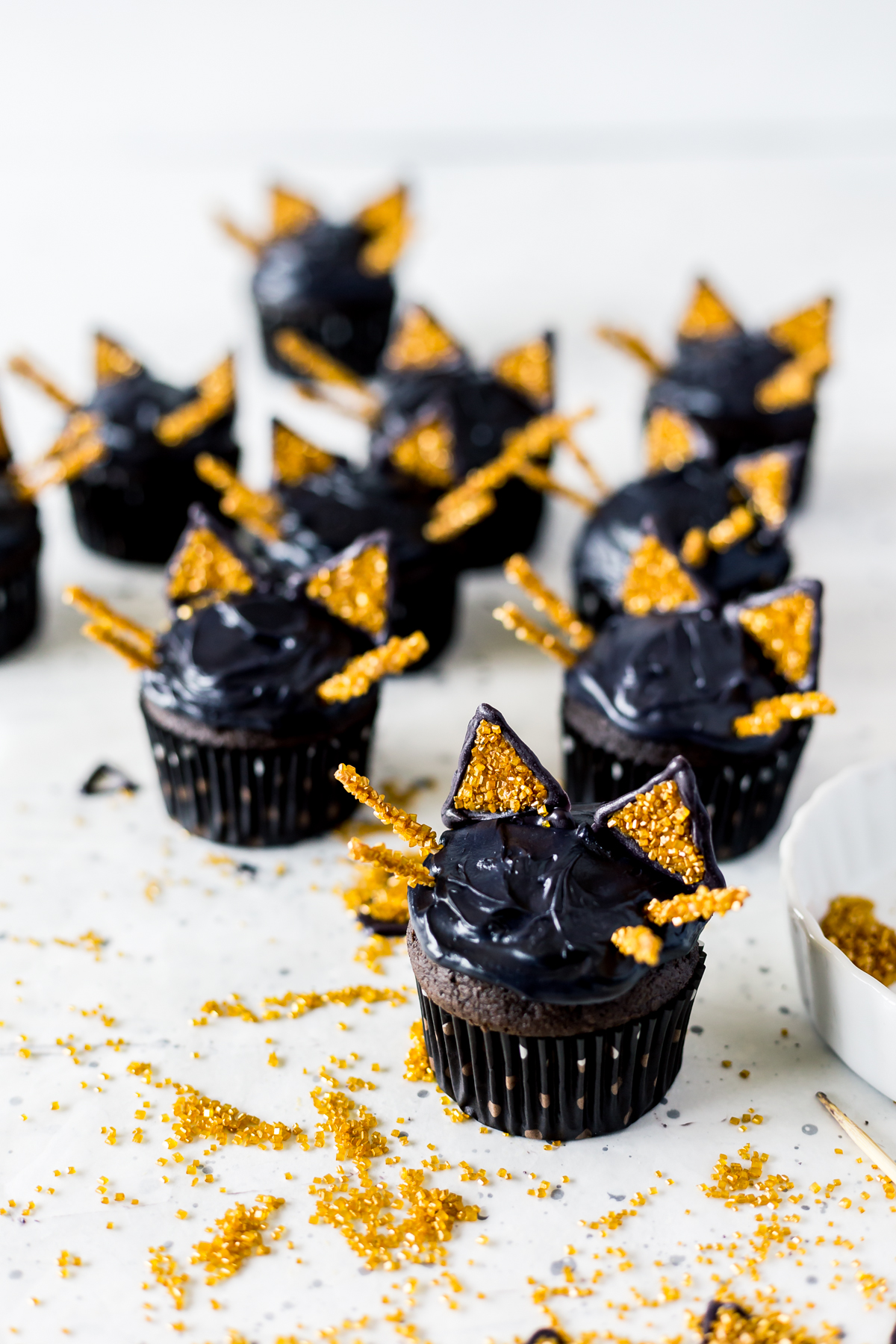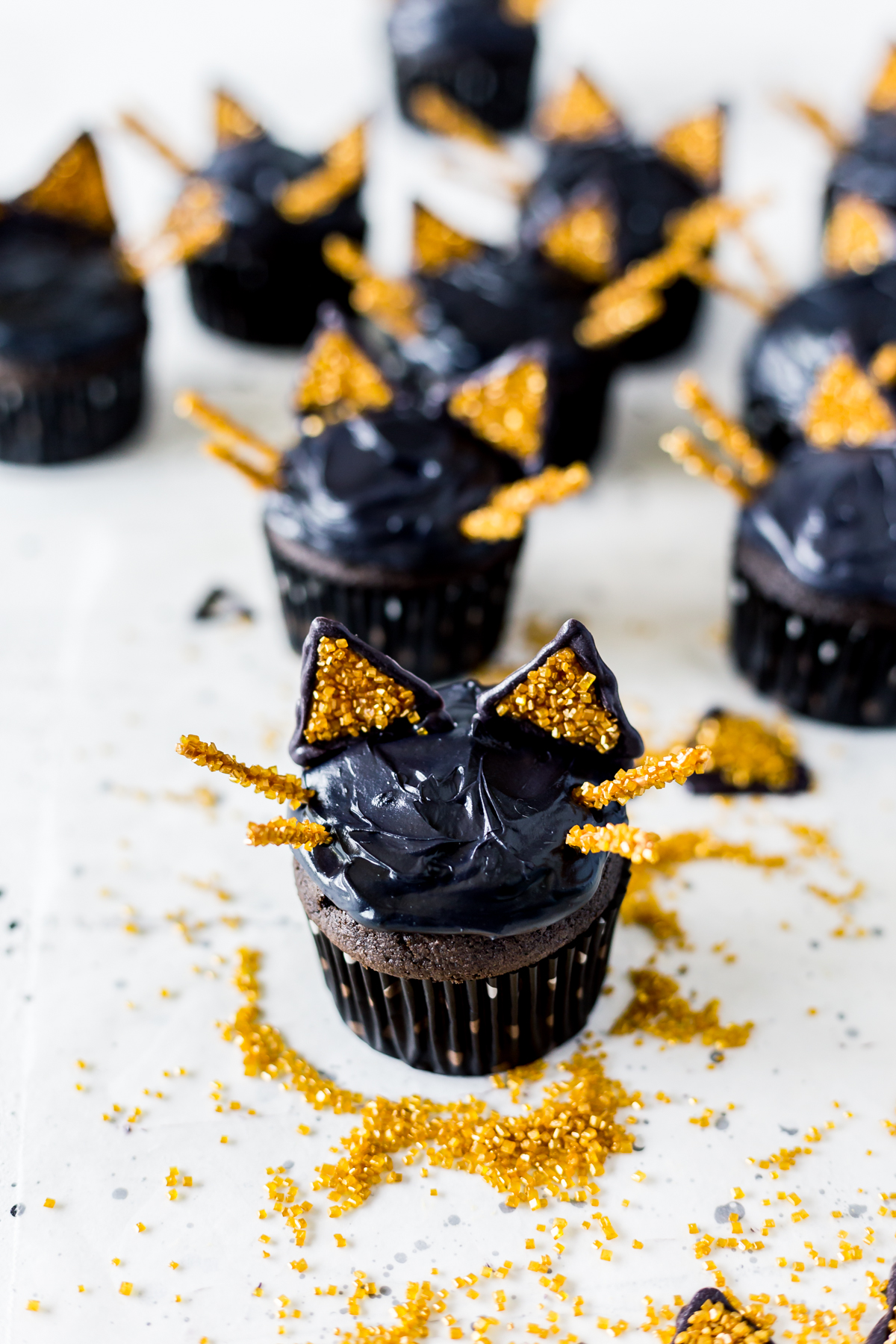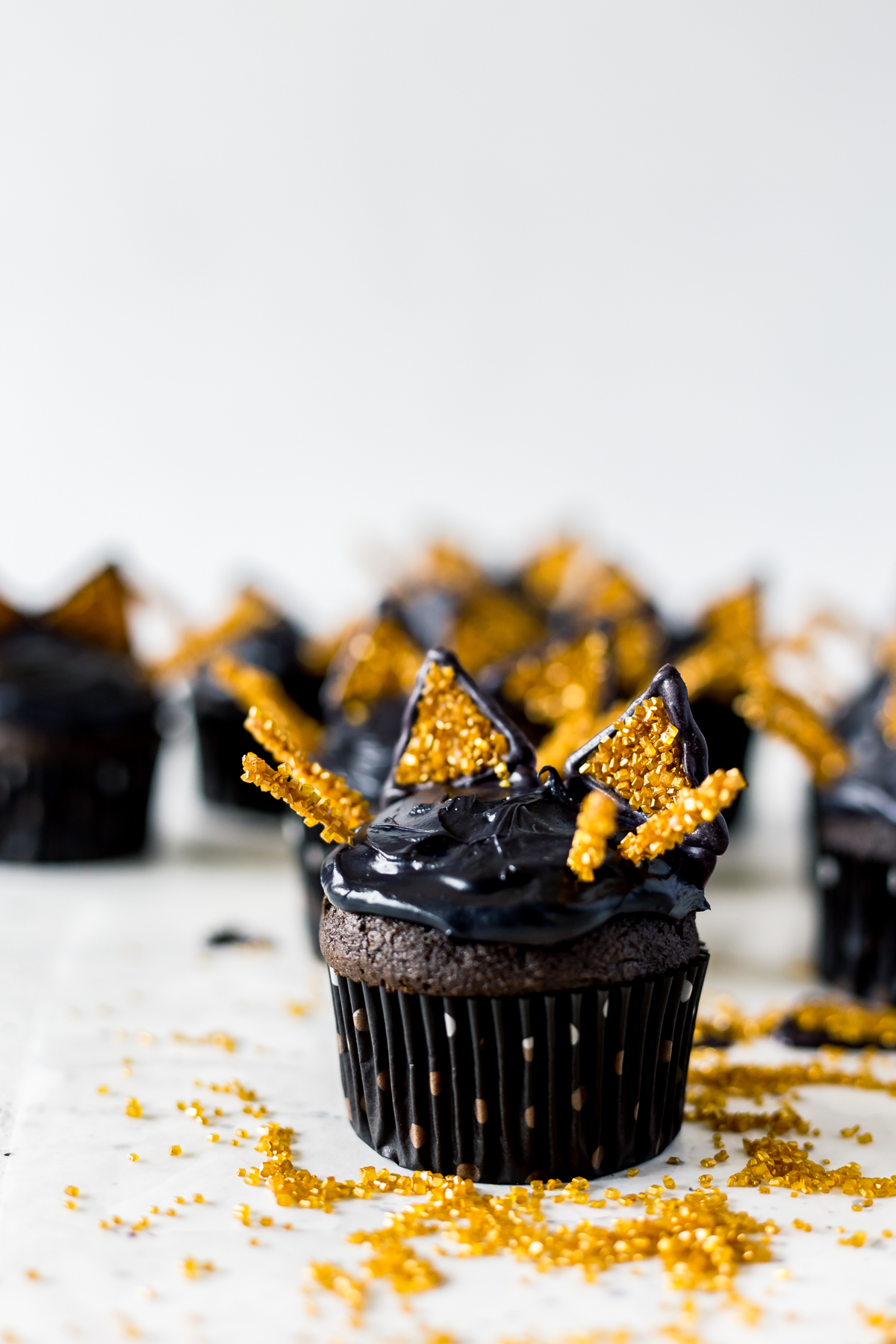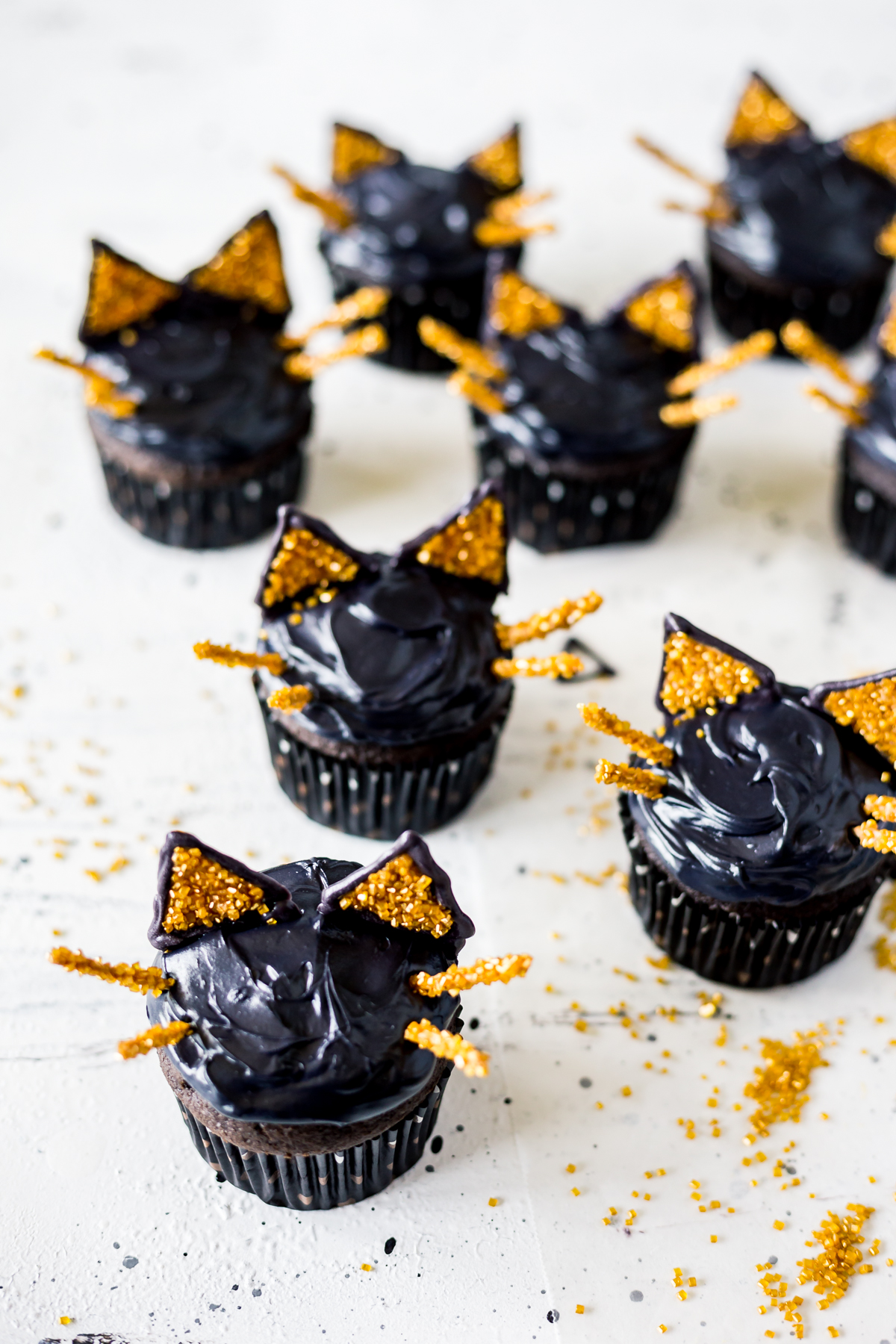 If you make these Black Cat Cupcakes be sure to let me know what you think – and if you happen to share a photo on social media be sure to tag me so I can see your creations!
Happy Cupcake-Making! Meow!
Love this recipe? Pin it for later here: