This post contains affiliate links, thank you for shopping through them to keep our coffee cups full. Keep scrolling to see the Floating Ghost Cupcakes.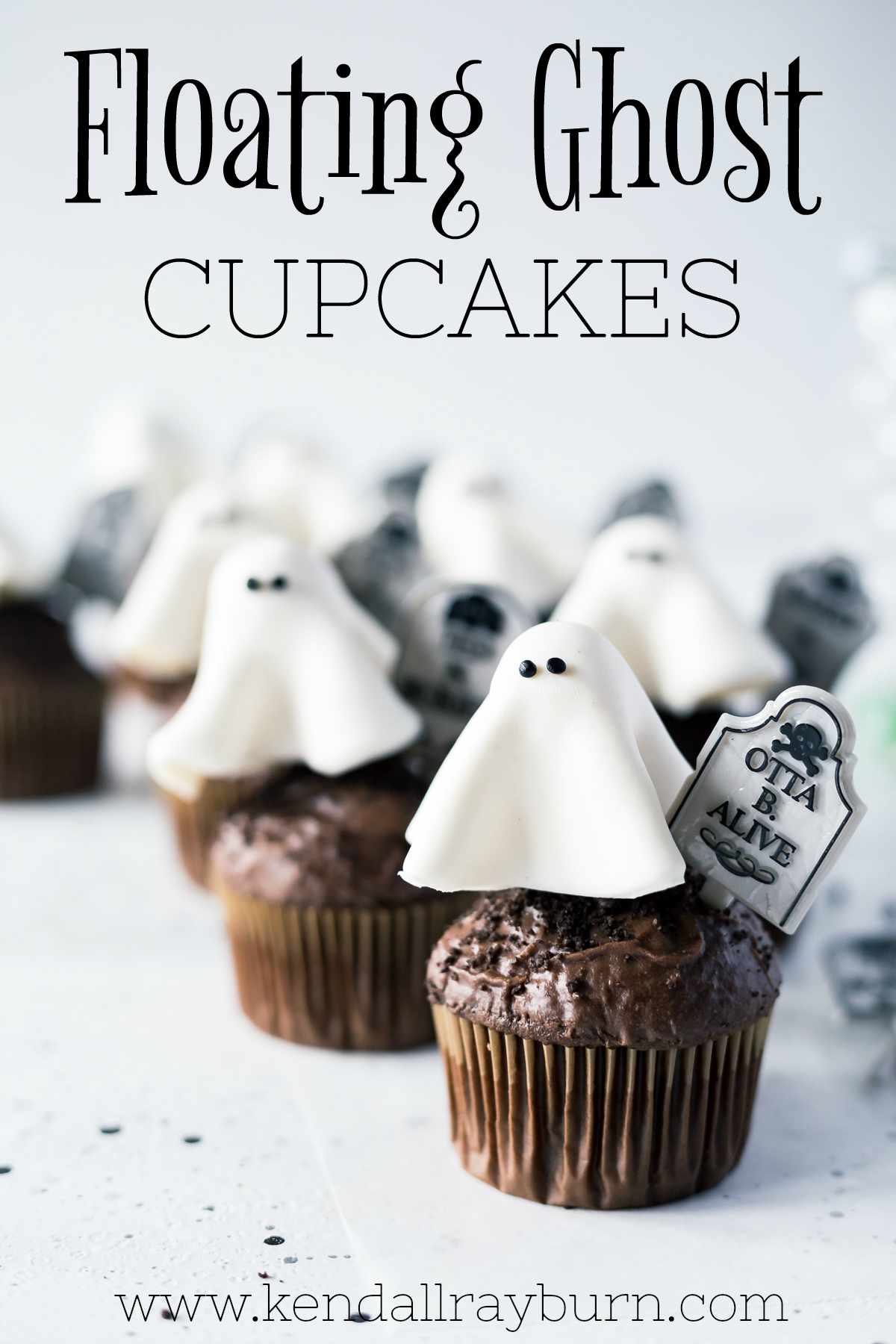 Hello, friends!
Hope you're having a wonderful day so far! I am so excited to share today's Floating Ghost Cupcakes with you! They're simple to make and will add some fun spookiness to any Halloween party! These are perfect to make for school parties or birthday celebrations (my littlest guy has a halloween birthday)! If you haven't checked out our Black Cat Cupcakes or Black Widow Spider Cupcakes, be sure to take a look!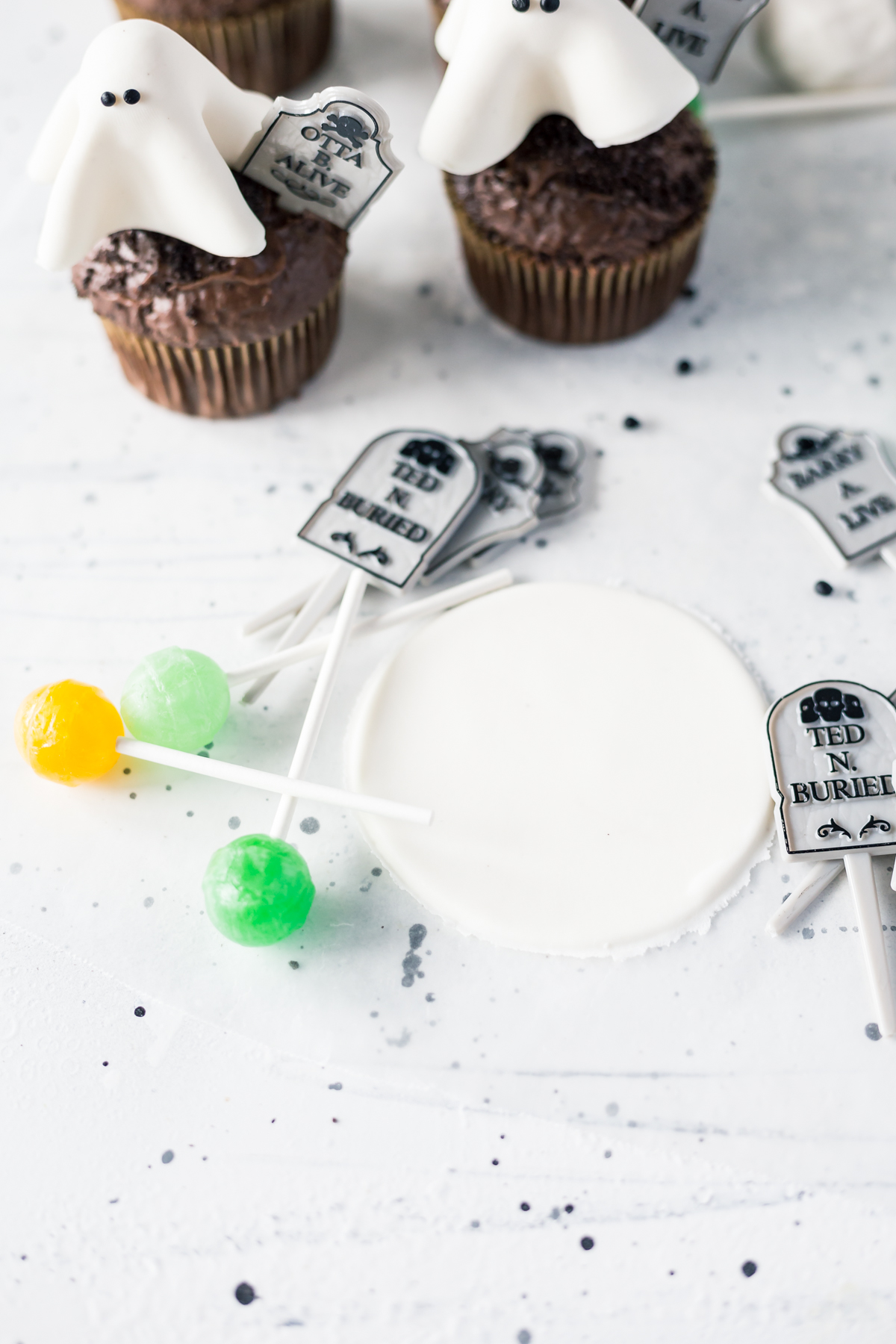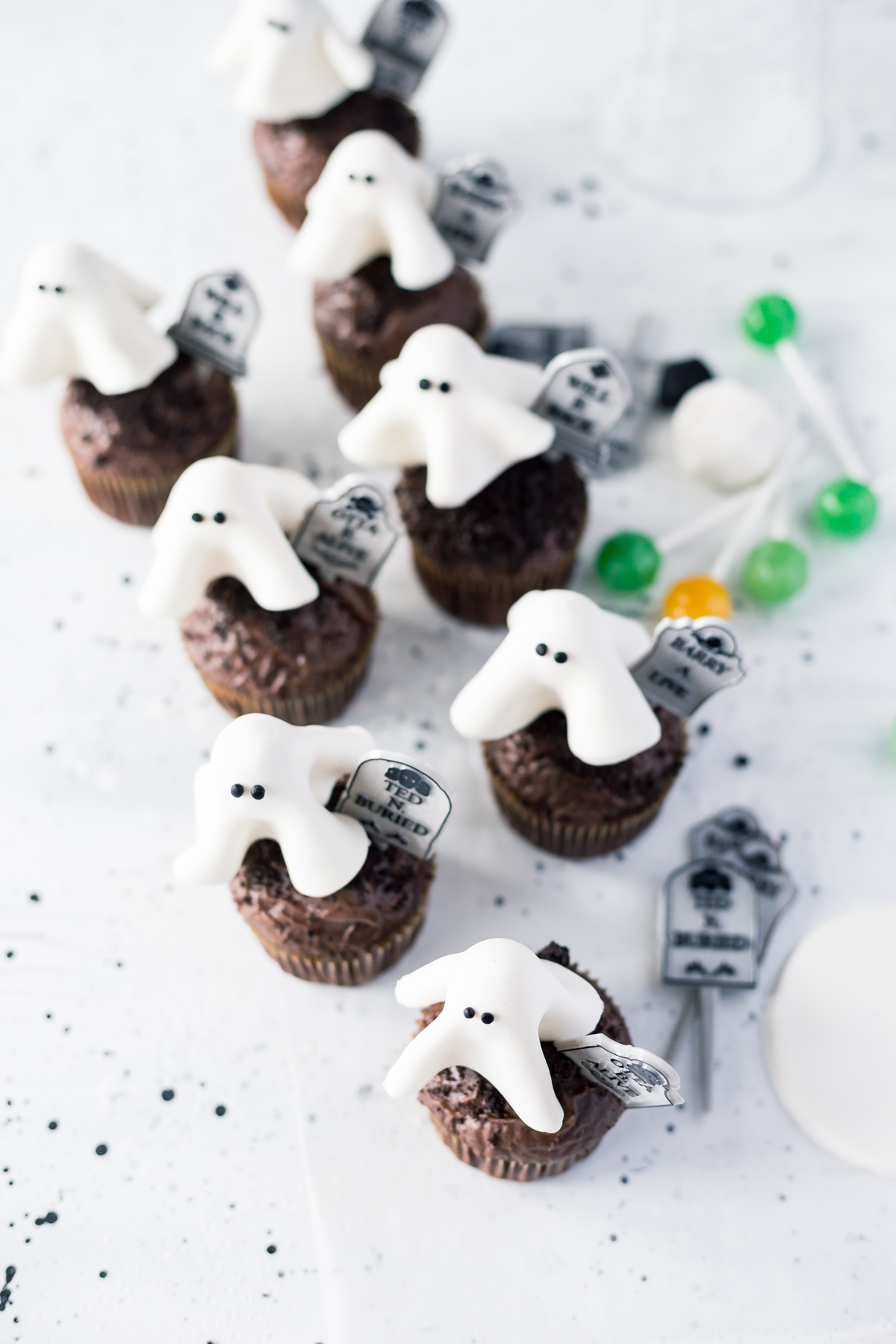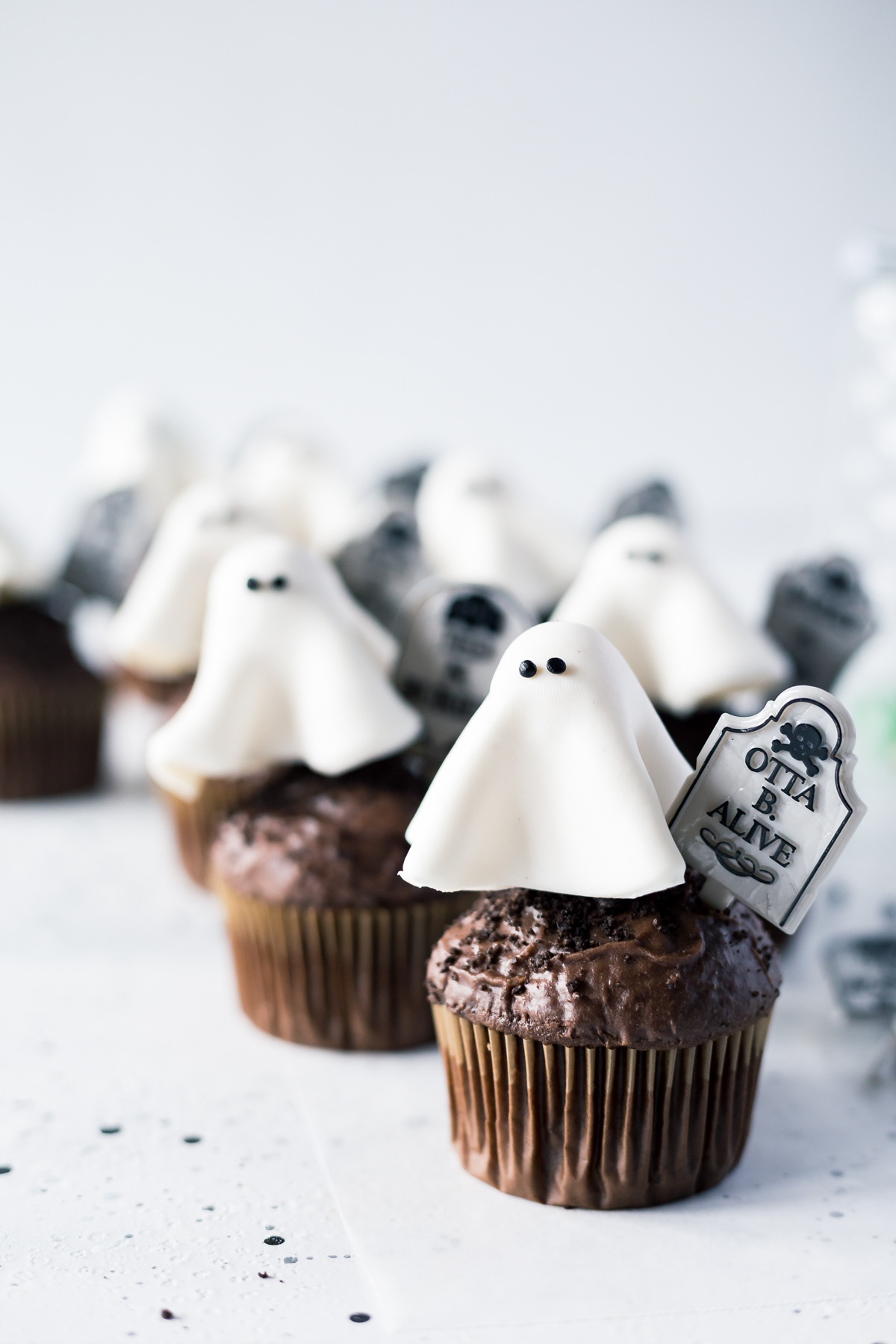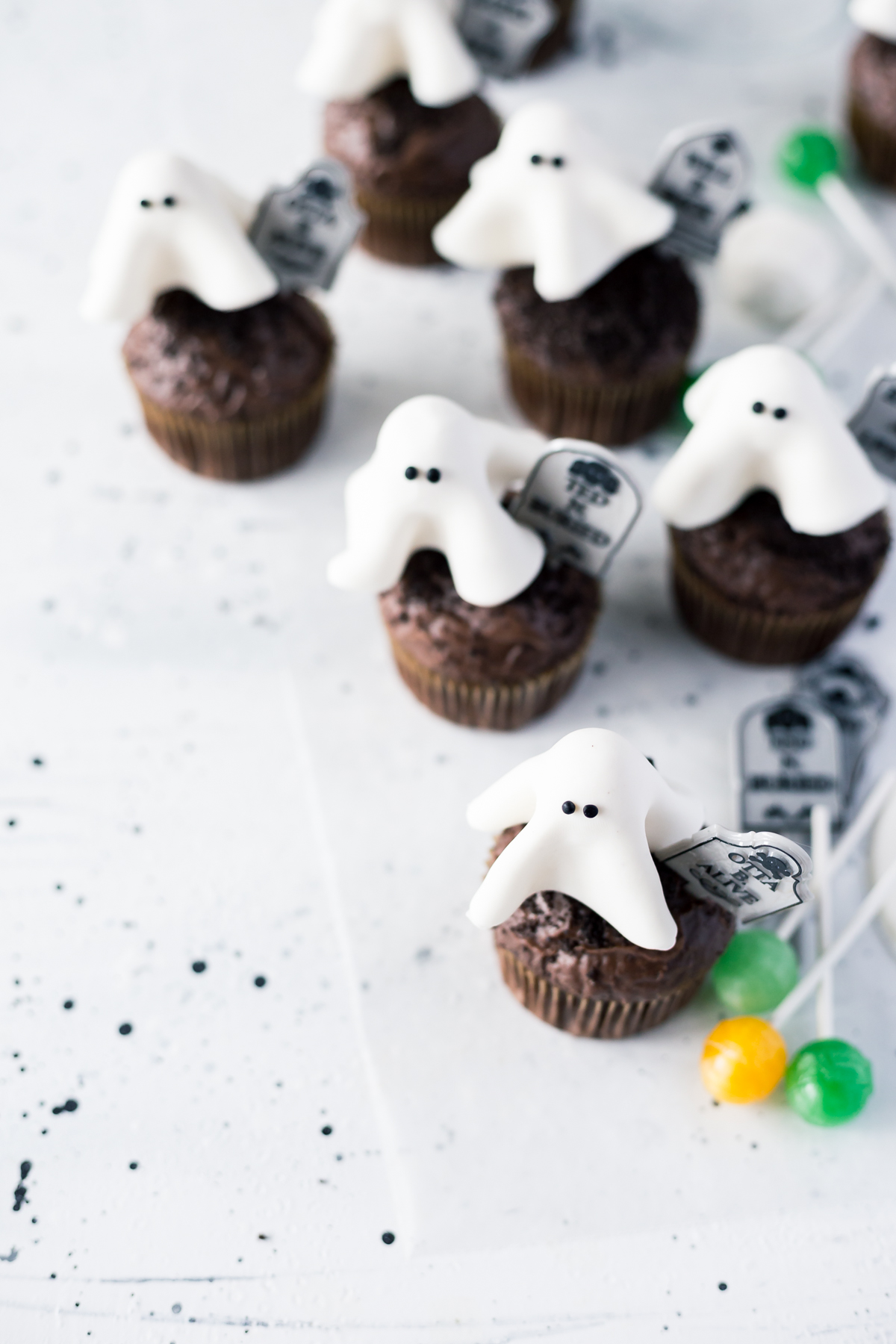 Shop this Post:
Click on an image below to purchase it on Amazon!

Floating Ghost Cupcakes Recipe & How-to:
Ingredients
3/4 cup all-purpose flour
1/2 cup unsweetened cocoa powder
3/4 teaspoon baking powder
1/2 teaspoon baking soda
1/4 teaspoon salt
2 large eggs
1/2 cup sugar
1/2 cup packed light brown sugar
1/3 cup canola oil
2 teaspoons pure vanilla extract
1/2 cup buttermilk
Canned Chocolate Frosting
1 sleeve Oreos, crushed
1 package white fondant
1 package black fondant
small suckers suckers
Decorative gravestones
Instructions
Preheat the oven to 350 degrees. Line a 12-cup muffin pan with cupcake liners and set aside.
Whisk the flour, cocoa powder, baking powder, baking soda, and salt together in a large bowl until combined.
In a medium bowl, whisk the eggs, granulated sugar, brown sugar, oil, and vanilla together until smooth.
Pour half of the wet ingredients into the dry ingredients.
Stir in half of the buttermilk gently then repeat with the remaining wet ingredients and buttermilk. Stir until just combined; do not over mix. The batter will be thin.
Pour or spoon the batter into the liners to the halfway point to avoid spilling over the sides, then bake for 18-21 minutes, or until a toothpick inserted in the center comes out clean. Allow to cool completely before frosting.
When the cupcakes are cool, spoon the frosting into a microwave-safe container and melt for 15-10 seconds, or until it's melted and thick. Dip each cupcake top into the frosting and allow to set for a few minutes, then sprinkle with crushed Oreos.
Roll out the white fondant on waxed paper to a ? inch thickness. Using a glass with a 3-inch opening, punch out rounds in the fondant.
Place a sucker in the middle of each round and let the fondant drape over it, shaping the fondant by hand into a ghost, then stick into the middle of a cupcake.
Pinch a tiny piece of the black fondant and roll to make eyes, then gently press onto each ghost. Place a gravestone beside each ghost on the cupcake and enjoy!
https://www.kendallrayburn.com/2017/09/floating-ghost-cupcakes/
What is YOUR favorite Halloween treat to make?
Love this post? Pin it for later here: