This post contains affiliate links, purchasing through them helps to support this blog & keep our coffee cups filled, thank you! Keep scrolling to grab the how-to for these adorable Mini Pumpkin Bundt Cakes with Cheesecake Filling.

Hello, friends!
Hope you're having an amazing day today! I'm sure by the post title you can determine that today we're sharing the recipe for these adorable and delicious Mini Pumpkin Bundt Cakes with Cheesecake Filling! We wanted a dessert that would carry you though Fall, something that was simple to make and personalize, and even more fun to serve to your guests.
So, enter these ADORABLE mini pumpkins. These can be dressed up or dressed down, you can color the icing dark orange or even a muted green for a more farmhouse styled dish. We used this Mini 12 Cavity Fluted Pan to create the pumpkin shape, filled the inside with a delicious cheesecake filling, and then used Cream Cheese Icing and orange food coloring to complete the pumpkin look. Oh, and if you want added bling, this gold sugar will do the trick!
Ready to see more of these adorable Mini Pumpkin Bundt Cakes with Cheesecake Filling? Let's go!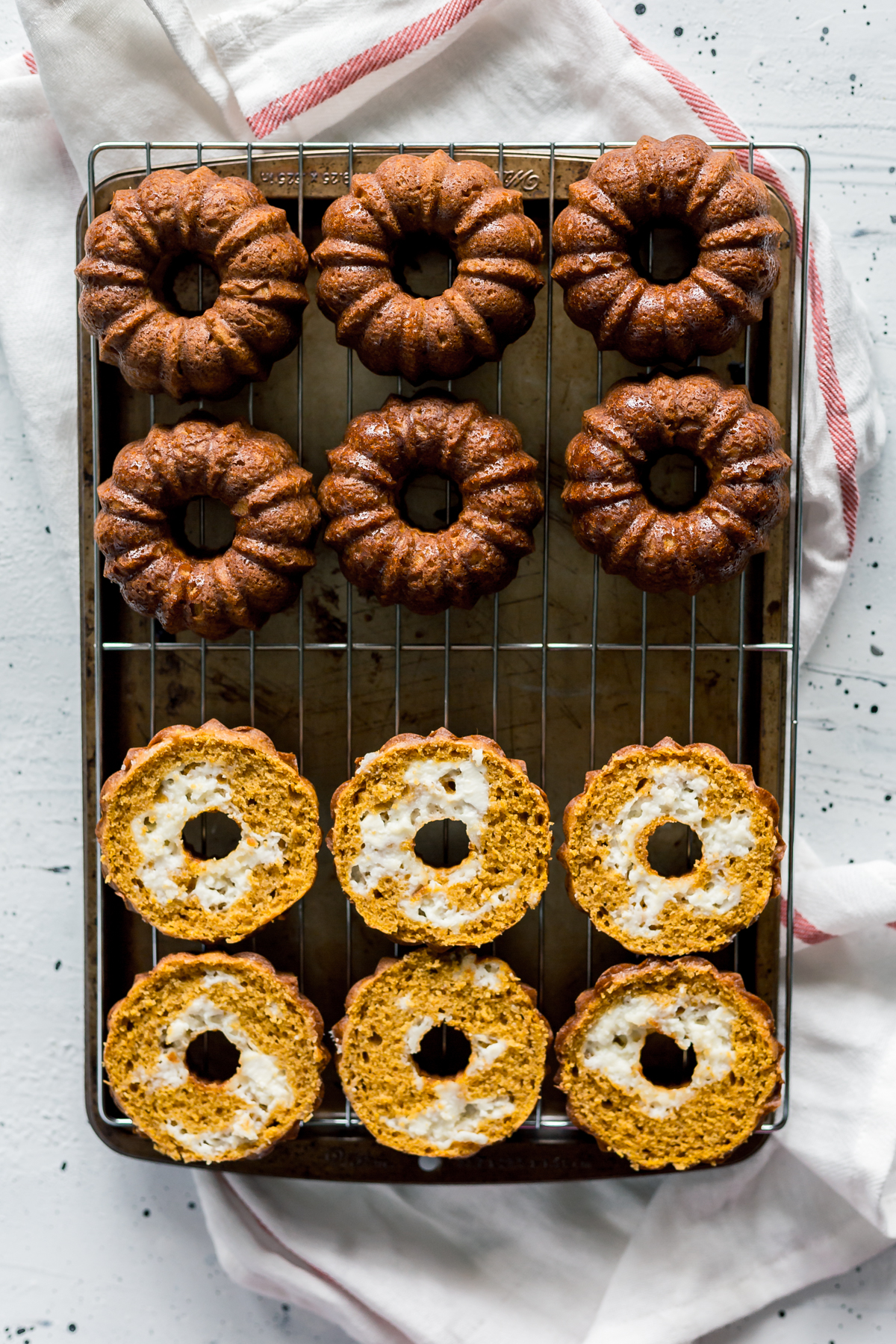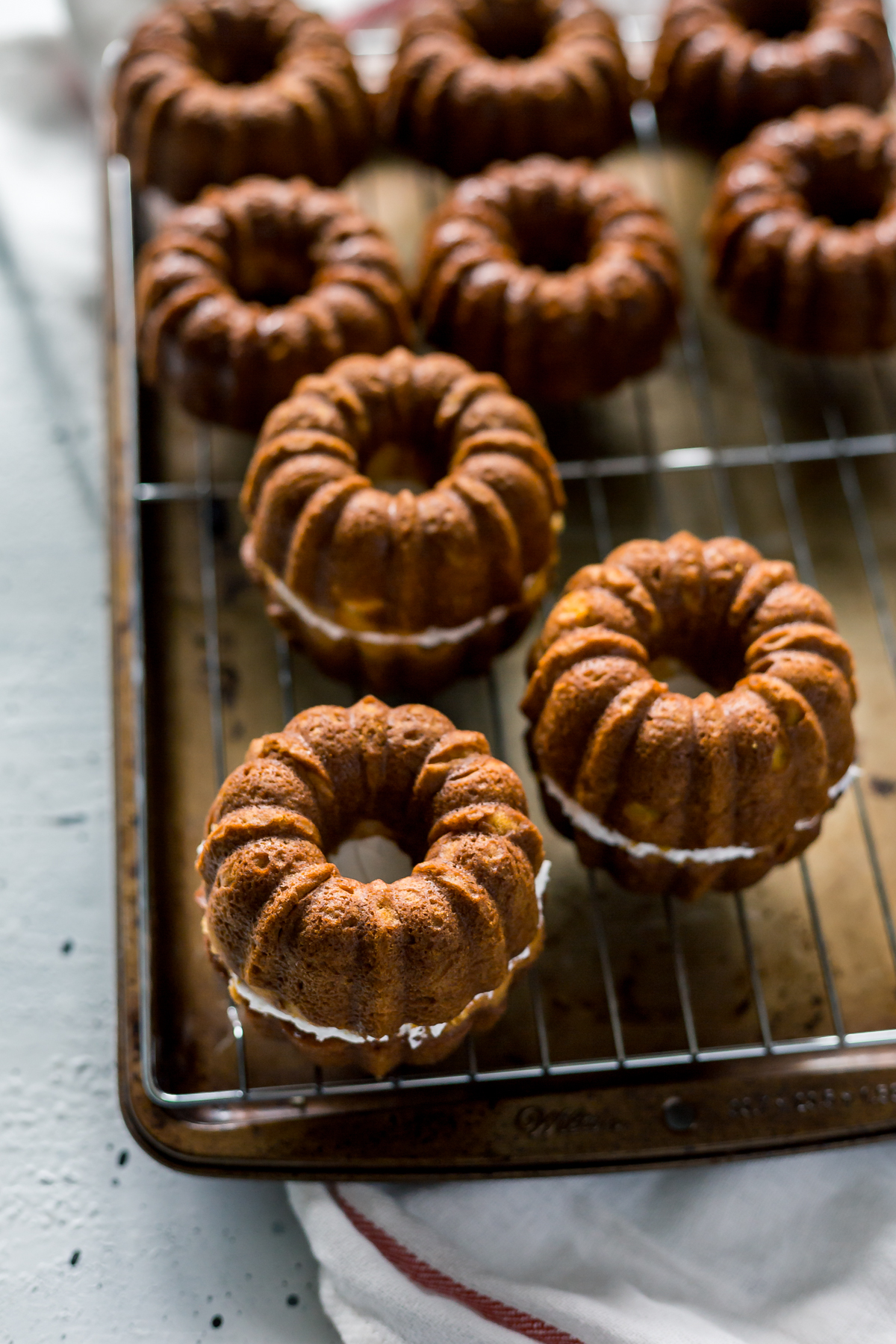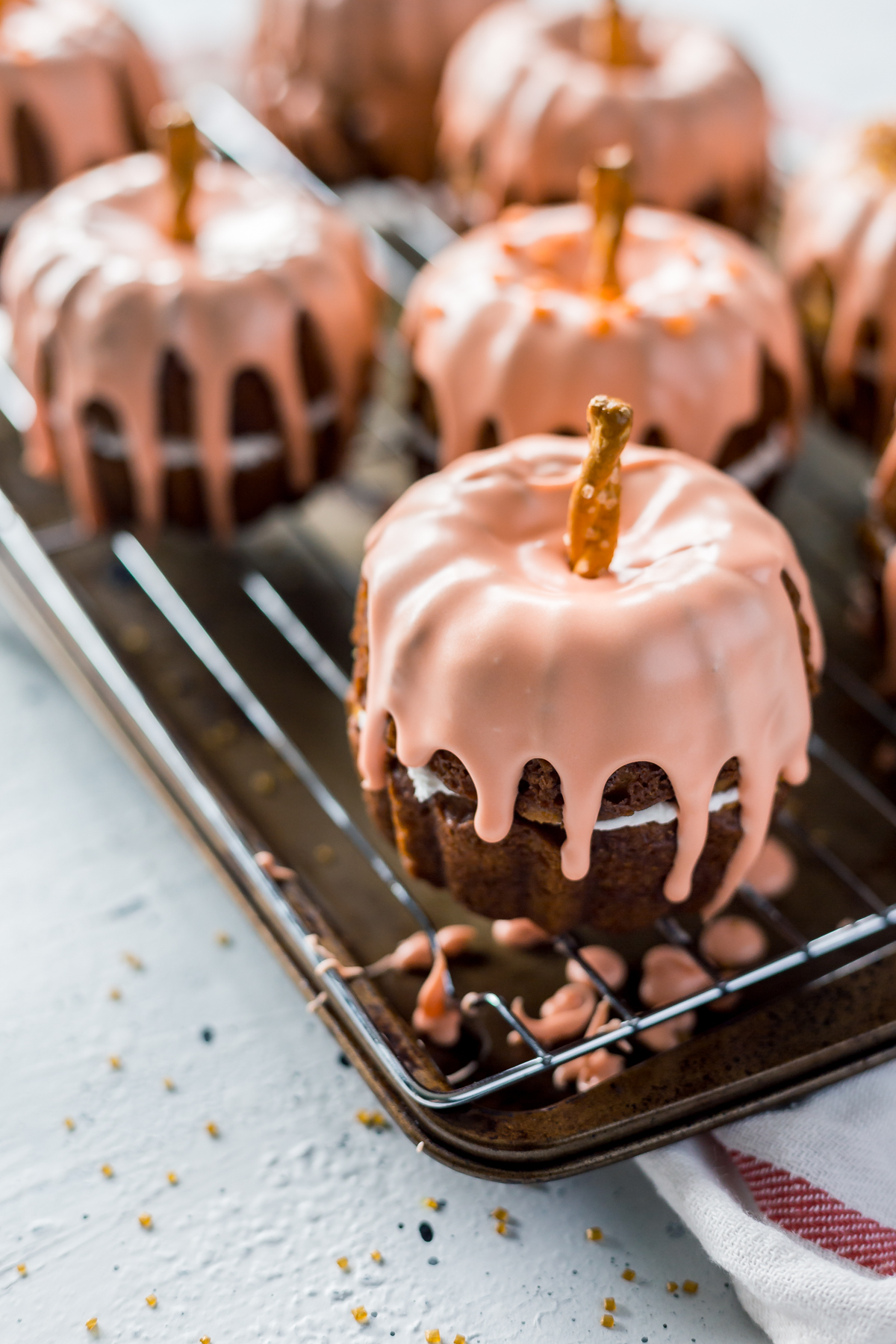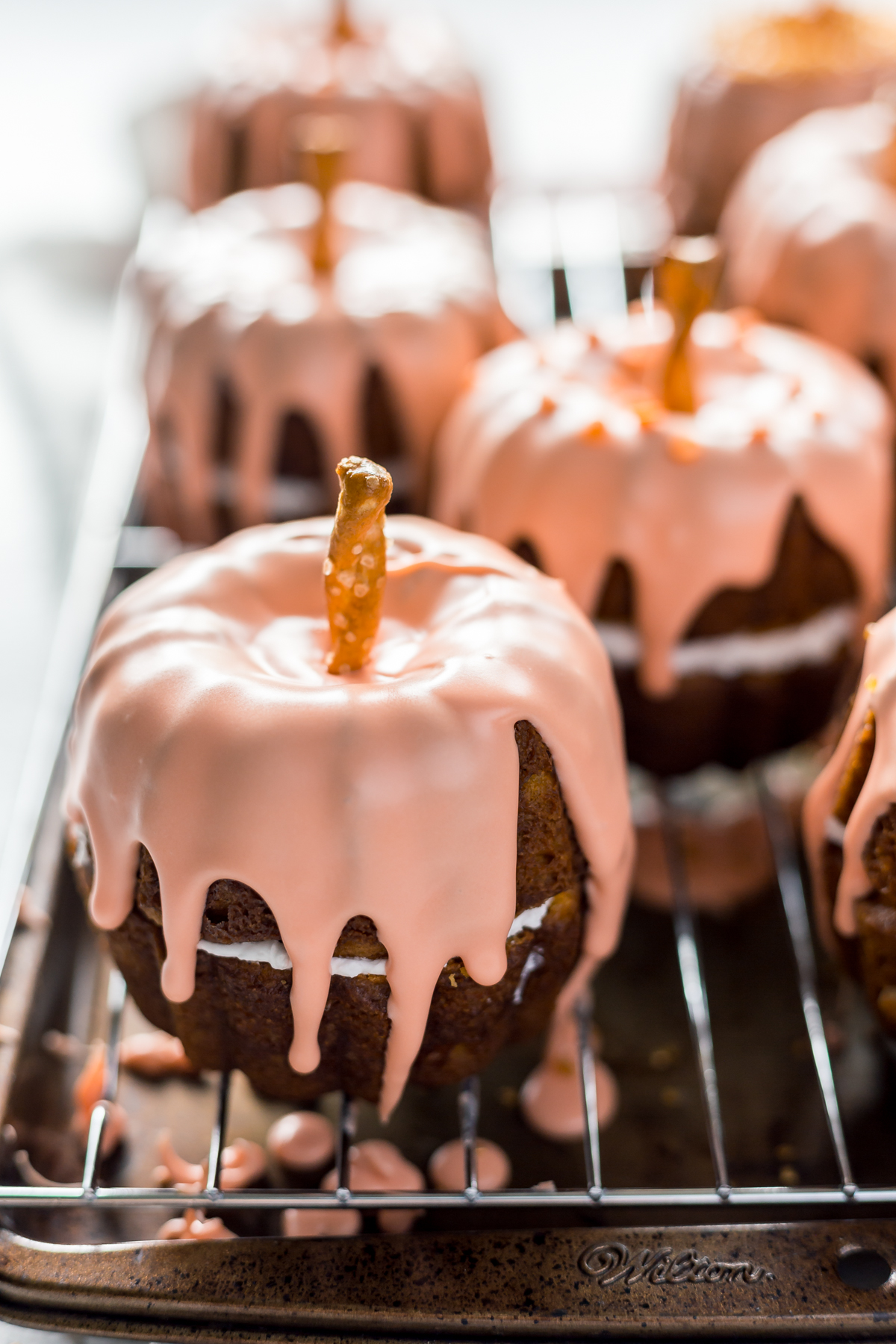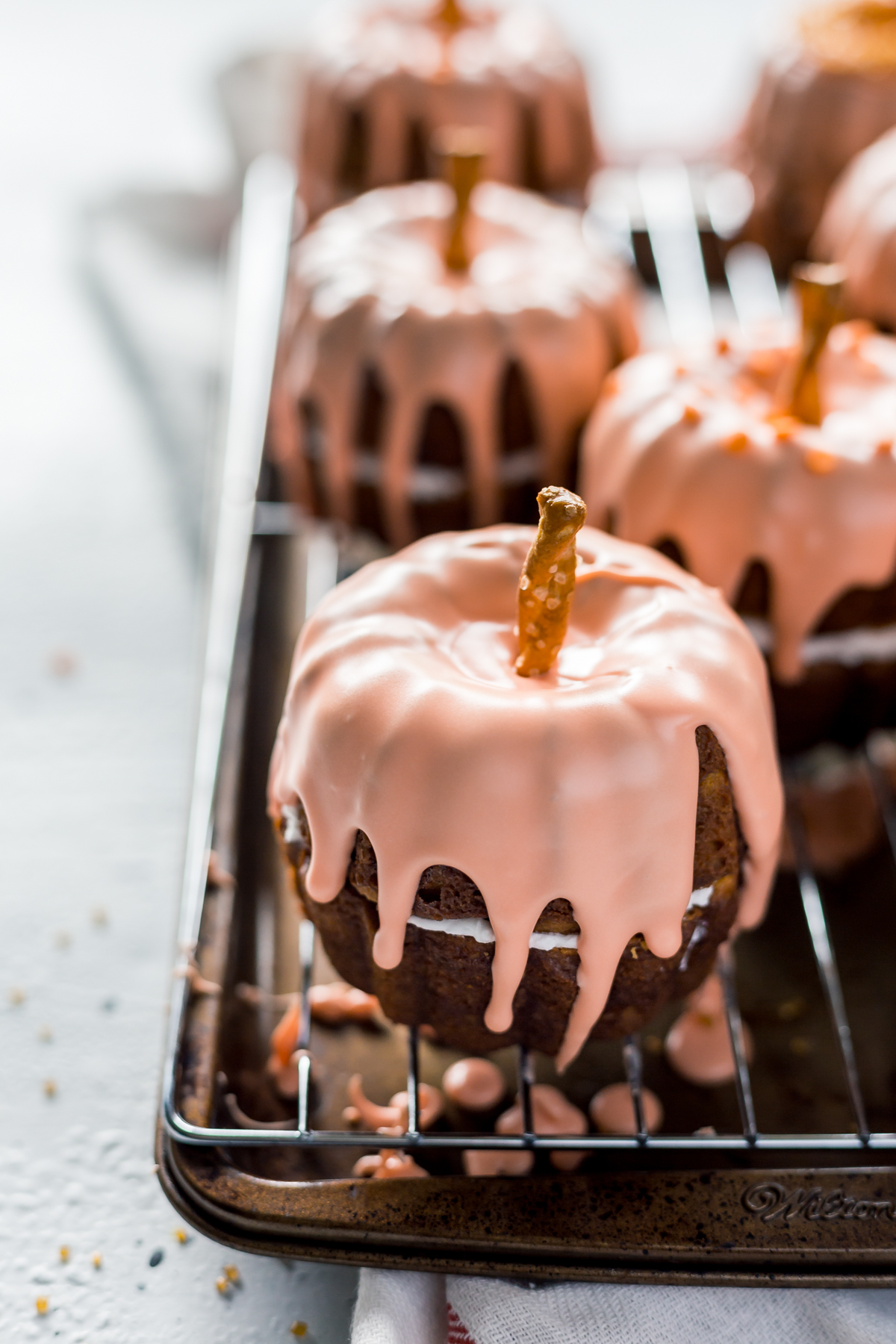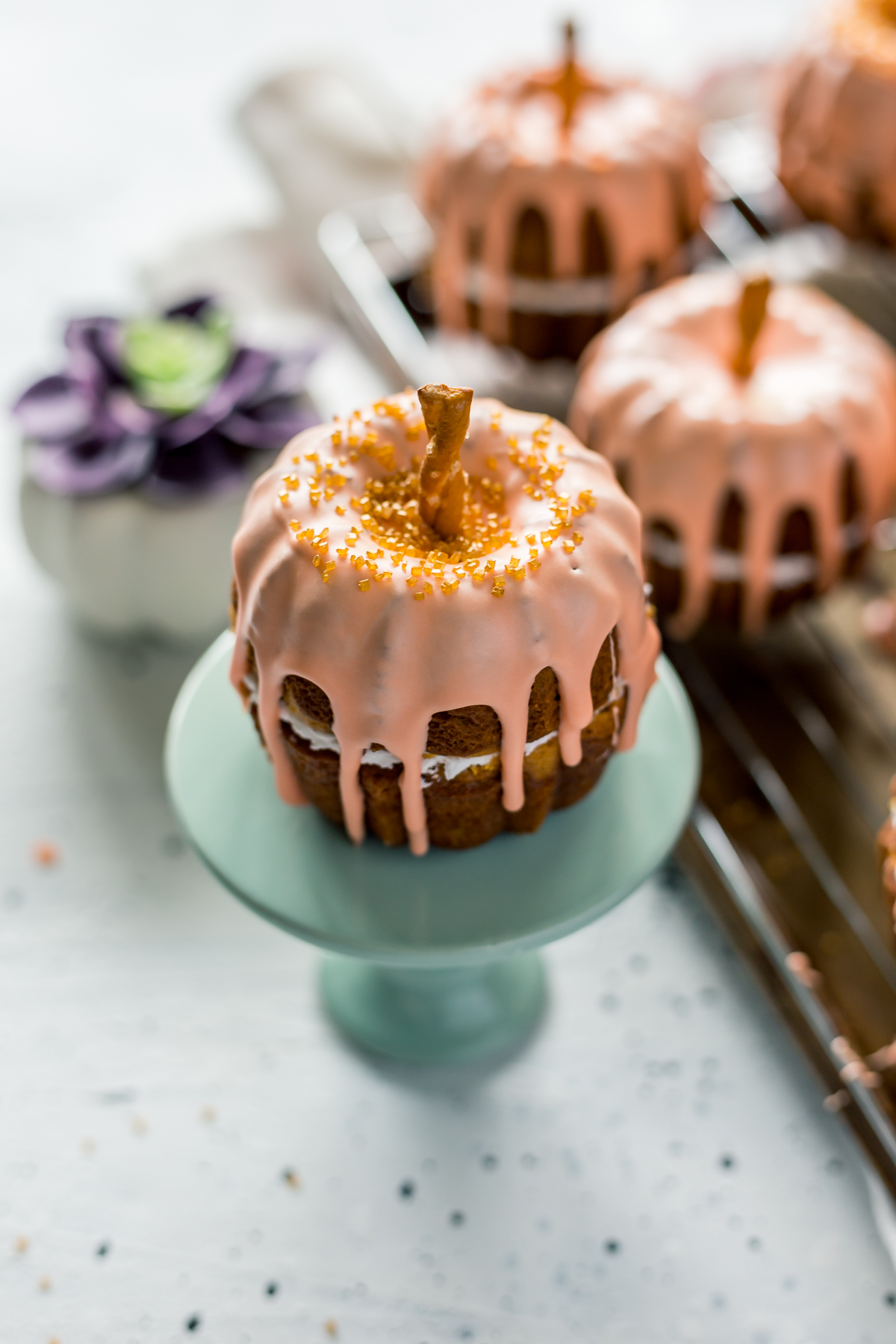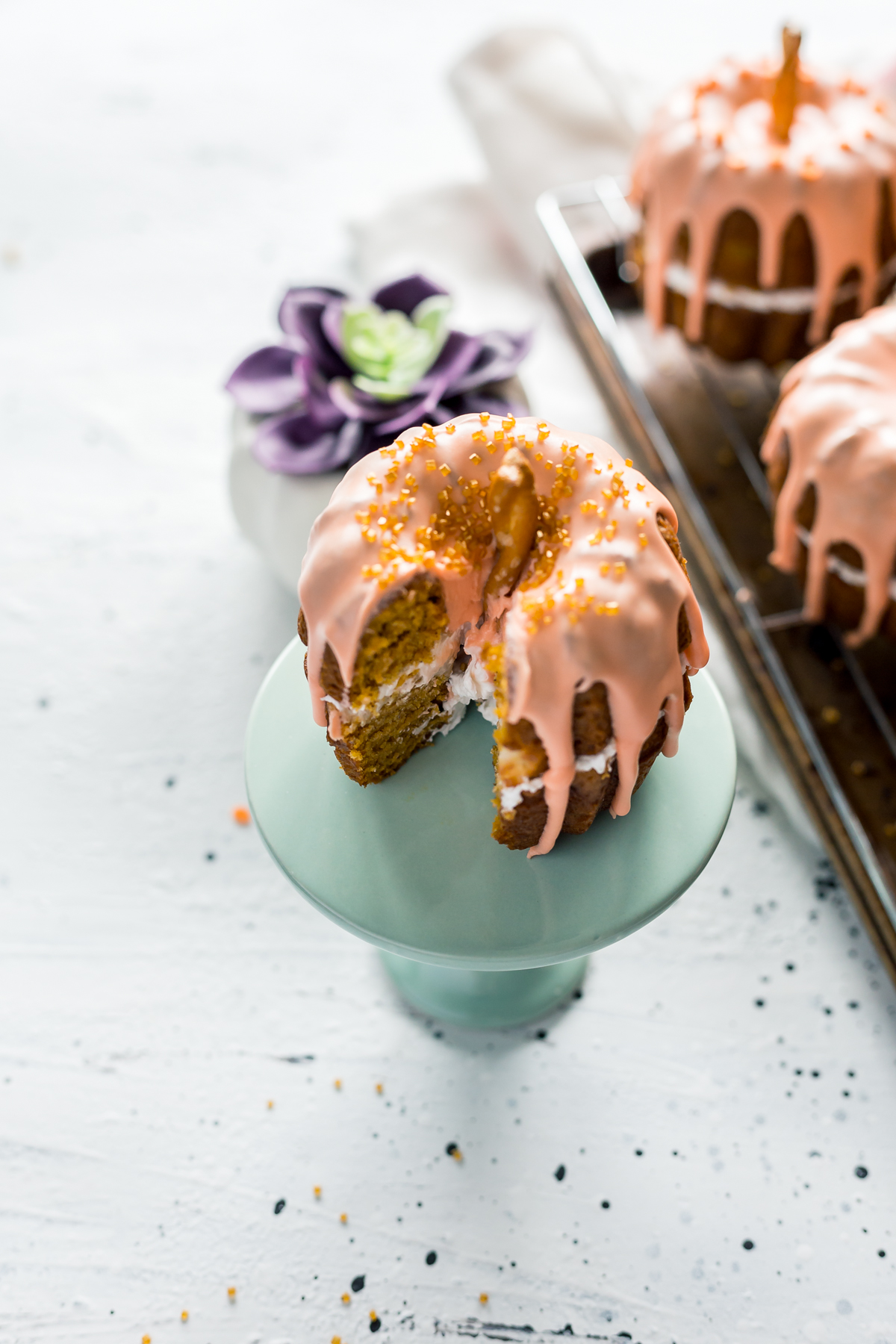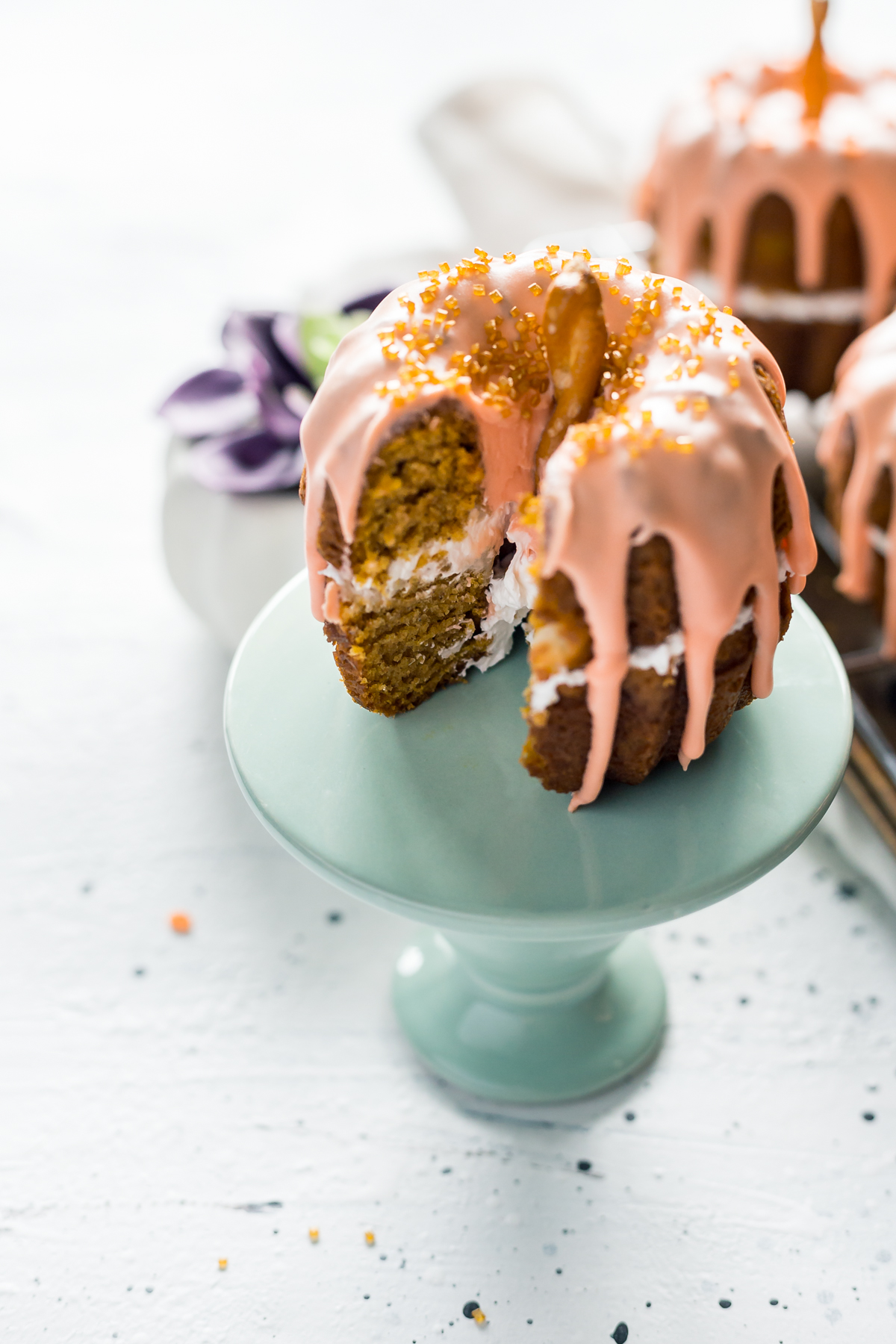 Mini Pumpkin Bundt Cakes with Cheesecake Filling Recipe:
Mini Pumpkin Bundt Cakes with Cheesecake Filling
Ingredients
2 cups granulated sugar
1/4 cup brown sugar lightly packed
1/2 cup unsalted butter, melted
1/4 cup vegetable oil
1/3 cup plain greek yogurt
3 large eggs
3 cups all-purpose flour
1 tsp baking powder
1 tsp baking soda
1/2 tsp kosher salt
2 tsp cinnamon
1/4 tsp ginger
1/4 tsp allspice
1/8 tsp ground cloves
1/8 tsp nutmeg
1 can (15 oz) pumpkin puree
Cheesecake Filling:
8 oz full-fat cream cheese, at room temperature
1/4 cup granulated sugar
1/2 tsp vanilla extract
2 cans icing (I suggest cream cheese cause yum)
Orange food coloring
Pretzel twists
Sprinkles (optional)
Instructions
Preheat oven to 350 degrees, then butter and flour mini bundt pans. Set aside.
In a large bowl, beat together the sugars, butter, and oil. Add the yogurt and stir to combine.
Add the eggs, one at a time, beating each egg until fully incorporated before adding the next.
In a medium bowl, whisk together the remaining dry ingredients, then combine with the sugar/butter mixture in batches, alternating with the pumpkin puree, until just combined. Do not overmix.
In a medium mixing bowl, beat the cream cheese on high speed until no more lumps appear. Add in the sugar and vanilla and beat until combined.
Spoon a small layer of cake batter into each bundt mold, followed by a thin strip of the cheesecake mixture. Add a thicker, final layer of cake batter until each mold is around 2/3 full. Bake for 20 minutes, or until a toothpick inserted into the thickest portion comes out clean. Allow to sit for 5 minutes before turning out onto a cooling rack to cool completely.
To assemble, cut the rounded bottoms of each bundt cake off. Add a dollop of icing and sandwich two cakes together. Gently heat the second tub of icing for 10-15 seconds until melted but thick, then color with the orange food coloring to your preferred shade. Using a spoon, drizzle the icing over each sandwiched pumpkin, then let set for a few minutes. Insert a pretzel twist in the center of each pumpkin to complete the look, or add sprinkles for fun variety!
https://www.kendallrayburn.com/2017/10/mini-pumpkin-bundt-cakes-cheesecake-filling/
So adorable, right? These are perfect to whip up for any Fall celebration like a Halloween party, Thanksgiving dessert, and more! Pick up the ingredients to try making these for your family today!
Happy Baking!
Love this post? Pin it for later here: