Brought to you by Dr Pepper® and Eckrich®.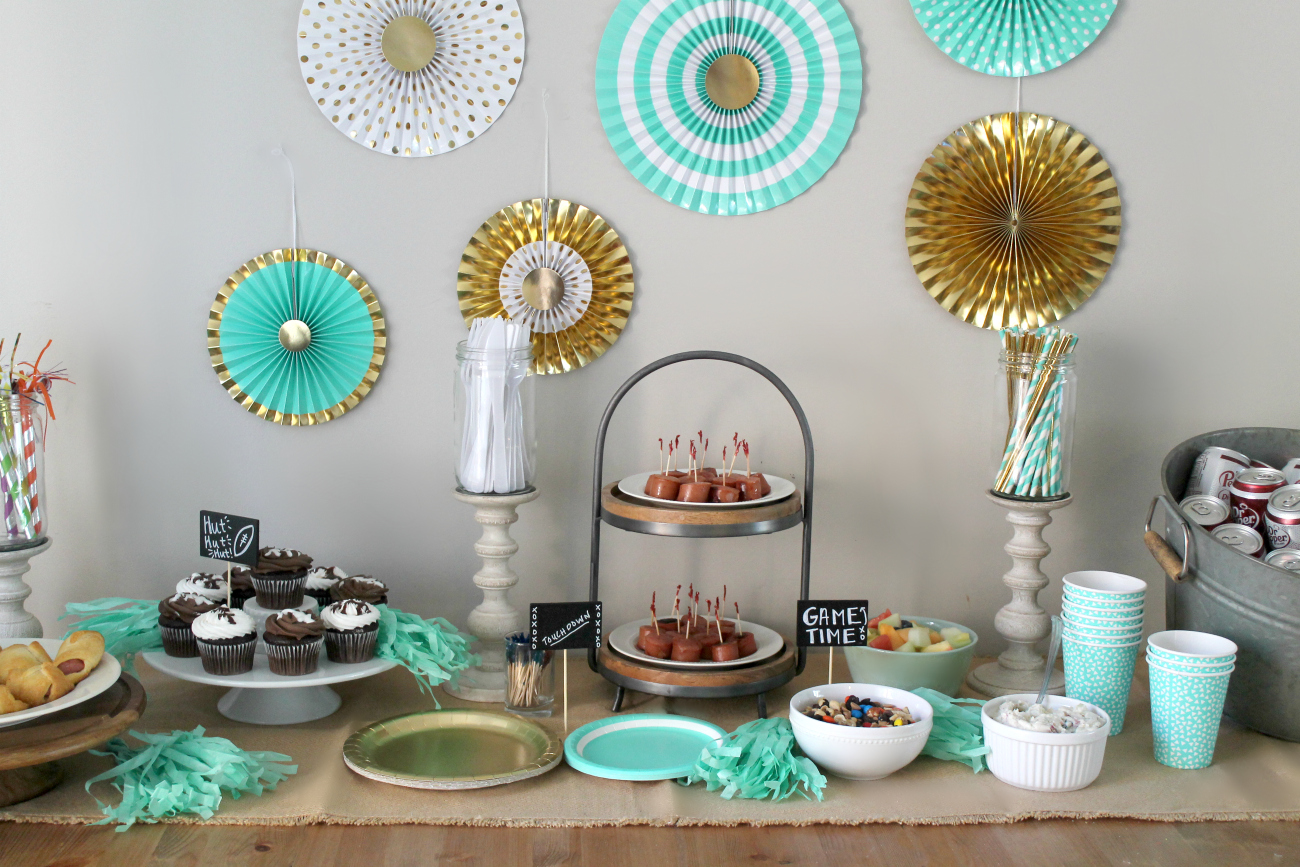 Hello, friends!
Who here loves a good football party? Well, today I'm sharing a few tips & tricks on How to Host a Football Party on a Budget! Hosting a great party doesn't have to empty your wallet – in fact, you've probably got more than you think, already in your home!
Step One: Plan Your Decor
There are lots of inexpensive options for decor, but first you should choose a color palette. For this fun football party I wanted it to feel fresh and modern so I went with white, gold, and a teal/green. The teal/green ties in with football and the gold and white accents really help make the decorations stand out. I was able to pick up all of the decor elements for under $50 and they're all reusable!
Tip: When purchasing party decor (especially wall decorations) find items that you can re-use later. These fun pinwheels on the wall are adhered with velcro, not adhesive – so we can pack them away and use them time and time again!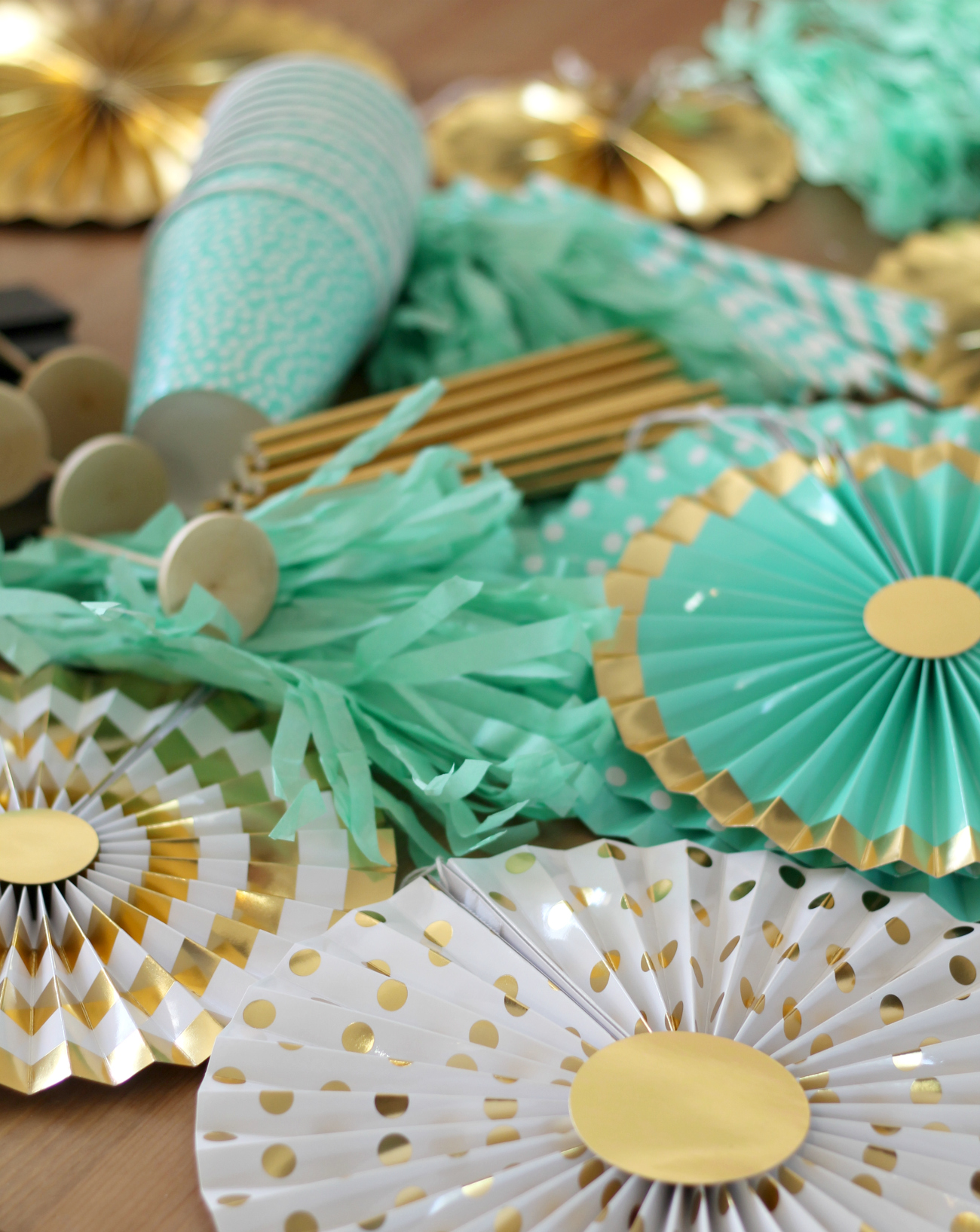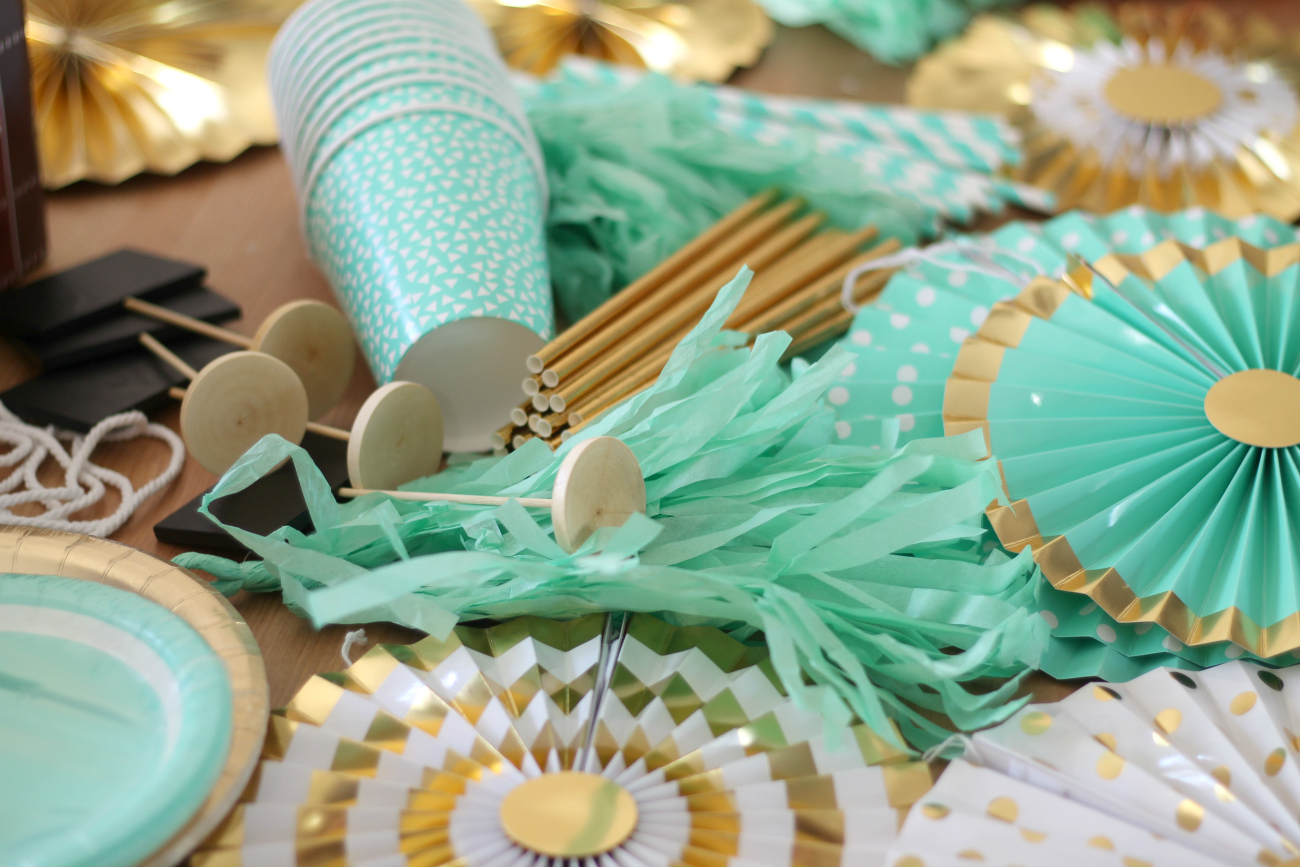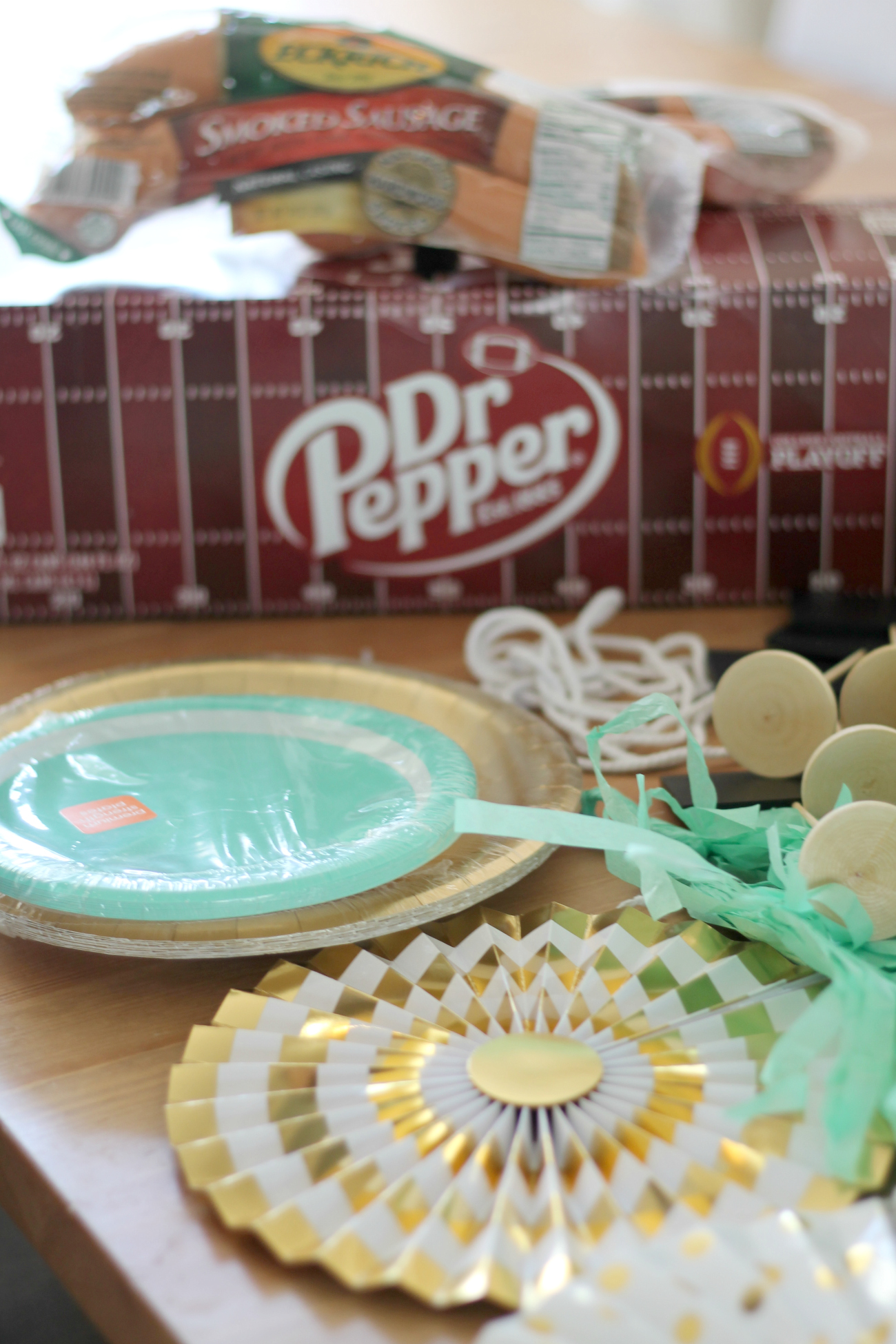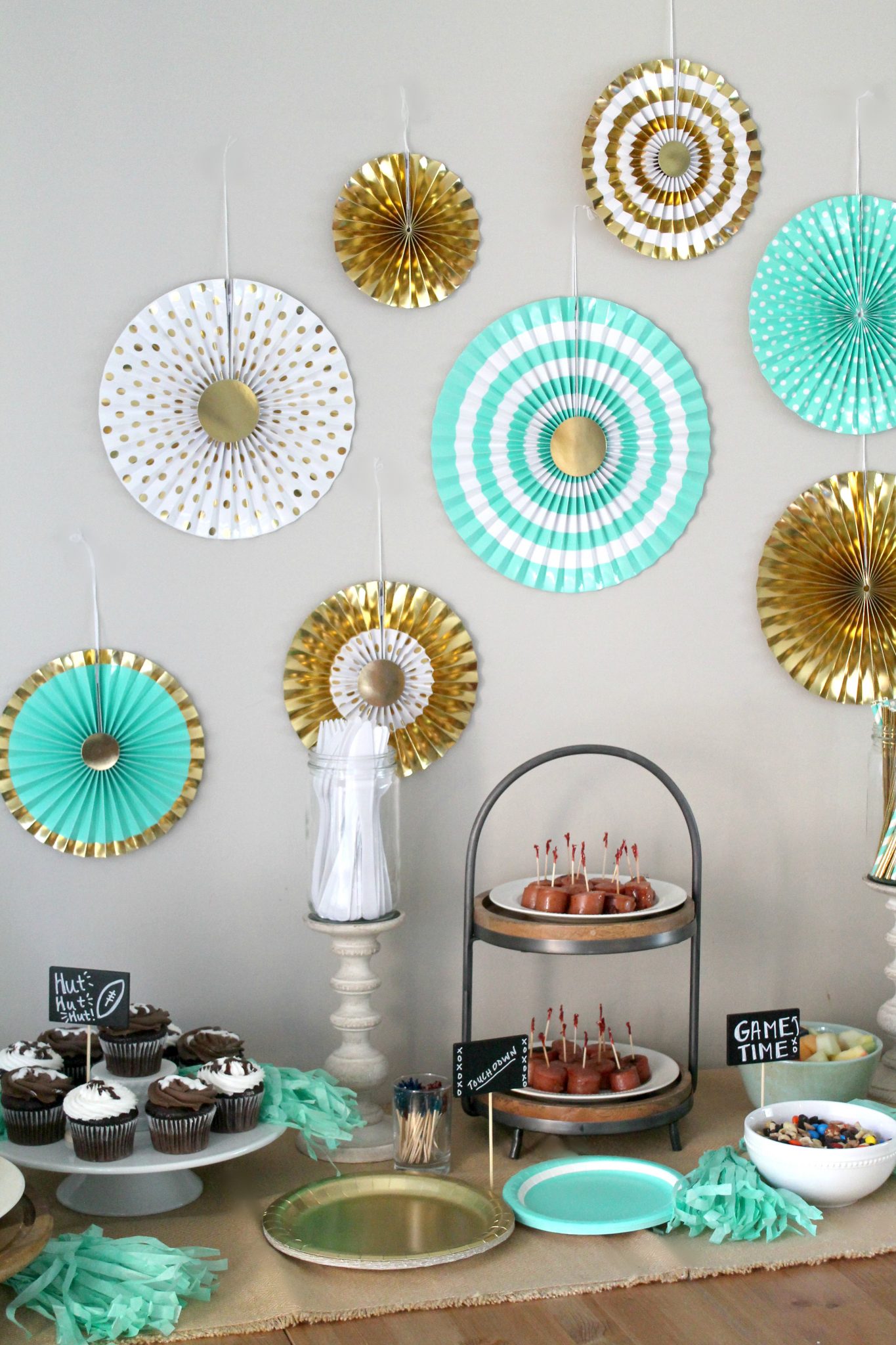 Step Two: Create Your Game Day Menu
A must-have for football parties is finger food! Try to choose items that guests can easily grab and snack on during the game – nothing that requires sitting at a table. For our game day spread we always have Eckrich Smoked Sausage (found in the packaged meat aisle) because we can get two packages and serve them two totally different ways. Serving with toothpicks is a classic, and we also love to use them to make Pigs in a Blanket! Just cut the sausage in half down the middle and then slice into small pieces. We absolutely love the naturally hardwood smoked flavor Eckrich Smoked Sausage brings to the table, and it's just a huge hit with guests!
For beverages, stick with classic flavors that guests are sure to love, like the fan favorite Dr Pepper. Dr Pepper is the perfect complement for tailgating or homegating events during the college football season. It is the ones fans crave. Be sure to pick up Dr Pepper and Eckrich Smoked Sausage  at Meijer. When purchasing soda it's always a good idea to purchase both regular and diet options to give your guests a variety.
Savings Tip: If you head to the Meijer mPerks page you can receive a $2 off coupon with the purchase of one (1) Eckrich Smoked Sausage (10-14oz) and one (1) pack of Dr Pepper 8 pk. 12oz. bottles or 7.5oz. cans (regular or diet)!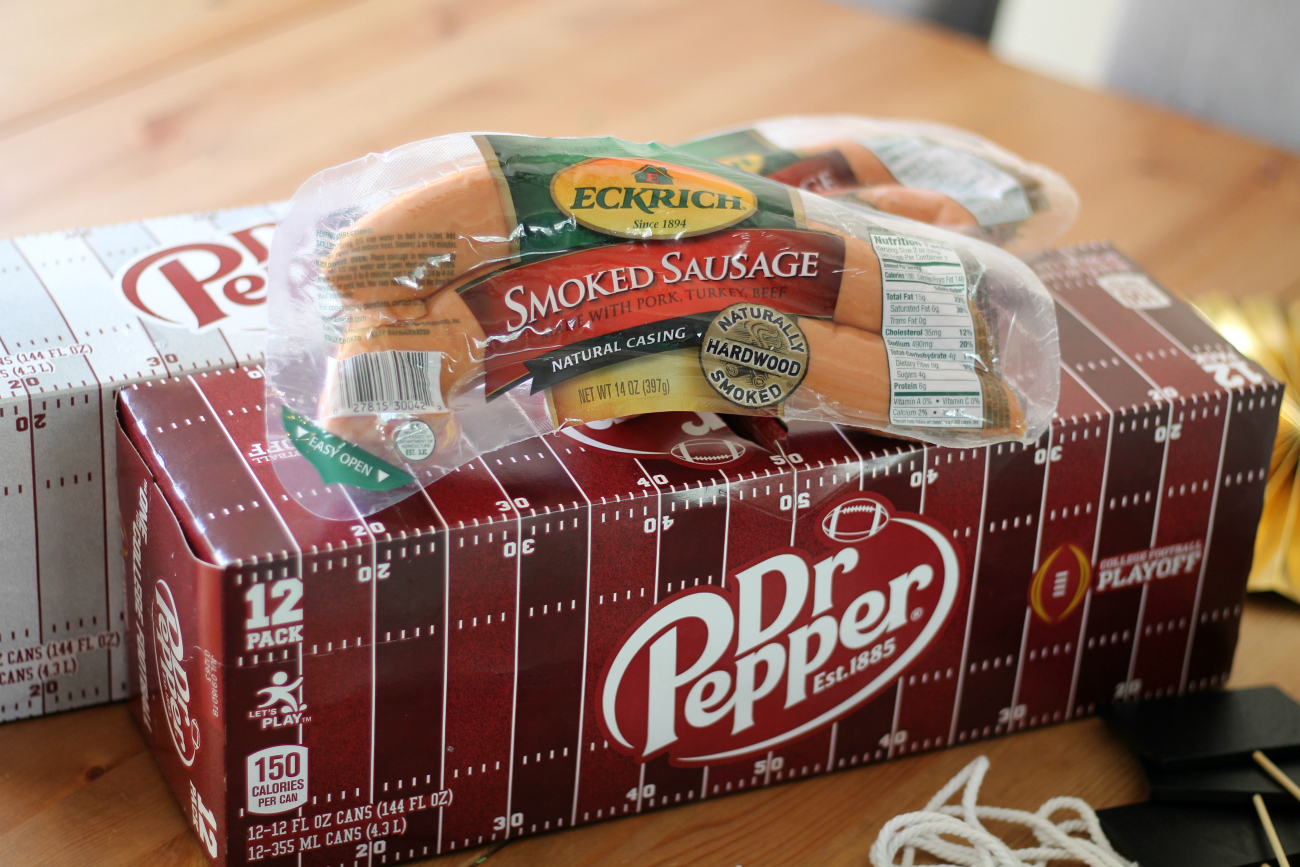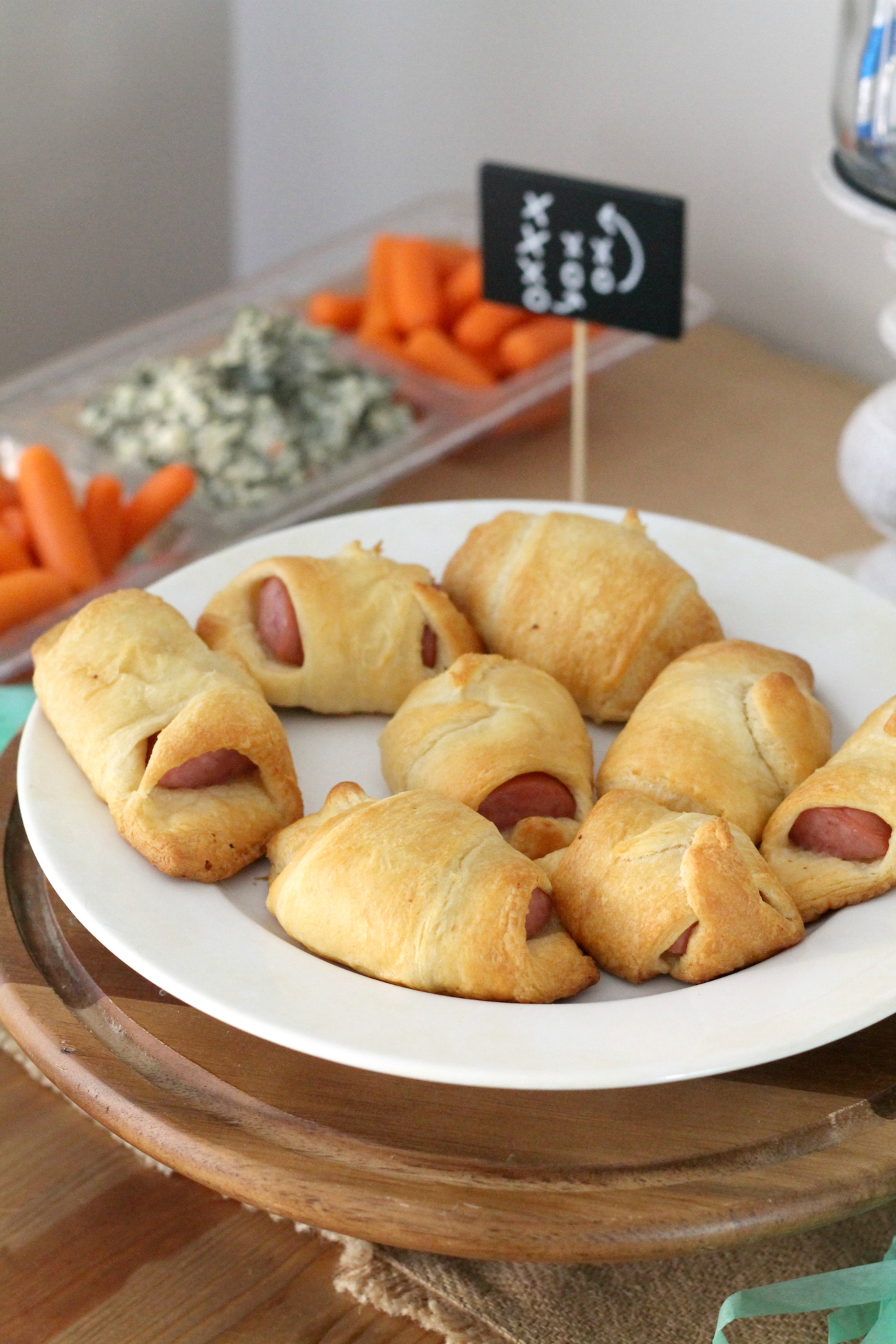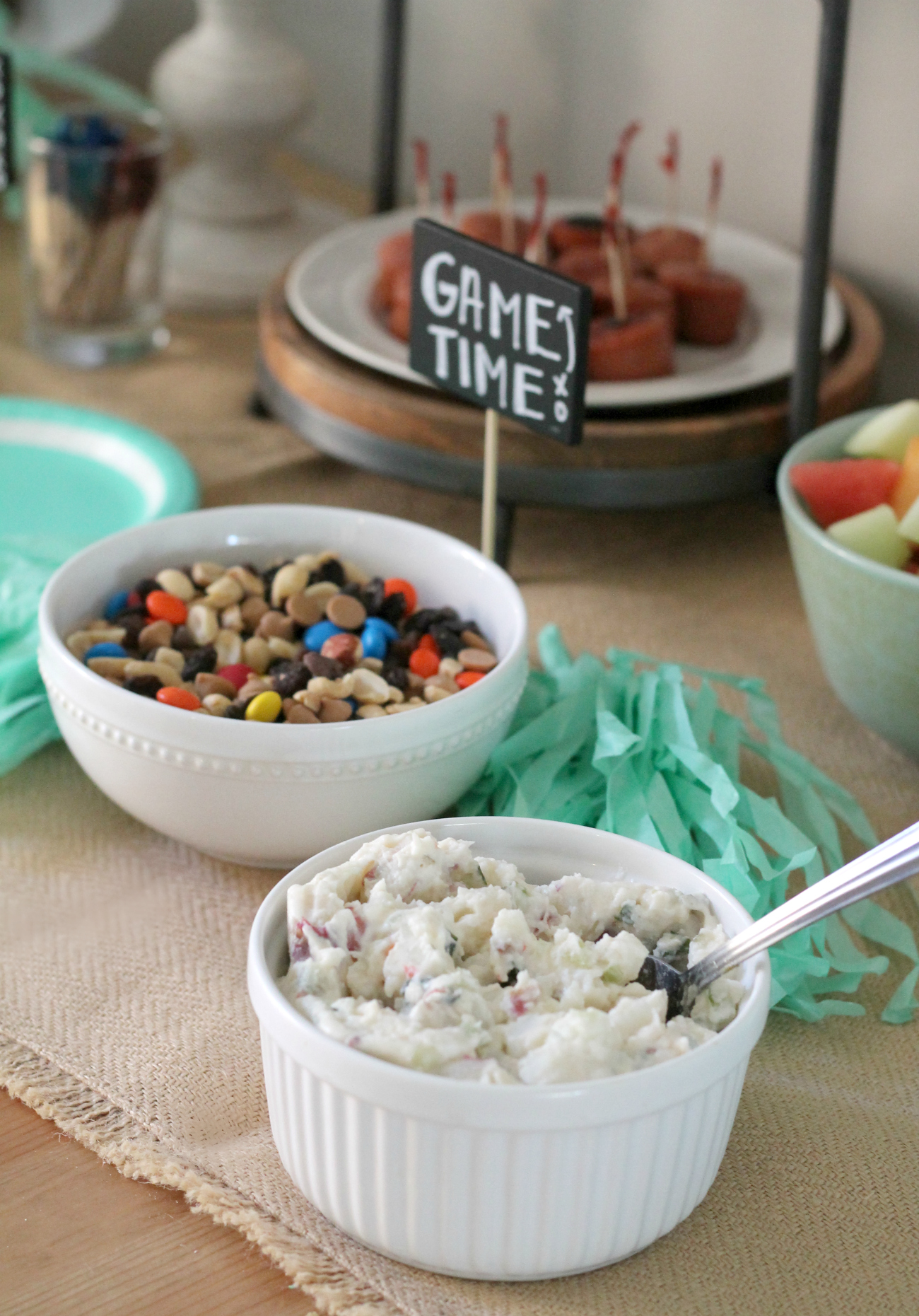 Tip: Buy pre-made items and dress them up! I love getting store-made cupcakes from the bakery and dressing them up with some pre-made icing. We added "laces" to these cupcakes to make them fit the football theme. Fun and simple!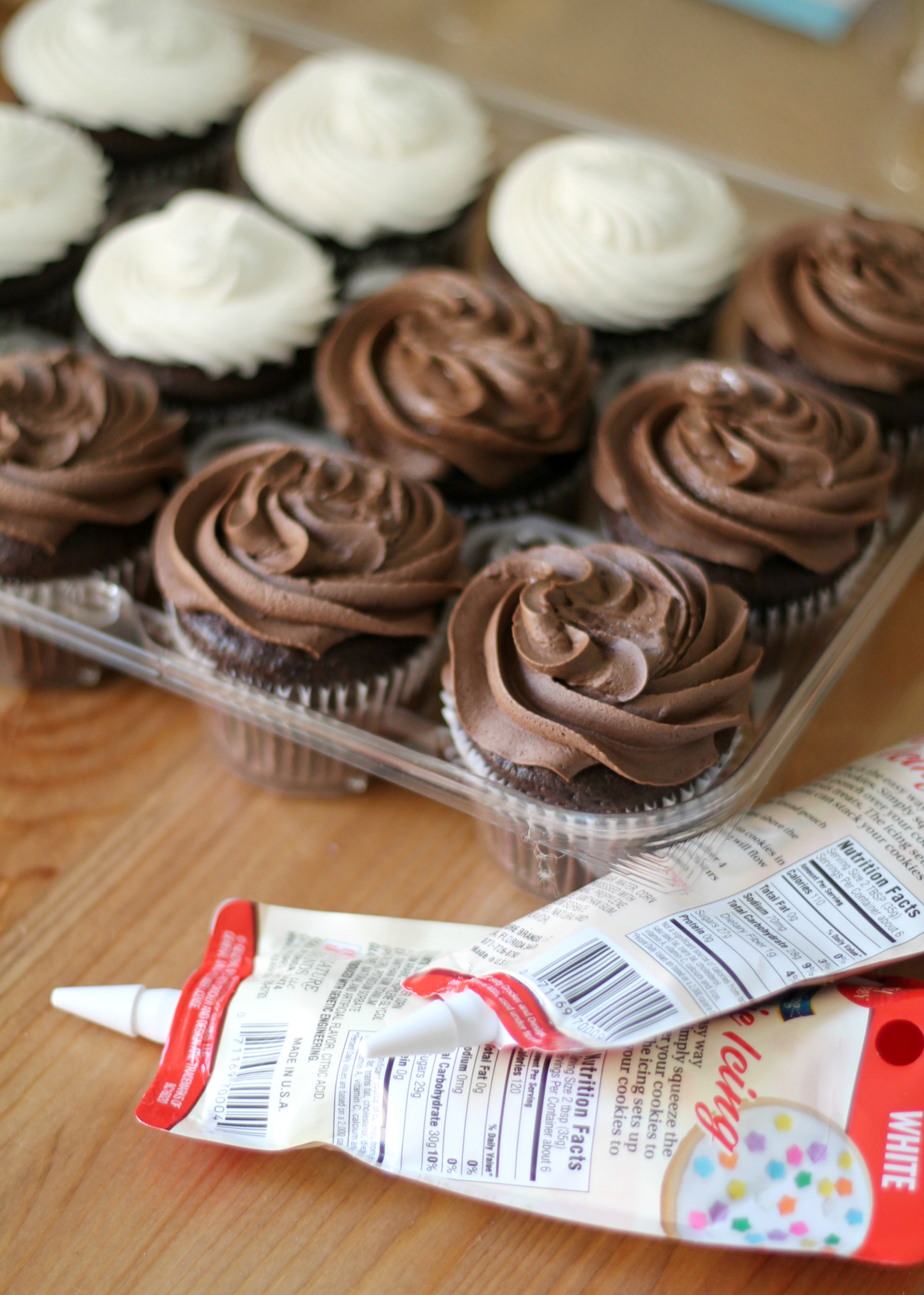 Step Three: Use Items You Already Have
Before you head out to the store, shop your home! Think of creating your tablescape with levels, so any tall candle sticks, cake plates, and anything that can be used to elevate items on the table are key. Also look for neutral items you can use on the table that won't take the focus away from your food or decor. I use this burlap table runner all of the time because it's a great base to any tablescape, same for my white dishes – they're a great base piece.
Tip: Having clear glass jars in your pantry is a must for entertaining because they can be used in so many different ways! You can dress them up, leave them plain, and fill them with cutlery, and more!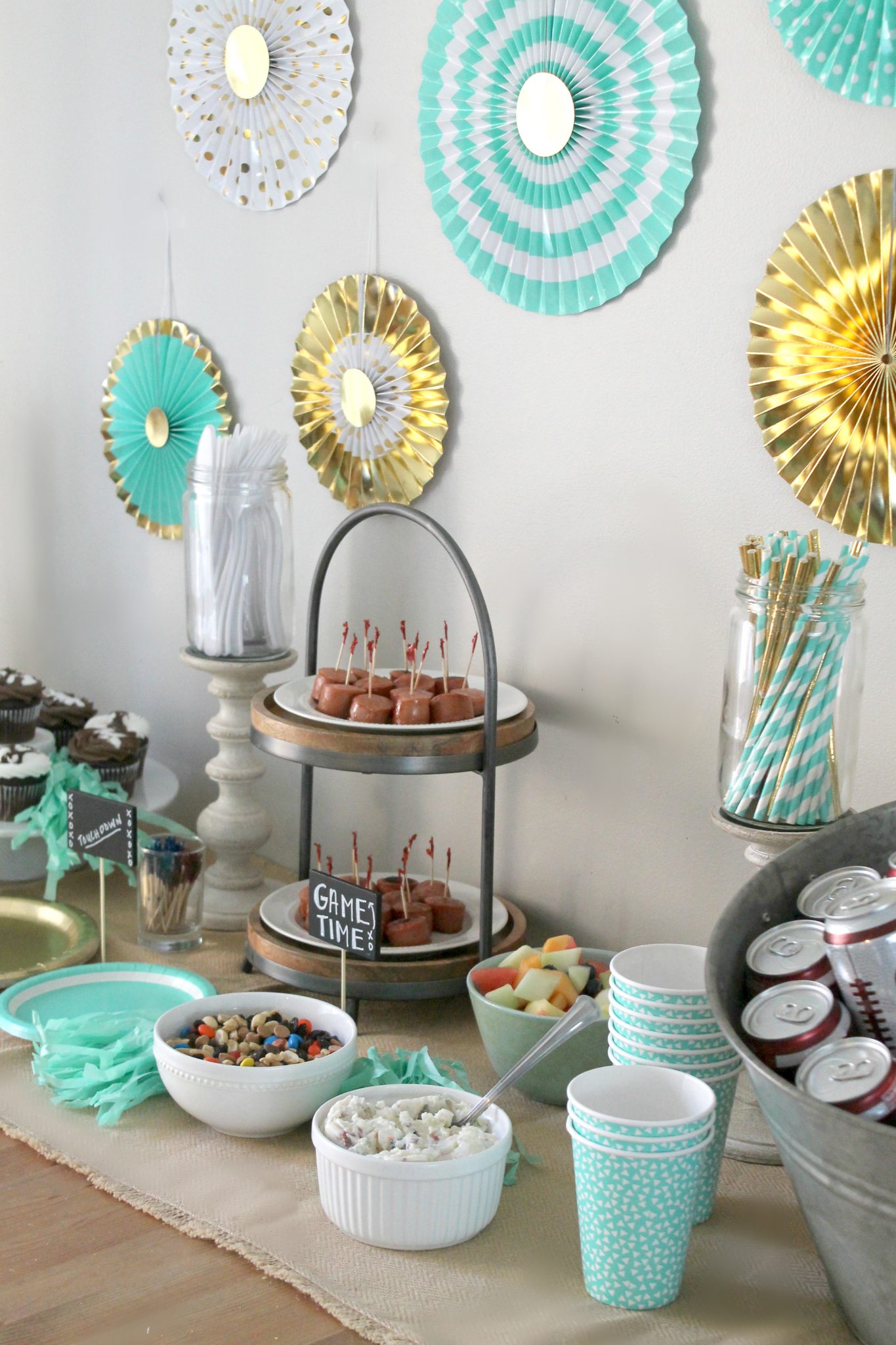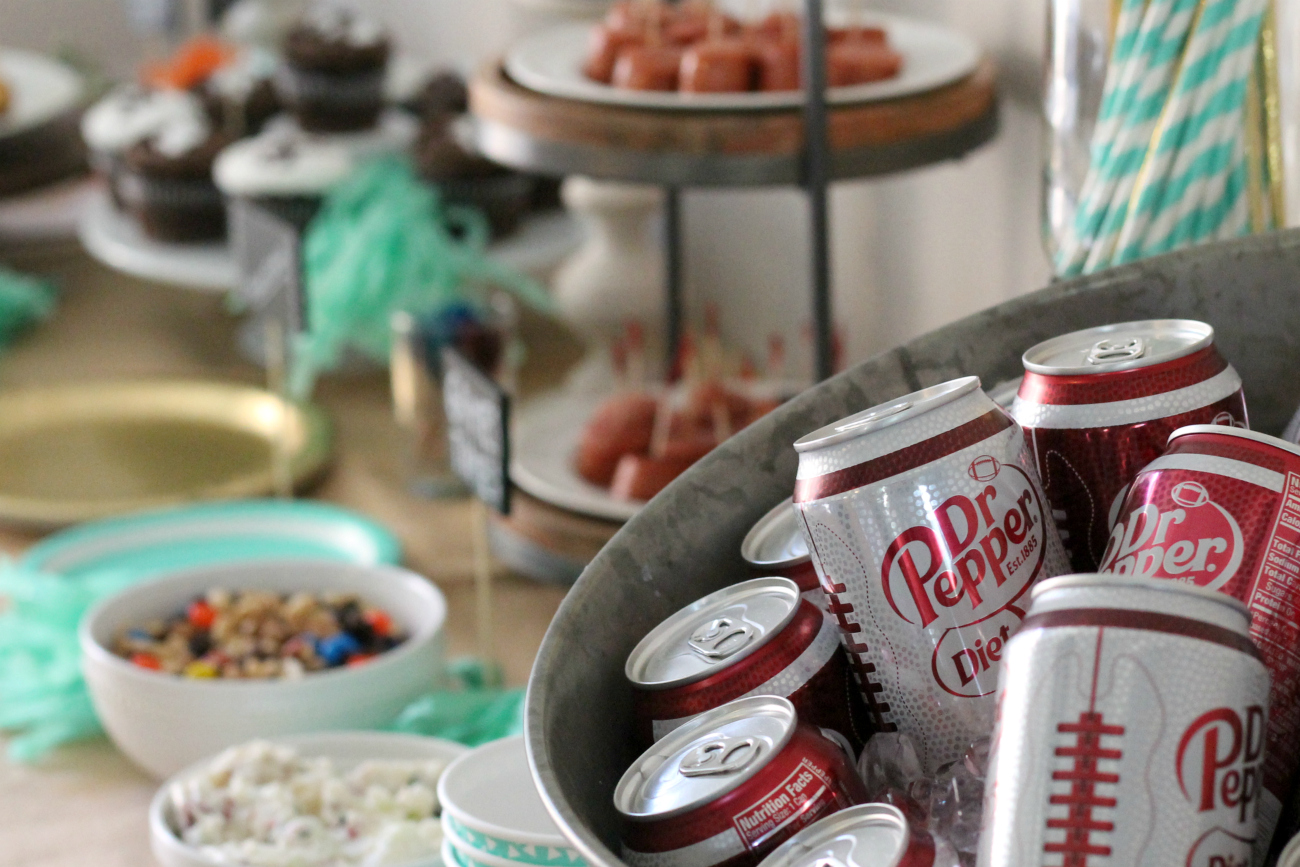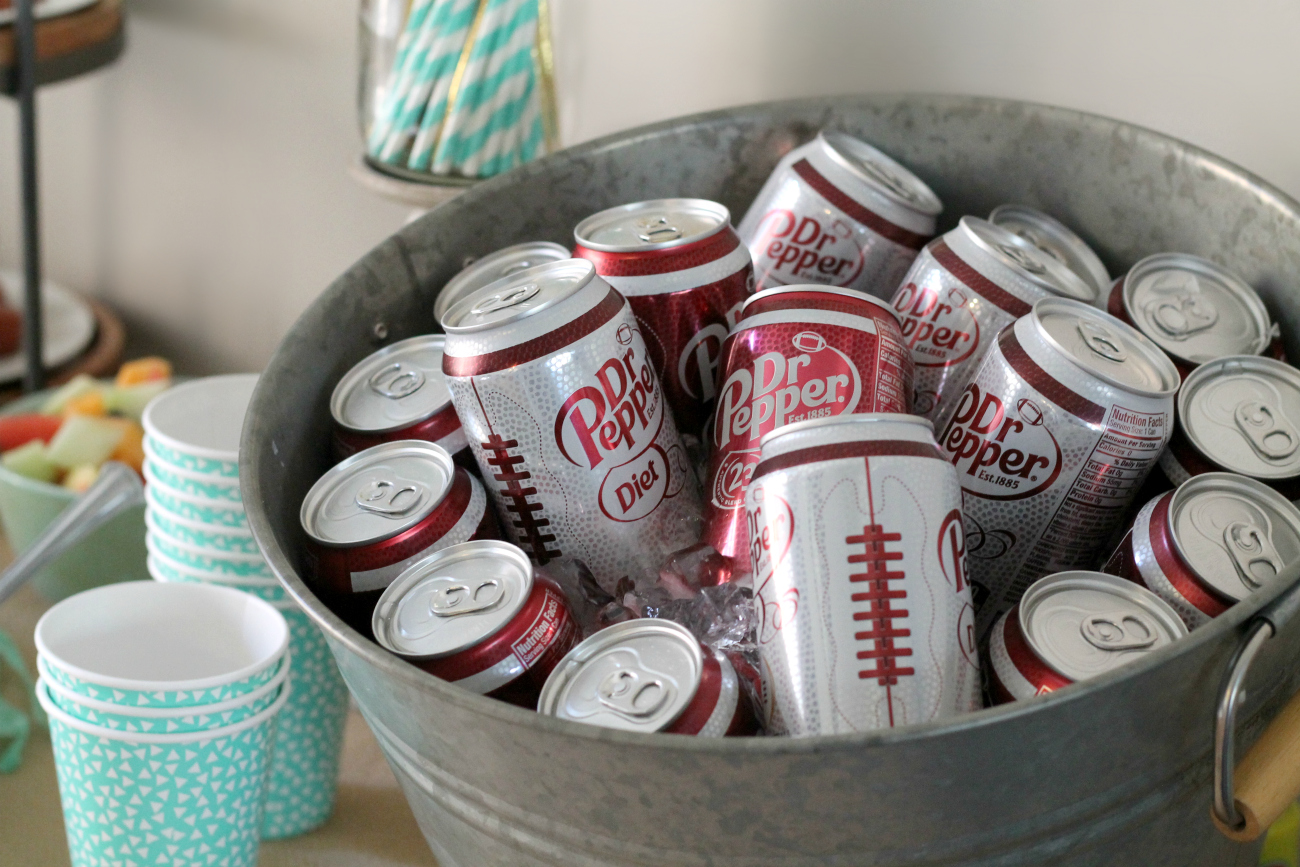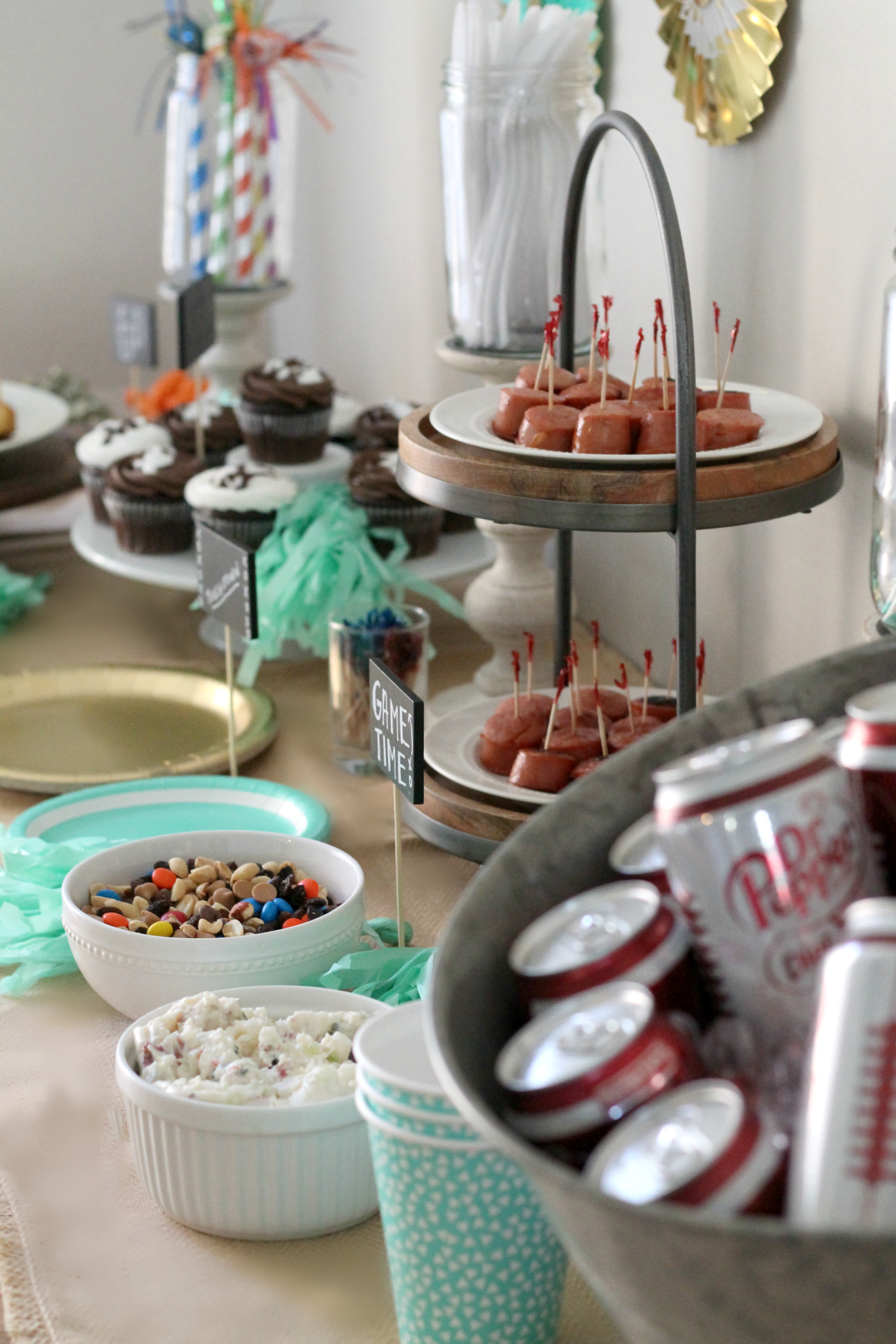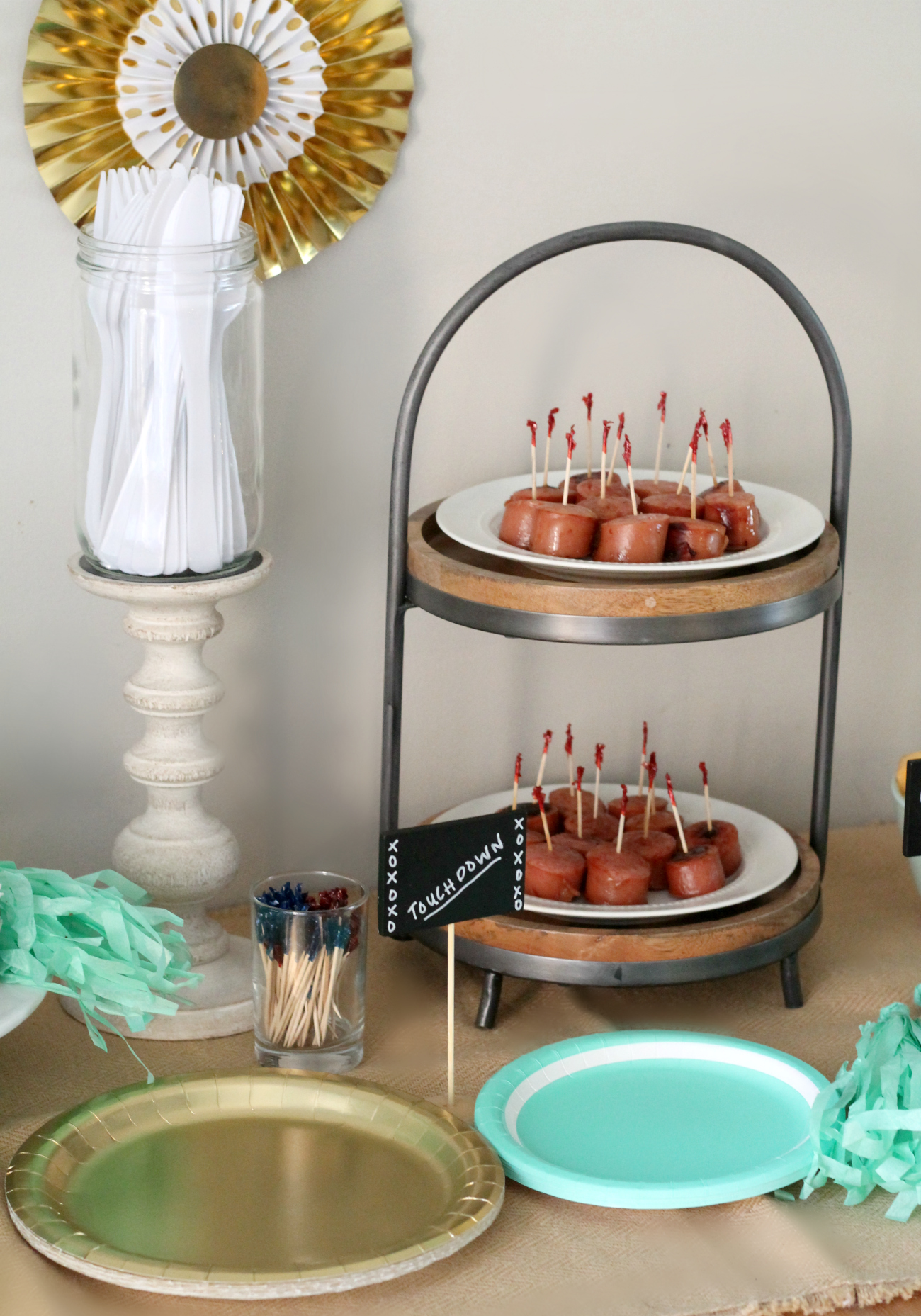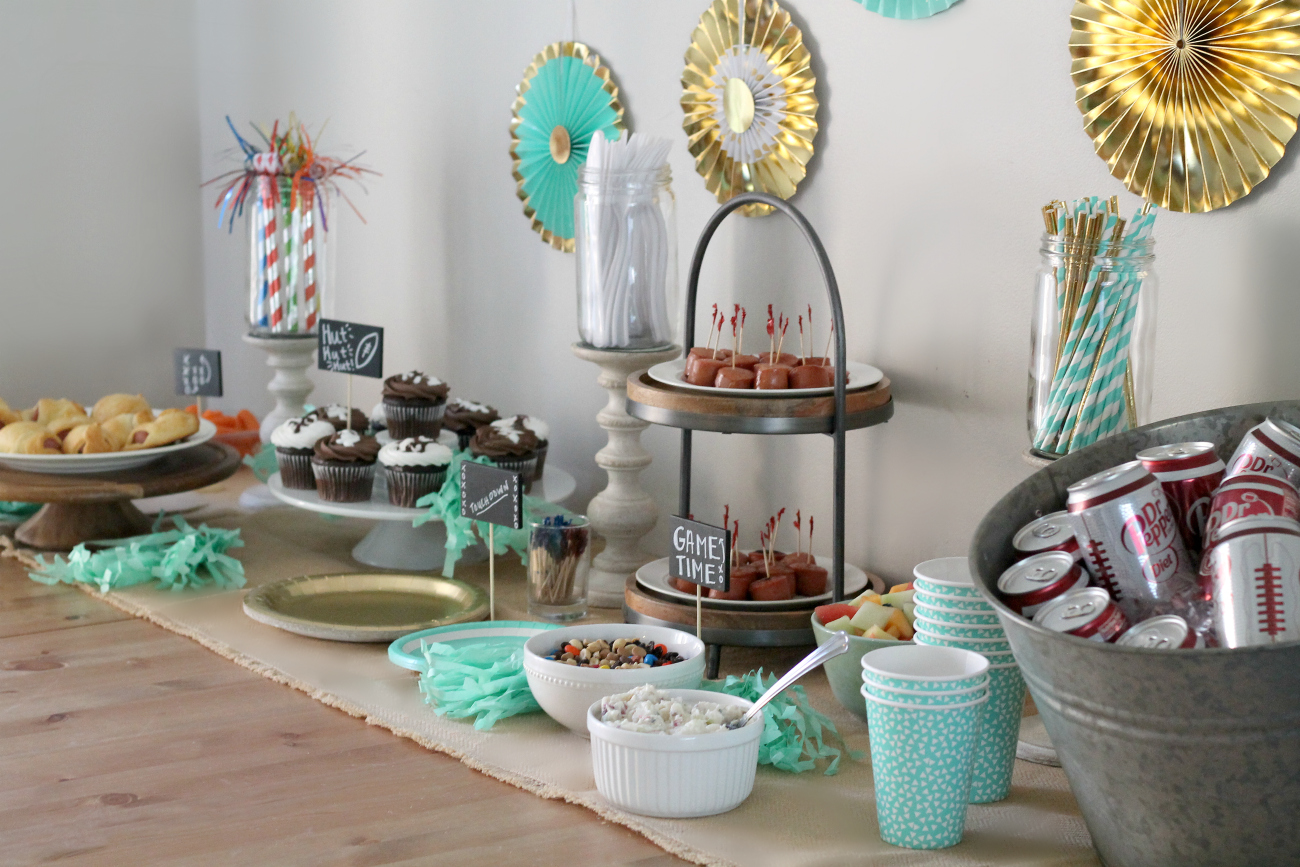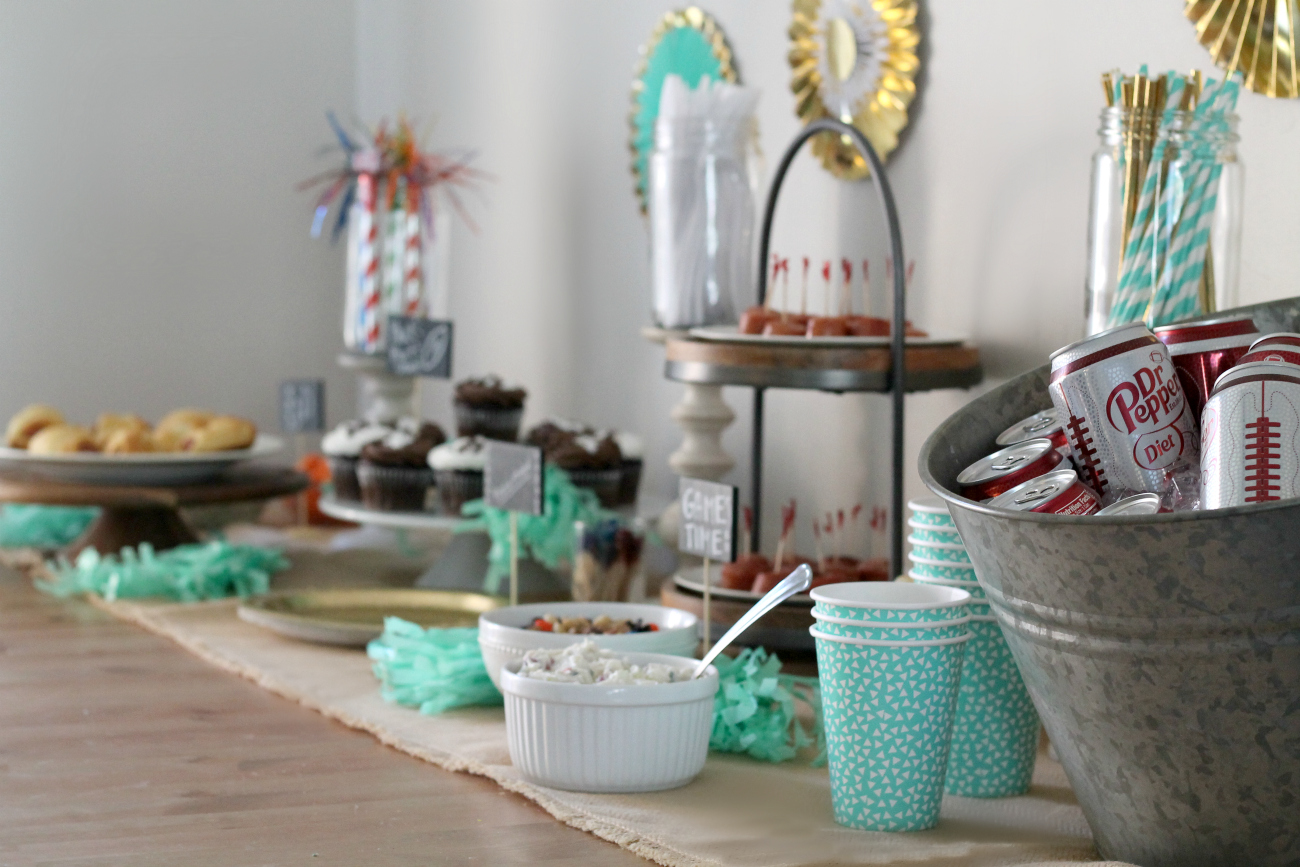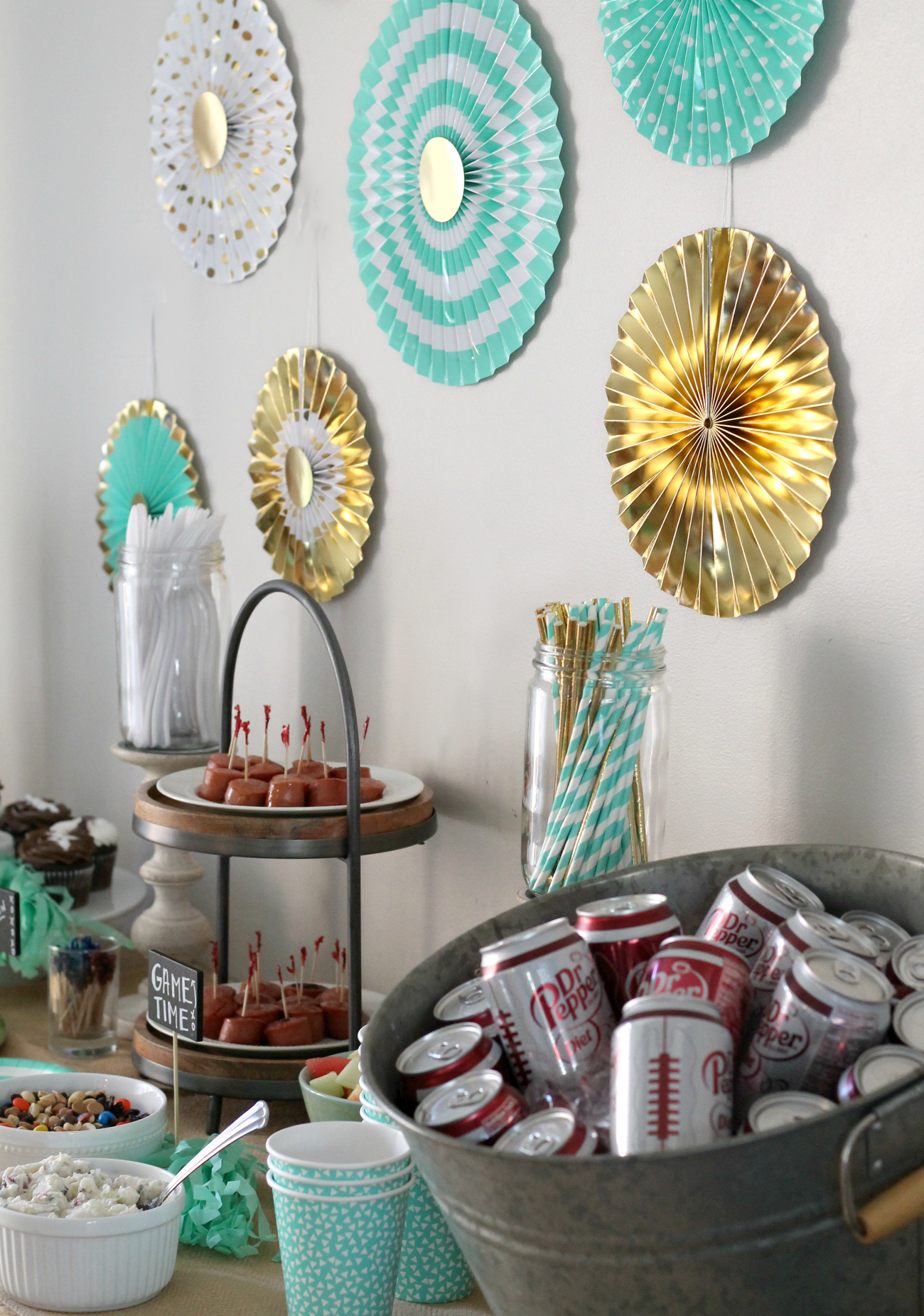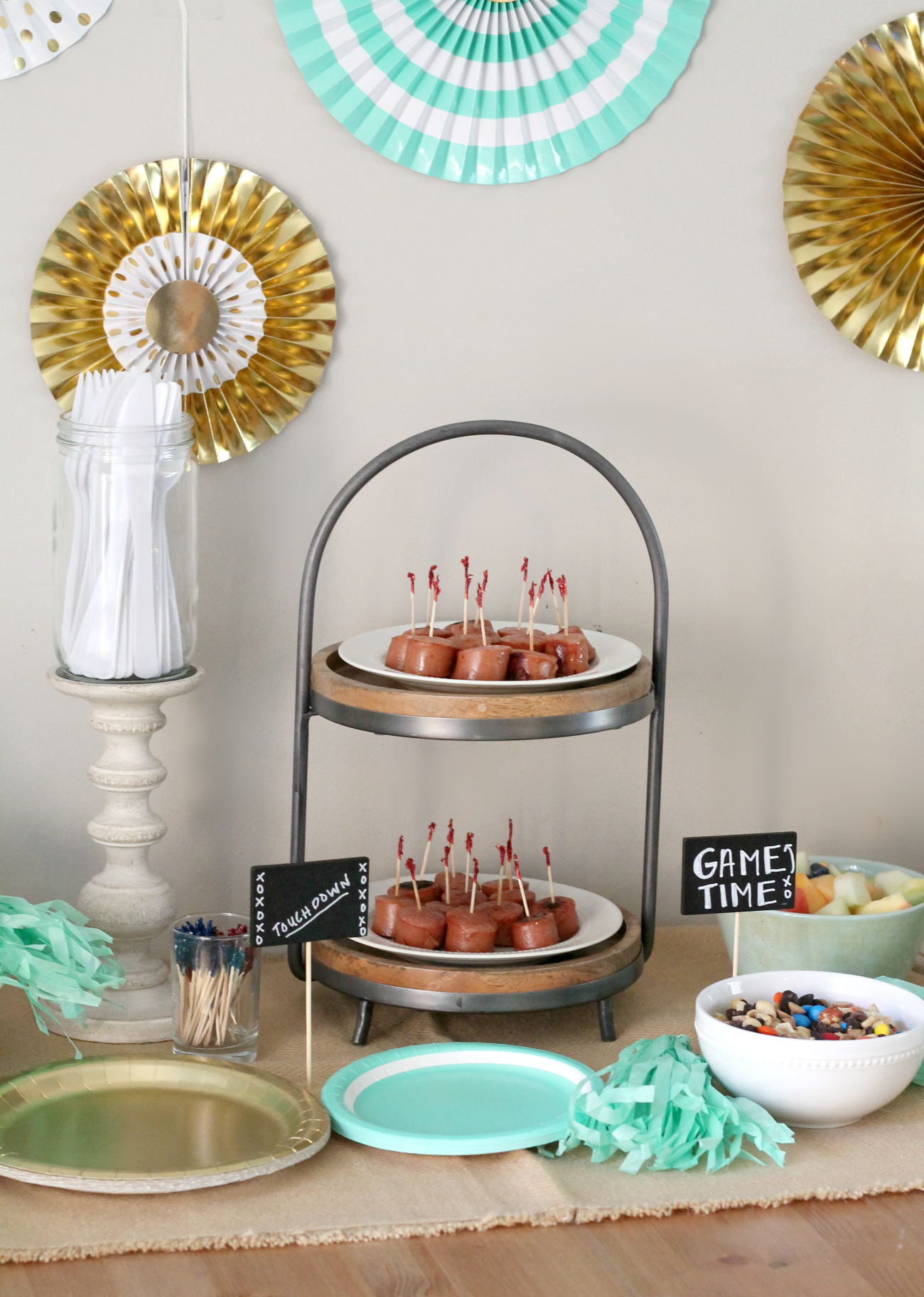 Step Four: Sprinkle in Some FUN!
I love adding fun elements like party horns, party poppers, etc. Tissue paper tassels can make great pom poms for cheering on your favorite team, too – so be sure to include a few on the table! You can easily make these out of tissue paper you already have, or purchase a tissue paper garland kit and taking out the string, easy peasy party hack!
Tip: Adding in fun customizable chalkboard elements like the simple signs pictured is a fun way to personalize your party! They're easy to write on using chalk or a chalkboard marker, and they're reusable for later! We added some simple football cheers, terms, and game plays on ours!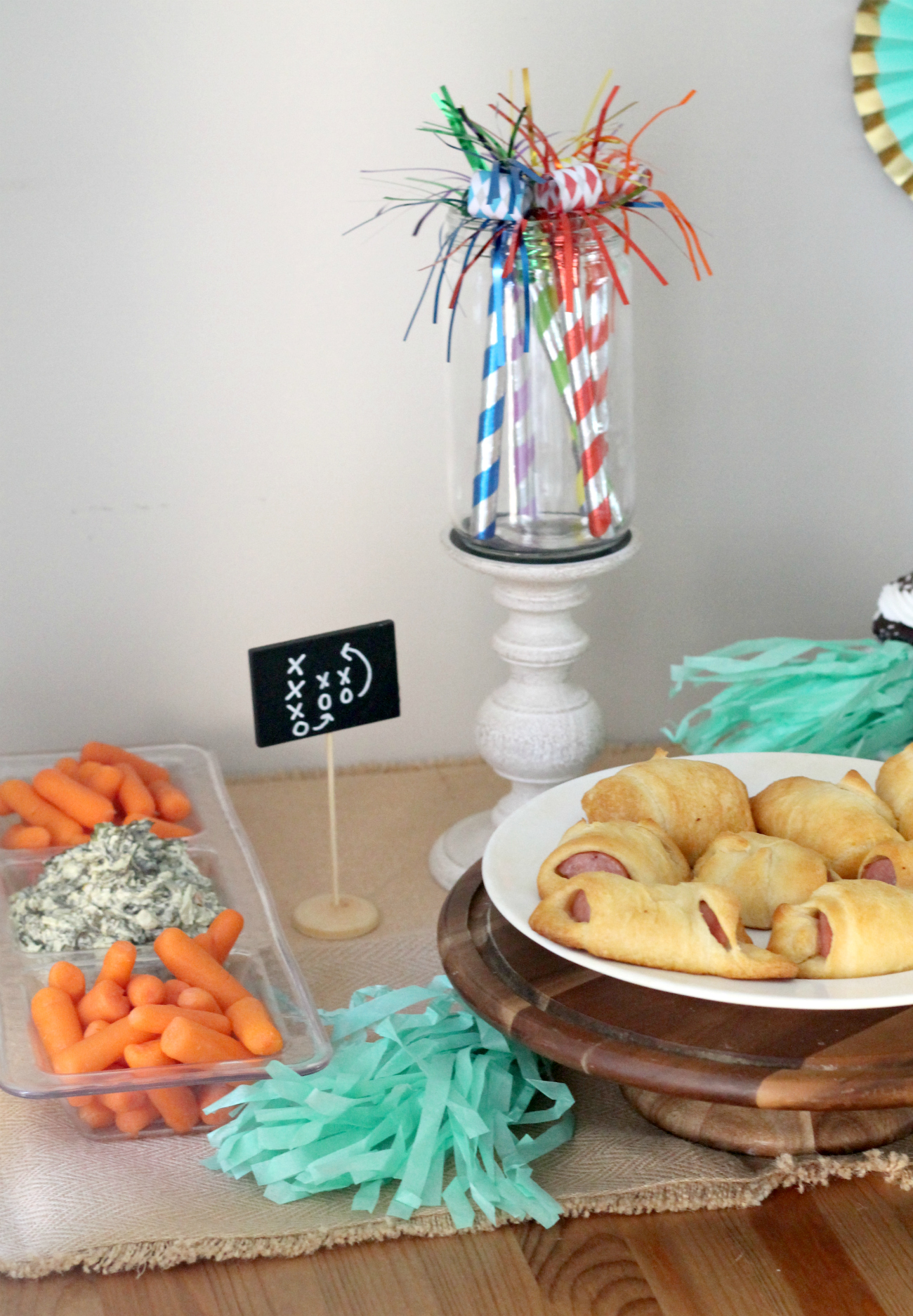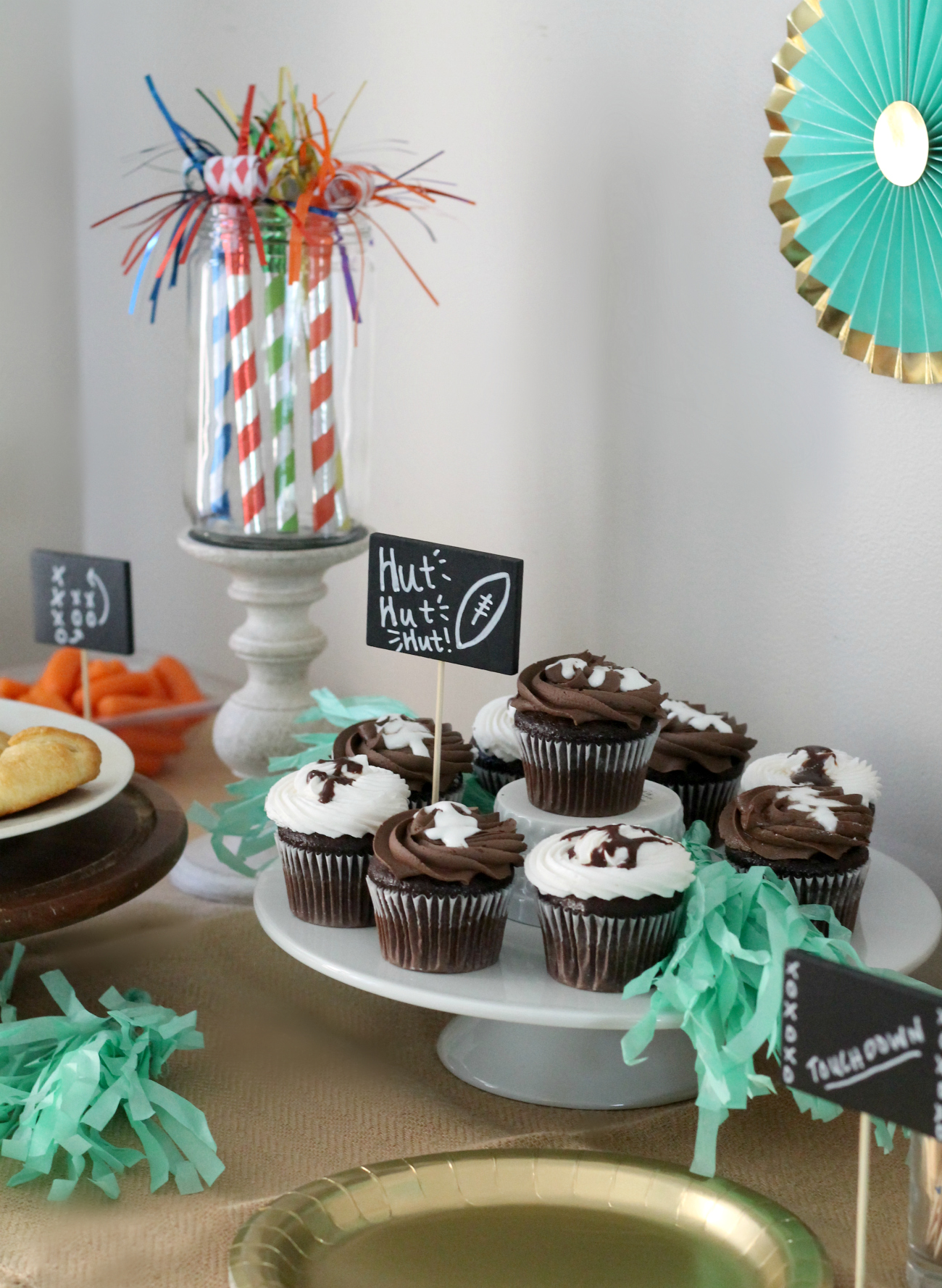 Step Five: HAVE FUN!
Try setting up your decor and tablescape the day before your party so all you'll have to do the day of is put out the food. This will help you to really enjoy the party because you won't be running around last-minute trying to finish things up. The whole point of hosting get-togethers is to enjoy time with family and friends, right?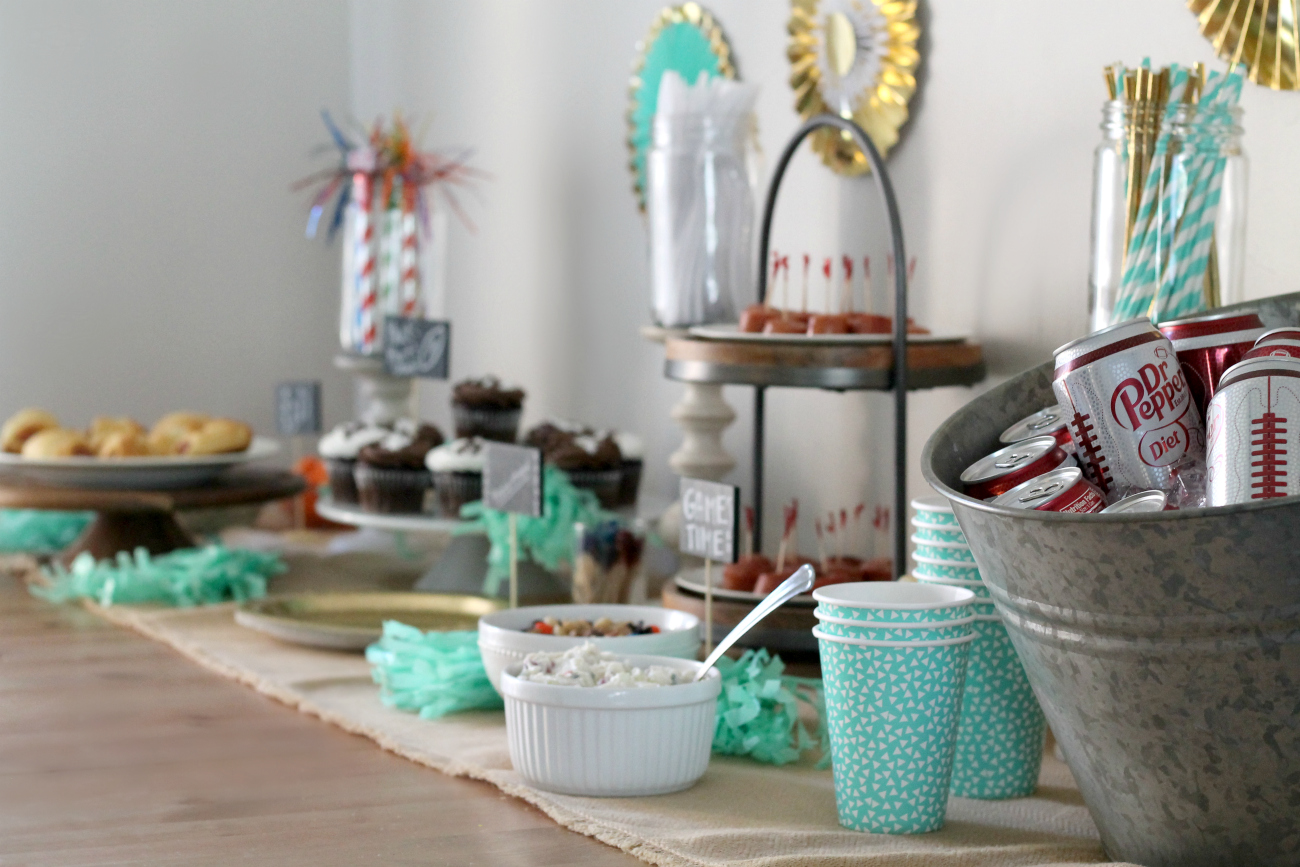 Do YOU host football watching parties?
Be sure to check out mPerks to grab a coupon to save up to $2.00 with the purchase of one (1) Eckrich Smoked Sausage (10-14oz) and one (1) pack of Dr Pepper 12oz. bottles or 7.5oz. cans (regular or diet).
Love this post? Pin it for later below: