This post is sponsored by Tyson Foods, Inc. All comments and opinions are my own. Keep scrolling read about Creating a Game Day Dip Station.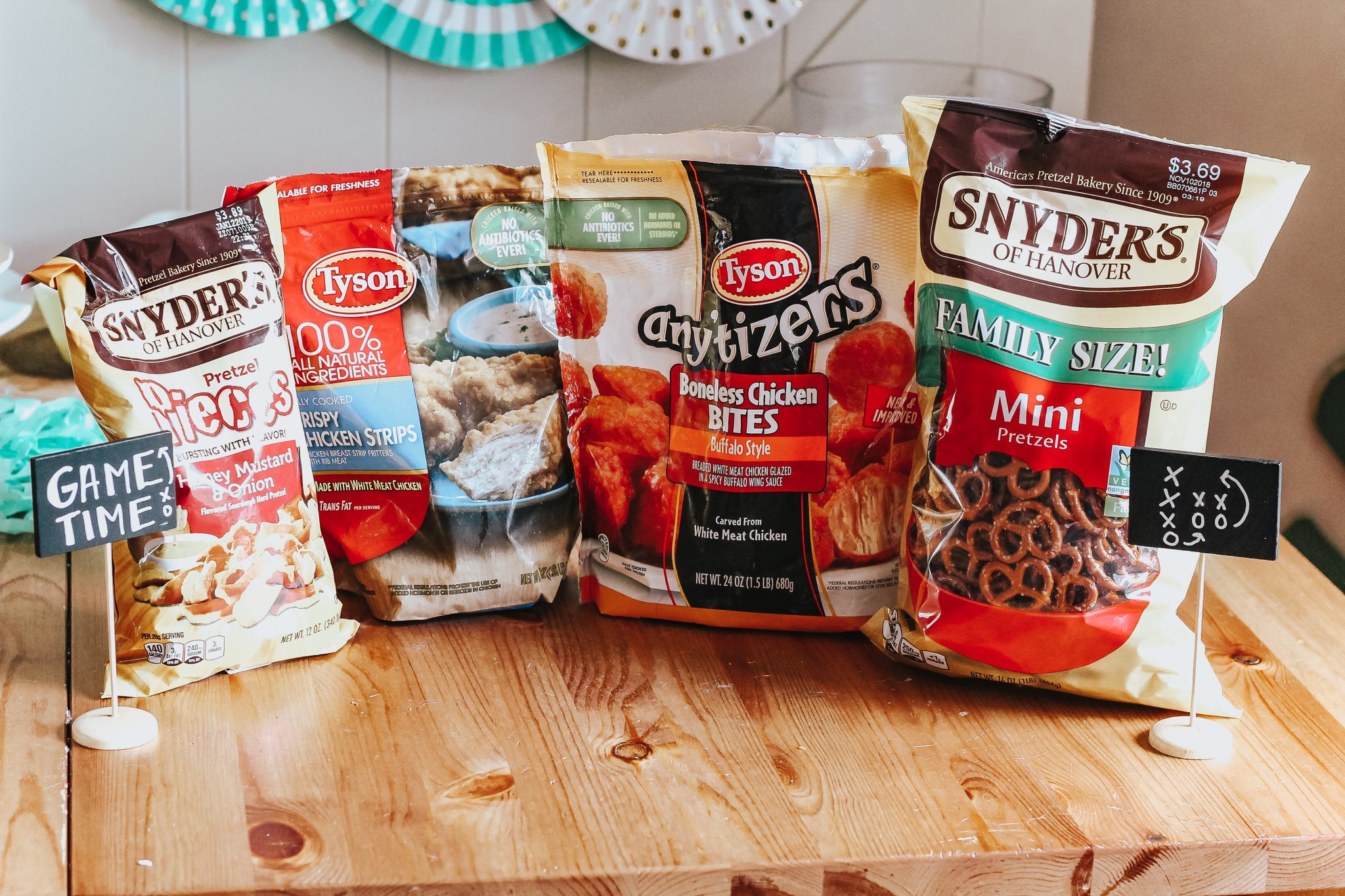 Creating a Game Day Dip Station
Hello, friends!
Who loves football? THIS GAL! Actually, I'm really going to try my best to get into it more this year – my husband, boys, and father-in-law all like watching the games together and I'd love to put more of an effort into sharing those special moments. My idea of watching football is making snacks, eating said snacks, and then going off to do something by myself for a few hours while the boys watch the game. But this year I'm all in!
My husband and I love creating recipes to share, and today we're teaming up to share a full-on Game Day Dip Station for you to enjoy this year on game day! Some of our favorite things to snack on for Game Day are pretzels and chicken, so we chose 2 pretzel varieties, 2 chicken varieties, and created a dip for each!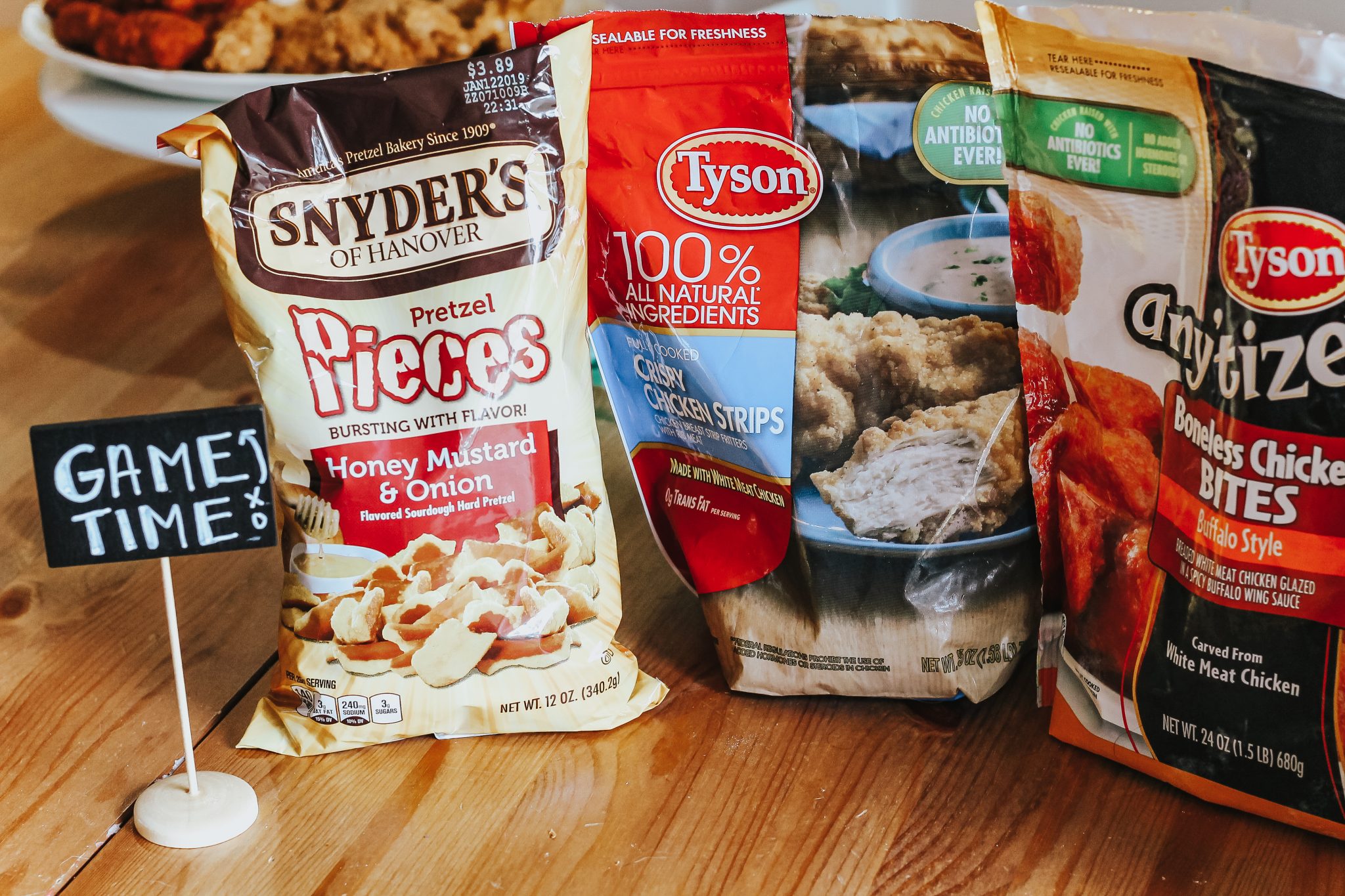 We love Tyson® products and pick them up in the frozen aisle at Meijer. The Tyson Crispy Chicken Strips are 100% all natural (minimally processed and no artificial ingredients added), no antibiotics ever, chicken grown on American farms. Tyson Any'tizers Snacks are protein-packed and have the most crave-worthy flavor. I love preparing these because overall it allows me to spend less time in the kitchen and more time with the boys during game time. And the perfect complement to the table, Snyder's of Hanover® products, together they make the perfect game time meal.
We love Snyder's of Hanover because they've been America's pretzel bakery since 1909! They've got a hearty crunch, robust flavor, and I love that they are so versatile when it comes to pairing with dips. We tried them in all of the dips we're about to share and they were delicious in each one!
The Pretzels and Chicken Featured:
– Tyson Crispy Chicken Strips, 22 oz
– Tyson Any'tizers Buffalo Bites
– Snyder's of Hanover Mini Pretzels, 16oz
– Snyder's of Hanover Pretzel Pieces Honey Mustard and Onion, 12oz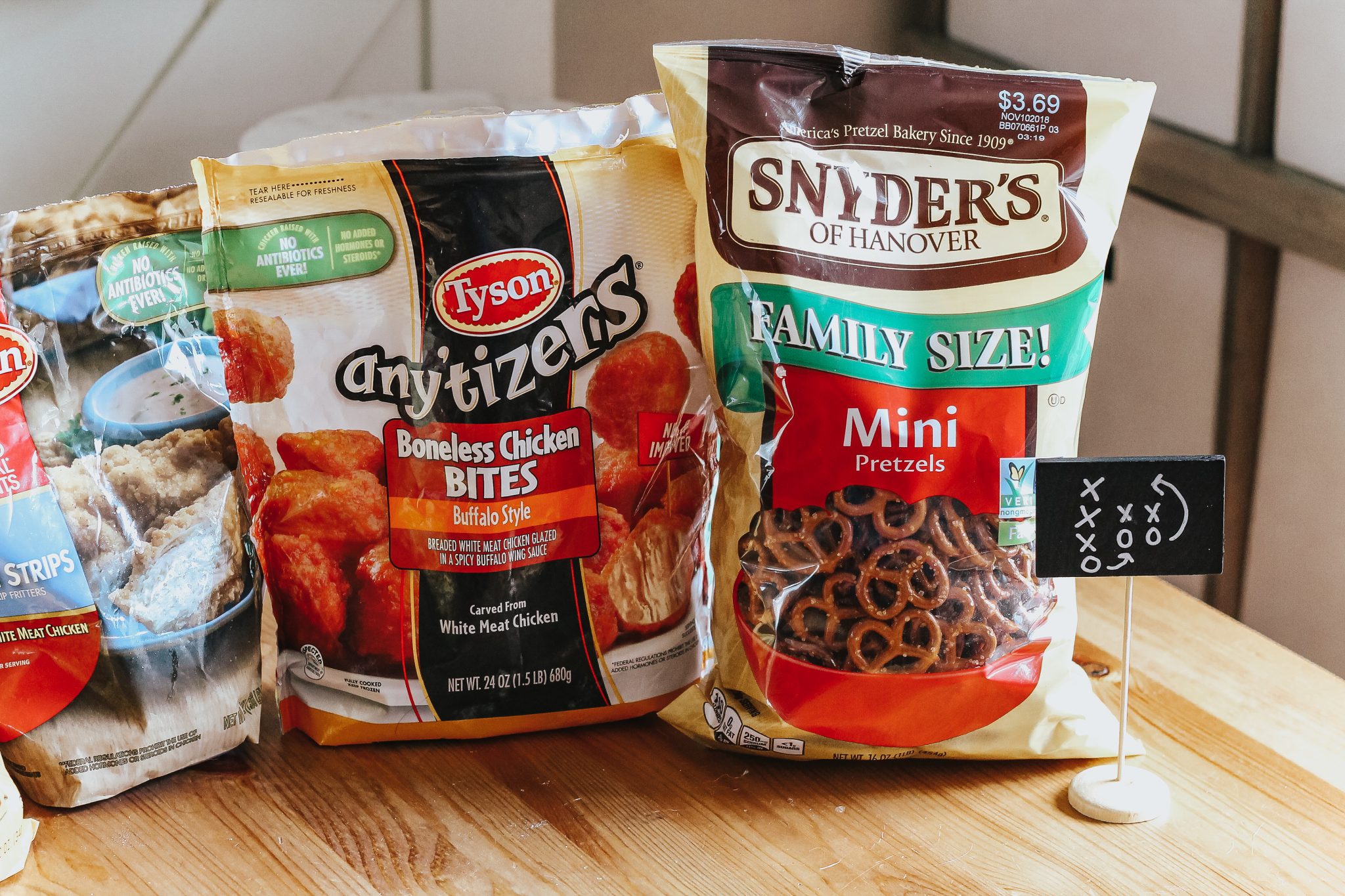 Now, let's get to the dip recipes! I cannot wait for you guys to make and try these – they are just so delicious and perfect for game day!
Chili Dip
3 cups cheddar cheese
1 15 oz can chili
8 oz cream cheese
2 tsp chili powder
Instructions:
1 | Mix chili and cream cheese in oven safe dish.
2 | Sprinkle 1 tsp chili powder over mixture.
3 | Top with cheese, spread evenly.
4 | Sprinkle remaining chili powder.
5 | Bake 30 min at 350 degrees.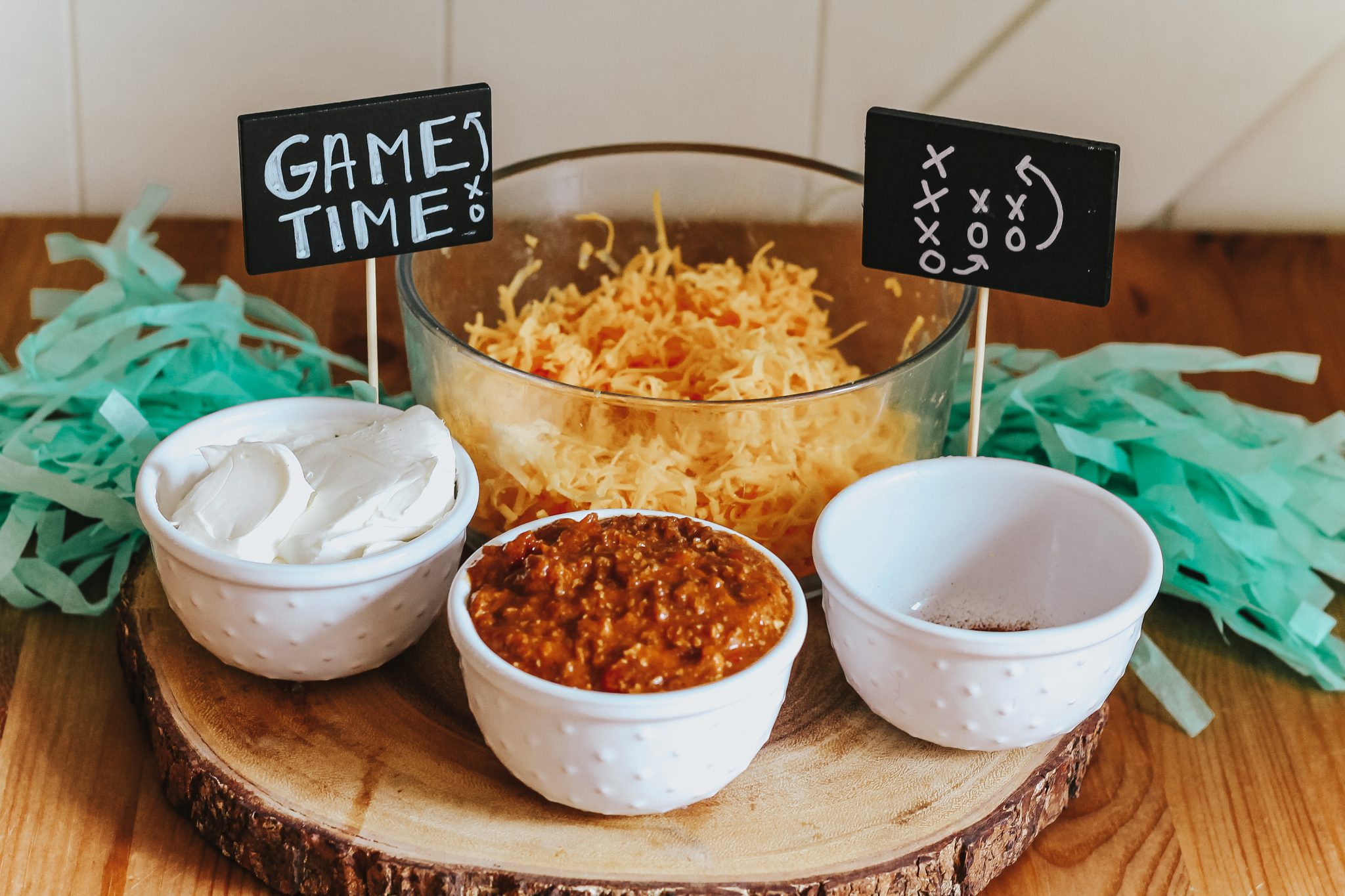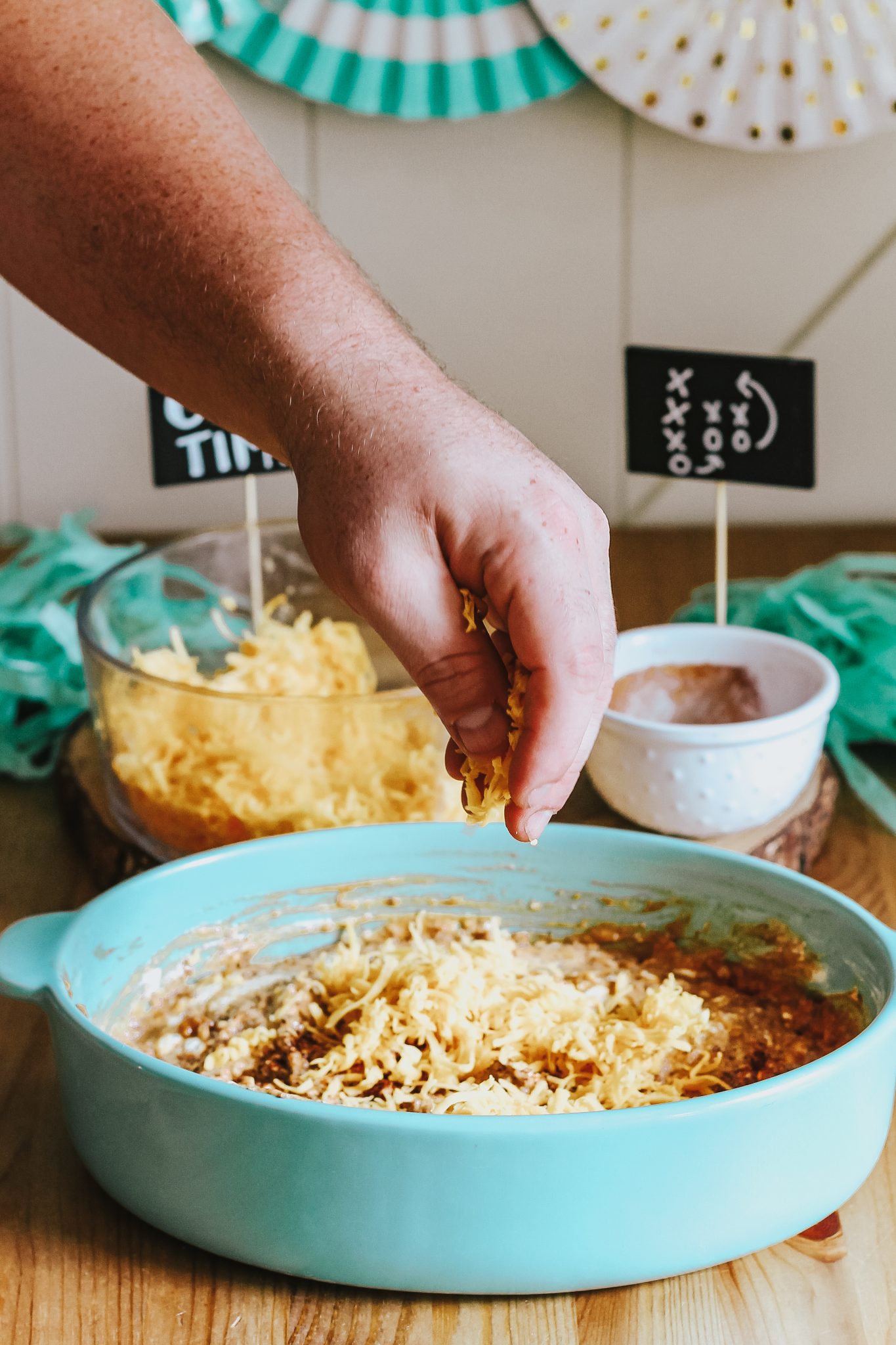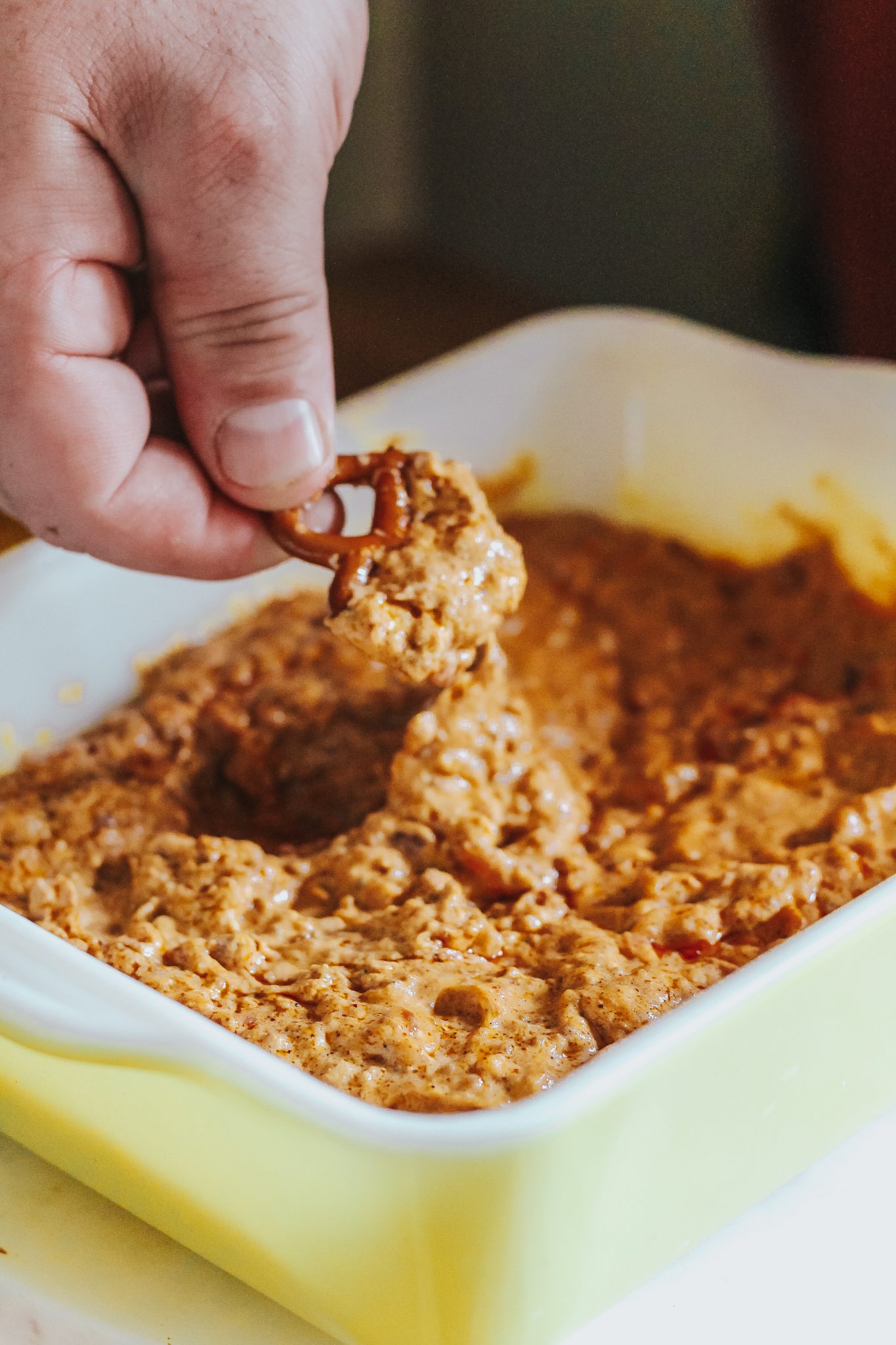 Honey Mustard Dip
1/2 cup honey
1/2 cup mayo
1/2 cup Dijon
1 1/2 tbsp white vinegar
1/4 tsp ground cayenne pepper
1/4 tsp paprika
Instructions:
Combine all ingredients in a bowl and mix until blended.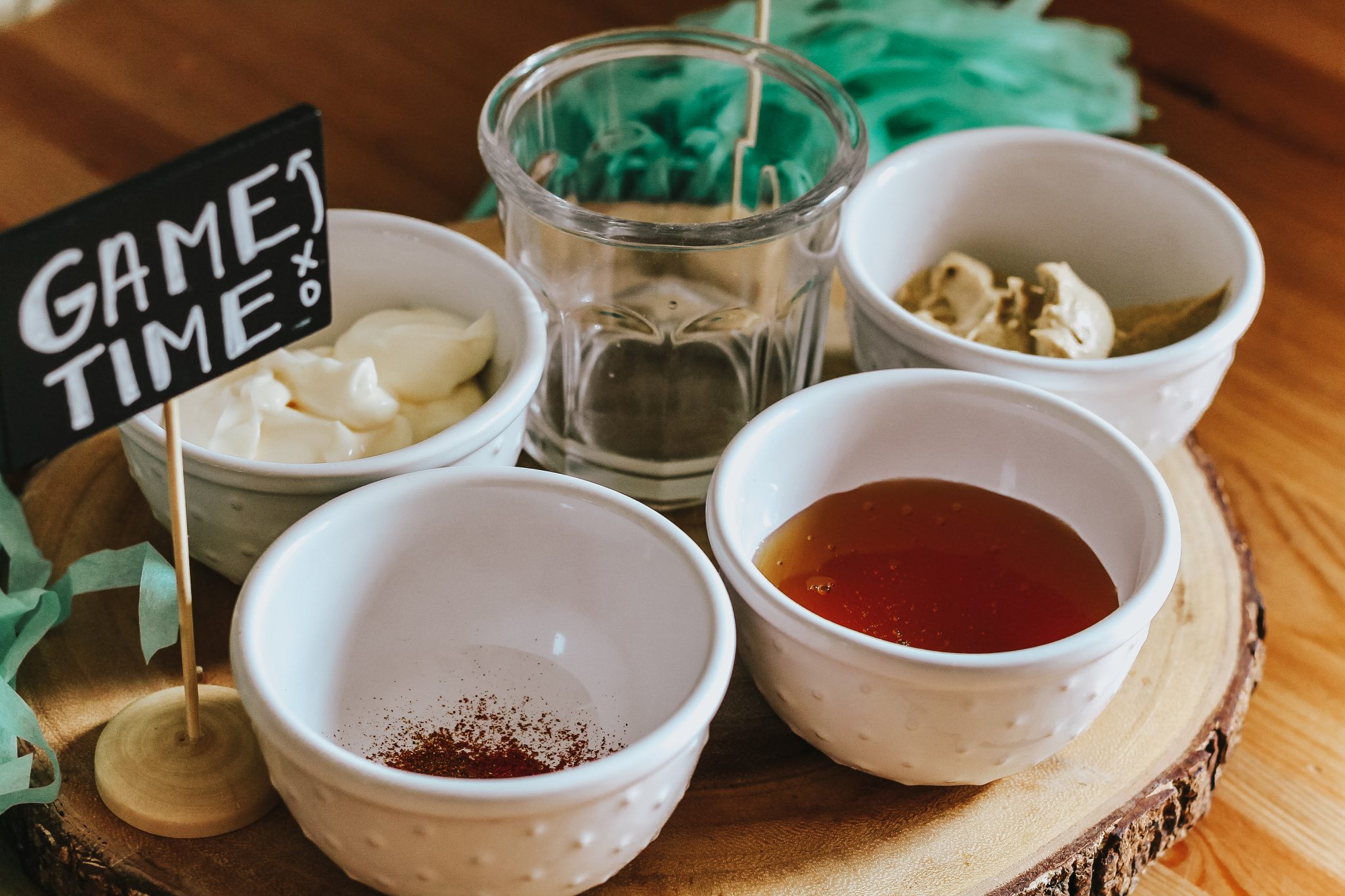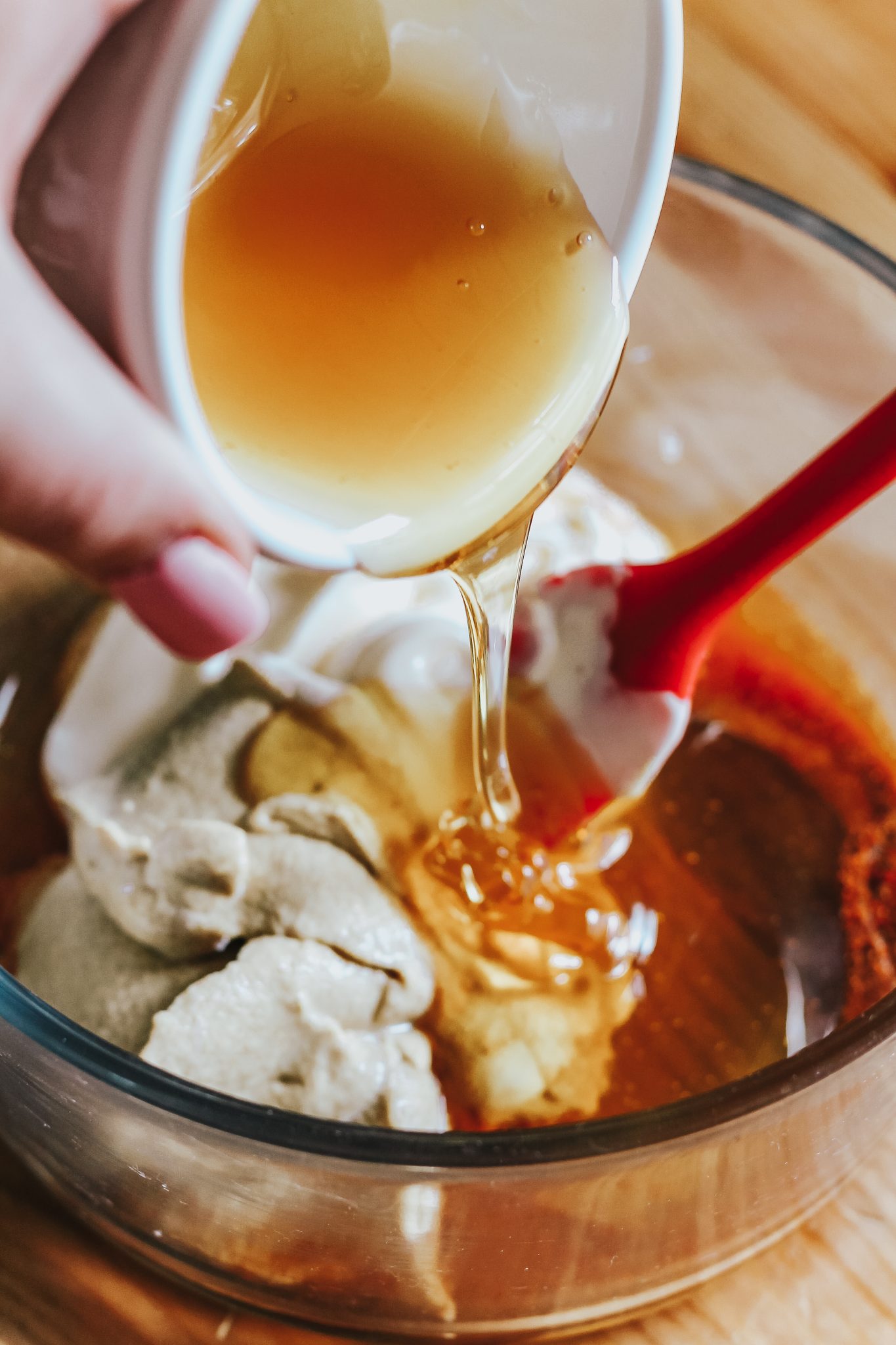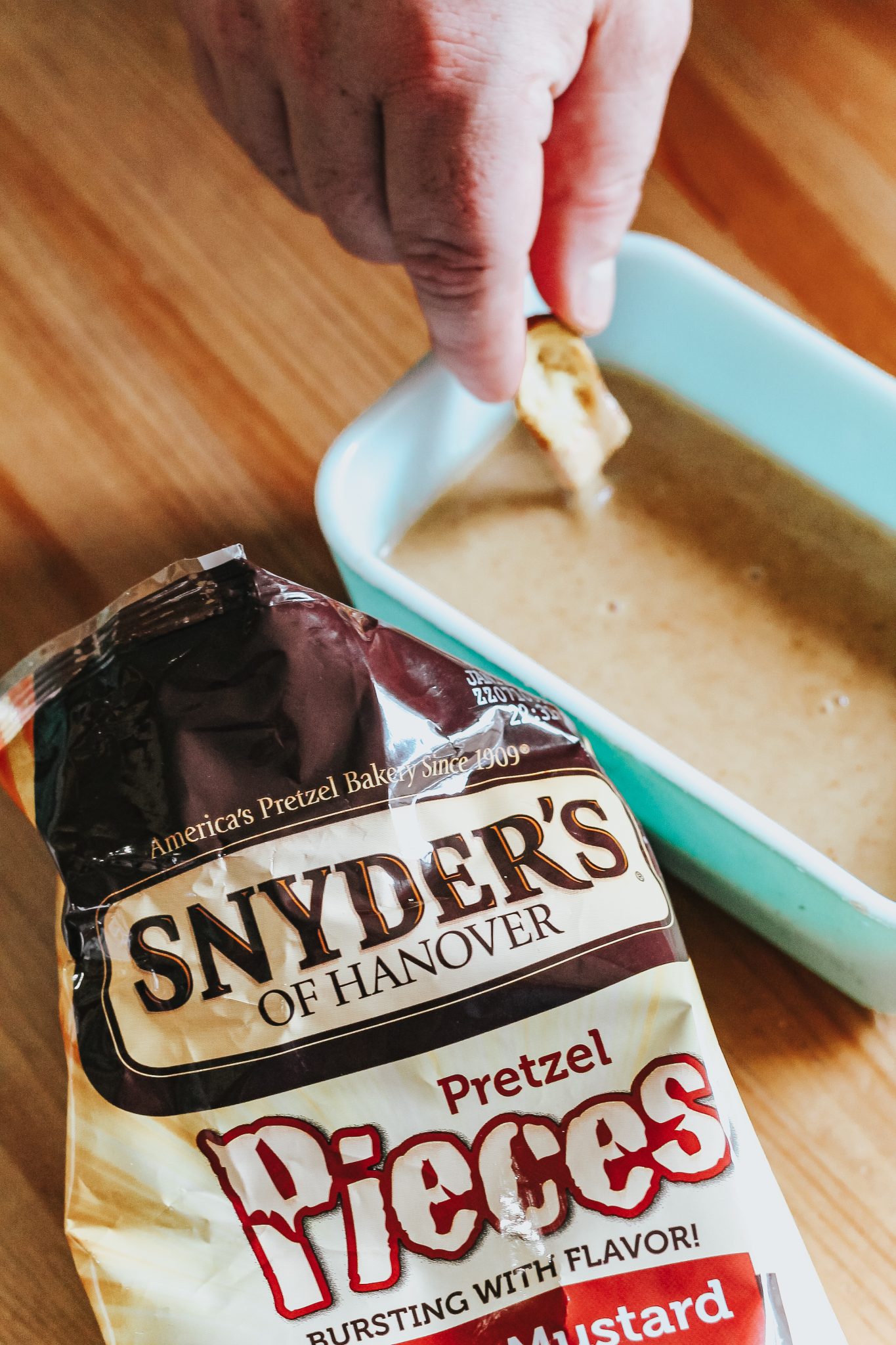 Bacon Ranch Dip
1/2 cup dry buttermilk
2 tbsp onion powder
1/4 cup milk
1 tbsp onion powder
2 tbsp garlic powder
1 tsp dill weed
1 tsp salt
1 tsp pepper
16 oz sour cream
1/3 cup diced bacon
Instructions:
Combine all ingredients in a bowl and mix until blended.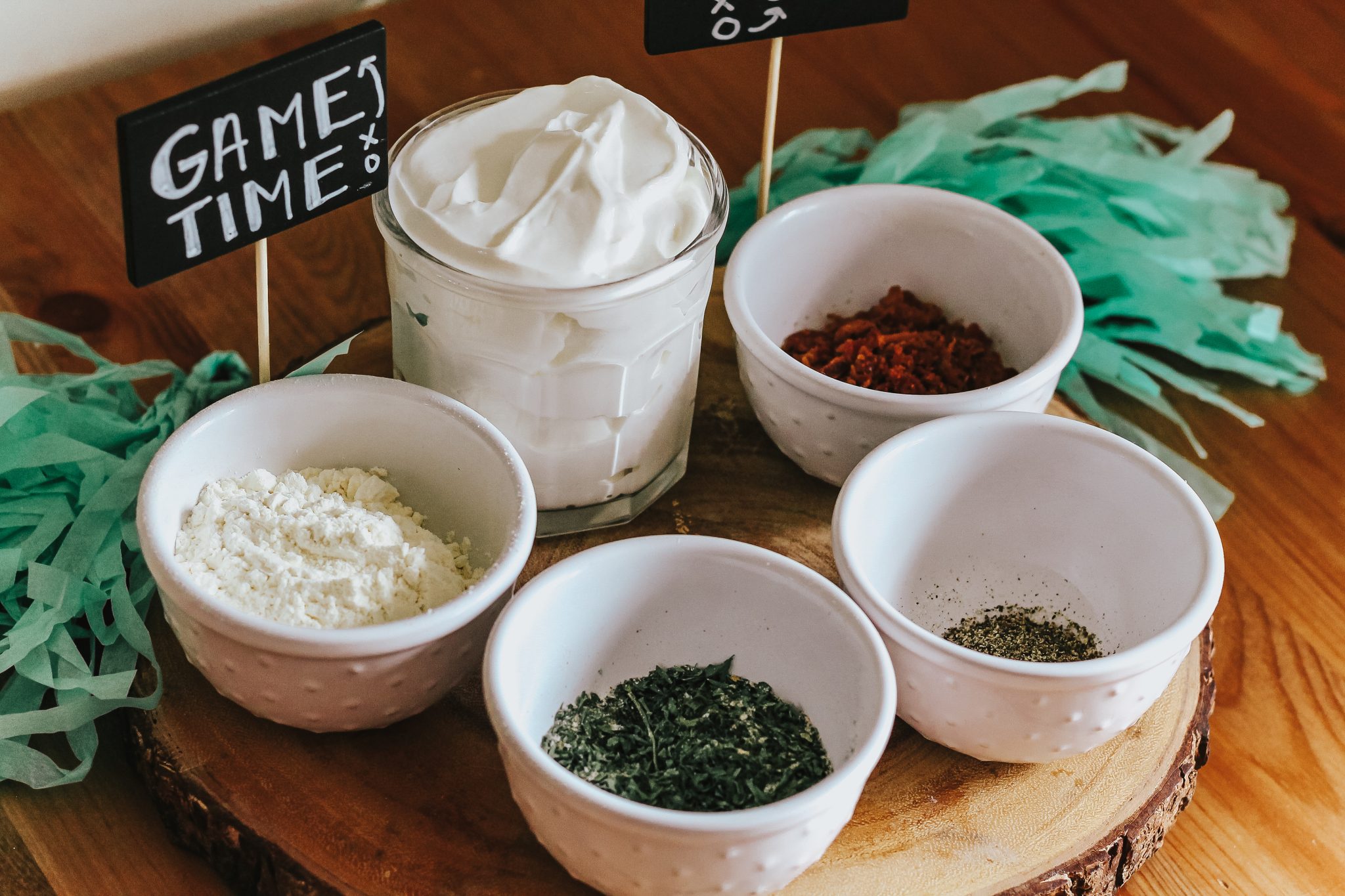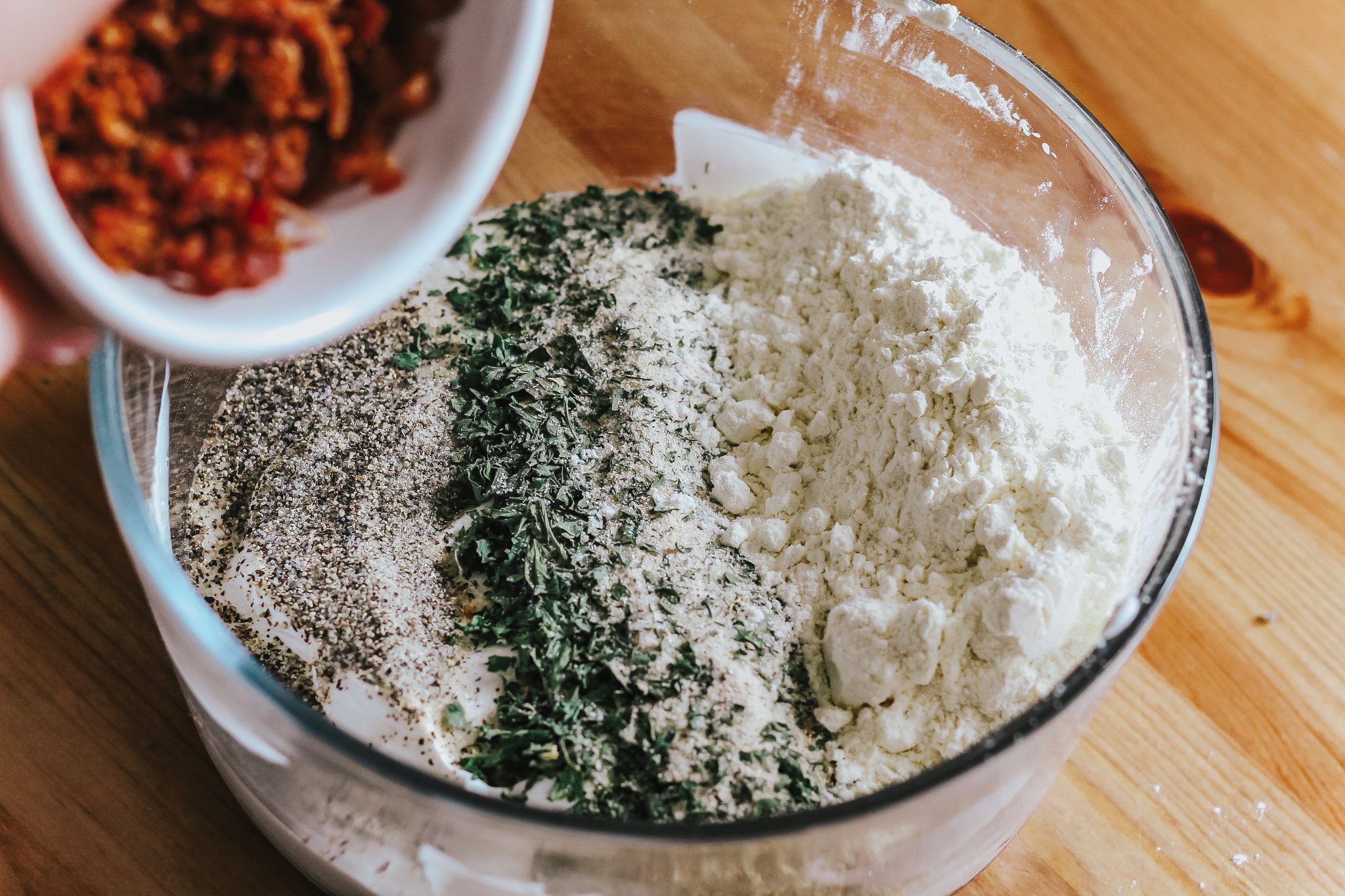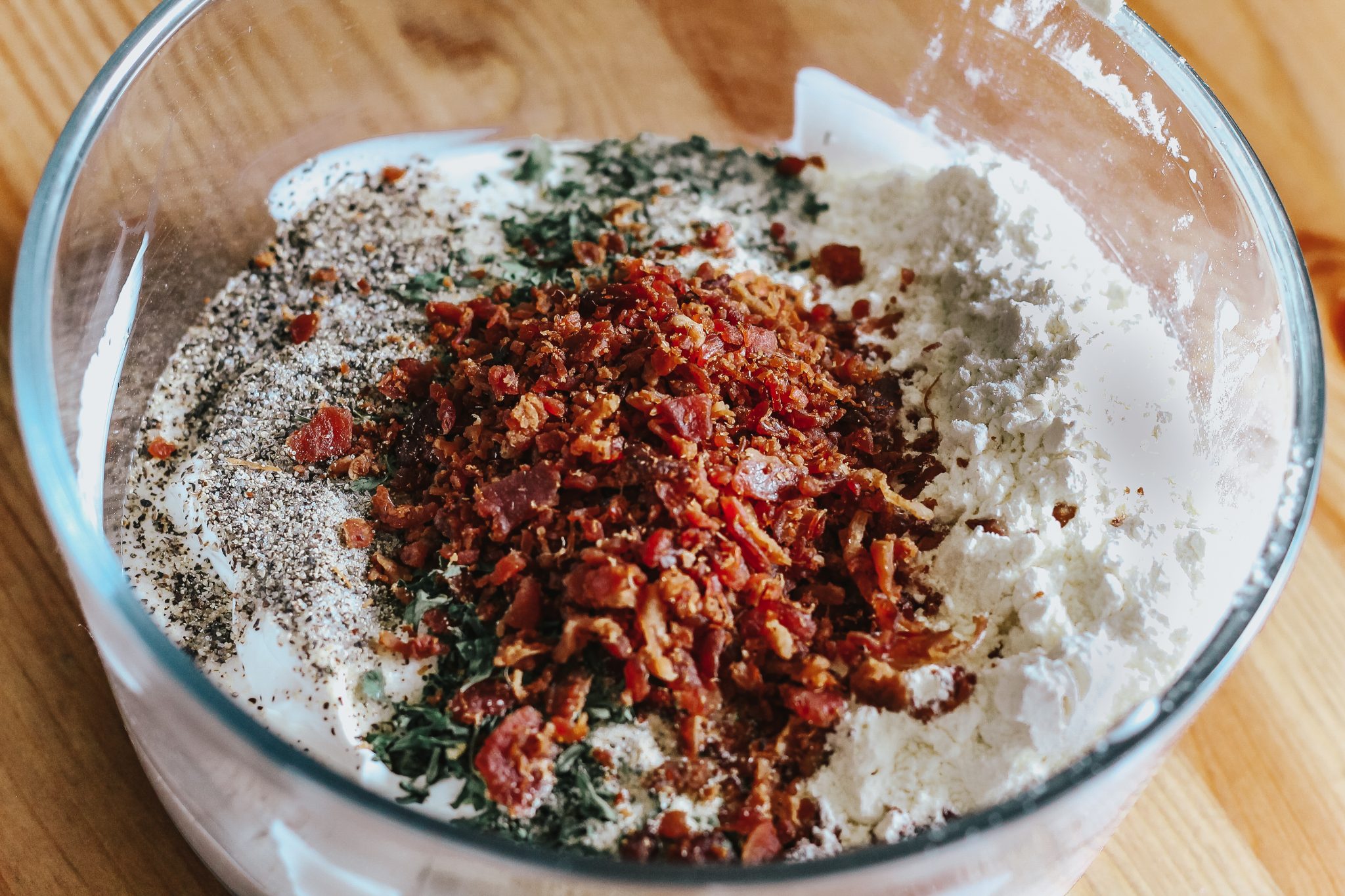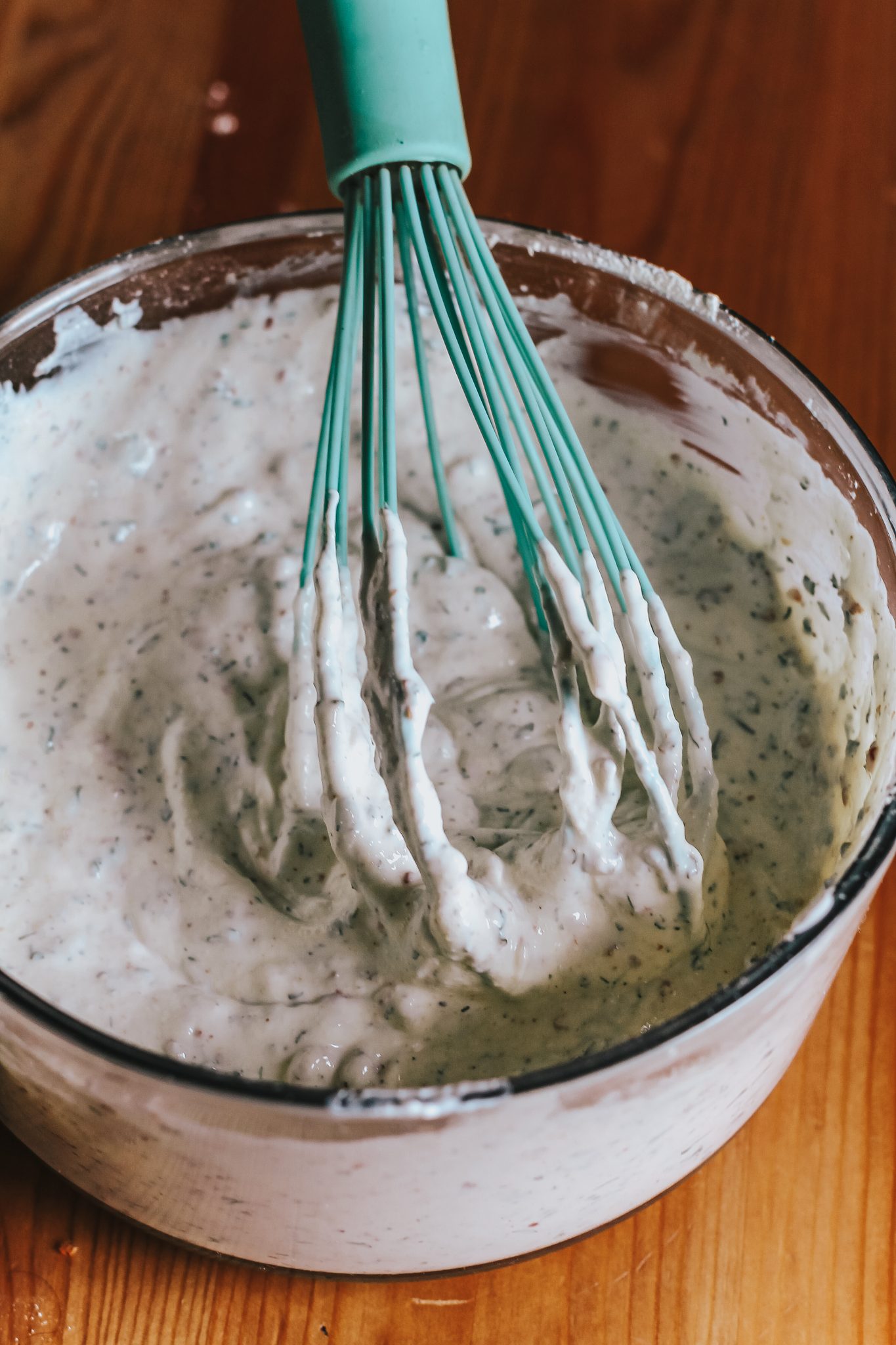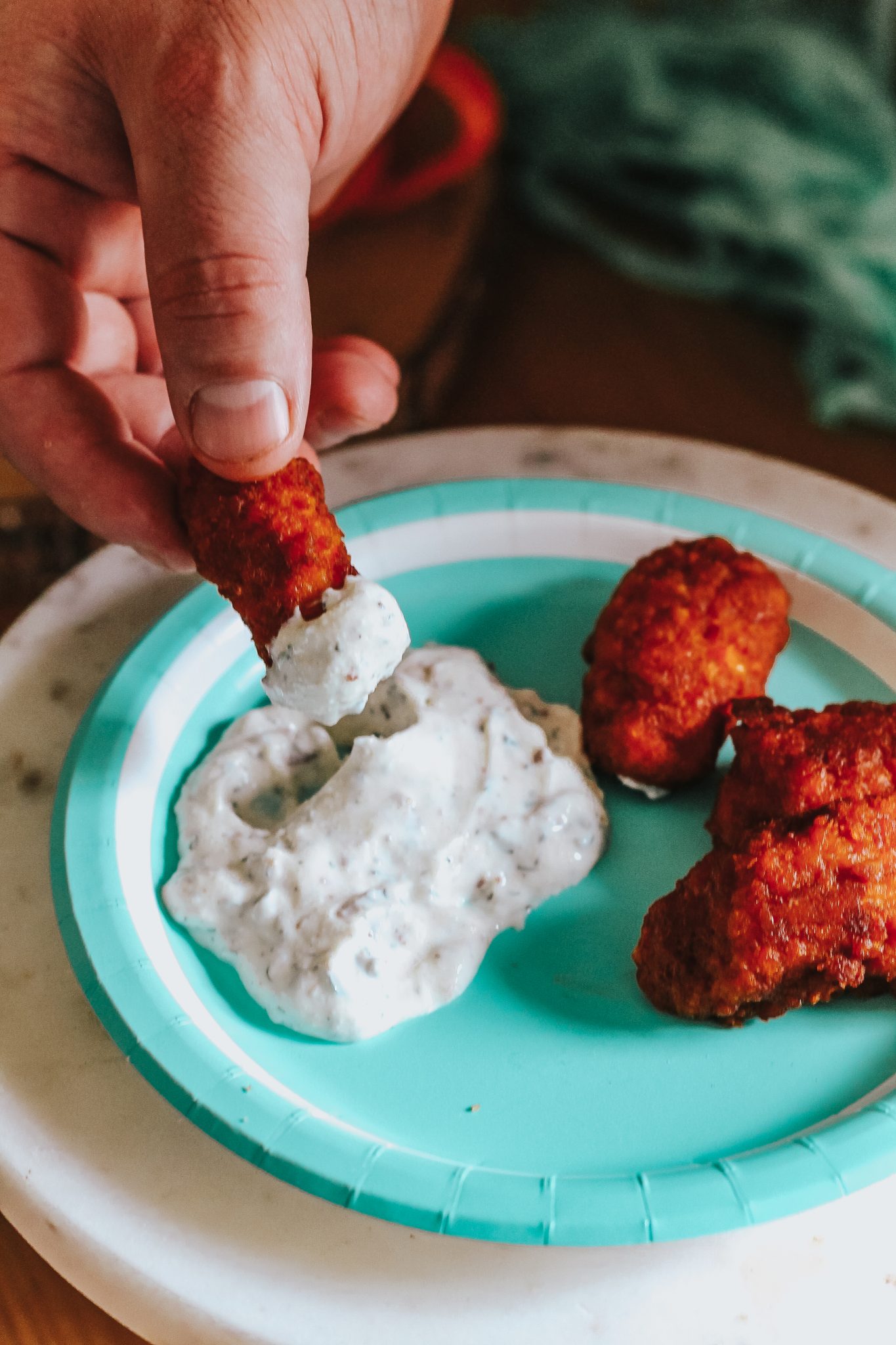 Spicy Cheese Dip
3/4 cup milk
1 tsp garlic powder
1/2 tsp onion powder
1/2 tsp pepper
1/2 tsp salt
2 tbsp diced jalapeño
1 tbsp habanero sauce
3 cups cheddar cheese
Instructions:
Combine all ingredients in a bowl and mix until blended.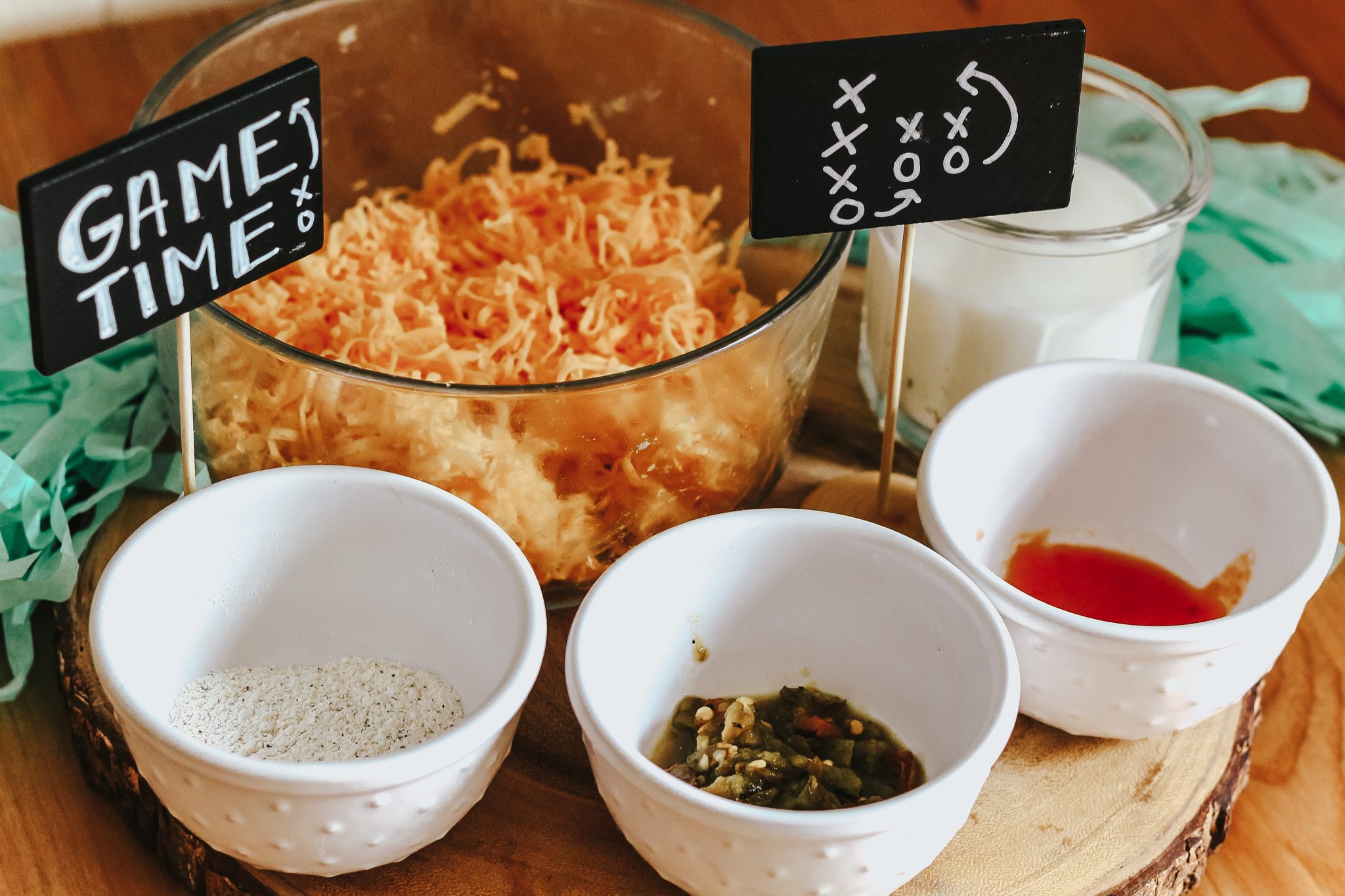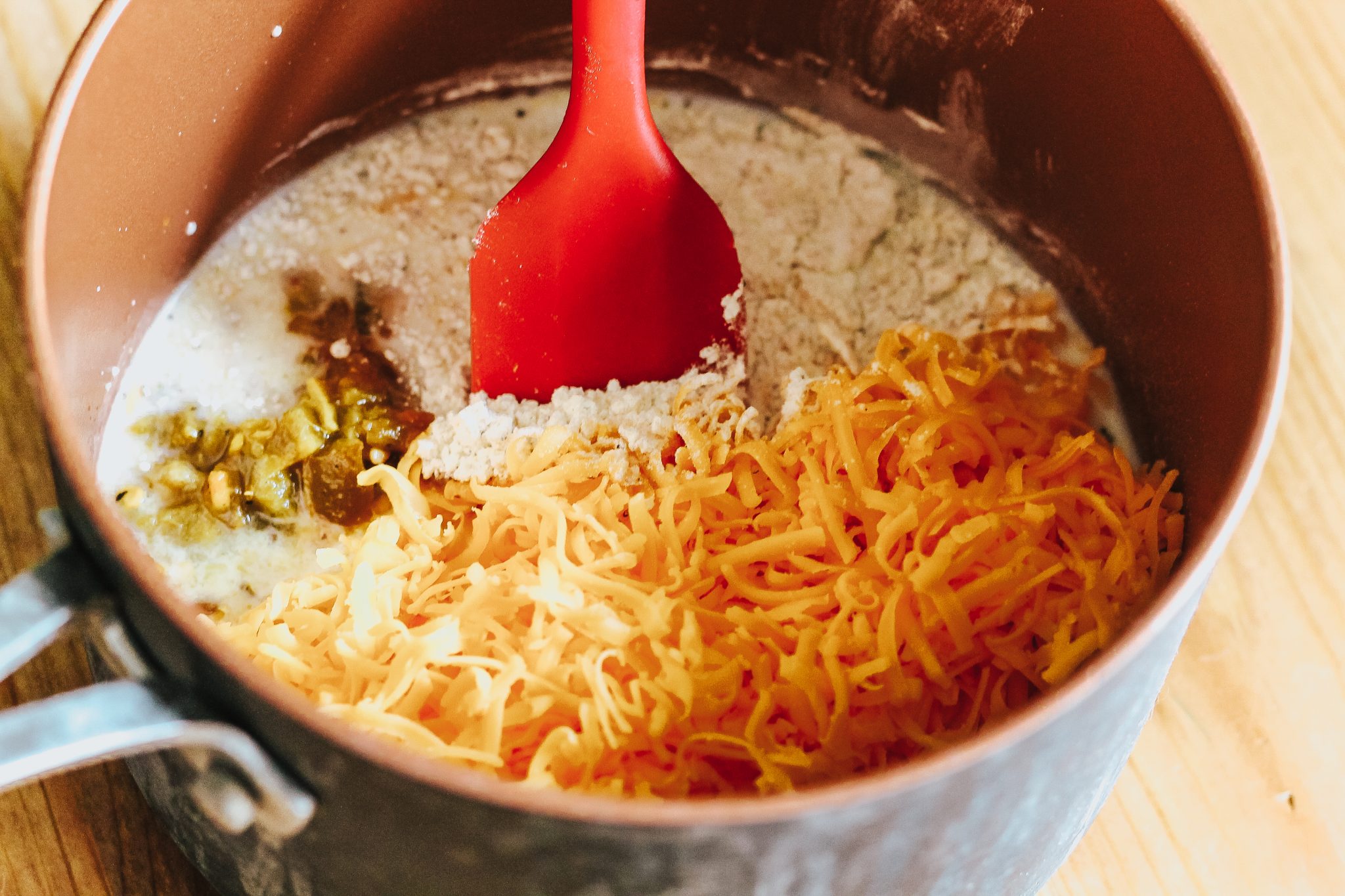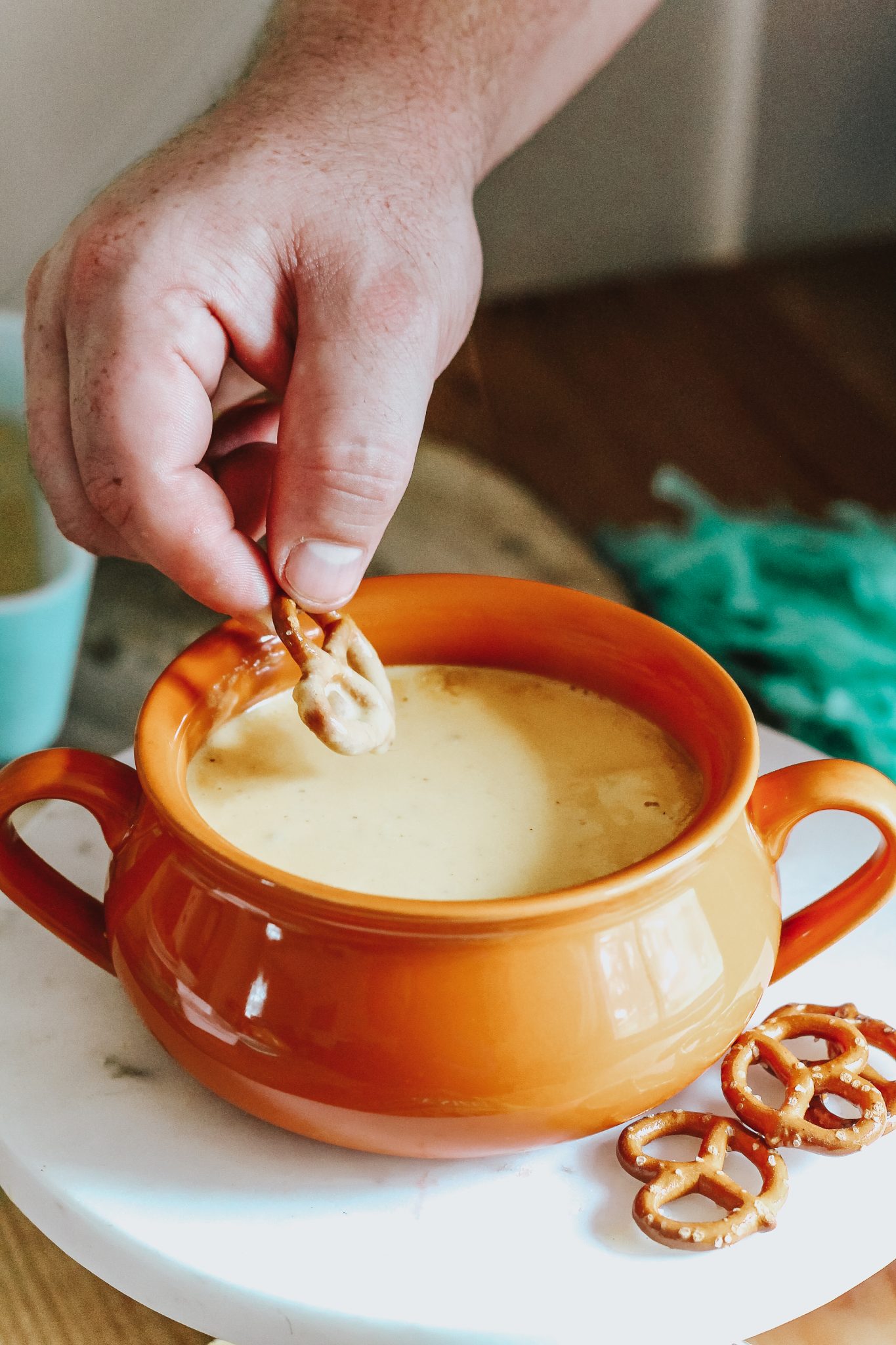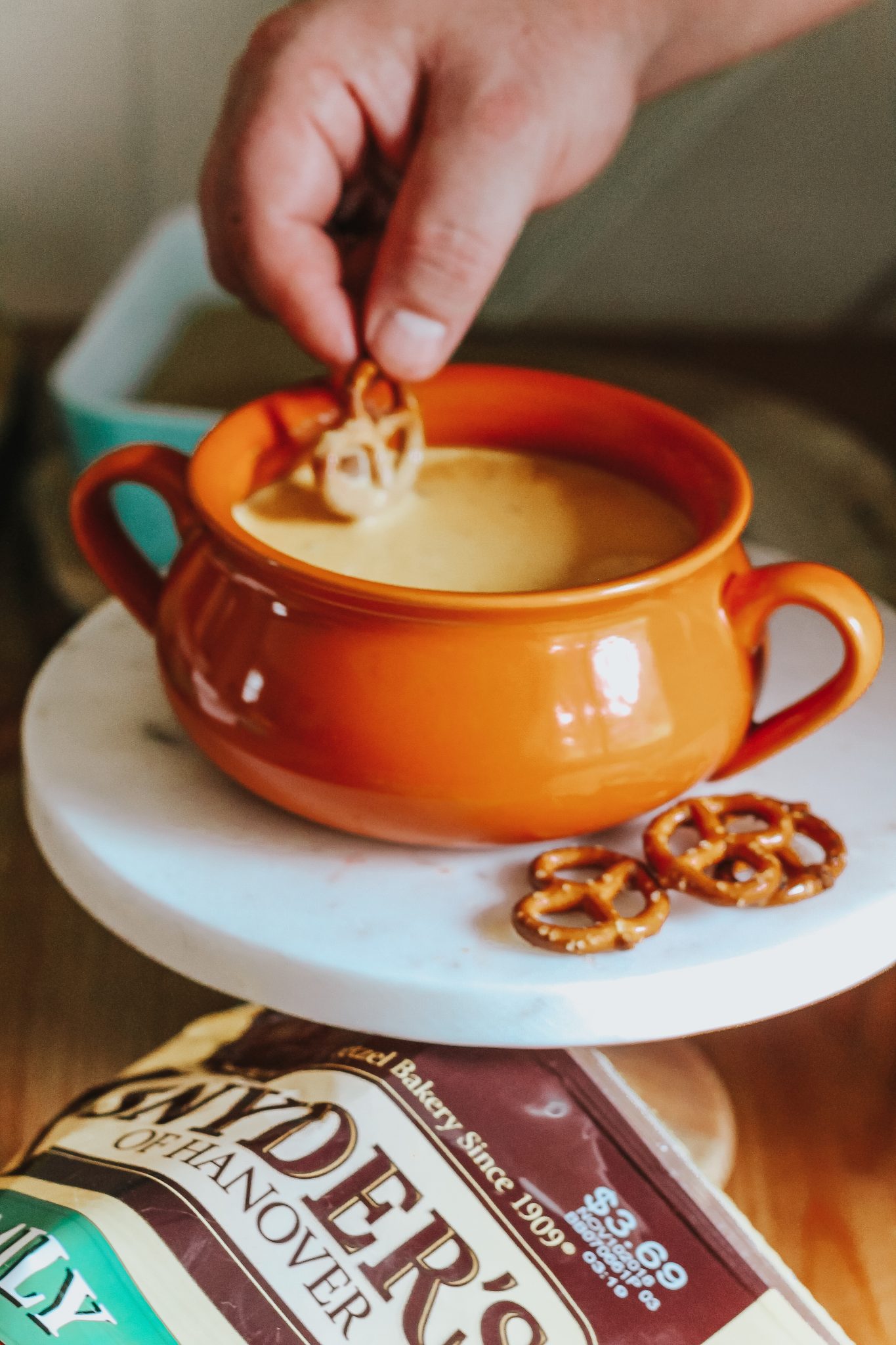 So there ya go, our delicious dip pairings! They are all so yummy, I honestly can't wait for you to make them! Be sure to try at least one this season and let me know what you think! If I had to pick a favorite, I think I'd have to go with the Chili Cheese!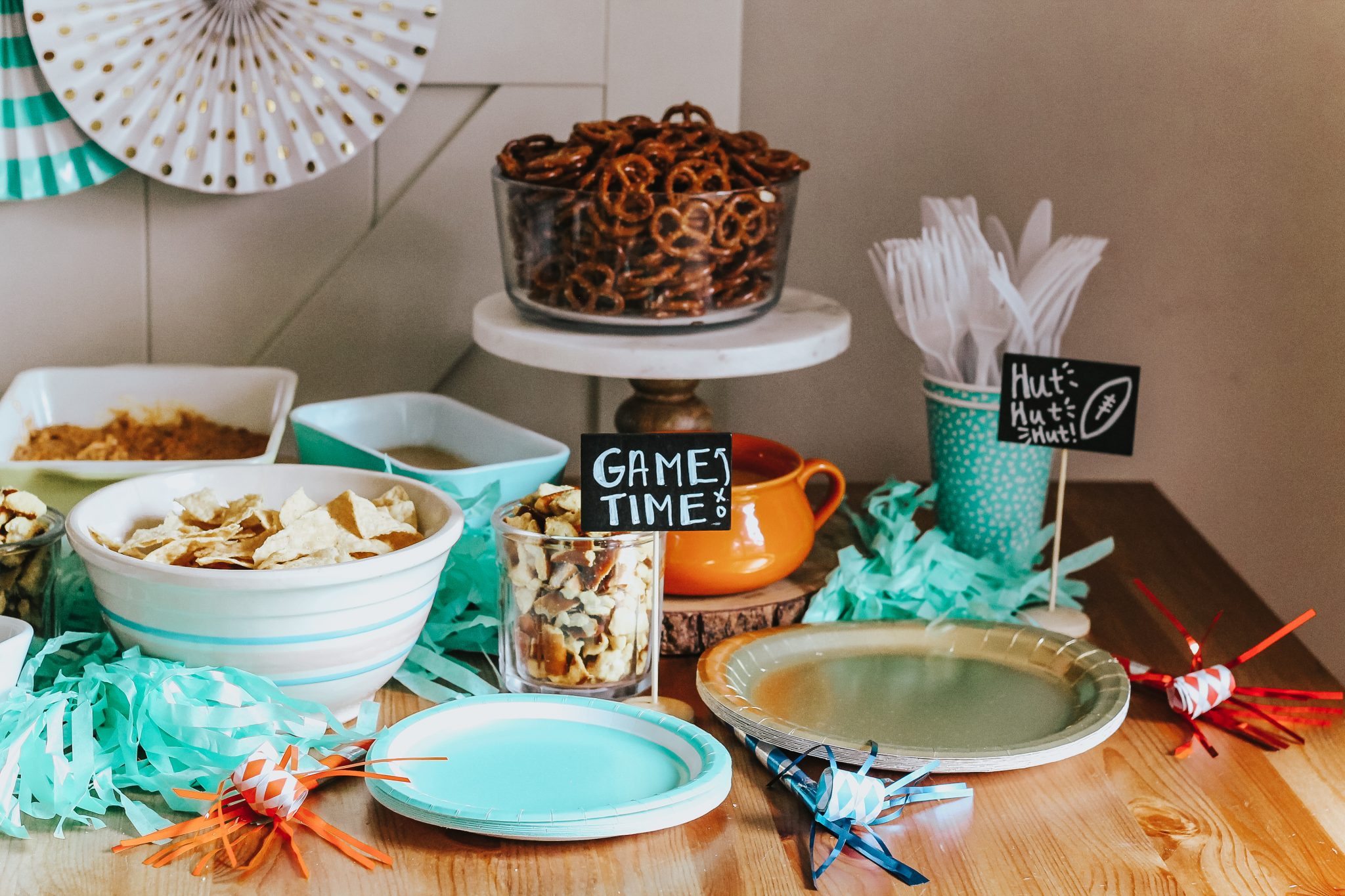 Tips for Setting Your Game Day Table
Keep stress levels down by making a "simplicity is key" rule. You want to have fun while creating your game day spread, so don't focus on perfection. It's okay if your dishes don't all match, they're more colorful that way! Just find a nice serving area, put out your dips and dip pairings, some paper plates, and throw in a little fun by adding party elements. I love to add in party blowers, pom poms, and cute decor to make the table festive. When I'm done, I simply put the decorations in a storage bin for the next game day! It makes it more whimsical and fun when you've got the stage set for entertaining, right?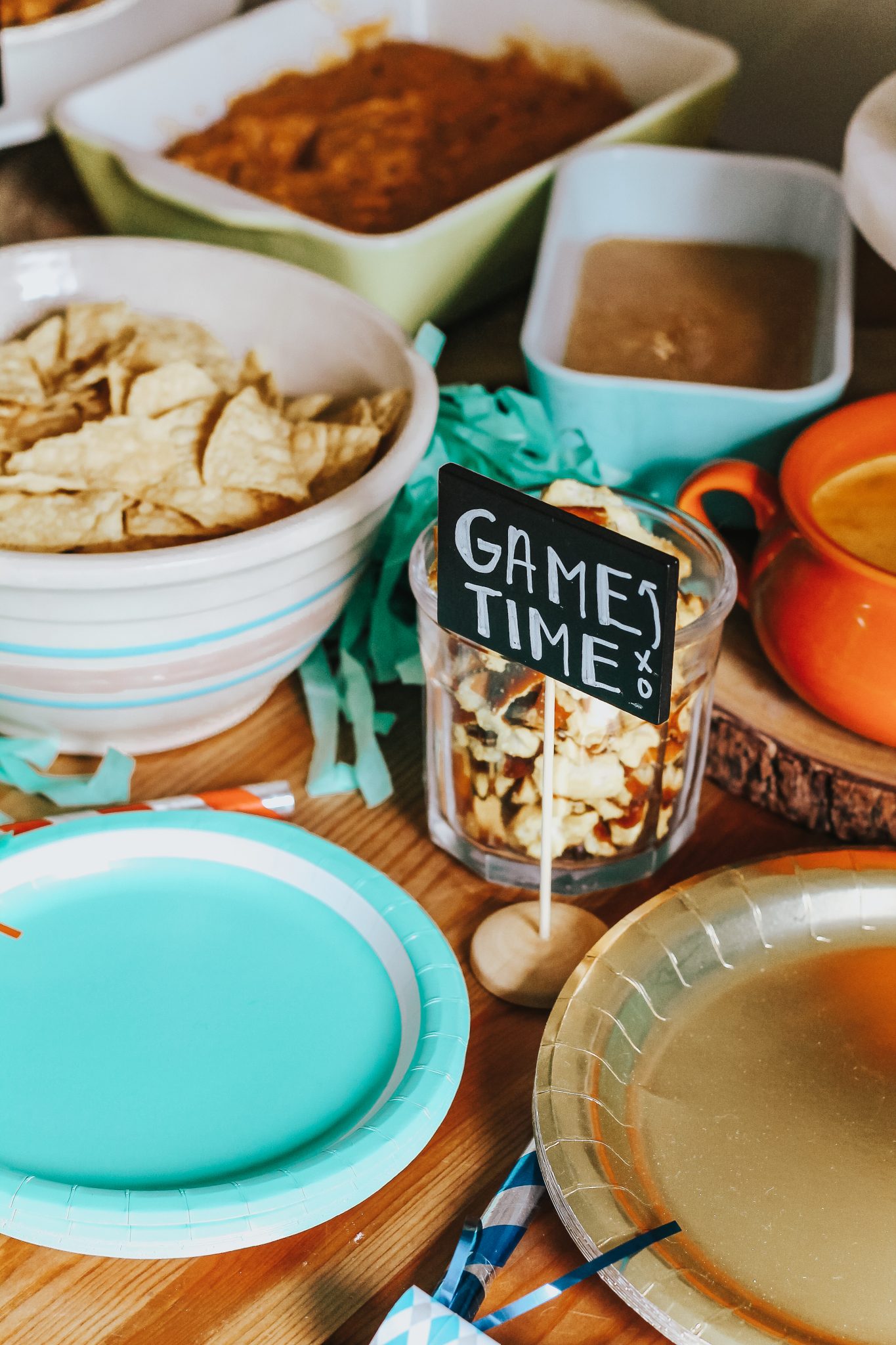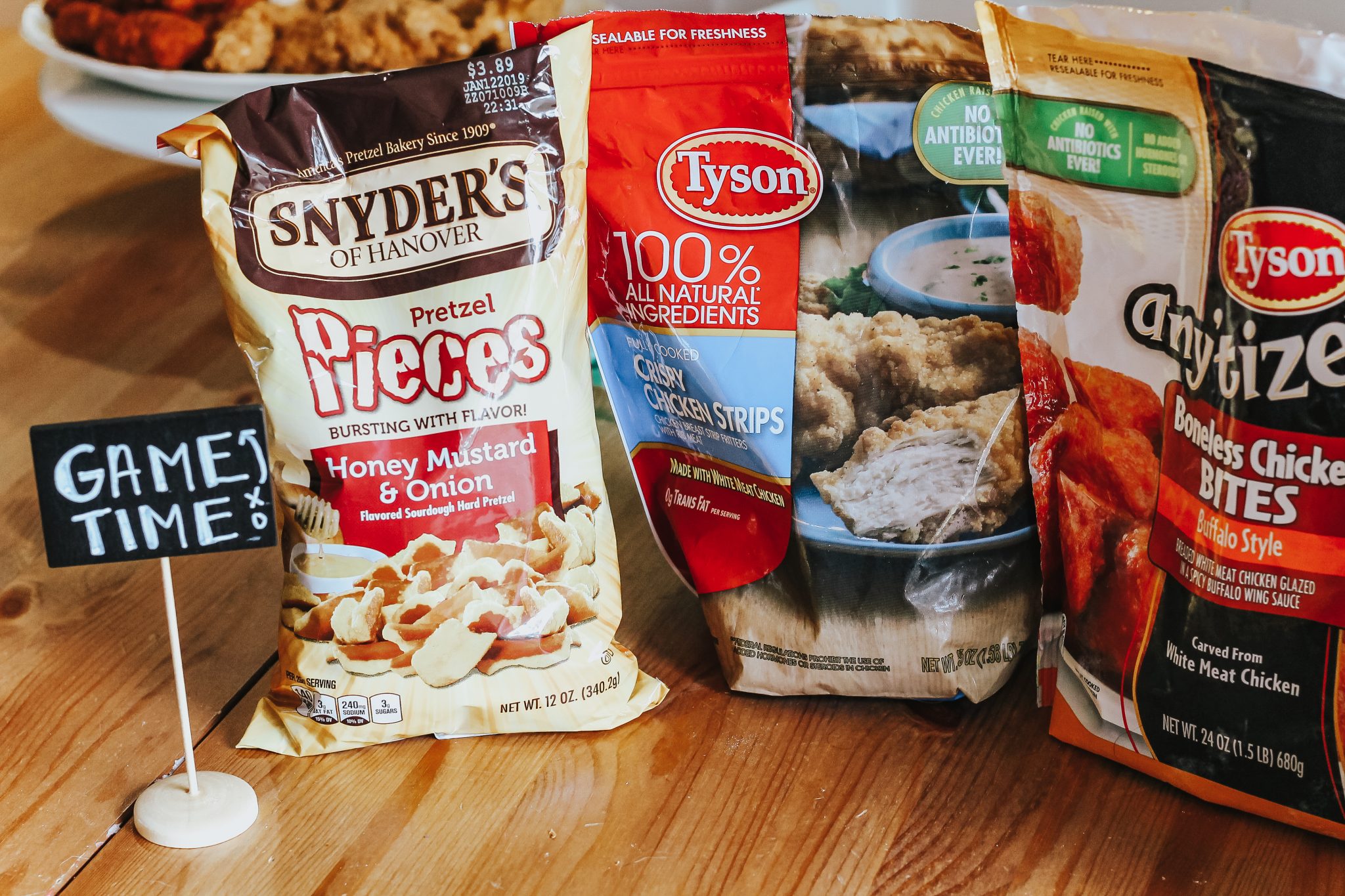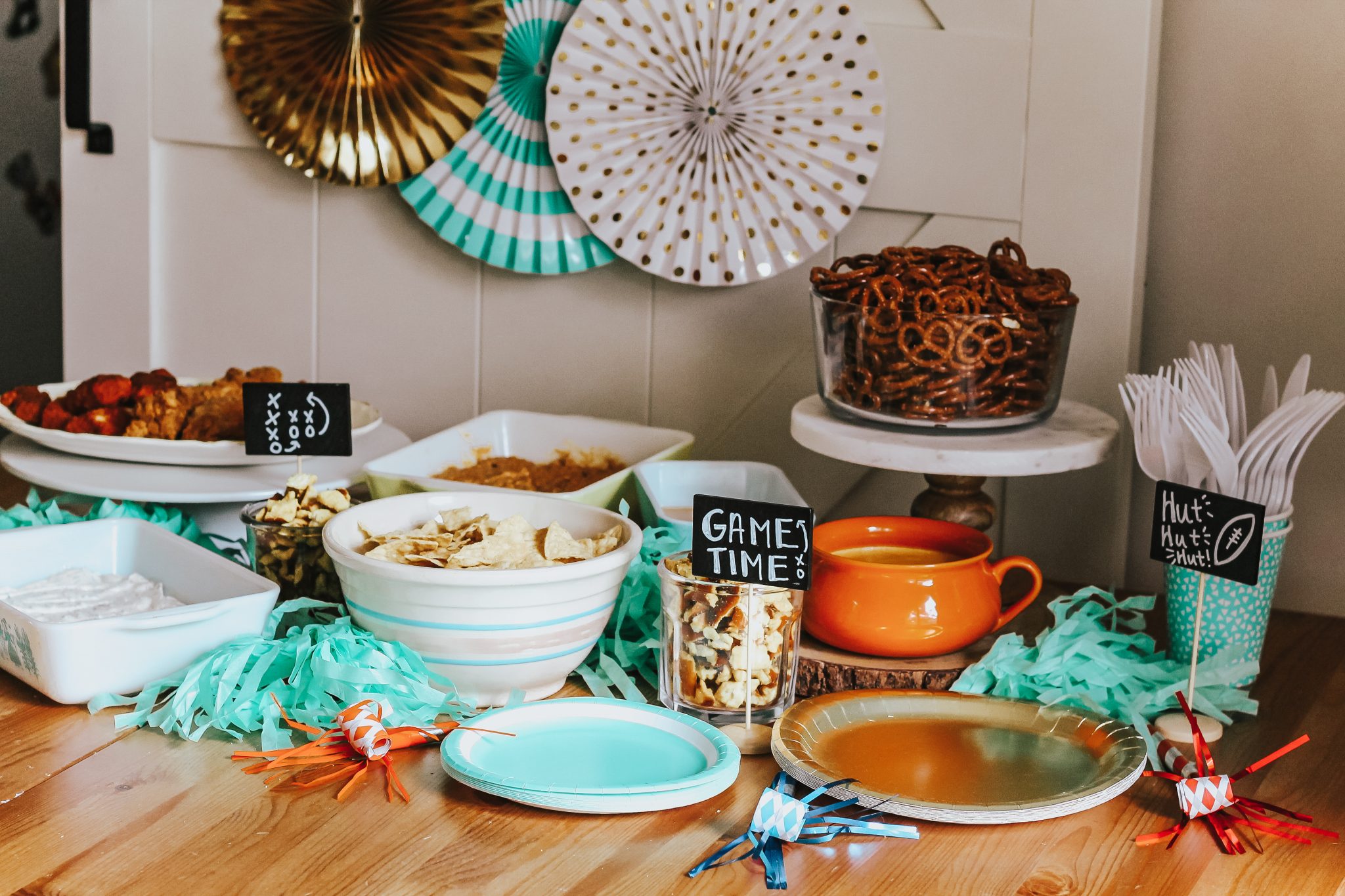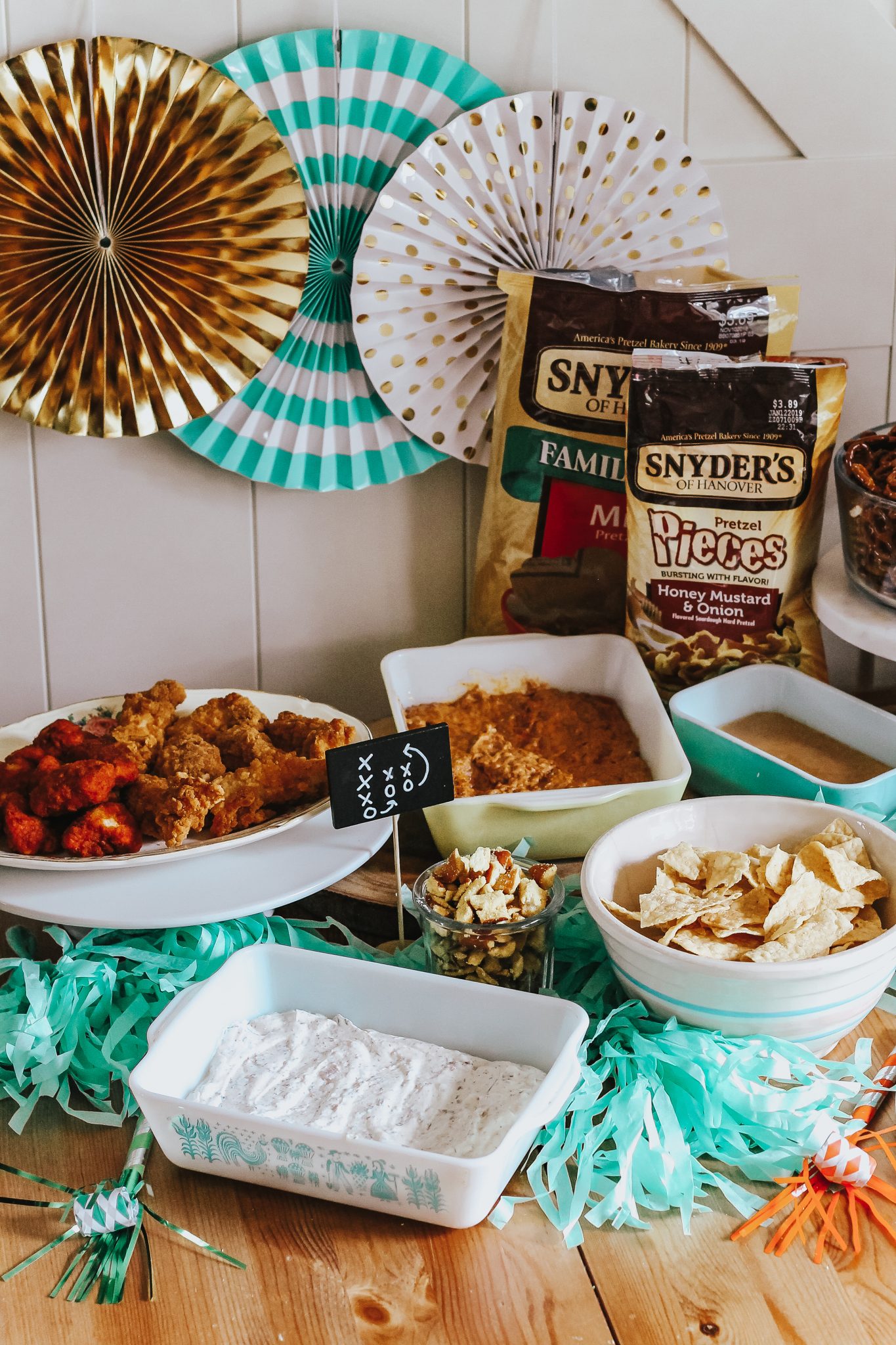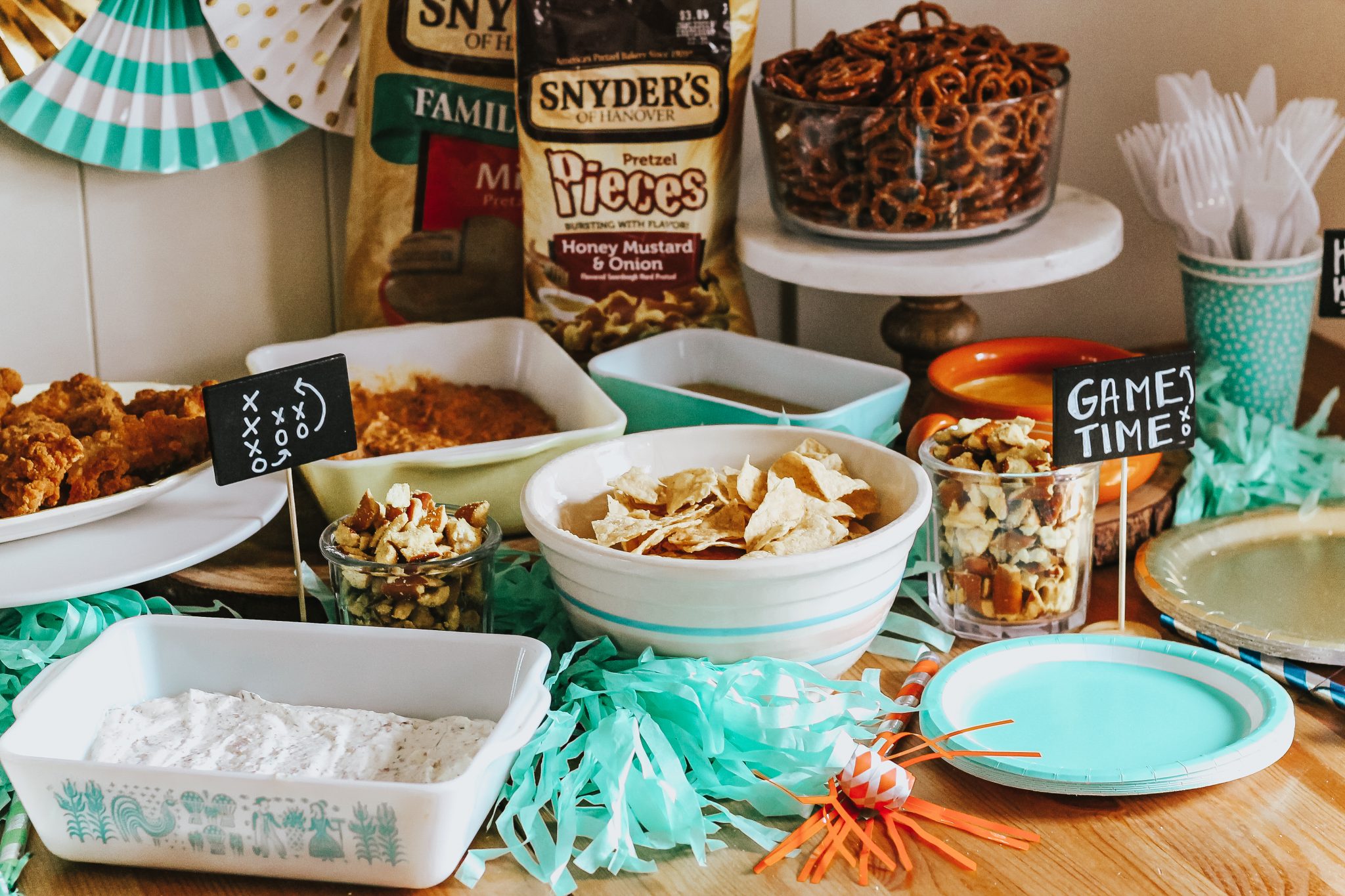 I hope at some point this season you try your hand at Creating Game Day Dip Station, they're the best!
Happy Game Day Snacking!
Visit the Meijer product pages to stock up on Tyson Chicken and Snyder's of Hanover Pretzels here.
Click for MORE football entertaining ideas!
Love this post? Pin it for later here: