This post contains affiliate links. Photos by the lovely Laurel Creative. Keep scrolling to see How a $33 Dress from Target Changed My Life & Why Every Woman Needs a Power Outfit.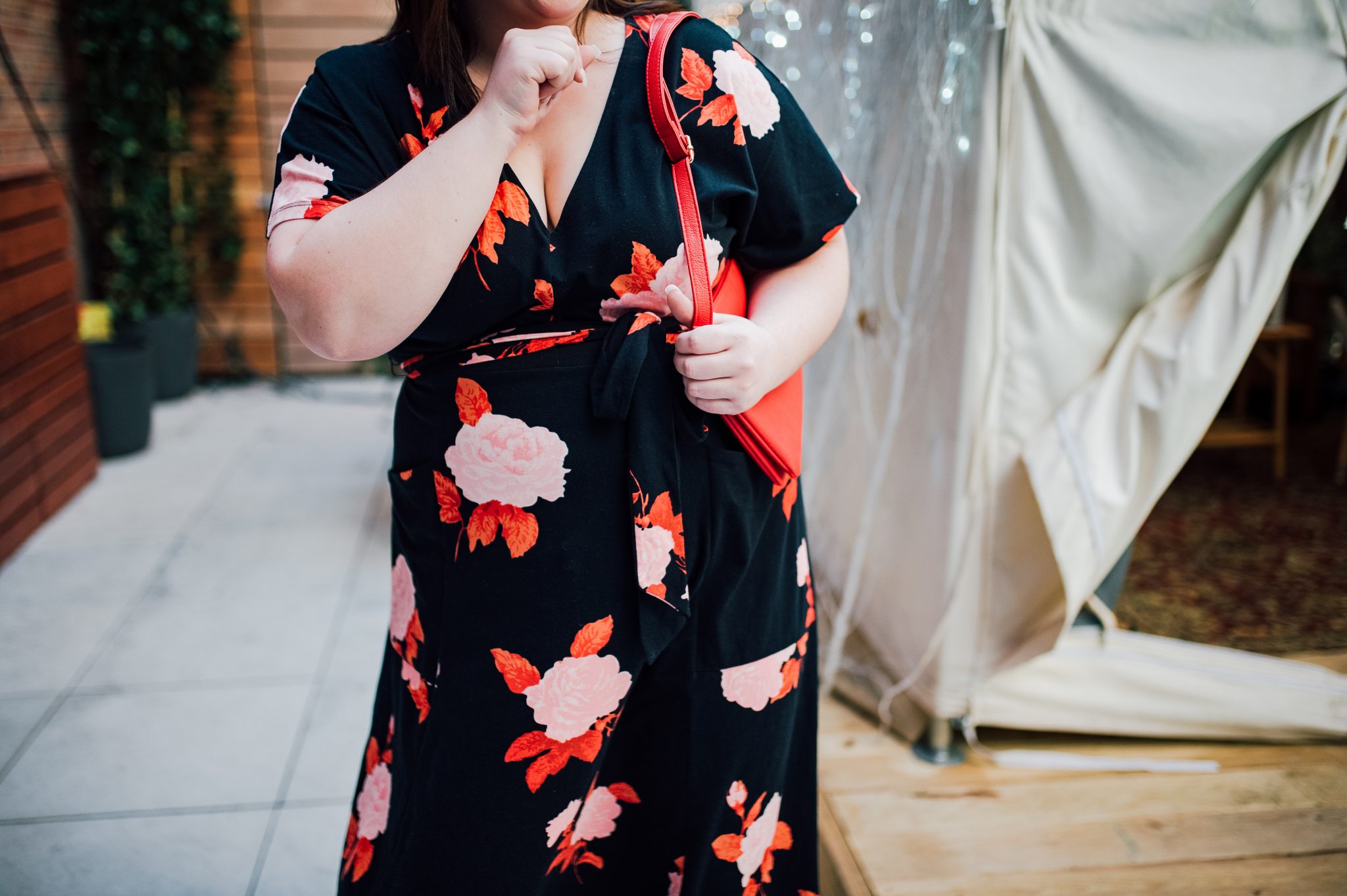 How a $33 Dress from Target Changed My Life
Hello, friends!
When I say "power outfit" I hope you know what I mean. An outfit that makes you feel confident, fearless, and powerful! For me, it's this black floral dress, and I can't wait to share the story behind it. As you know, I spoke on a panel at BlogHer Health last week (still can't believe that was just last week) sharing pieces from my Endometriosis story. Before BlogHer, I had never spoken on a stage about anything – and the idea of doing so terrified me to my core. I knew that if I were going to branch out and conquer my fear of public speaking, I'd need to do it in style. Because as we all know, when you look good – you FEEL good. And for this important event, I wanted to make sure I felt my best!
I went to Target to try and find a dress that I loved, and you know what – I did! First, I browsed the store checking out their Plus Size section and couldn't really find anything that stood out to me. My husband was browsing in the men's section and came to find me when he was done asking if I'd found anything I liked.
"Nope," I said.
"Not this time."
Then, as we were walking toward the front of the store to leave, I saw it. THE dress.
Something mystical and magical happened at that instant. I got a feeling in the pit of my stomach that was pure happiness – like I'd just seen a basket full of puppies set down before me and glitter falling from the ceiling. I KNEW this was the dress. But then I remembered that it was in the "regular" women's section – and my heart sank thinking they wouldn't have my size. But this particular dress from the Who What Wear collection came in a range of sizes from XS-XXL, and as a 2x gal, I grabbed the XXL and headed to the dressing room.
I tried on the dress, as soon as it went over my head I knew it was going to be a perfect fit. The cut of this dress was exactly what I was looking for – not too short, the sleeves were the perfect length, it tied around the waist to accentuate my frame, and maybe most importantly – IT HAD POCKETS! Anyone else get excited about pockets? I snapped a pic in the dressing room (see below) and sent it to a few gal pals sharing my excitement.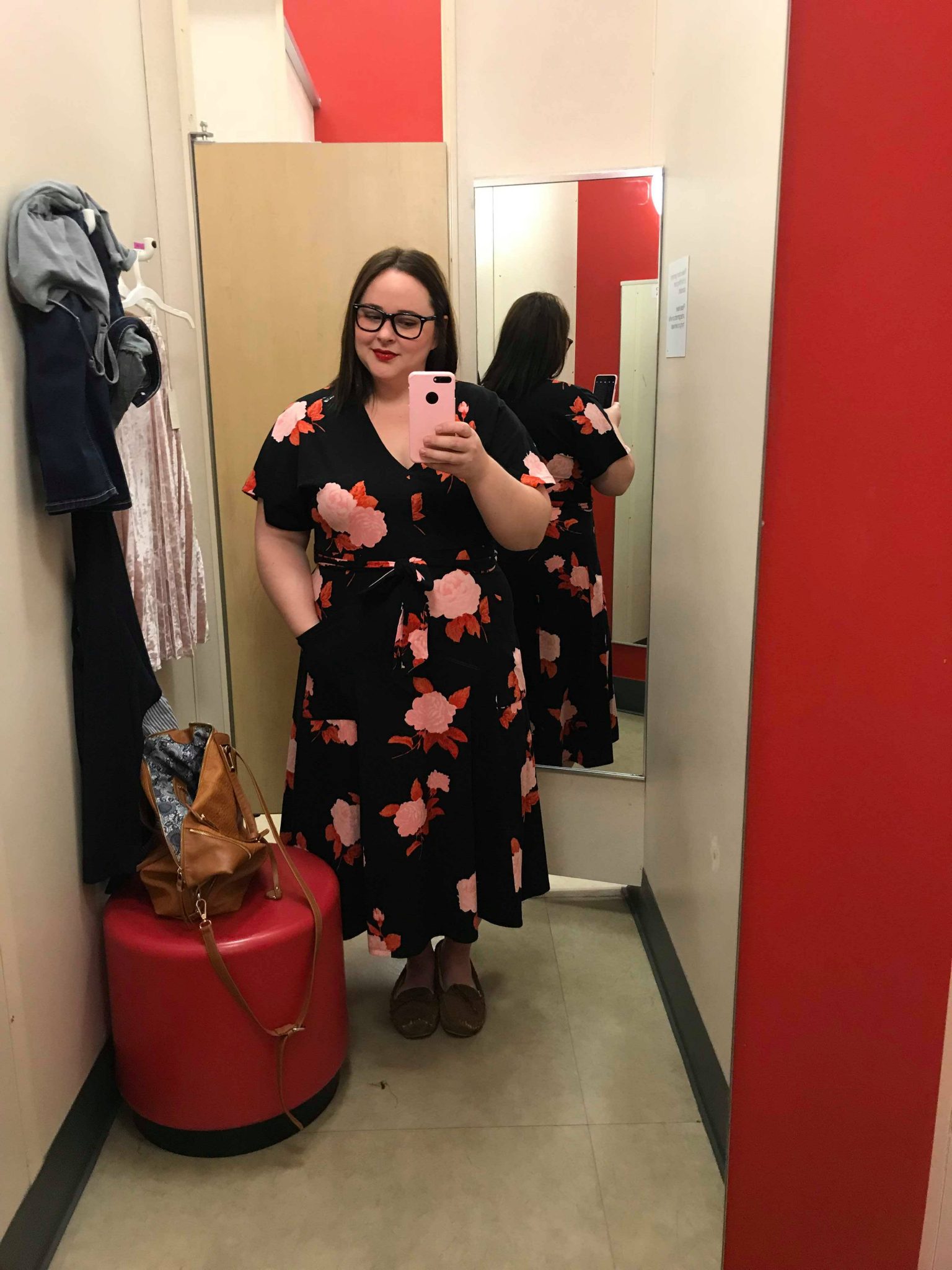 This dress is everything I'd been looking for, so after exiting the fitting room I headed to the intimates section to grab a new pair of spanx, a pair of comfy booties to go with it, and headed to checkout. I was ready to ROCK this speech.
The morning of, I put on my outfit – and I just felt ready. I was about to do something that I'd never done, something my terrible anxiety had me convinced that I never could do, and yet, I was excited for it!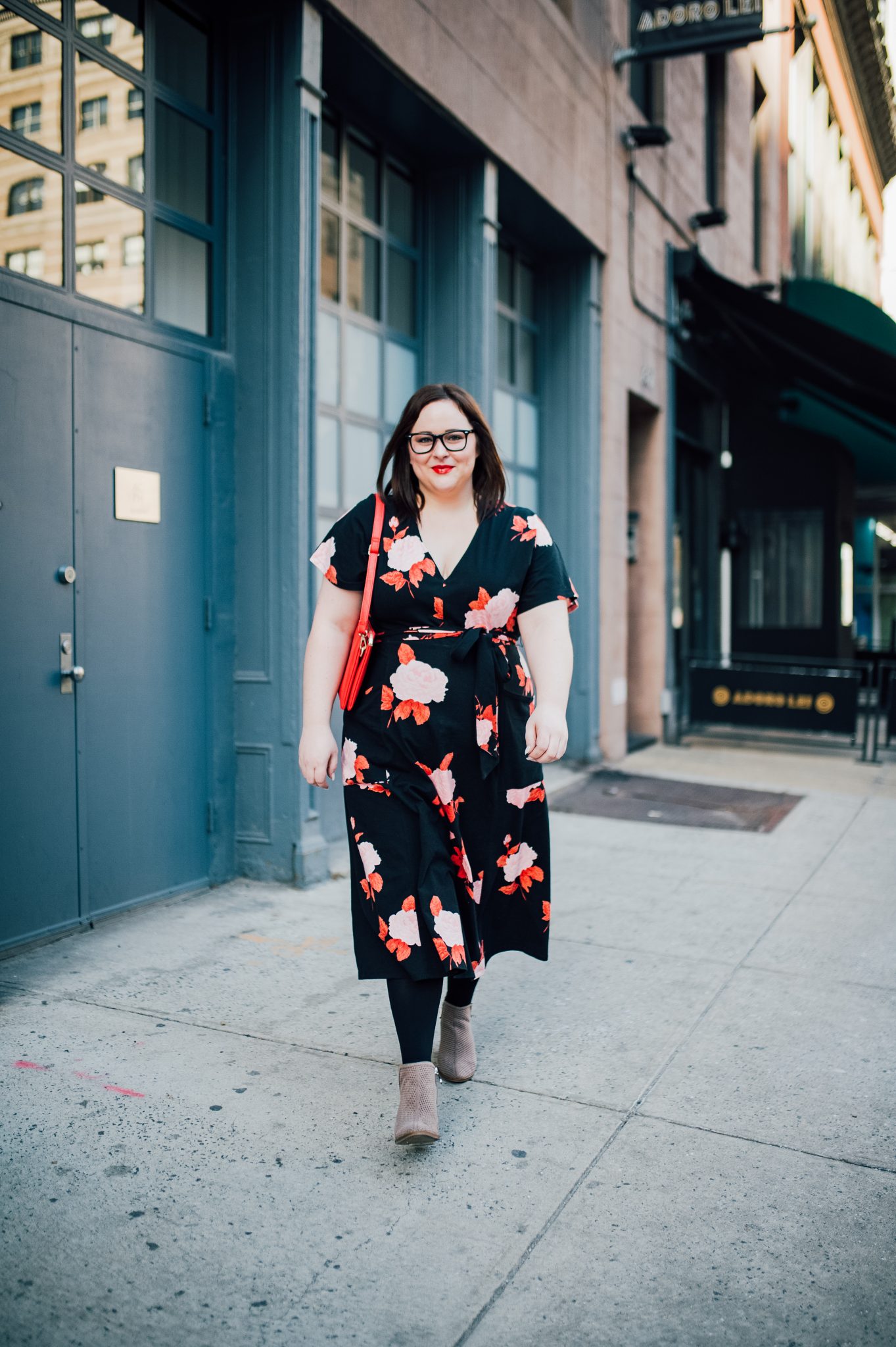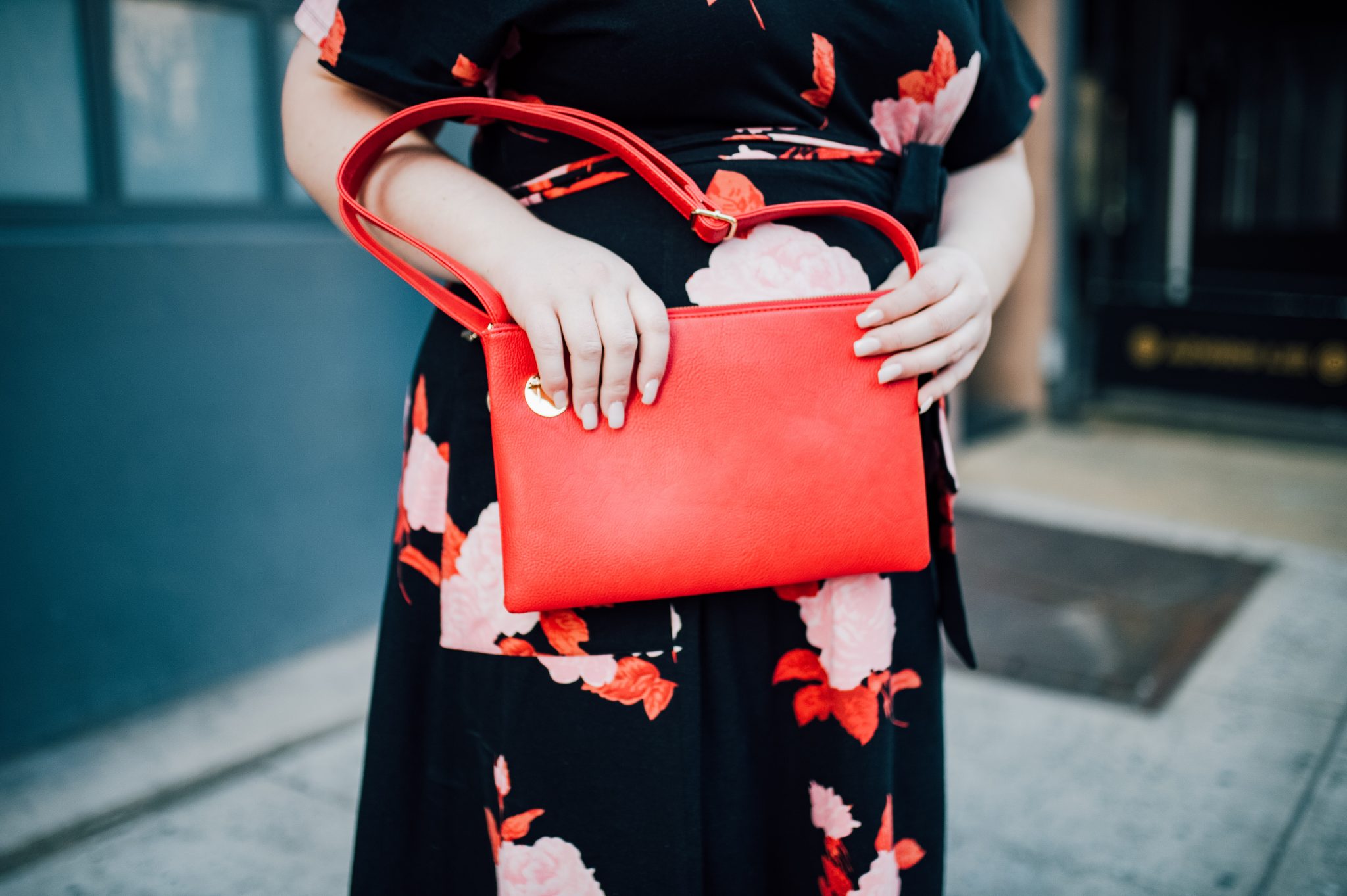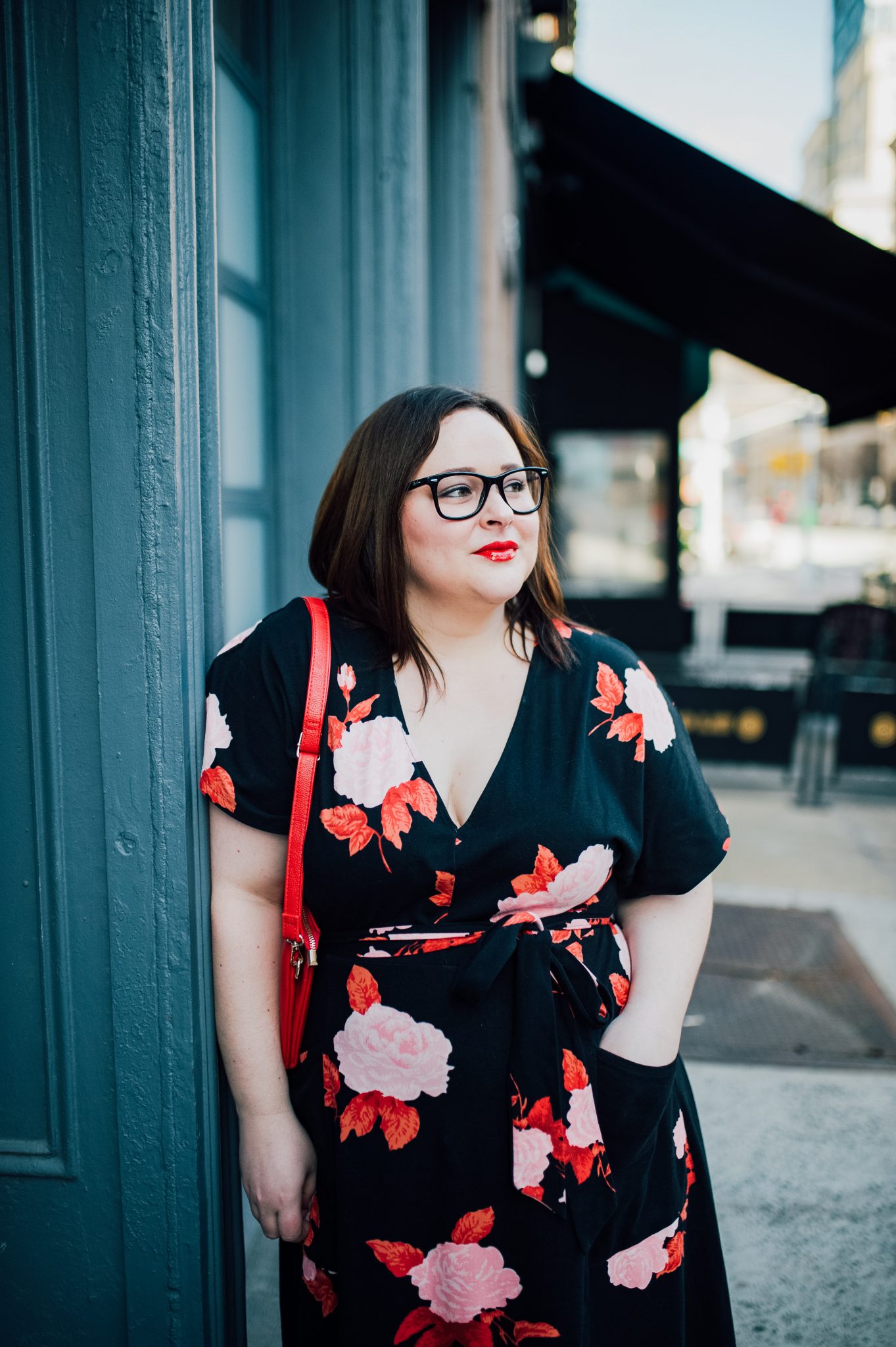 This dress gave me the extra ooph needed to face my fears. It gave me that extra razzle dazzle that really helped me break out of my shell. And the conference? It went great. I confidently walked onto the stage, shared my story (and a little more), and I exited the stage feeling more inspired, confident, and grateful than I ever before.
It gave me the confidence to do something I never thought I could. And this whole experience from shopping for the perfect outfit to walking off that stage, it's completely changed me. I spoke on a stage about the fact I had to get my uterus removed and ovaries removed, I talked about Wyatt's Autism, Levi's Clubfoot journey, I was open about my upcoming surgery to hopefully lessen my daily pain, I literally laid everything on the table. And you know what? People LOVED it. Within minutes of leaving the stage my inboxes began flooding with messages of light and love from so many amazing individuals who attended the conference. I had never felt more loved, accepted, and understood as I did at that moment.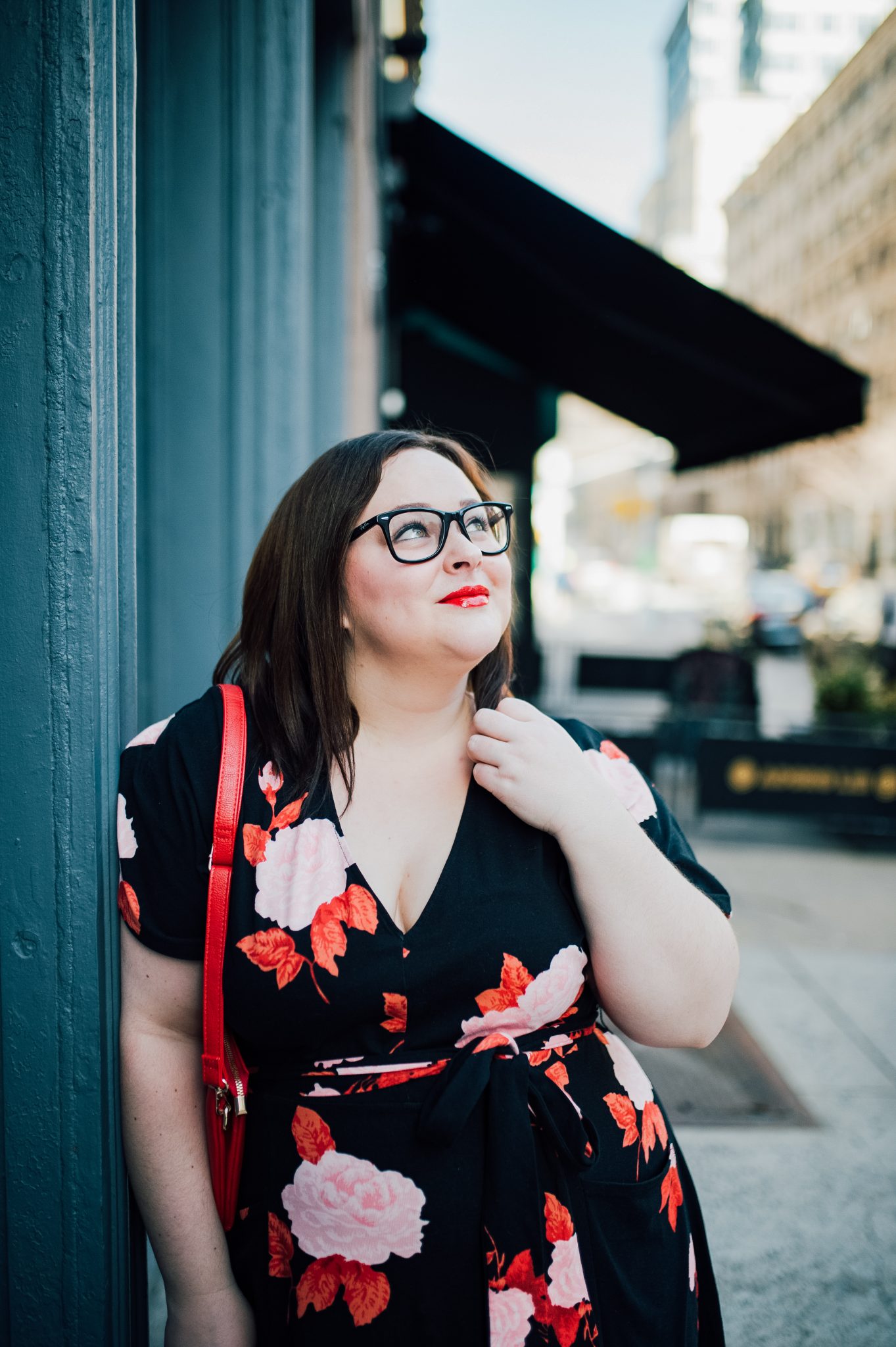 My husband (who watched the conference via BlogHer's Facebook Live Recording) was texting me telling me how proud he was of me, and what a great job I did. And when I came home to Detroit after the conference, I told my boys the story of my magic dress and how believing in myself, by putting myself out there in a new way, well, it had changed me.
Living with a chronic illness is hard, sharing my story is sometimes hard. I always feel like my story bums people out, but in all actuality, it inspires them to keep going – and that makes me proud. Being a part of their story, makes me proud. And that black dress is now safely hung up in my closet until it's needed again. I was joking to a friend that I should wear it to my upcoming Endometriosis surgery so that it might help to calm my nerves. Ya never know! It's like my superman cape, so on days I need that extra boost, you better believe I'll be reaching for that dress.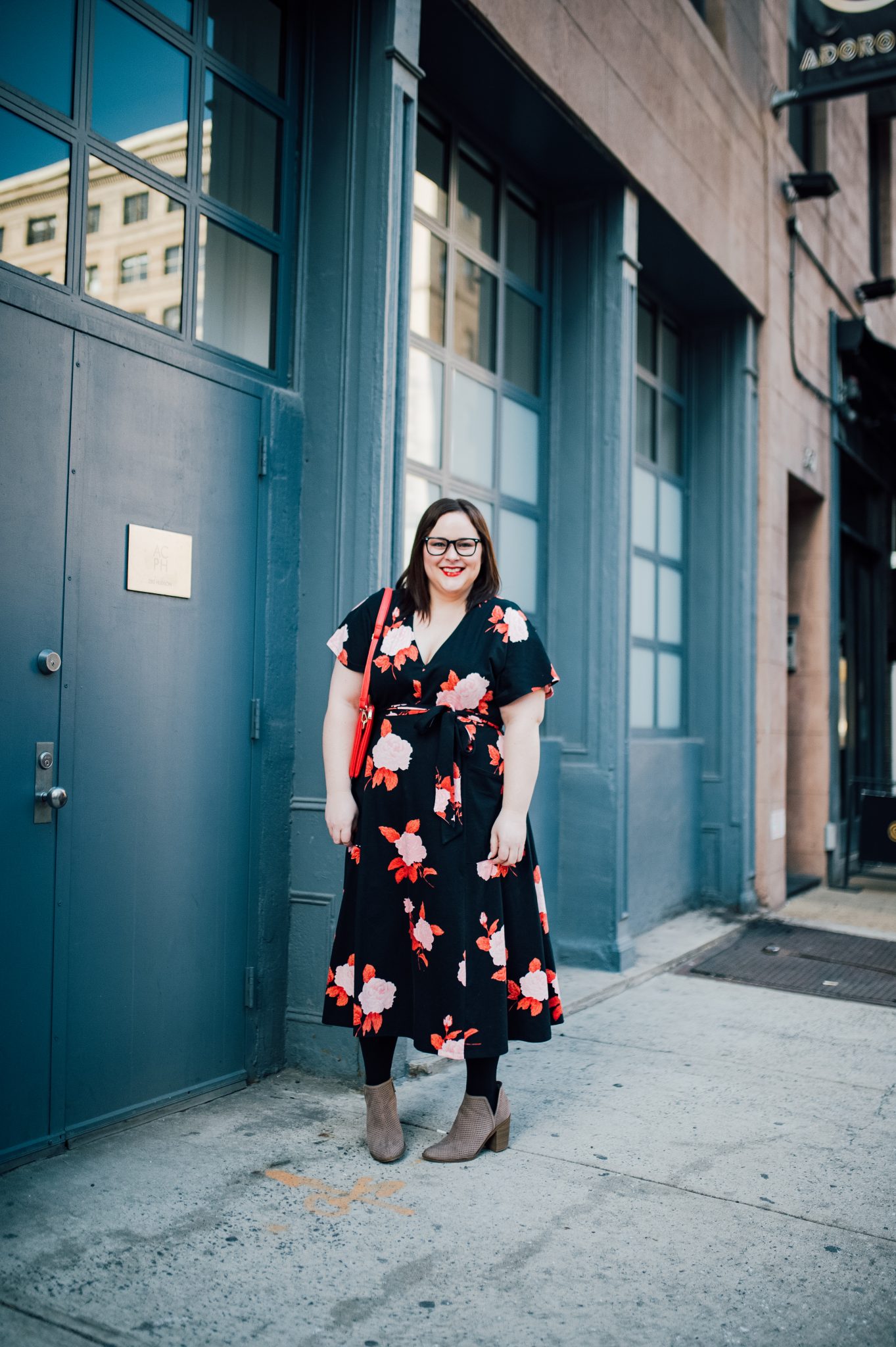 Shop my Power Outfit Below
(red clutch from Dia & Co, similar listed below)

Do YOU have a power outfit?
Tell me what it is in the comments below!
Love this post? Pin it for later here: